I have a love-hate relationship with milk bottles. When I had my first baby,  J , I was inexperienced in latching and he had jaundice. So due to poor latching technique and advise from PD to go on 72 hours formula milk to conclude it is breast milk jaundice, he took to the bottle at an early age. Even though  I managed to train him to latch fully at 3 months old, once I went back to work, he clearly preferred the bottle over latching. Hence, J took any bottle and any teats readily over latching.
When it came to the subsequent babies, I was adamant that latching is the convenient way (and lazy way, no washing, no pumping, no sterialising) especially with more kids to take care off. So there was no bottle for the first few months so as to reduce nipple confusion (I had my mum feed milk using a syringe). And when its time for me to return back to work, C and small J would refuse the bottle and latched extensively when I am home. I changed several bottles and teats for them until i found one that they didn't mind so much.
Now that baby C is the fourth child, I was more relaxed in terms of  bottle feeding even though latching will still take precedence. But I still waited till baby C is past 1 month before introducing milk bottle proper.
I was introduced to this range of revolutionary milk bottle created Singapore mum of 4, Ms Yvon Bock. I am sure she fully understand the challenges of breastfeeding in the Singapore context. And her brainchild created this set of revolutionary milk bottles so that mothers can carry on breastfeeding for as long as they want. The bottles are designed to minimise spillage and wastage as every drop of liquid gold is precious. And the bottle can be converted to snack containers once the baby outgrow the 150ml bottles, how ingenius!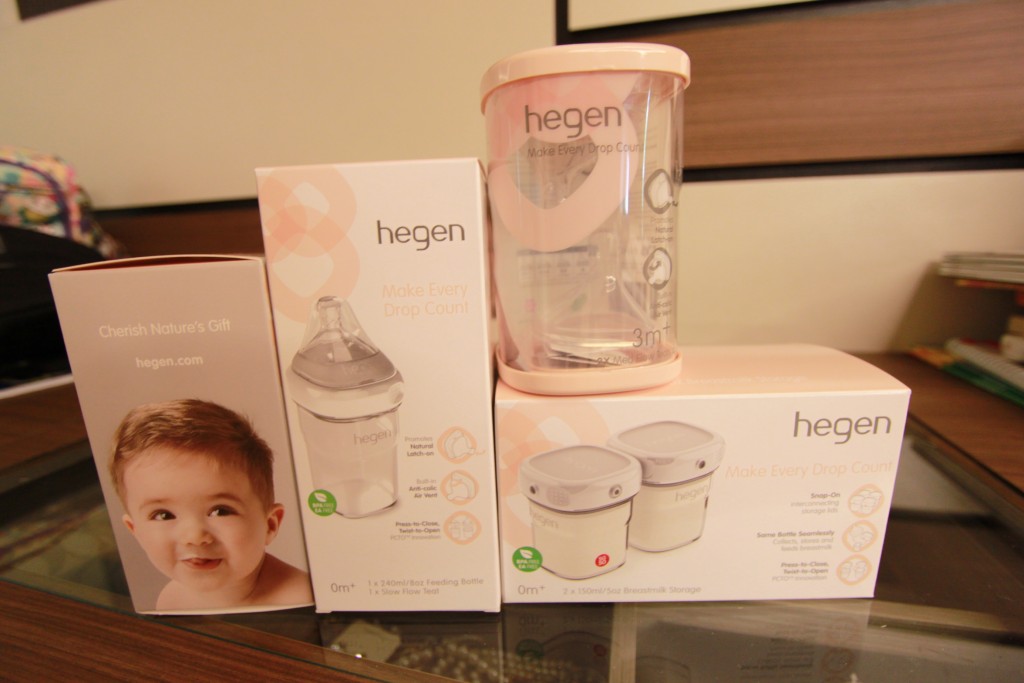 I was so excited when these arrived at my home. I love pink packaging and the packaging for teats has the prettiest pink hue (ok, not a good reason to buy) but wait till you learn about the great features of this range of bottles!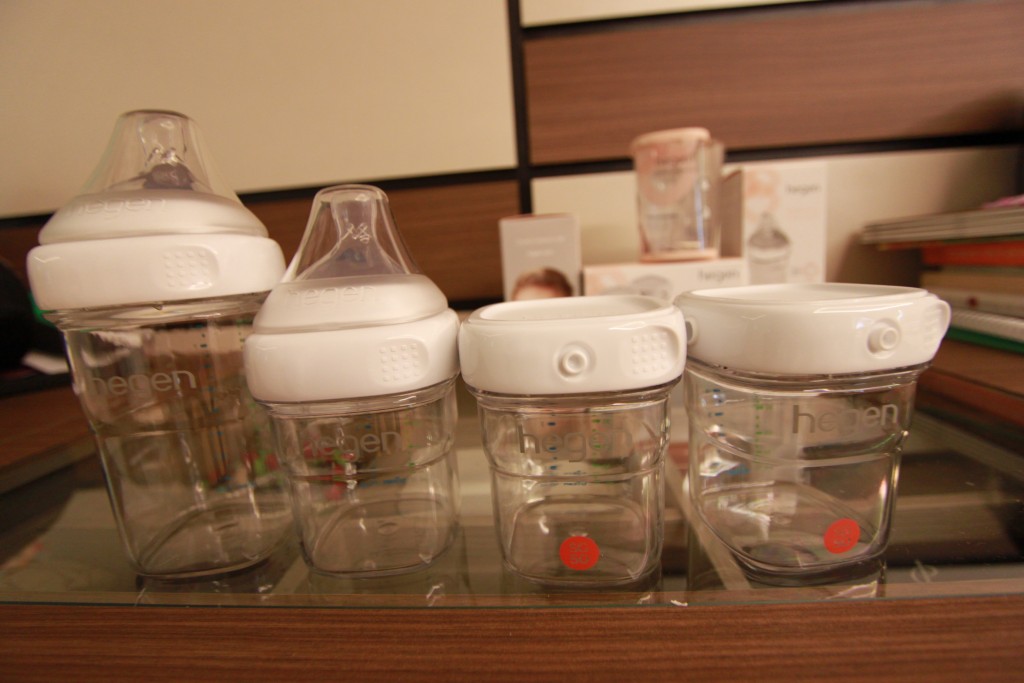 PCTO Innovation
One of the benefits of Hegen is the Press-to-Close, Twist-to-open. This feature set them aside from the conventionary milk bottle. This revolutionary innovation means there is no screw thread closure. In order to open, it has to be snapped on and twisted off to minimise spillage. You can even use a single hand to open. (when you need to carry baby to make/warm milk)
Its SQUARE!
It is supposedly easy to hold for baby's hands due to its revolutionary shape, however baby C has yet to show ability to hold bottles, so I cant vouch for this for now!
Ease of washing because its square
One of the main reasons for me being so insistent on latching the baby is simply because I am lazy. I am lazy to wash the pumps, the bottles etc. I dislike using the bottle brush cleaner to clean the milk bottles as I feel it is such a chore. So when I saw Hegen bottles, finally some one has cleverly invented a milk bottle that doesn't require bottle brush for washing. I can have my whole hand with using a normal dish washing sponge to clean the milk bottle. Good riddance bottle brush cleaner!
Stackable breastmilk storage
The storage lids are made so that it is stackable and it can also be connected to ensure minimal use of space in the fridge/freezer. For mummies with poor organisation skills like me where my EBM bags are in different forms and sizes, this makes breast milk storage so tidy and neat!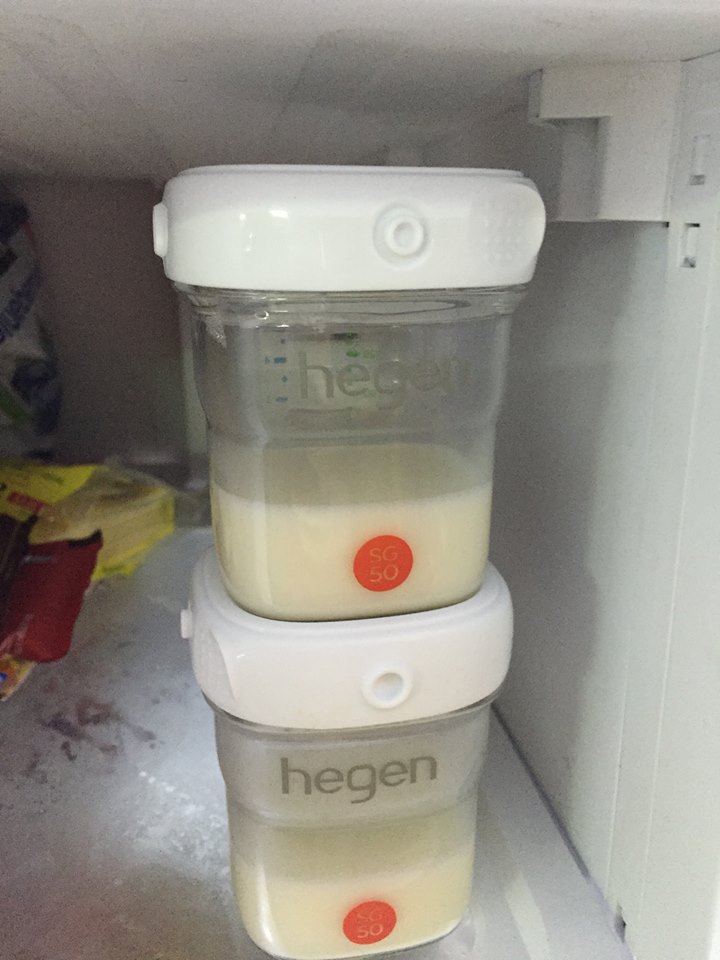 Off-centre teat
Though it takes some getting used to, to insert the off-centre teats into the square bottle rim as compared to the usual round rim (as there is only 1 right way), the teats are created off-centre to enable baby to feed from a more upright position. This claim to lessen the risk of milk back flow which may cause mid-ear complications.  The teats comes in slow flow, med flow and fast flow.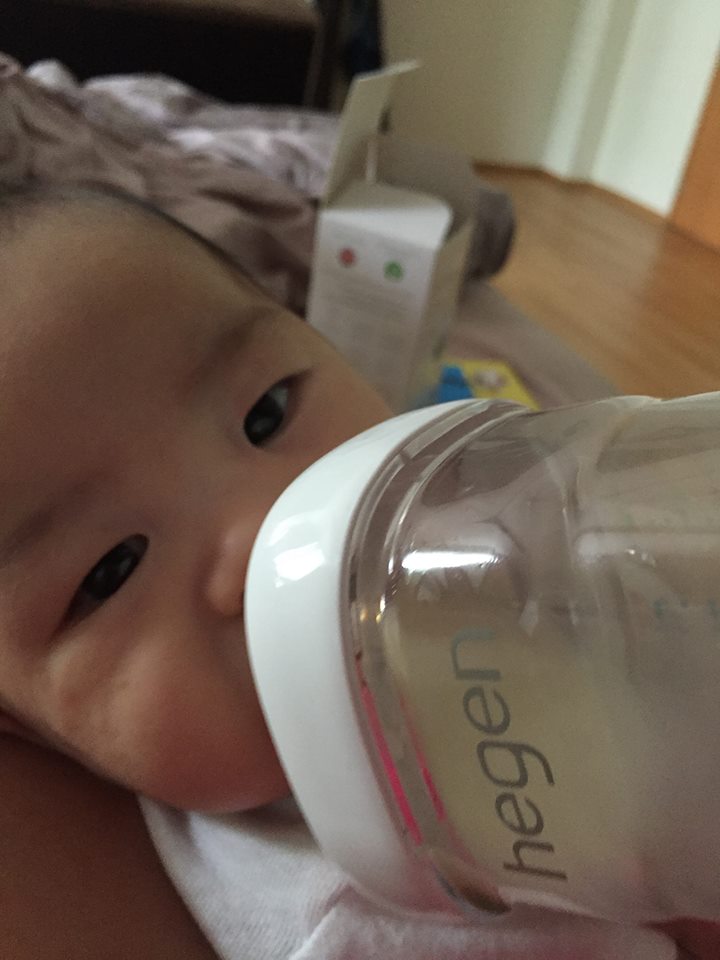 Same bottle for storing and feeding breast milk
The same bottle is use for storage and for feeding. That cuts down lots of washing time as there are less bottles to be washed and sterialised.
Push buttons on storage lids
I was also wondering what are the buttons for. With the buttons, you can interconnect the storage bottles, and you can transport many bottles at one go instead of fumbling with many round bottles from the fridge to the cooler bag. This is great if you need to "transport" baby and milk to infant care or care giver. That is another great idea to help careless mummies who need to pack baby and milk to go in the mornings!
Minimal bottle changing
Under international standards for feeding bottles, it is recommended to replace feeding bottles every 6 months. However, our Hegen bottles are designed mindful of sustainability and made to last. Hegen bottle is made of Tritan which is one of the safest and most resistant materials in the infant care industry. Hegen bottle is also uniquely designed without a bottle neck hence no need of any special brush which reduce the likelihood of scratches and abrasions on the inner surface of the bottle.
Currently these are price list of the bottles
| | |
| --- | --- |
| Product Description | Price |
| Hegen PCTO™ 150ml/5oz Feeding Bottle | $24.80 |
| Hegen PCTO™ 150ml/5oz Feeding Bottle (2-pack) | $42.80 |
| Hegen PCTO™ 240ml/8oz Feeding Bottle | $26.80 |
| Hegen PCTO™ 240ml/8oz Feeding Bottle (2-pack) | $46.80 |
| Hegen PCTO™ 150ml/5oz Breastmilk Storage (6-pack) | $49.80 |
| Hegen Slow Flow Teat (2-pack) | $12.80 |
| Hegen Medium Flow Teat (2-pack) | $12.80 |
| Hegen Fast Flow Teat (2-pack) | $12.80 |
Hegen adaptors/connectors are targeted to be ready by 4-6 weeks' time by October. They will be sold separately.
Hegen is currently available at the following locations:
Takashimaya Department Store (Children's Department, Level 4)
Motherswork Stores Islandwide (Great World City #02-16, Tanglin Mall #03-11C, 112@Katong #03-33, Marina Bay Sands #B1-58)
The kind folks at Hegen has kindly sponsored 2 sets of limited edition SG50 Hegen PCTO™ 150ml/5oz Breastmilk Storage (2-pack) up for grabs, for 2 of my readers.
Even for mummies who are no longer breastfeeding, the storage bottle is great for snacks and it is stackable!
1. Liked mypreciouzkids.com on Facebook
2. Liked Hegen on Facebook
3. Liked, shared and tag 5 friends who are new to mypreciouzkids using this Facebook post . Pls comment "done" on the same post for my easy tracking. Do set your post to PUBLIC so that I can verify your entry. Entries that are not shared publicly will be disqualified.
I will be picking the 2 winners using random.org . The giveaway closes on 27 Sept 2015, 2359pm. The winners would be required to collect the prize at one of Hegen's retail outlets. Detail of collection will be advised later by Hegen's representatives.
Disclosure: I received a set of bottles/storage containers/teats from Hegen for the purposes of my review. No monetary compensation was received. All opinions are my own. 
Share the article