I have always been keen to expose the older kids to pottery and clay. It probably stemmed from my own interest of knowing how it is done and the experiences of throwing at the potter's wheel. J and C had their first very pottery making in Ubud, Bali with Susan Kohlik who owned Sari Api, which is actually quite well known (it will definitely appear when you search for things to do with kids in Bali). They had great memories of that experience and patiently awaited for their completed products after our trip (took more than 1 month plus for postal delivery).
After that wonderful experience in Bali, I started to look around for something similar in Singapore. My search brought me to Thow Kwang Pottery Jungle which organises kids (parents accompanied for younger kids) workshop on weekends, public holidays and school holidays (they are contemplating organising more weekday workshop classes during the school holidays). They even owned one of the last 2 surviving Dragon Kilns in Singapore for firing masterpieces done by master artists. Frankly i have not seen something quite like this , so it was an eye opener for me as well. As there wasn't a tour of the dragon kiln, I am not able to explain in great details but I can share photos of the kiln. This is how the ceramic pieces are fired in the olden days before the modern electric kilns.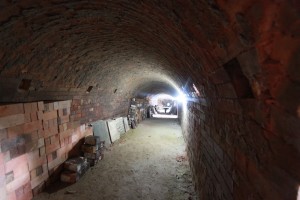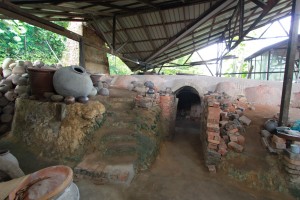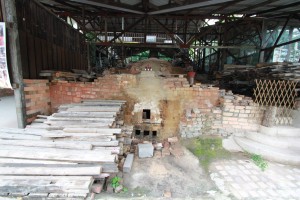 Like Sari Api in Ubud, Bali which was located in the middle of greenery and "in the wild", Thow Kwang was similar but much larger as it houses their retail segment at the place.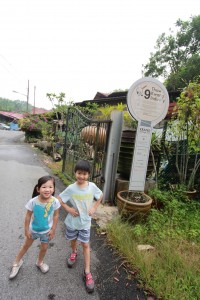 Our instructor for the day and most kids workshop is Stella, an extremely passionate and well-liked young lady who is contributing her effort to preserve the family business and introduce pottery to the younger generation and public. There are 2 segments to the kids workshop – hand building and potter wheel. The most updated workshop timing and prices can be found on their facebook page.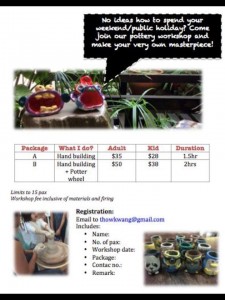 We signed up package B which takes a minimum of 2 hours which I believe all the other participants also signed up the same on the day we went. Firstly, Stella did a demonstration of our hand building craft – a ceramic container/pen holder. Hand building techniques to mold clay is perfect to train kids' motor skills.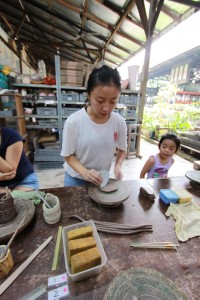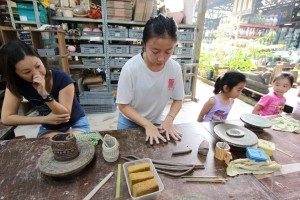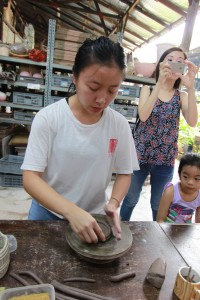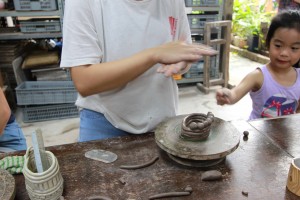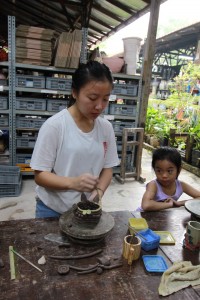 They spend a good 40 minutes building up the different layers of the ceramic container and its up to each creativity how they want their different layers to be. After that, their craft work is left to dry before glazing.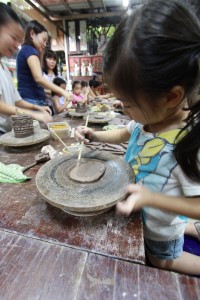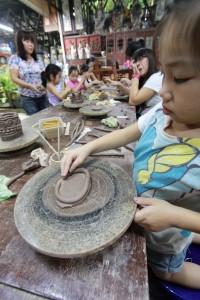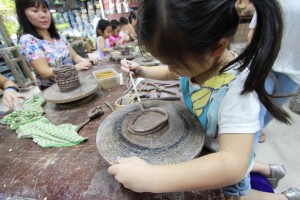 While their "masterpieces" are left to dry, Stella brought us to the potter wheel studio. Firstly, Stella demonstrated the art of throwing at the potter wheel. She make it look so easy and effortless. The kids were eager to try it after obtaining their aprons and  a block of clay each. There are more than 10 potter wheels to try on. As the potter wheel can rotate at different speeds, adult supervision is required for younger kids as it can get quite dangerous.
Of course, neither of us including myself successfully form anything from the block of clay that was given. I tried the potter wheel for the very first time and it was difficult with a capital D. It may look easy when Stella demonstrated but it takes years to reach her standard. Hence, every participant will be guided by Stella to throw a bowl at the potter wheel to take home after firing.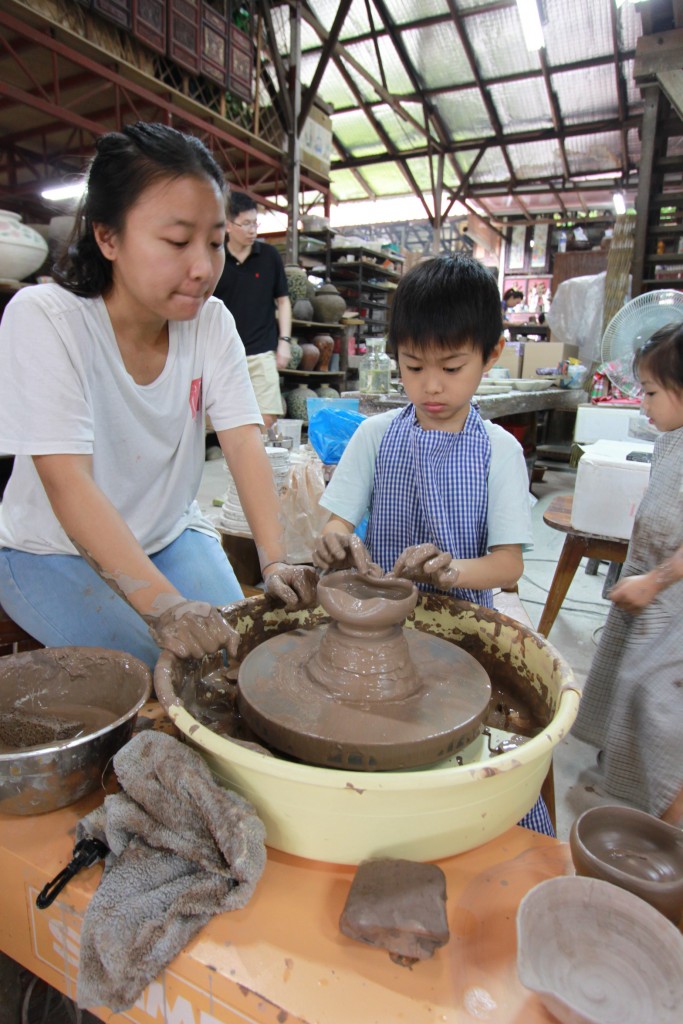 A video of this experience, can be found here.
After finishing their turn at the potter wheel, their hand building masterpieces are ready for glazing. They can choose a variety of colours and paint to their fancy.
The workshop fee includes the cost of firing their masterpieces. It takes about 1 month before you can return to collect the fired pieces. Attending the pottering making workshop at Thow Kwang is not just about learning about molding clay or throwing at the pottery wheel, but it is also an appreciation of the industry and an art that the founder and its family members wish to promote for the younger generations. I do hope that the 75 year old Dragon Kiln will be preserved for a long time to come. As I had to rush to feed the kids for lunch and the travel time back home, I didn't linger much longer. I wished I had more time browsing through their finished pieces for my home decor or as gifts and for the kids (as retail pieces are fragile pieces so its not such a good idea with kids in tow), my friend told me there is an Eco Garden just next door. Though it was a long drive to this little heaven away from the hustle and bustle of the city, it was worth it! For a good 2 hours, I literally forgot that I was in Singapore but reminiscing my time in Bali as a tourist and the fresh air (thank god, it was before the haze). The next time I return to collect the masterpieces, I will definitely set aside time to browse through the retail area and maybe get some fresh outdoor air next door (haze haze, pls go away).
And you can also throw kids' birthday parties at Thow Kwang, for more information, do PM their facebook page, Stella will be able to assist from there on.
Disclaimer: This is a sponsored review. No monetary compensation was received, and all opinions are my own
Share the article