I had come across Bubble Bump and I thought (first impression) it looked rather silly for adults to be donning bubble suits and having a game of soccer. I am not quite sure of the fun factor until I myself had a try on Sunday afternoon at a Little Day Out event. I will go into this later in this post of my personal experience.
I was lucky enough to score some passes for Bubble Bump event organised by Little Day Out and met the kind folks behind this very informative portal, Geraldine and Lester. They have organised a 2 hours session of Bubble Bump and Pool Ball for some lucky families to enjoy on a Sunday afternoon at Kovan Sports Centre.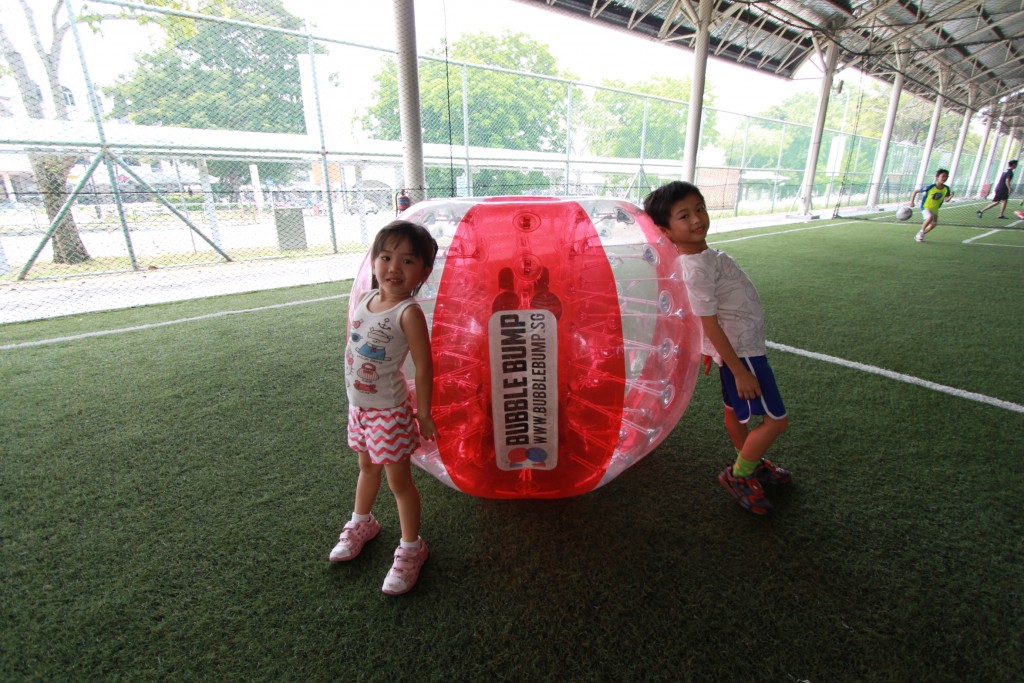 There was a short brief session on how to wear the bubble suit and how to stand up after a fall, and a short warm up session.
As Bubble Bump has a certain minimum height requirement, I hesitated if I wanted to bring the kids and be disappointed if they cant play, but curiousity got the better of me, so I decided to give it a try. who knows, they may be able to enjoy it.
True enough, even though J was allowed to play (ie need to be taller than the bubble ard 1.1m to 1.2m  tall but the bubble suit was a bit heavy for him to handle.
So they switched their attention to pool ball also part of Bubble Bump Singapore. It is pool played soccer style, the numbered soccer balls are to be scored according to its number order. For young kids which may find it to difficult to grasp pool game concept, they quite happy with just free play and just scoring goals into one of the 6 "holes". The bubble bump staff even invited games which are more suitable for their age group like colour recognition and even mathematics , and see which child can grab the most number of ball! (great for kids birthday parties). I must say that J and C totally enjoy the variety of games at the pool ball section.
While they were happily playing at the pool ball section, I decided I  should give it a try at the Bubble Bump. It is also played like a game of soccer, divided into 2 halves of 5 minutes each. So carry the bubble suit, I was trying to navigate my way (I had to see the bubble) into scoring the goals. The fun part is when you bump into each other just like bumper car concept. Each half is short as it is quite hot to be donning the suit. I can see why this is a perfect corporate team building event with fun factor involved!
The younger kids got their chance to be in the bubble and be rolled around. It feels pretty much like the Zovb ball which originated from New Zealand where the person goes into an inflated ball and roll downhill. (we have that in SG now, this was the one with the longest queue at the SEA games carnival in June). So both J and C got braver with each attempt, and hence they rolling at a faster speed each time and kept asking for more! You can see sample video in this link!
Bubble Bump operates at 3 locations namely The Cage, Kovan Sports Centre and Zion Sports at Tiong Bahru. for more information , do visit their website for more information on corporate events and birthday parties.
On a side note, a shout out to an awesome compilation of fun activities in Singapore by Little Day Out , if you run of out ideas of what to do a day out with the kids or even this coming Friday after the parents have done their duties as Singapore citizens!
LITTLE DAY OUT'S BEST 50 DAYS OUT WITH KIDS IN SINGAPORE 2015
Share the article