I remembered when I was young , my parents brought me a whole set of Britannica encyclopedia. It look really lovely on my  book shelf however, it is also very intimidating, full of small font text, no colour…so I hardly ever browse them and the 30-year-plus set still sits in my parents' home till this very day.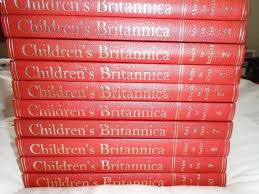 Even the word "encyclopedia" itself is an intimidating word for any young kids. Thus far I have not gotten the older kids any encyclopedia to accompany their learning journey.

I was most happy when Marshall Cavendish approached me to review their very own version of Mini Science Encyclopedia. I have not known of this mini encyclopedia before but being one focusing on science, this definitely a welcome addition to my kids' library . The book is SO different from my pre-conception of an encyclopedia, big font sizes, colour pictures and illustrations…..definitely not intimidating at all. Targeted at primary school children, I reckon you can even start your K2s on some of the simpler science concepts as well.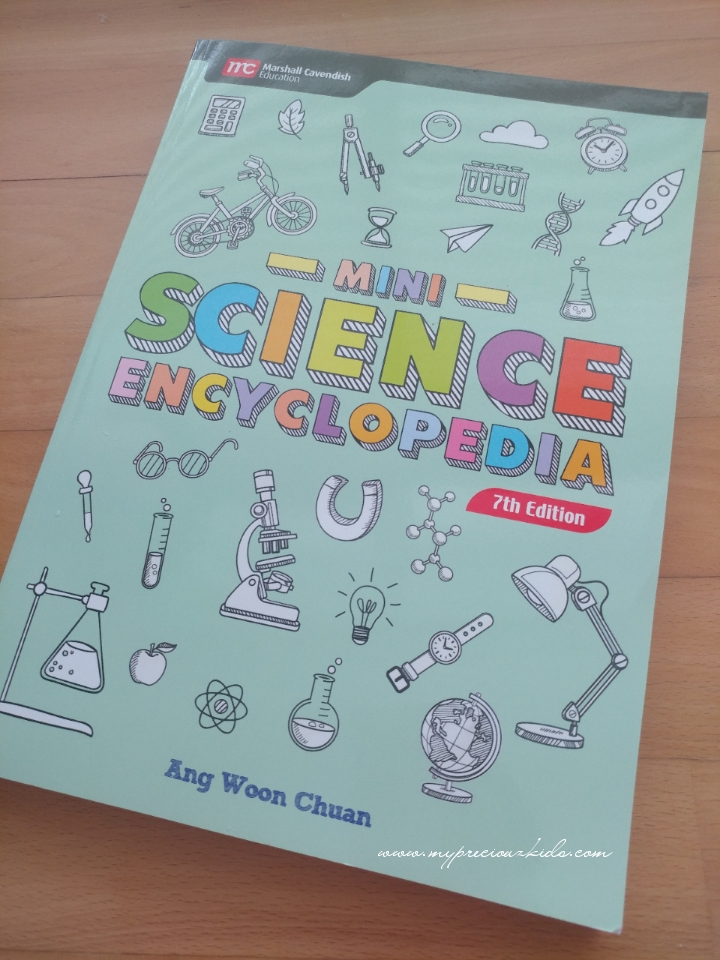 These are the reasons I give this mini encyclopedia a big thumbs up!
Well-rounded content
As this mini encyclopedia focuses on science, this book covers a variety of topics from our body,animals plants, ecology, environment, space, magnets, heat, electricity, energy, life sciences and many more.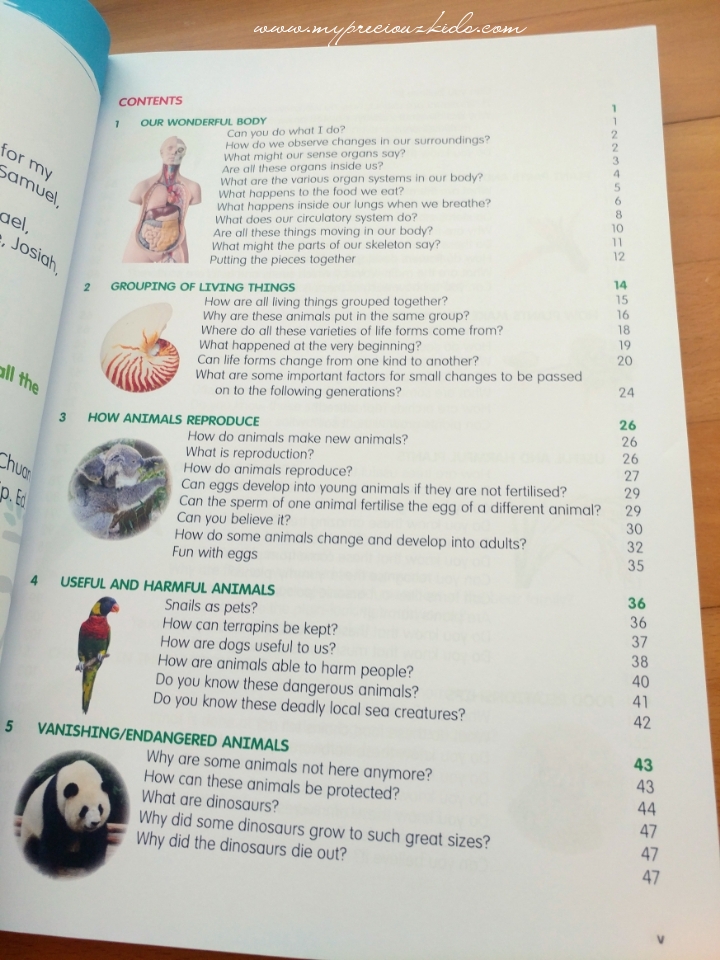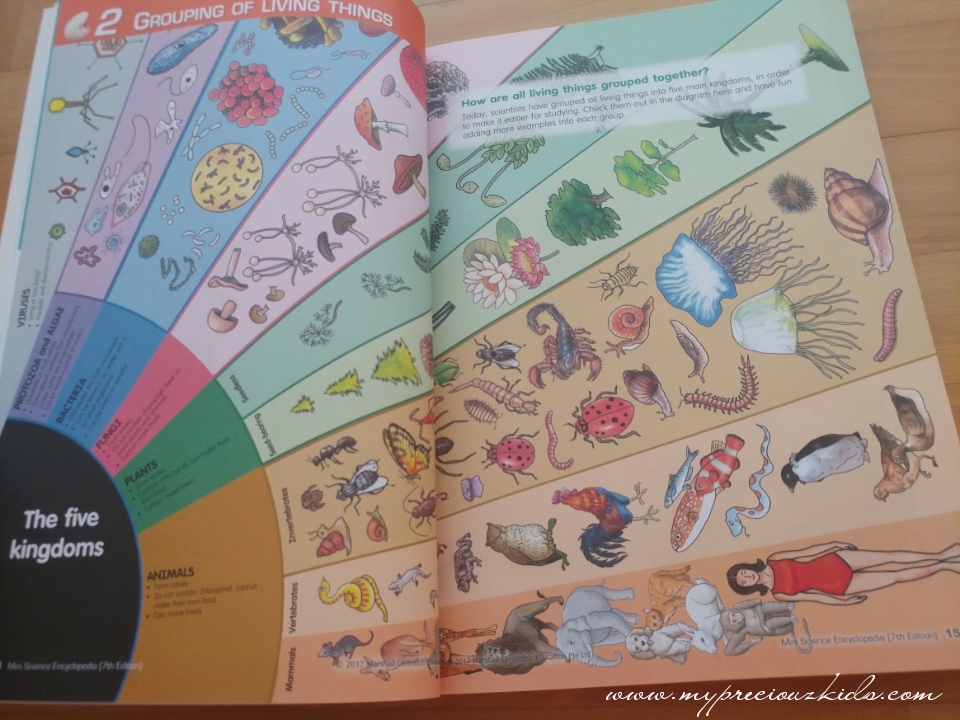 Being a primary school kid's parents, I did a quick look if I would rely on this book for primary science revision. Do note that this book does not follow the PSLE science syllable strictly, hence for revision purposes you would still need to use the textbook and accompany assessment books. However, this is a very good base to introduce new topics and science concepts!
2. Written in a local context
The book is written by a local author. Being in its 7th edition, it was first publised in 1998 and have been constantly updated.Many of the facts in foreign published encyclopedia are very general and do not mentioned on things we see in this part of the world ie Singapore.
This books covered the topics from a very local context perspective such as introduction to saga seed, rambutan, durian, chiku, duku and even the Semakau landfill which makes the book relatable to kids in Singapore.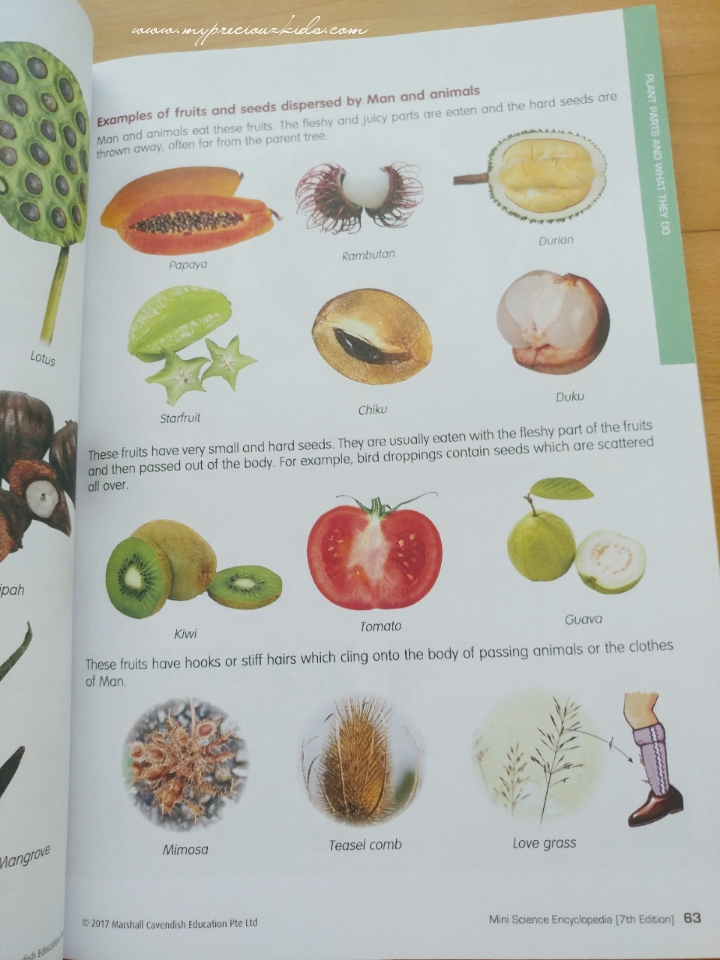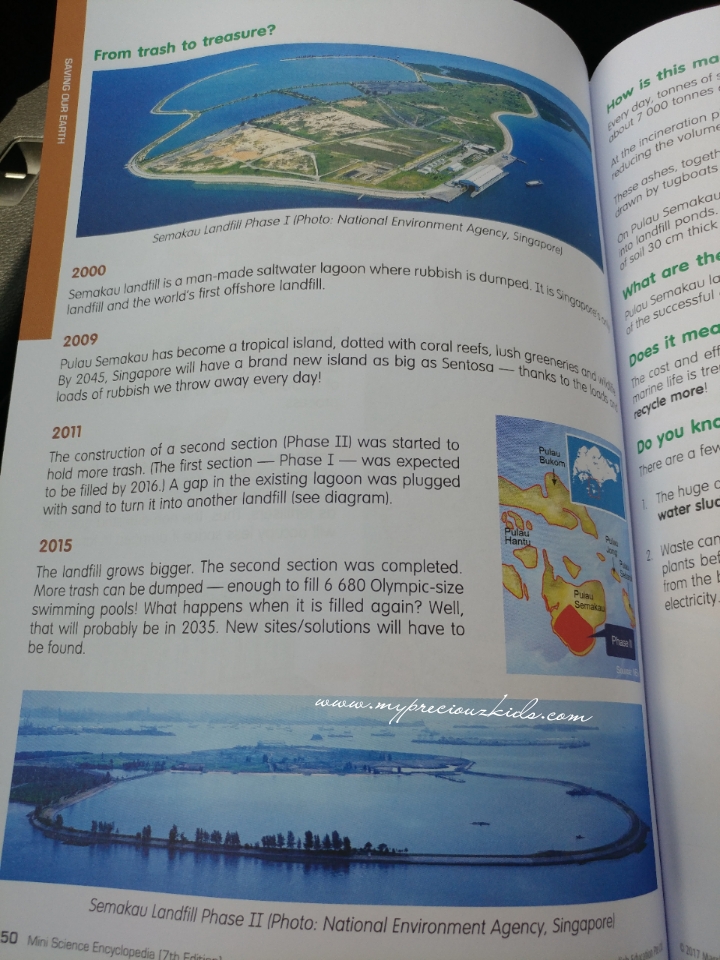 3. Big fonts and colour pictures/illustration
One of the best ways to attract young readers is using big fonts and also colourful pictures and illustrations. This book is the less intimidating as my p1 girl took an interest in reading the book and having a introduction to science concepts around her. I have taken some shots of the simpler concepts and the beautiful illustration for the lower primary school kids. This book will also appeal for readers who prepare non fiction materials – animals, solar systems, dinosaurs!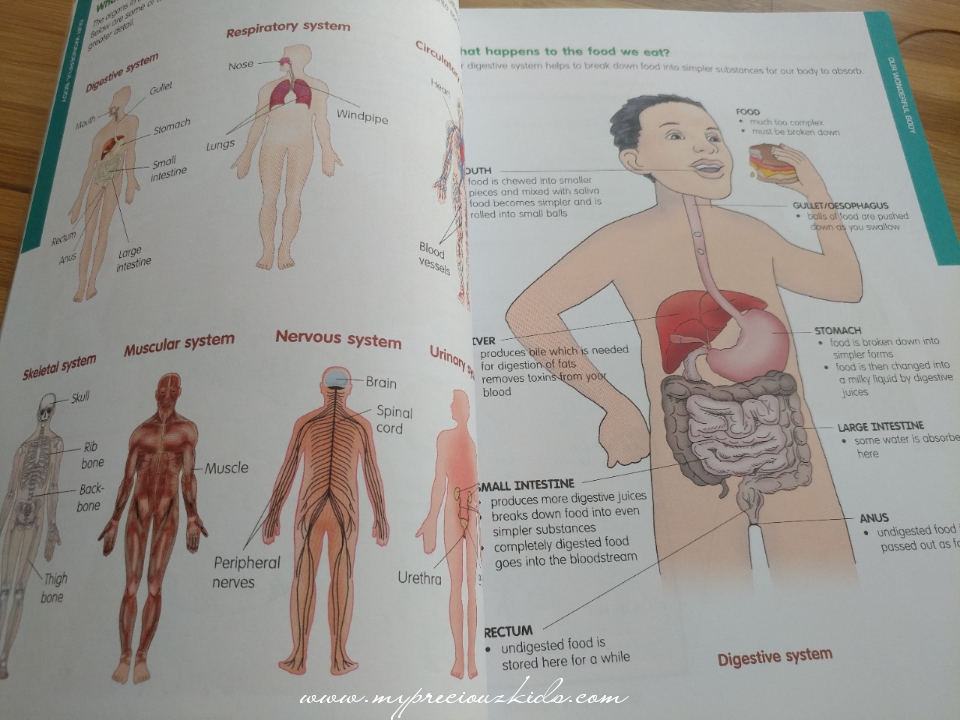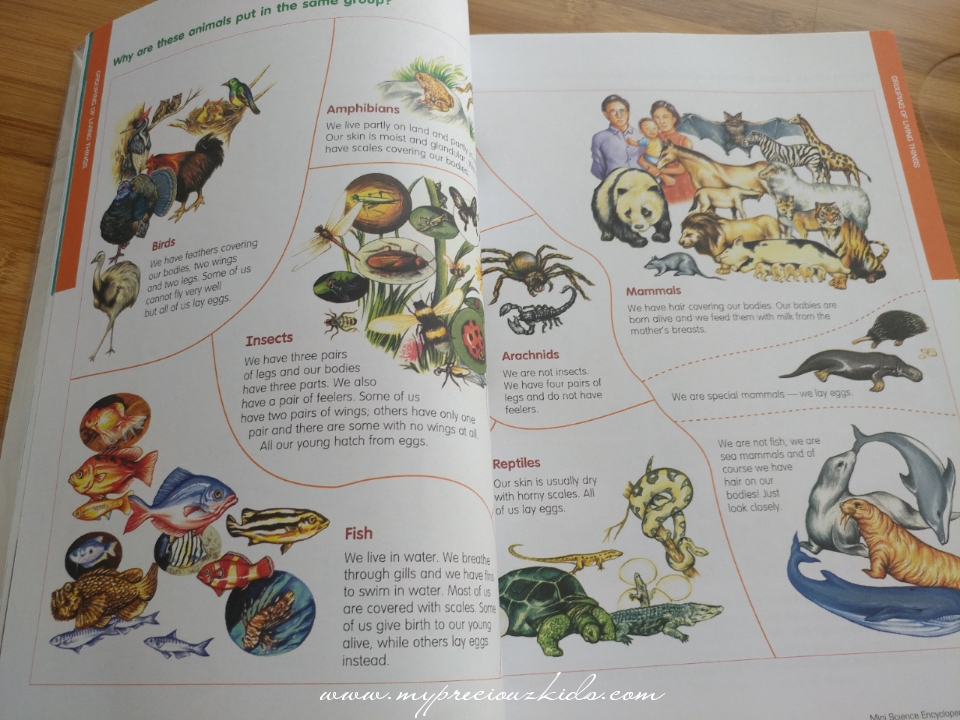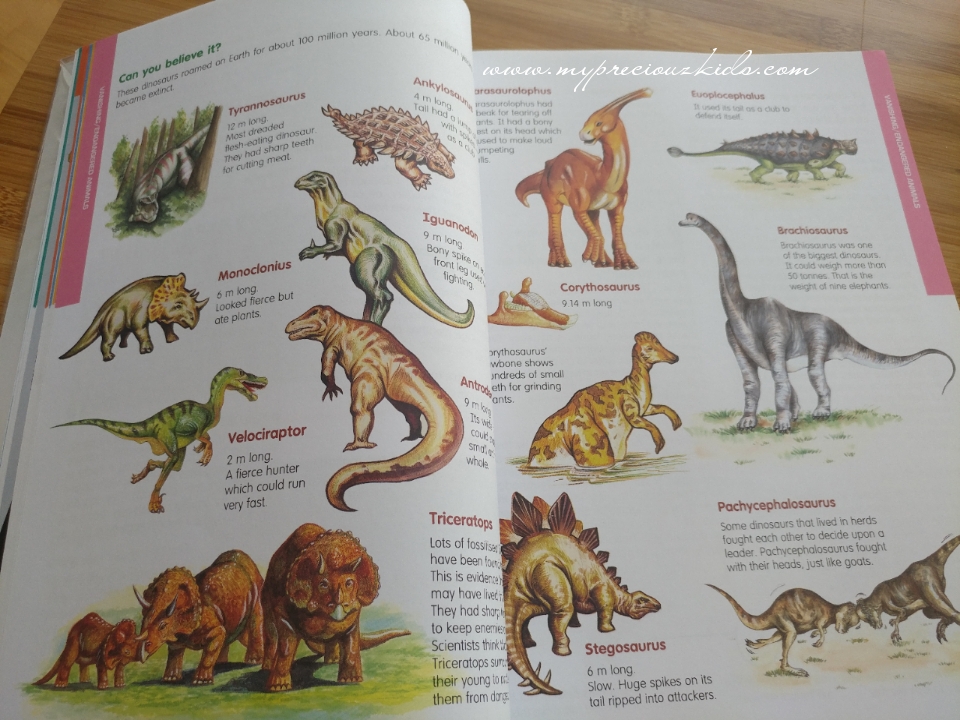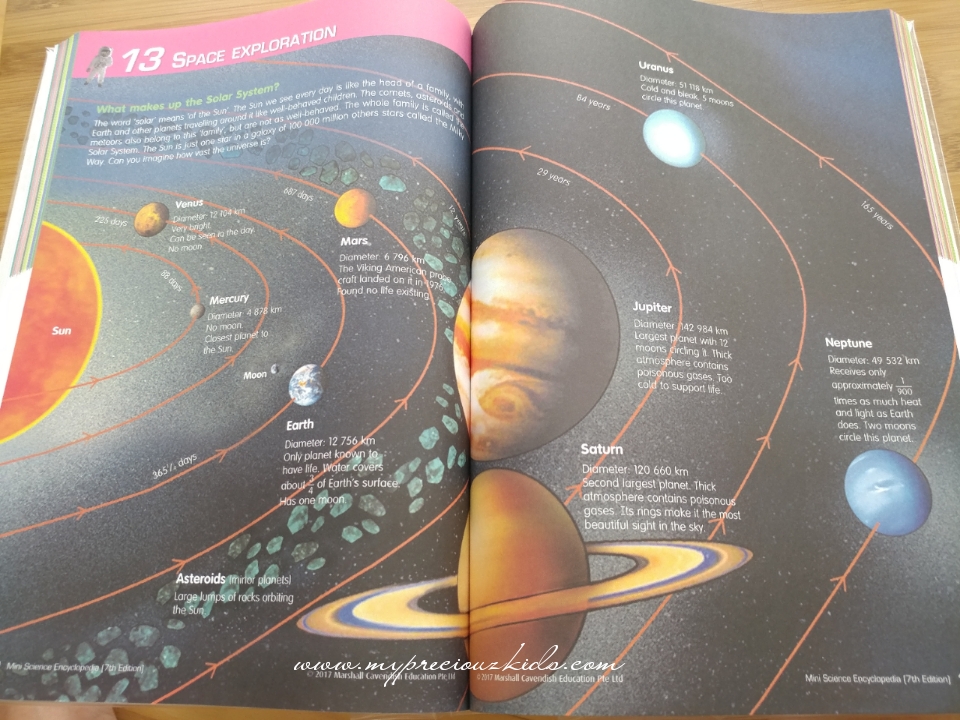 4. Peppered with simple science experiments you can try at home
One of the best ways to encourage to love for science is to dabble in them. The book has included simple science experiments you can try at home with your child.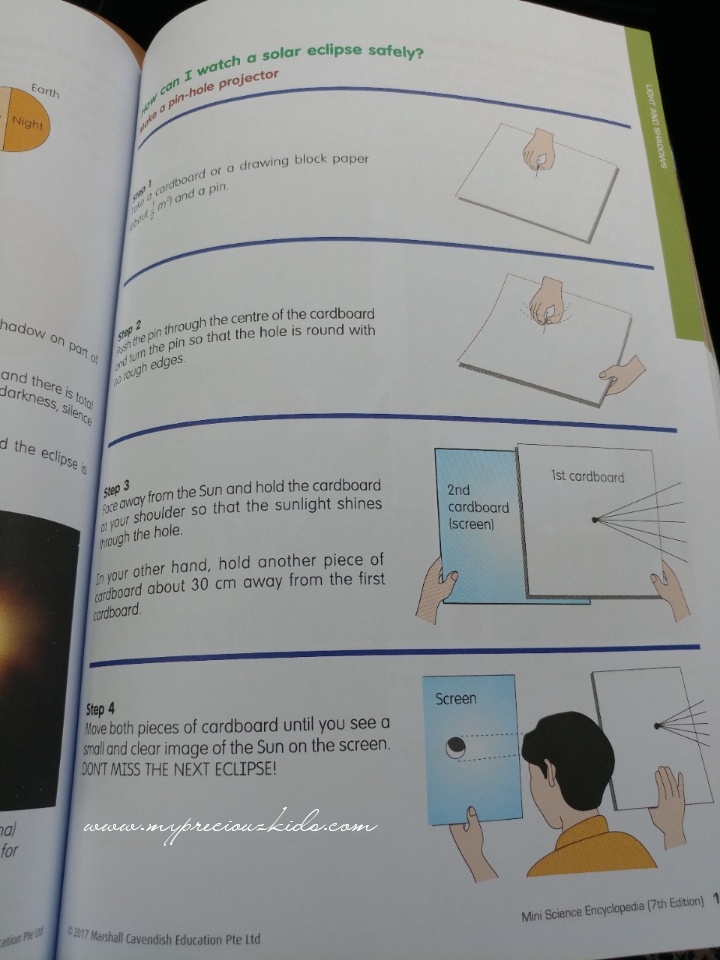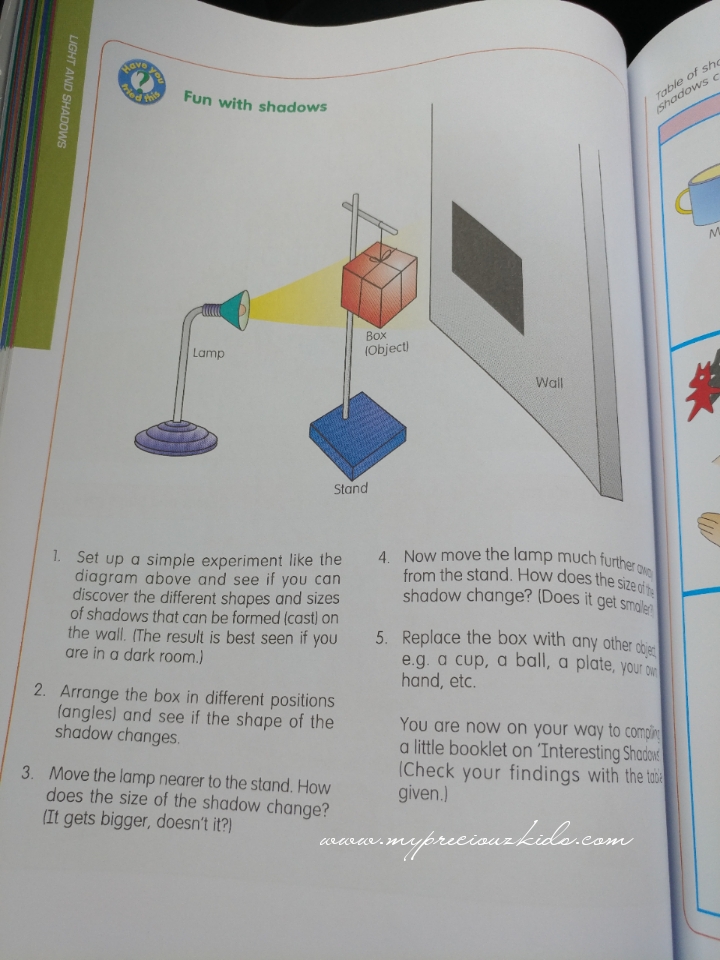 This is a very suitable mini encyclopedia for your lower primary school kids for leisure reading and brief intro to new science concepts. As mentioned previously,  this is not a primary school science text book (does not followed school syllable( but a mini encyclopedia to accompany the young minds …I am very sure this is more useful that having a full set of Britanica Encyclopedia.
You can purchase this mini encyclopedia priced at $20.50 (before GST) available in major bookshops such as Popular, Times and Kinokuniya or from online .
Giveaway
Marshall Cavendish has kindly sponsored a copy to a lucky reader. The winner will be required to pick up the copy from their office during office hours.
1. Liked FB pages of mypreciouzkids.com and Marshall Cavendish Education
2. Followed mypreciouzkids  and  Marshall Cavendish Education on Instagram
3. Liked and share this FB post and repost this IG post using #mypreciouzkidsgiveaway and tag 3 friends in the same IG post (1 tag per comment) on the same IG post.
Please keep your Facebook shared post and IG shared post public (as indicated in step 3)  in order to qualify so that I can locate your entry.
I will be picking the 1 lucky winner . The giveaway closes on 29th April April (Sun) 11.59pm.
Disclaimer: This is a sponsored post.  No monetary compensation was received. All opinions are my own
Share the article