I am ashamed to admit that I only cycling on 2-wheel bicycle when I was around 12 years old. To me , cycling is in the same league as swimming, my kids need to how to know how to cycle and swim from childhood. My two older kids learned cycle the old school way – like  how I started,y which is using 4 wheelers.  My husband did all the coaching from removing of the wheels into a 3 wheelers and with a few evening coaching both of my older kids learned to cycle on 2 wheels before they turn 7. Now I am a bit greedy, I am sure they can learn to cycle even earlier than 7 years old. So now is getting the younger two boys age 3 and 5 years will try to learn how to balance on balance trainer and then directly to 2-wheel bicycle.
I have known of the method of using balance bike as an early introduction to balancing and cycling. I do have a free balance bike (milk powder redemption) however it was bulky and none of the kids took any interest in it. S0 I kept it in hope that one of the younger kids would pick it up and learn balancing. But I do recognise that it is bulkier and very plasticky, the reason for why it is now collecting dust in my storage. I dropped the idea of using a balance bike as a way to learn cycle due to an inappropriate balance trainer.
What make me wanna try Kinder Bike Morph Hybrid is its ability to be both a balance trainer and a 2-wheel bicycle (hence, in case the kids doesn't like to stride and balance, the bicycle is not another white elephant).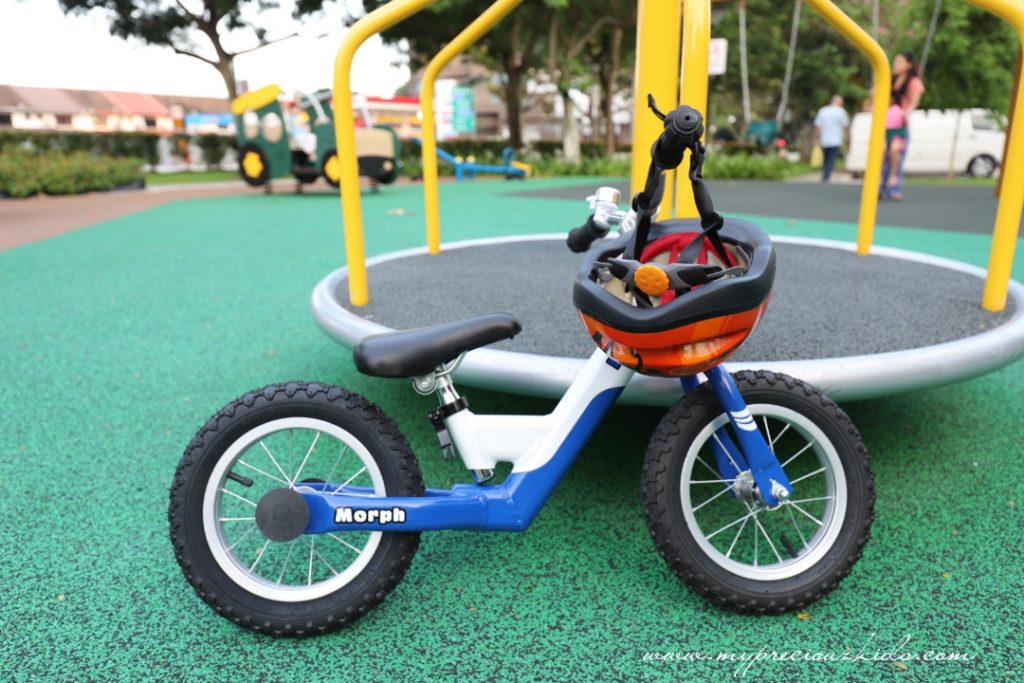 These are many reasons why I really like about Kinder Bike Morph Hybrid :-
1.Convertible ie that's why it is called Morph
THE selling point for me is the ability to convert from  a balance trainer to a fully operational bicycle. So even if the child does to use it as a run bike, you can still use this as a normal operational bicycle provided he can cycle (ie learn through old school method).
And it is also very easy to convert, even my 7 year-old is able to convert it easily (I only help to tighten the screws)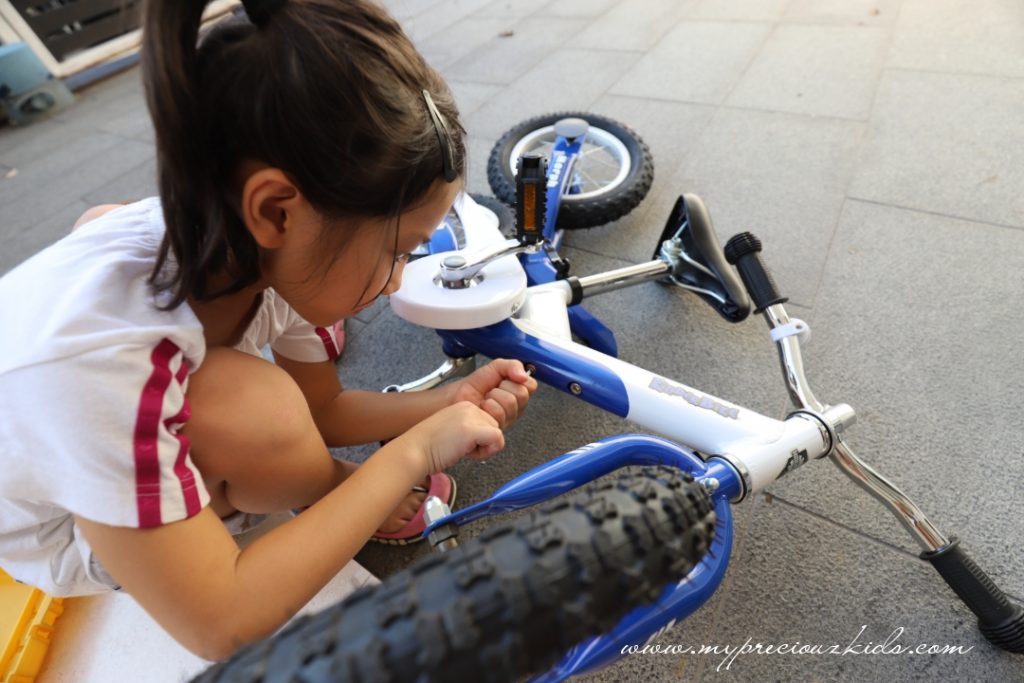 You can also see the video of  big C's doing the conversion in my IG post 
2. Easy to assemble
With an allen key and a few steps, the bicycle can be setup easily. Just connect the handle bar and the back wheel portion to the main body part, and you are off …don't forget to pump the tires too!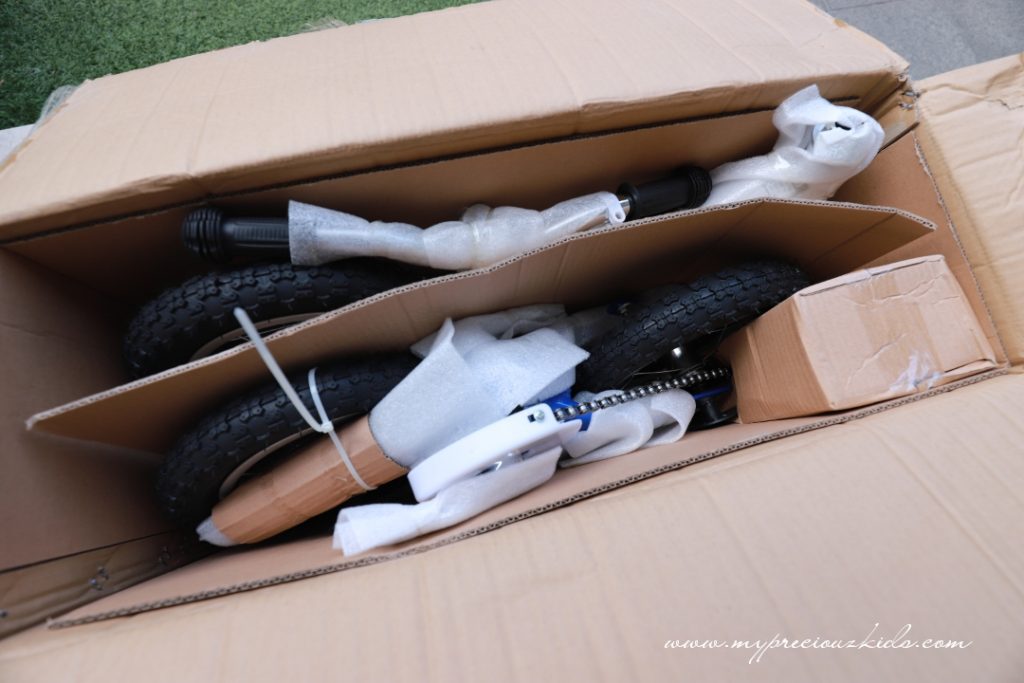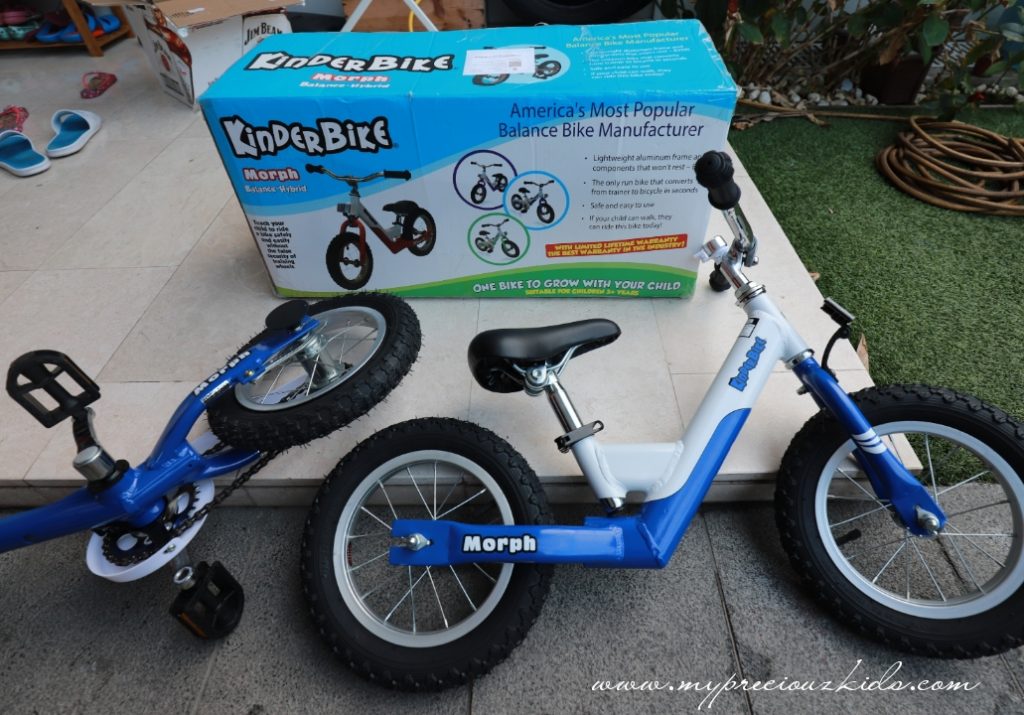 3. Made fully of aluminium, with NO plastic parts
My old white elephant balance bike was a 100% plastic bike. It really felt like a bulky piece of toy, I guess it neither a balance bike nor a toy. However, the Kinder Bike Morph Hybrid feels like a real bicycle and not a toy bicycle for my younger boys.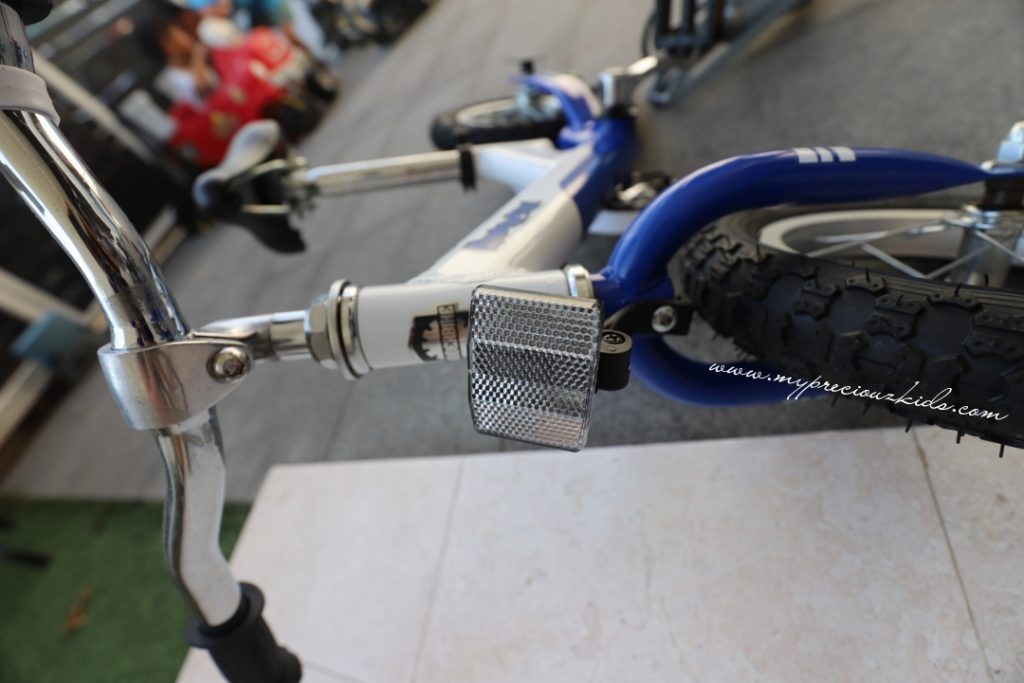 4. Grows with your child – the seat is adjustable and hence it is suitable for kids from 3 to 6 years old
The wheel are at 12″ , a tad too small for my 7 year old but perfect for small J at almost 5 years old. I really hope he can learn to cycle quickly before he outgrow them and he can pass it to small C to stride or cycle. The maximum weight limit is at 34kg. Even the handle bars are adjustable, which allow you to raise them as the rider grows taller and move them forward to back for a custom fit for your child.
This is my 3-year-old at the its lowest configuration.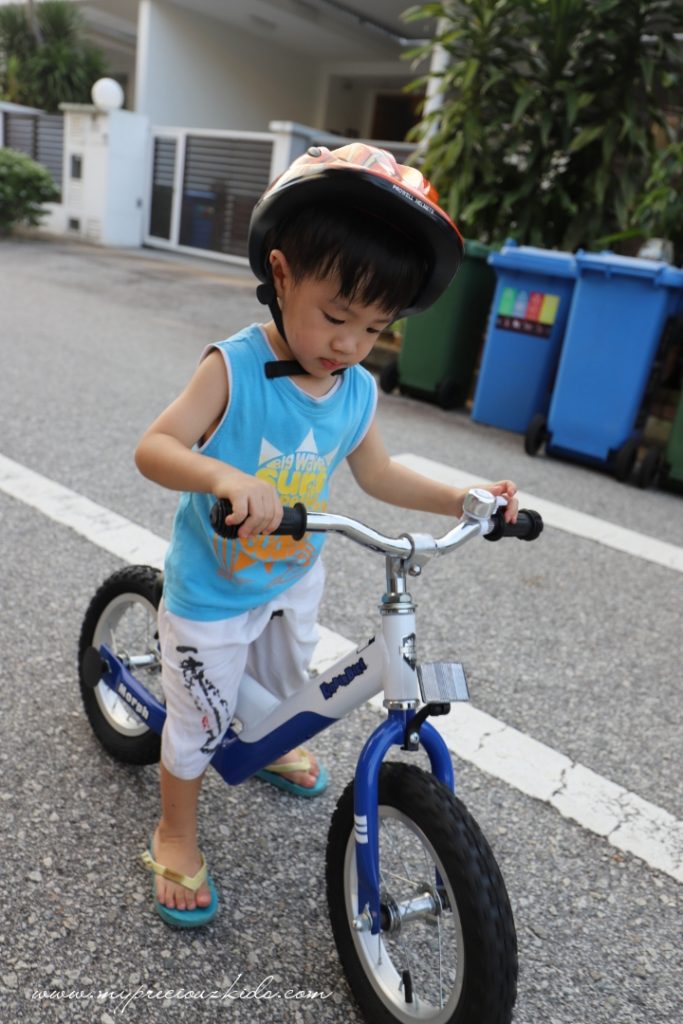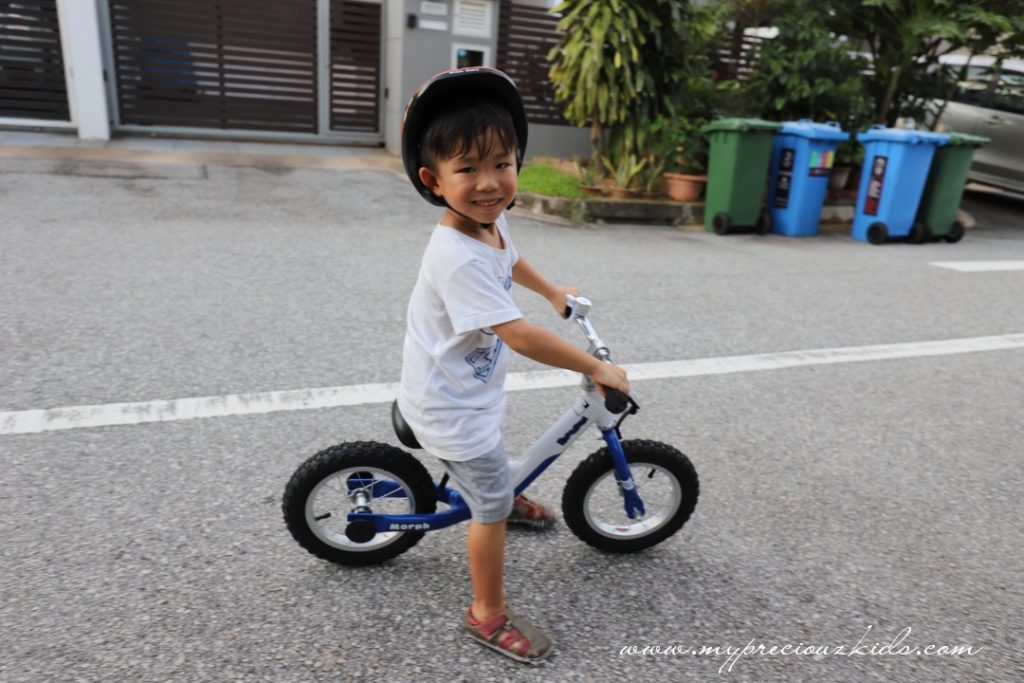 Small J's at almost 5 year old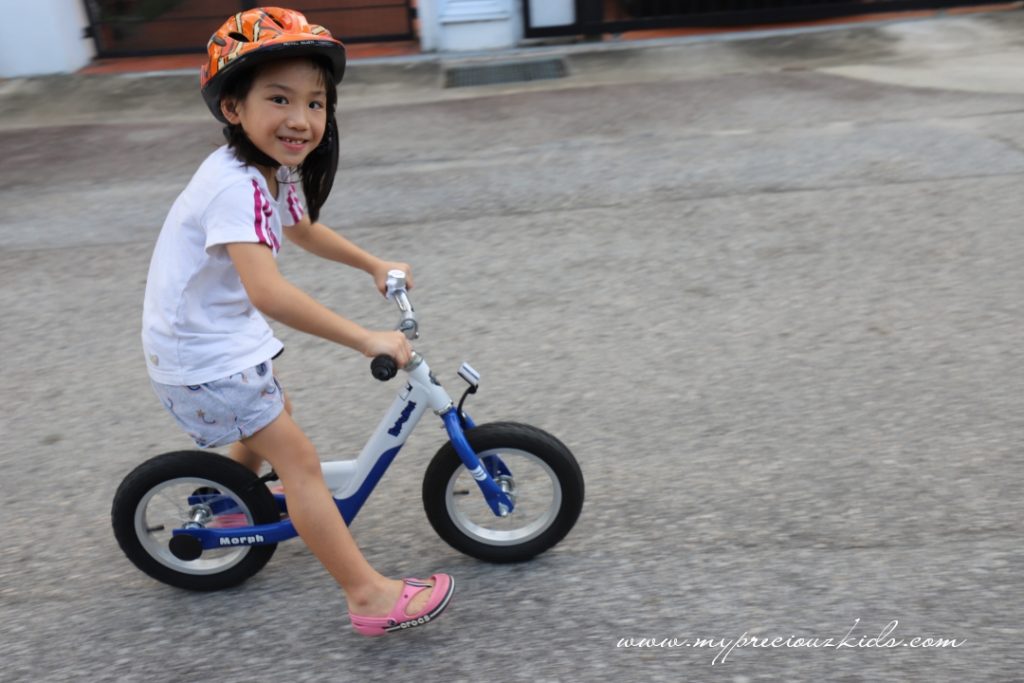 This is my 7-year-old at the highest configuration.
5. Lightest pedal 12″ bike in the market at 3.9 kg
Given it is an aluminum bicycle , it is definitely heavier than other balance bike with plastic parts etc, however it is still one of the lightest in the market given that it is a conventional bicycle when converted.
6. Coaster brakes
You must be wondering why there are no hand brakes on the handle bar. This model uses coaster brake which is a a brake on the hub of rear wheel. The braking is applied by rotating the pedals in reverse until the brake engages. This is not a similar concept to most bicycles including our adult bicycles hence, it does need some time of getting used tol
Kinderbike Morph Hybrid comes in 4 different colours-  red, blue, green, violet.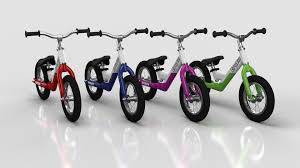 Accessories included: Bell, reflector, coaster brakes, drive train (plug-N-play) pedal kit.
Now lets see if my younger boys are loving their new ride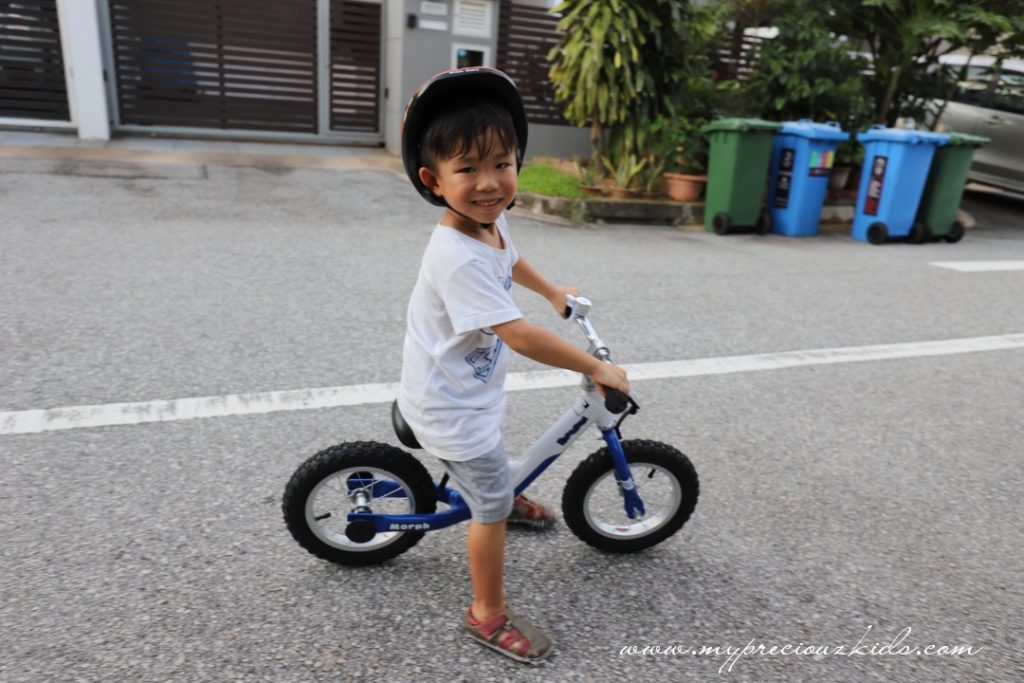 As a run bike , this is small J's first time trying and he do not fully understand how to use it as a run bike , but my bigger kids as they are able to cycle on 2-wheel, they get the balancing concept in an instant.
As a conventional 2-wheel bicycle, I had my girl demonstrate the conventional cycling using the same bike. Obviously, it will take sometime before the younger boys can do this but I hope it sooner than later by starting on a balance bike.
Kinder Bike also have different models for younger kids  and even older kids, see their listing here You can also buy helmets from them as you must have a helmet for your kids every time they ride.
Tikes and Bikes
Giveaway 
Tikes and Bikes  has kindly sponsored a beautiful red Kinderbike Morph Hybrid worth SGD 239.99 (the exact same model as mine but in red)
1. Liked FB pages of mypreciouzkids.com and Kinderbike Singapore
2. Followed mypreciouzkids  on Instagram
3. Liked and share this FB post and tag 5 friends on the FB post and repost this IG post using #mypreciouzkidsgiveaway and tag 5 friends in the same IG post (1 tag per comment).
Please keep your Facebook shared post and IG shared post public (as indicated in step 3)  in order to qualify so that I can locate your entry.
I will be picking the 1 lucky winner . The giveaway closes on 13th May (Sun) 11.59pm.
For those who don't want to wait for the results, and would like your kids to try this bicycle, I have a good offer especially for my readers:-
The first 5 readers to email at tikesnbikes@gmail.com to express interest in the Morph will be entitled to purchase bike for a low $99
Open to public: Sat  130-6pm (alternate Sat of the month)
tel: 84966880
Winner: Shawn Quek

Disclaimer: This is a sponsored post.  No monetary compensation was received. All opinions are my own
Share the article