In collaboration with Best in Singapore
For affordable and good tasting pizza especially for home parties or lazy weekend, we have Uncle Tony's Pizza to rely upon. 
Uncle Tony's Pizza started off as a humble business led by Chef Tony Alvaro Bianchi at a small intimate shop house in Bishan. With his extensive knowledge on authentic Italian cuisine, their dough recipe is hand-made from scratch daily and their secret tomato sauce is simmered for precisely 8 hours a day! Their pizza uses signature tomato sauce made from scratch with fresh Californian Tomatoes, Basil, Sweet Onion, and Parmesan Cheese! is simmered for exactly 8 hours a day. What is pizza without the awesome cheese pull made of a mix of Parmesan, Cheddar, and Mozzarella that is imported from Italy. 
I was hosting a small potluck party at home with my kids' cousins over the Deepavali weekend so pizza is a sure winner for all  kids. I ordered Classic Pepperoni 12″, Meat Lover's Delight 12″ ,  Hawaiian 12″   and 2 sides – crispy chicken wings and crispy chicken nuggets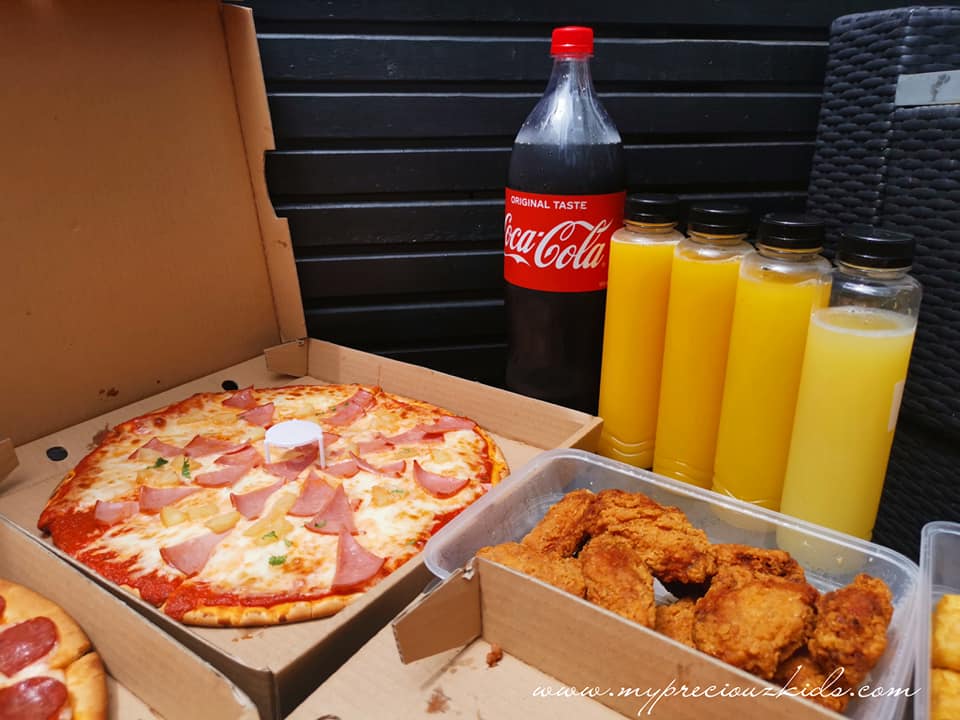 ordered some juices and coke as well
My girl loved the Classic Pepperoni as they were so generous with thinly sliced beef pepperoni. For my pineapple loving boys, they love Hawaiian pizza as it came with huge pineapple chunks and chicken ham slices. For meat lovers, Meat Lover's Delight  is a must order with a combination of smoked beef pepperoni and steamed chicken breast over a beef bolognese sauce – you cant get any more satisfying that this! 
Loved the crust which had the right thickness and crunch, super generous toppings, love the nice blend of made from scratch tomato sauces and cheese making this a worthy pizza! 
The sides came not soggy and still crispy just like their name. 
Their 12″ inch pizzas are super affordable from $9.90 onwards. For all orders above SGD60, it is free 1 hour delivery. 
Payment is brought to you by Liquid Gateway and if you are interested to find out more, you can read this article on Best 10 Online Payment Getways in Singapore for more information
Best in Singapore
Website | Facebook | Instagram
Uncle Tony's Pizza
Website | Facebook | Instagram
Giveaway: 
Uncle Tony's Pizza has generously sponsored a SGD50 voucher to  1 lucky reader to try their pizza.
Like and follow Uncle Tony's Pizza on IG
Like and follow mypreciouzkids
Tag 1 comment per tag
Share on IGS tag us
Giveaway ends 29 Nov 2359. 
Share the article