This is not my first parent workshop with Marshall Cavendish, you can read about my first session here. I truly benefited the previous workshop that I attended as I had better understanding of the requirement of a particular subject or sub-section of the subject. So as my eldest enters primary 3 and science is being introduced, I do personally feel a lack of confidence in myself to be able to guide and support  him in excelling in science. I was a science student all the way to Junior College even doing Physics and Chemistry but the themes in the current primary school science syllable perturbed me. To me, science is divided into Physics, Science and Biology. To my surprise, I see themes like Diversity, Cycles, Systems , Interactions and Energy. It sounded so foreign to me that I can't visualised how science is being taught in primary school now. So these workshops organised by Marshall Cavendish couldn't come at a better timing – start of the academic term.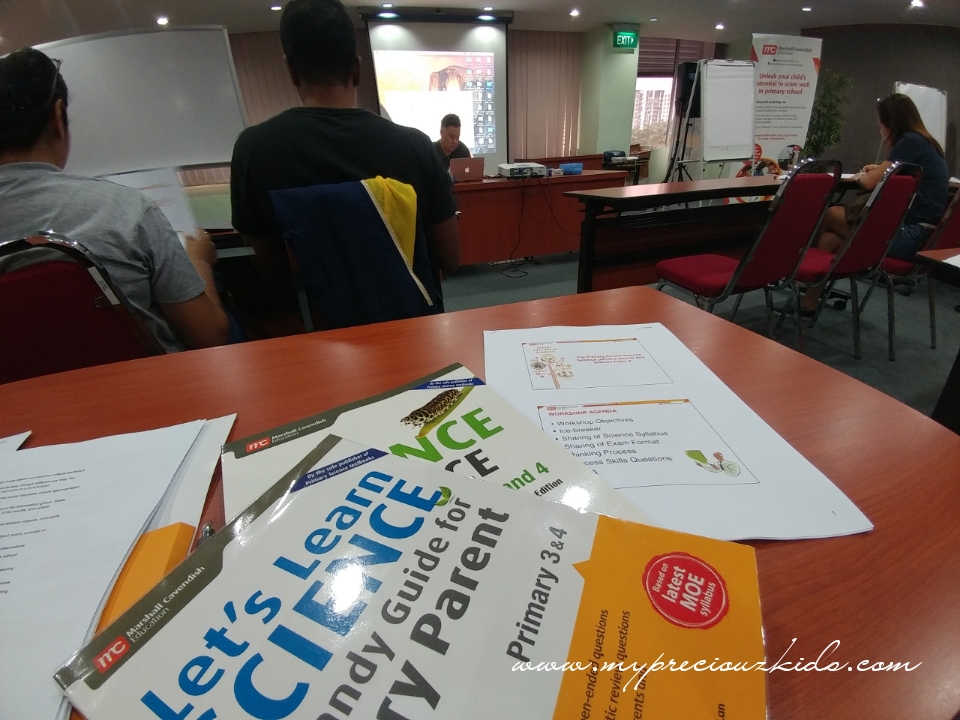 In fact, this workshop is the first of this year's series of science workshops that is organised by Marshall Cavendish enlisting their authors, subject experts and passionate teachers to guide parents like myself who wish to be more involved in the teaching process , and in the known of the curriculum and  syllable.
Today's trainer was Kelvin Chia is who is also an author of several of Marshall Cavendish's primary school assessment books and with 14 years of experience in teaching science behind him, he shared his knowledge in teaching, marking and parents' expectations.
This workshop is pitched to parents of p3 onwards and especially useful for clueless parents like me who are "learning" this subject for the first time. The current science syllable is based on the 2014 science syllable which you can see from the MOE website. I bet my money that many parents would not have read through this 78 pages pdf documents outlining the current syllable. However, Kelvin mentioned that it is imperative to have an idea of the syllable in order to guide your child into understanding the learning outcomes that are tested in the PSLE, ie no need to go beyond the syllable and learning outcomes as prescribed by MOE.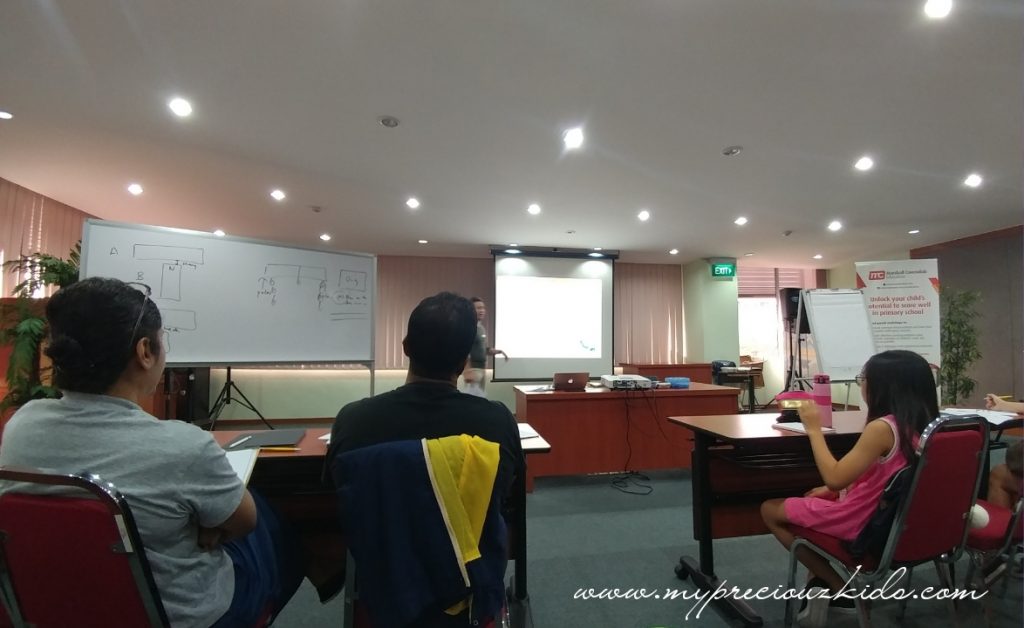 As today's workshop was more introductory in nature, I have listed down the key take-aways.
1. Science is less of a spiral curriculum that Mathematics
One of the biggest key differences between Science and Mathematics, is that Math is more of  spiral curriculum whereby you need to know p2 Math before you can do p3 maths etc. However for Science , there is no need for you to know P3 science before you can do P4 science, for eg, you do not need to know the lifecycle of a plant before doing reproduction. Primary School Science is divided into lower (P3 & P4)  and upper block (P5 & P6), which means that the school is free to doing any of the themes within the two year period unlike the other subject.
2. PSLE exam format
The PSLE science paper consist of 2 booklets of MCQ and OEQ (open-ended questions) and to be completed in 1 hour and 45 minutes.

3. KEEP ALL YOUR SCIENCE TEXTBOOKS!
As mentioned in point 1, Science is not a spiral curriculum, the student may have learn a topic in p3 and the same topic not revisited in p6 and yet it could be tested during PSLE. So PSLE science test all themes in both lower and upper block. So for PSLE the student need to revise and know all topics covered from P3 to P6.
4.PSLE Science is 40% knowledge and 60% application of knowledge and process skill. 
This mean a student who has memorised all the science facts in the themes would be able to get 40 marks but if he is unable to apply it, he wouldnt be able to score well.  Application of knowledge and process skills is the ability of the students to interpret information using of one or more of the following process skills – inferring, predicting, analysing, evaluating, generating possibilities, formulating hypothesis and communicating.
Kelvin also brief in the 5 step in answering OEQ by going through 2 PSLE questions.
Step 1  – looking for clues,  Step 2 -identifying Task Words (classify, compare, describe, explain, differentiate, identify, infer, list explanation, Step 3 – identifying topic that is being tested, Step 4 – identifying key words from the topic tested and Step 5 – phrasing the answer using CER (Claim, Evidence and Reasoning). As the workshop was only 1.5 hours, Kelvin could not deep dive into each of the steps in greater details. I am sure there are workshops specifically for answering such OEQ.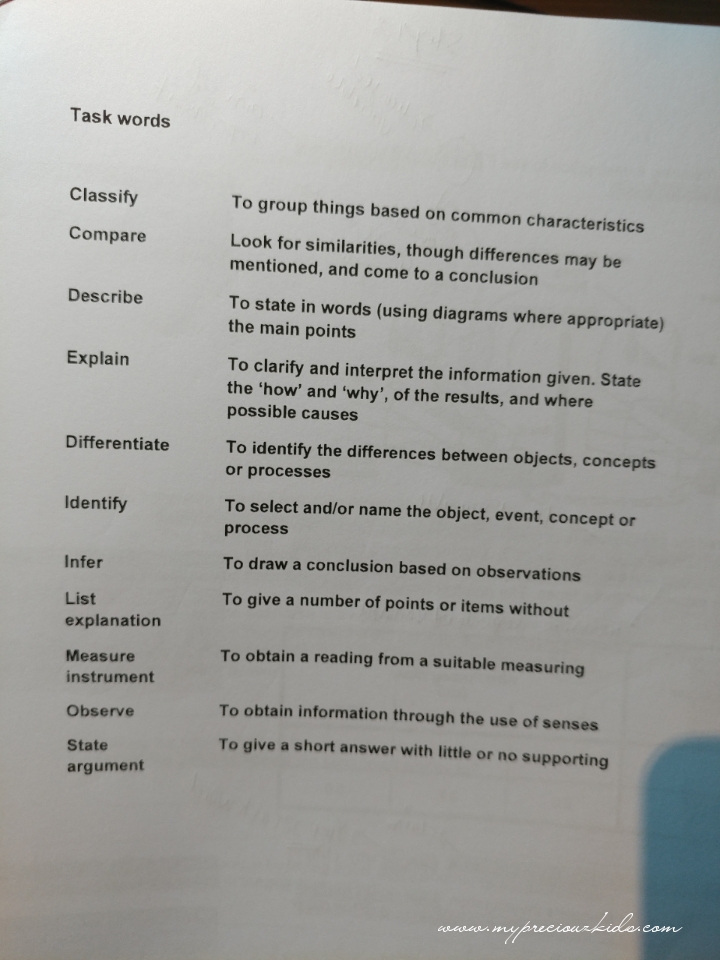 As this year's Marshall Cavendish workshops have been reformatted to shorter durations – 1.5 hours and 3 hours (as compared to prior years' workshops which were 6 hours long) , today's workshop of 1.5 hours I felt was a tad too short to fully reap the benefits. That said, the amount of information that I have receive in that short 1.5 hours has been very beneficial to me personally as I embarked on learning primary school science with my child. In fact, I have enrolled for next week's science workshop!
For the complete list of parents science workshops in Term 1 (priced at SGD 20 or SGD35) , click here.  In fact. the science workshops are on every Saturday till the March schools holidays!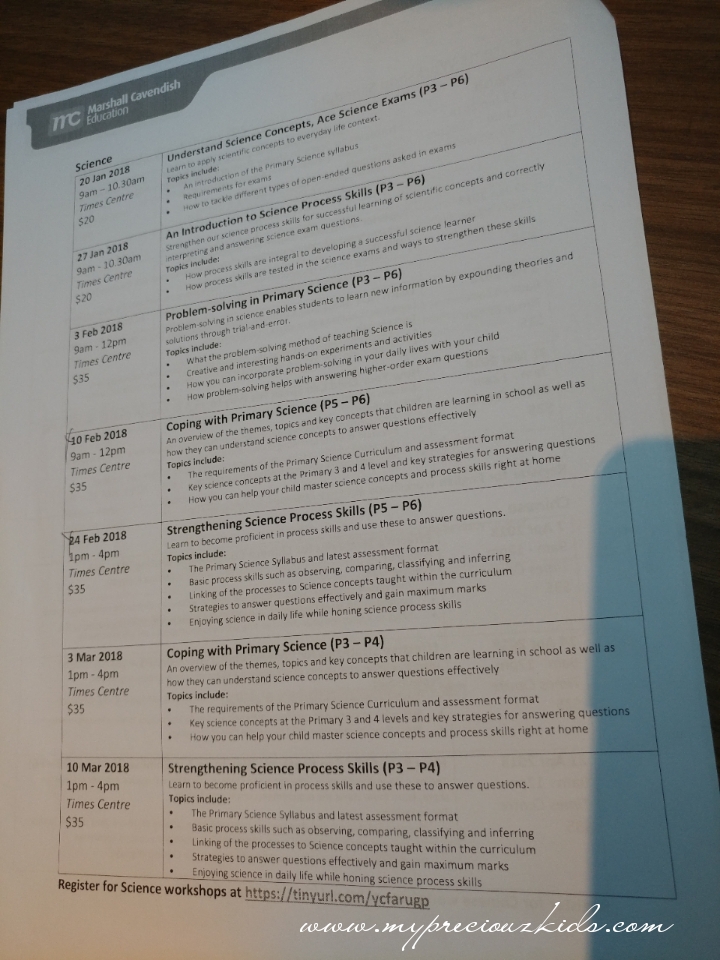 For the other subjects, click here
Disclaimer: This is a sponsored post.  No monetary compensation was received. All opinions are my own
Share the article