With the exception of Chinese language which I didn't study in school, I am fairly confident in tutoring my child in the other subjects myself especially Mathematics. However, there is one component of a subject (even when I in school it was the paper that I struggled a fair bit even though I read widely) that I have little confident in teaching and guiding my primary 3 child -English composition.
I am often lost for words when I needed to guide  big J in his school writing. Even if I had written the composition myself and pass it for scoring, I am sure the marks awarded would not be satisfactory too. I did try to buy some composition and creative writing assessment books but I don't think it is useful in my "cause". Save for the some model composition writing books, I have since stop buying assessment books which aim to teach kids to write. As my kids schedule are quite packed, I am not inclined to start another enrichment class. Most of the English classes also teaches the other aspect of English ie comprehension, vocabulary , grammar, synthesis etc but at this juncture, I think big J needed more guidance is in composition specifically.]
So the Tiger mum in me started big J on an online writing academy by Big Ideaz Education during the December holidays. As we didn't have a long holiday and big J was "loitering" at home , I thought it will be best to prep him for p3 composition writing.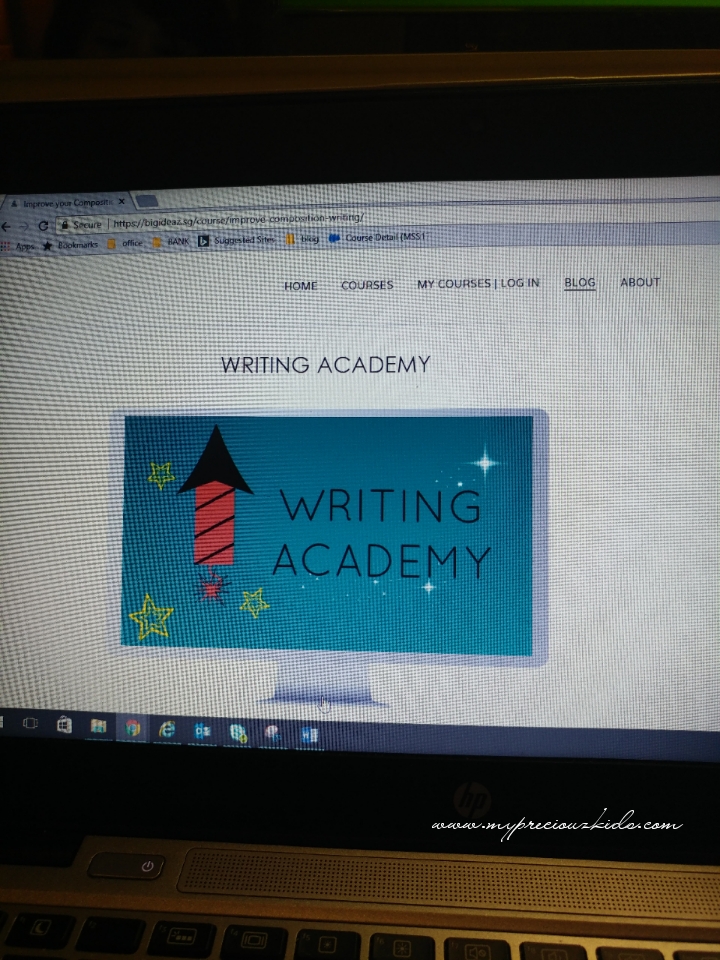 What I really like about  Big Ideaz Education online writing academy is that it is done at the home and at any time the child chooses. There are 4 lessons in 1 month, of course it is best to do it on a weekly basis. The best part (and this part you can't really get out from the regular classes), I can go through the video with my child so that I am well versed with the format and expectation of primary school composition.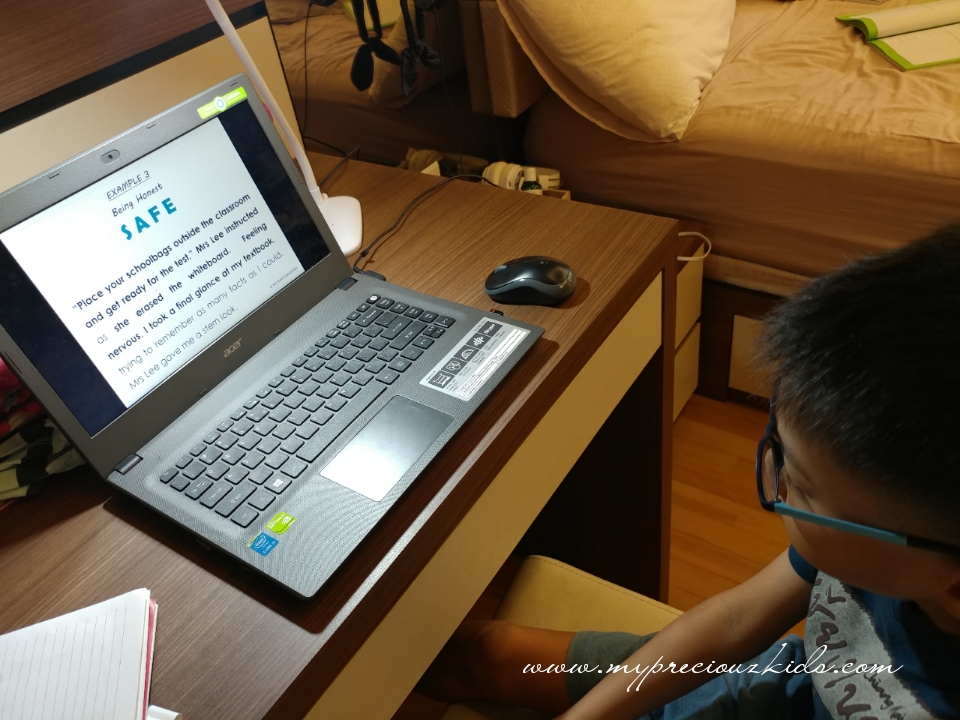 To sum it shortly after going though the course with big J for 1 month plus, big J and myself as a parent  now have a fairly good idea the structure of a good composition. I love that the online writing course teaches big J each component of a composition per lesson (and not overwhelming him). Even as a parent going through the online video, I must say that the lessonshas been done in a systematic way.
The online course started with introduction for lesson 1 and slowly introduces the other parts – events leading to the problem, the problem, the resolution and the conclusion.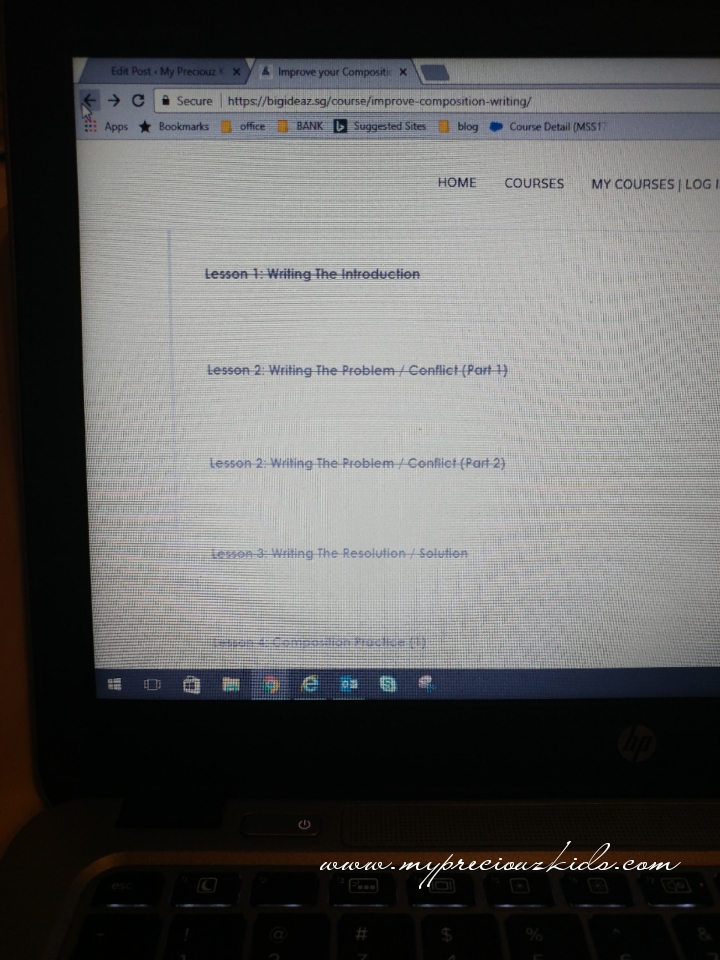 I may not be able to guide him but I am more aware of how marks are awarded for each component of the composition and what kind of content that the teachers are looking for.
For example, it is often encouraged to put a speech in the introduction to make it make the composition more interesting and appealing to the reader. And how to introduce the problem and its resolution with more depth and content than merely resolving a problem abruptly. After each lesson, parent will download and print the written homework. I will print 1 month's homework at 1 go so that I have the homework ready after each lesson. Then I will scan big J's written assignment and submit online for marking and returned within 5 working days with the comment and improvement points. The child is sometimes  require to do draft 2 so that he can incorporate the improvement points and make it a better composition.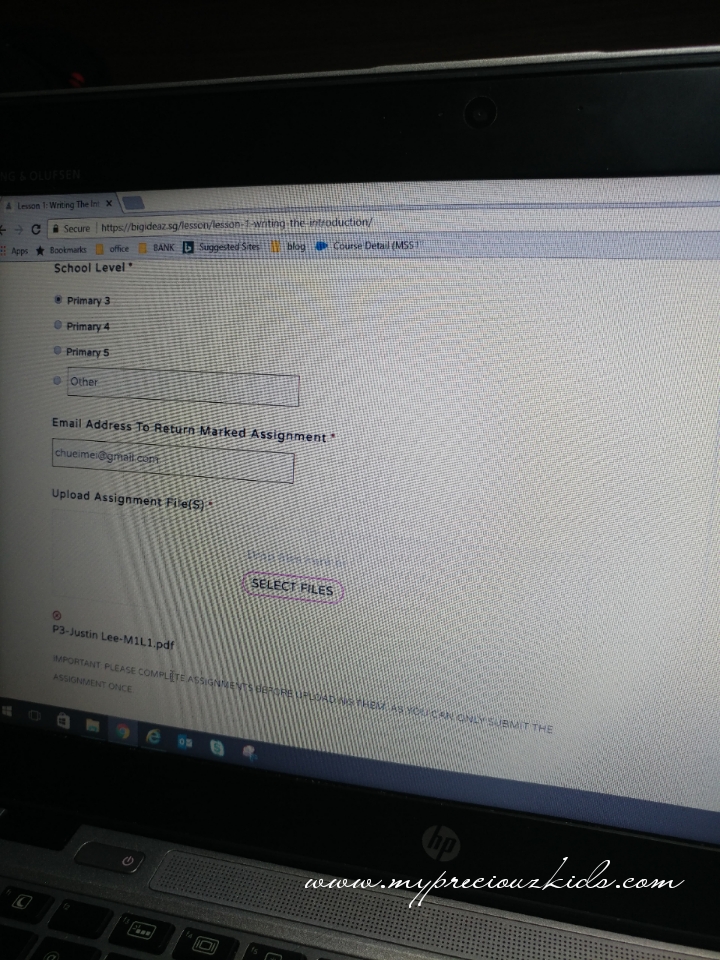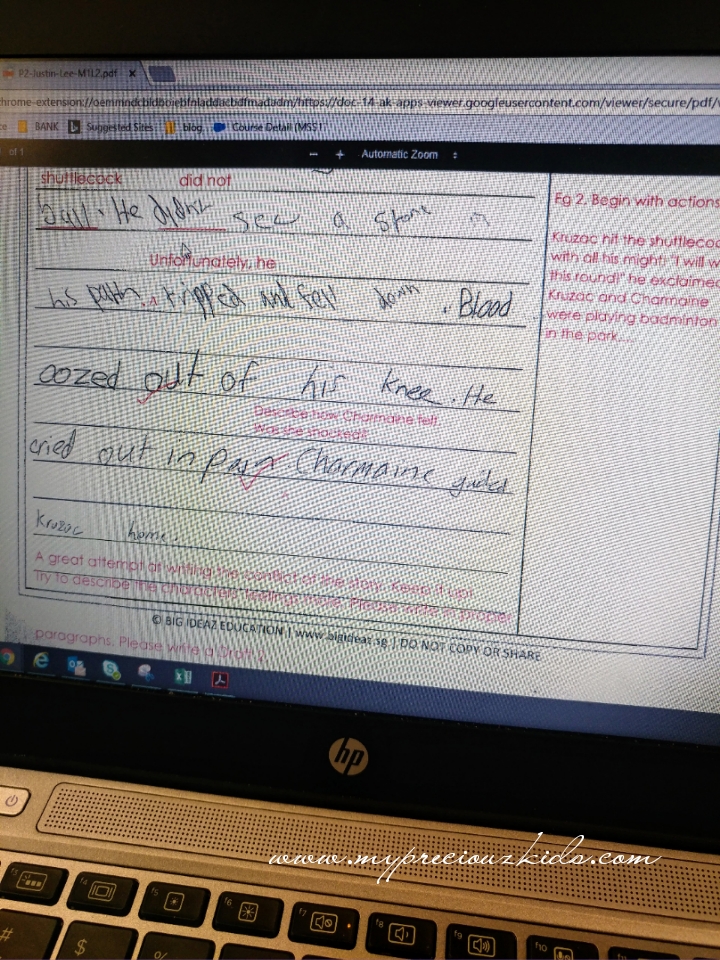 That said, when it come to home-based learning, as there is no fixed schedule and timing, the child must have some discipline to go through a weekly lesson which consist of less than a 10 minute video followed by a written work. Online course may not work for every child but if your child (and the parent too) have the discipline, this may be the best arrangement without attending a proper writing class at this juncture. I will definitely let J go through few more months and see if this helps him in his composition writing and if both myself and big J have the discipline to do this on a weekly basis. It is too early to tell if this online writing course is helping big J but he is more aware of what he require to write for each component of a composition such as incorporating speech in the introduction, to describe more feeling that merely just telling etc.
You can also read more about the founder and the teacher behind this online portal here . Do check out her blog as well as she give insights into English subject and composition.
Big Ideaz Education 
Giveaway
Big Ideaz Education has kindly sponsored 1 reader for 2 month access to the Writing Academy (8 weeks of lesson worth S$188) for kids p3 and above.
1. Liked FB pages of mypreciouzkids.com and Big Ideaz Education
2. Followed mypreciouzkids on Instagram
3. Liked and share this FB post and tag 3 friends who will be interested in this.
Please keep your Facebook shared post  (as indicated in step 3)  in order to qualify so that I can locate your entry. Bonus: repost the IG post with #mypreciouzkidsgiveaway and tag 3 friends (1 tag per comment)
I will be picking the 1 lucky winner. The giveaway closes on 4 February 2018 2359pm (Sun)
Winner: Teo Muan Hua
Disclaimer: This is a sponsored post.  No monetary compensation was received. All opinions are my own.
Share the article