I have always known of the holiday art classes at Heart Studio from many years back and they have the most awesome themes that ALL kids love – My Little Ponies, Cars, Star Wars, Shopkin – you name a cartoon theme that your kids love they probably have it especially during the holiday programs. When I had only 2 kids, I do indulge them with weekly art and craft sessions with them at home but since the addition of the younger 2 boys, I didn't had time to do that at all. It is very tough doing art and craft sessions for 4 kids and to clear the mess thereafter.
On a normal schooling days my kids have their regular enrichment classes and school, art classes would be an after thought. I do believe in the benefit of art classes as in my younger days I did dabble in it as well and even won some art competitions during my primary school days. I even had art classes but it was more pure practise than talent, so I can't really draw and paint like a real artist. I don't think my kids have much artistic streak or talent but my kids do love to doodle, paint , colour and draw. When I told them I sign them for a session of art with Heart Studio during the school holiday, they were over the moon. They have been asking me incessantly since the school hols started when is their painting session.
I only had a small happy problem – it is not possible to find a similar slot for all 3 kids based on their theme they like (qualms of a FTWM as i cant be possibly bringing each kid at a different session) but Heart Studio will be happy to do a swap during the same session. Big J had unicorn as his theme for his age gropu, which he isn't too keen but big C is, so they did a swap. Big J was even happier painting snowman than unicorn for sure. And small J has the theme of his dream – Cars !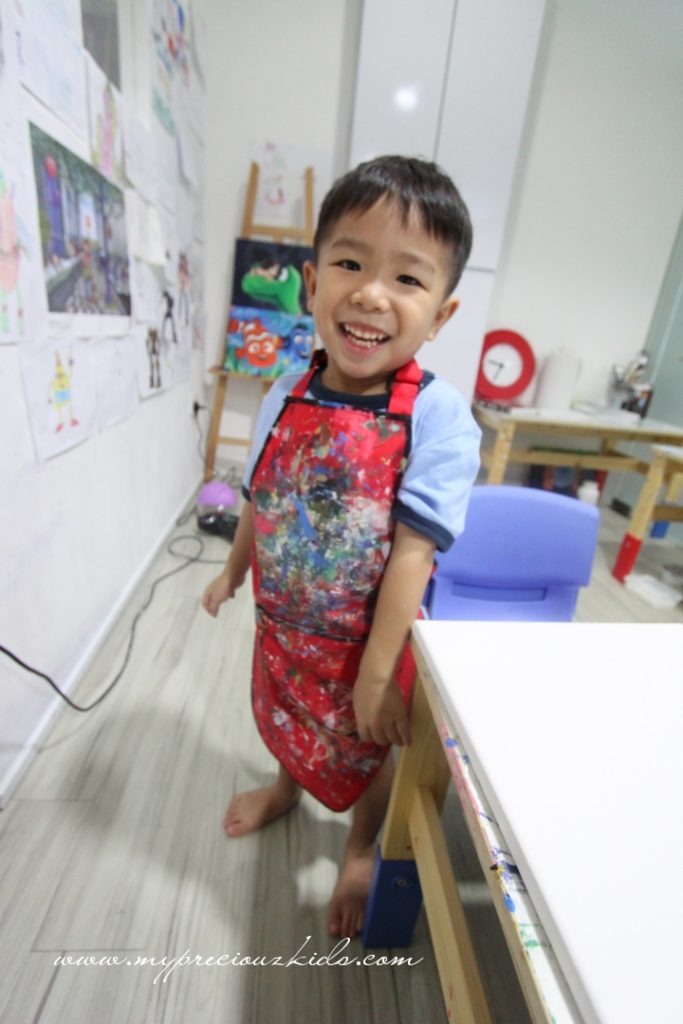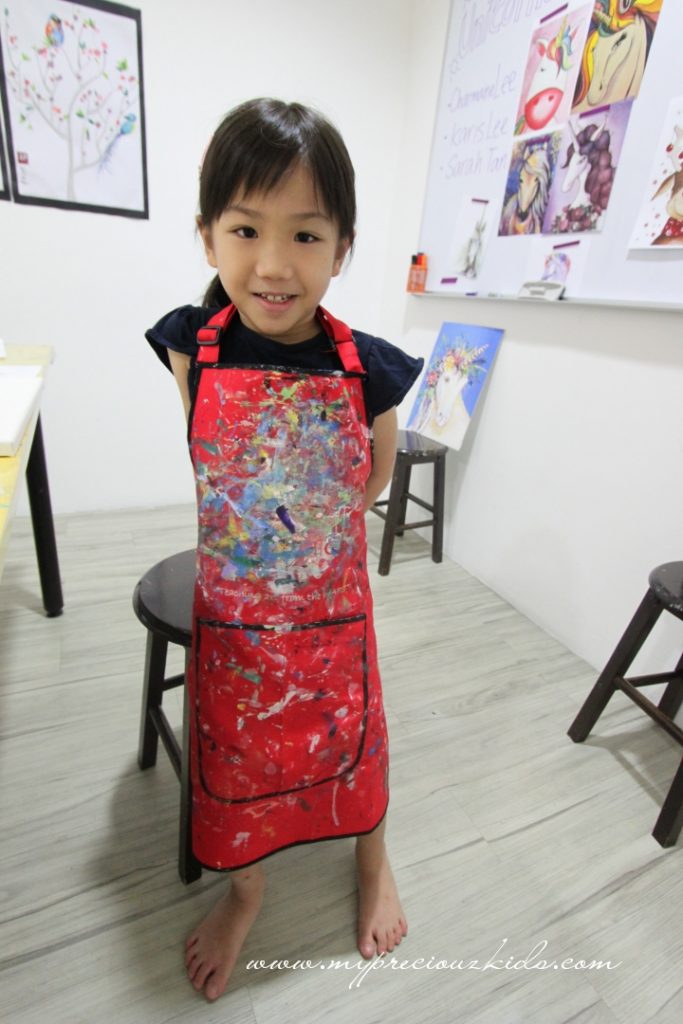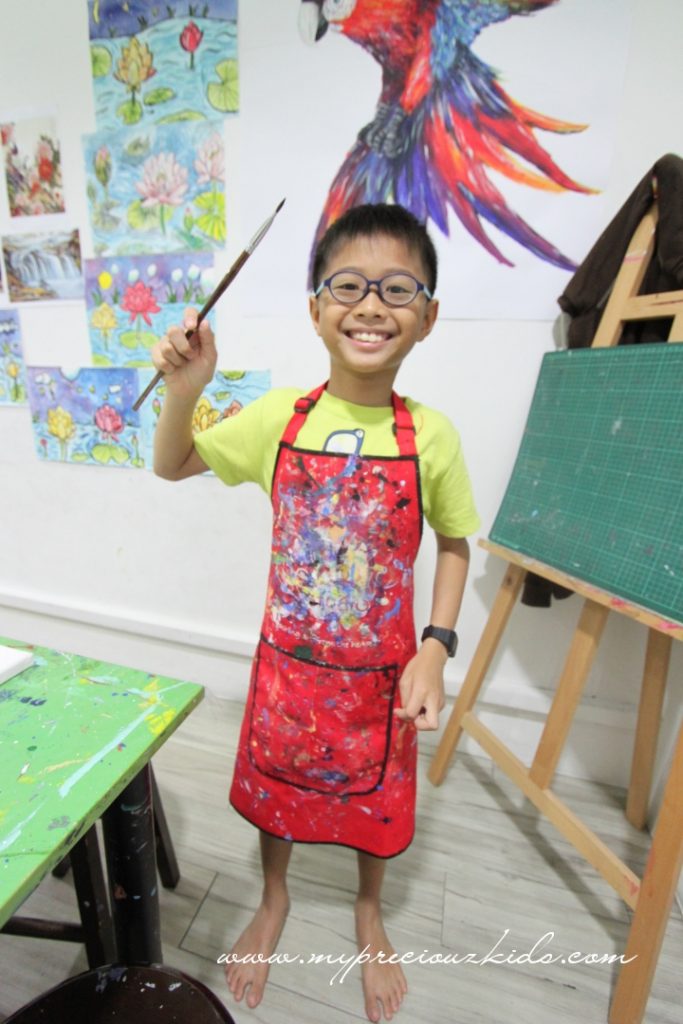 All 3 kids were in different classes due to the age group and complexity of the art theme. Before starting, they get to choose the picture they would like to paint as a guide.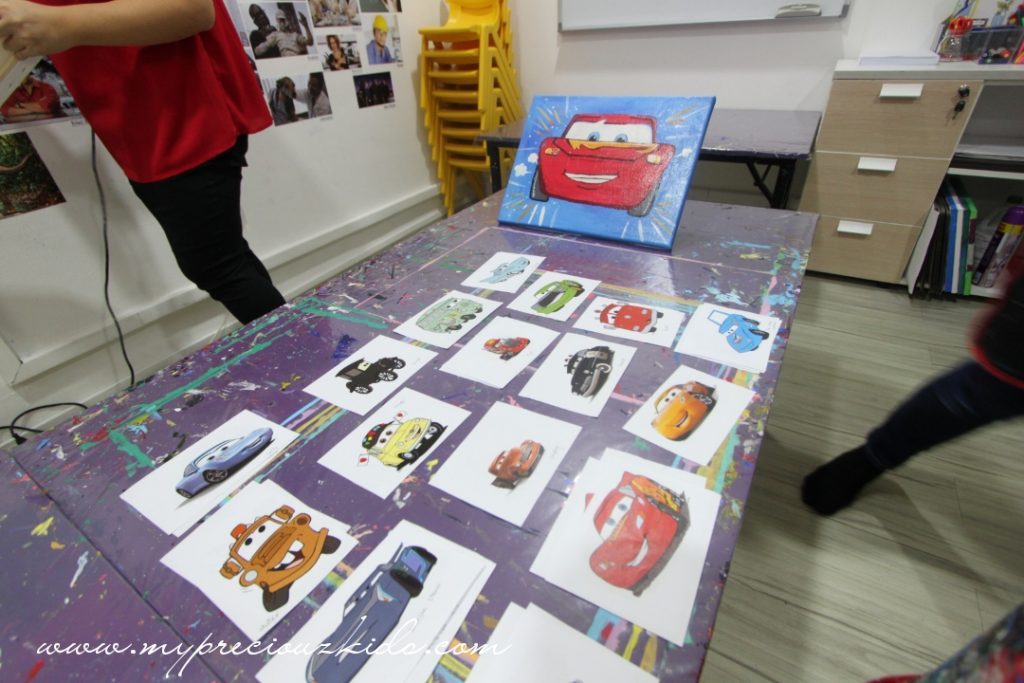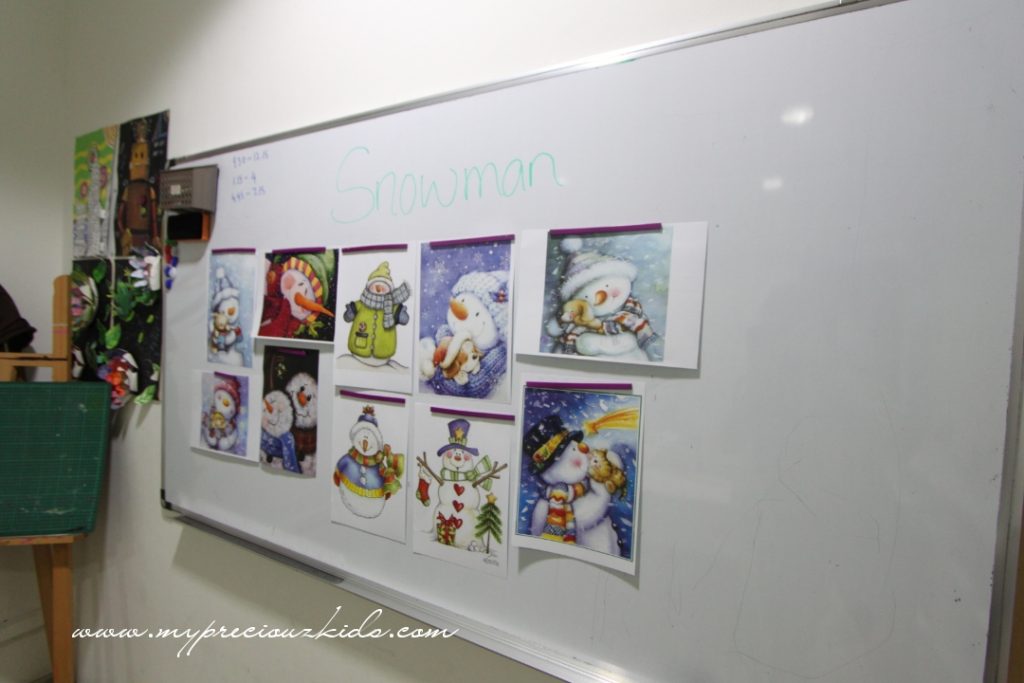 I can tell the teachers at Heart Studio are patient and fantastic with kids. Small J is usually very apprehensive with new classes, he even asked if I will be with him throughout the art class initially but he warmed up to his teacher immediately! In fact, in small J's class there was a boy 1 year younger than him and he could follow the class and listen to the teacher too!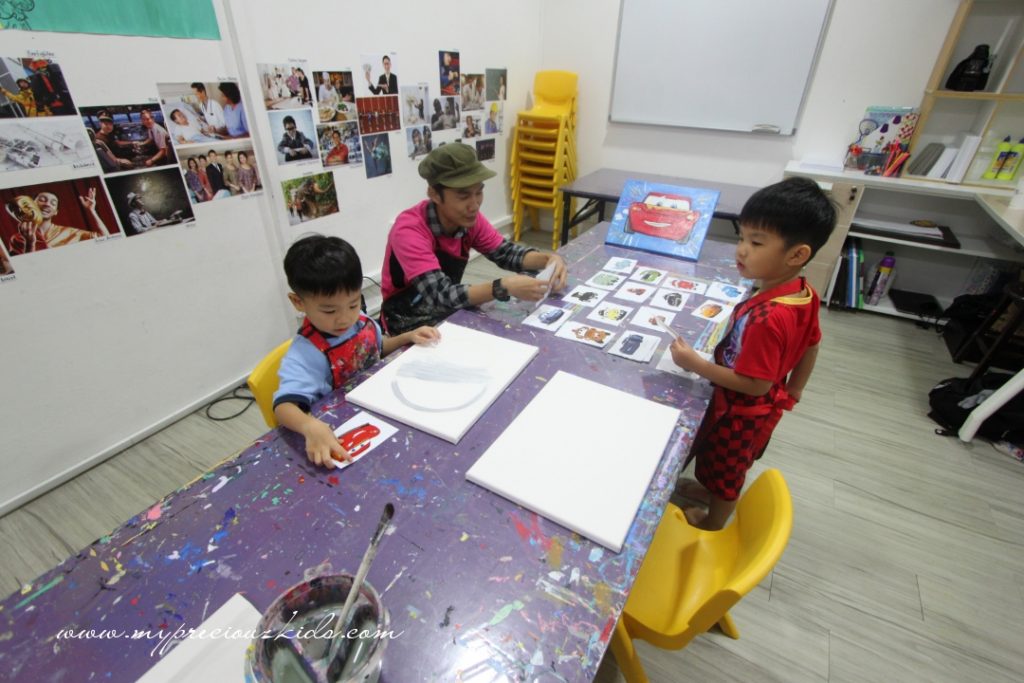 You may wonder how is it possible for kids as young as 3 or 4 to paint such beautiful paintings – I was there thoroughout the session (not in the class per say but I check on their progress now and then). Firstly, they do have a picture to give them an idea how their final artwork will look like. They are guided step by step, stroke by stroke, detail by detail (big C unicorn had a tiara instead of a flower garland) and choose any colour details so make their art work truly their own (and only 1 in the world!)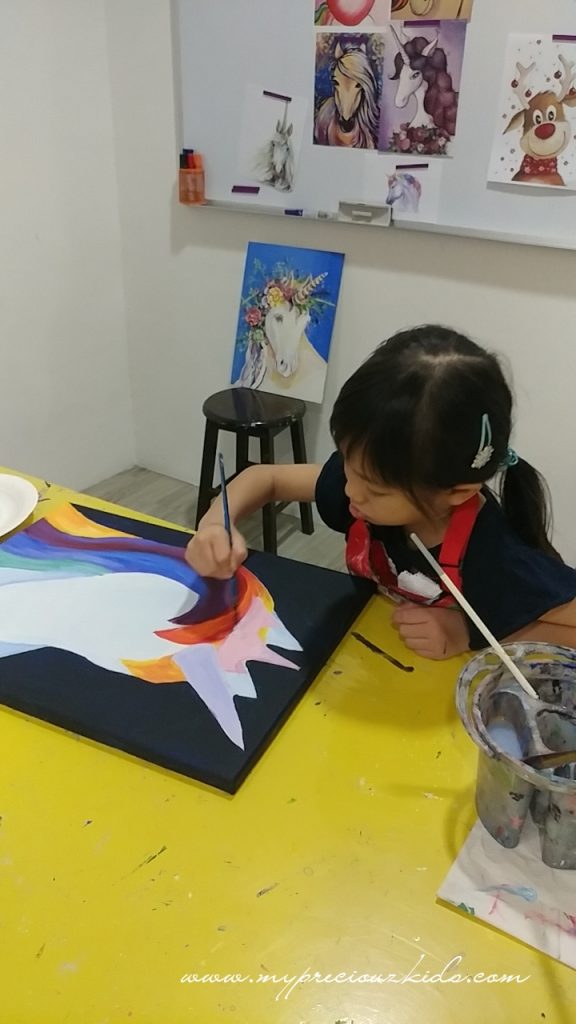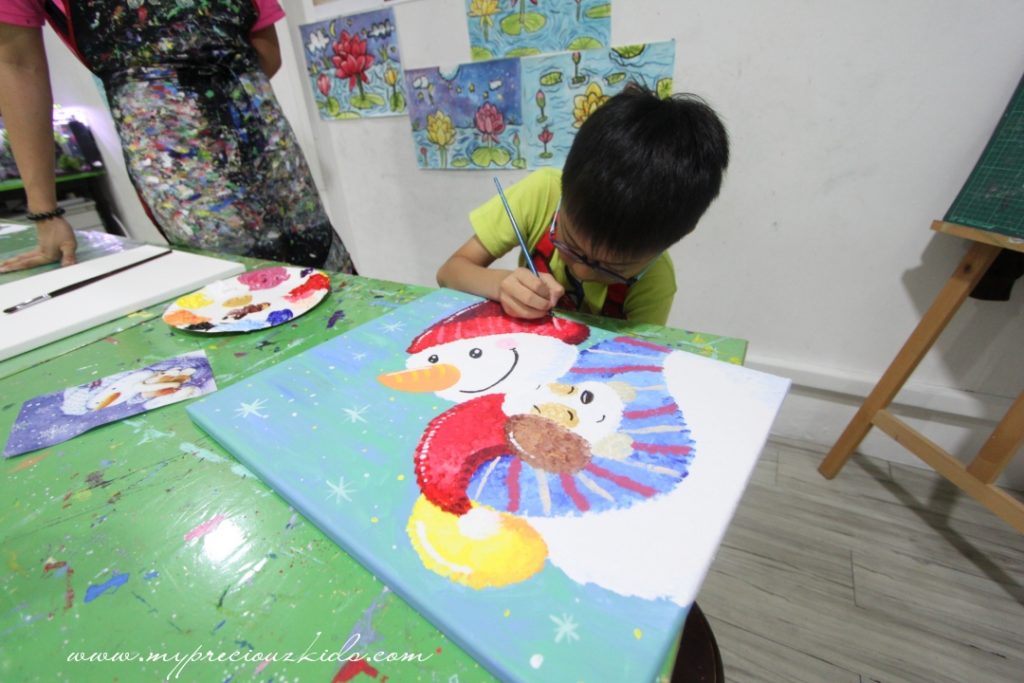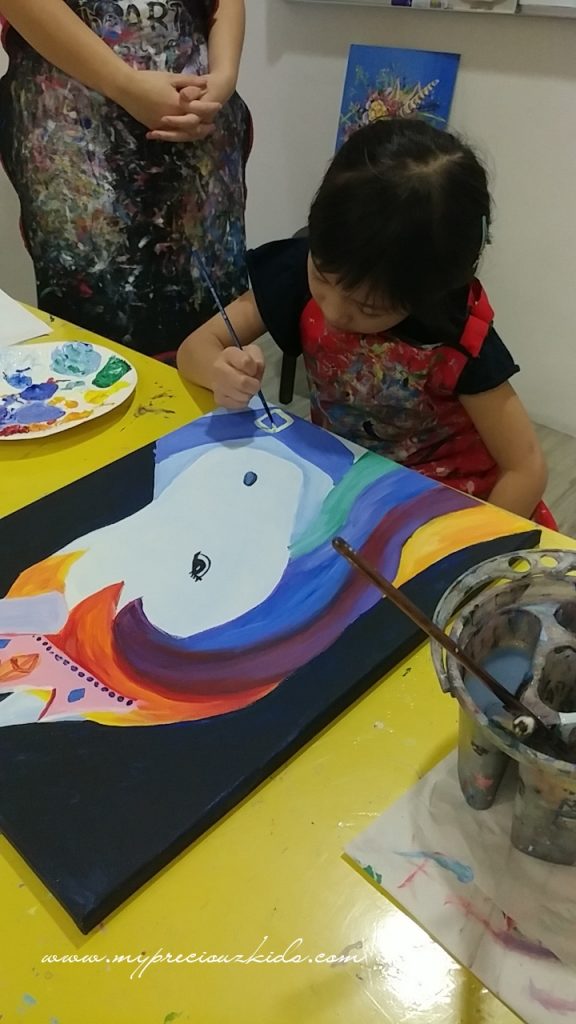 There is definitely more help and guidance for the younger kids as the motor skills are still developing especially for fine lines and smaller details but i would like 90% are done by the kids themselves throughout step by step guidance from the very patient teachers (it was 2 hours 4 5min long!) and hence you wouldn't believe how good the final product looks!
In fact, if you are looking to buy or commission paintings to decorate your kids room, may I suggest that you send your child for a session and you can have a respectable art piece by your own child  at the end of your session for their own room!
In fact, as we were making out way home with their masterpieces, they asked when they can be back to paint again as they enjoyed it so much. The teachers at Heart Studio have been so wonderful and patience throughout that they had such a wonderful experience painting to their hearts' contents and having a piece of their own framed in their rooms! I may not be able to slot it into their weekly schedule, but I will definitely slot it into their holiday schedule. This half day art camp definitely works for FTWM during the holiday seasons!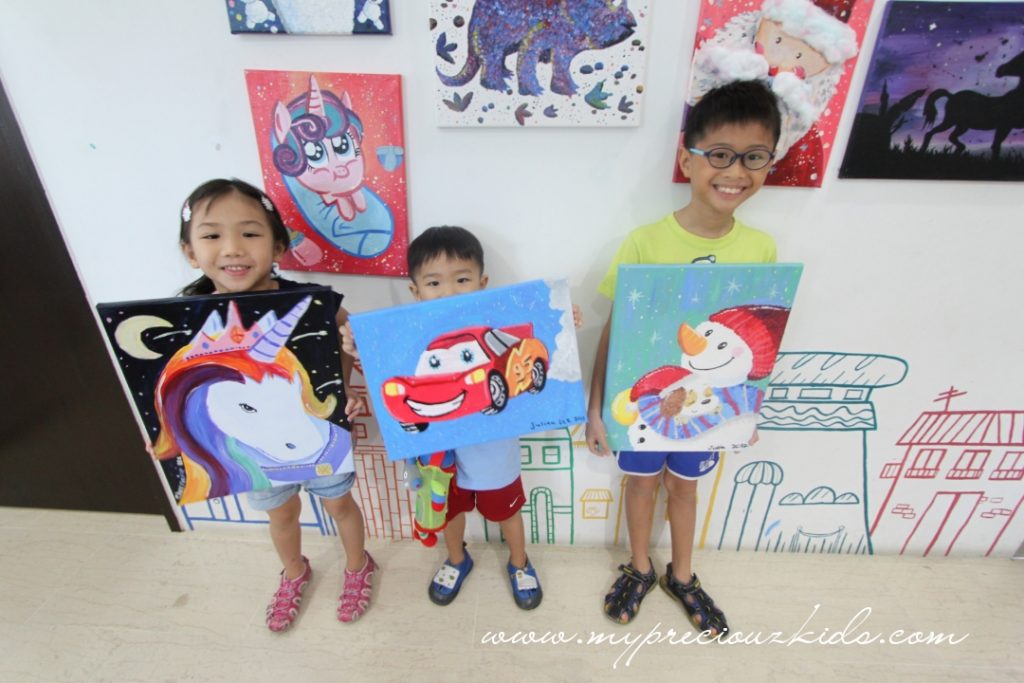 I think there are several more sessions for the December school holiday program , you can check out at this link
Heart Studio
Disclaimer: This is a sponsored post.  No monetary compensation was received. All opinions are my own.
Share the article