All my kids are BIG fan of ramen. They even does the slurping noodle sound just to show oishi ramen taste!
And when I stumbled across the ramen and gyoza making session conducted by Child Kitchen at Ippudo Robertson Quay, I know it is a must try for my ramen loving kids. In fact, Child Kitchen is part of Ippudo group and they have been organising similar ramen cooking classes in Japan, Malaysia, Thailand etc and they brought it into Singapore (only at Robertson Quay outlet) a year ago. It doesn't happen every weekend, probably on the average one or two session in a month and it get sold out pretty quickly too or it has been taken up by a private event. You can add your email into their mailing list and you get notify when a new session comes up.
In fact, such cooking sessions are also suitable for adults for enjoy cooking and savouring ramen. They believe in the power of food to unite people centering around how to cook an authentic ramen.  Besides imparting culinary skills, these sessions are perfect for family bonding through the love for Japanese food.
After many missed opportunities and packed weekends, I finally secured slots for my 3 older kids at the start of the loooonnngg year end school hols. Suitable for kids aged 4 and above (below 6 need parent accompaniment) , we finally conducted our first ever ramen and gyoza making last Sunday! In fact, they have been incessantly asking me when the cooking session will happen when I told them about it in early Nov. Do note that you get Ippudo standard ramen to savour at the end of the session too – IMHO one of the best ramen in SG. At SGD 25 per pax (min 2 pax at SGD 50) for a 2-hour session , I think its the best value for money kids cooking session and you have a Ippudo standard bowl of ramen complete with cha siu and egg.
When we arrived   – aprons, bandana, all set nicely on worktable.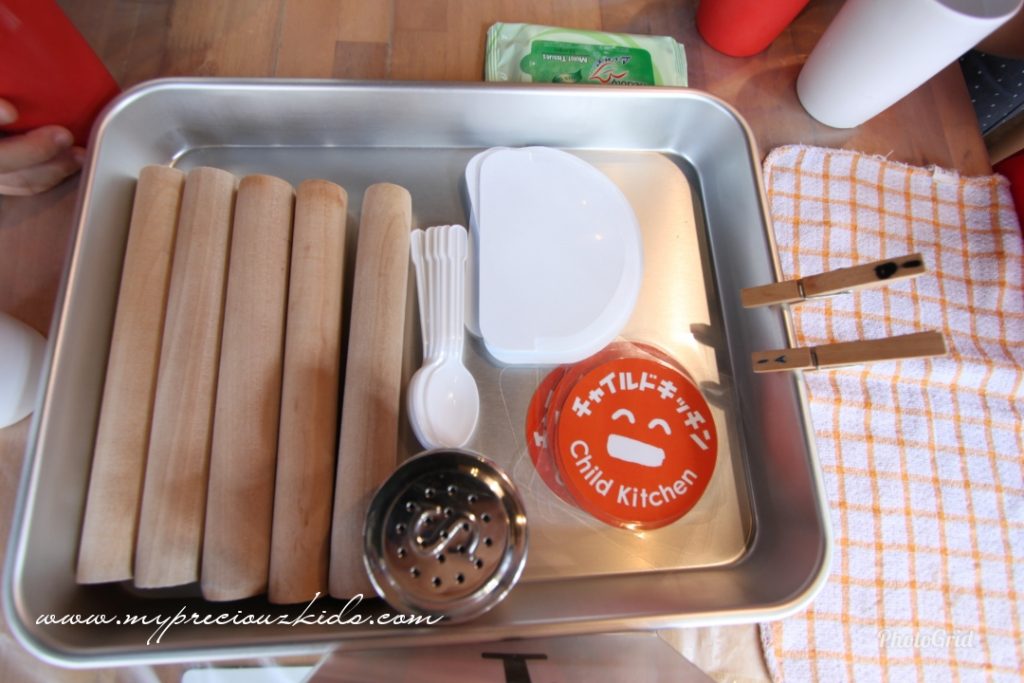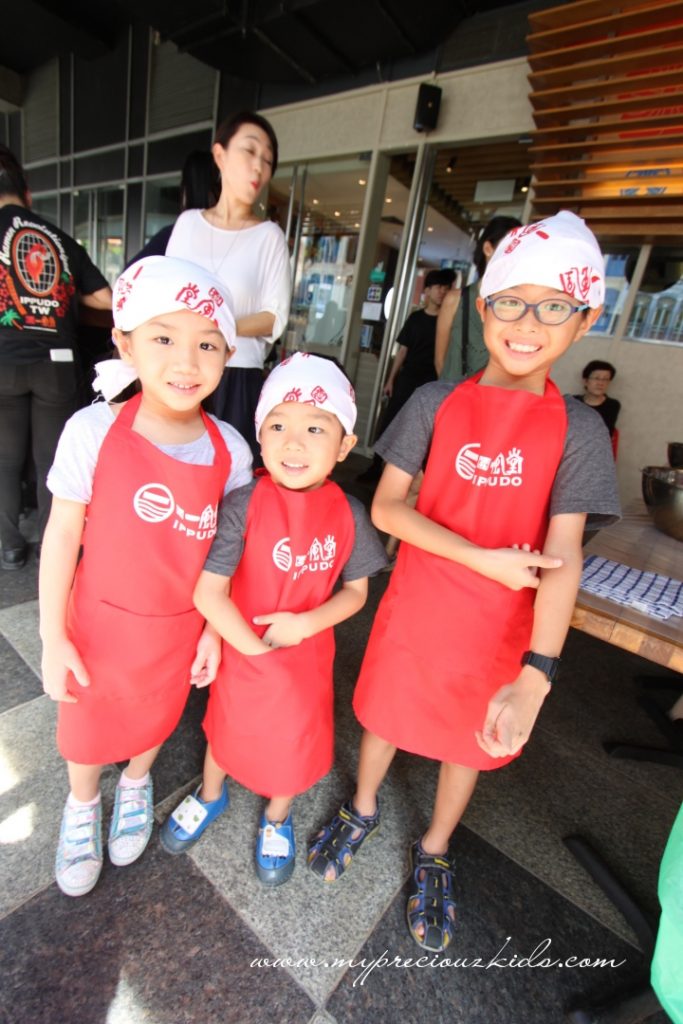 We had 3 packet of flours for our 3 little ramen chefs. First order of the day is to make our own ramen. Mixing lye with floor, we knead into a big round dough. It was mess with flour, but it was clear fun mess (thank god i dont have to clean the mess too). Thereafter, we split into 3 portions -1 for each kid and their portion was placed back into the plastic bag and into their apron's pocket for it to set.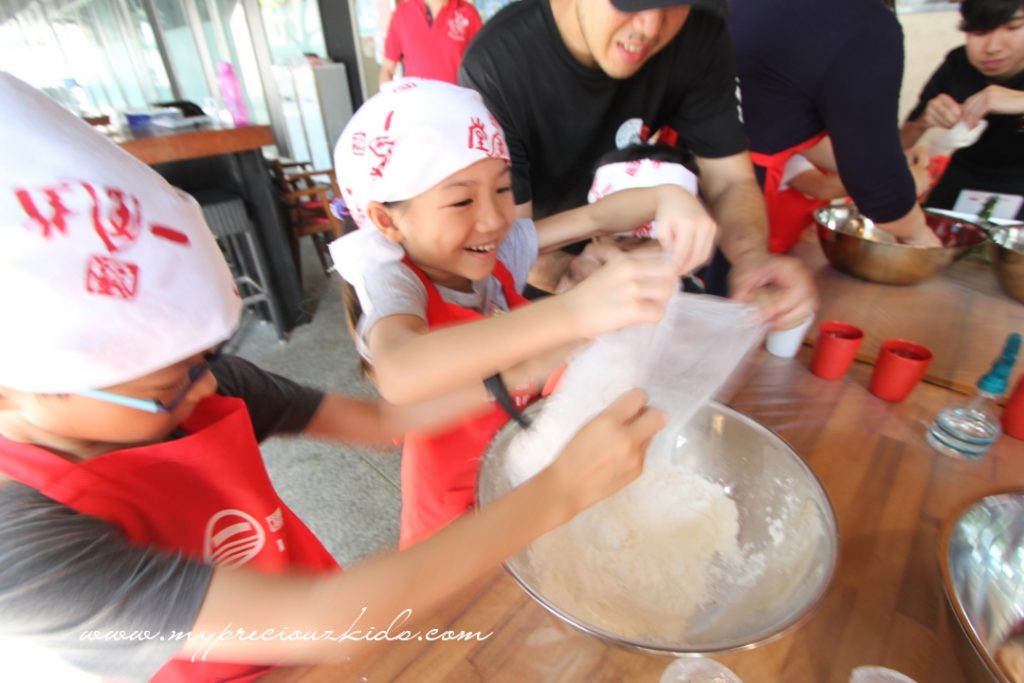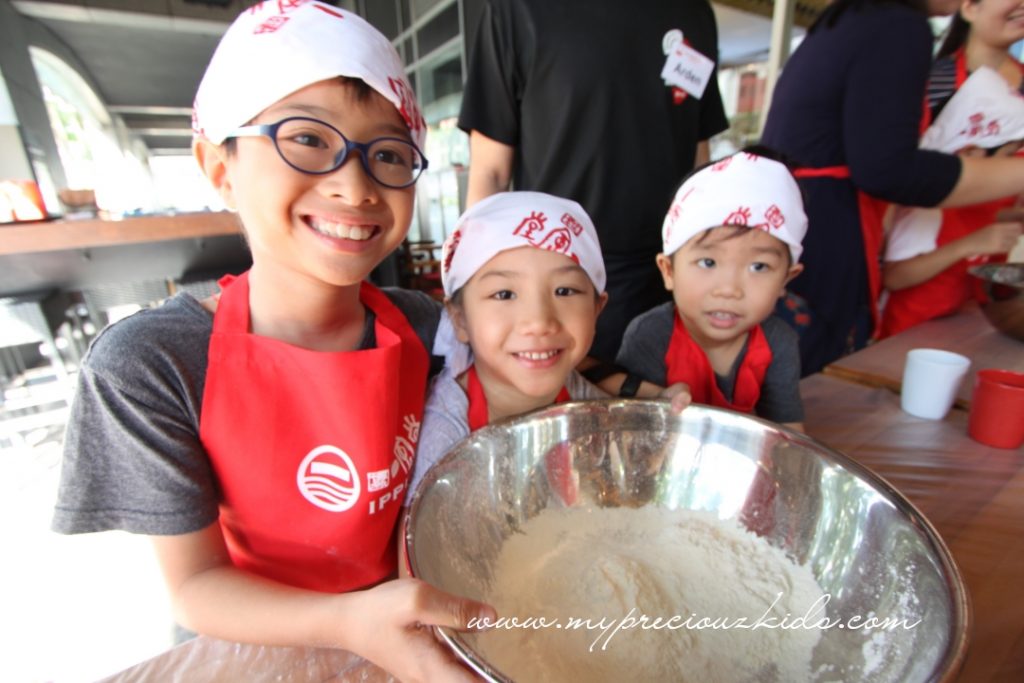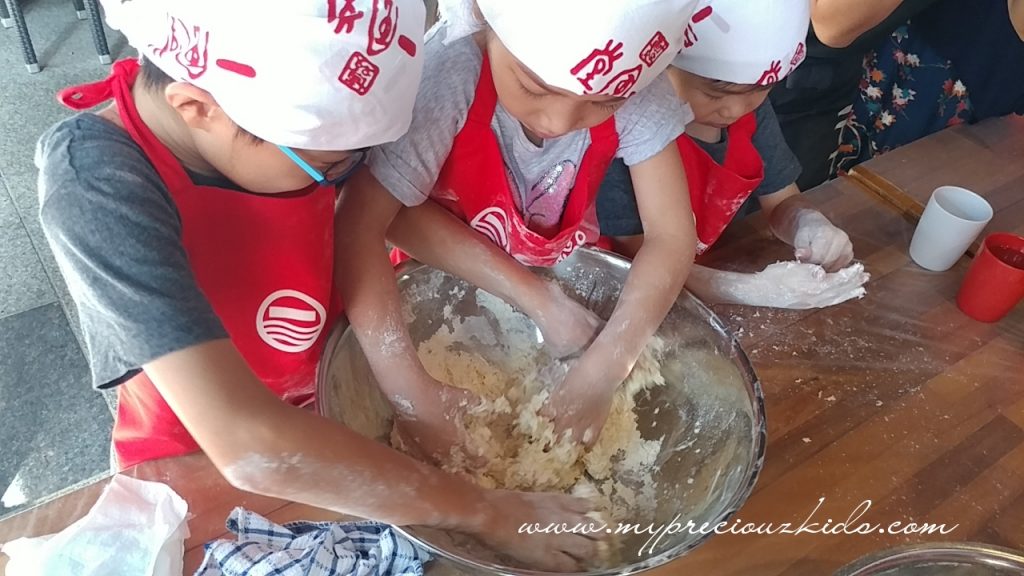 Next, its time to make the gyoza skin. Dividing a small portion of dough into 3 parts (to make 3 gyoza each) , they had to create 3 round gyoza skin using a template. Thereafter, they will put the chicken filling in the middle of the skin and using the same filing on the side around to "create a glue" to skin the edges together. It will then be handed over to the real chef to steam and pan-fried the gyoza.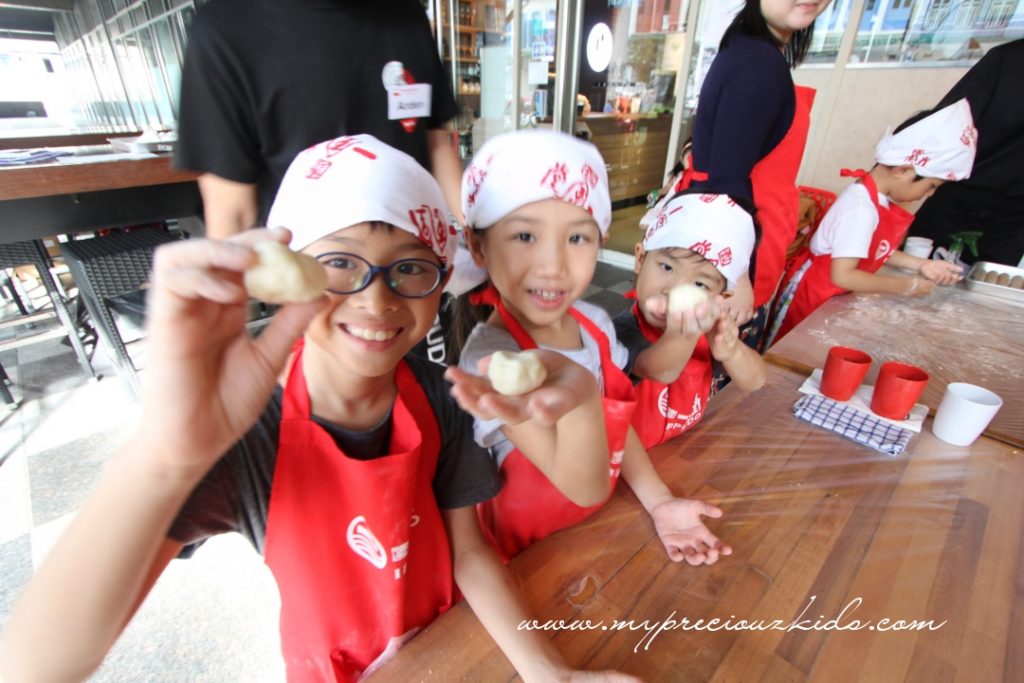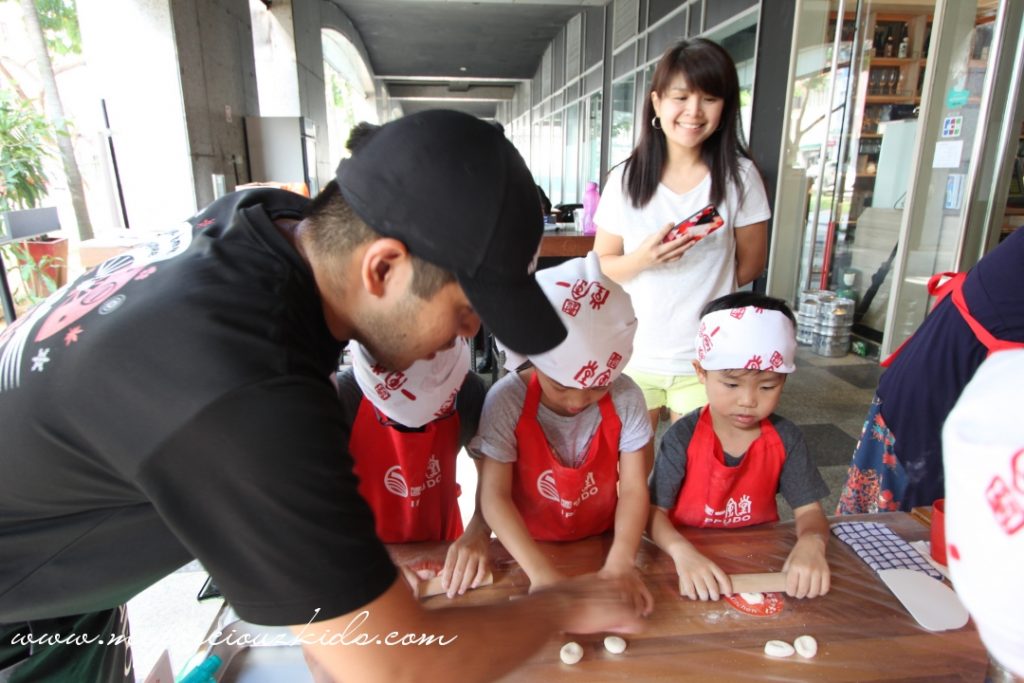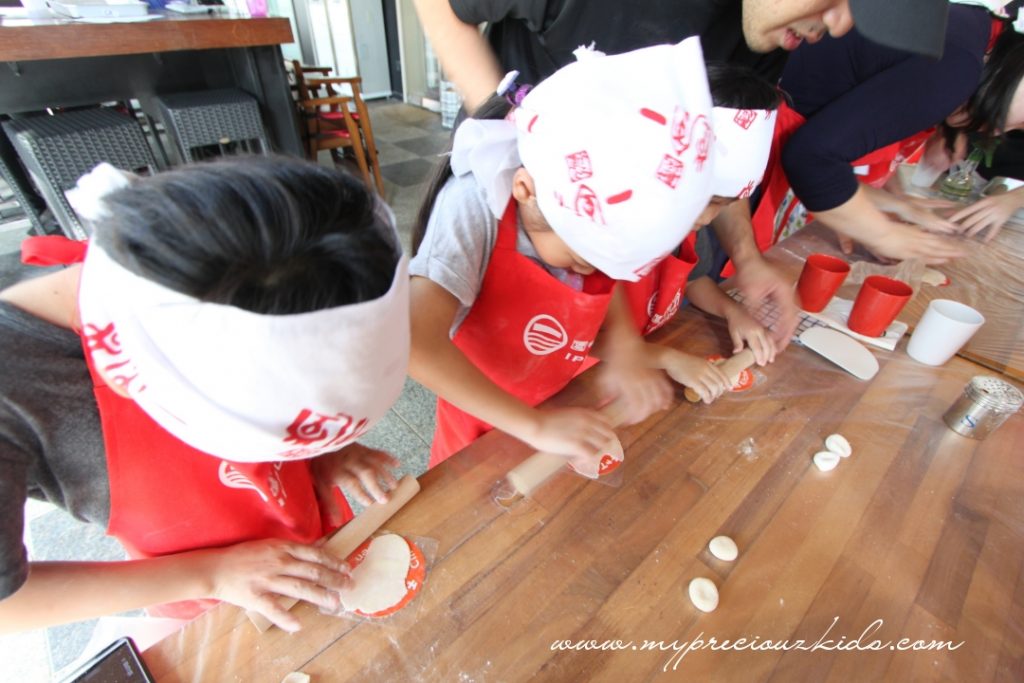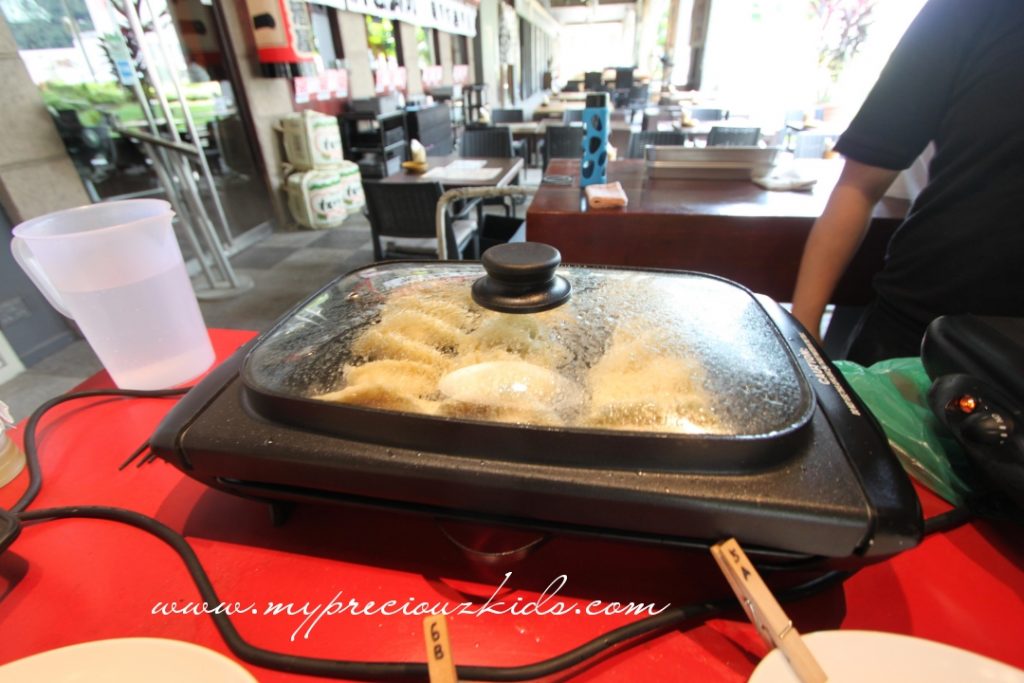 Finally, its time to bring out the ramen dough and the most fun part – flattening the dough. They double-wrapped the dough , lay out the mat and had all kids remove their shoes. The kids are tasked to flatten the ramen dough using their feet – stomp, jump etc what ever it takes to flatten it so that rolled into the noodle maker machine.
They did two more round of "flattening" using the noodle machine until the actual ramen size noodle. All the kids had a good portion (Adult size) which will be cooked and filled with soup by the kitchen.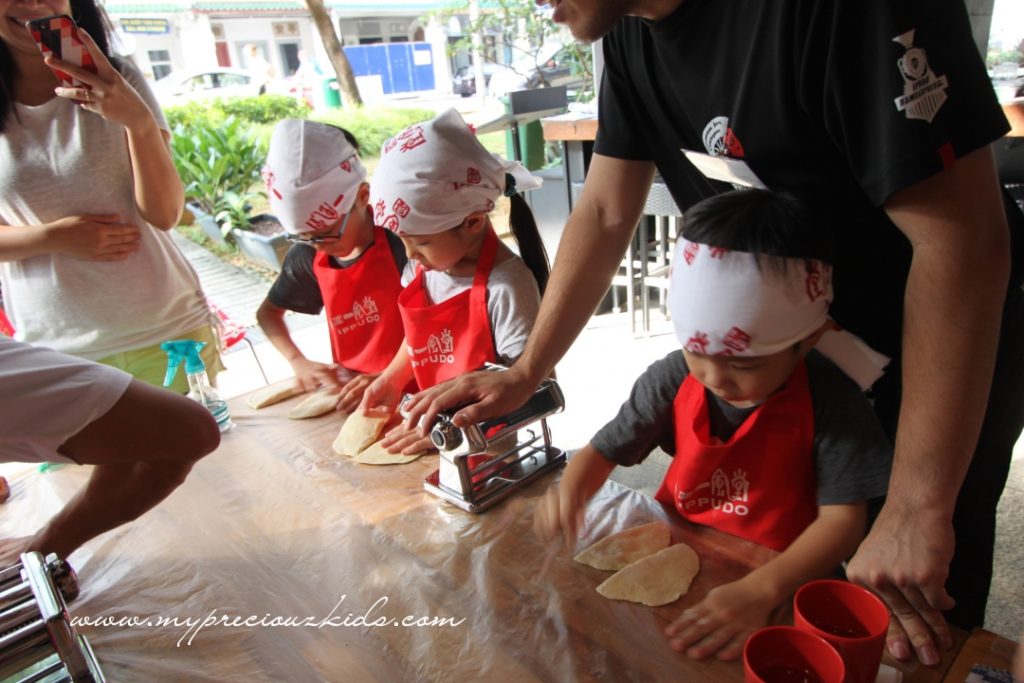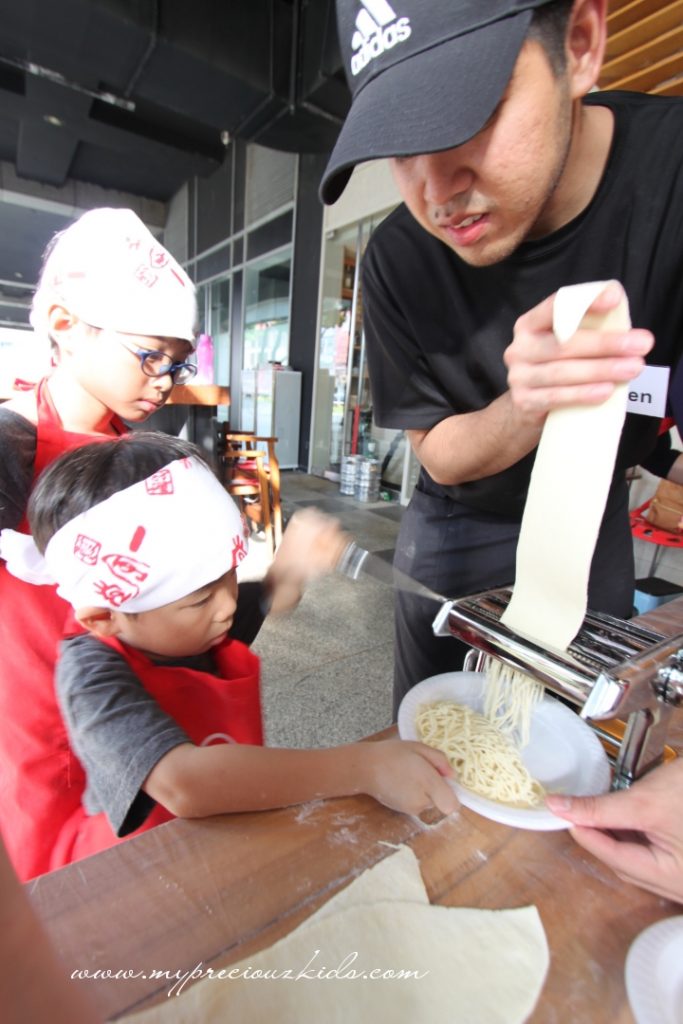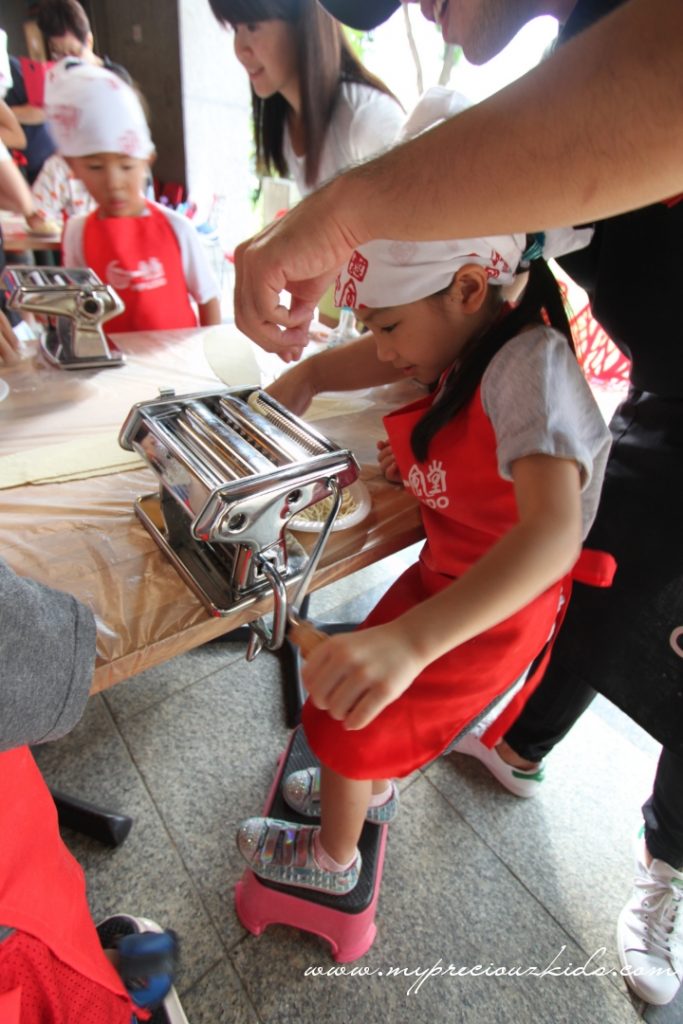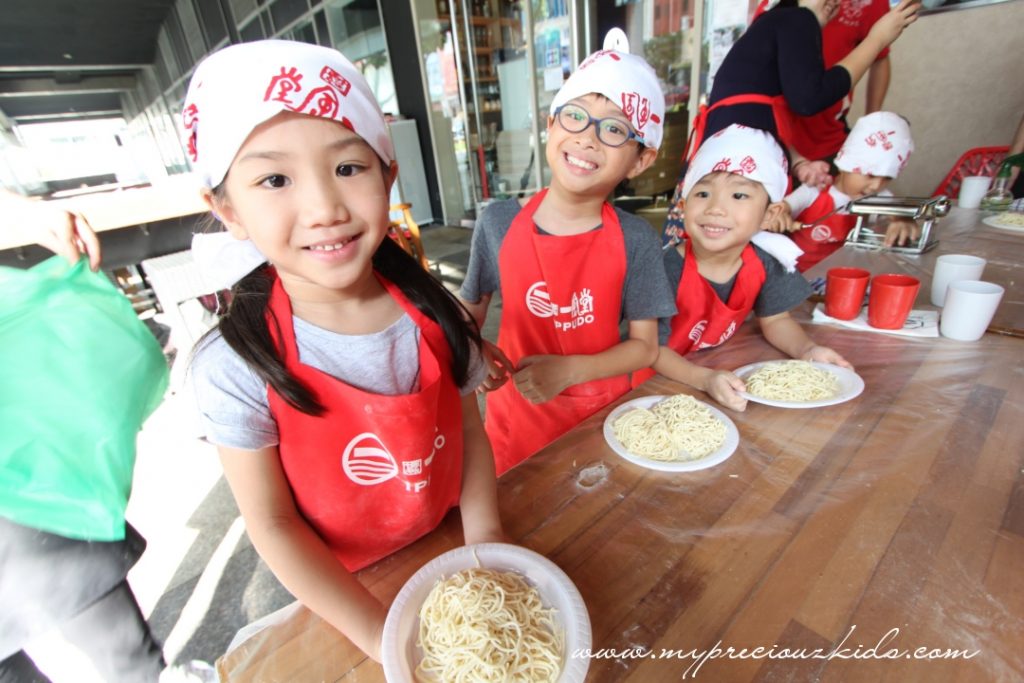 After 1.5 hours of kneading, rolling, jumping, stomping, my kids were famished and eagerly awaiting for their own made ramen and gyoza! I must say it tasted even better than my ramen at Ippudo as it is made by my kids (I had a taste as I finished the left over as the portions were huge!). I guess this was our best kids cooking session , they were so full from their ramen and gyoza that they didn't needed any dinner at all.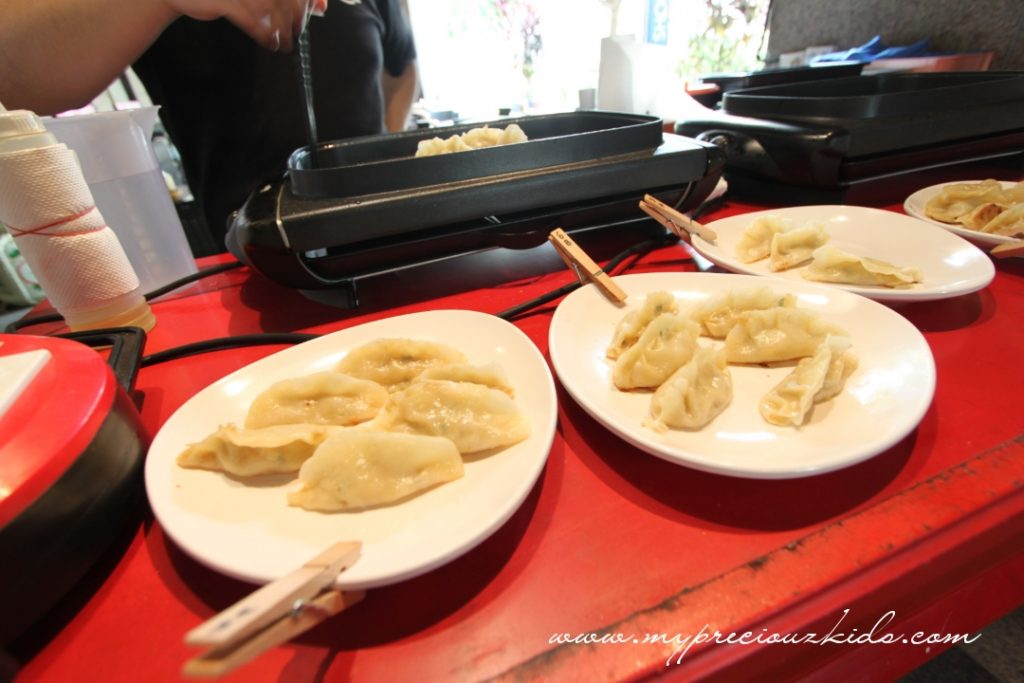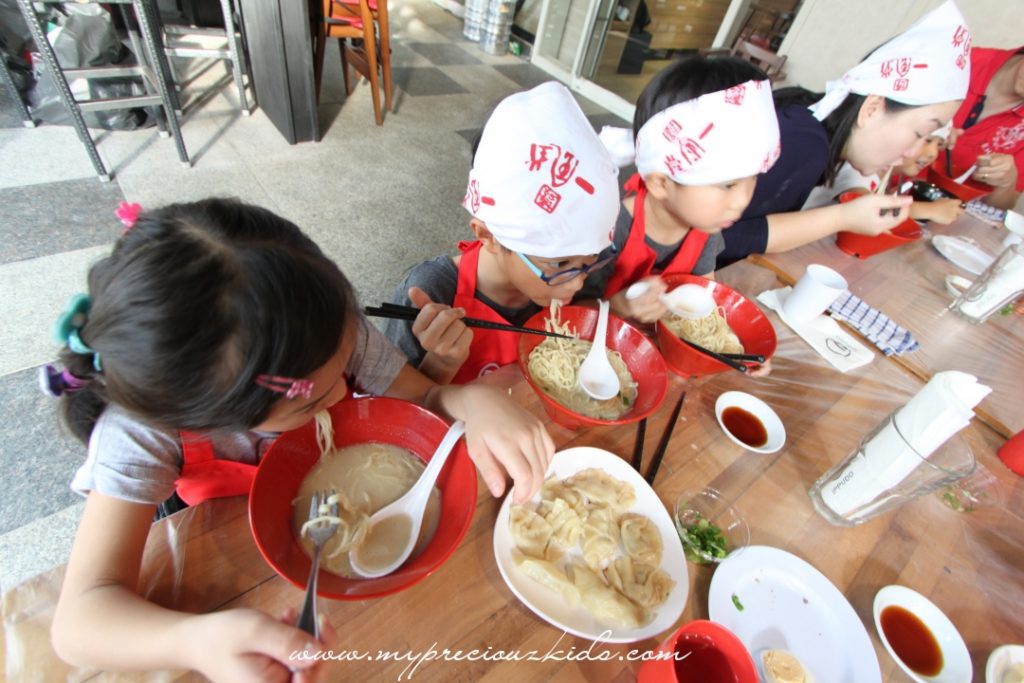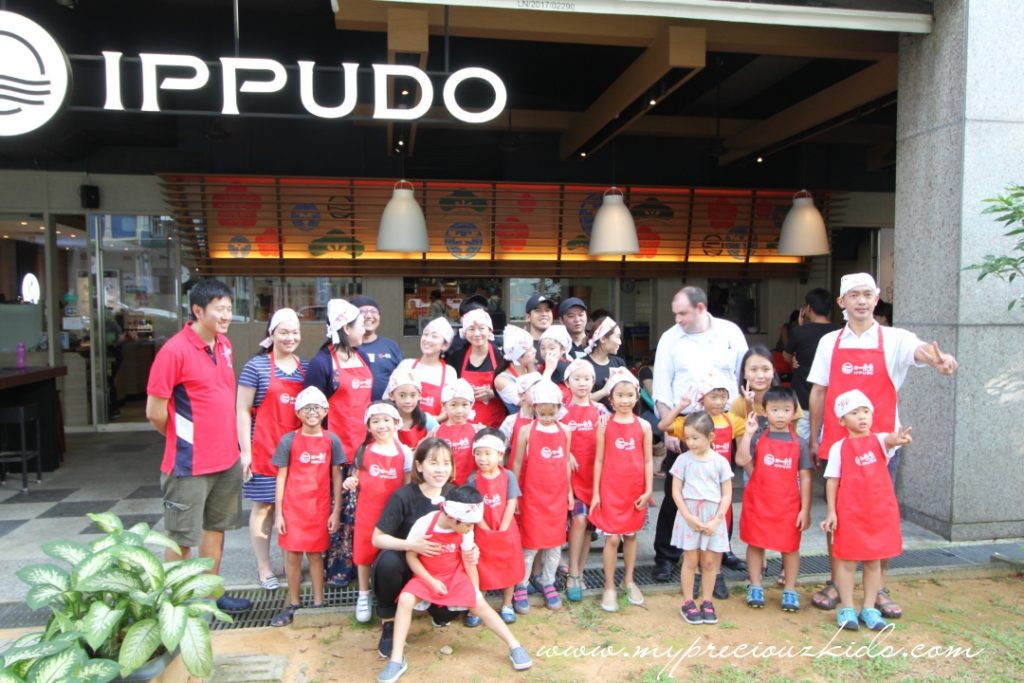 For December, they will be conducting ramen and cooking making session, do check out poster for more details and how to register.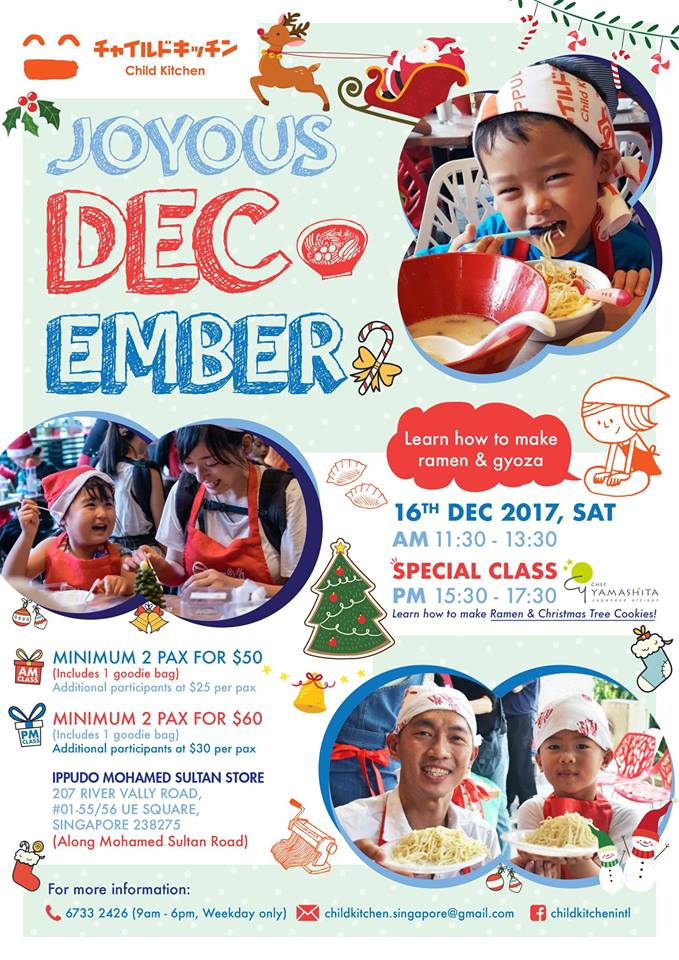 Child Kitchen
Disclaimer: This is a sponsored post.  No monetary compensation was received. All opinions are my own. 
Share the article