I was on the lookout for a lighter ergonomic school bag. If you want ergonomic feature in the school bag, the lightest I have seen  is also weighing at 900g plus. Some ergonomic school bag goes up to 1.2kg without book too! So I am very mindful of the weight of an ergonomic school bag, and daddy is not too keen on ergonomic schoolbag due to the "heavier" weight! He is quite happy to get a light and non ergonomic school bag but I have always insisted that the kids should carry ergonomic school bags and I have tried to source for the lightest one possible. Currently the kids are using ergonomic school bags at 900g. Bromin Emporter seems to have heard me by introducing probably the lightest ergonomic school bag in Singapore.
A bit about Bromin, it is a Singapore-based bag maker and importer founded by Gabriel Tay, who is a father himself ie like a parent like me who recognises two facts  – ergonomic bags are heavier and more expensive. Recognising this opportunity and being in the same industry, he has managed to design and manufacture 2 models (pink and blue) to  fill up this gap in the market –  an ergonomic school bag under 0.7kg and priced under SGD 90 (introductory prices) and the best part it has lifetime warranty !
With big J in mind, I had received both models – Tech and Lite to compare and contrast, however, I will be keeping 1 model for big J and the other bag (brand new, used for photography purposes for this review) will be given to one lucky read. Do note that my preference may not be your/your child's preference.
Bromin Lite (Introductory price SGD 88)
Both models sport very similar back support with plush cushion with waist and chest strap to balance the weight of the bag on its carrier. So in this aspect both models are pretty similar! Its odd that I show the back of the bag instead of the front first because to me this is the most important part of  an ergonomic bag –  its back support!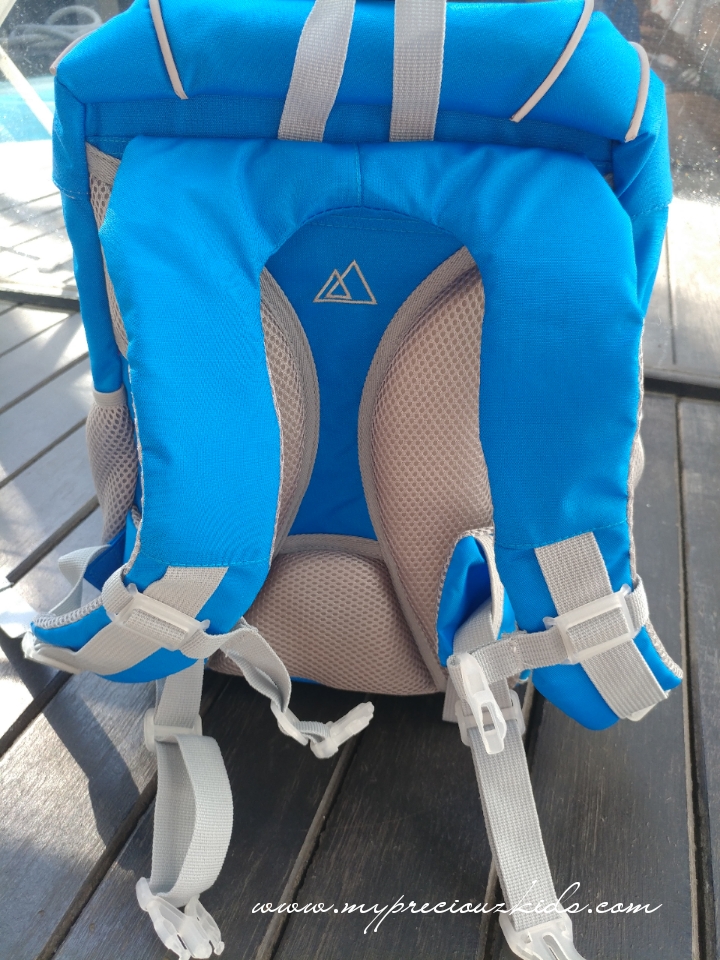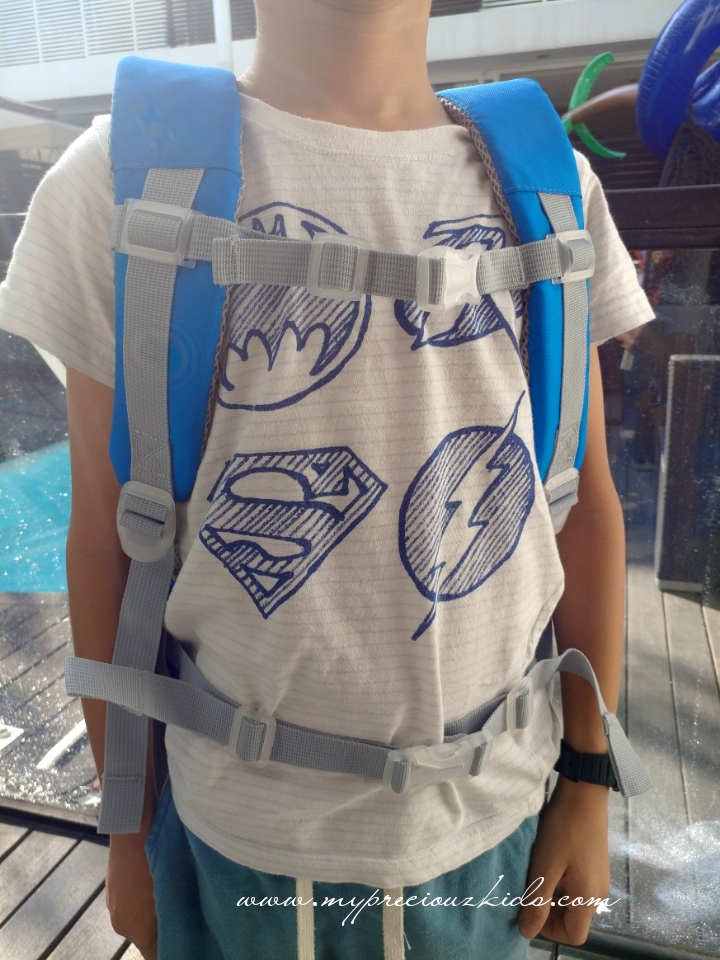 I would say the Bromin Lite has a more sporty and stylish feel  with the flip top cover and a G-Hook. It has a drawstring opening which opens wide to see all its content.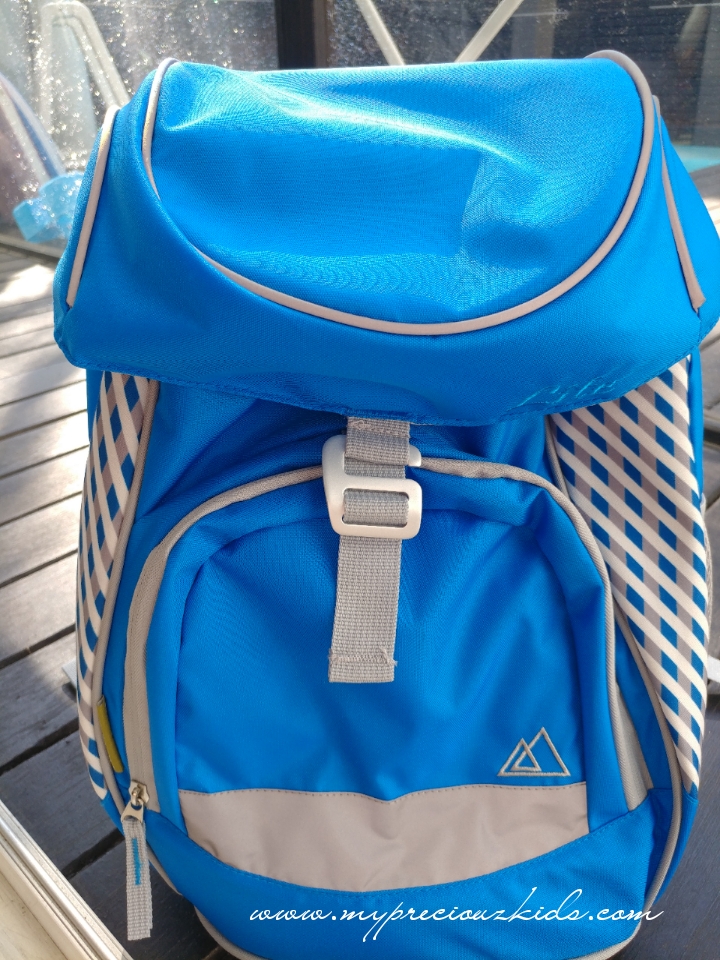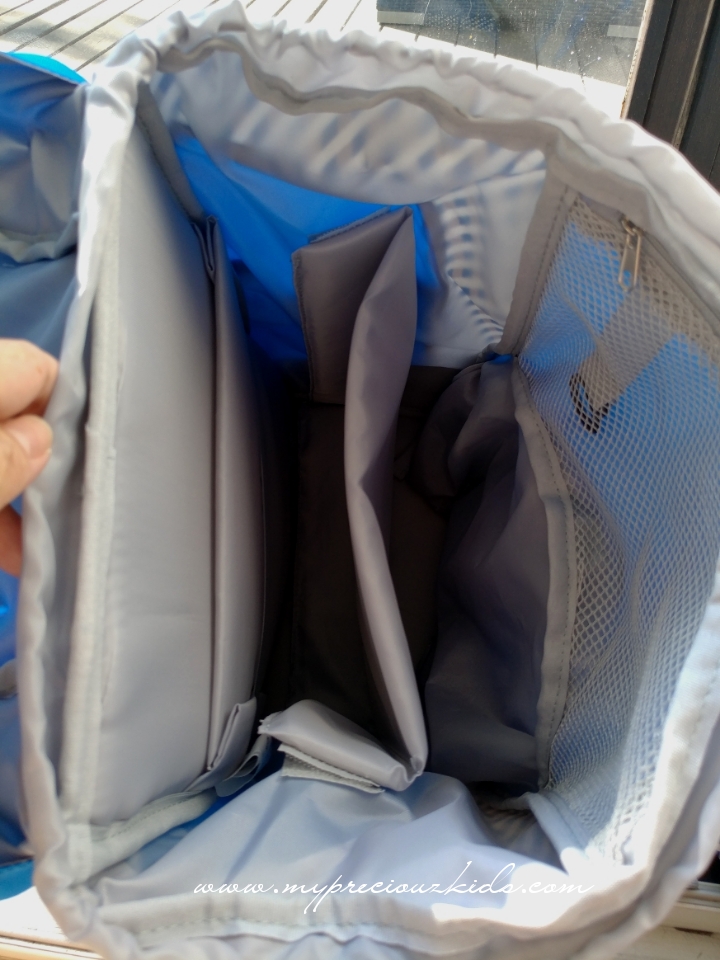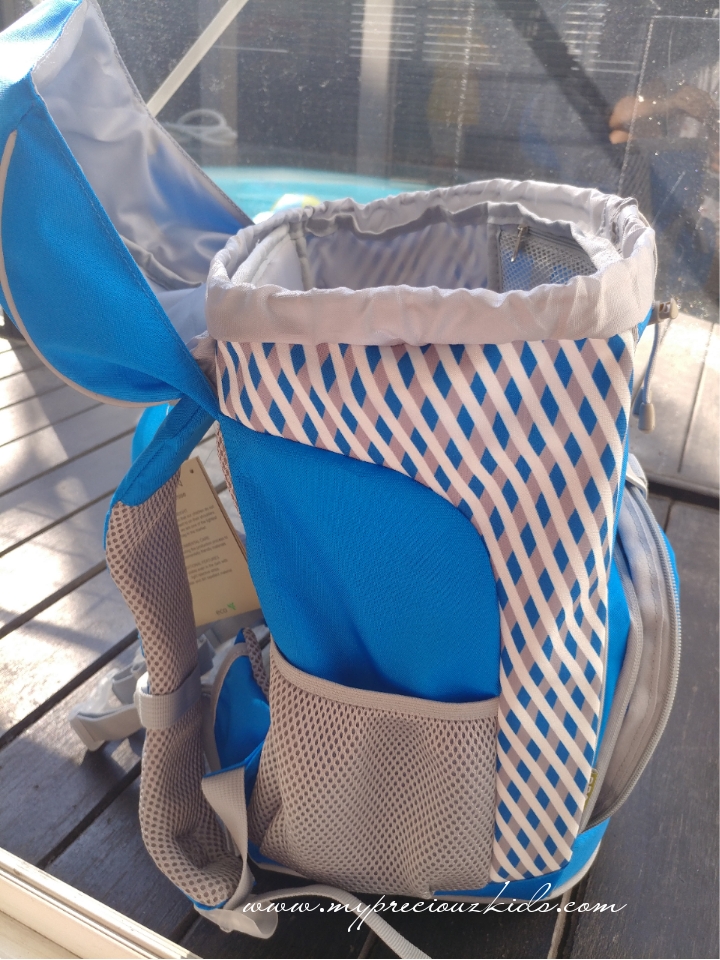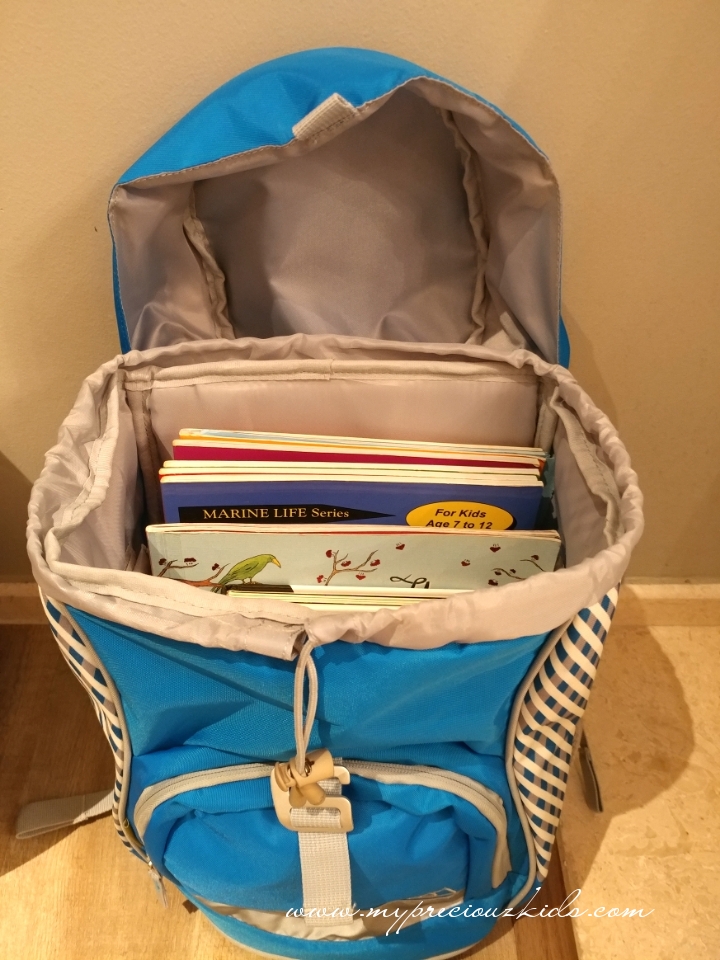 The front compartment extends inward into the bag so you wont have a "budging" front compartment when your kid stuff all his knick knack in the front compartment.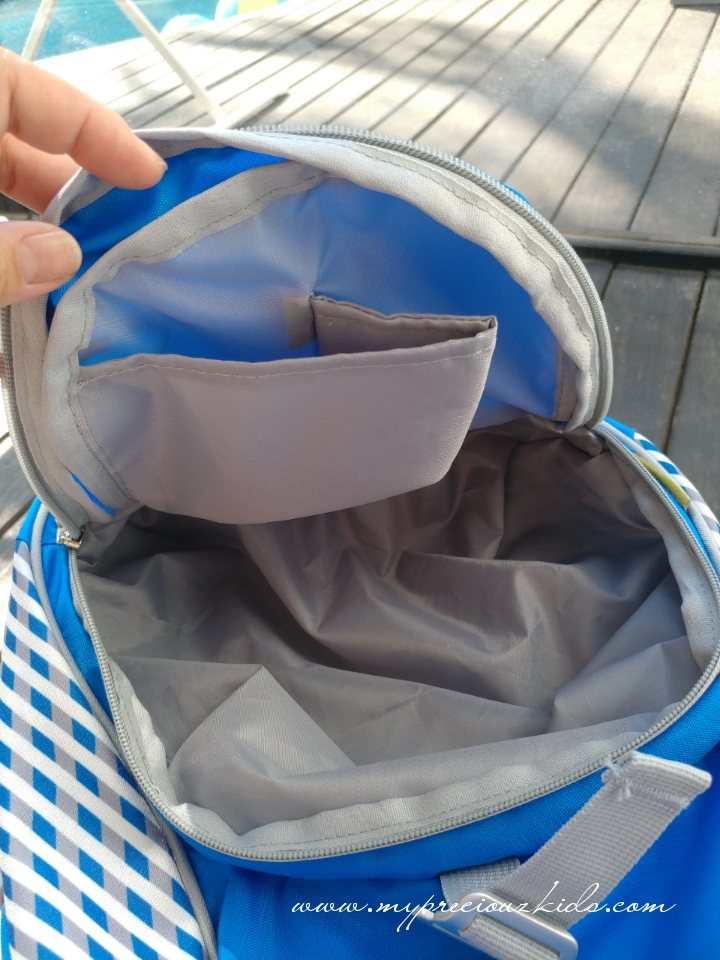 Measuring at 38cm high, 25cm wide and 21cm, it fits comfortable on my 1.25cm 8 year old and it weigh at a mere 665 g only!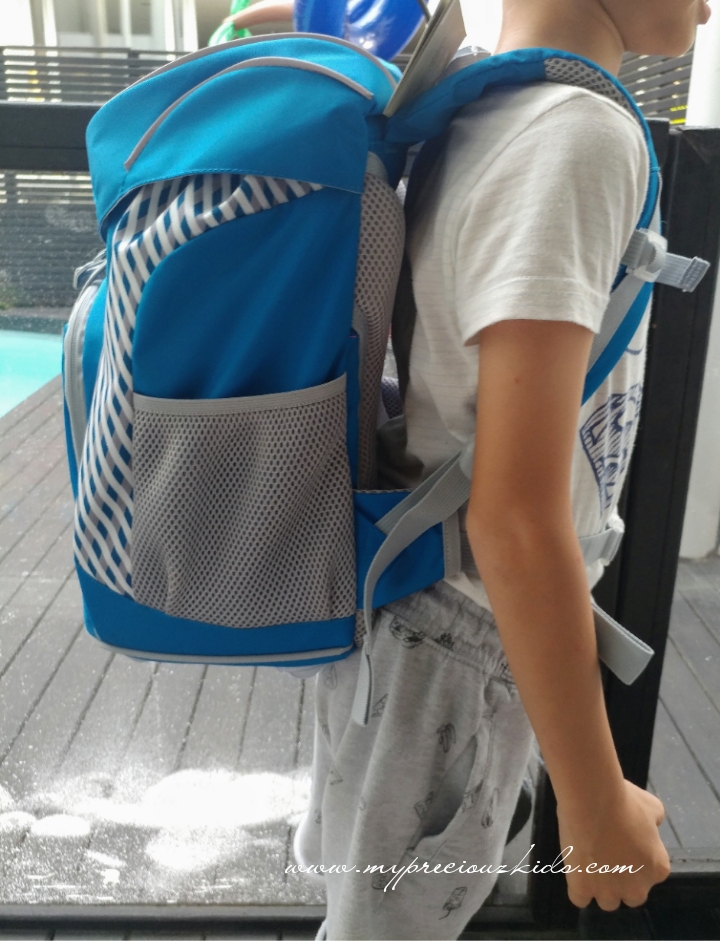 The Lite model has 4 knobs at the bottom -this feature is not found in the Tech model.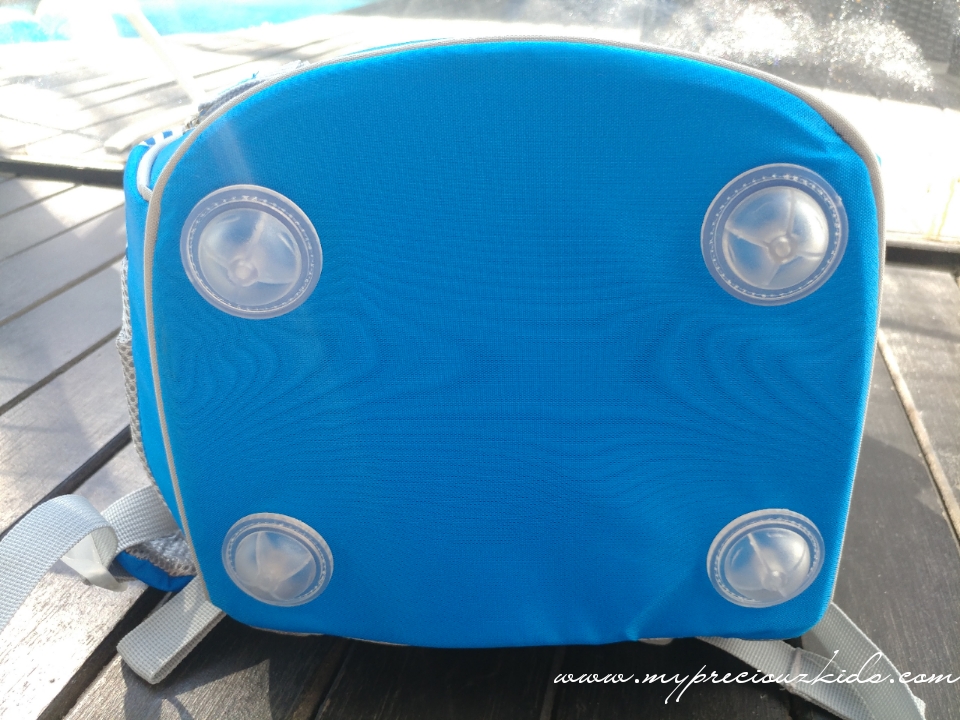 Bromin Tech (Introductory price S$68)
This model sports similar great back support with plush cushion, waist and chest strap just like Lite model, and 2 side pockets! I would say this model look more like typical school bag and open using a zipper as compared to a drawstring opening in the Lite model.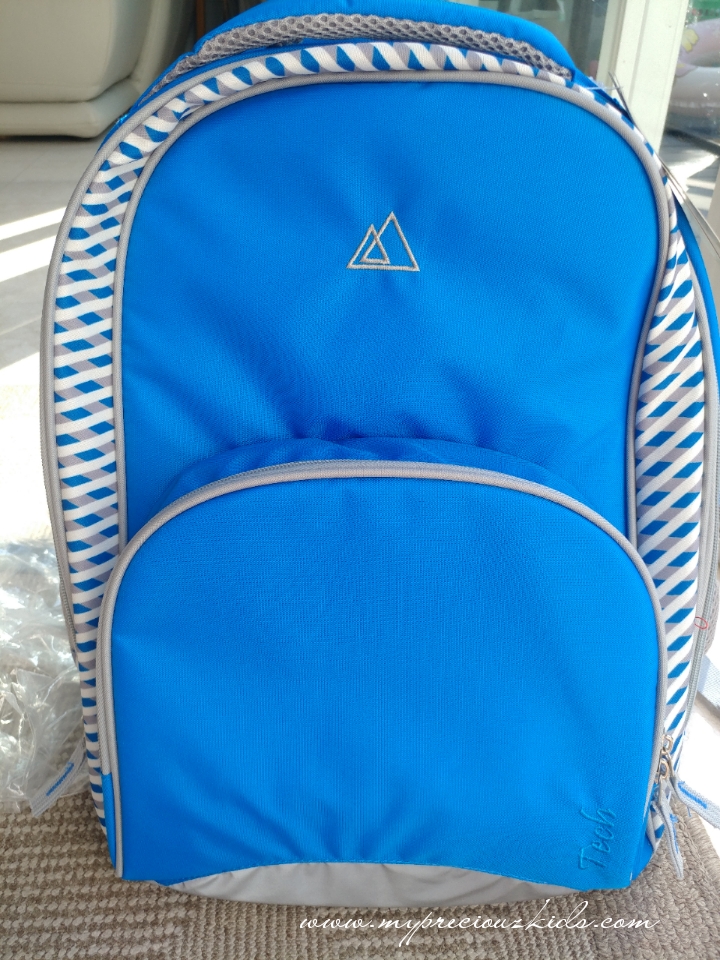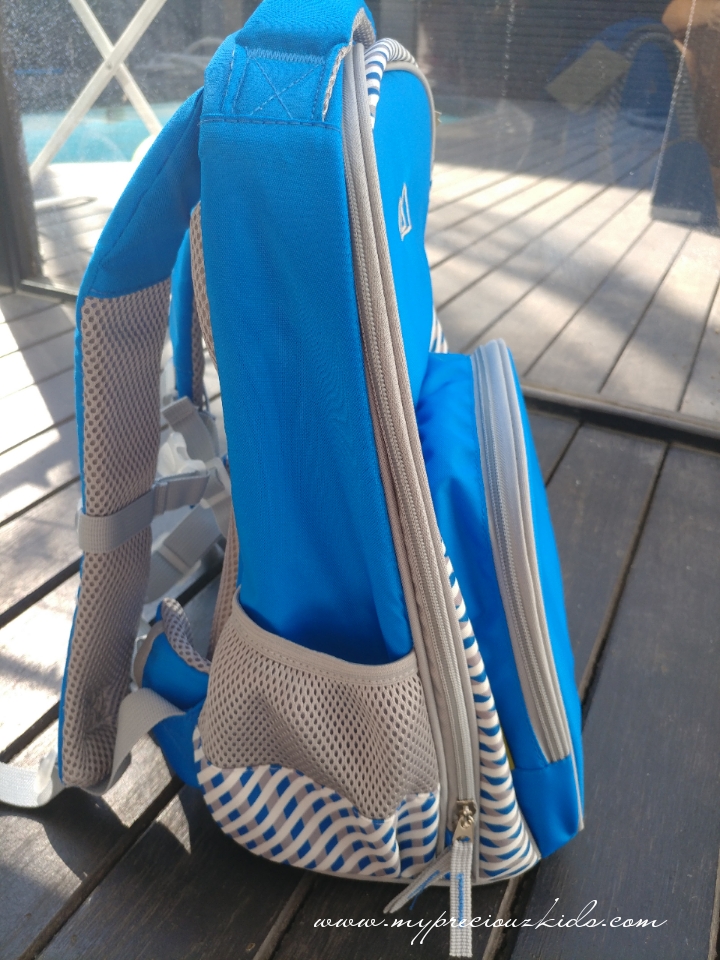 For the Lite model, you see everything from the top while the Tech model it opens up to the front.  The bag sits upright even when the main compartment is open.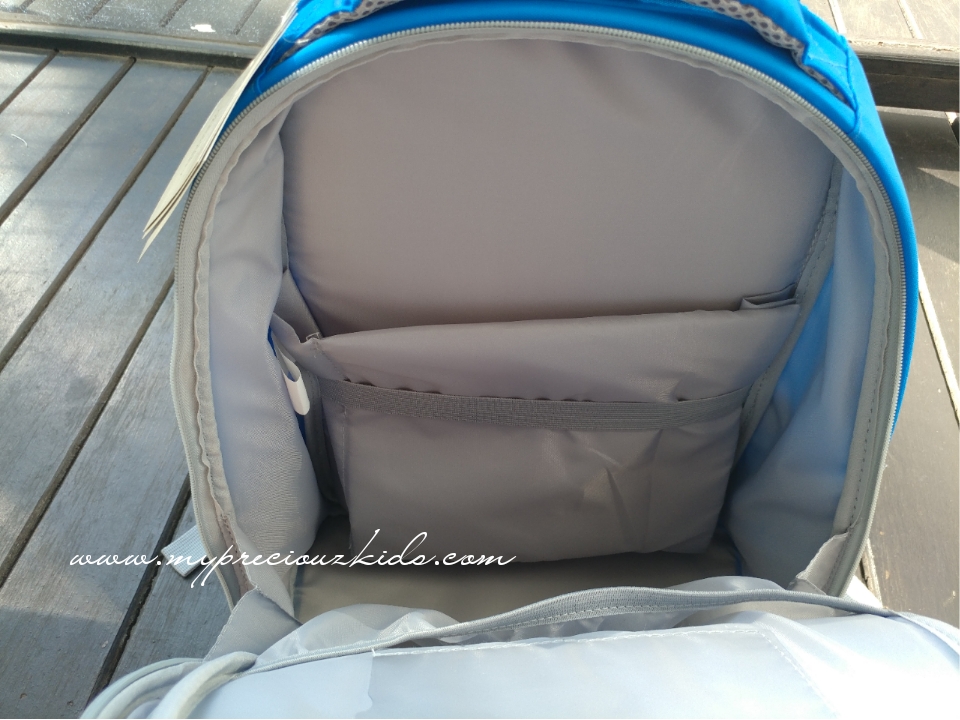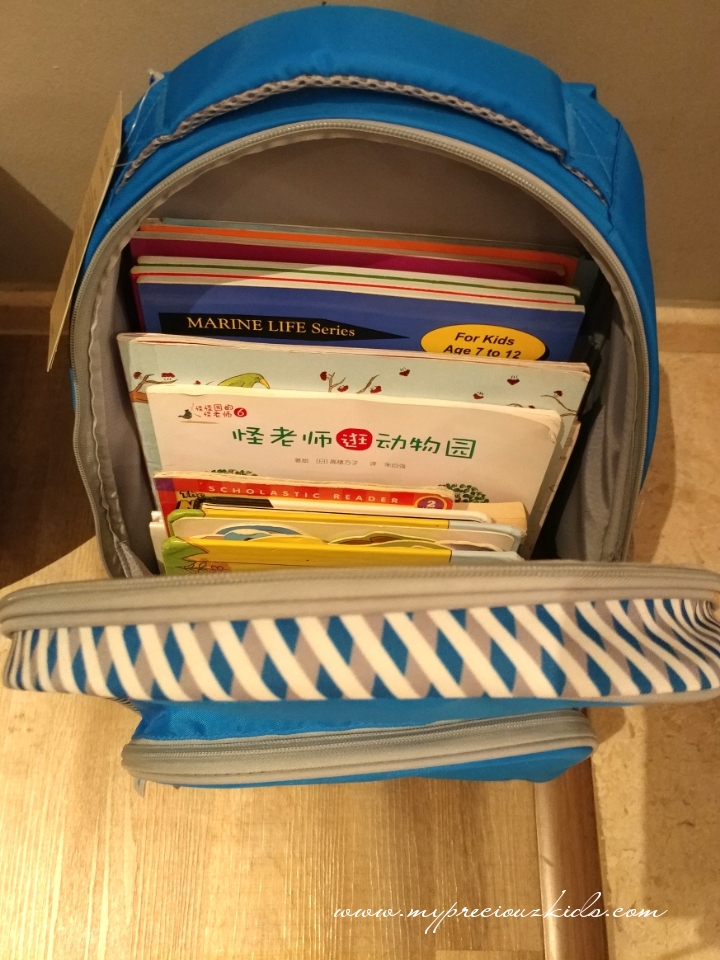 The front compartment is not as roomy as Lite as it does not extend inwards but it does have extra pocket compartments in it with a key holder.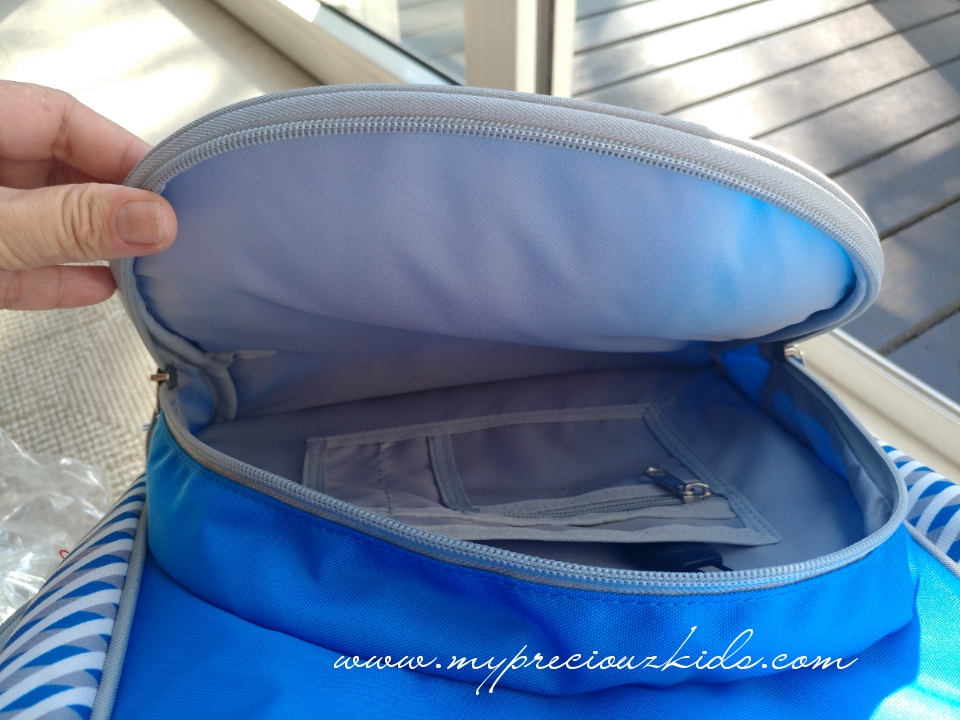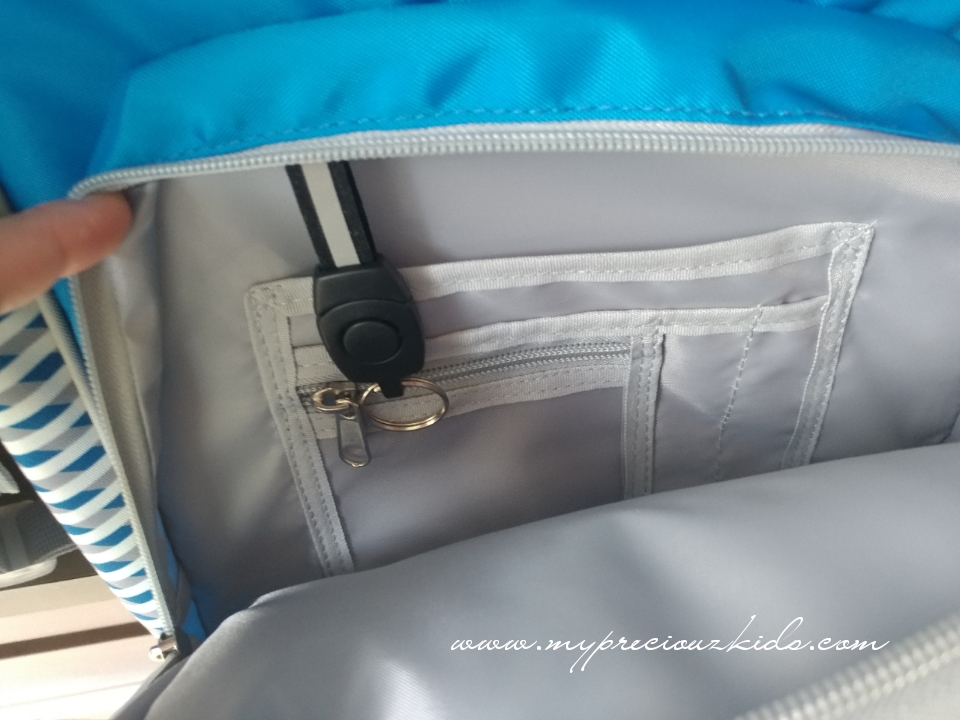 Measuring at 38cm high, 30cm wide and 18 cm deep (slight wider but less deep) and 10g heavier (so negligible!) at 675 g and it fits big J well too!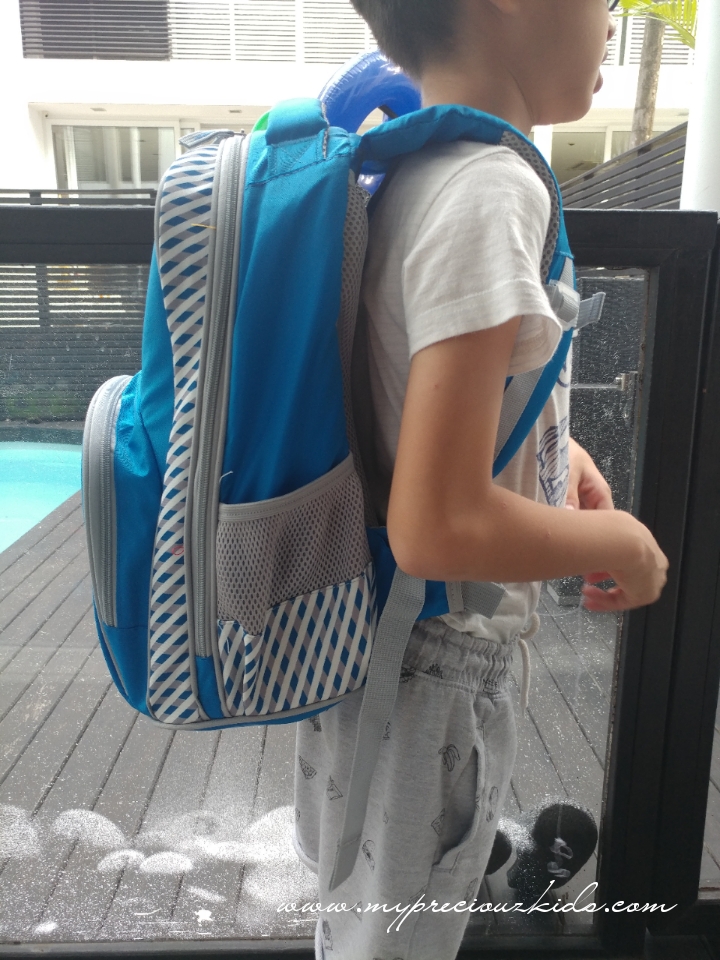 Side by side comparison
For those who are undecided which model  ( I had a hard time selecting which suits J more), I have more side by side comparison for your decision making.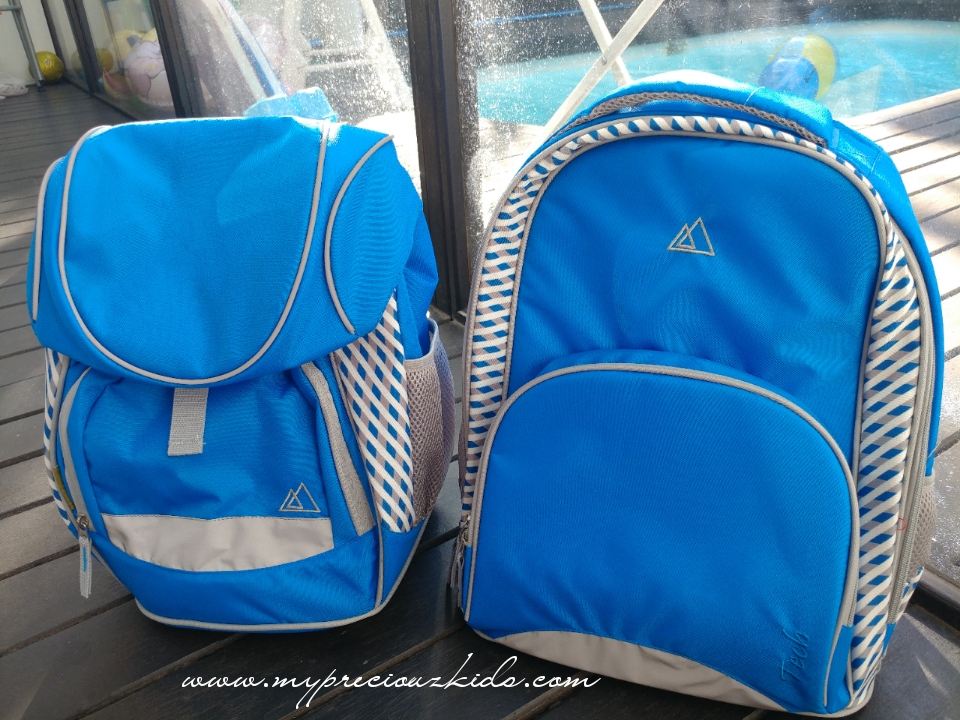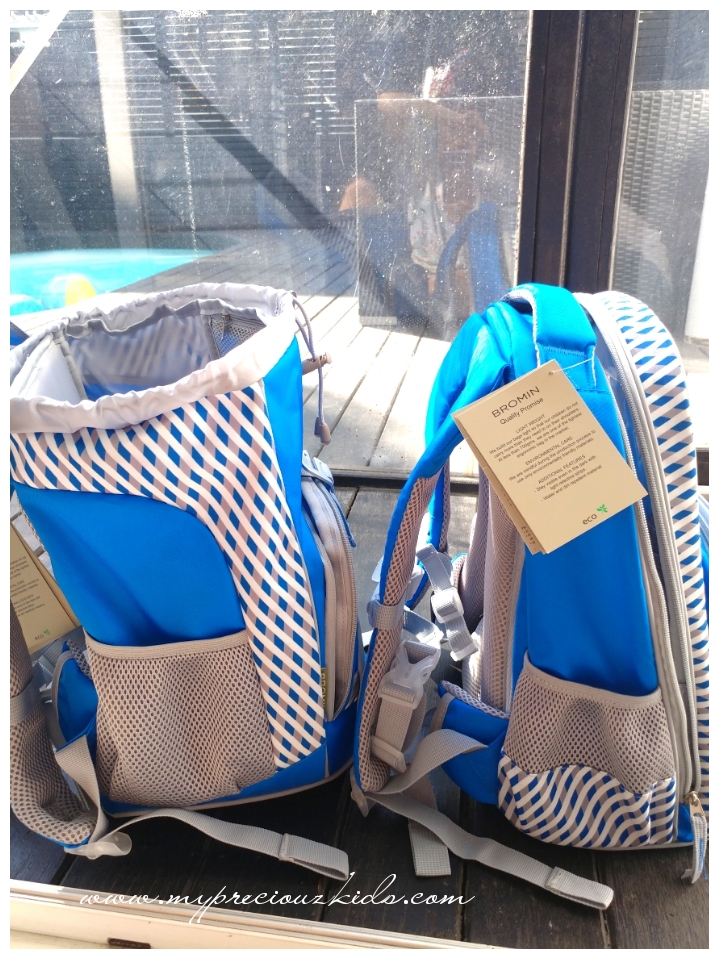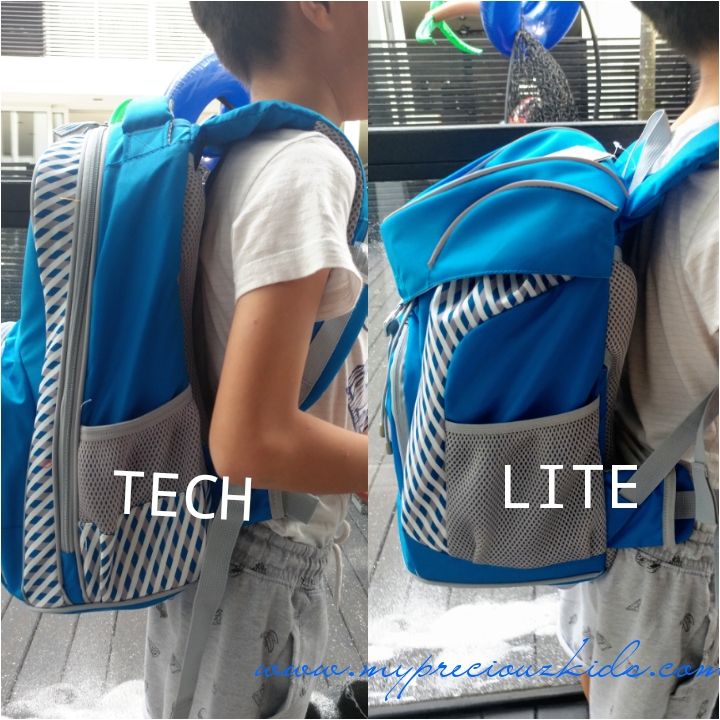 Its a pretty hard choice and it also very much depend on its user which method of opening he/she prefers – zipper or drawstring!  But from a price point perspective, Bromin Tech seems to be a more economical model at SGD 20 cheaper and have almost similar dimensions and weight! Personally, I prefer a zipper opening to a drawstring version, hence I chose the Tech model for big J which means I will be giving out Bromin Lite to 1 lucky reader – giveaway steps at the end of the blog!
Lifetime warranty
The warranty protect against any manufacturing and material defects. However, it does not cover for any wear and tear from usage. Following the steps in the hang tag, do remember to register your warranty upon receiving the bag to ensure validity of your warranty.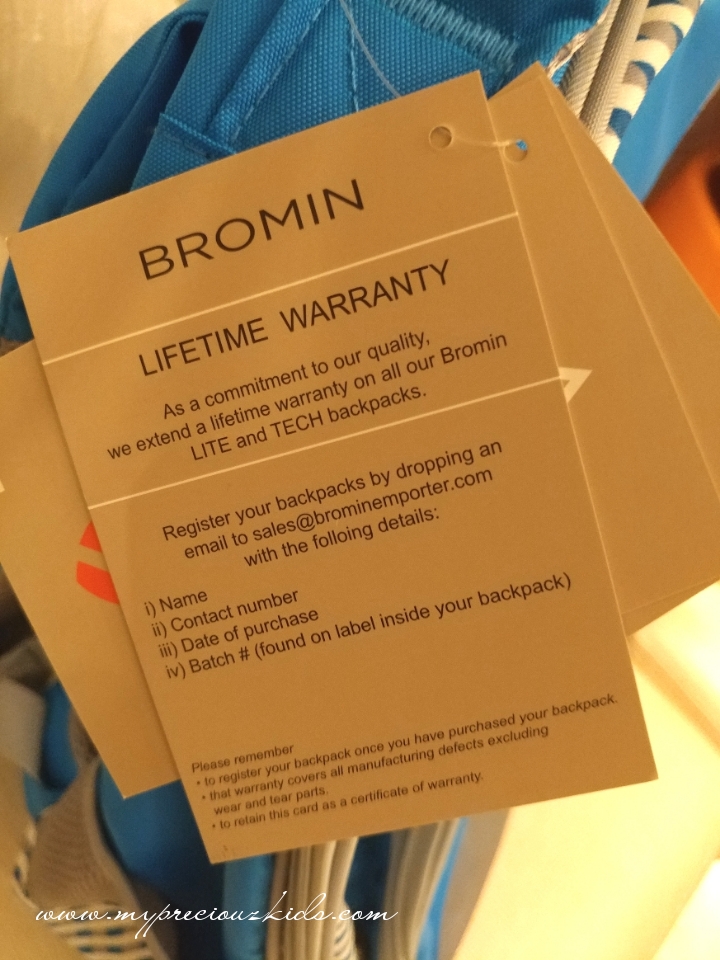 For a limited time only, pre-order the bags online to enjoy $20 off retail price and delivery will be made in November at www.brominemporter.com/kids
You can also check out the bags at all Tom & Stefanie outlets from next week onwards (13 Nov) to let your kids try on the ergonomic bags themselves or order online for free delivery – introductory prices will be valid till end of the year. You can also order it from Lazada.
Bromin Emporter
Giveaway
As mentioned above, Bromin Emporter has given me 2 two different models in blue to review.  I have kept Bromin Tech model for big J as he prefered that model. Hence, I do have the Bromin Lite model worth SGD 108 (in blue) to giveaway. Do note that it is an entirely new ergonomic school bag which I have opened and took photos for this review only. It was not used in any other way. Hence, I would need to arrange for a meetup for collection too , up to my convenience (weekday at Novena, weekend and nights at Potong Pasir).
1. Liked FB pages of mypreciouzkids.com and Bromin Emporter
2. Followed mypreciouzkids  and Bromin Emporter on Instagram
3. Liked and share this FB post and repost this IG post using #mypreciouzkidsgiveaway and tag 5 friends in the same IG post (1 tag per comment) on the same IG post.
Please keep your Facebook shared post and IG shared post public (as indicated in step 3)  in order to qualify so that I can locate your entry.
I will be picking the 1 lucky winners . The giveaway closes on 26 November 2017 2359pm (Sun)
Winner: @iamalicetan
Disclaimer: This is a sponsored post.  No monetary compensation was received. All opinions are my own
Share the article