I must admit I have never heard of this mouse before I started buying this series for my son. The name is quite a mouthful but I realised that this mouse is pretty famous among the kids aged 6 years old and above. I googled a bit about the mouse before buying a few books for my 6 year old. Apparently, it is an Italian mouse created in year 2000 and since 2004, Scholastic has been publishing the English version of the many stories of this infamous mouse called Geronimo Stilton. I really like its content which combines colourful pictures, texts and even different font sizes for big words making reading more interesting for young readers like my son.
When I came across that Scholastic has also published English language skill workbooks using Geronimo Stilton's story books as the key content, I knew this will sparked J's interest completing the workbooks. As I didn't sign J up for any primary 1 prep classes, the least I could do is to prep him with workbooks suitable for his level.
Currently, there are 2 set of workbooks under the Geronimo Stilton Academy. One being the Comprehension Pawbook (which comes in book 1, 2 and 3) and the very latest, Vocabulary Pawbook (also comes in book 1, 2 and 3). The set that I will be reviewing is the Vocabulary Pawbook set, mainly book 1 which J has attempted.
The Pawbooks 1 to 3 are suitable for children age 6– 8 years old. However, it does not mean that book 1 is for 6 years old, 2 is for 7 years old etc. A 6 years old child can progress on to Pawbook 2 and 3 if he is ready.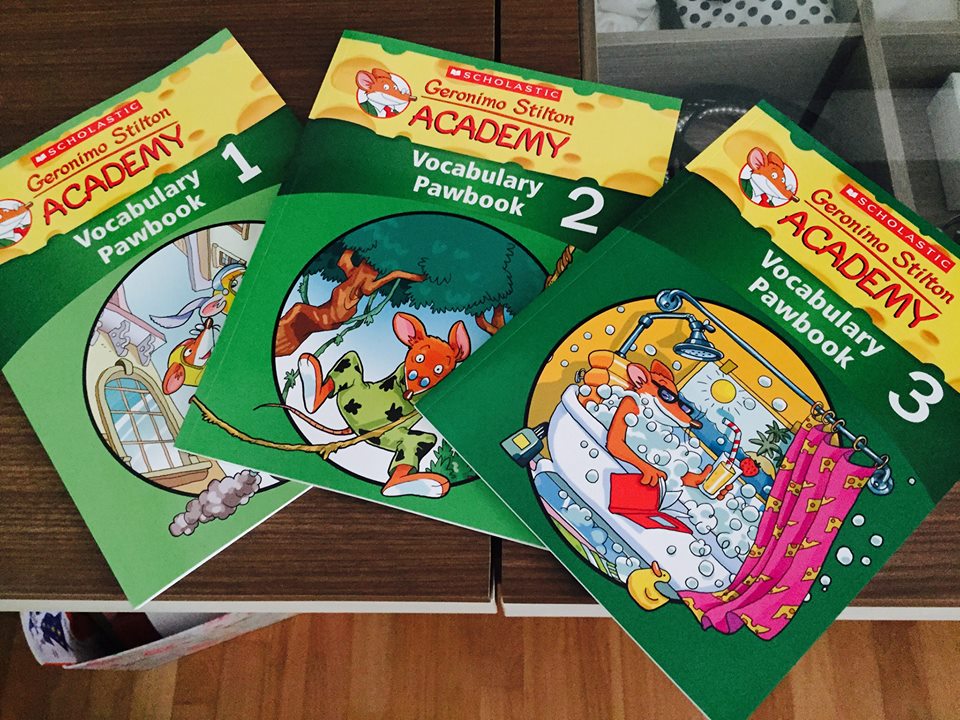 When J first saw the workbook, his eyes sparkled as it was something familiar to him. He has read a few Geronimo Stilton's storybooks and is familiar with the mouse and some of the other characters in the series.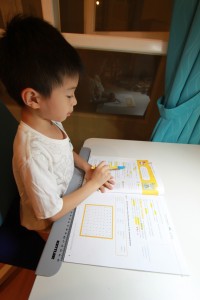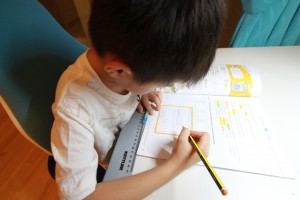 Each Pawbook is based on 4 different Geronimo Stilton's story books like what is shown below. There are 3 units and 1 double page activity dedicated to 1 story book. Do note that it is not vital to own that particular story book to be able to complete the units. Each unit also set out to teach vocabulary in clear and concise manner ( important for parents like me who need a refresher crash course in teaching English)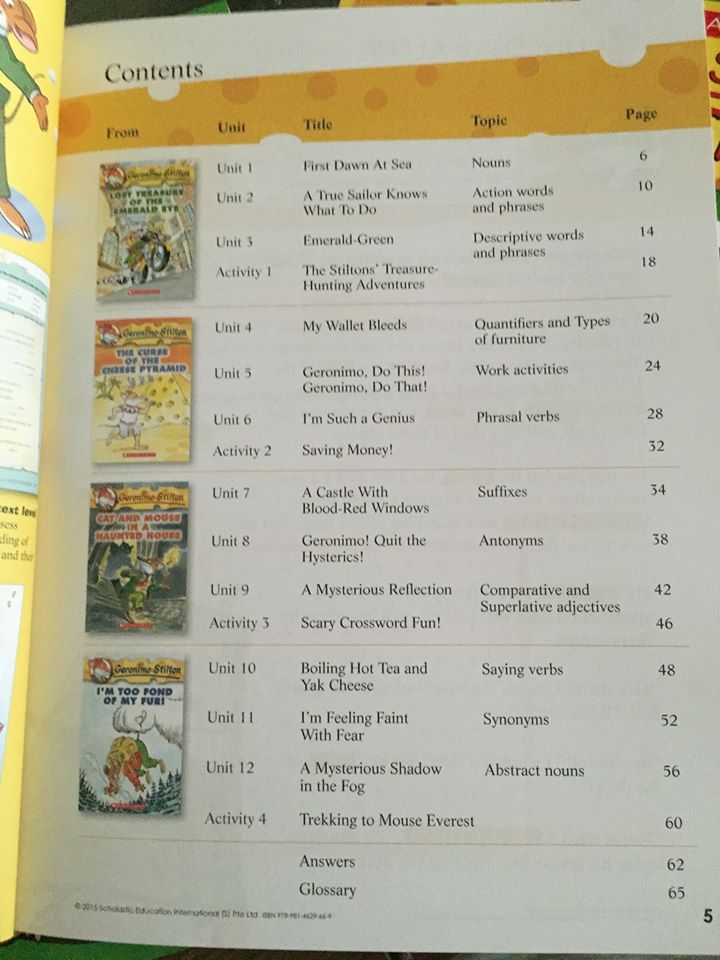 Each unit will start with an excerpt from that particular storybook and if "nouns" is the topic, all the nouns will be highlighted in colour for easy recognition.
Thereafter the nouns will be reinforced to the readers through activities like word search (my son's favourite), scrambled words, matching words with meaning or filling in the blanks. After completing the 3 units, there will be a double page fun activity to consolidate and reinforce what the student has learned from the 3 units.
The overall presentation and feel of the pages in the workbook mimic very closely to the story book , very colourful, lots of pictures of the mouse, and the excerpts are also similar in look and feel like a chapter off the story book. It makes readers of Geronimo Stilton feel that the workbook is an extension of their well-loved story book. For non readers of Geronimo Stilton, these workbooks also aim to interest and encourage students to read the rest of the story.
J completed unit 1 very much on his own, and there are answers at the back of the workbook for parents like me when in doubt 🙂
For more chapter walk-through, sample pages and information on the whole set, do visit www.scholasticgsacademy.com.
Pawbooks are retailing at all POPULAR bookstores and selected TIMES bookstores. Each book is selling at $9.40 (before GST).
Scholastic Asia has kindly offered 1 set of Vocabulary Pawbooks to my readers.
1. Liked mypreciouzkids.com on Facebook
2. Liked Scholastic Asia on Facebook
3. Liked, shared and tag 5 friends who are new to mypreciouzkids using this Facebook post . Pls comment "done" on the same post for my easy tracking. Do set your post to PUBLIC so that I can verify your entry.
I will be picking the 1 winner using random.org . The giveaway closes on 30 Aug 2015, 2359pm. The winner will need to collect the set of books from the publisher office at 81 Ubi Ave 4, #02-28, UB. ONE, Singapore 408830.
Disclosure: I received a set of Vocabulary Pawbook 1 to 3 from Scholastic  Asia for the purposes of my review. No monetary compensation was received. All opinions are my own. 
Share the article