True story, 5 years ago my family moved into a bigger home to cater for my expanding family and with that I had a vision to furnish my new home with my wish list of furniture as the new home has more space – a coffee maker, a swing chair and a massage chair. I had brought the first two on my wish list the minute I moved into my new home , but my dream of owning a massage chair remains elusive – partly due to its bulkiness and its immense cost. My friends also advised me against buying as many experienced with the bulky massage chairs being a white elephant and probably piling with laundry ie "storage space" and its leather tearing due to irregular use and wear and tear. 
So fast forward today, that one item remained in my wish list as I am unable to come to terms with the cost,  its bulkiness and space consumption. However, finally some semblance of my wish was met with Snailax SL-236 Premium Shiatsu Massager Chair Pad as it solves the two major considerations that stopped me from buying – cost and bulkiness. This costs less than 5% of the high end massage chairs and weighs less than 8kg, which means you have it in your living room while watching TV, in your bedroom for a session before bedtime or even at work on your office chair!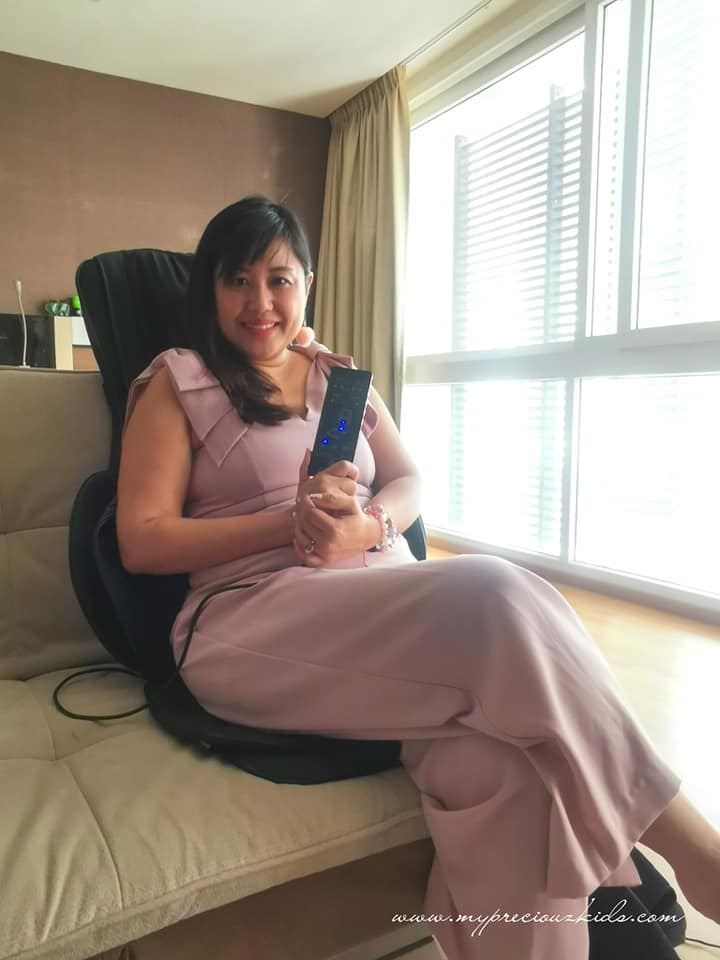 At first sight
It weighs less than 8kg,  I can easily carry it to be placed at any part of the house. Made of PU leather and breathable mesh,  it is not hot even when used in non air-conditioned room. The material is of good quality and durable to wear and tear. It comes with a remote control to manage all your massaging needs which I will go in details later. The cover for the neck is detachable and washable.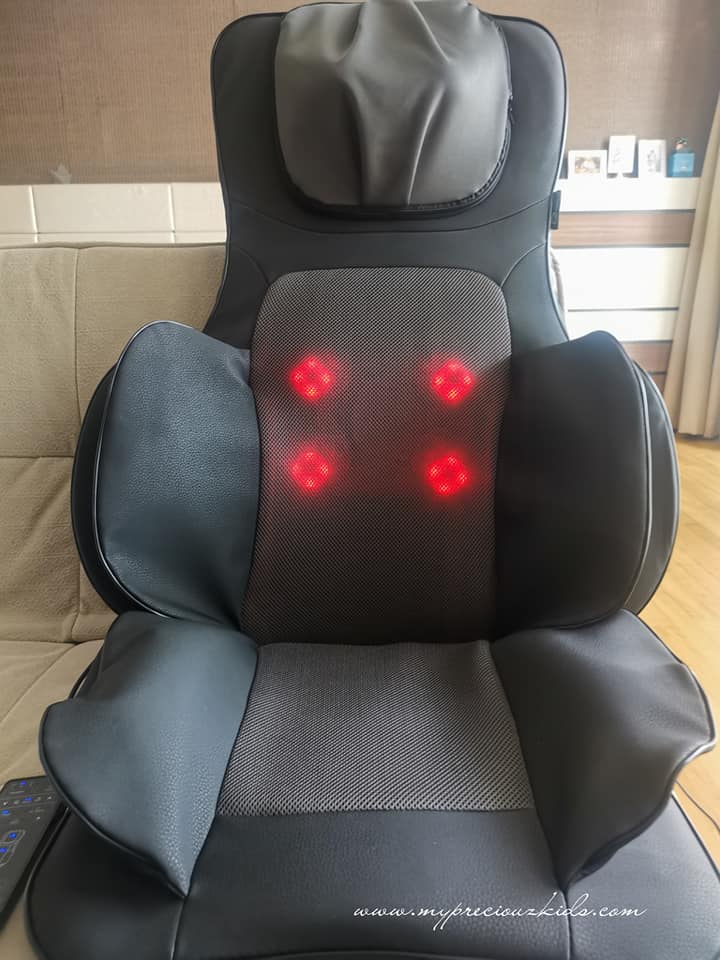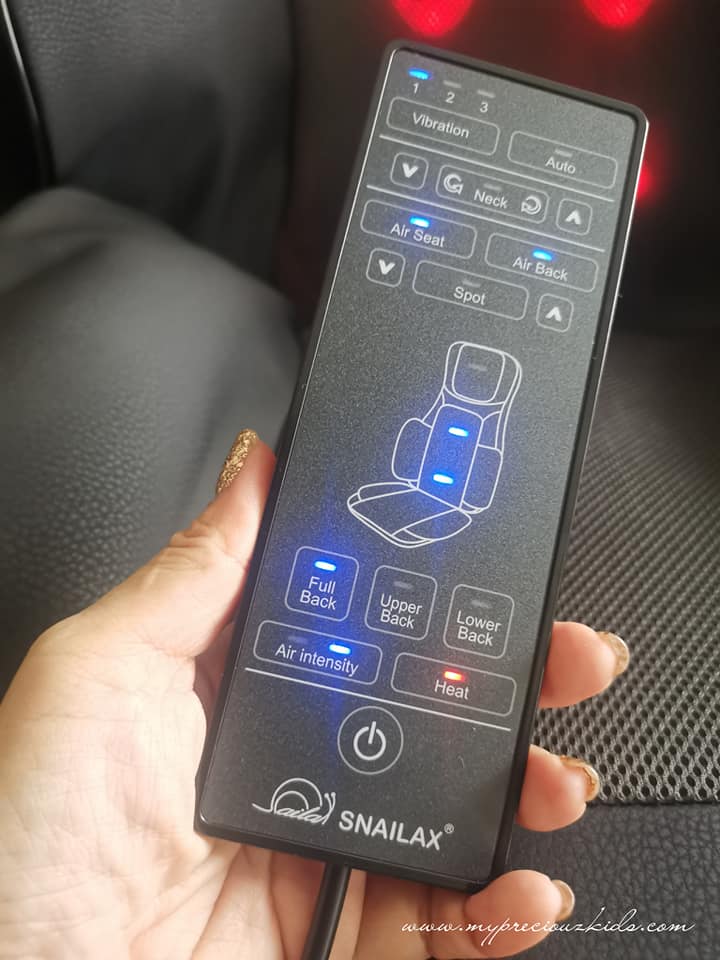 Using it 
Using the remote control, firstly control the height of the neck massage.And if you need a bit of height, you can easily place a seat cushion on the chair pad to prop you higher. Comprising 4 shiatsu rotation nodes, this provides deep kneading massages to the neck and shoulder.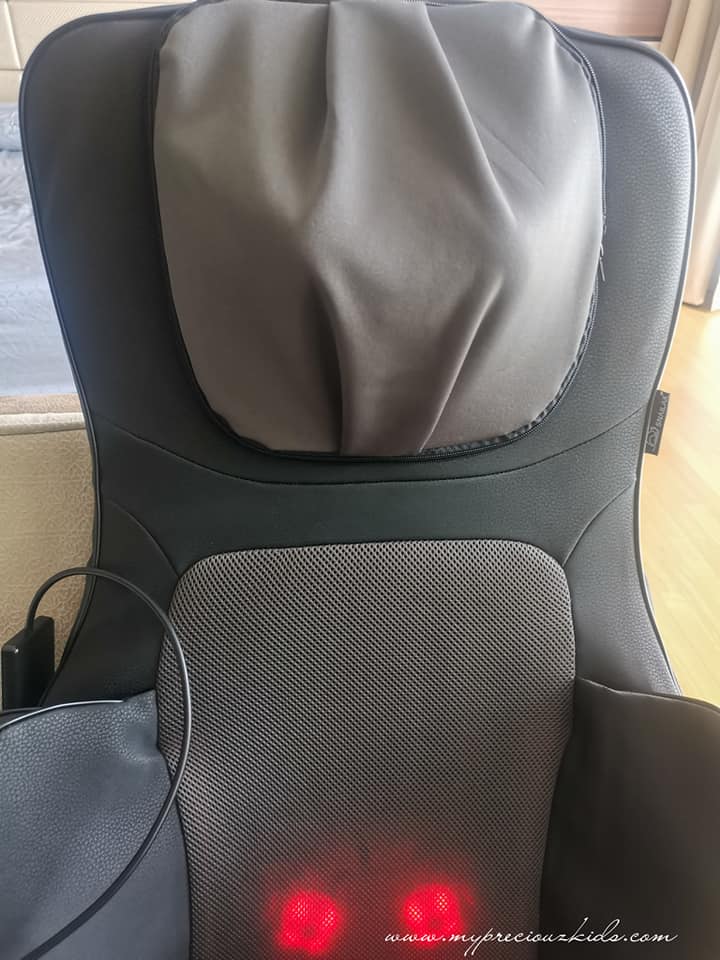 For the back massager, you can choose between spot (upper or lower) for a more targeted massage or a full back shiatsu massage. Comprising 8 upgraded flexible shiatsu rollers, they deliver relaxing deep tissue massage for the whole back. The shiatsu nodes also come with an optional infrared heat therapy  which helps improve blood flow, delivers gentle warmth to further relax muscles stiffness and back pains. There is also the option of air compression massage to your back as well, so its both air compression plus shiatsu at the same time.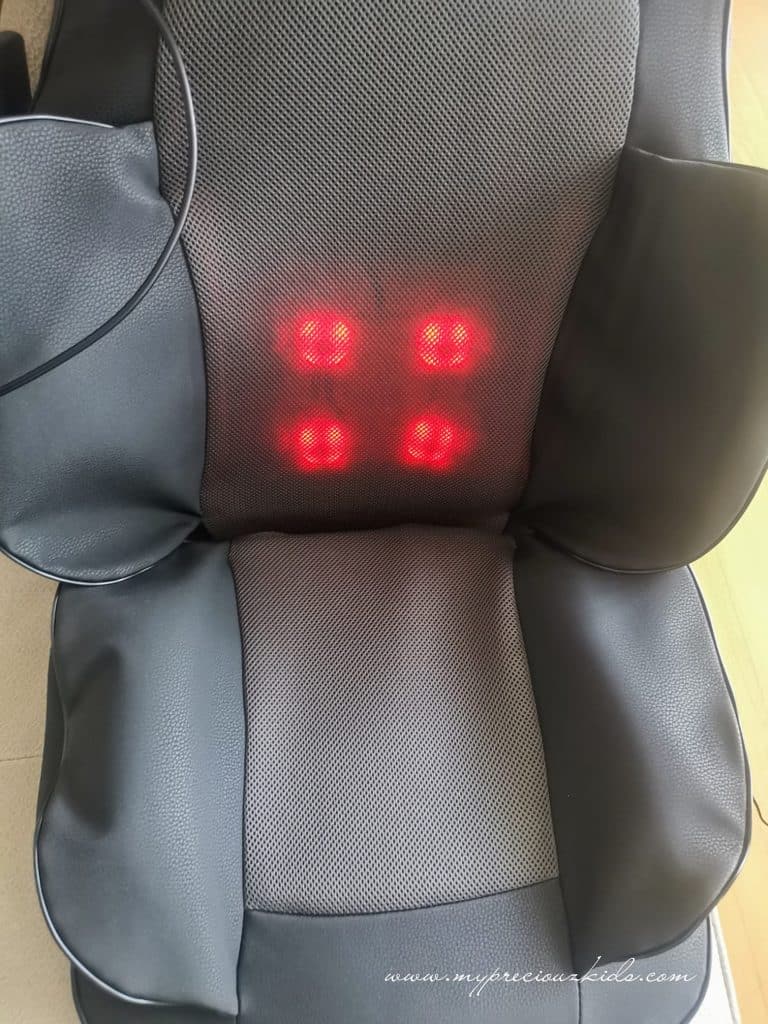 There is a detachable intensity control flap that comes with the massager to give you a softer shiatsu massage, if you want a stronger massage, you can remove the flap entirely.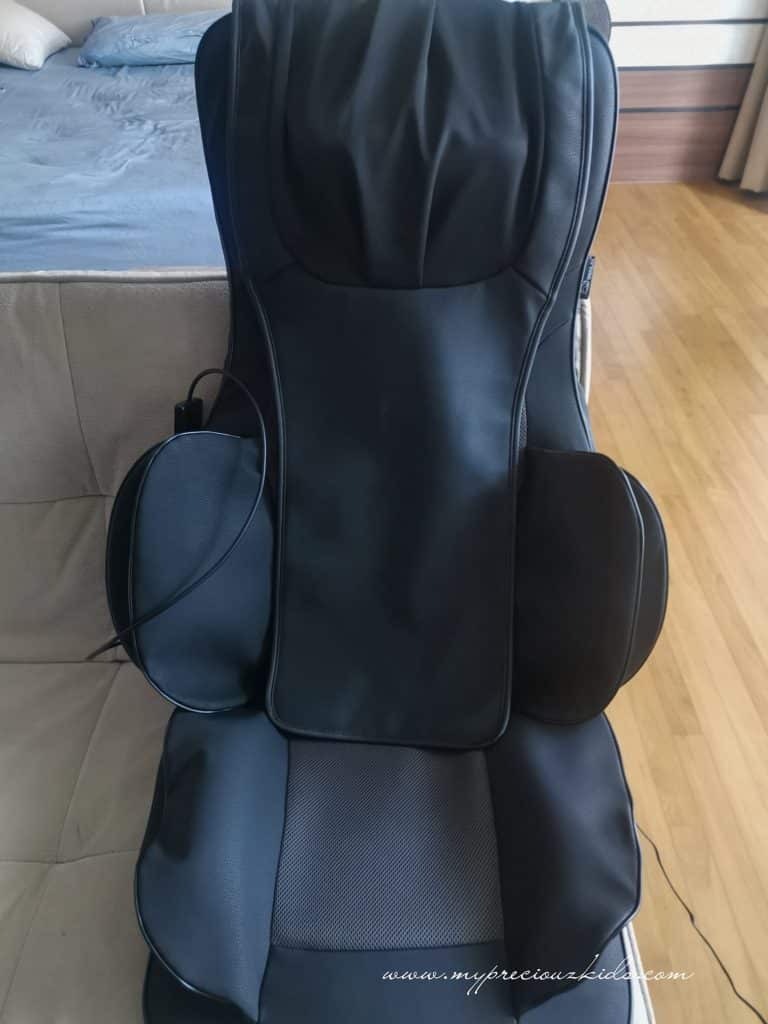 The seat massager comes with air compression and vibration seat massage to help to relief your muscles. There are 3 level of air pressure and 3 levels of vibration intensity to choose from.
It is recommended a continuous massage of 15 minutes per session and not more than 3 sessions per day.
Loving it 
I can't afford to have a full body massage at the massage centre daily but now I can have my massage every day at the comfort of home or even during my lunch break on days when I work from home. 
You can also have also have it in a reclined position. As I have propped my massager on my reclining sofa bed, this allow me to have it at different gradient for a more relaxing massage.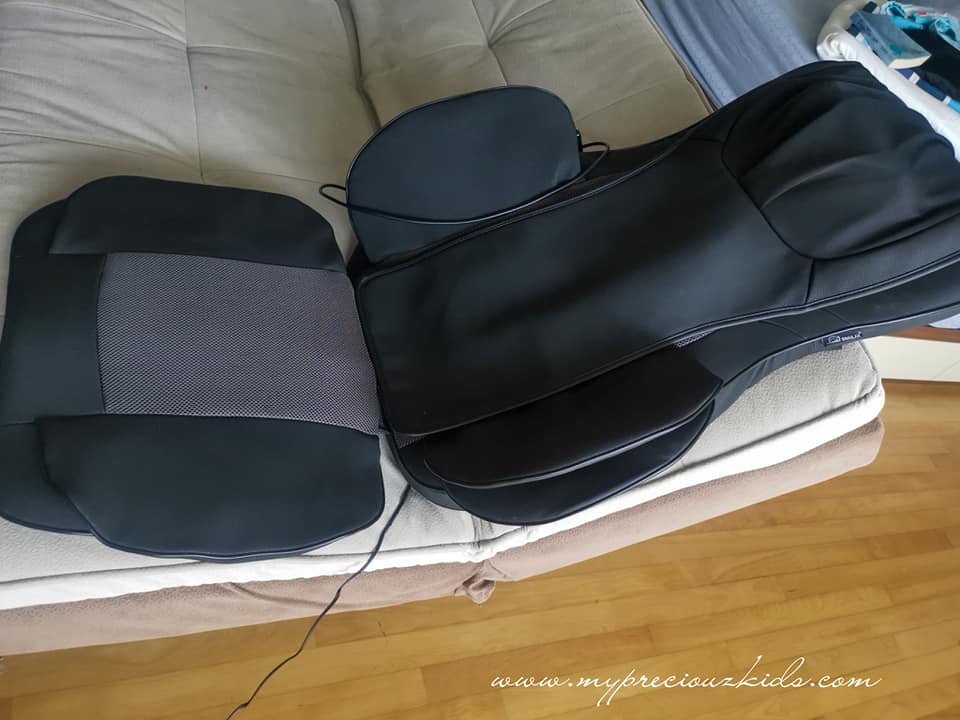 Combining with my air compression leg massager from their sister brand Comfier (review post here), I got almost a full body massage (neck, shoulder back, lumber, thigh, leg, feet and calf combining both massager together) probably almost close to the enjoyment of a full high end massage chair  (I suppose only the arm that is left out) and the best part you can prop it on any chair – sofa, recliner, couch, dining chair and even on your office chair.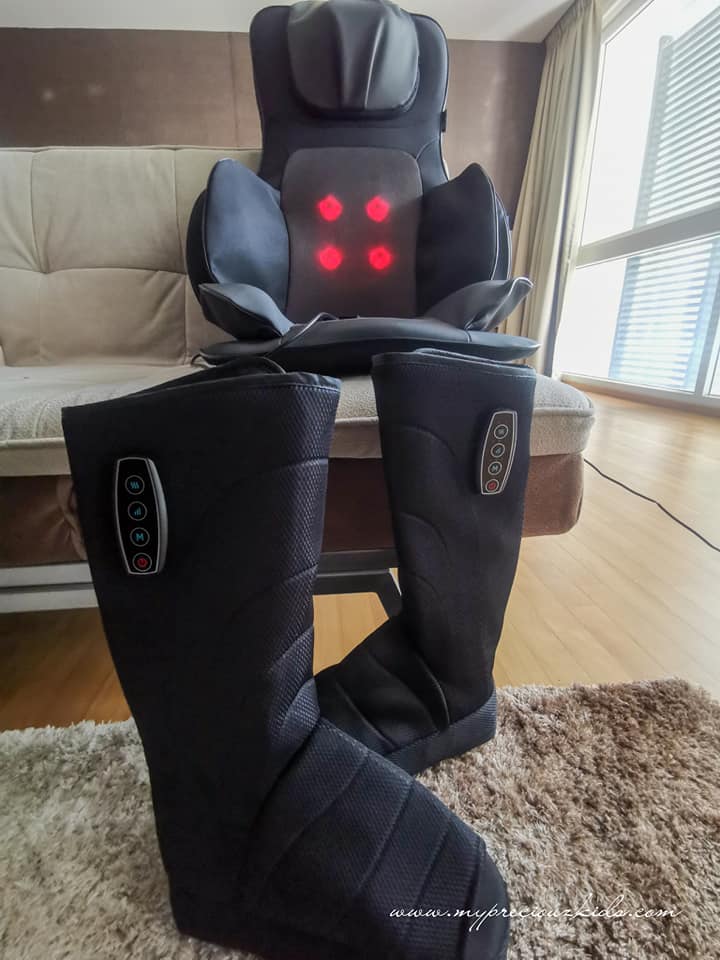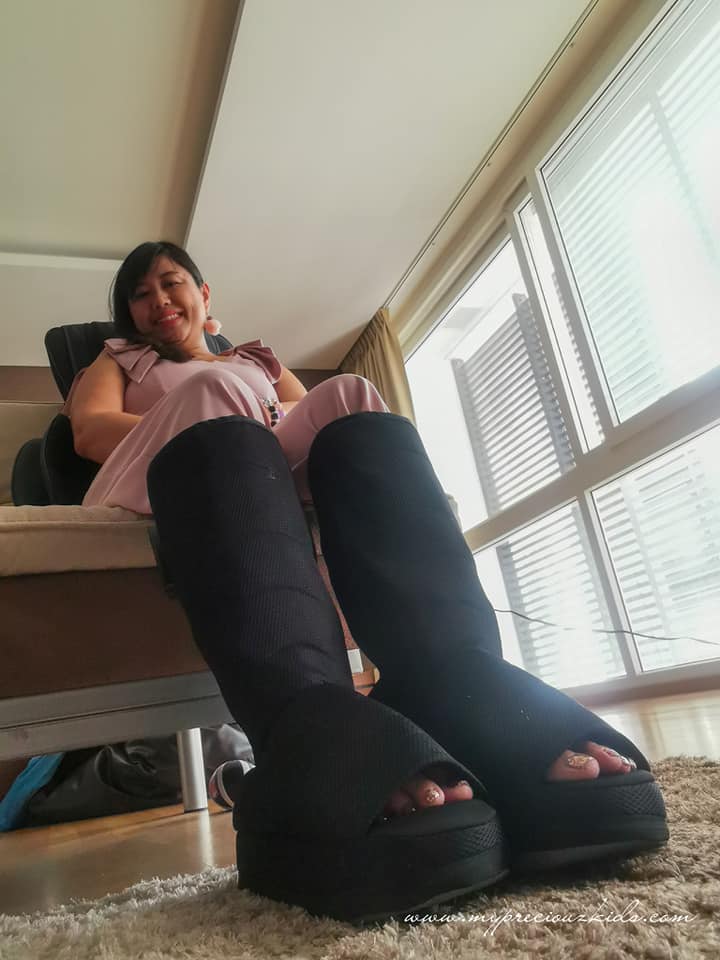 Priced a small fraction of a full fledged massage chair, I can almost say the level of intensity is no less than that of a full fledged massage chair. For those of you like me dreams of owning a massage chair at home for the longest time, but unwilling to spend so much or have the space at home for it, this is the truly the best alternative. And if you want a full body, then add on the Comfier air compression leg massager (purchase link here) 
All massager come with 30 days unconditional return, 90 days refund/replacement if product breakdown and 24 month warranty. Priced at a very affordable SGD238, this is a small amount in comparison to the full fledged massage chair found in the market.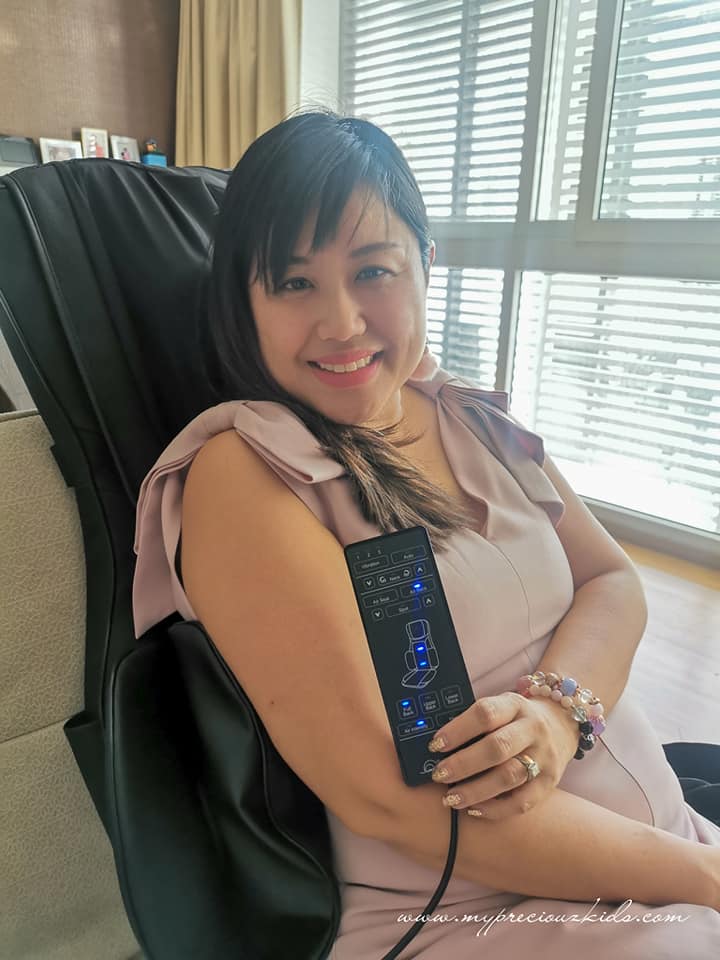 If you would like to give it a try on demo units before purchasing, do contact Shulan at 91134943, they are located at Orchard Centrepoint, Mon-Fri 9am to 6pm, Sat & Sun on-demand basis between 10am to 5pm on appointment basis only.
You can order this compressive neck and back massager using this link. 
Giveaway of SGD 50 voucher which can be used of any product in Snailax Official Store on Lazada 
  "like" and "follow" @snailaxsg and @mypreciouzkids on IG 

"like" and "share" IG post and tag us

  tag friends who are keen on this (1 tag per 1 comment)
Giveaway ends 10 May 2021 2359. 
Disclaimer: This is a sponsored post.  No monetary compensation was received. All opinions are my own. This post may contain affiliate links that at no additional cost to you, I may earn a small commission
Share the article