For 1 hour at Royal Eternity Tea House 洛吟茶事, I have completely forgotten that I am in the middle of the hustle and bustle of city centre and transported to a sanctuary unlike anything I have experienced in Singapore and savouring the highest quality tea with my girlfriend. Tea plantation and teahouses are always in my itinerary when I travelled to China and Taiwan as the tranquility is unparalleled and this short respite cured a bit of my travel lust albeit a short 1 hour.
The space
Before partaking in tea making, I had a quick tour of this elegantly designed event space and tea house perfectly suited for your intimate events. The space comprise 5 type of room sizes (for 2 to 12 pax) complete with wifi, tv screen, projector, wine cooler,  sound system, plush sofa and a wide variety of tea to choose and savour (additional charges applied).
There are 2 common rooms at the ground floor and 3 private rooms on the first floor which spots modern and chic design with hints of oriental decors and Chinese art. The booking fee for the private rooms is from $150 to $250 per hour, minimum 2 hours.  With the new normal of 8-pax gathering, this intimate and elegant venue has been hosting many solemnisation events. Besides that, you can romantic dates, business meetings (they also have license to sell wine and alcohol) , corporate events, school events to learn tea making and learning Chinese arts and culture, part of heritage tours, or a date with girlfriends etc.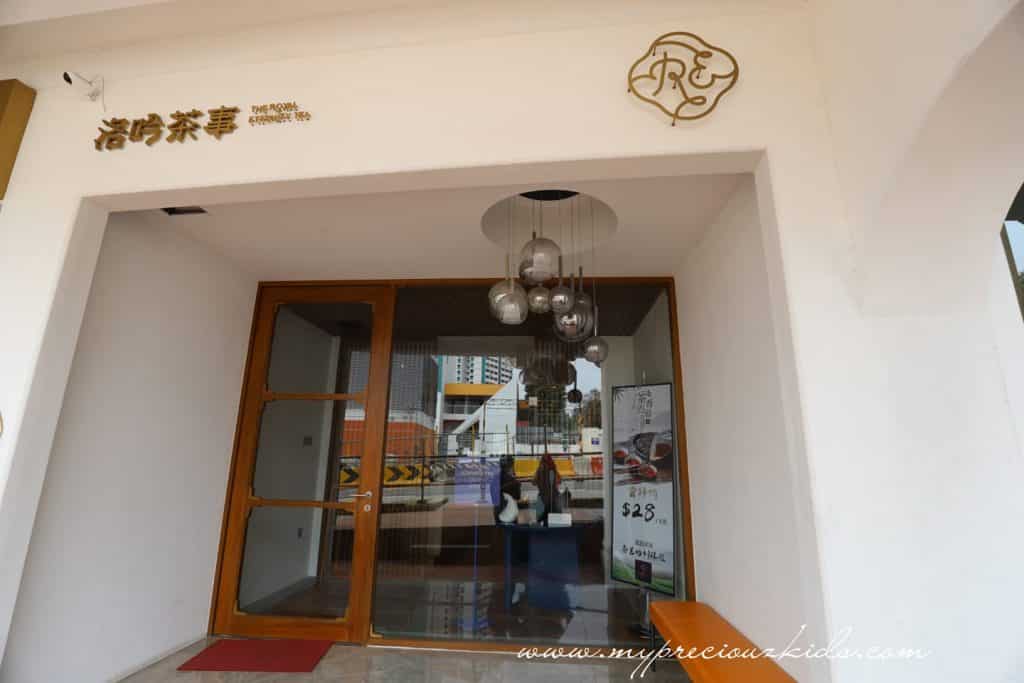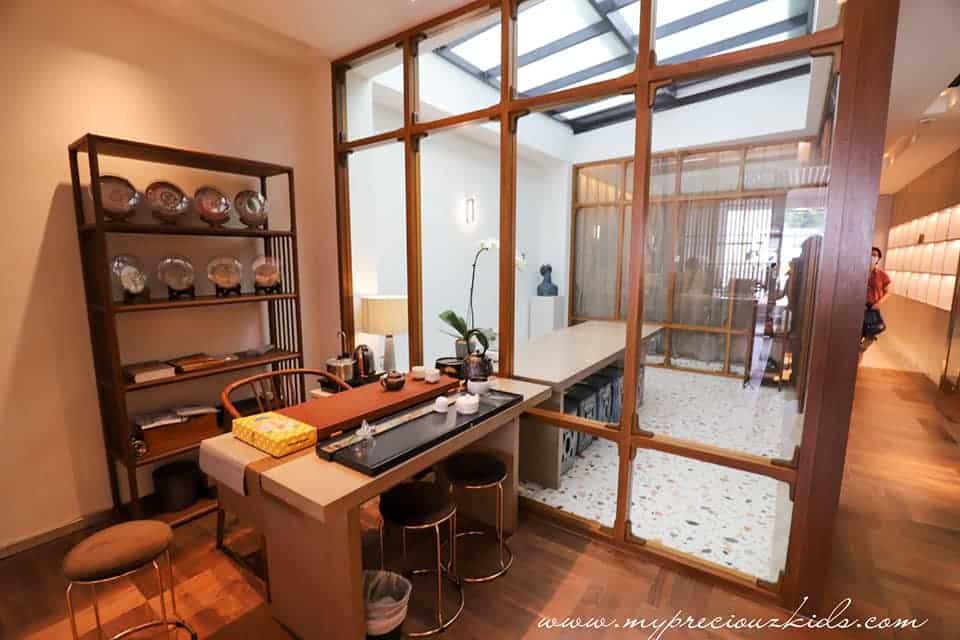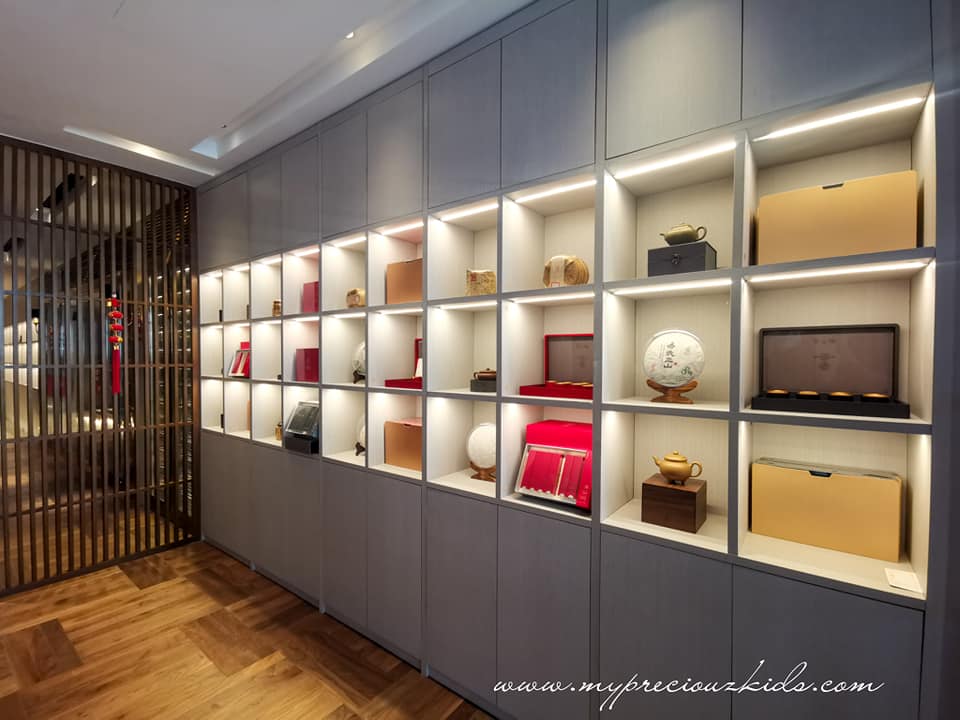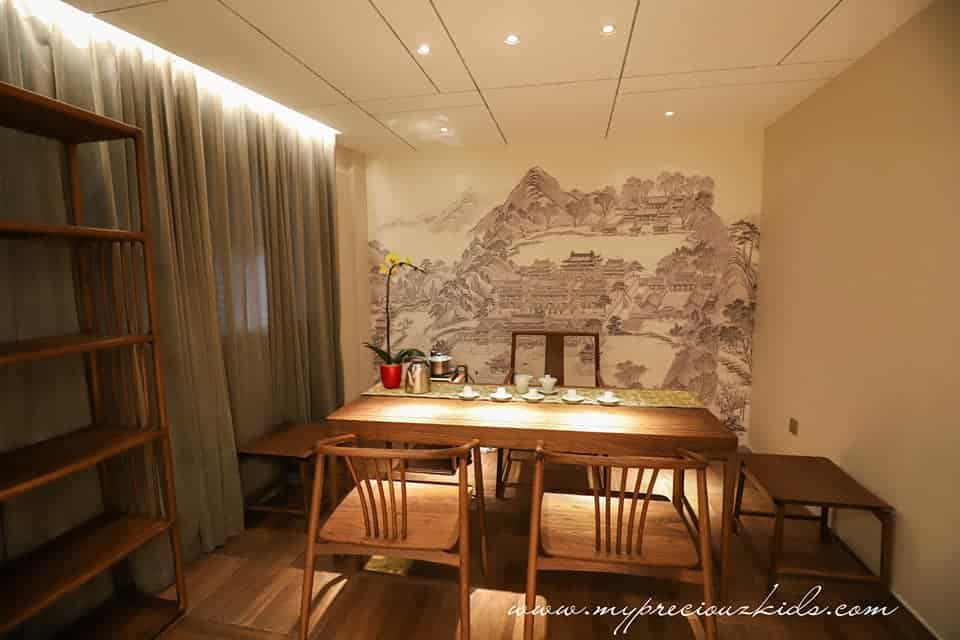 Level 2 Central Meeting Room – $150 per hour, minimum 2 hours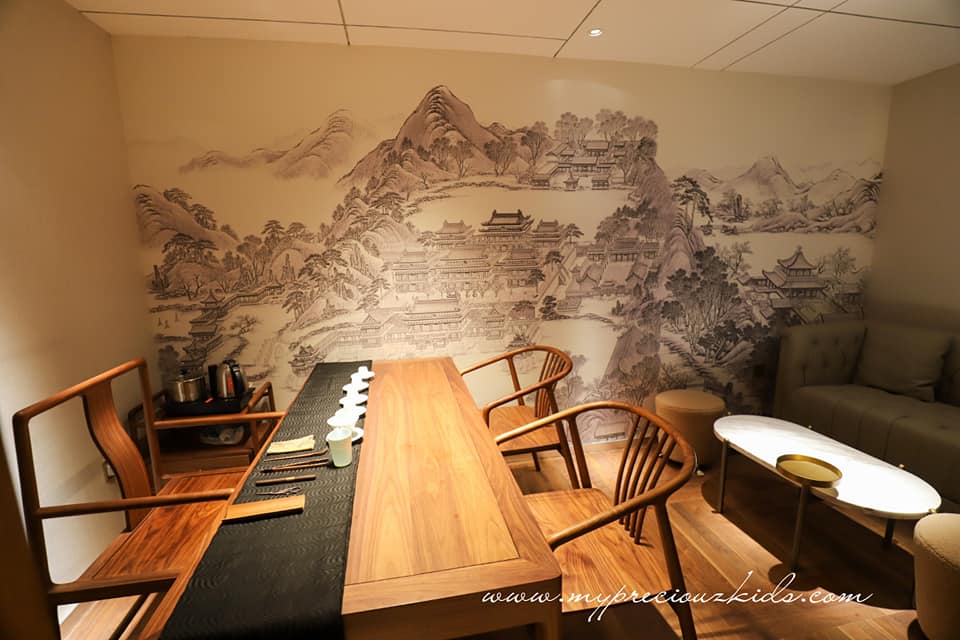 Level 2 room with sofa – $160 per hour, minimum 2 hours
Even if you have no event but wish to savour some good tea in this sanctuary, with any purchase of the tea on their menu, you have a 45-minute session to enjoy with your companion which was what I did today. It costs $28 per pax inclusive of tea, and for up to 6 pax hosted in the beautiful glass room. 
Tea making experience 
I am not a connoisseur but I love drinking Chinese tea  purely for the enjoyment and also its health benefits  – risk of cardiovascular disease, diabetes, weight loss and many more.
In the universe of Chinese tea there are six basic types of Chinese tea: green, white, yellow, red, oo long and dark tea (puerh, pu'er). At Royal Eternity Tea House, they carry 4 types of teas – white (bai cha), red (hong cha), oolong and pu-er tea to their guests to choose from which retails from SGD 58 to 68.
You can also prearranged titbits and small bites with tea house to accompany the tea savouring enjoyment prior to visiting the tea house.
We had the privilege of Xiao Yu, a tea expert from China making us a decadent cup of tea and seeing how deftly she soaked the tea leaves and prepared cup after cup.
We had hong cha (red tea) which was according to Xiao Yu the mildest variant of tea , well-known as an afternoon tea for its mellow and sweet flavor. It is so mild that it will not cause insomnia if drank at night. I love the smoothness and sweet and floral taste, perfect after a heavy meal too!  We had a very enjoyable afternoon tea experience, perhaps some variety of light snacks readily available for ordering like pastry or puff will have it a more wholesome experience as I savour my tea. That said, many of their guests come to savour tea after their heavy meal.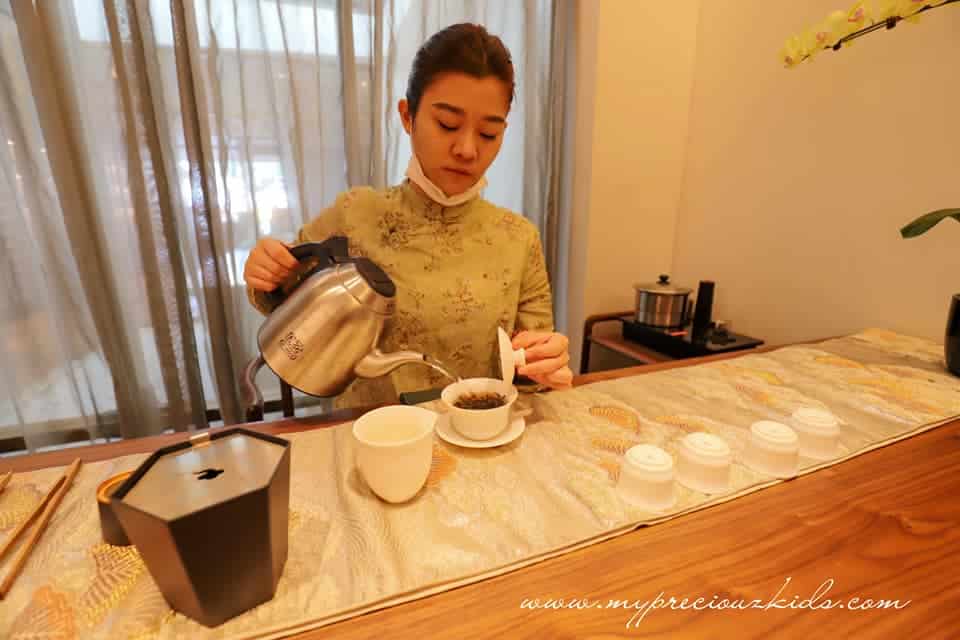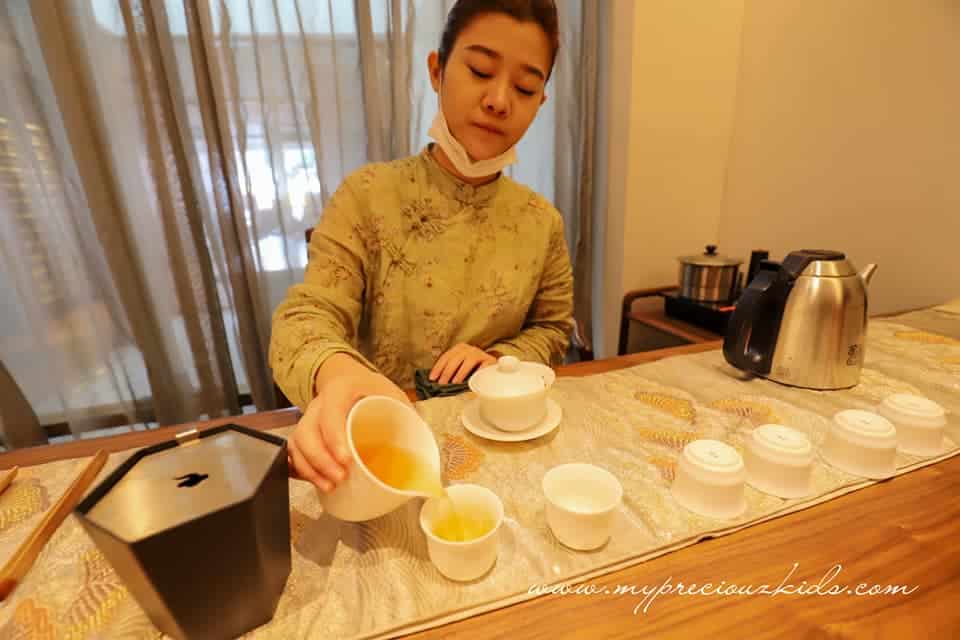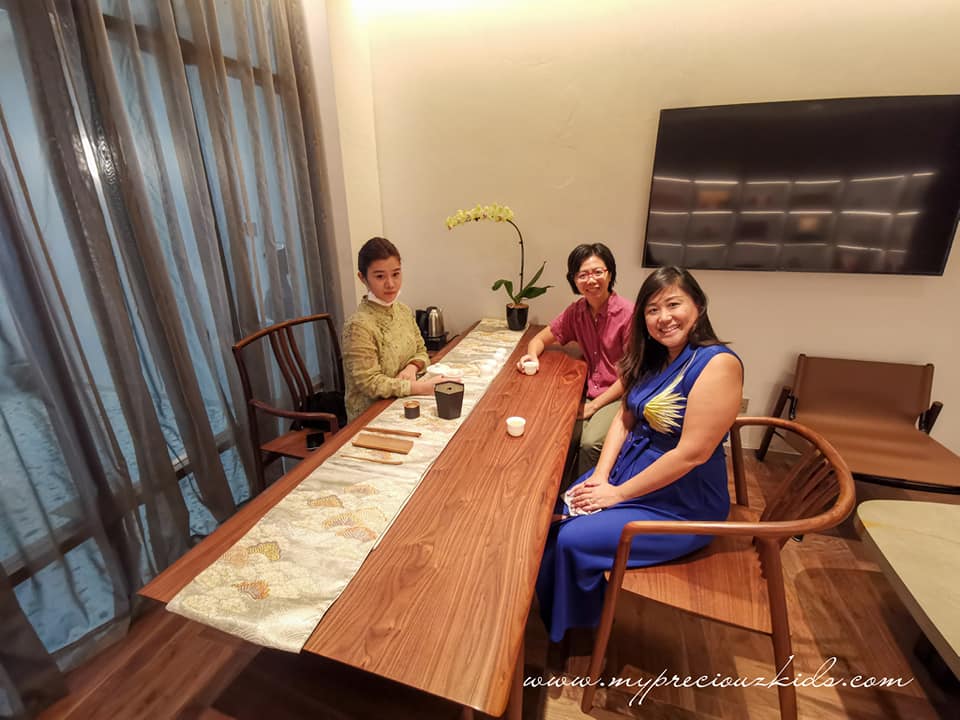 Whether you have an intimate event to host, and would have time to slow down life and savour the highest quality Chinese tea made by a tea making expert like Xiao Yu, this is one venue that I recommend you to check out. 
For bookings, feel free to drop them a call or text at 8950 7529. You can enjoy a 12% discount for any room booking who by quoting my name  "JaimeChan" when you call or email royaleternity2018@gmail.com.
Address: 37 Neil Road Singapore 088822
Opening hours everyday except Sunday.
Mon to Thurs from 11am to 9pm
Fri and Sat from 11am to 10.30pm
Disclaimer: This is a sponsored post. All opinions are my own.
Share the article