The aftermath of the magical night , I hear let it go songs ringing in my household night and day .. Even the coming to 3 year old also sings it … It was truly a memorable night for all.
This was our third Disney on ice. It is interesting to see as my kids grow and their perspectives as they had watched at different stages of their life. For big J being 7 and all, kind of past the Mickey Mouse stage but don't mind a good musical or a good act … Of because being a boy , this particular edition was all princesses (there was no lion king etc) But there are still parts whereby it takes his imagination to new level like the skating "animals" and all the light and snow effects and fireworks that accompany all the skating !
For C being the only princess in the family … I had to dress her up to the nines ! Previously I wouldn't buy an Elsa costume for her as I see most girls in Singapore has it .. So for the longest time , I only had purchased Elsa inspired dresses but not the real costume per say! But when i found out that this year's Disney on Ice is featuring Frozen the very first time ever, I knew had to get it despite my initial resistance even if it's for this magical night only ! She was so happy wearing the costume  and it does make the whole experience more real for her..I see how she mimic every action that she sees on stage just like Elsa ! And she thoroughly enjoyed the show being at an age whereby she is more aware of all the on goings …5 is probably the best age before they outgrow their princess days and costumes. And being dressed just like Elsa completes the whole experience! I am not saying that you have to run to the store to get an Elsa costume but if you have it , do wear it to the show!
And for small J , the last time he went was 2 years ago when he was 8 month . so this time he loved all the Mickey section … He sat through most parts except sometimes he wanted to see more of the performances and was blocked by the front row and this boy loves Elsa too!
March holidays being a short week and all and for many who choose not to travel out for the holidays , Disney on Ice presents Magical Ice Festival 2016 is probably the next best thing to a holiday trip for the kids.
and I have 3 reasons why this is a must go and a wonderful treat for your kids.. Olaf, Anna and Elsa. They kept Frozen act to the final 30 minutes but it was well worth the wait and it ended the magical night on a high! First time in a Disney on Ice show , I hear so much emotion from the crowd not just the kids (yup the mummies reliving a lost childhood , myself included 🙂 )  I will be lying if I didn't mentioned that the Frozen segment overshadowed the rest of the acts but this is the very first time we get to watch it on stage!  
The night started with my absolute favourite Mickey tune….Oh Mickey you are so fine, you are so fine you blow my mind…hey mickey hey mickey to get the crowd all singing and clapping!  and little kids screaming Mickey , Mickey! think you can hear it from my video too….
The next act played homage to the recently concluded Madonna concert in Singapore with songs like Vogue and Girls just wanna have fun performed by the cast from The Little Mermaid . And who says Disney is all about princesses and girls , there is Sebastian and Flounder for the little boys to relate to!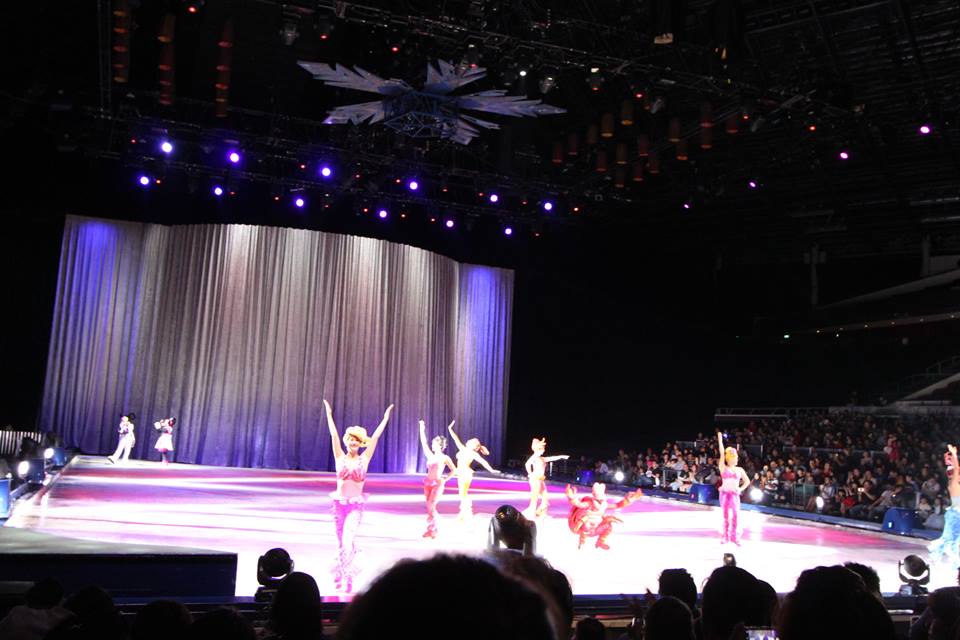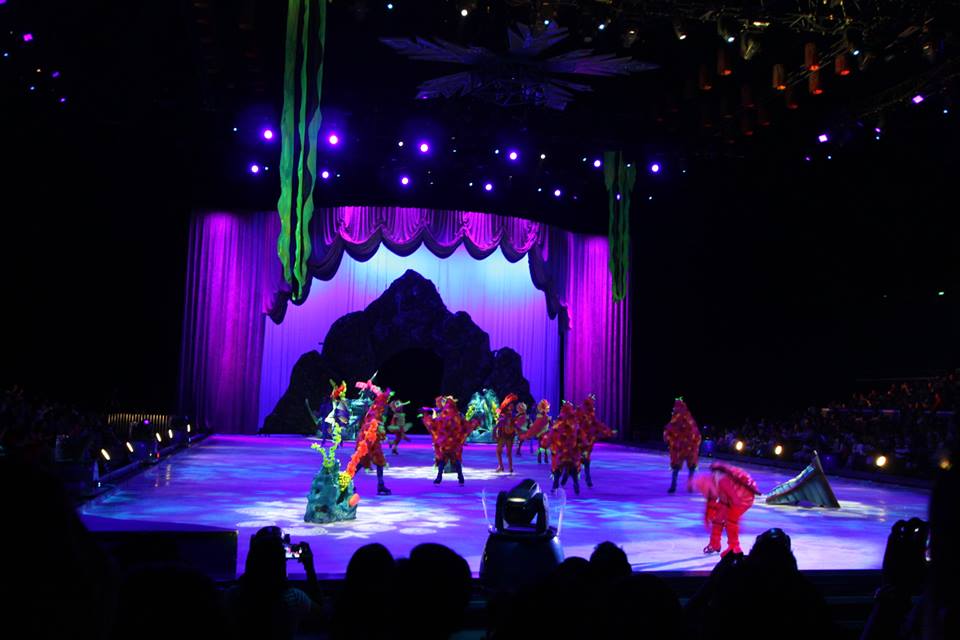 This was followed by Tangled ie Rapunzel complete with floating lanterns! Beautiful is just an understatement!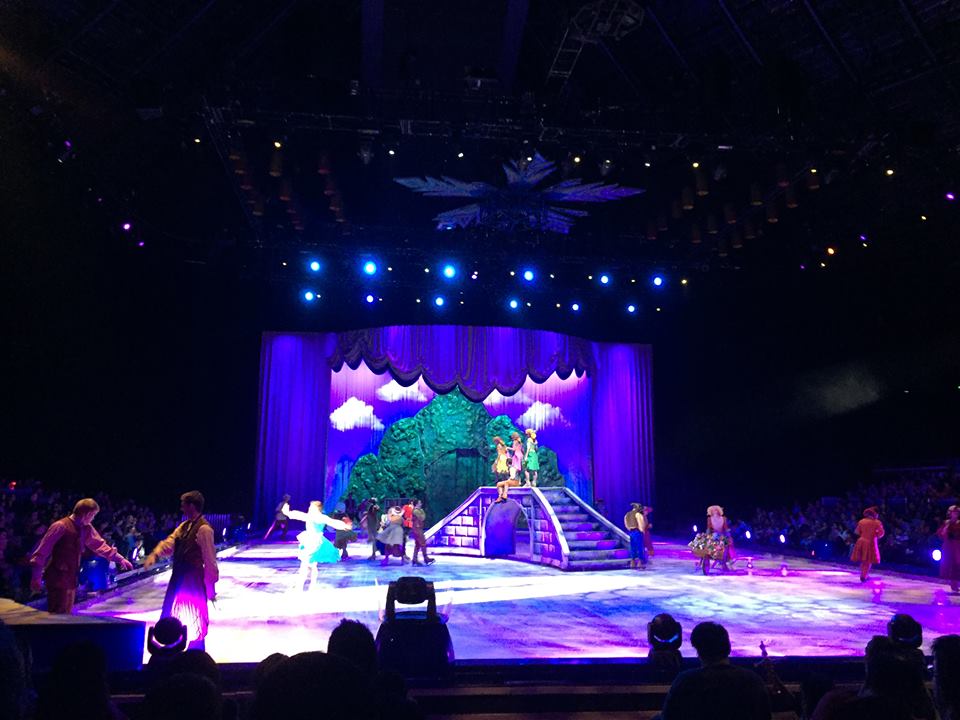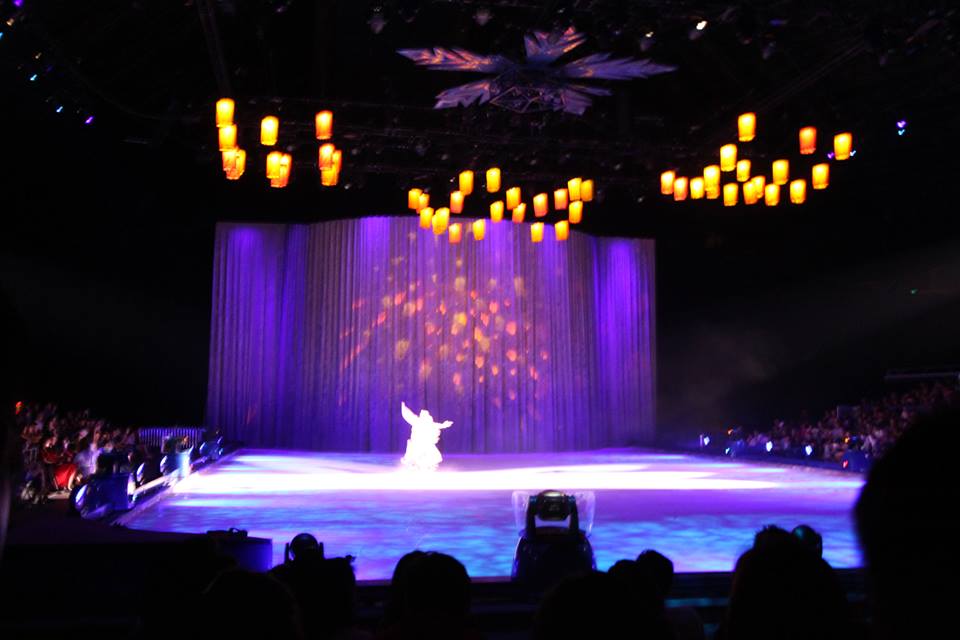 And who can't sing Beauty and the beast theme song, this is for all the mummies and little girls who loved
belle and the story for beauty and the beast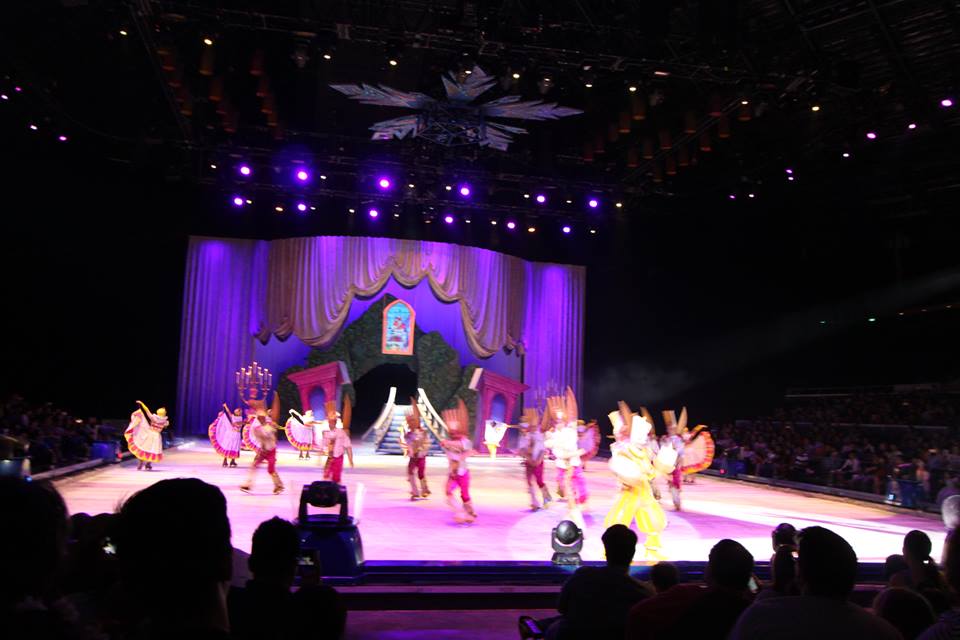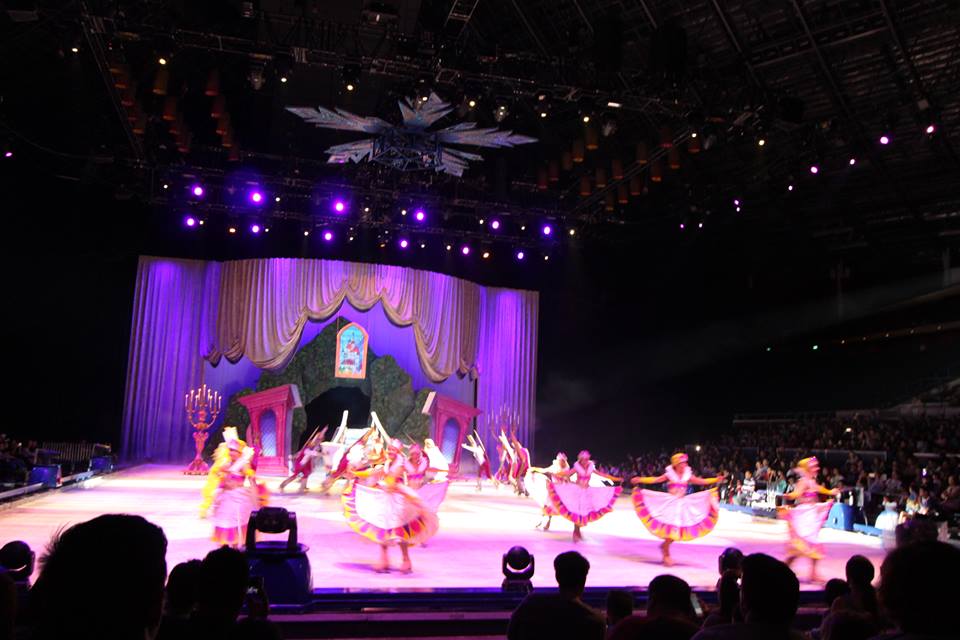 And finally the most awaited act of all and for the first time on Disney on Ice, Frozen complete with fireworks and "snow" ! We have watched countless times of "Let it Go" being played on TV but to watch it interpreted live on stage and on skates  for the very first time , it's just surreal . I cant use enough words to describe it .. No big props , just a sole performer with of course some fireworks and lighting and snow effect to mimic the animation , it was that Good ! you just have to catch it live yourself.. Period.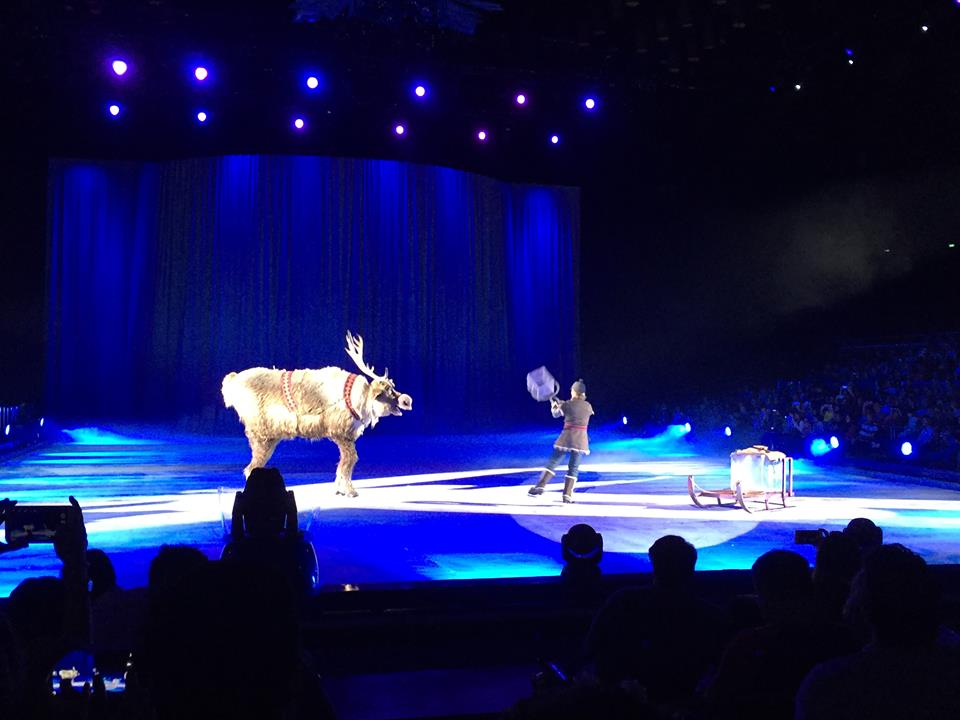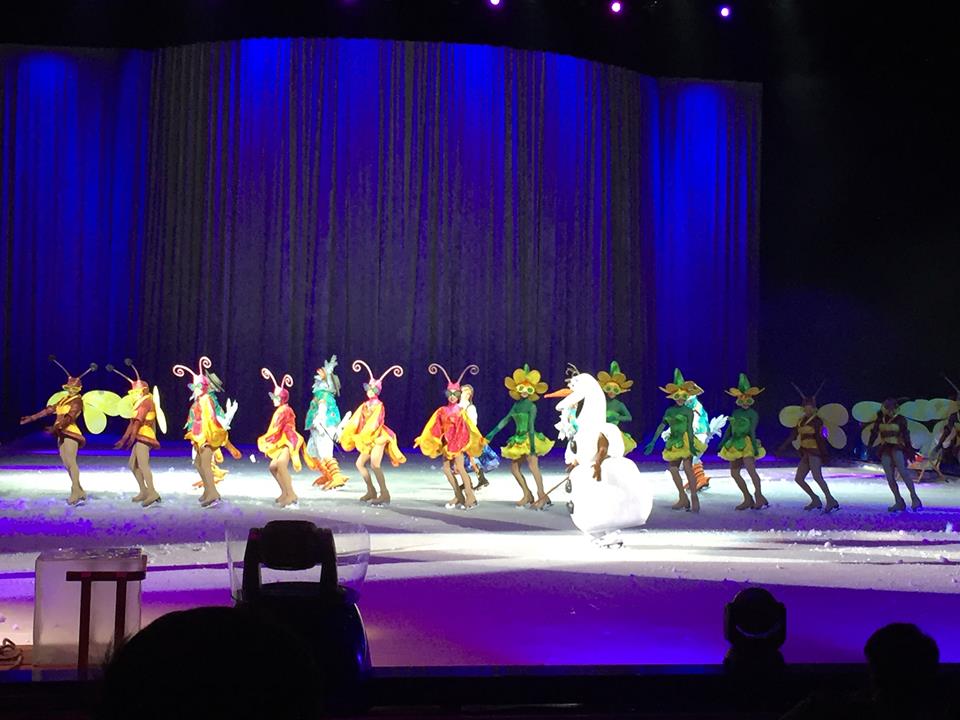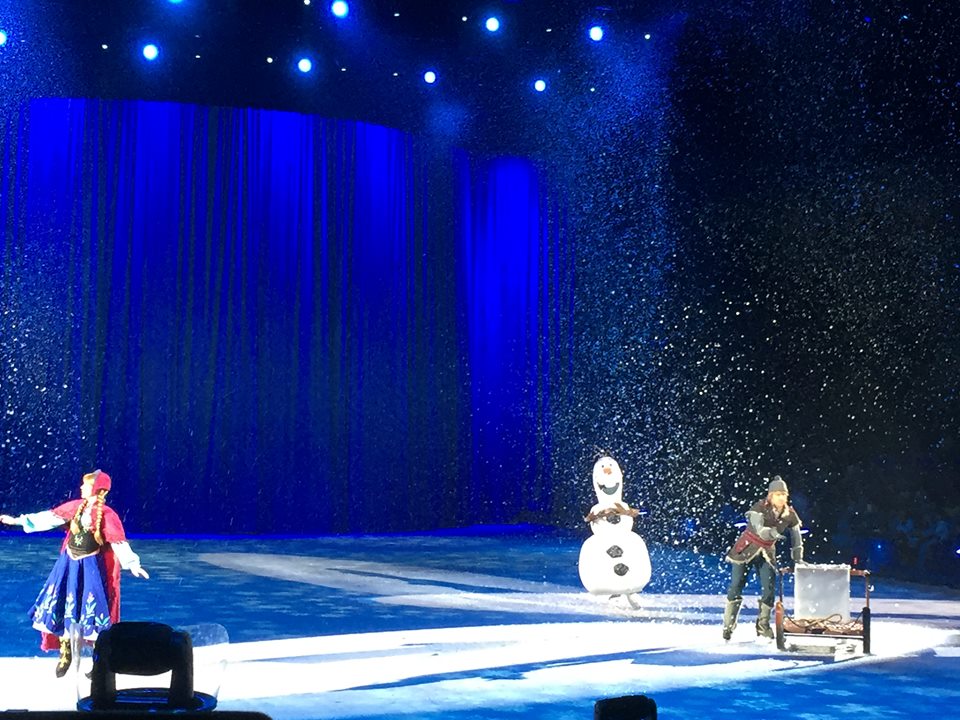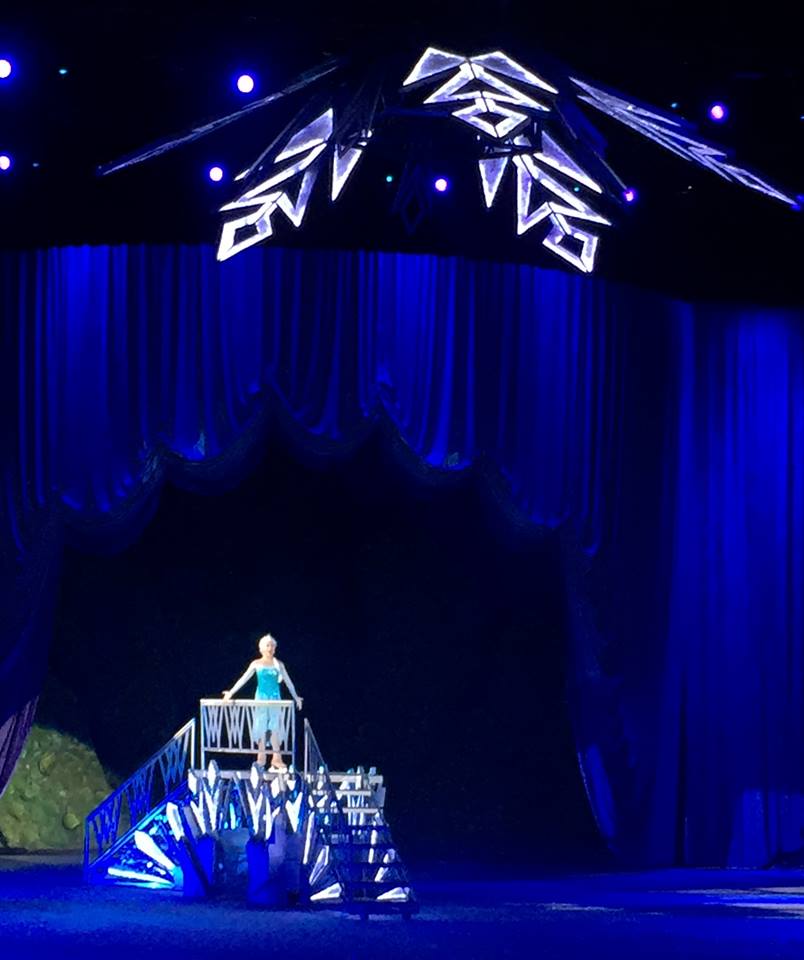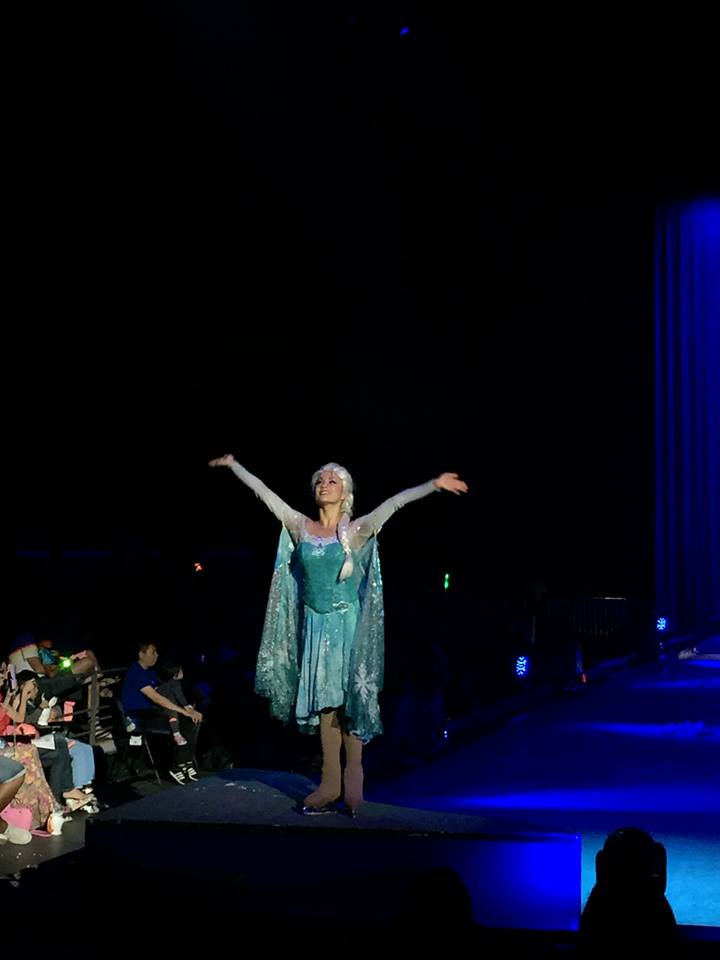 I do have a video of "Let it Go" but it will do it discredit by watching on screen, you have to watch it live!  So I won't be sharing that, it's just for my kids to relive some of the moments of that truly magical night.
For every little boy, girl , mummy who is still not willing to "let it go" , seriously you should not let this show slip you by ! And please remember to bring cash, there is so many cute memorabilia, frozen drinks and snacks all to the theme ! You won't be able to resist getting some for the kids!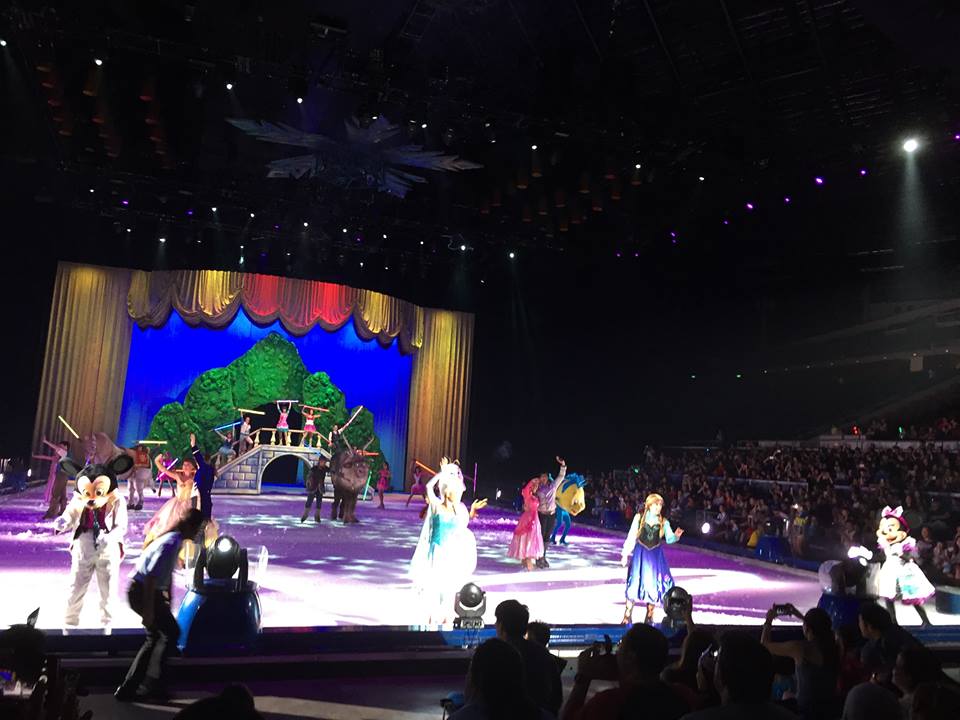 These are the remaining shows date, make a date with your kids and this will be a memory to last a lifetime!
Disclaimer: This is a sponsored giveaway.  All opinions expressed are entirely ours. 
Share the article