For a baking noob like me, every Chinese New  Year I will buy from bakers / shops for my own consumption and also for gifting. In the past, when there were CNY fairs to sell their new year goodies, I will also go around trying  and sampling from different shops/bakers as I personally  loved pineapple tarts especially the open face version as that was the only type that my mum baked during CNY growing up. 
I tried 5 types of CNY goodies from pineappletart.com , some are best sellers and some are the one I personally fancy.  All CNY goodies and cookies from pineappletart.com are 100% handmade with zero preservatives added. This was how pineappletart.com started to fulfill Mdm Teo's long lost dream of owning her own bakery.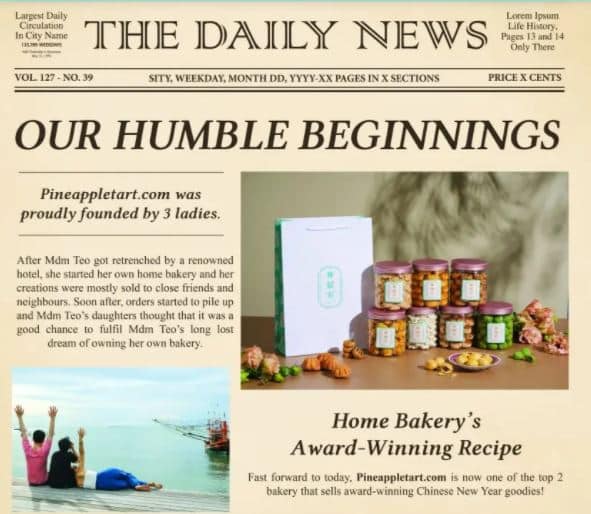 First up to be reviewed , would be the one I grew up eating which is closer to my heart.
I actually preferred the Award Winning Melt-in-Your-Mouth Pineapple Tart over this version even though most instances I would prefer the open face as I grew up eating this version. I felt that the combination of crust and pineapple paste really what I really fancy –  a tad dry, but I love the higher proportion of pineapple paste vs tart.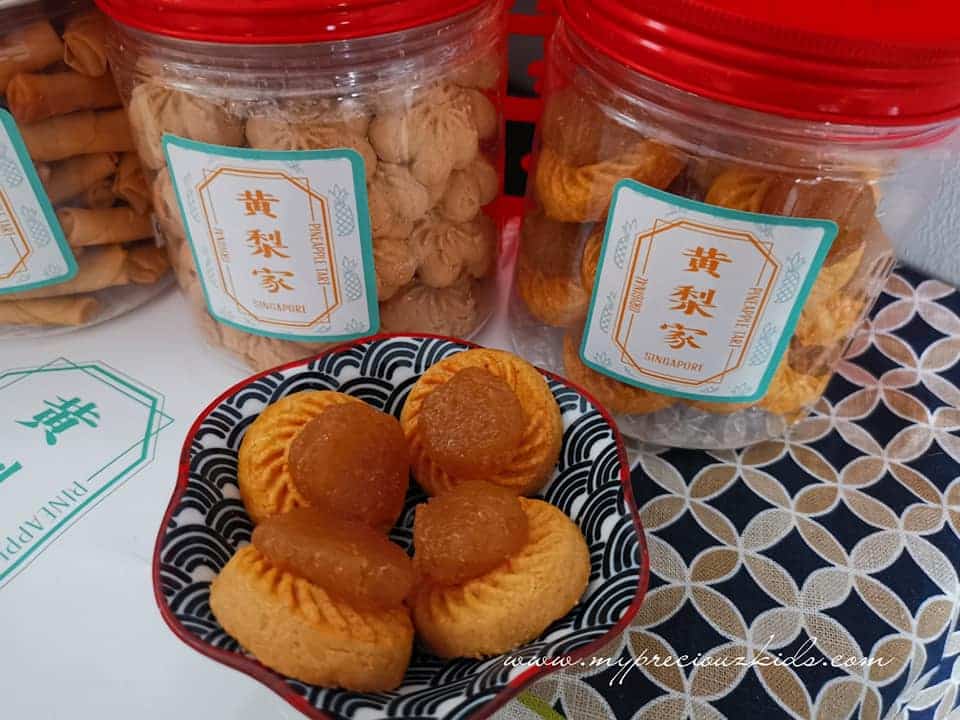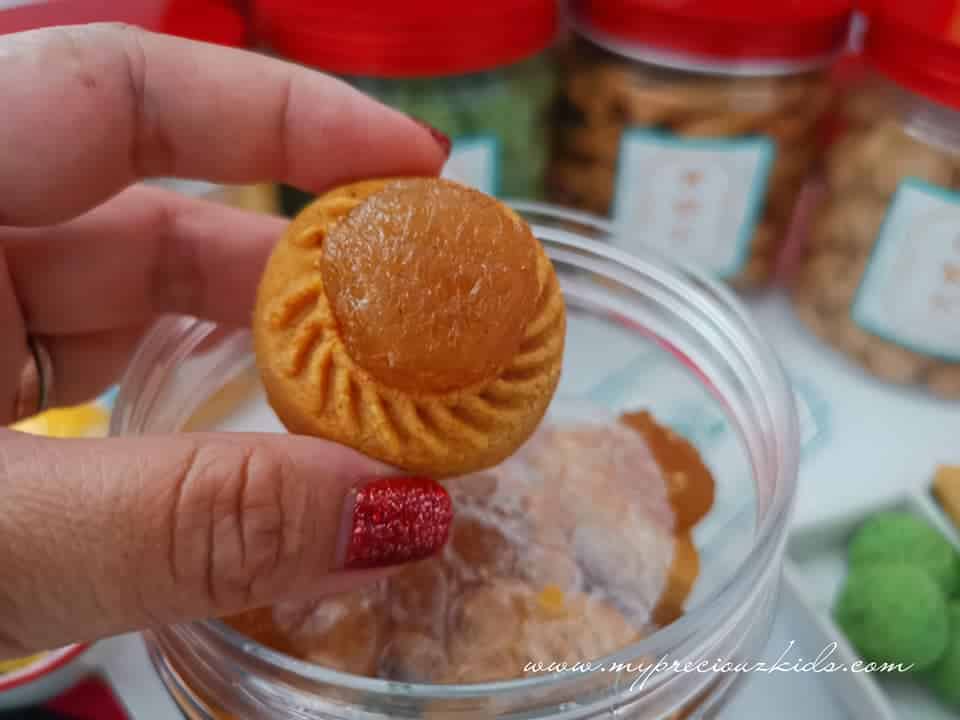 I can't believe I actually love this version over the open face version. No wonder it is award winning as everything was perfect, size of tart, the proportion of pineapple paste to crust etc. I hate it when I had to take 2 mouthful for those who made it as big as golf balls and hence risking crumbs. I just love this , just 1 mouthful for every tart – perfection in every mouthful.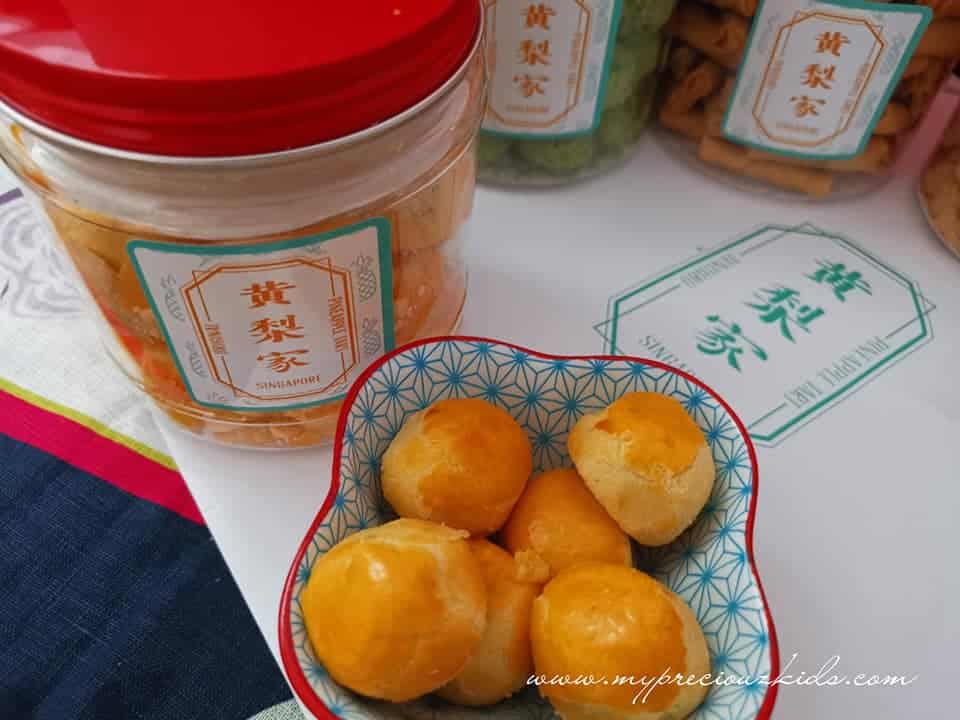 I chose this over their award winning melt in your mouth kueh bangkit as I have never tried gula melaka variant before ever hence, I knew I would want to order this to try.  It is not as melt in your mouth like typical kueh bangkit probably due to the addition of gula melaka but it was so fragrant and so unique. I totally enjoyed this despite it not as melt in your mouth of its original version , even my husband says they are so fragrant. Love the peranakan twist to this! A must to order for kueh bangkit lovers!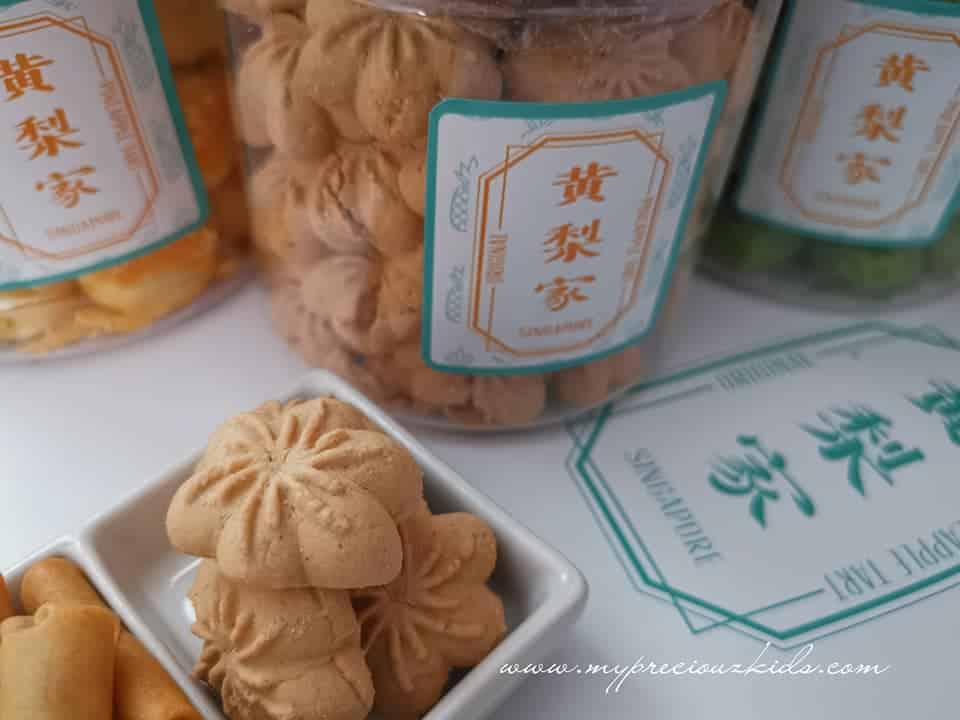 This is one of my favourite CNY cookies as I loved to snack green peas – green peas are my favourite snack of all time. Hence it is not difficult to see why I love this cookie. Just like the award winning melt in your mouth pineapple tarts, I just love their sizing. Just 1 mouthful for each tart, no crumbs on the table or floor too! And this is so addictive, impossible to stop at 1.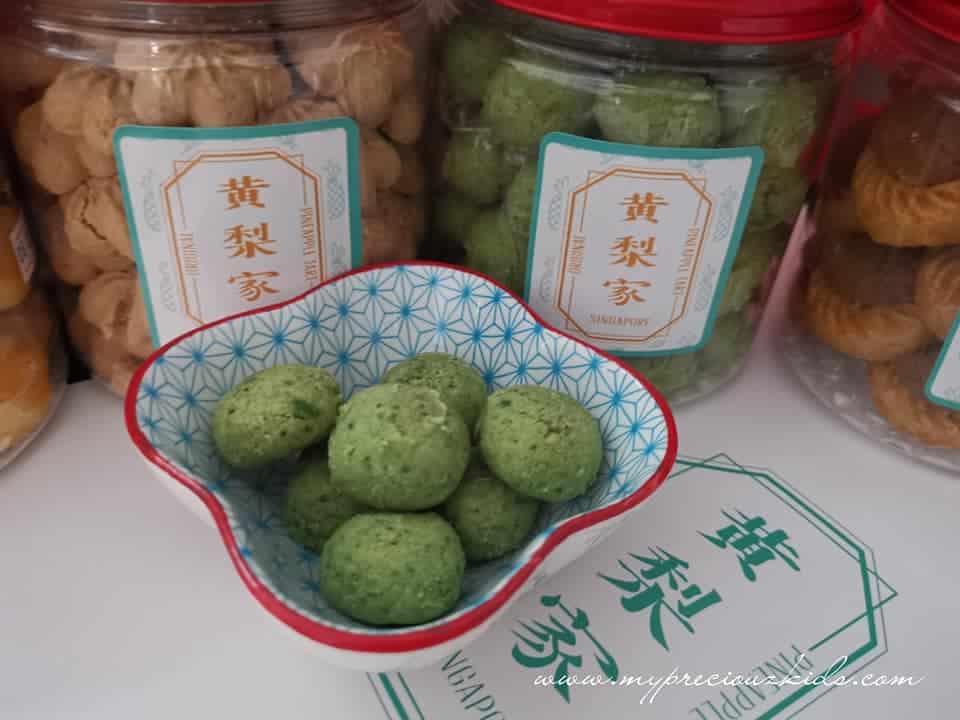 This is not my favourite but my kids favourite, yes my kids can take very spicy food and this is their absolute must-have for CNY. It is fresh made and definitely crunchy, super addictive, you cannot stop at 1!  I wish it was a bigger tub for the 4 of them – super fresh and I don't find it overly spicy perfect for kids and people who cant take too spicy.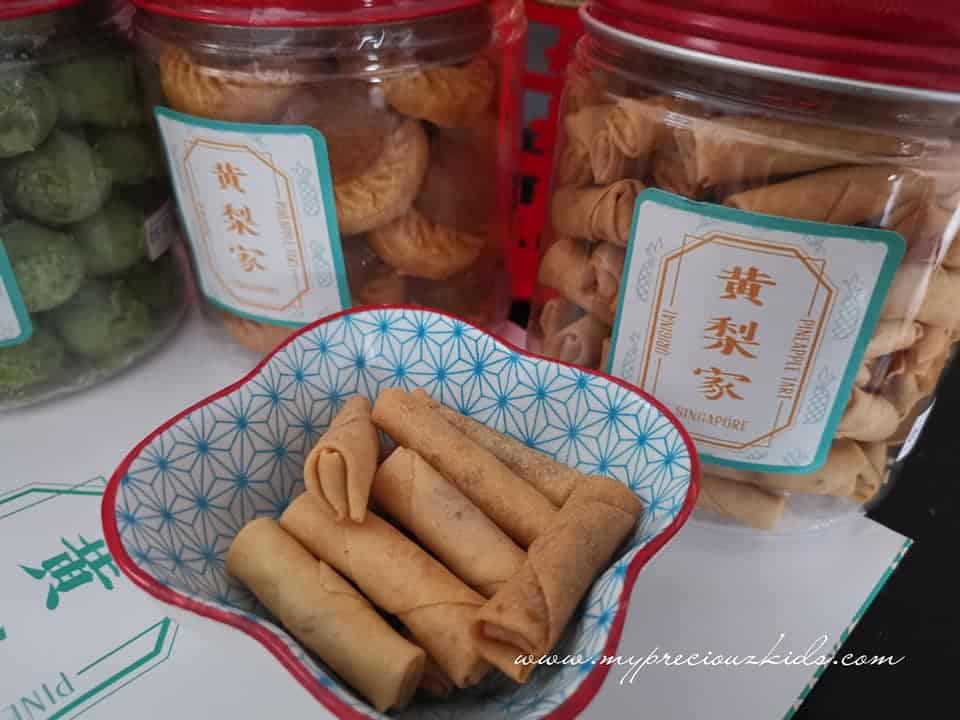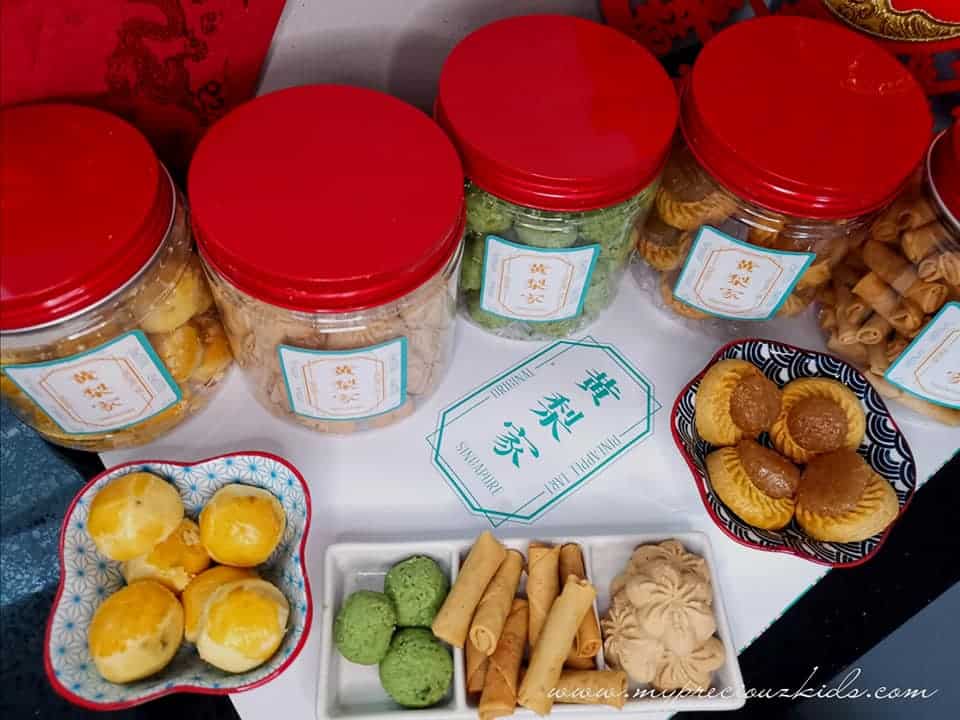 There are many bakeries out there but I can attest this is #freshfromtheoven and homemade just like the ones my mum used to bake for me growing up. And they don't skimp on their cookies as they are filled to the brim of the bottle and no missing spaces ( it is missing 1 cookie  in the pic as I ate it before I took this photo).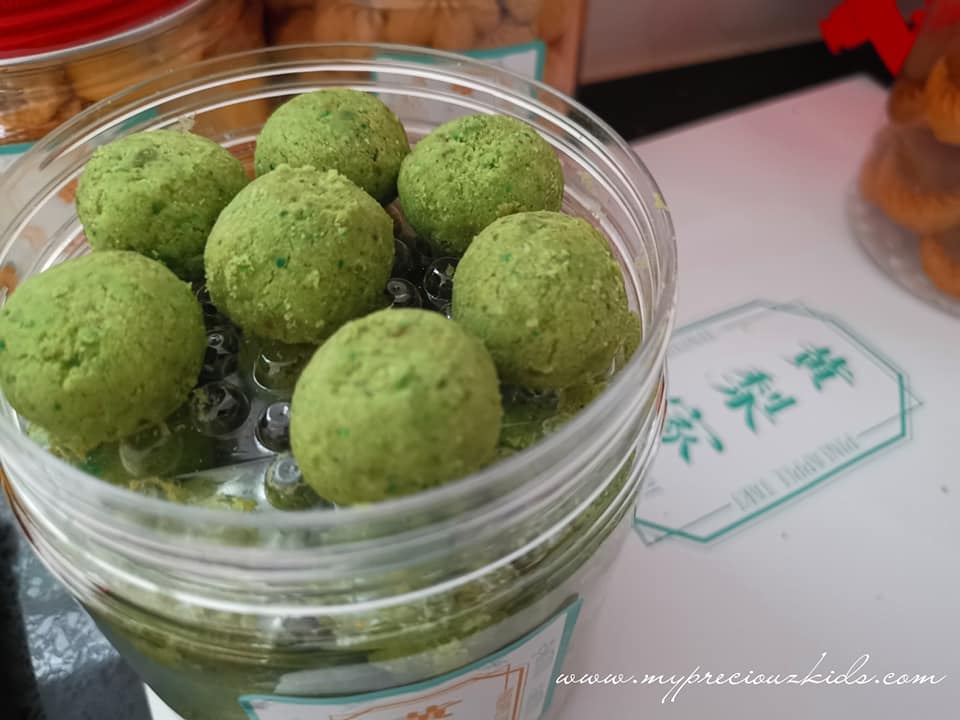 Do check out their website as the stocks are running down quite quickly as it is just 1 month more to CNY!  
Disclaimer: This is a sponsored post.  No monetary compensation was received. All opinions are my own. 
Share the article