My youngest child really love to doodles and he will take random paper or note book to doodle and draw and most time I will have to throw away as it will pile up even though it is sometime a pity as some of it he has put in a lot of effort to draw and doodle . myFirst Sketch Book is a brilliant invention for kids who loves to doodle and parents like me want to keep all in digital copy. 
At first glance 
Looking like a mini tablet, and weighing 335g, it is excellent size for my preschool and it comes with a free leather case to protect the tablet against rough usage on little hands. What is included – Sketch Book , Smart stylus ,Pen tips set, Free leather case, Charging cable and Quick Start Guide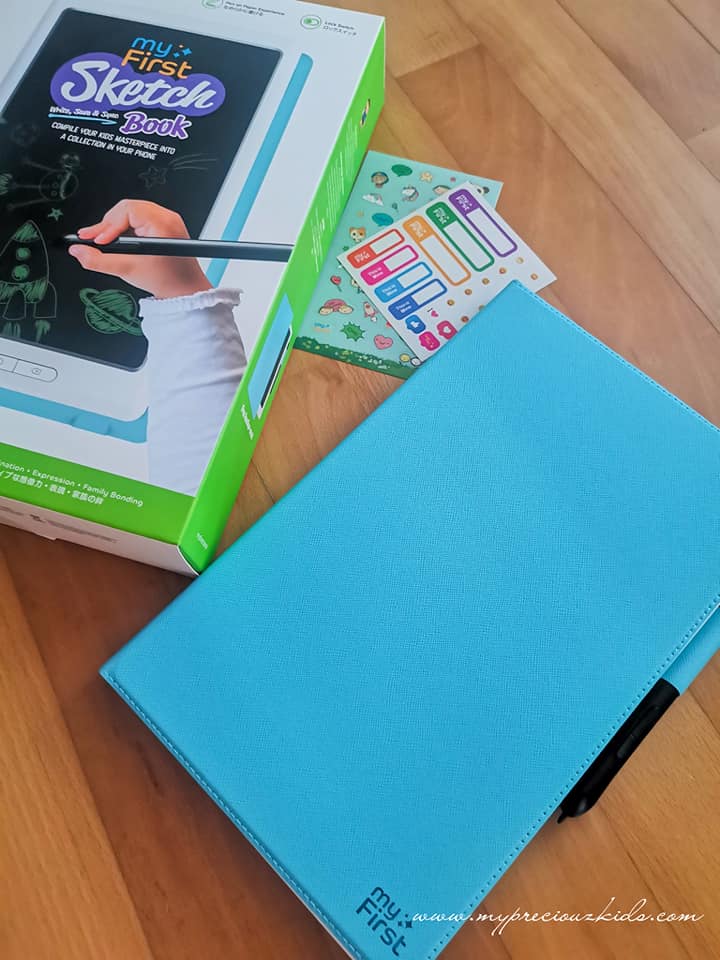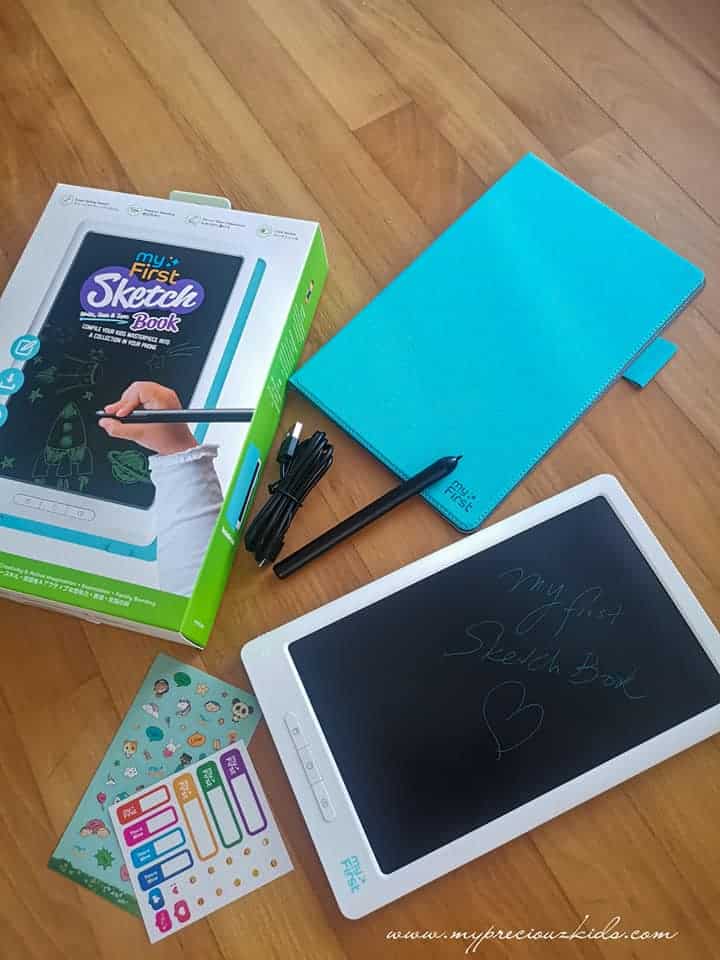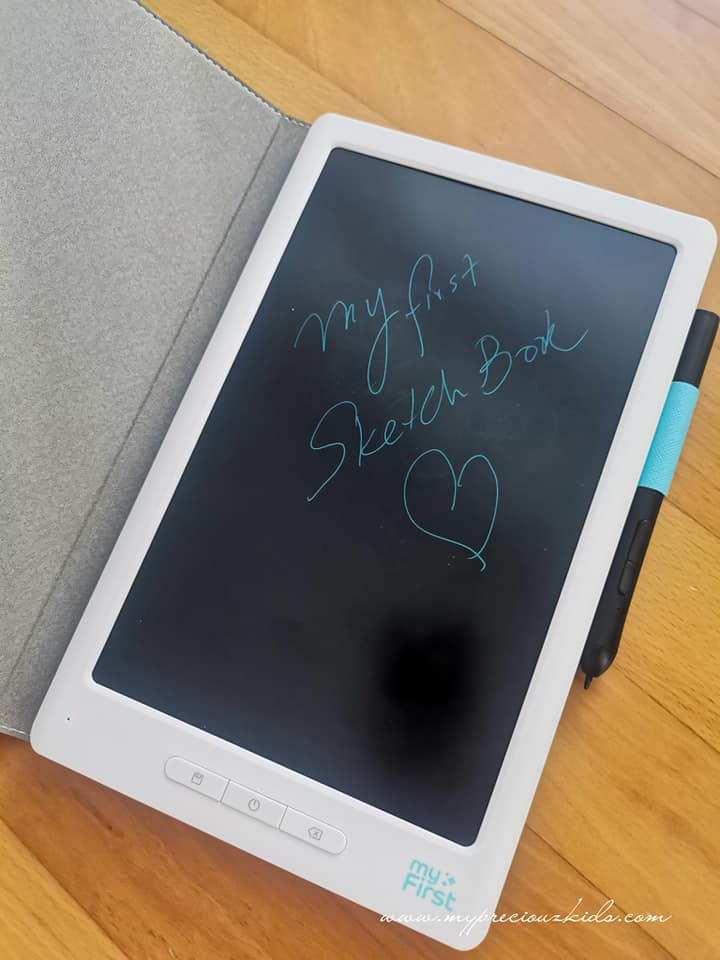 Using it 
In a single charge, the tablet can be used for 50 hours or 2 weeks  while the stylus for 200 hours for endless drawing and doodles.  With a built-in memory, it can now save your child's every single masterpiece and transfer to your phone via bluetooth conectivity using myFirst Sketch Book app.
What is revolutionary about this stylus is that you can adjust the font thickness, tip size to create different masterpieces on this digital sketch pad. Using the app, there are simultaneously remote drawing with colour too  on your smart phone.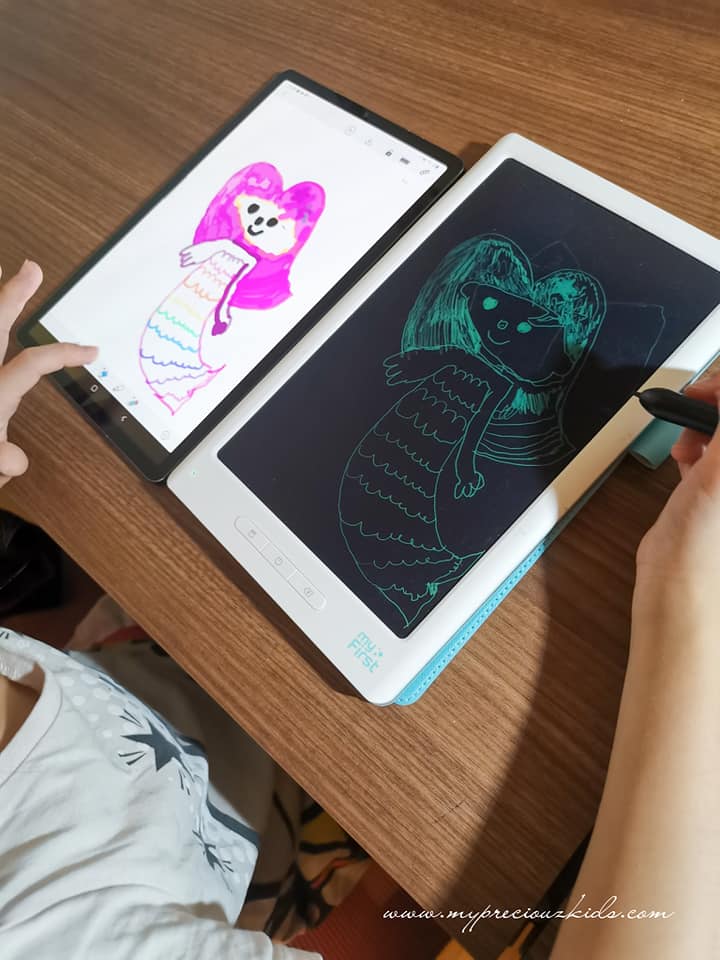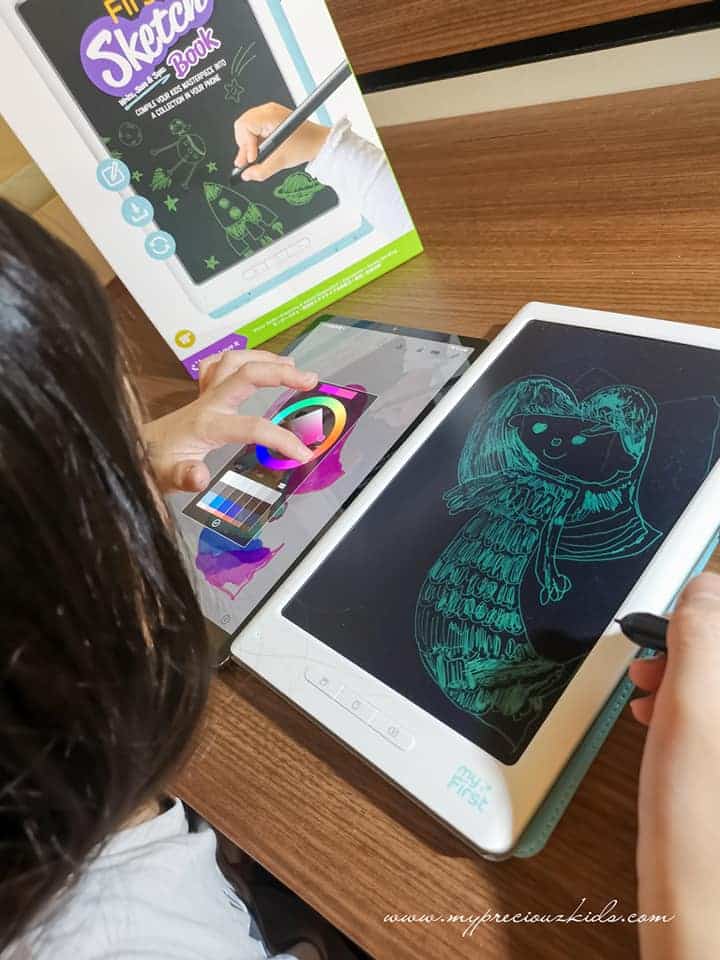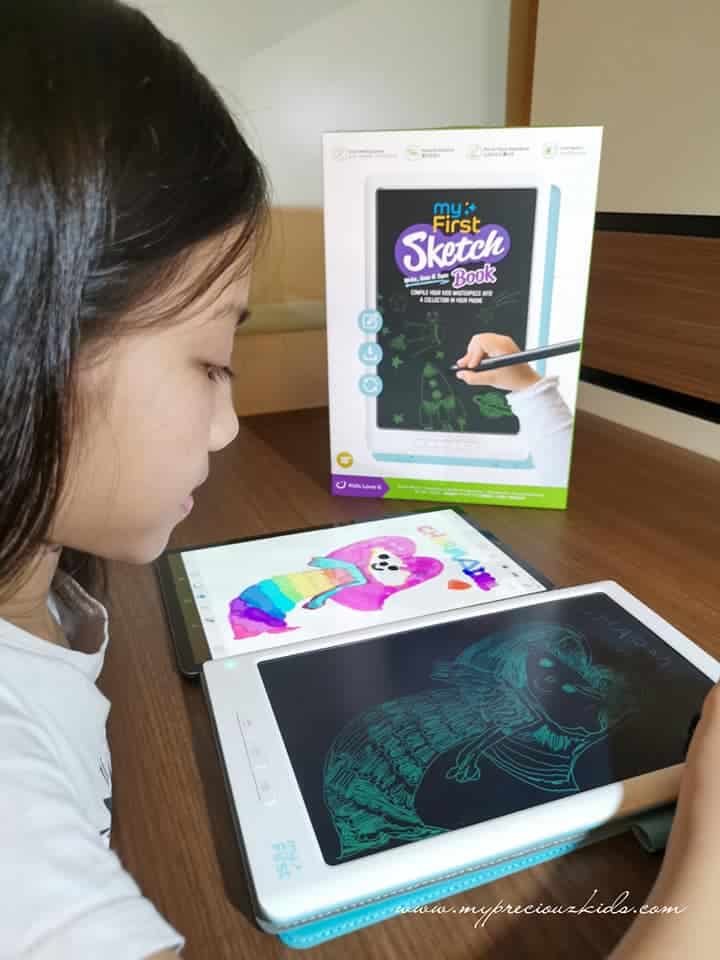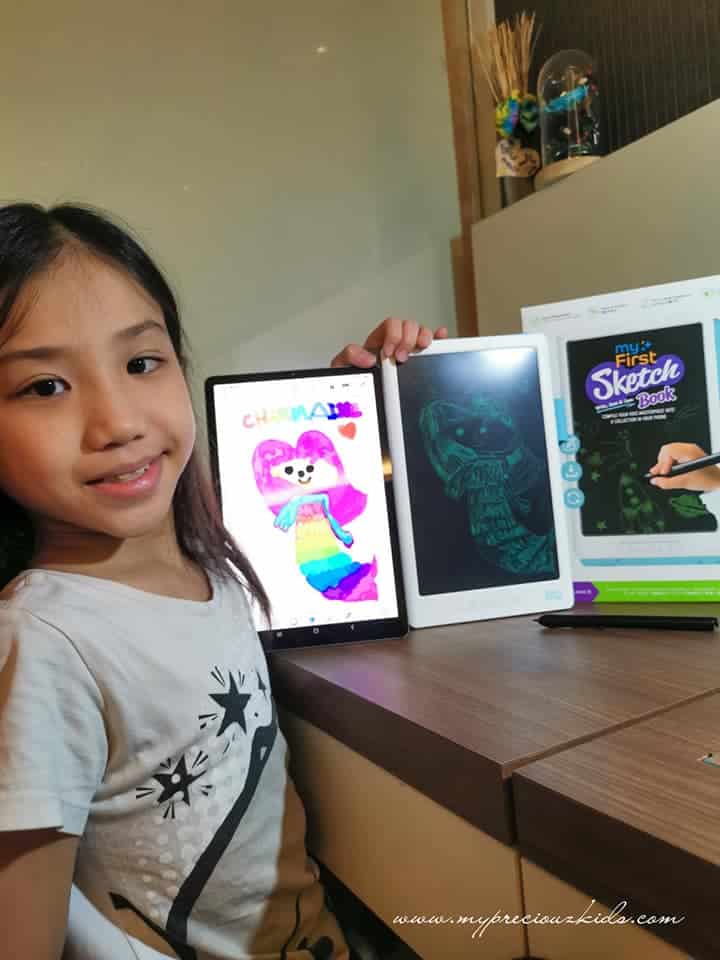 Loving it 
This is perfect for dining out or on road trip so instead of digital time, kids who love to doodle can use this and save all the thing they drew to keep them entertained!  
In fact this is not just for my kids, I have been using myFirst Sketch Book can also use it for my own work meeting where I need to note some down note or to do list and easily saved this too and transfer it to my smartphone immediately via bluetooth connectivity so that I would never lose the information, unlike the little notes that I have written, I often cannot find my little note or my outstanding list. 
I even use myFirst Sketch Book  to solve my p6's son Math problem as I sometimes want to send the solution to him and we can keep this also for future reference. Definitely this also help to save trees as I don't need to look for paper to do the workings.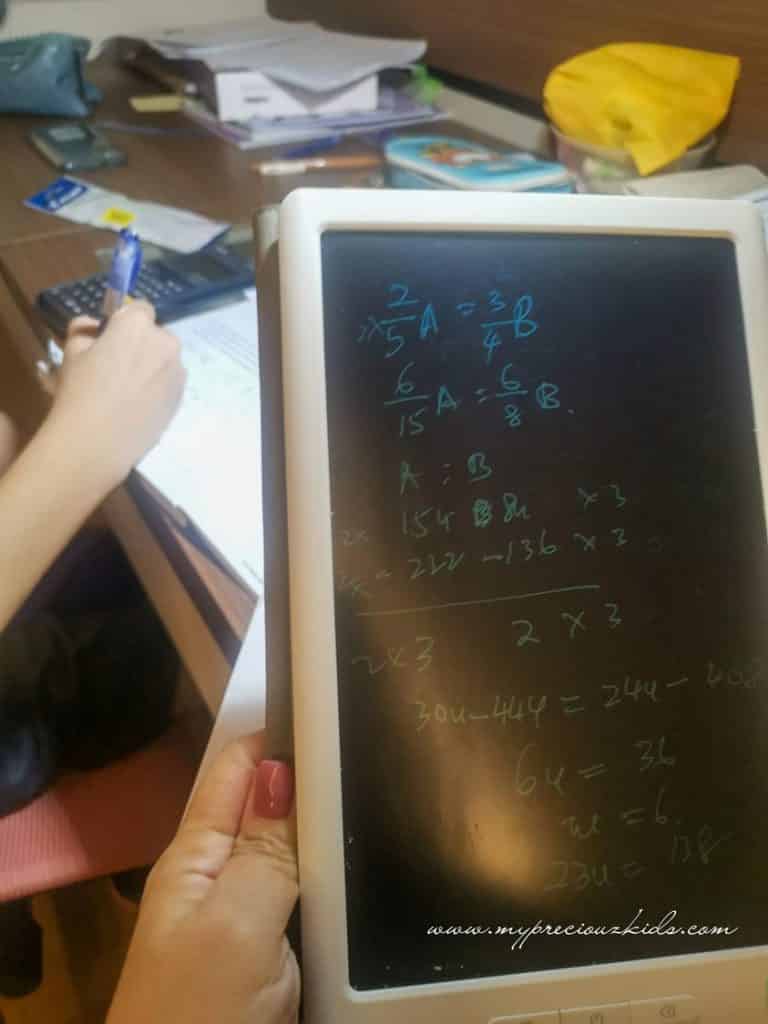 A device for both kids and adults, I cannot rave enough about how functional this sketch book is , for further saving, you can quote mypreciouzkids15 when ordering online here. 
Disclaimer: This is a sponsored post.  No monetary compensation was received. All opinions are my own.
Share the article