Previously big J and big C had reviewed the World Edition and Early explorers. You can find my review post here. In last quarter 2016, Little Passport launched their first science based subscription box – Science expeditions targeted at kids age 9 and above. Even though none of my kids have not crossed the recommended age, they were most curious and intrigued by the box that came by post. All kids love mails in the mail box. There isn't a right age to start kids with science as there are science in everything they do. The younger ones may not be able to appreciate the reading materials that came with the subscription by my 8 year old can but their level of enthusiasm in participating in the experiments were no less than big J. So on weekend when we are having our down time at home and it has been raining and we were forced to stay indoors, instead of bumming around, I will bring out the home science kit and do it with my older 3 kids as part of family bonding too! I can also tell
First month's pack:  Forensic Science.
Besides the essentials for the topic of the month, in the first box come a very roomy bag to keep all the experiment equipment for future month's projects and also a journal to log down or draw your observation going forward.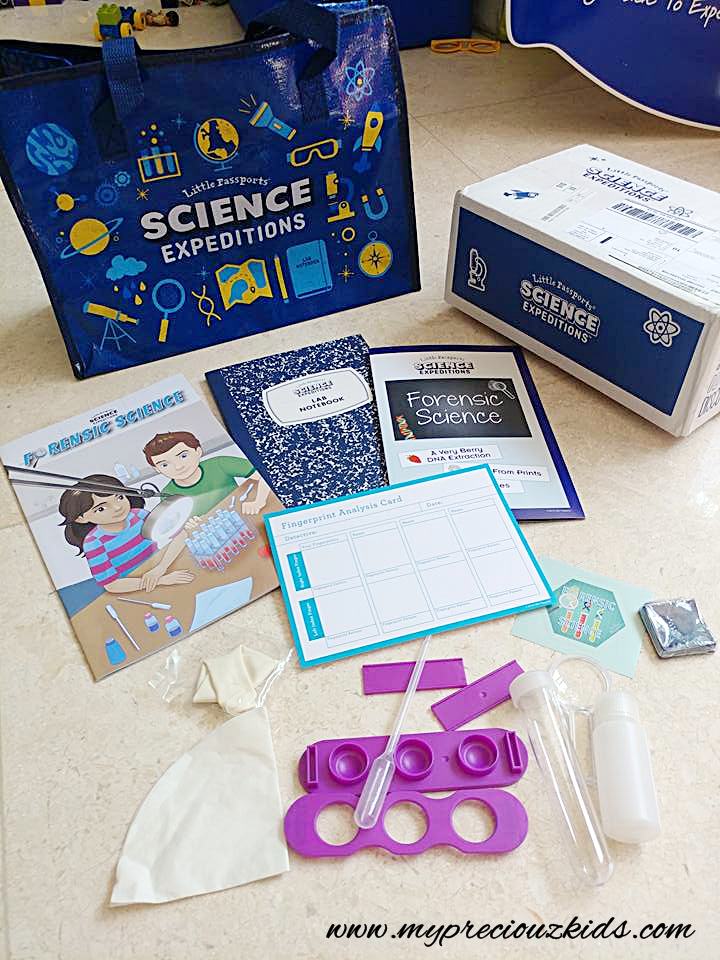 Each month's pack comes with 3 experiments. One of the experiments in the first month's pack is to analyse on your fingerprint. The kids came to realise that every individual has unique fingerprint and forensic investigator using fingerprints to identify the guilty party.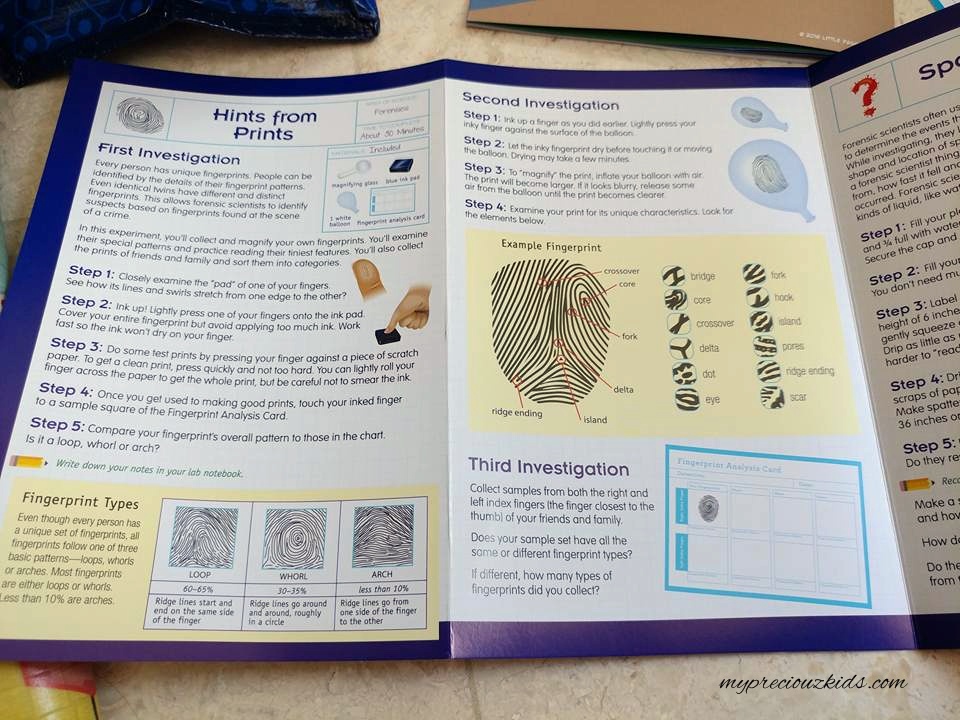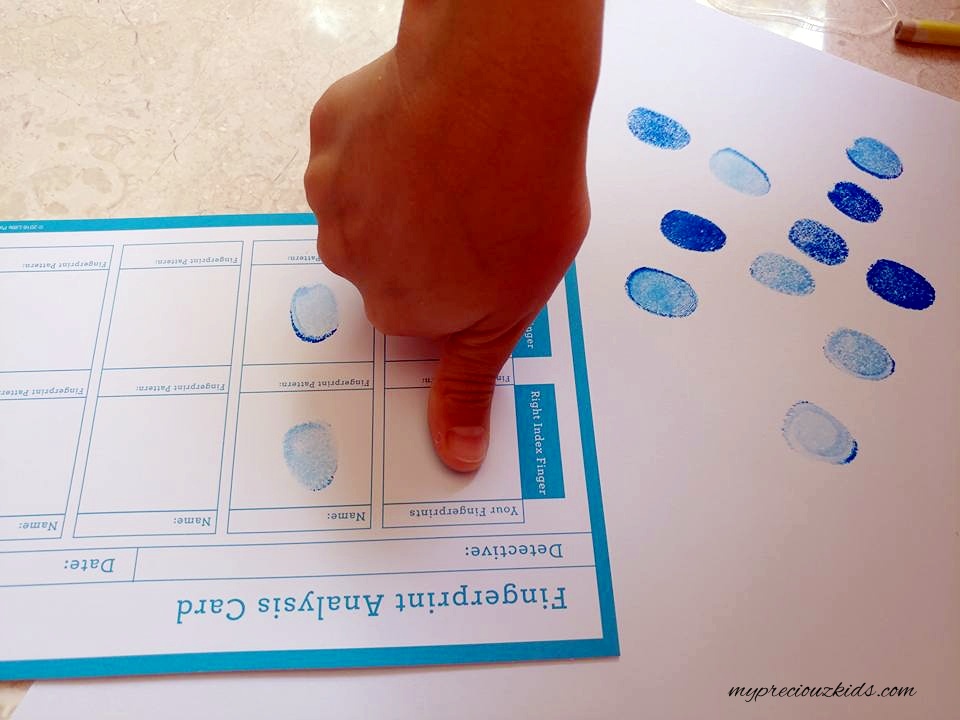 Each month's pack also comes with a 16-page magazine with comic-based stories to further increase understanding of the topic of the month.
Parents will also have access to online video. I find this most useful as my kids are more visual so they can to have an idea of the experiments before embarking on their own.
Second month's pack:Caves and Crystals
Crystal is being introduced in this month's pack. And what make science as interesting as it can get by growing your own crystal at home.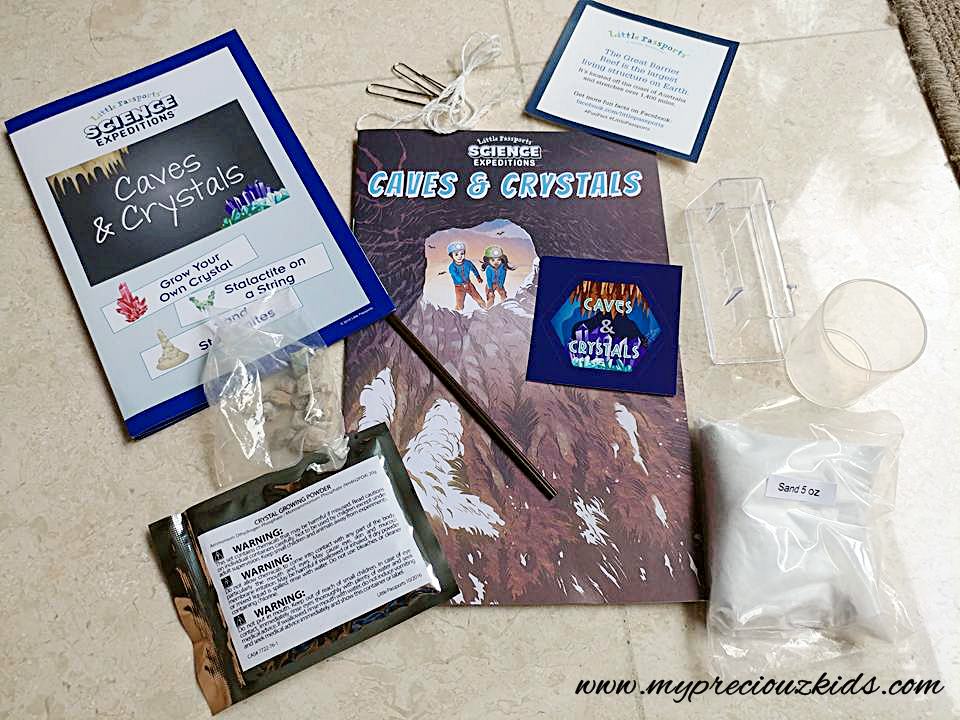 As part of this month's topic, the pack also cover stalactites and stalagmites. I never could remember which comes from the floor and which comes from the ceiling. And finally after returning all my knowledge to the science teachers, there is an easy way to remember.
Stalactites has a C in it and Creeps down from the Ceiling.
Stalagmite has a G in it and Grows up from the Ground.
Ingenius! If only i knew this method of remembering in school, I wouldn't had such a hard time differentiating the two during Science class. This month's pack came with two experiments, one is to form stalactite and one is to form stalagmite.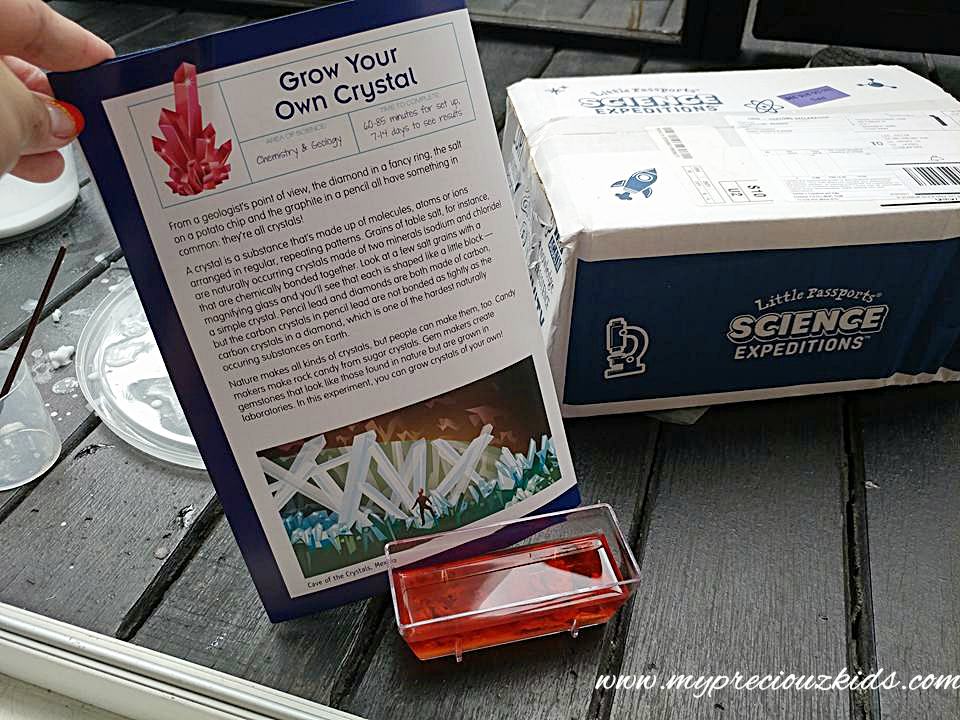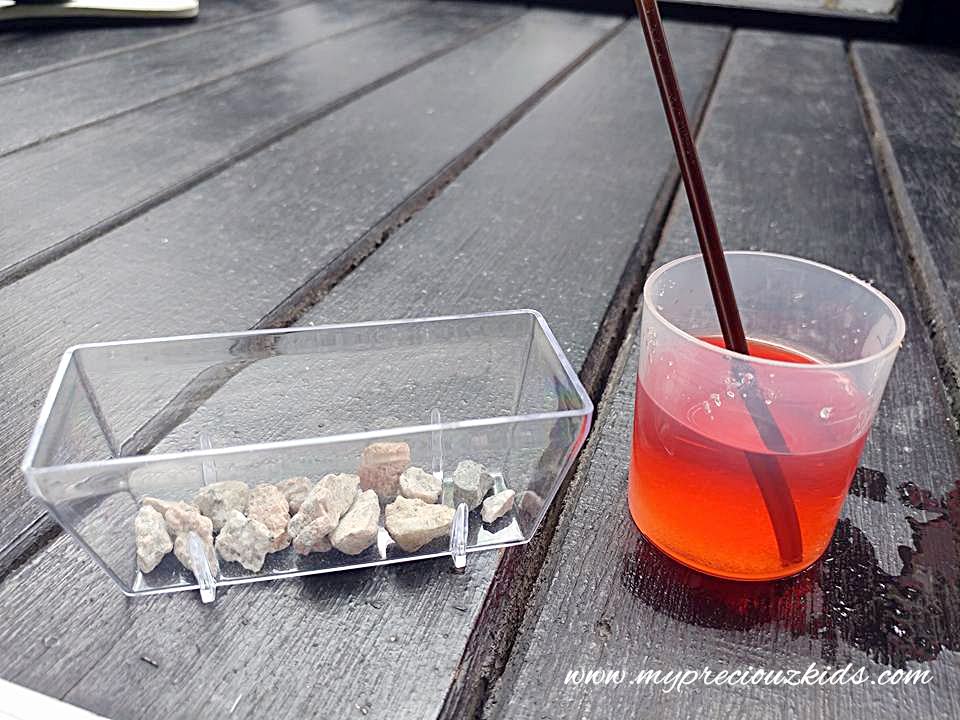 Third month's pack: Northern lights
I am most excited about this part personally as going to see the Northern Lights is on my bucket lists.  As this phenomenon does not happen in my part of the world, my kids are unable to appreciate or relate to this. Hence, firstly I had shown them photo of the Northern Light as witnessed by people living in the Finland, Ireland etc.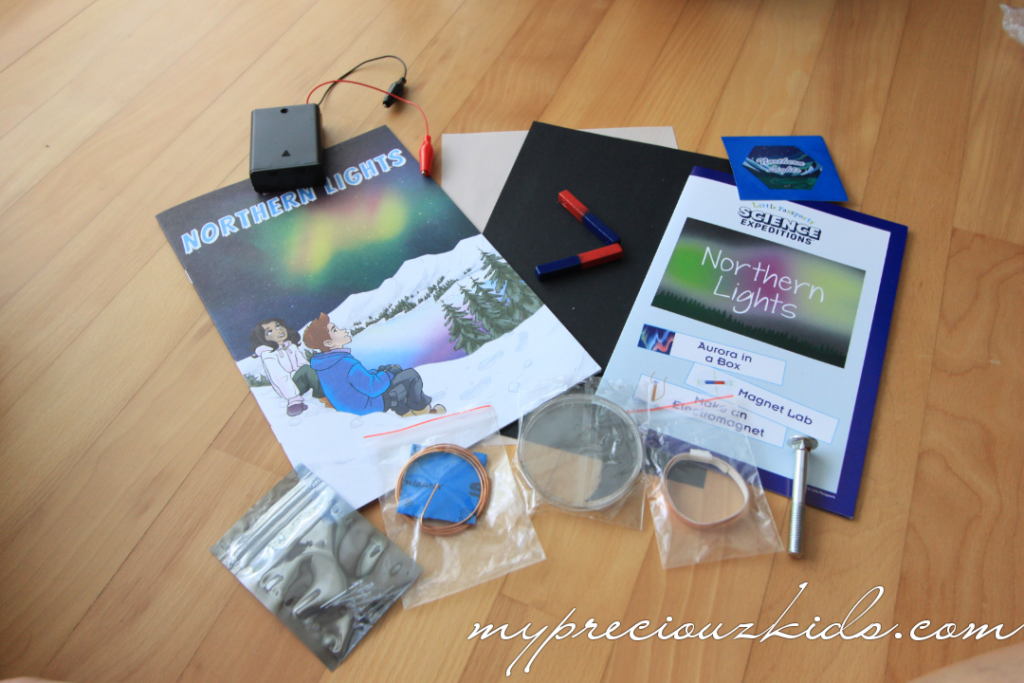 As the box is reused for this experiment, I need to ensure that the kids doesn't rip the box opened prior to the experiments. I also think this is the MOST interesting experiment from the kids' perspective too as there is light effect.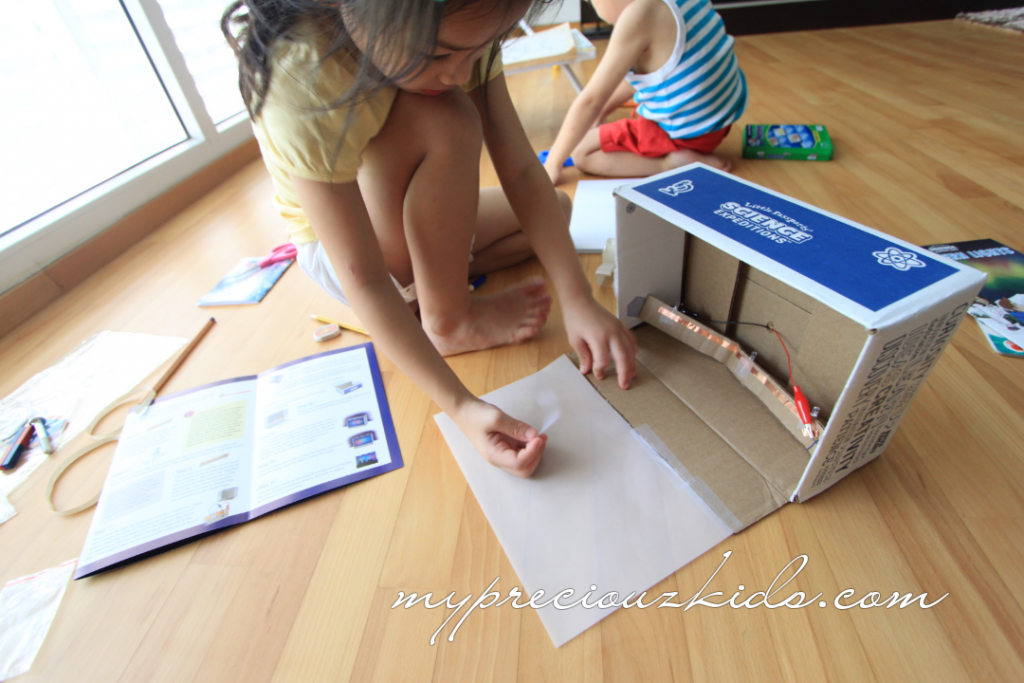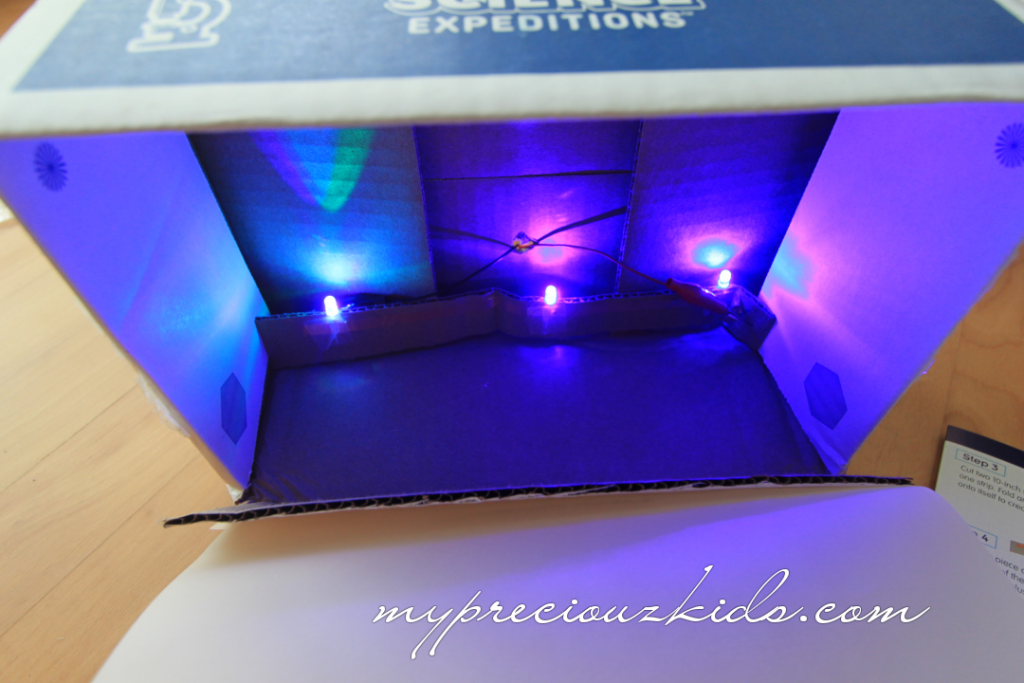 The Aurora in the box experiment is the most fun experiment by far. Actually this month theme on magnetism is also most interesting as the kids dabble in magnet and electromagnet. Little Passports Science expedition comes in monthly, 6 or 12 months subscription. You can subscribe through this link
You dont have to wait for your kids to turn 9 to enjoy this latest subscription from Little Passports. I would say primary 1 and primary 2 kids will be able to appreciate and have early introduction to science and science experiments at the comfort of home and it is also excellent family bonding on weekend when its raining cats and dogs or simply too hot to venture outdoors!
Disclaimer: This is a sponsored post.  No monetary compensation was received. All opinions are my own. 
Share the article