Coding has been one of the more popular enrichment classes in the recent decade. Benefit of coding are aplenty –  promotes logical thinking , help in creativity, perseverance , improve communication skills , problem solving skills.
However, most if not all coding classes entail looks at the screen though some programming language Scratch etc. So when there was a beautiful home learning wooden kit that is developed at MIT and tested in Montessori classrooms, to teach children ages 3 to 9 computer science without screen, I was most intrigued to try this with my younger boys. With the use of this kit, the children are introduced to computational thinking without computers. 
My eldest did a term of coding through primary school, my no 2 has done it for a holiday camp before but my younger 2 boys have little idea what is coding is about. With a full weekly schedule for my 4 kids – sports, music,  art, enrichment there is simply no time to add on coding to their enrichment classes but it is definitely on my wish-list if the kids or myself can afford the time, typically on during the school holidays if any. 
Very often myself as a parent lack the resources nor strategies to teach computer science or coding as I am not an IT graduate. With the Learning at Home set, I can now confidently plan and engage my younger two boys to explore the world of coding and computer without the use of screen- introducing many concepts such algorithm, binary, encryption, pattern and mapping. 
I totally love the idea how such simple and beautiful hands on materials ,  marrying Montessori Methods,  this kit can break down fundamental of computational thinking to be simple enough for me to guide and teach and to be understood by children as young as 3 years old. 
Let us explore what is in this Learning at Home Set comprising 3 books and 4 tactile sets.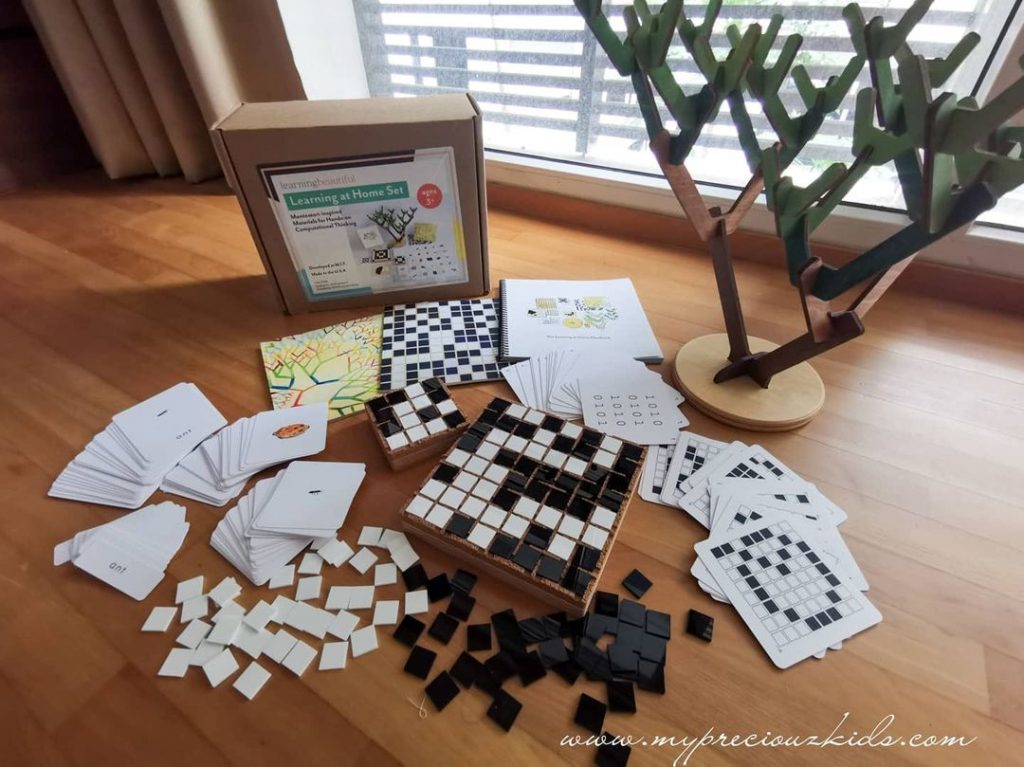 1. Binary Tree Playbook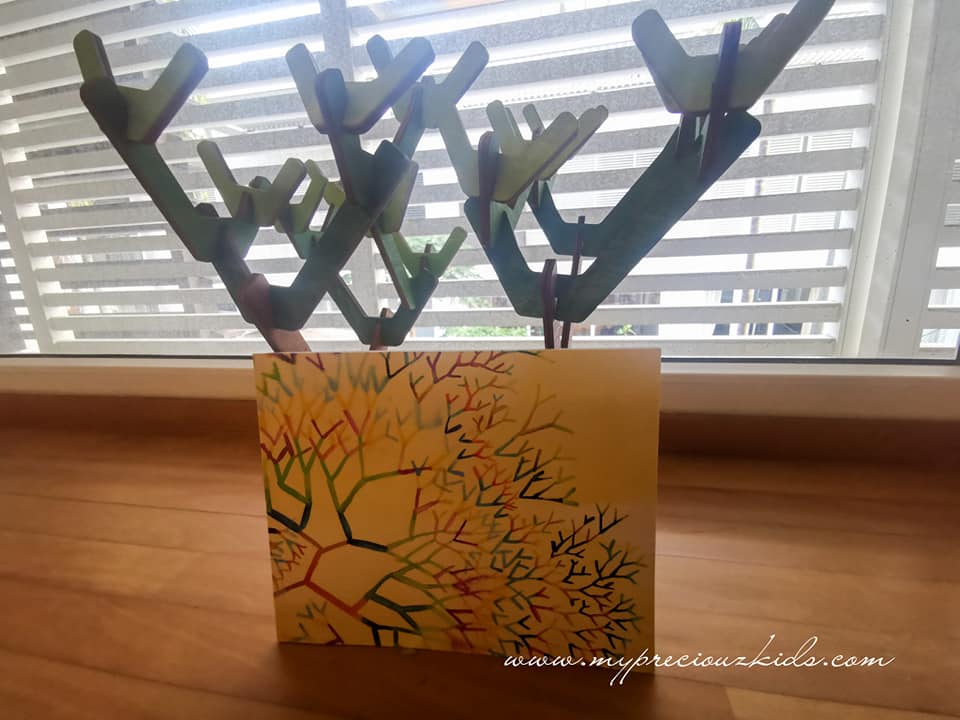 Exploring the concept of binary and exponential growth, even as an adult who is not in the IT field, I may vaguely understand this but how do I explain it to the kids at their level of understand. This beautifully illustrated book did just that bringing the concept of binary and exponential growth to kids as young as 3. I must say my 8 and 10 years understand it more easily than my 6 year old but I have definitely i prefer money that grow exponentially than linearly.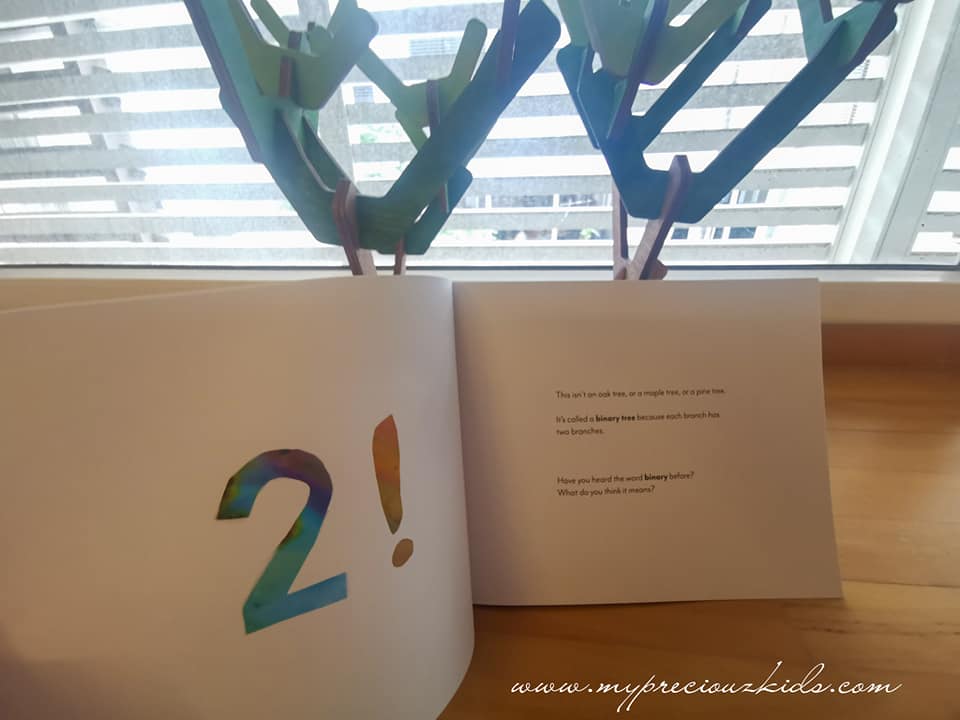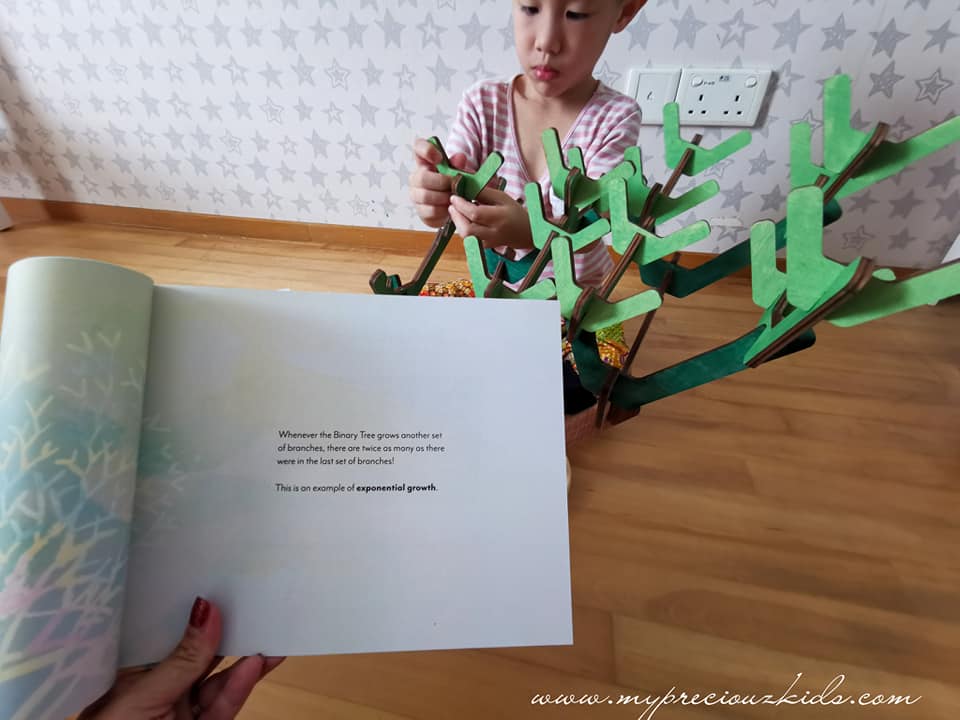 2. Binary Tree
To further enhance this concept, what better than hands- on activities and this beautifully crafted binary tree did just that and more. Starting from a single trunk to 2 branches, which gave 4 branches, then to 8 branches – this exponential growth concept cannot be better illustrated than when building this binary tree.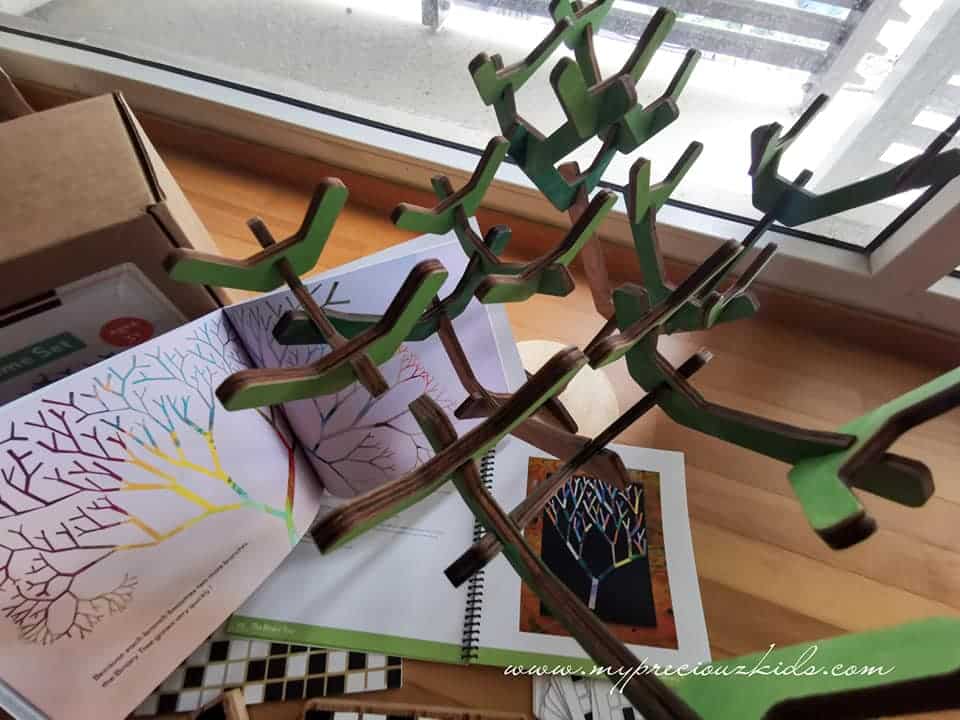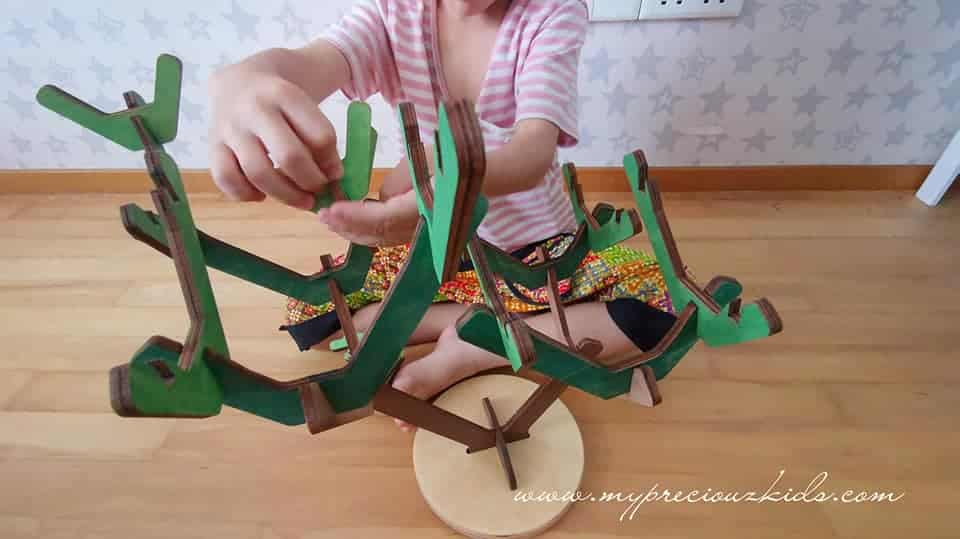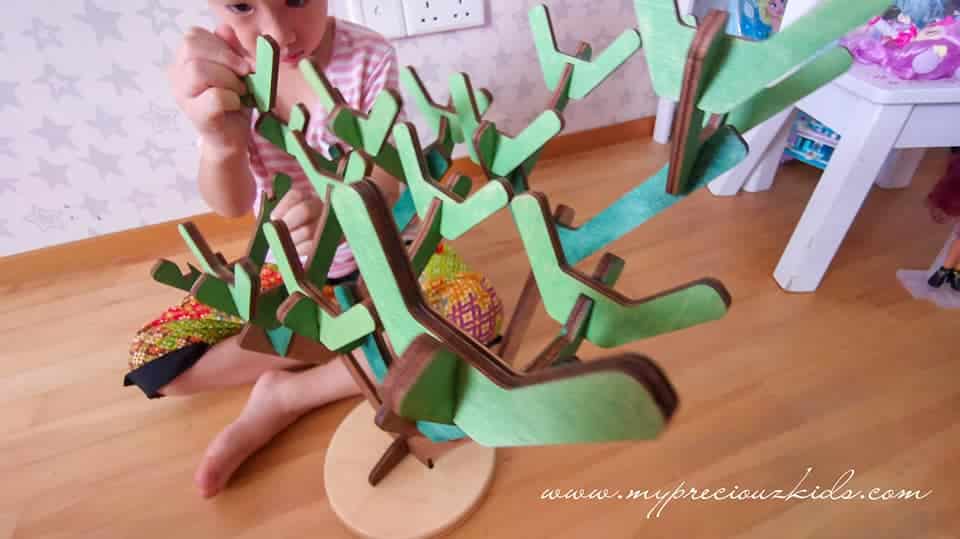 3. Pixel Board Playbook
This play book gives a good introduction to the concept of pixels and computer representing images with numbers. Thereafter, using the pixel cork boards, you can follow the design cards to form the images or even create your own images .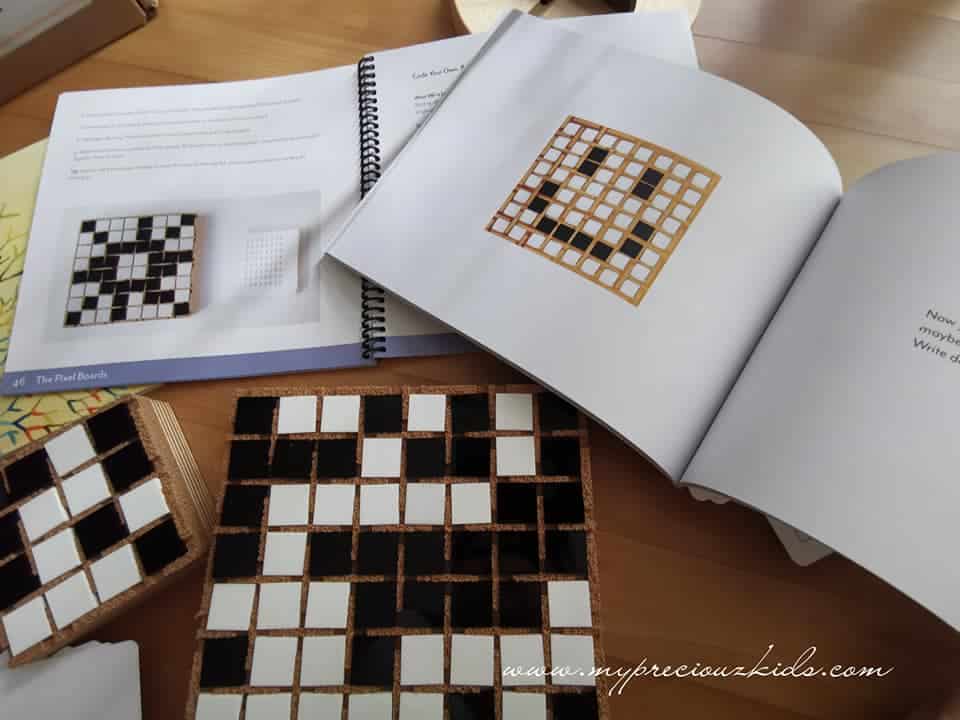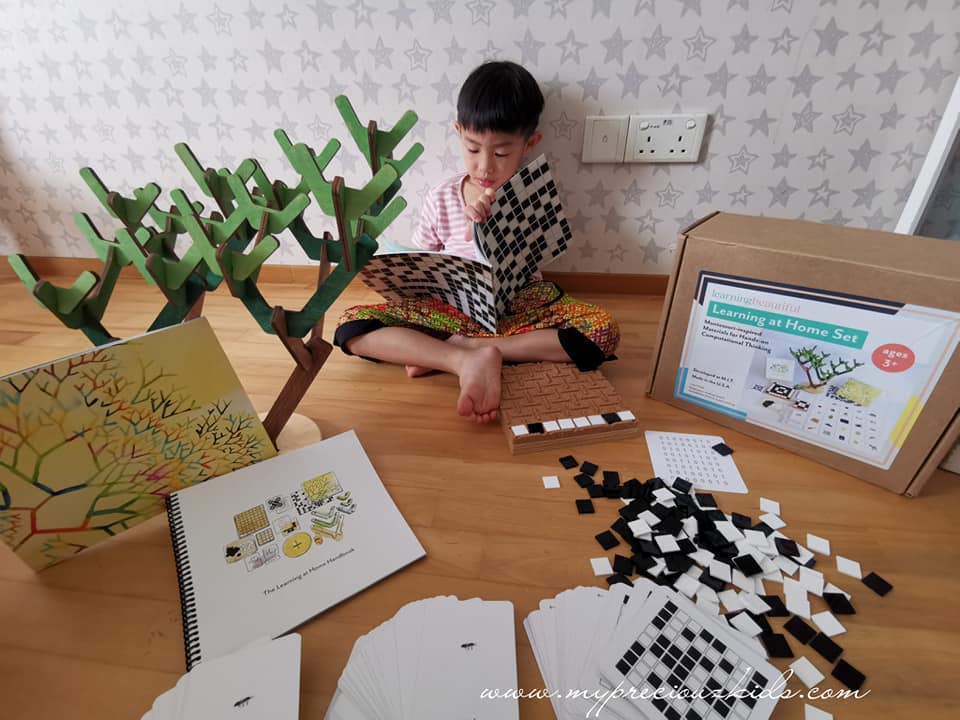 4. Small Pixel Board
More suited for younger kids , this 4×4 pixel cork board, allows children to place white tiles (represented by 0) and black tiles (represented by 1)  into the pixel boards. After finishing the design cards, children are encouraged to try to create own images too! 
5. Medium Pixel Board
For older children, this gives a higher level of difficulties but also more room for creativity as there are more empty squares to build a more refined image. Comes with its own set of design cards as well to build according to given codes.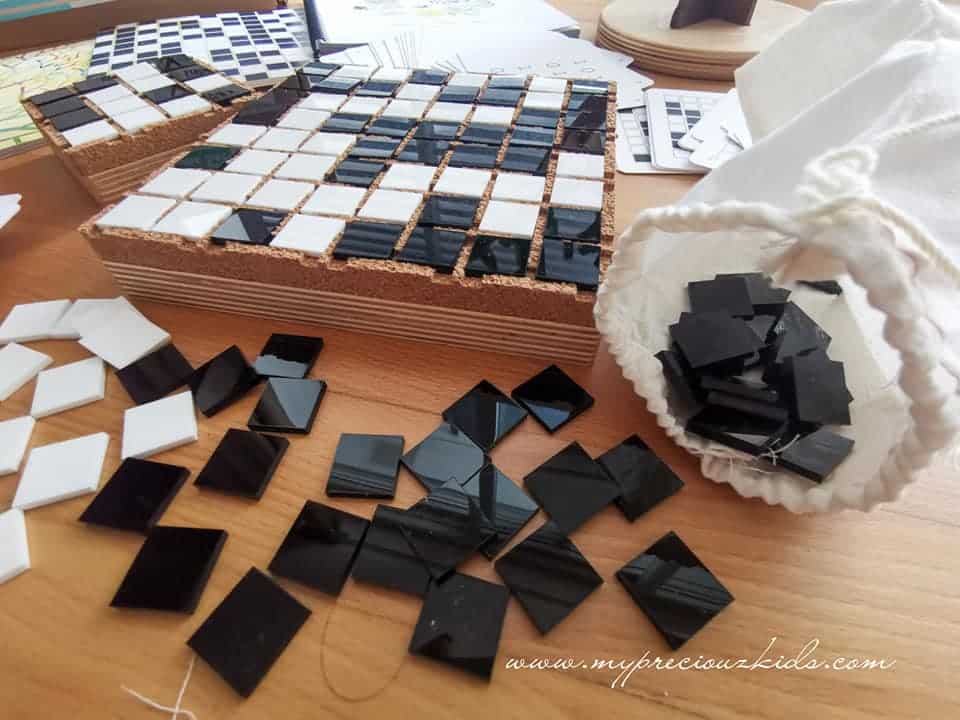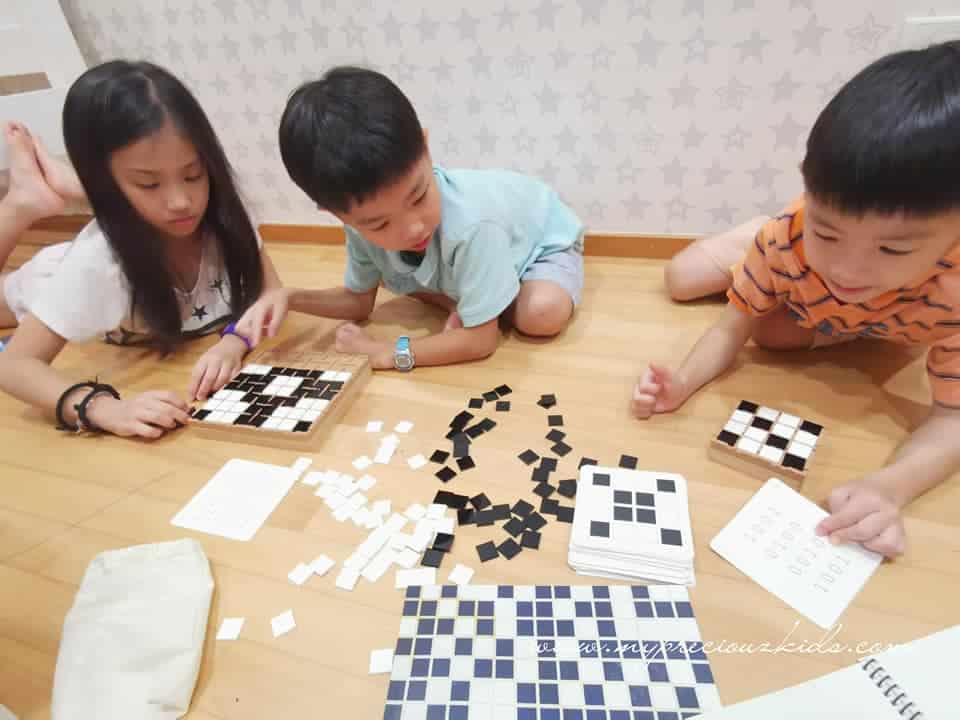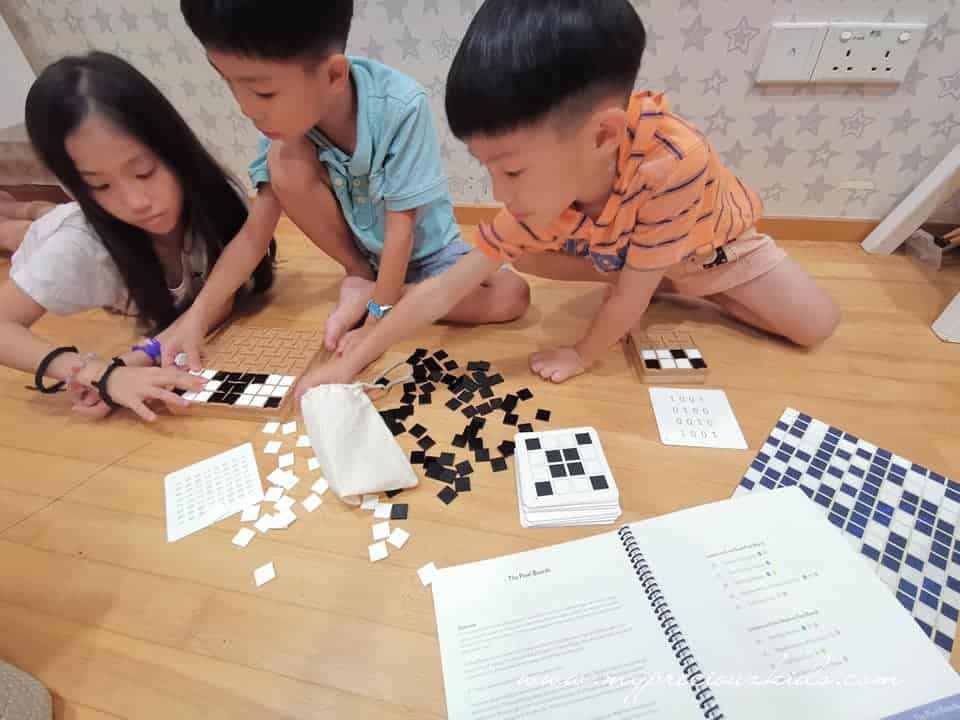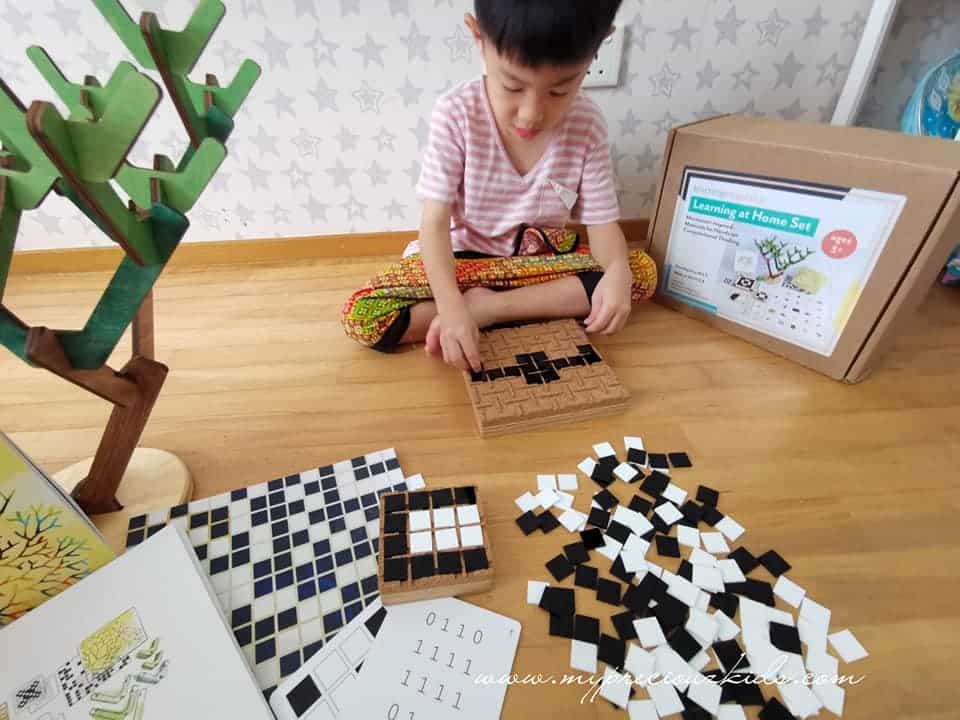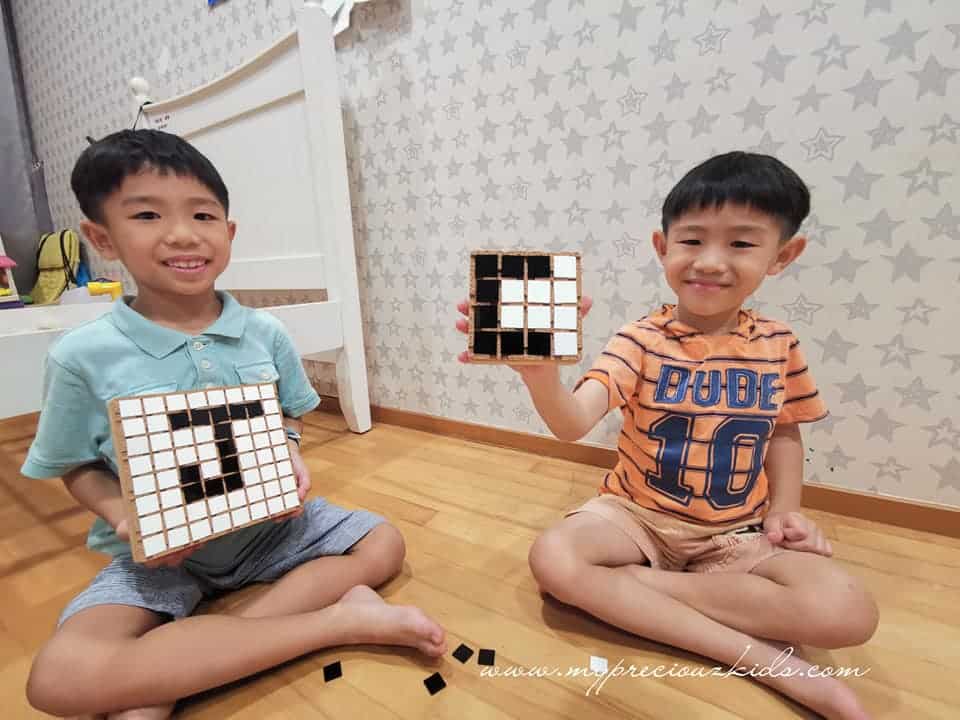 6. Alphabet cards
There are many ways to play this  -matching, classification  (the first chapter of science in primary 3!) or even sorting algorithm (which is the core of coding). All these activities are guided in The Learning at Home Handbook.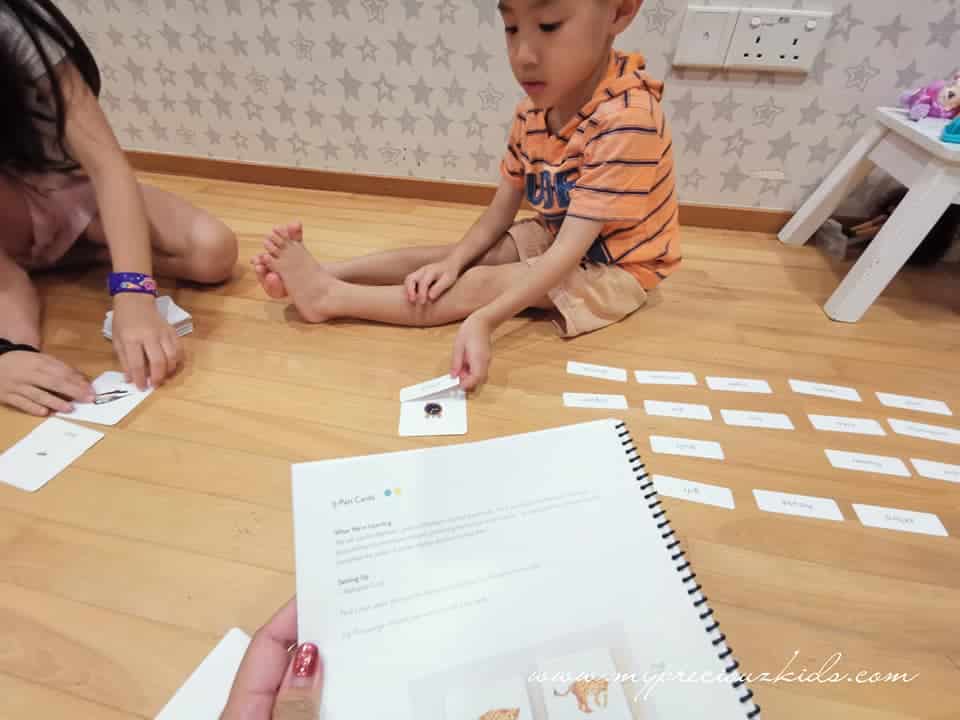 7. The Learning at Home Handbook
Consisting many activities using of the above tactile sets and playbooks, this handbook also introduces new concept like mapping, grid coordinates and polar coordinates which are all fundamental concepts to computational thinking.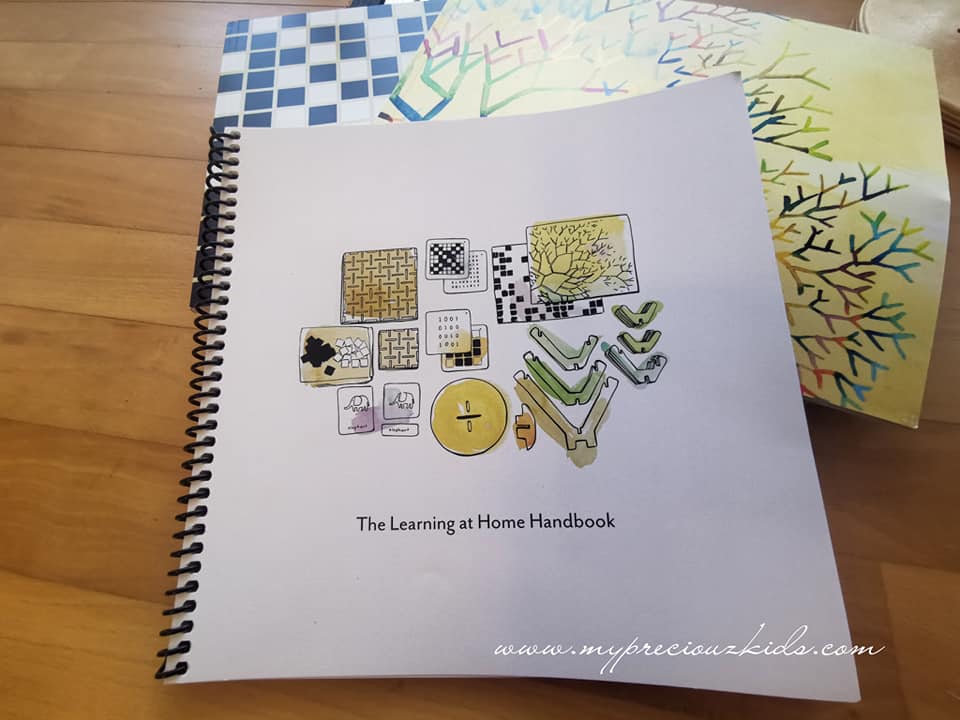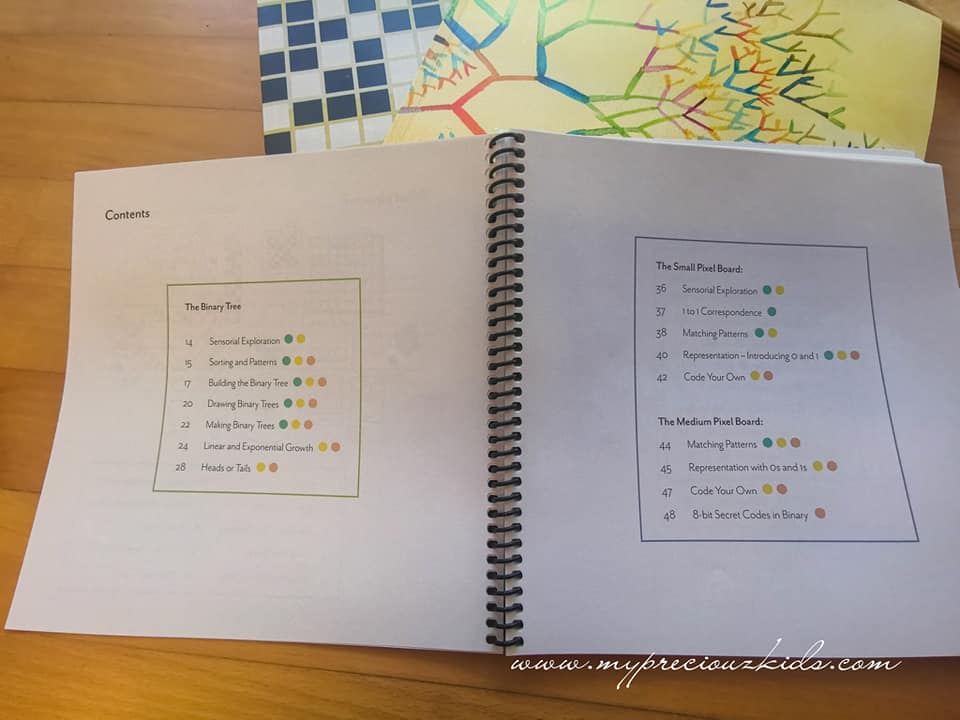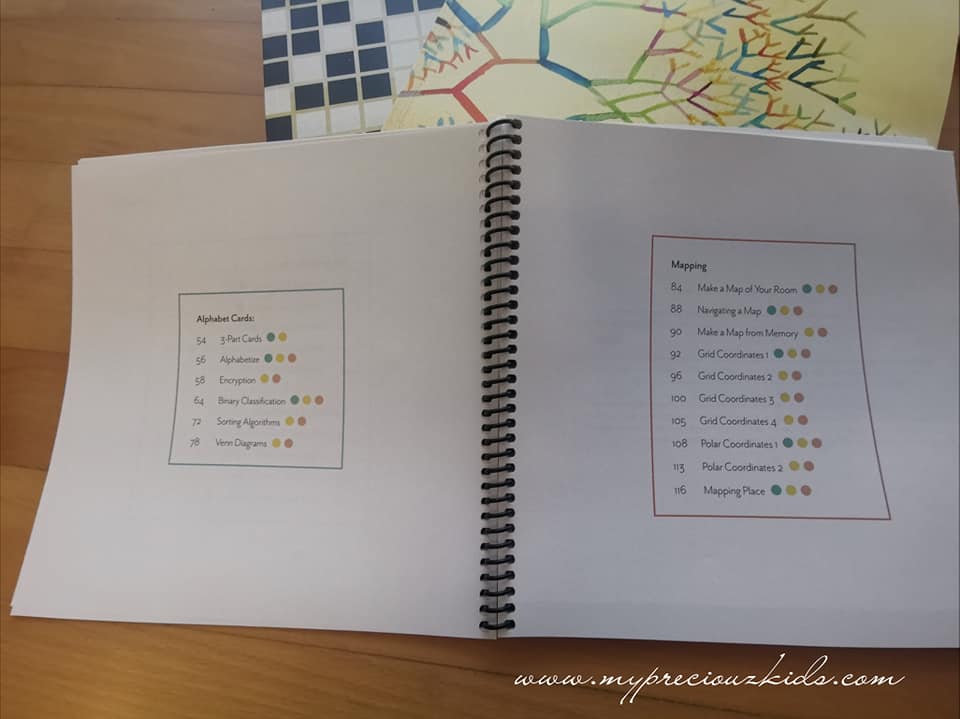 My younger children from 6 to 10 years old do not have much coding experiences, so I am surprised how easily they get to learn abstract concepts like binary, exponential growth, pixel, etc through the playbooks and tactile sets.  I love that I can be their teacher to engage them on concepts that I am not familiar with personally, all thanks to this home kit and with zero screen time.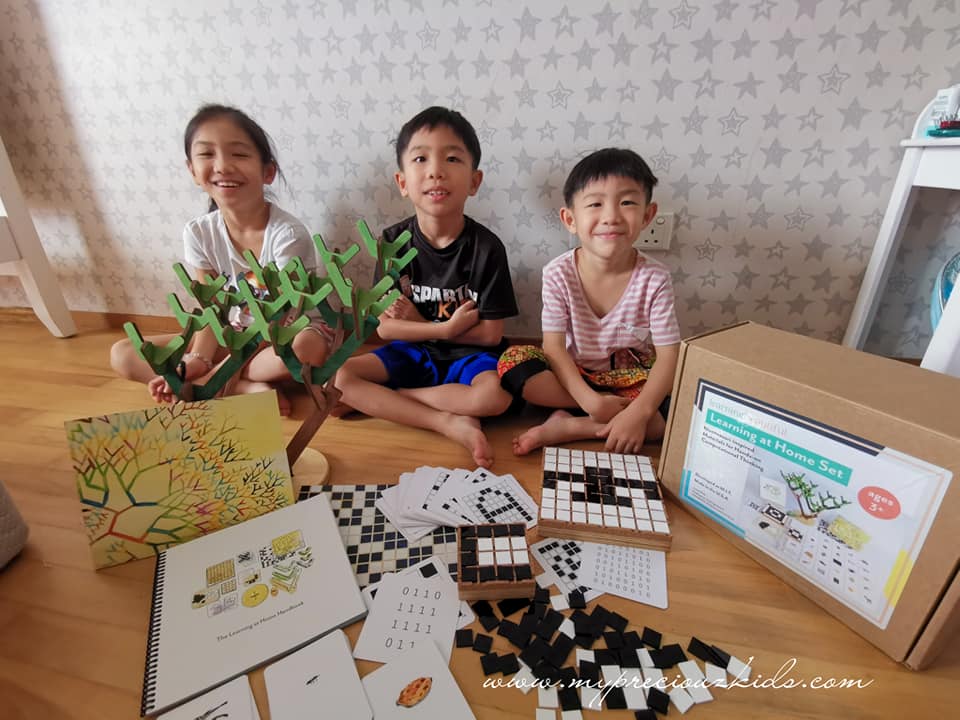 This is one beautiful home learning kit like no other and one of its kind introducing coding to young children (recommended age 3 to 8 years old)  without the use of computer. This set is available at www.learningbeautiful.com.sg , get 15% OFF when you sign up for their newsletter with free shipping. 
There are also many free home based activities to download from their website too. https://www.learningbeautiful.com/learning-at-home
Disclaimer: This is a sponsored post.  No monetary compensation was received. All opinions are my own. 
Share the article