I love beauty devices, frankly I owned many and most of them don't come cheap. When I discovered super affordable beauty devices at the fraction of the prices of other established brands and yet boasting multiple functions from Fresh Dailies , I don't mind trying it out.
Fresh Dailies recognises the busy working professional and working woman or even stay at home who do not have luxury of time for frequent salons. And every salon visit also don't come cheap even if you sign up a package and it is a never ending package (trust me, I have many packages).
Hence, Fresh Dailies, offer their customers the best body, hair and skin heroes by purveying varied beauty products from multiple places and presenting them to their customers at the lowest possible prices.  With working from home probably a main stay, some self care routine at home with home based devices may be just the way to pamper ourselves and for #selfcare.
Anti-Ageing Skin Lifting RF & EMS Beauty LED Photon Home Beauty Handheld Device
Yes I know it is a mouthful but this is one beauty product to meet all your skin needs as it has microcurrent, photo therapy, RF, facial cleanser and inductor all-in-one.  Let us explore the functions one by one in order of usage.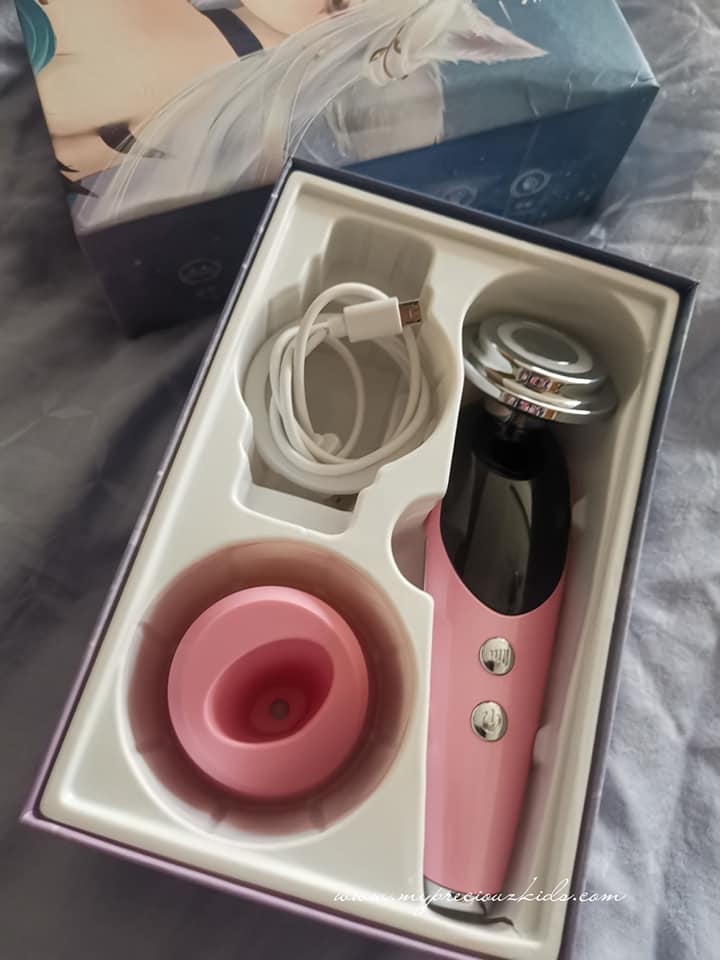 Deep clean (use with toner on cotton pad) 
it gave a warm sensation that helps to promote absorption, increase elasticity and make the skin plump. The dirt in the deep holes will be thoroughly cleaned with the current being able to penetrate into the lower layers of the skin.
Activation (with serum, cream) 
This mode emits red LED light (640 – 650nm). It is slightly warmer than the deep clean mode at 42℃ warmth. It helps to activate our skin cell and rejuvenate collagen production and especially as we age and showing signs of sagging skin and wrinkles,  this mode will help to restore skin elasticity .
Essence-in (used with facial mask)
Using Tri-colour (Blue, Red, Orange) LED light, this mode is used with the mask on to help in better absorption of the essence from the mask and increase penetration of the goodness of any facial mask that you use. 
Acne-T 
Using blue LED light (415nm) which is suitable for people with acne condition as the blue light is proven to destroy bacteria that causes acne heals acne. This mode also helps to calm and repair their skin. I don't have this problem so I skip this mode .
Whitening (serum/cream)
This is my favourite mode of all as it uses orange LED light (600nm) which helps to inhibit the production of melanin to achieve rejuvenated skin and lightening effect especially crucial as we age.
EMS up
Using mildest impulse current anode to soften and discharge grease, this mode can be used after the application of toner or moisturiser. 
Eyecare (use with eye cream)
With the warm sensation, this  will relieve and soothe our fatigued eyes, smooth away the dark eye circles. Besides that, it can stimulate blood circulation around our eye area.
For sensitive skin, it is recommended that you use it 1 to 2 times a week. If you don't have sensitive skin, it is recommended to use it 3 times a week. Each mode is best used for 3 to 5 minutes.
Disclaimer: This is a sponsored post.  No monetary compensation was received. All opinions are my own. 
Share the article