Media invite
We were the lucky kids to get preview Kiztopia before it opens to public on 15 June. Spanning over 18,000 sq feet and 18 play zones, you can spend endless hours of fun and learning there. Building on its motto, "Play to Learn , Learn through Play, the fun utopia has 18 play zones that comes with its own learning objectives, as well as its own curated line-up of educational programme (from Aug onwards) to further supplement the educational value of every child's time in the park (targeted from ages 1 to 12).
Let me give you a pictorial overview of the latest and biggest in-mall edutainment playground in Singapore ending with a quick video tour of the massive playground as we explore Kiztopia last Saturday so that you can plan your visit better. I definitely encourage you to minimumly do 3 hours (that's how long we were there).
Cosmic space which is the play structure with 5 sets of slides and many different climbing structure to expend the kids' endless energy and where I quickly lost them. They are also of the age when they can go in without me having to climb it!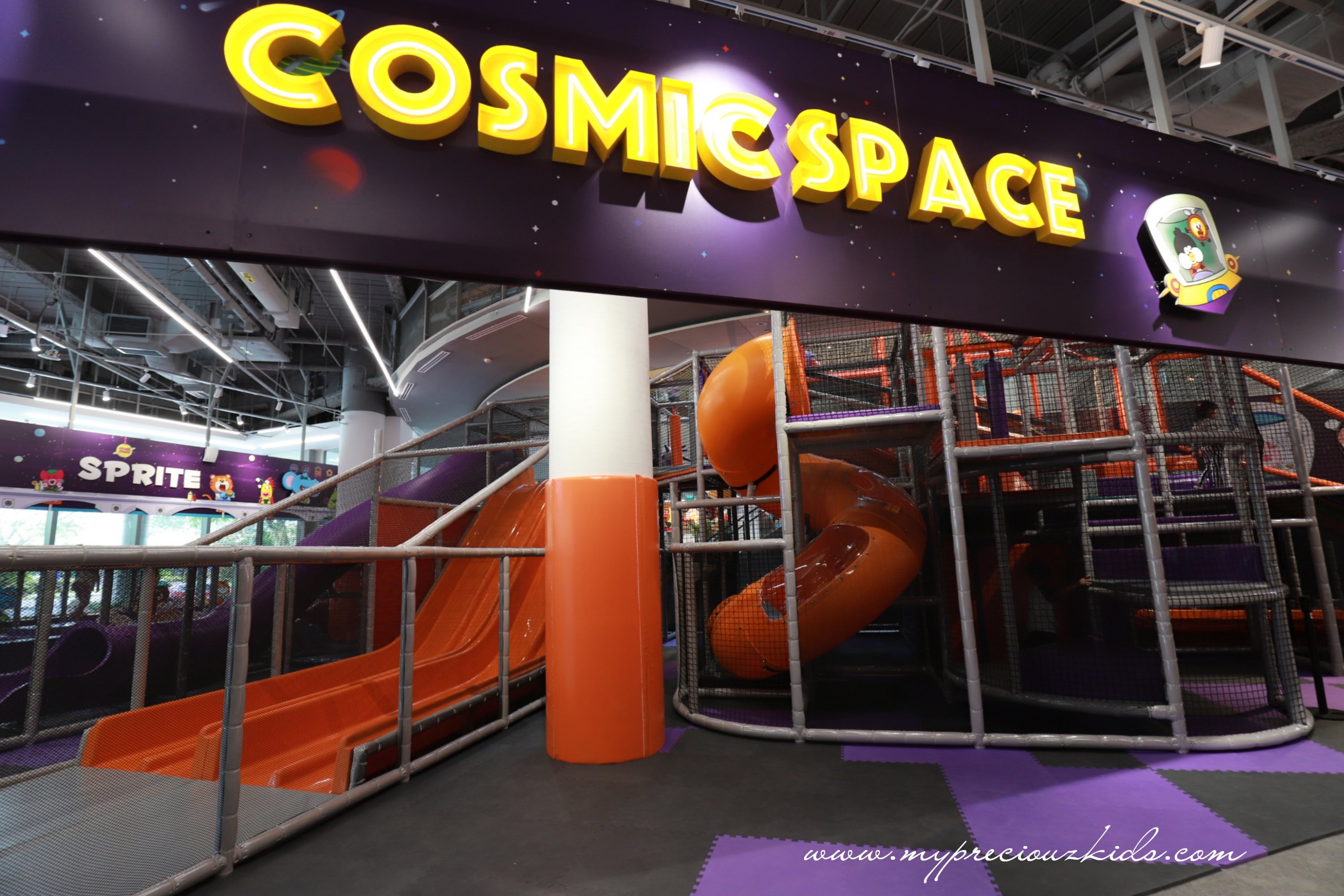 Trampio includes 3 trampolines for kids of all ages, perfect for kids who love trampoline parks.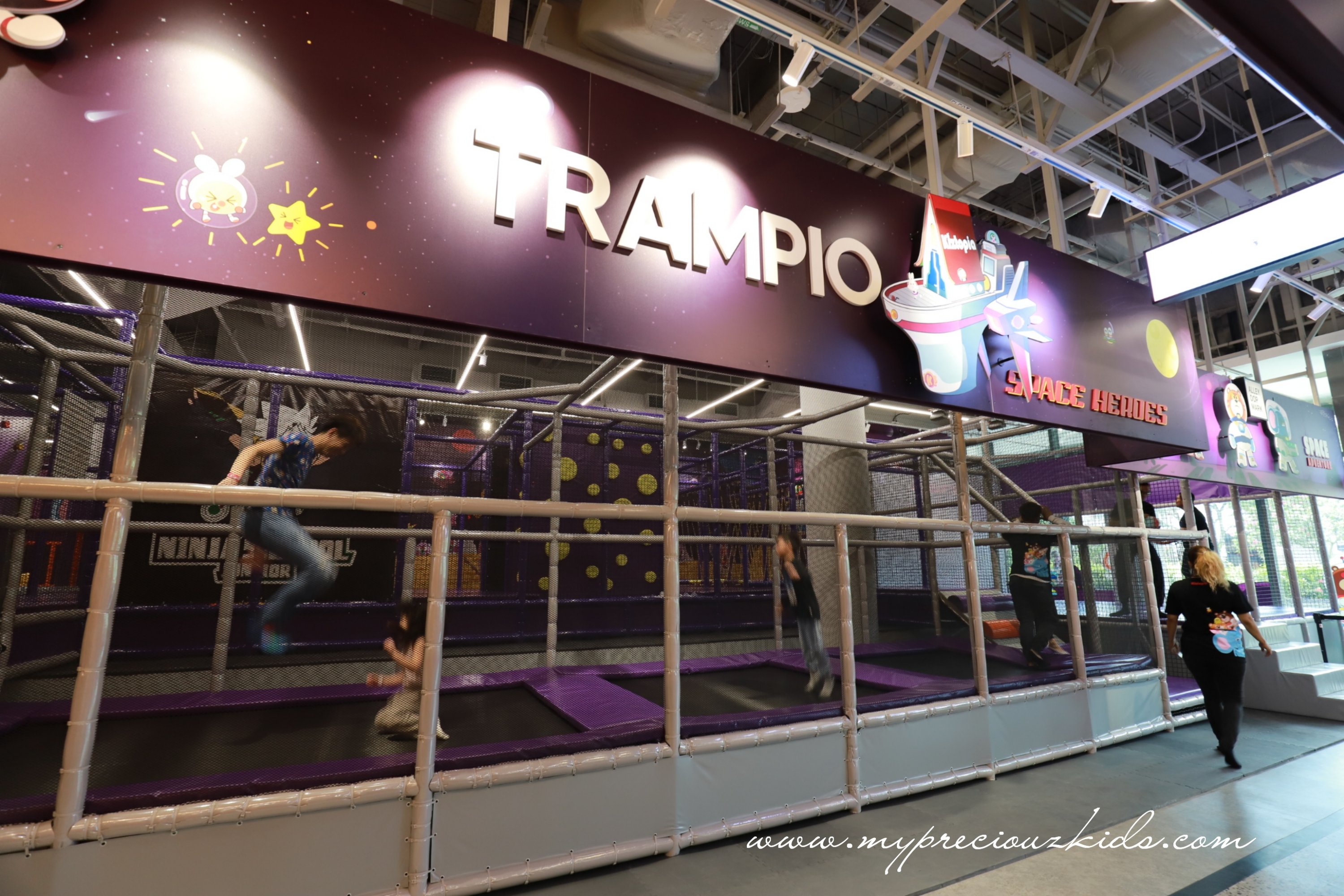 Ninja warrior is perfect for the kids who enjoy a bit of challenge in their climbing and obstacle courses.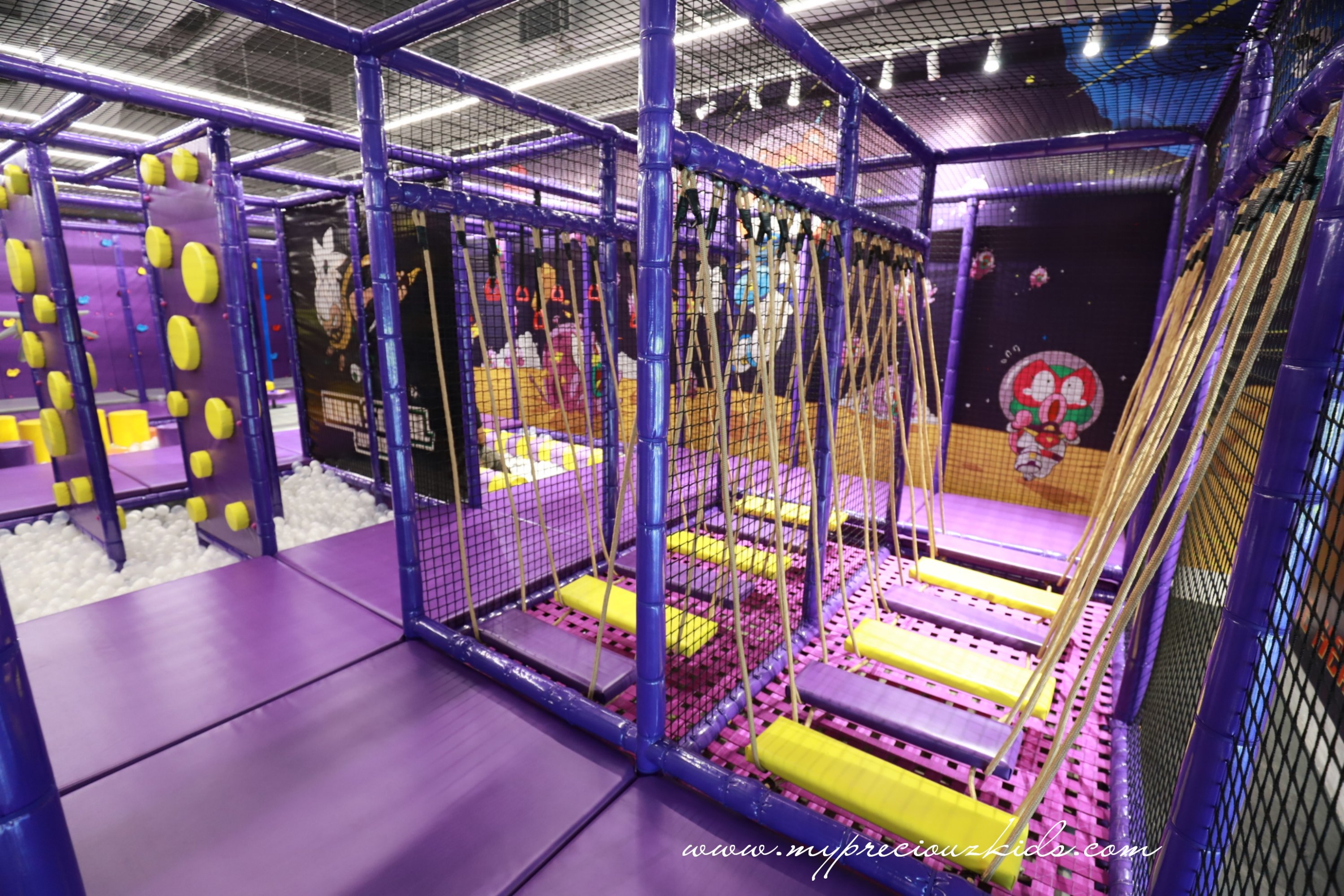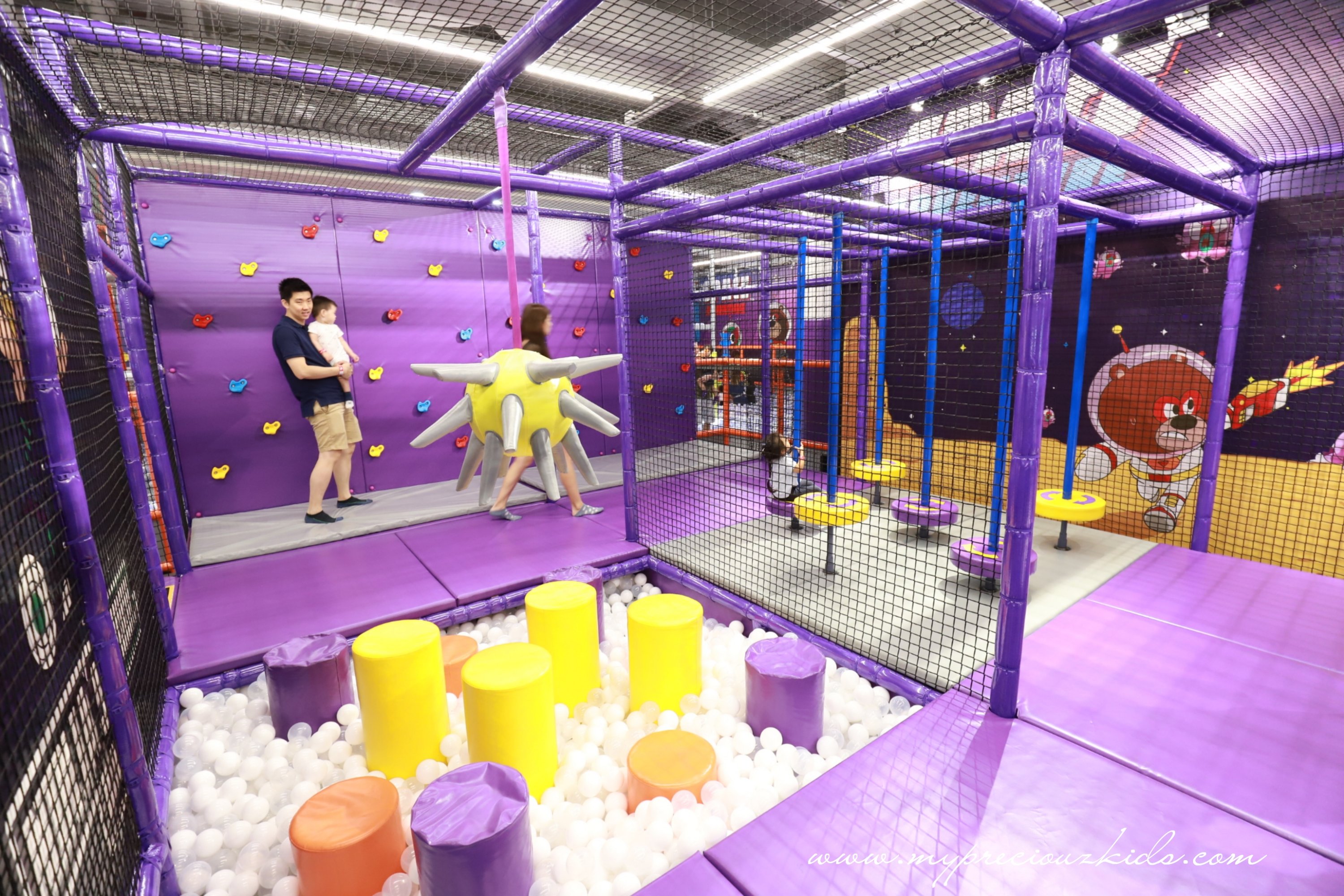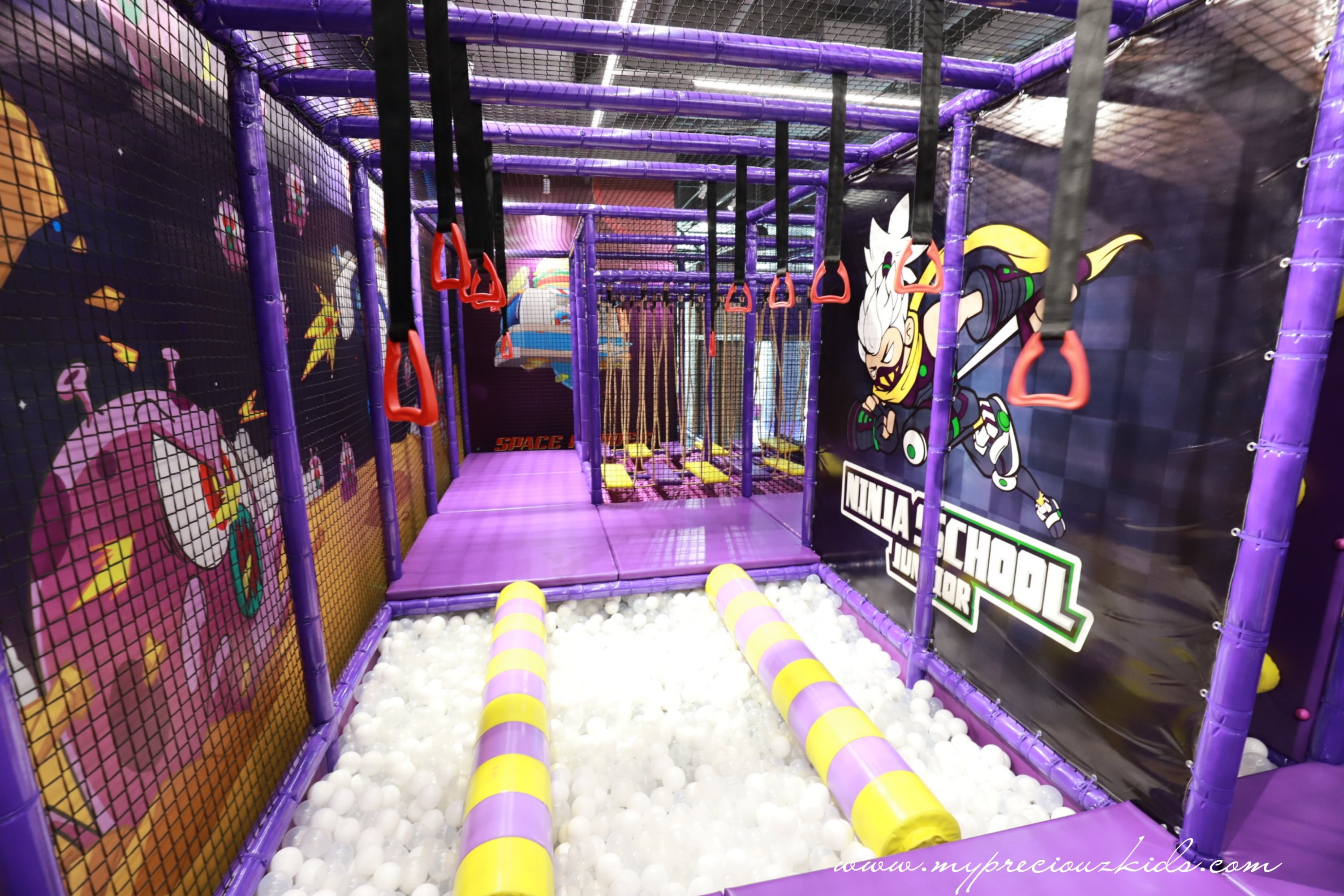 Mojo Zone, I especially loved this play one featuring a super huge ball pit and 2 slides and also an AR wall sewn below. There are 2 banana boats for lots of pretend play, my kids imagine they were out in the sea!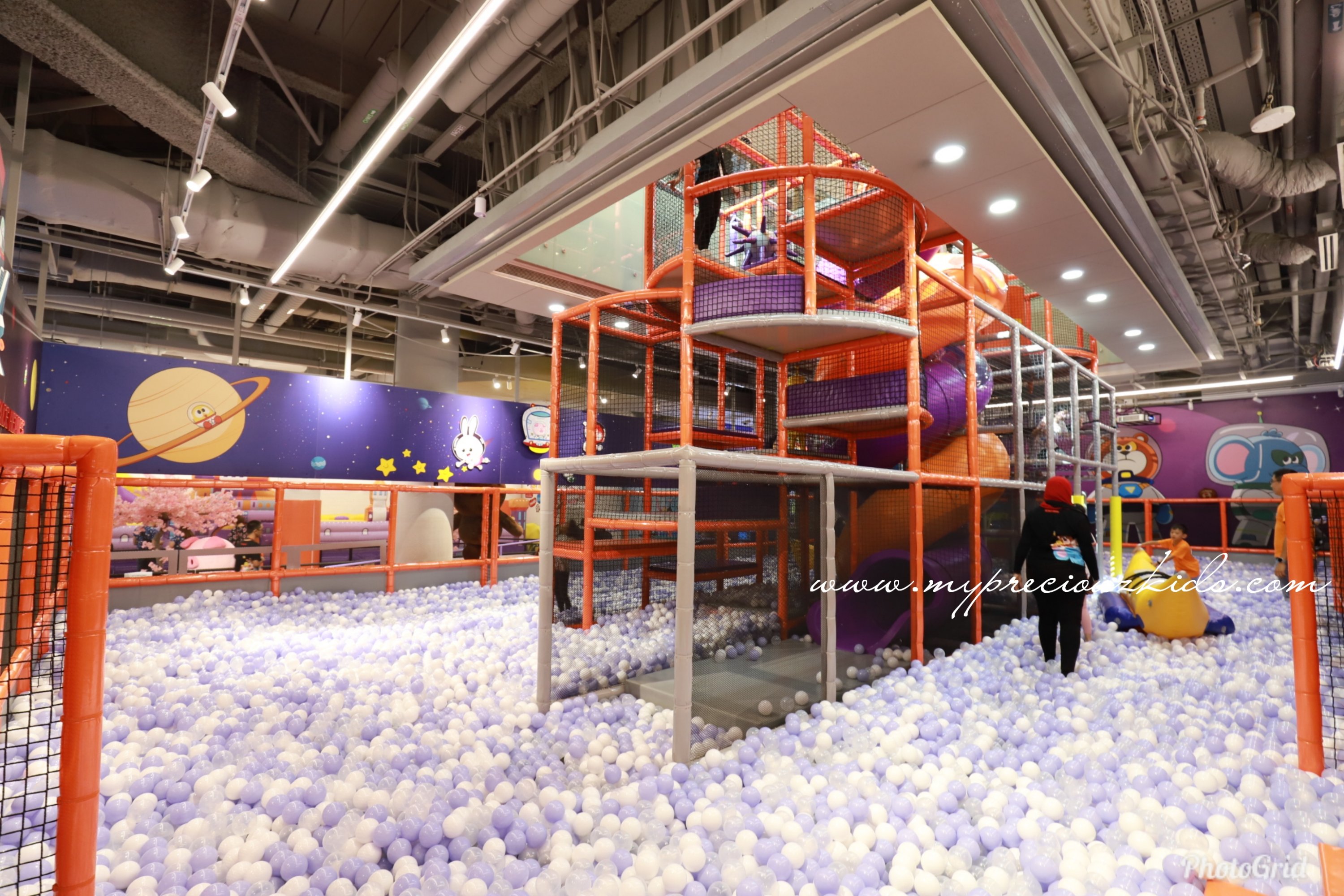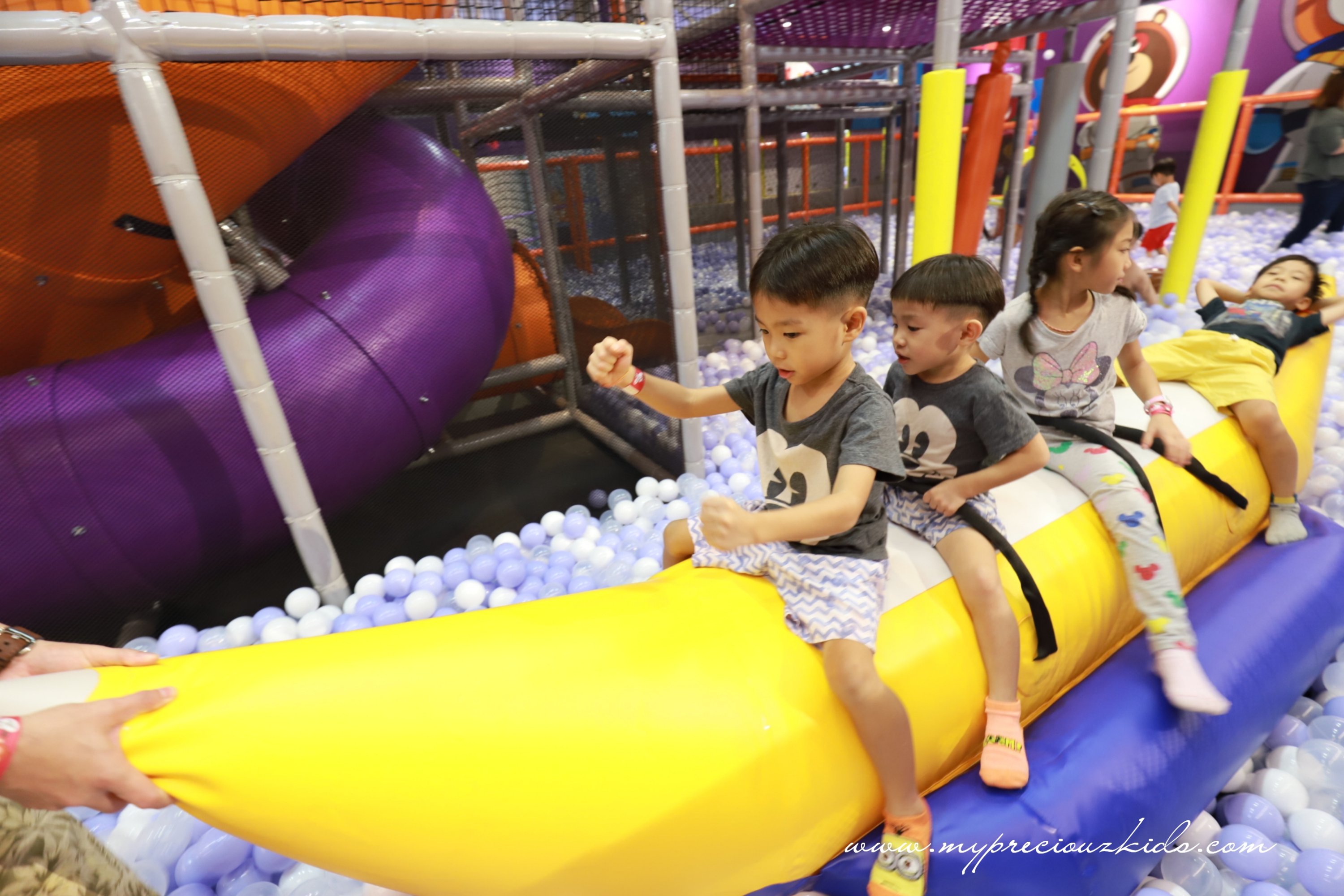 In the same area is AR wall where you use to balls to hit the targets. Just be careful as the ball after hitting the wall will hit back at you!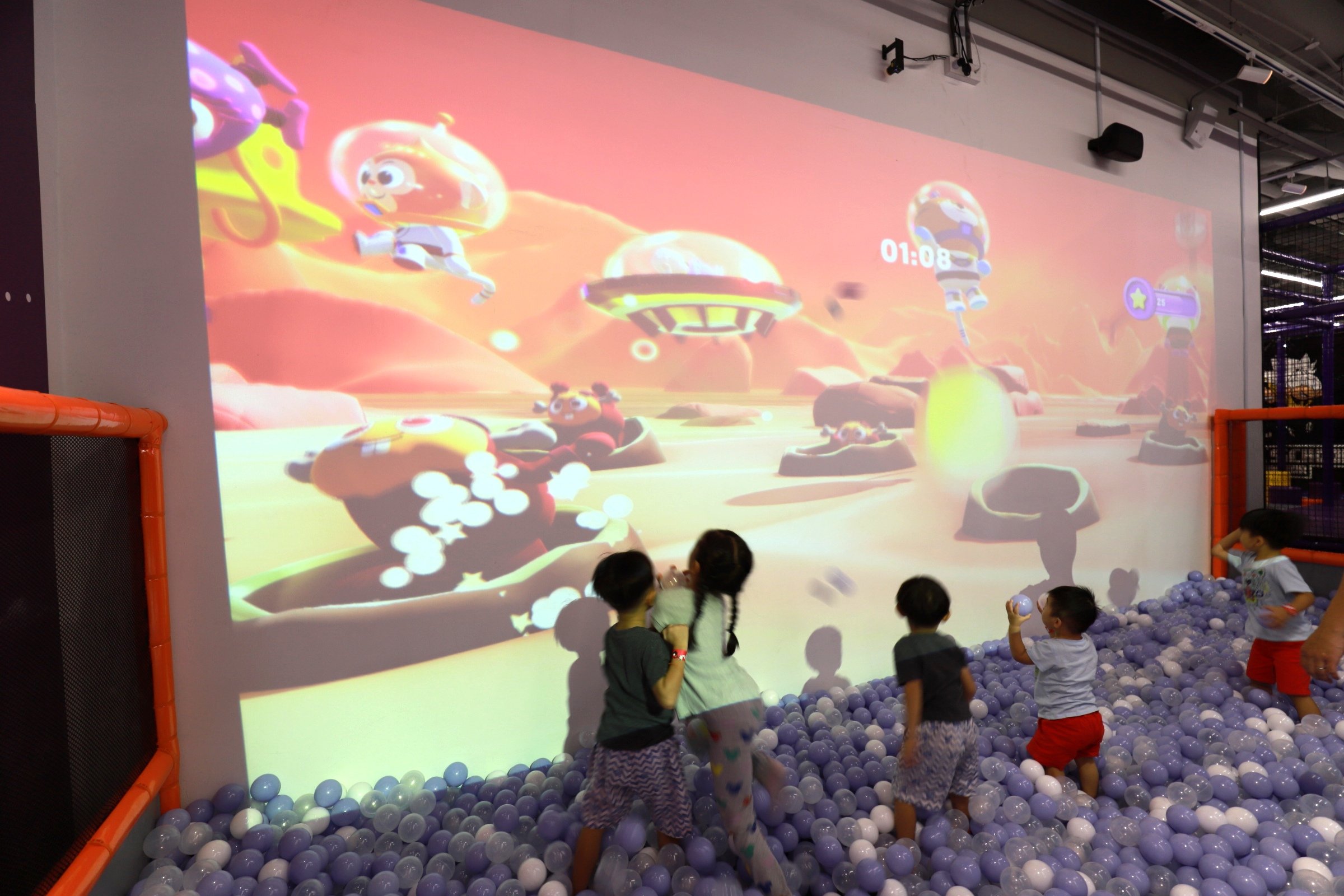 Alley Oop Mark
Using a basketball to hit the "hoop" projected on the wall, my husband and I had a try and we worked out a sweat quite easily.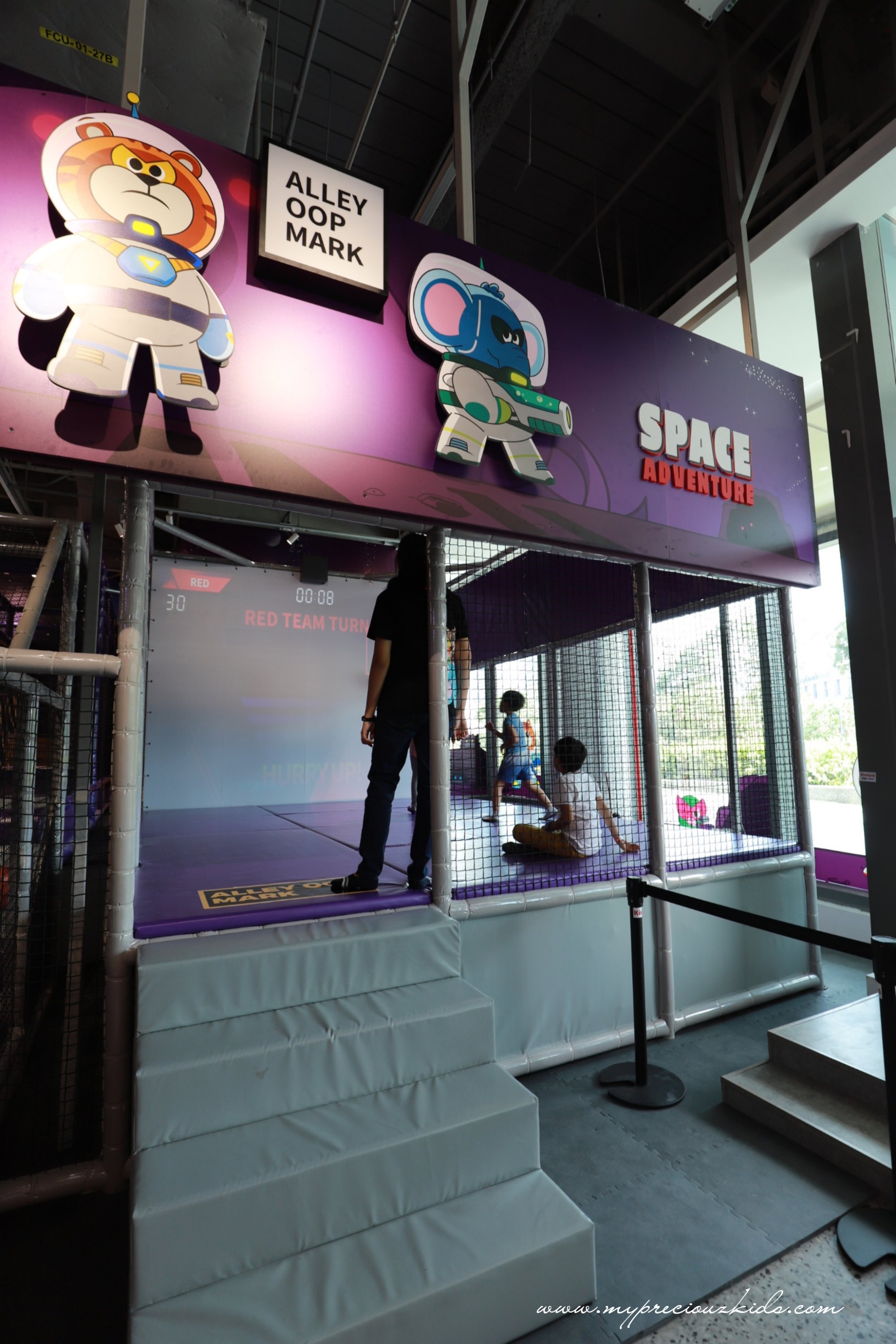 Raby's Pit is the Hinoki bead area aka beach area with a space shuttle in the middle. You can still smell the Hinoki beads!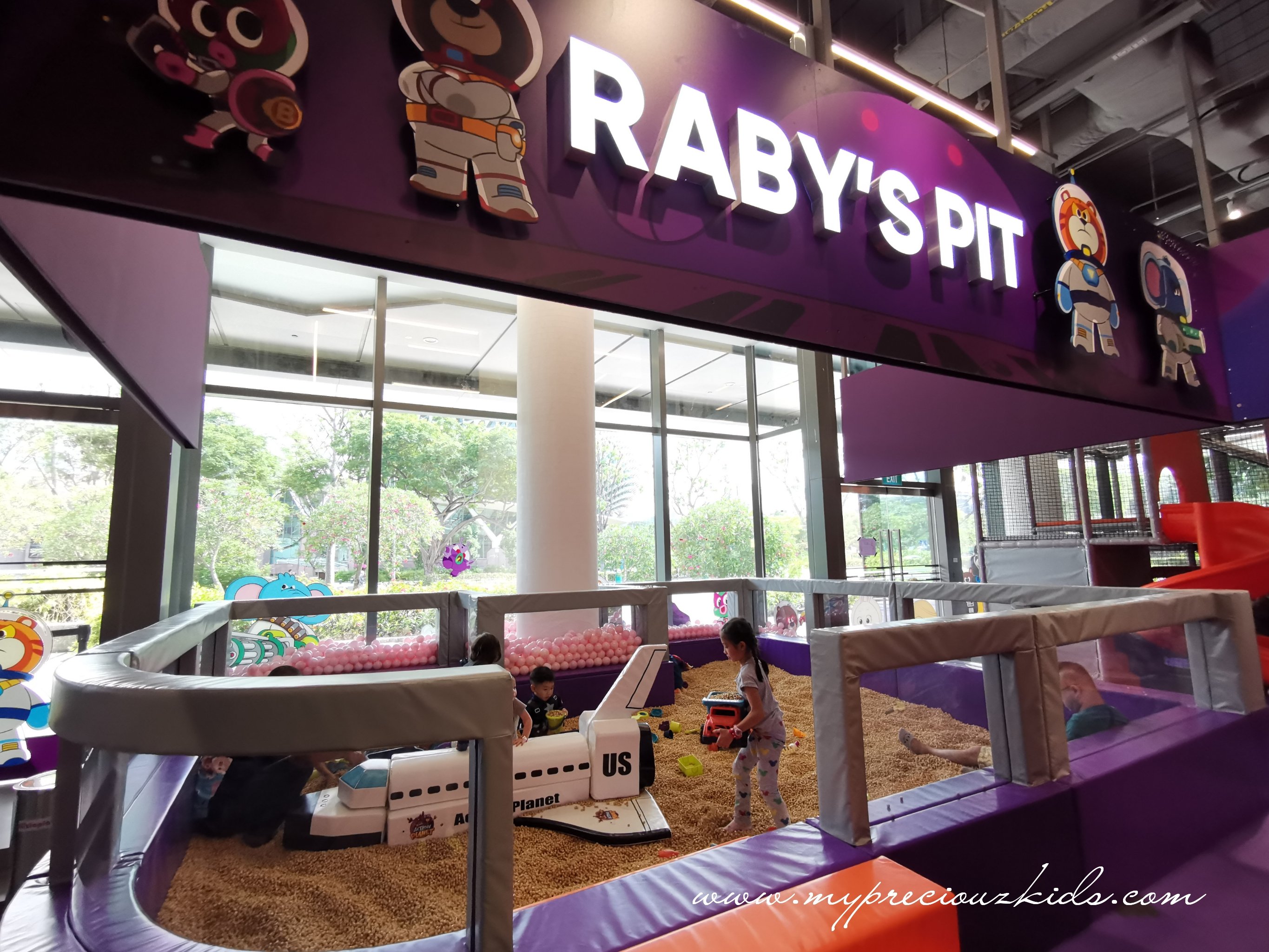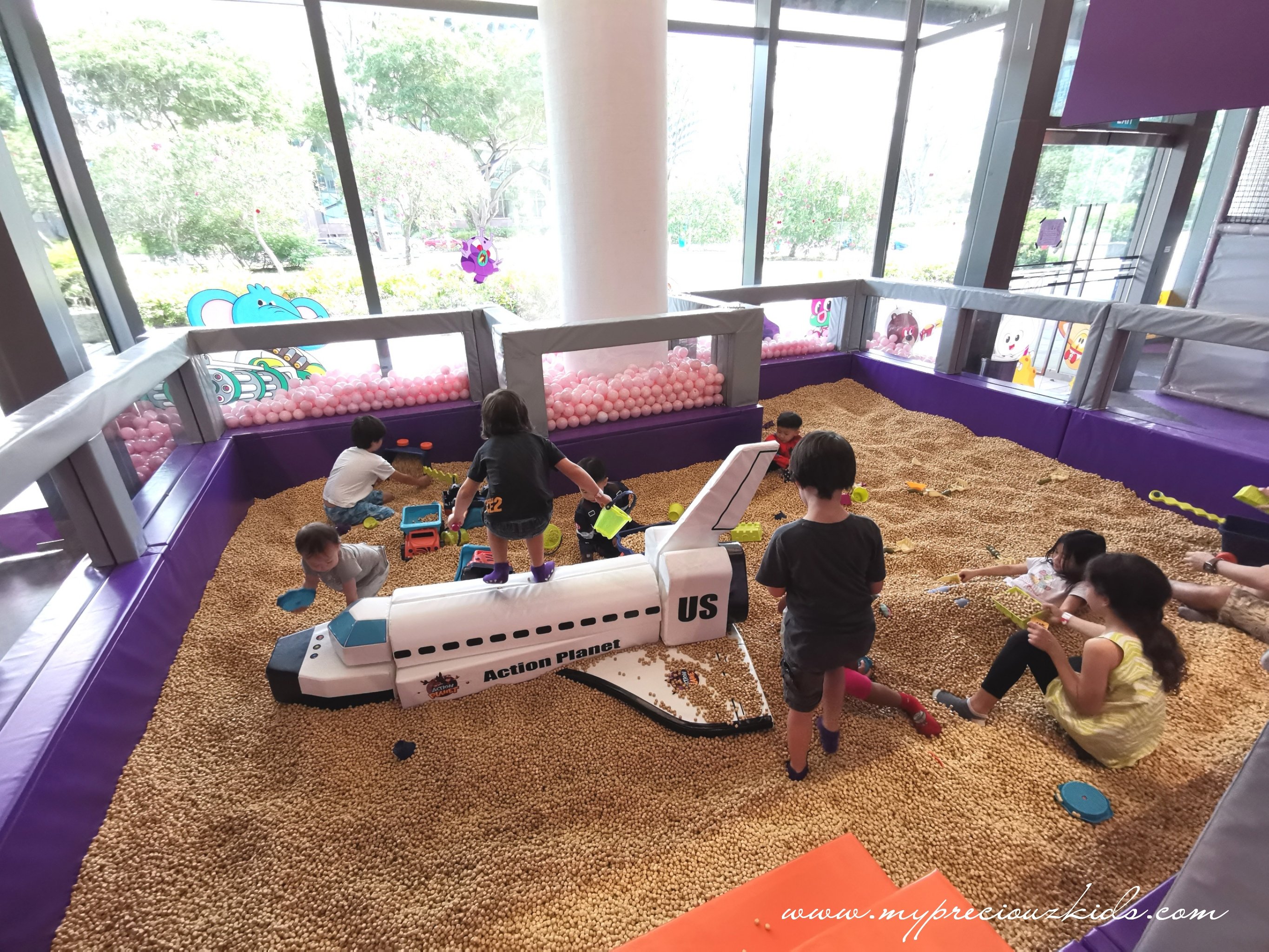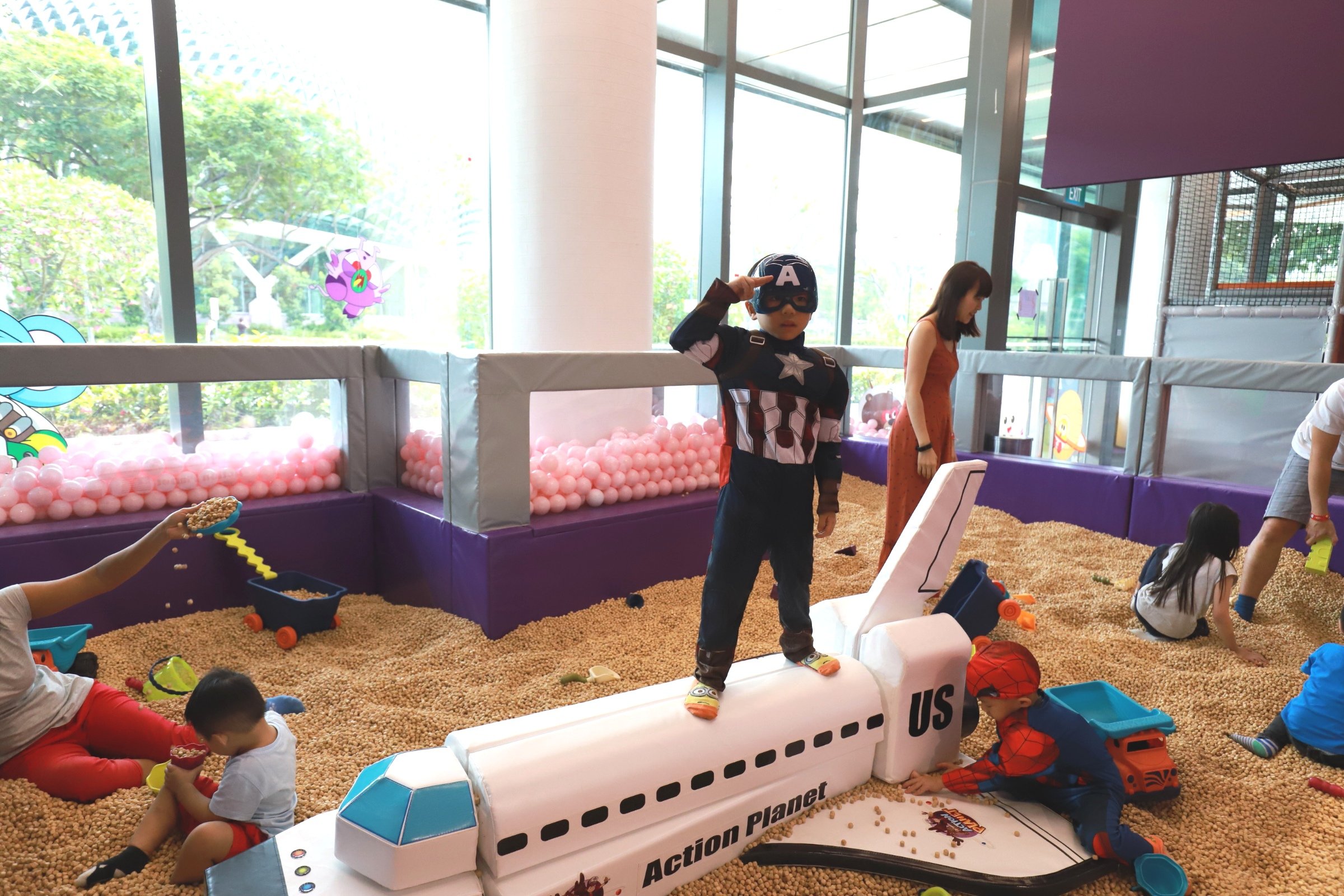 Sprite is another ball pit targeted at the younger ones but my kids also had a wild time here!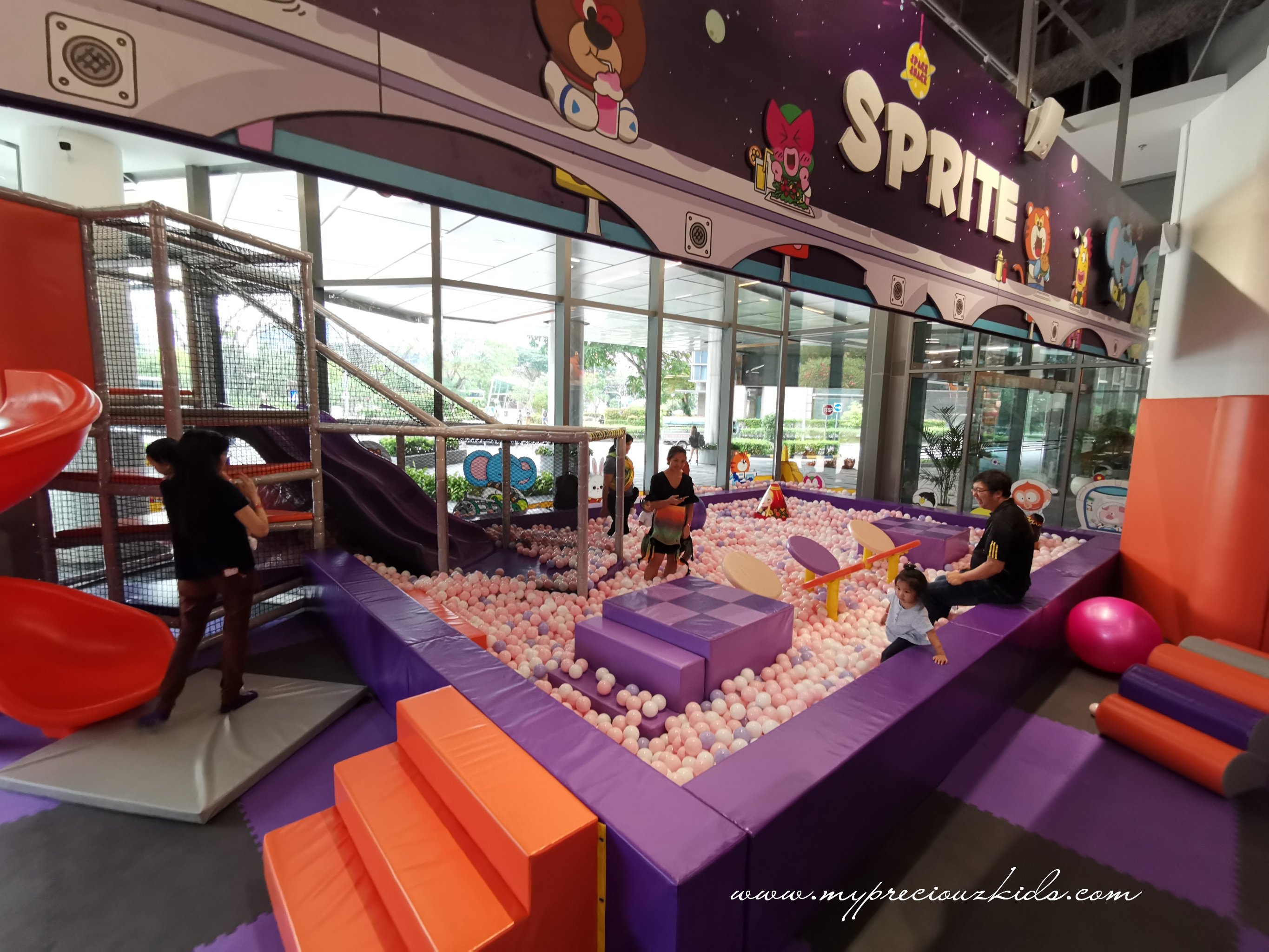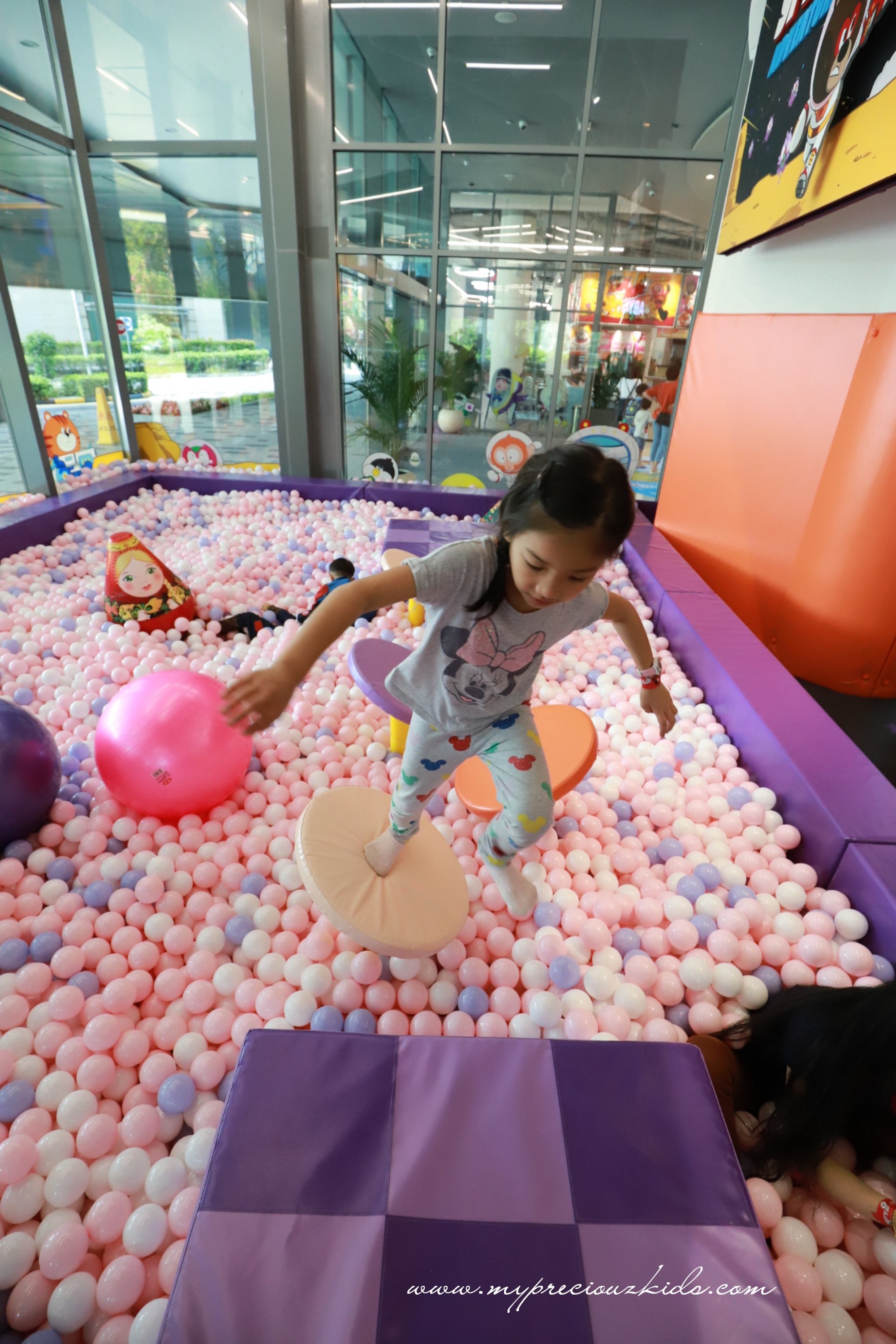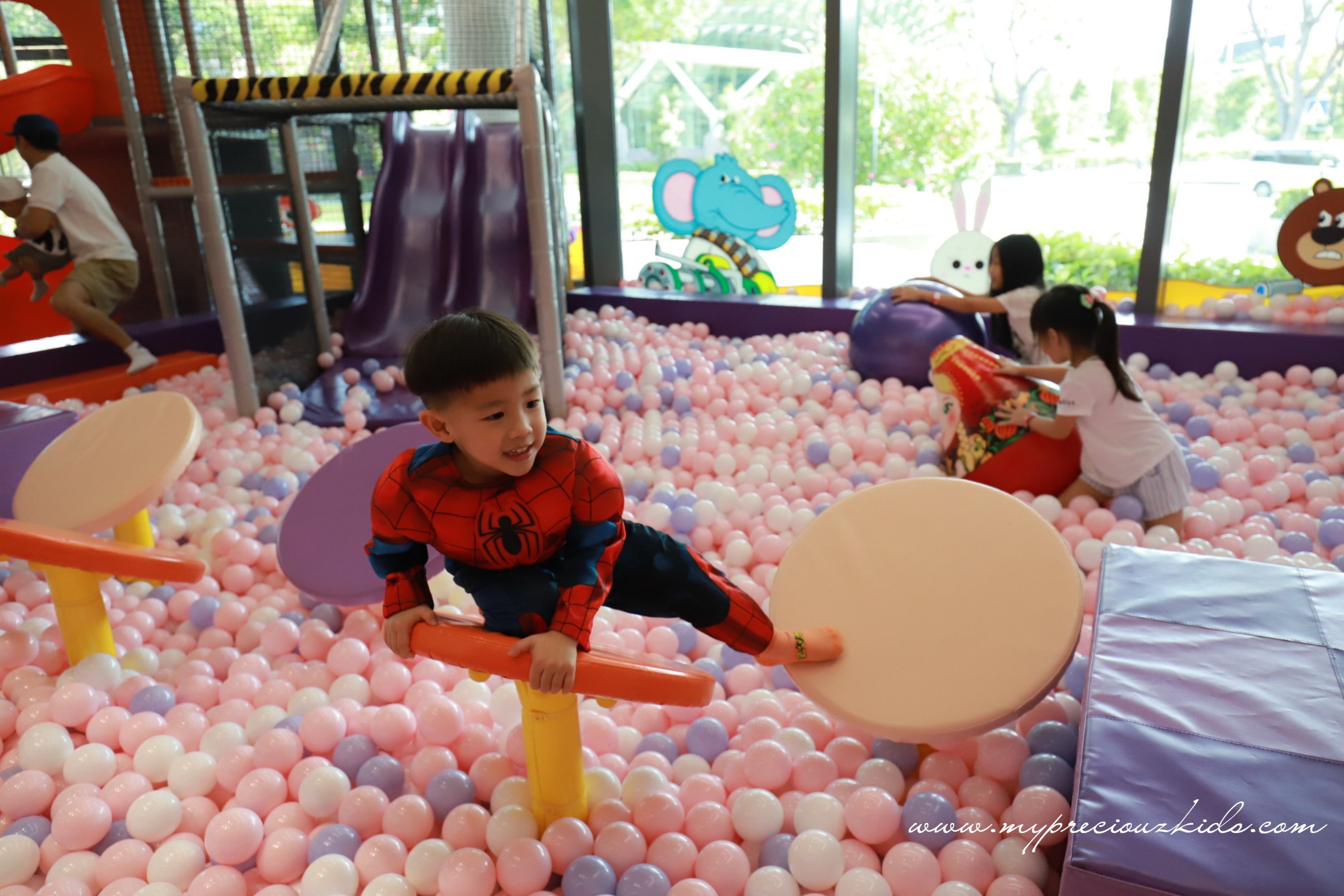 Chug Eli is the motorised train especially appealing for the little ones just like in the amusement park!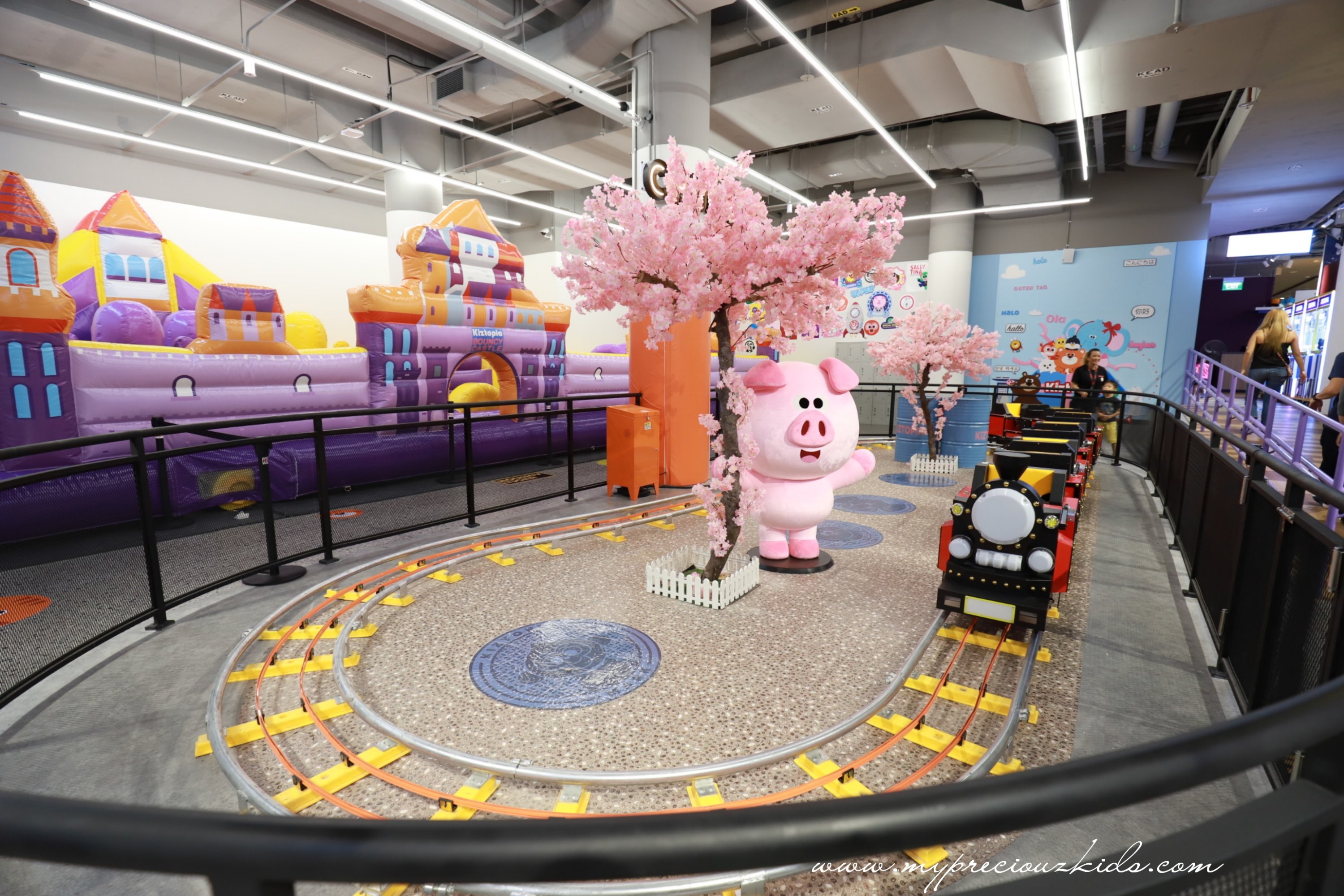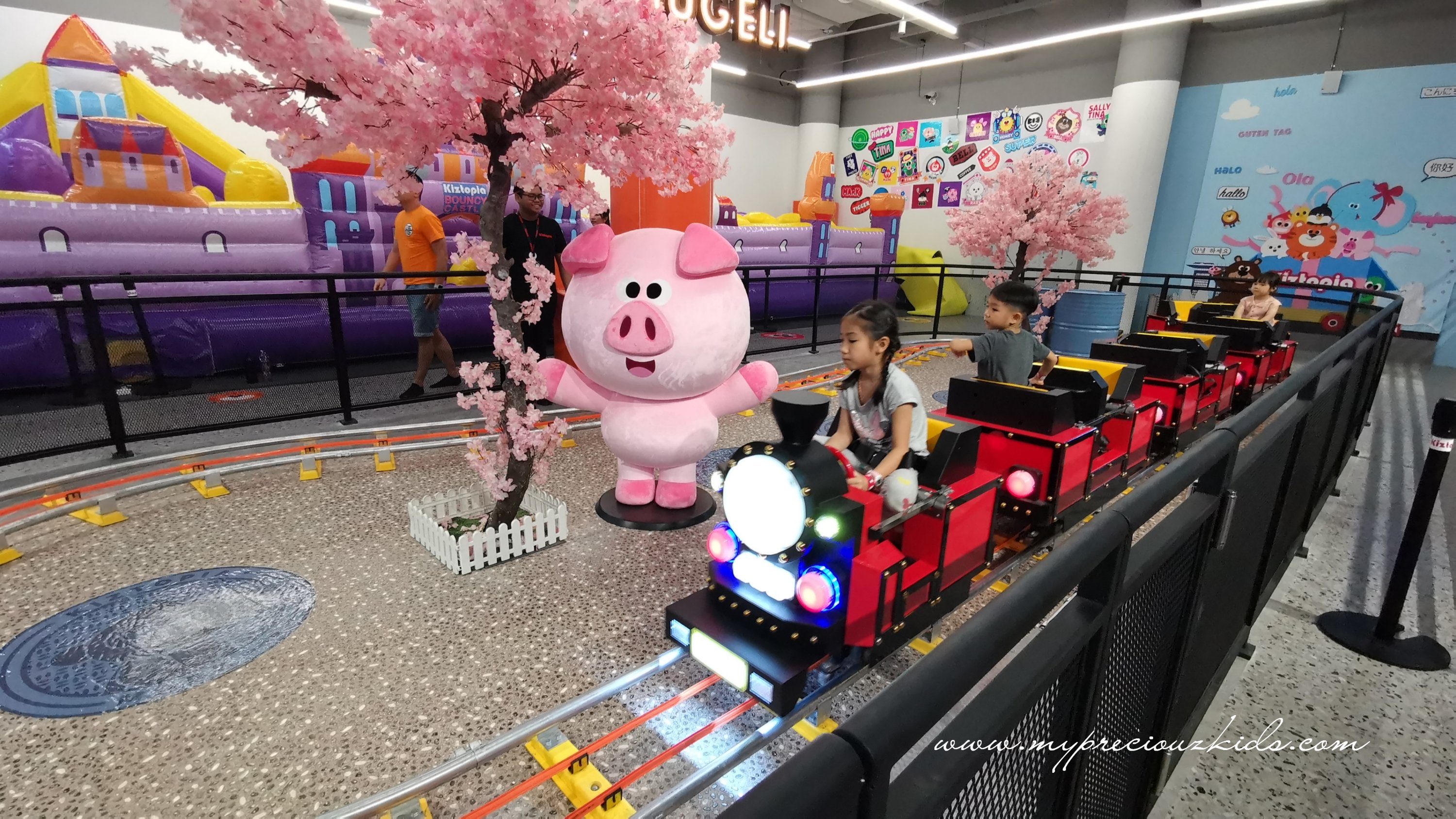 Bouncy Tiger is a bouncy castle structure next to the Chug Eli, I do not know of any kids who doesn't like the bouncy castle.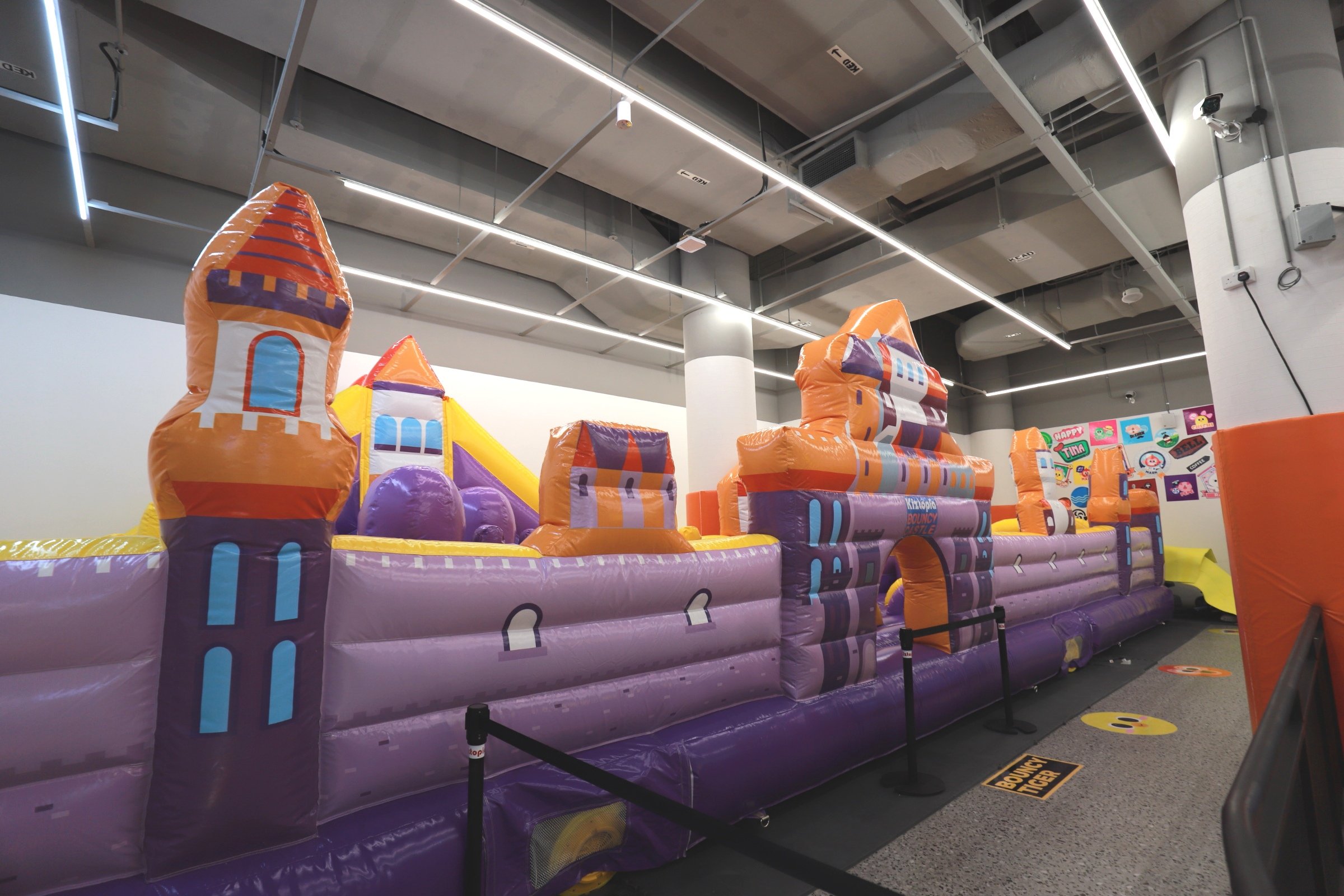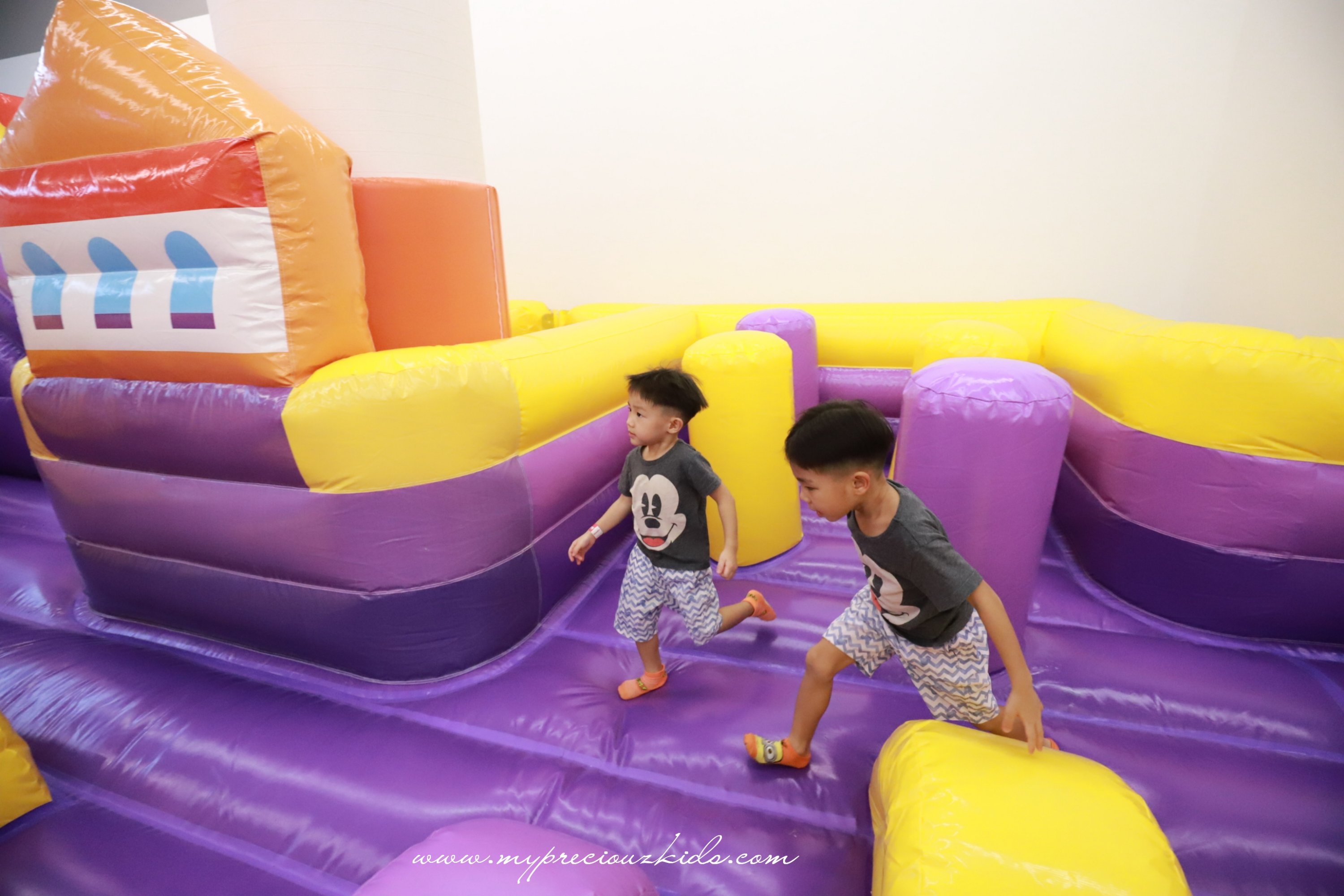 Raby's Mart is a pretend play supermarket complete with groceries, fruits, vegetable etc ,in fact it's big C's favourite activity of them all. If I ever I want to look for her, she is the cashier at the mart.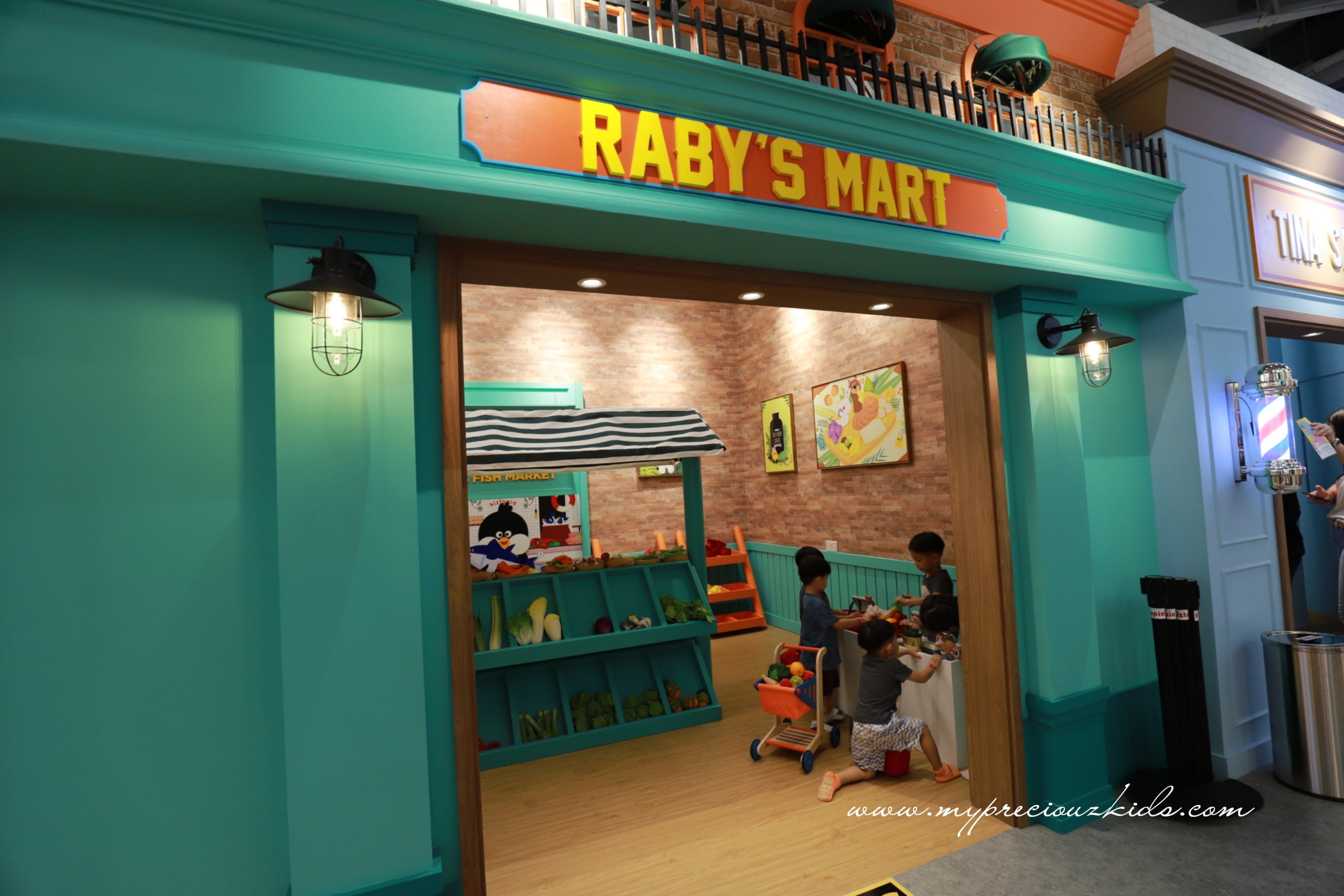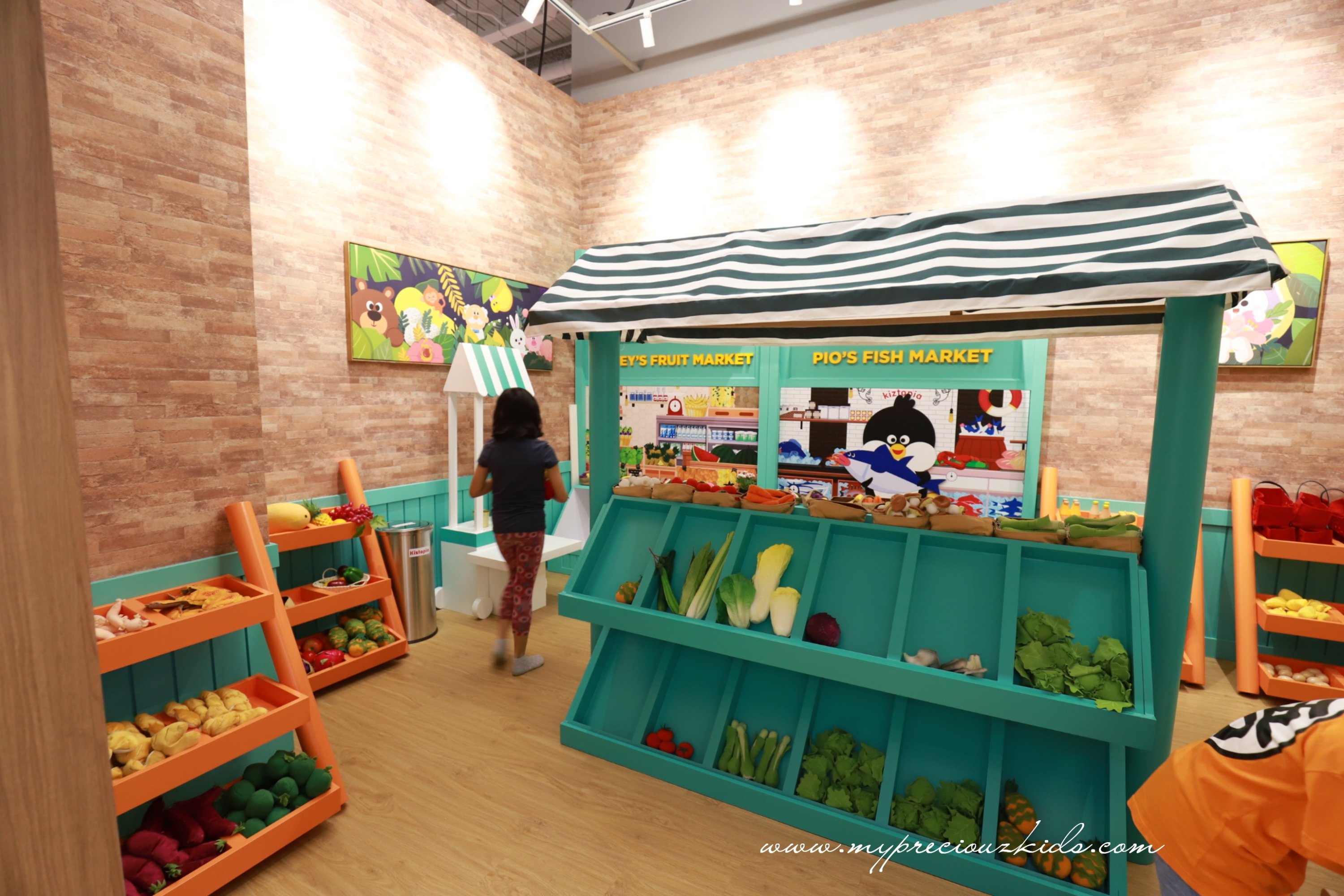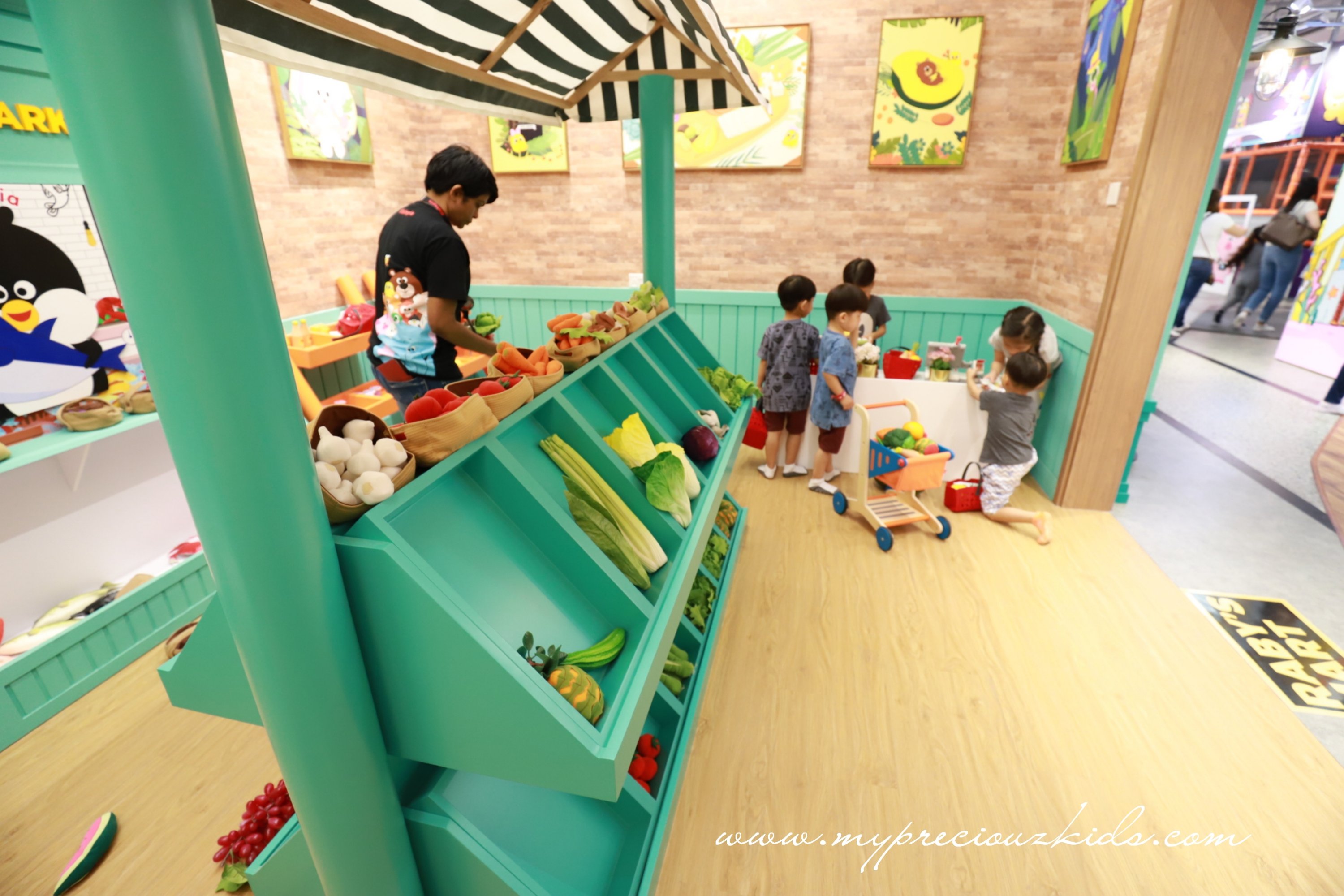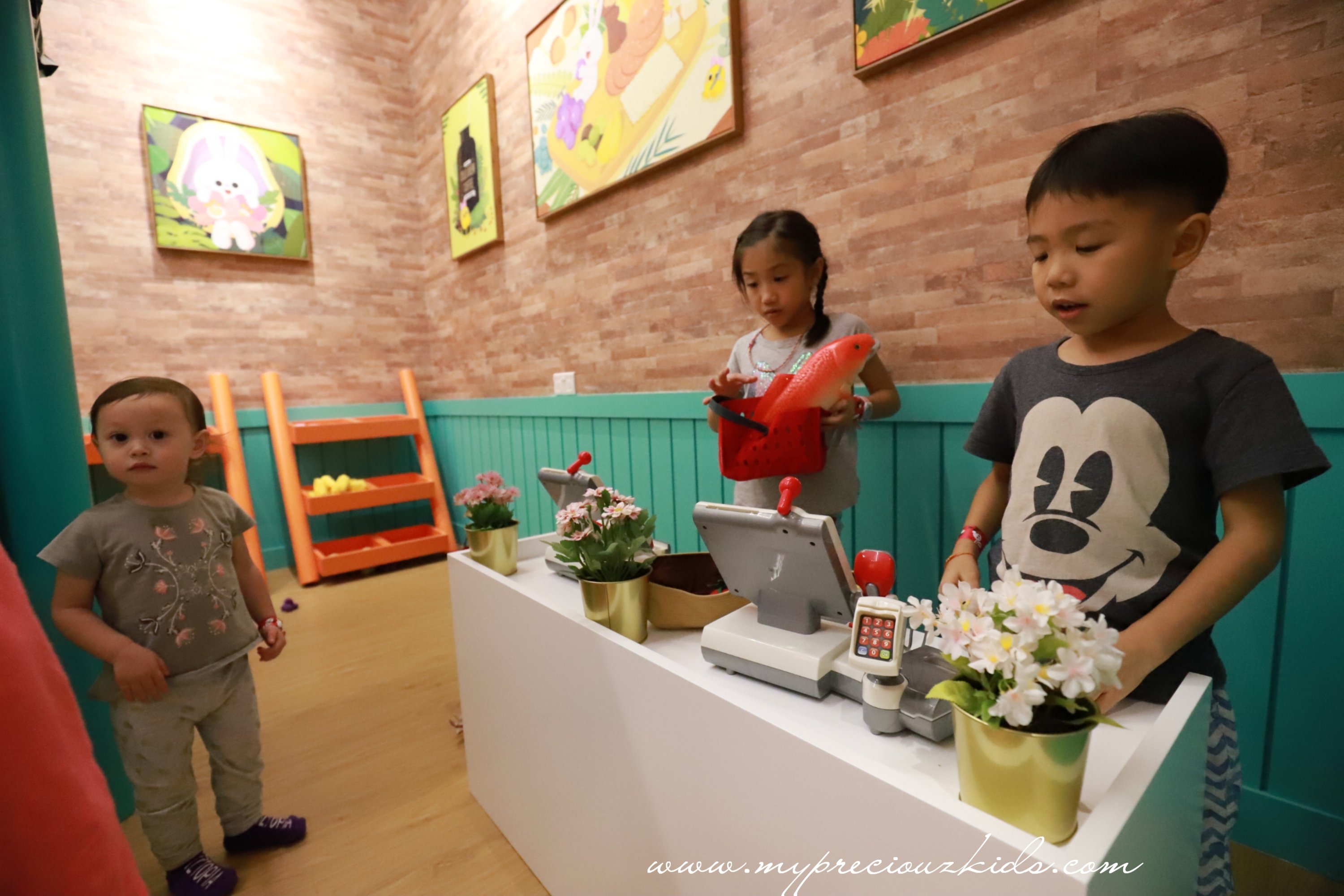 Tina's Snip is a pretend play corner full of costume! You can actually wear it out around Kiztopia and be any super hero or princess of your choice! You must have seen my boys in their super hero costumes in some of the other parts of Kiztopia.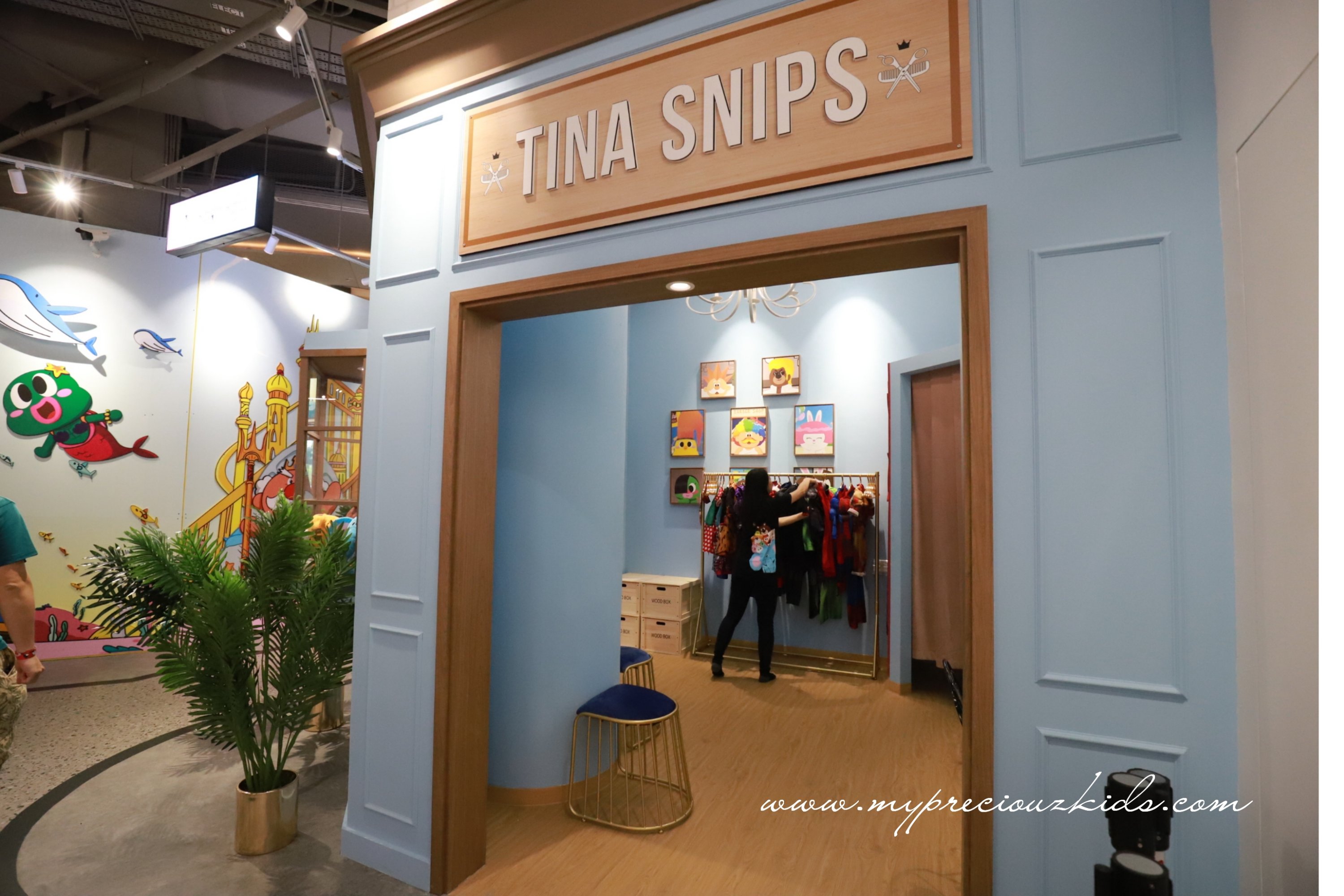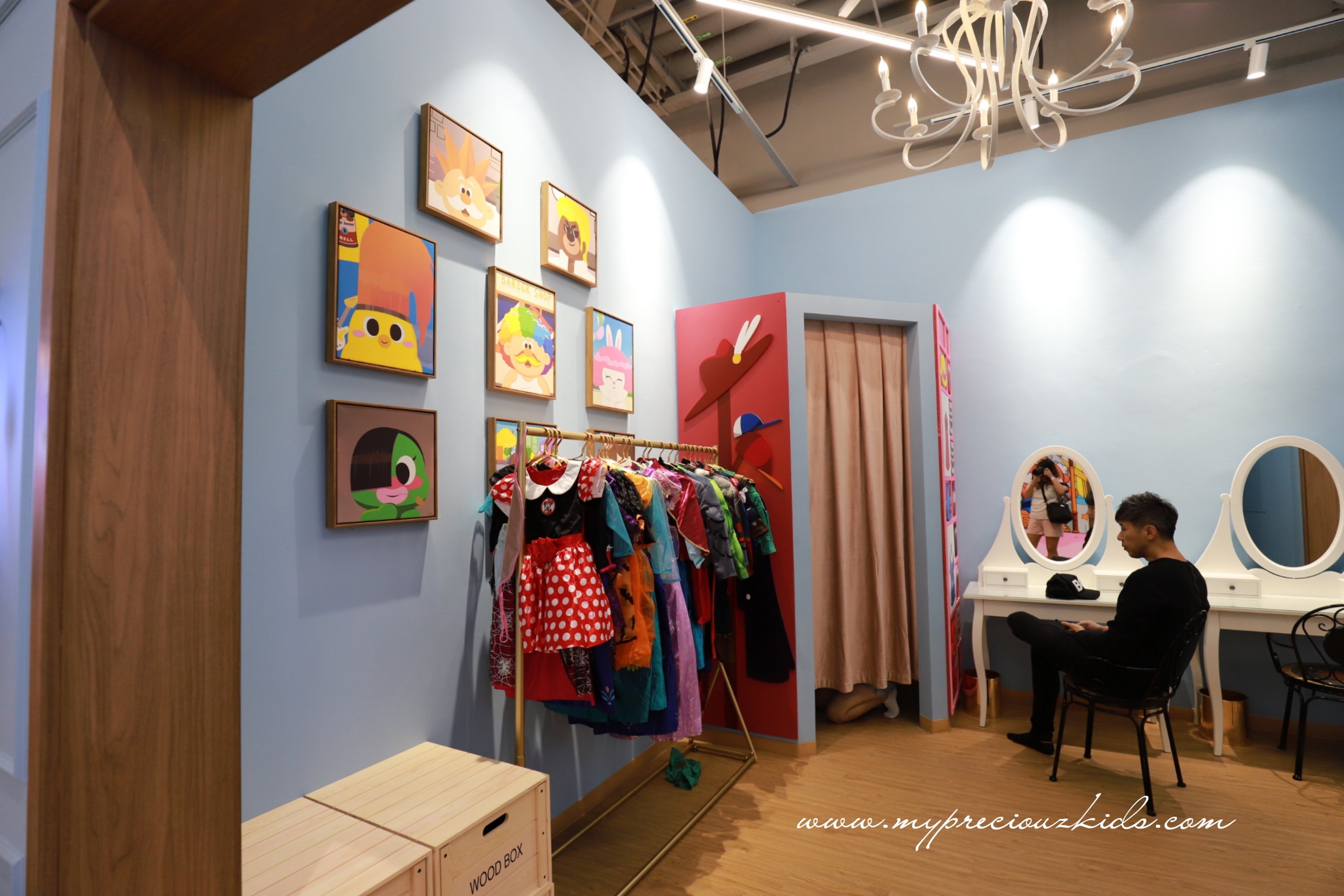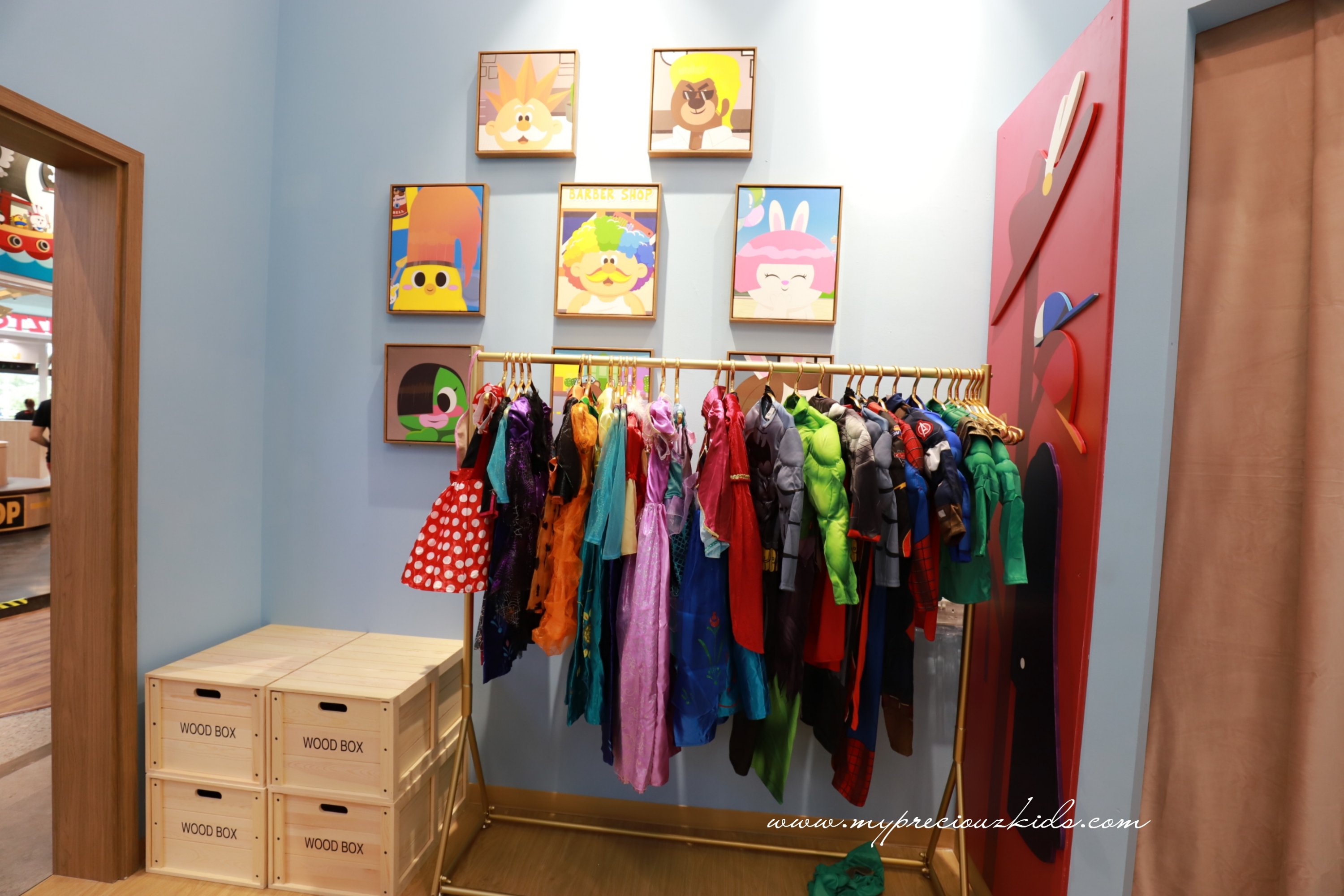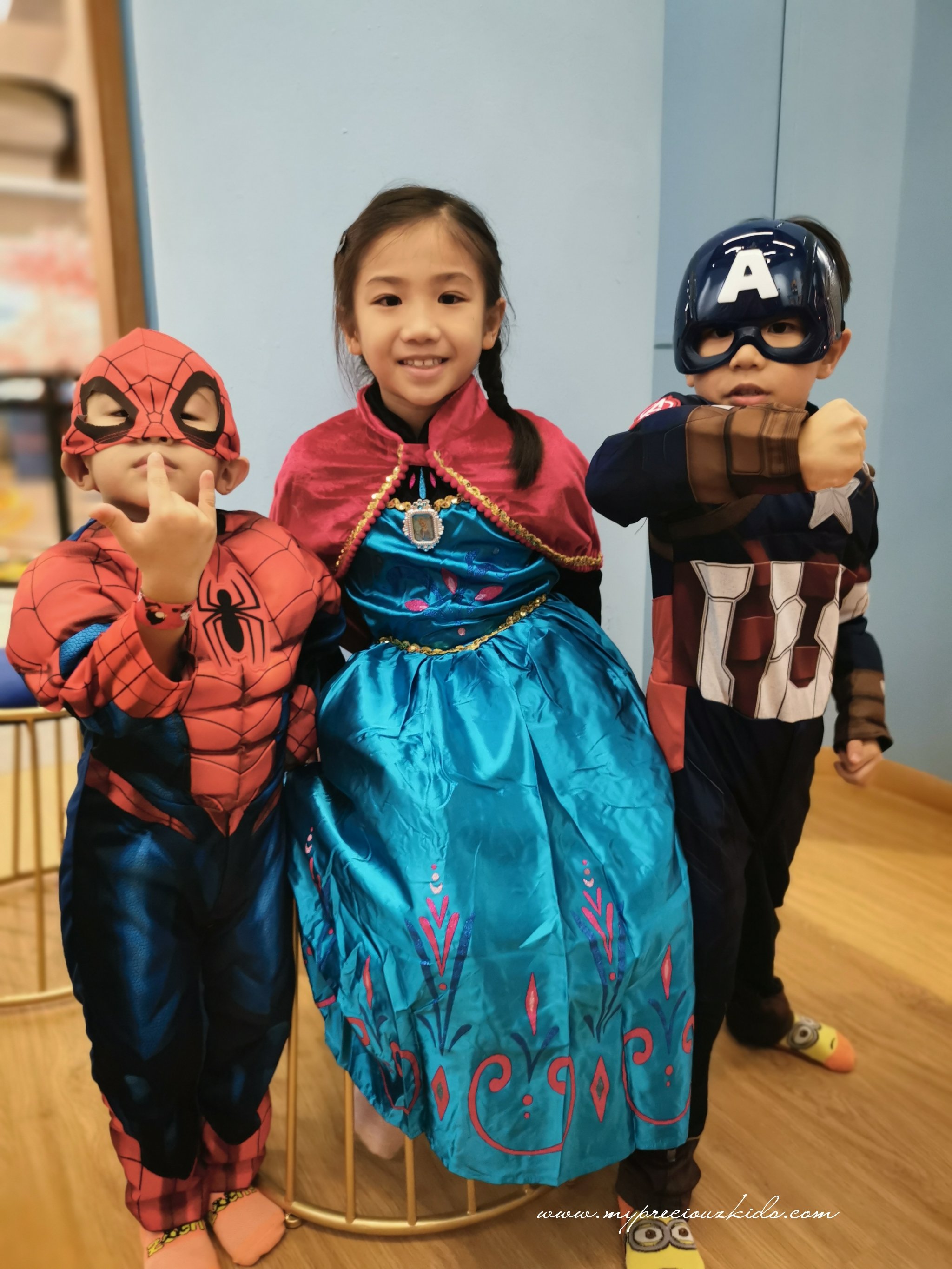 Pio Drift, a racing car track complete with petrol station, small C was always found filling up the petrol at the gas station! No prizes for guessing small C'S favourite playzone.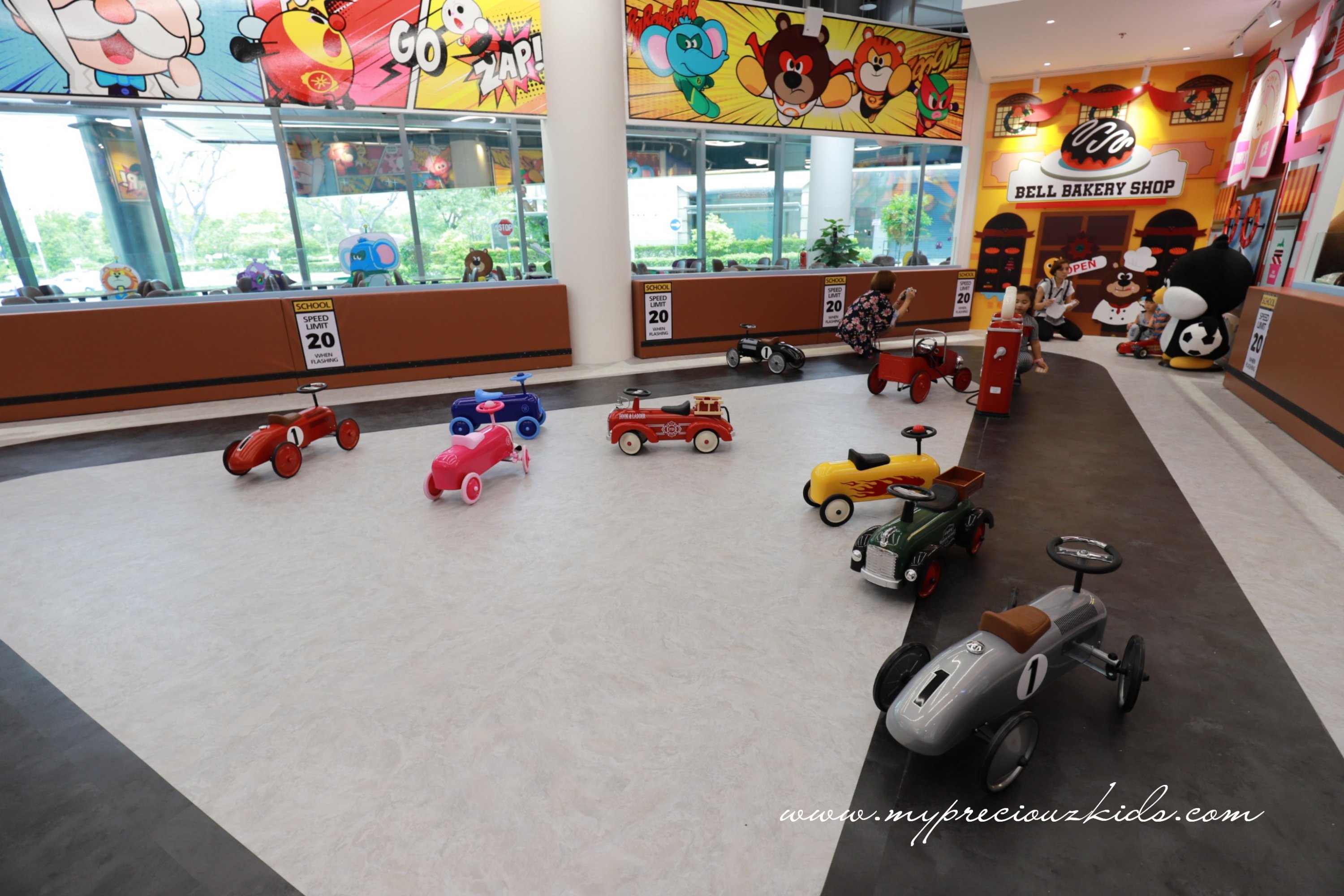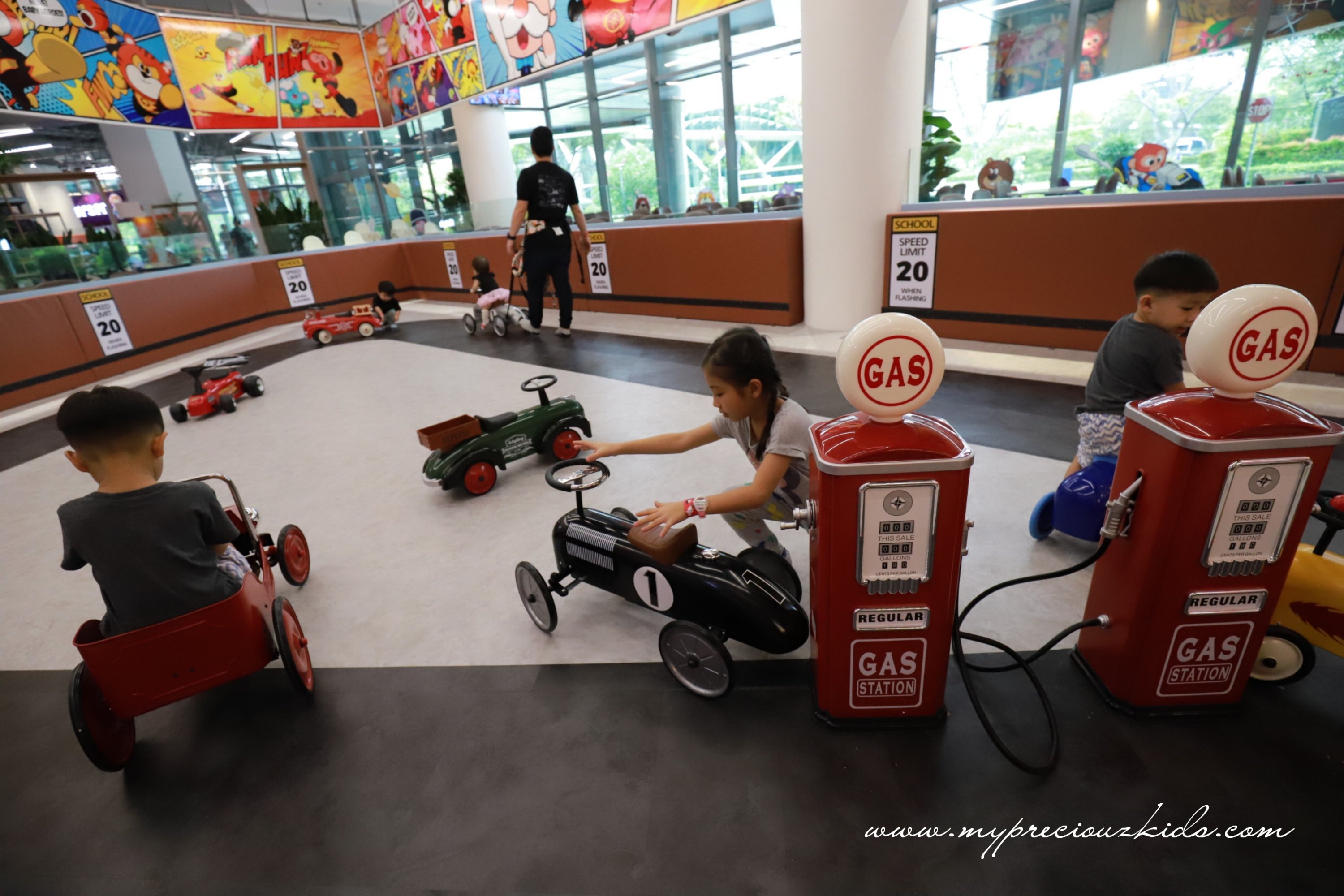 Bell's Cuisine, another of the kids' favourite, kitchen cum bakery cum restaurant pretend play area. I must say the bakery items seen in the right of the photo below were all so real and they smells like the real thing too!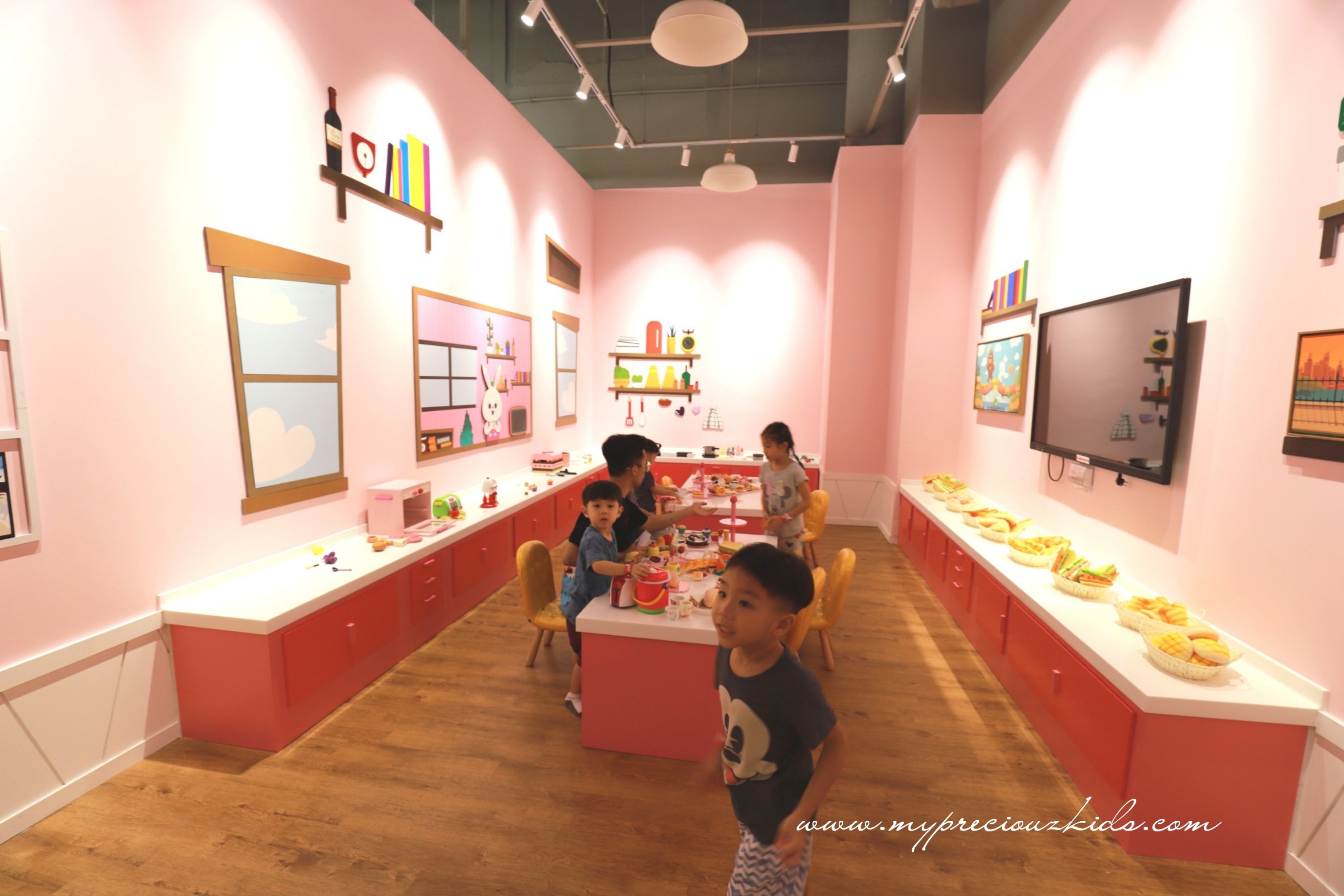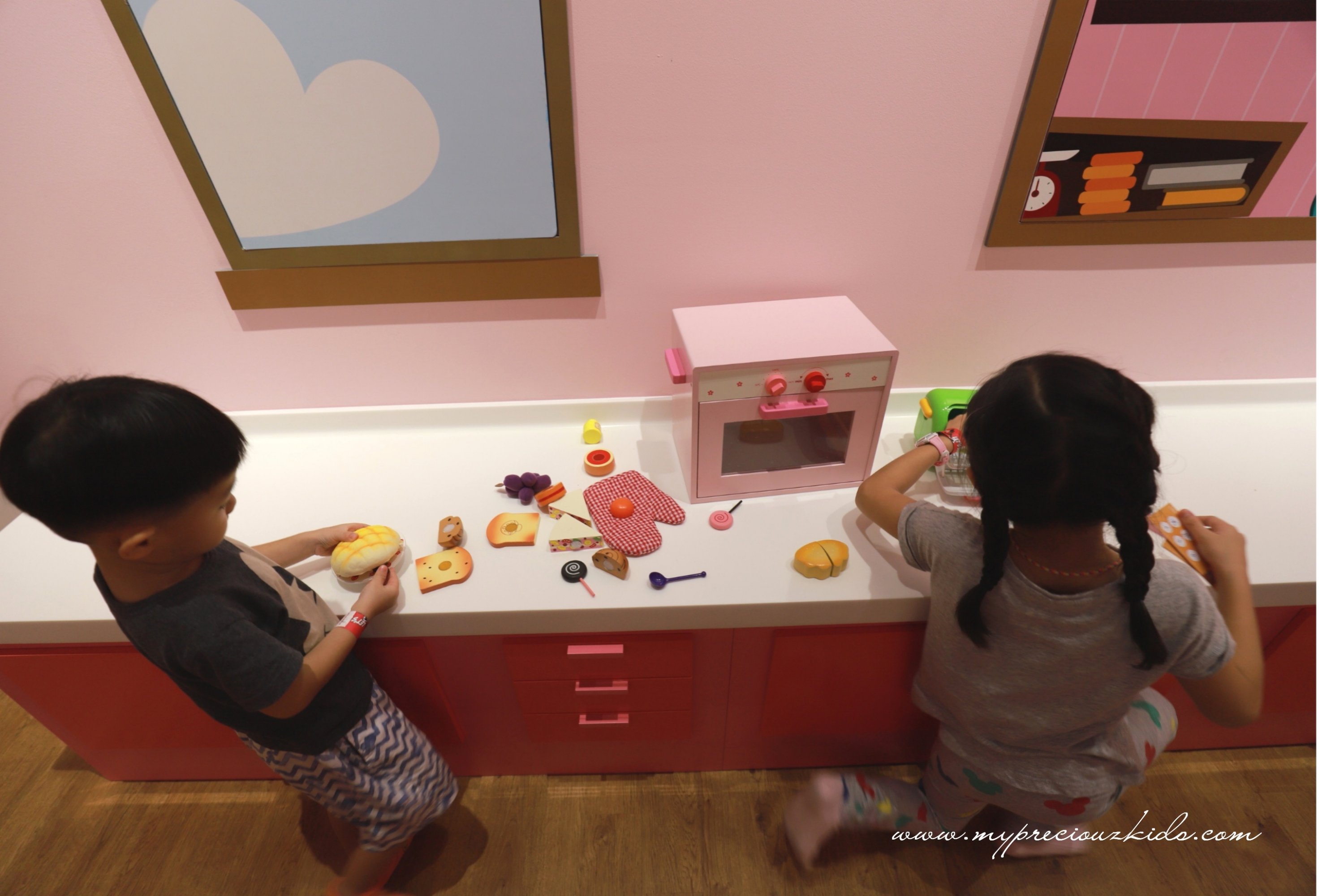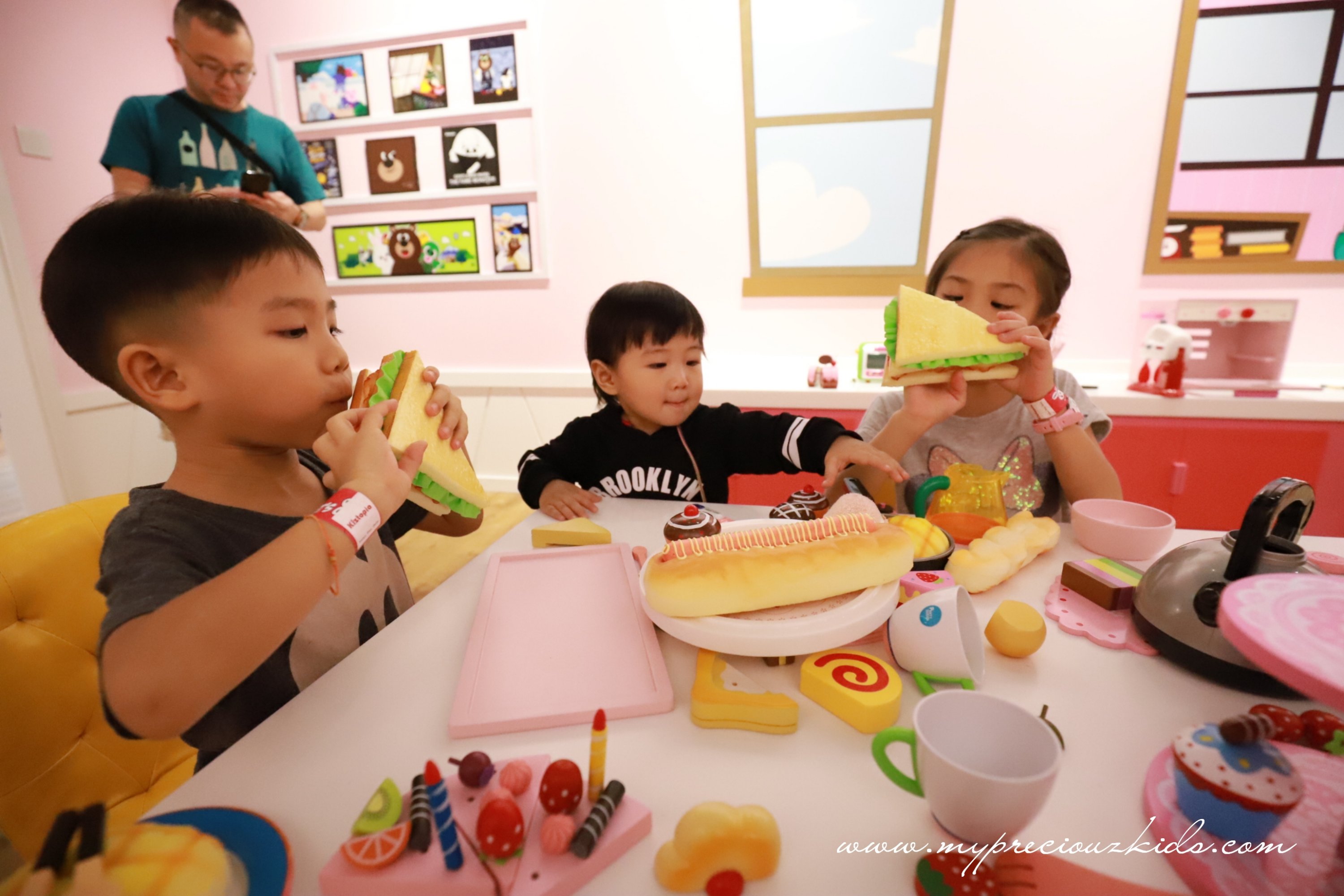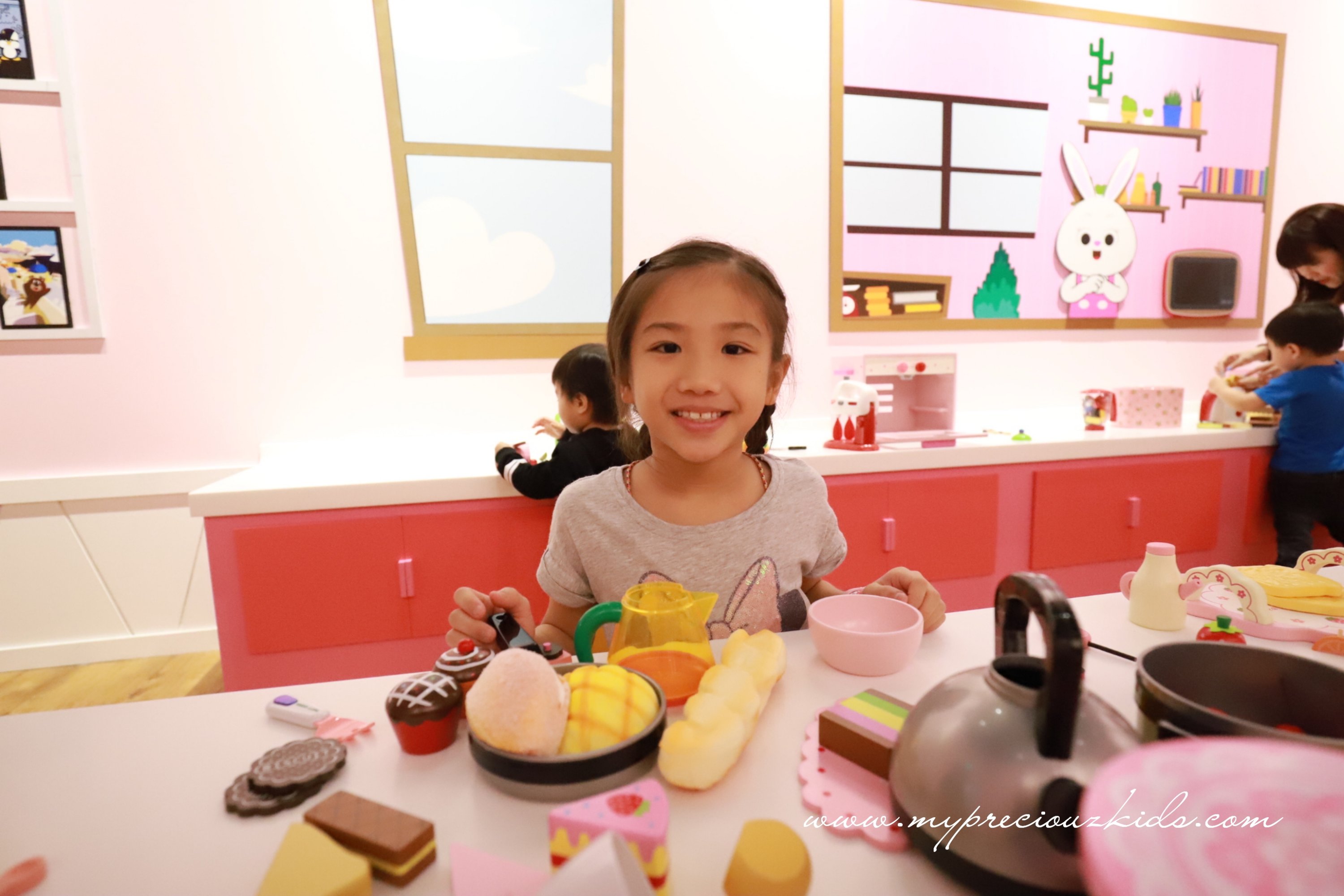 Hero Square or the centre stage host another AR wall and is the area for mascot appearances and shows.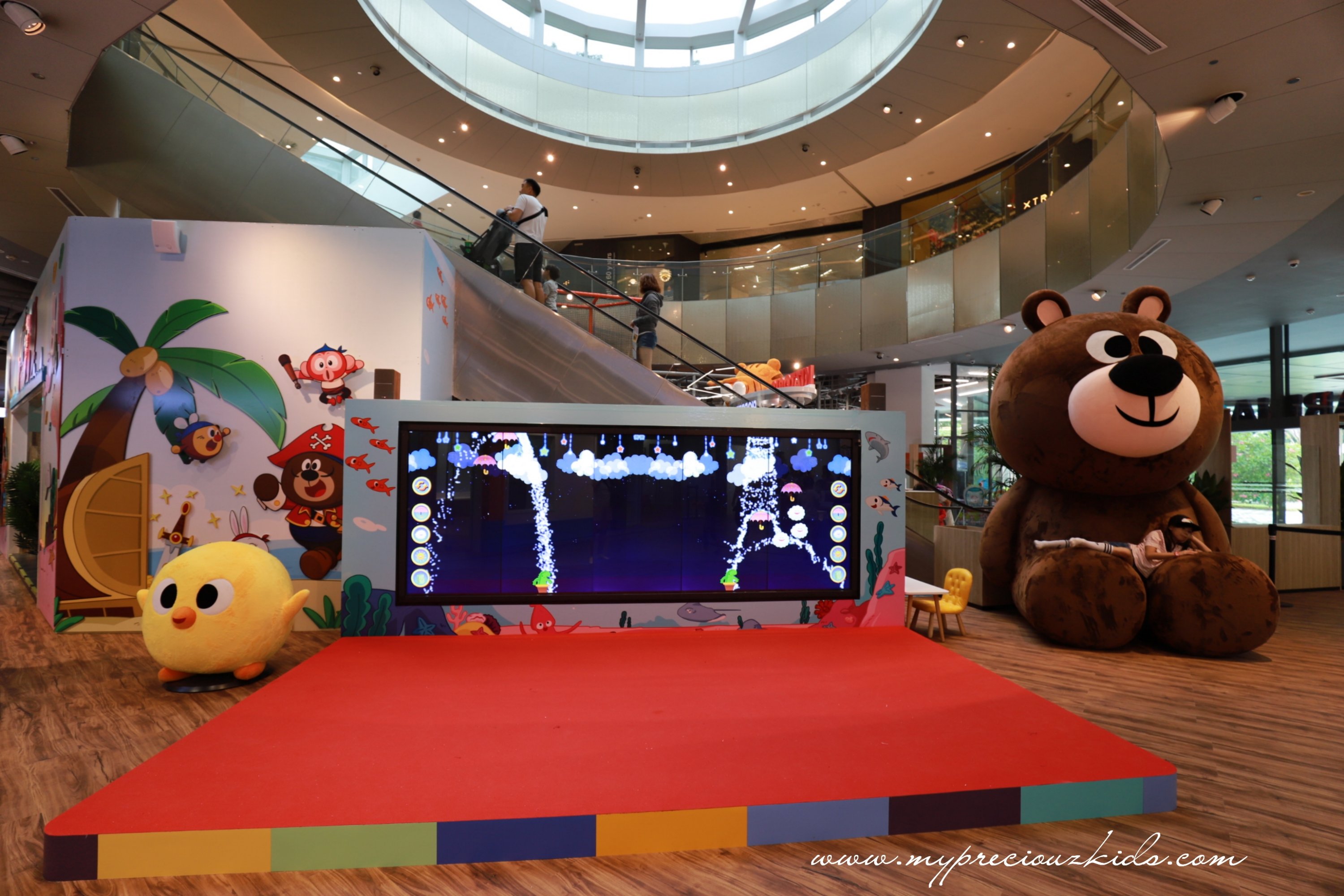 Chi Chi's Art and Honey Notes, we didn't get to explore this as it was tugged at the end which calls for a return visit as big J has not visited Kiztopia too!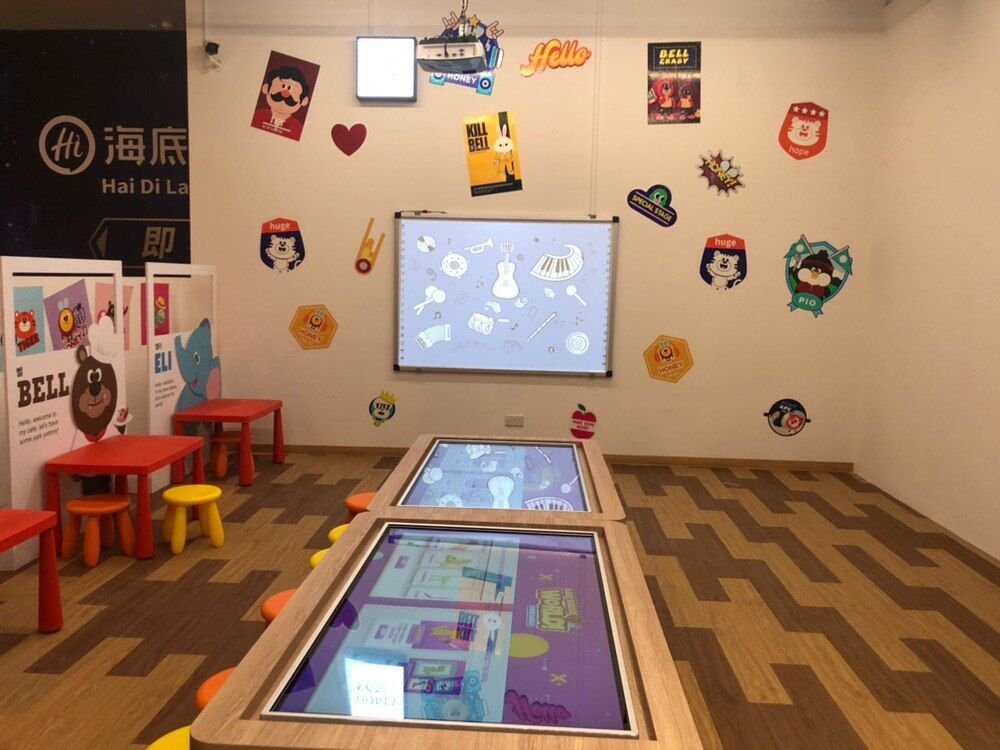 Facilities
Starlite party room is a very spacious party and function room for birthday parties, baby showers etc.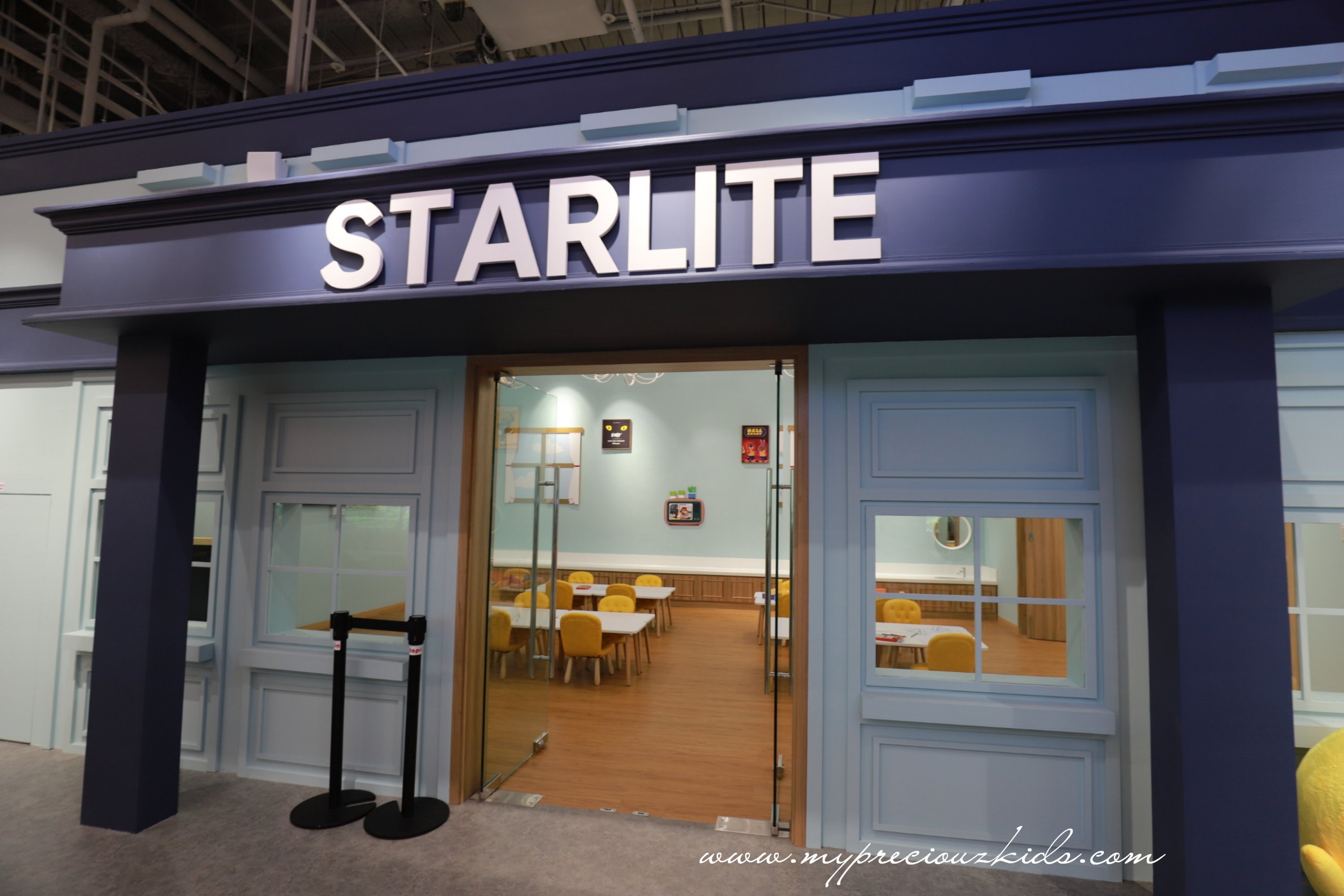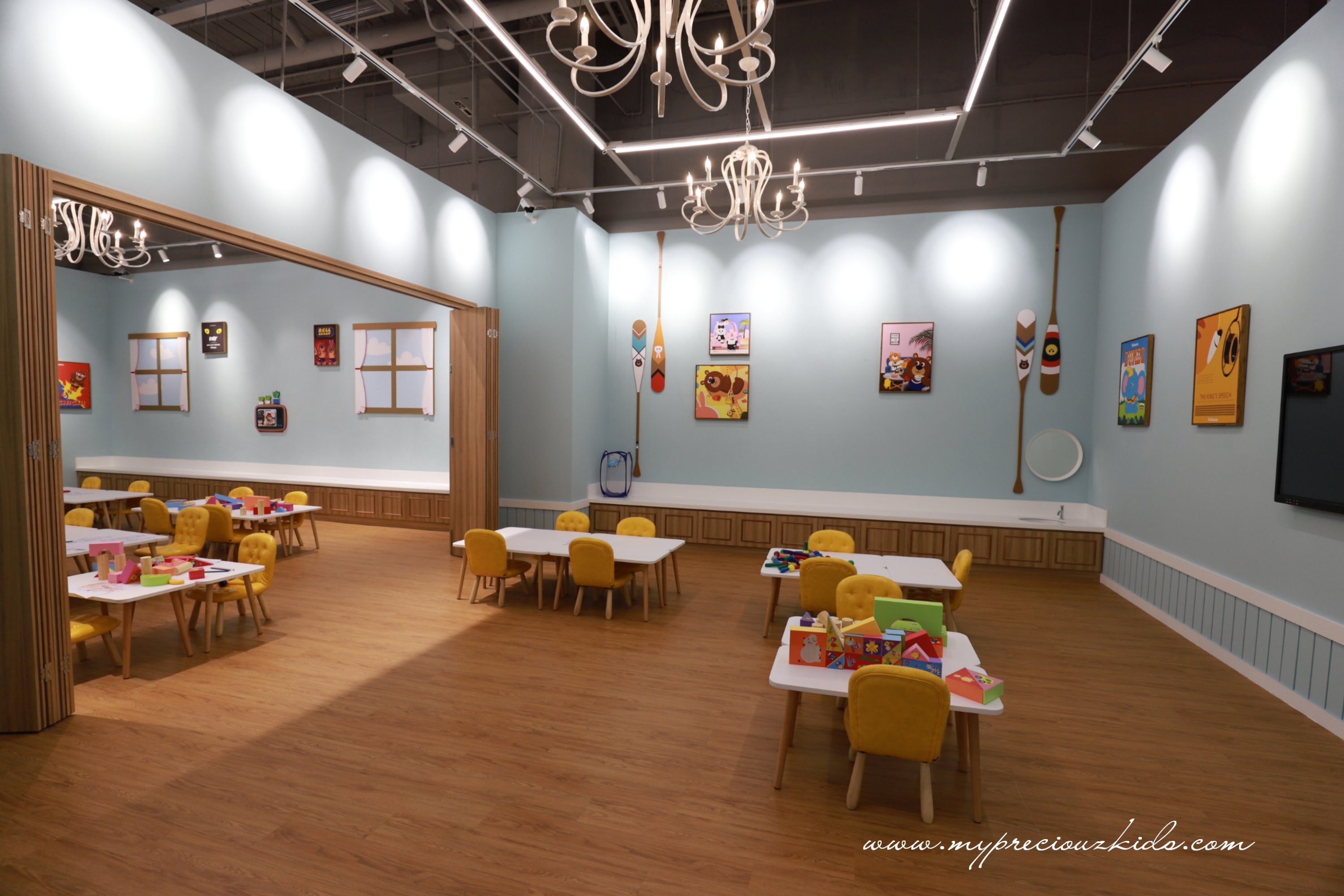 The cafe will serving up healthy meals once Kiztopia officially opens on 15 June with a massive seating area overlooking the entrance area of Marina Square.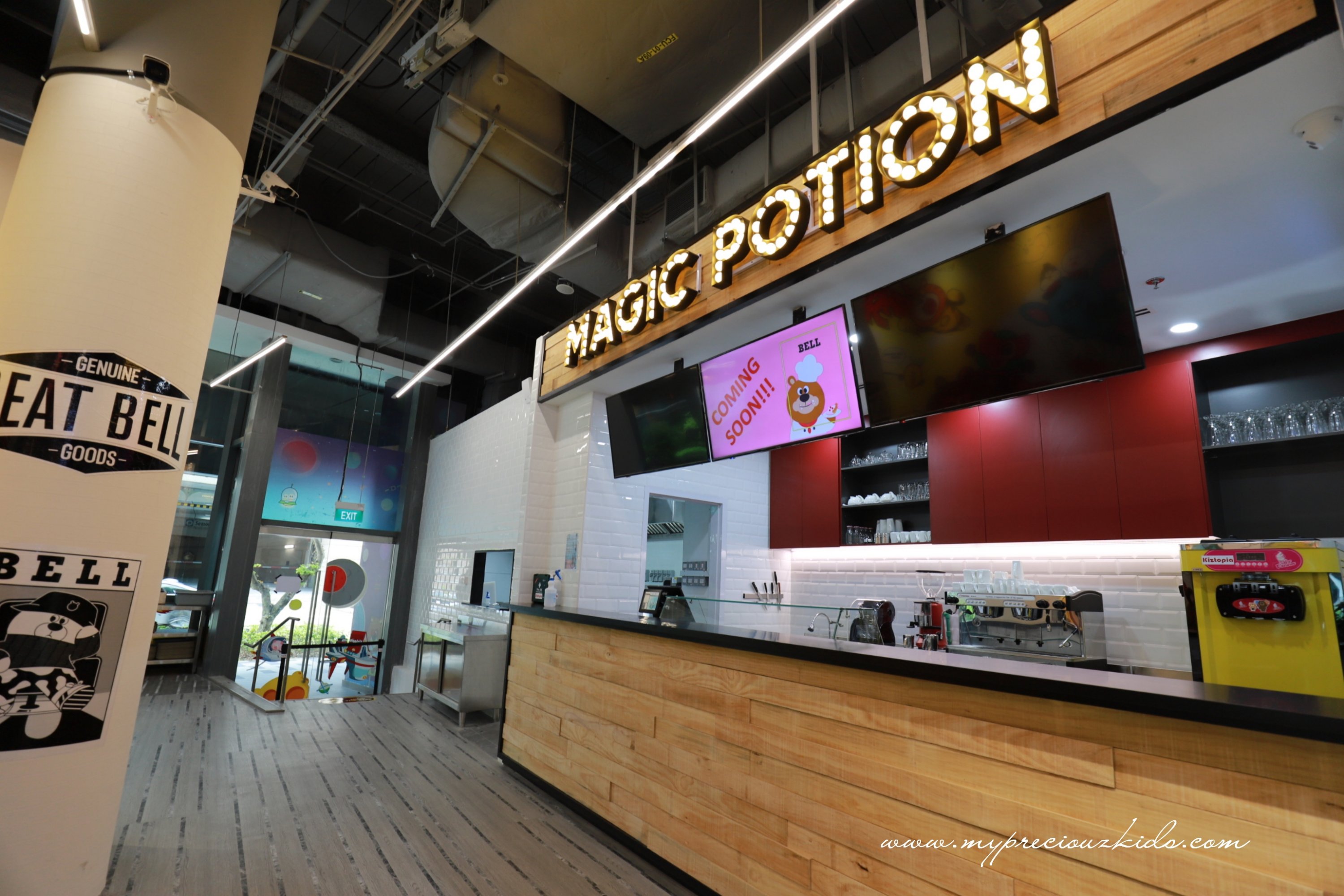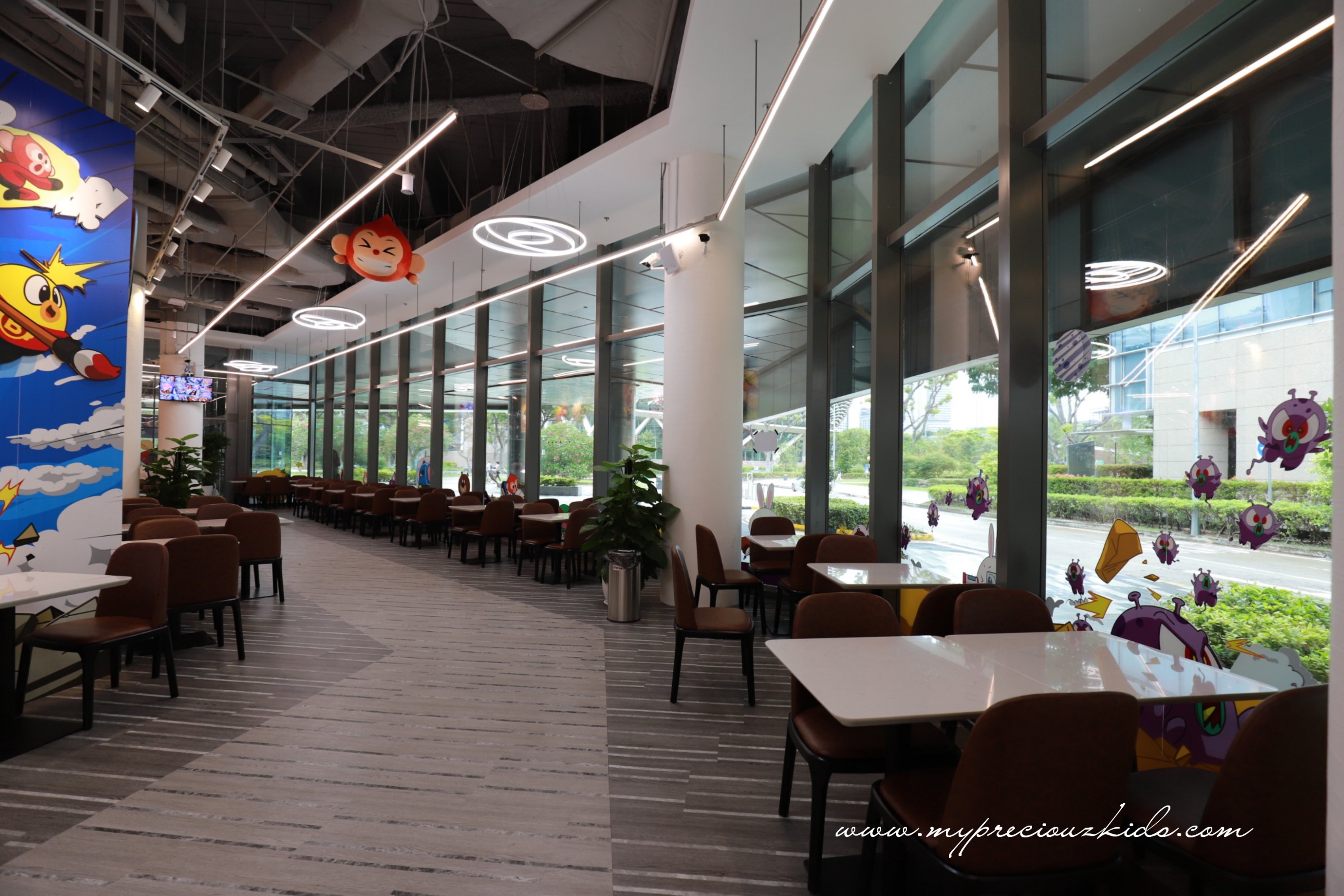 Stroller area and also locker facilities are also provided at the entrance.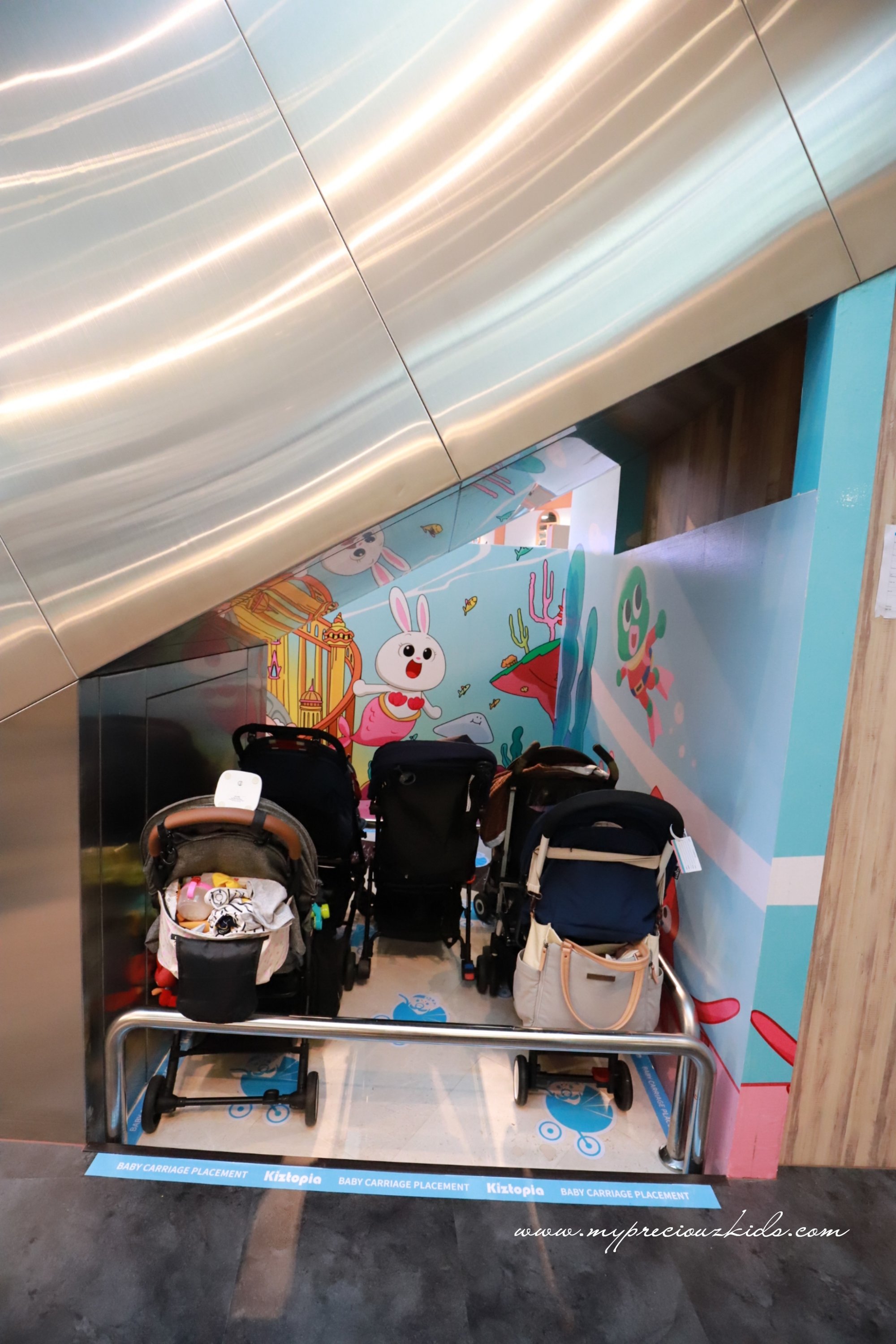 Gift shop where you can buy their original created characters' plushies or some souvenirs!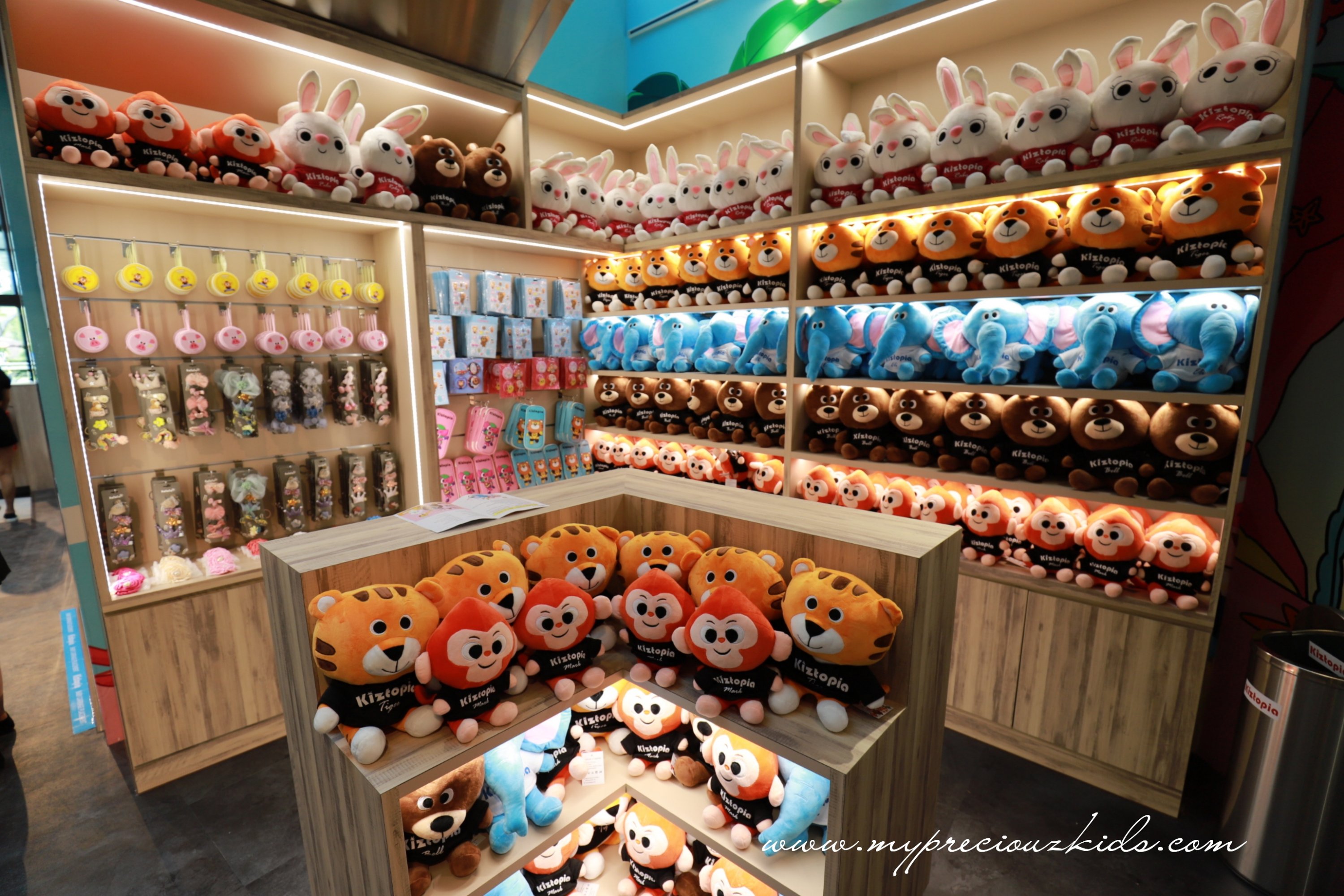 It is massive, sorry for using this word so many times through out the review but I can't find a more appropriate word. You will be surprised to learn more about your child like how I learn how much my girl loves pretend play at the supermarket and having many "customers" and my boys are mega huge fans of costume and pretending to be super heroes!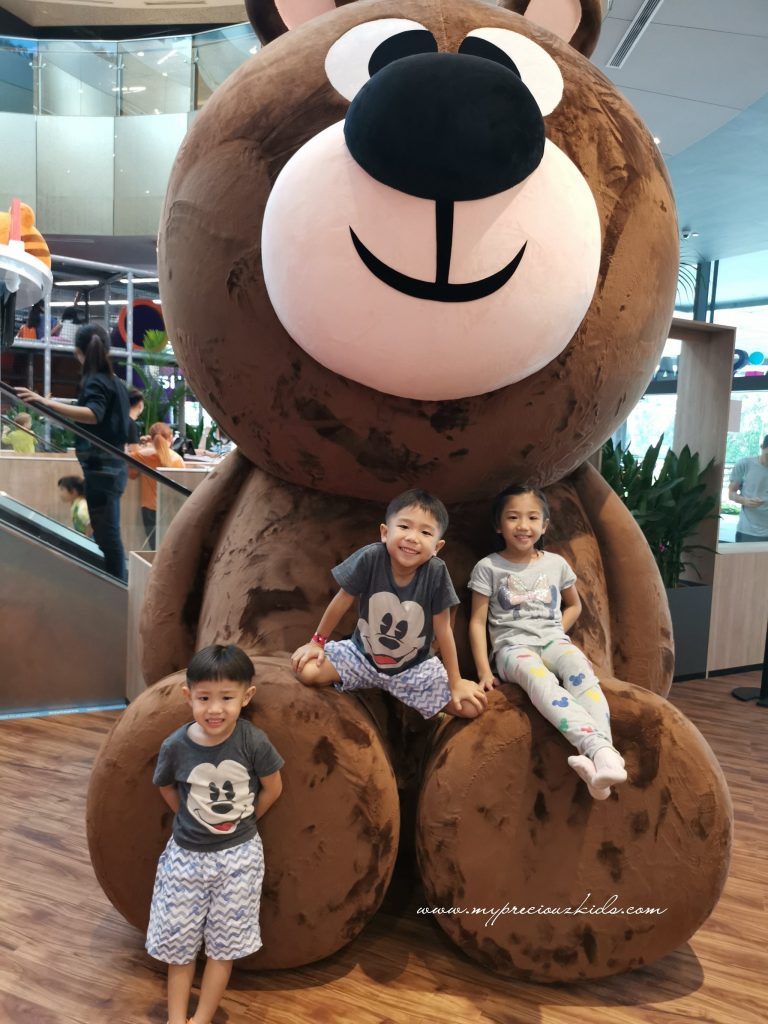 Kiztopia opens this Saturday 15 June which means you have 2 more weeks of the June holiday to check it out especially with our erratic Singapore weather.. Indoors are the best bet. What can I say you lucky kids in Singapore! You don't have to travel abroad to make memories during the school holidays.
Enjoy their pre-opening promotion online till 14 June.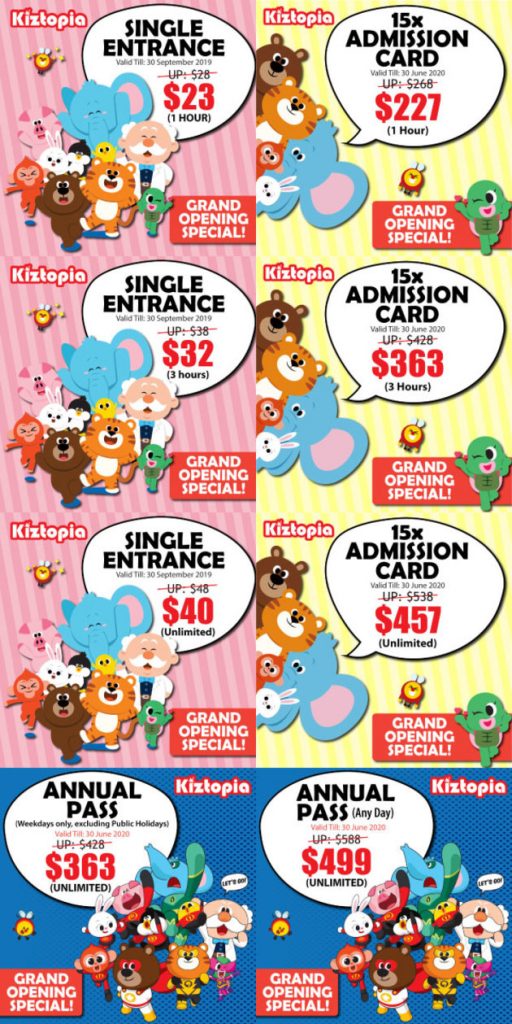 Price:
Single-entrance tickets range from $28 (1 hour of play), to $38 (3 hours) to $48 (unlimited) which is includes 1 child and 1 adult with additional options for 15-visit and annual passes.
Additional adults are $8 each. Babies under 12 months enter for free with a paying child and accompanying adult.
Opening Hours:
Sunday to Thursday, 10am to 9pm; Friday & Saturday, 10am to 10pm.
Kiztopia, #01-09 Marina Square, 6 Raffles Boulevard, Singapore 039594,
Share the article