True story, I have decided to take some time off from work in quarter 3 this year to be by big J side to "support" him in his PSLE revision in the afternoon when he is back from school. I have a very supportive boss and he told me that I should also use my time off to cook some nutritious food for my boy as well. I didn't cross my mind as you know I am no domestic goddess and I cannot cook for the life of me. That said, I can always procure nutritious supplements to see him through the next 5 months and especially during the final weeks to ensure he is in his optimal health condition entering the exam hall.
I think it is no secret that Asia mothers will prepare/buy chicken essence for their kids who are going for the exams. I was no exception as my mum always made sure that I had essence of chicken before major examinations. Now it is time for me to be that mum as I prepare my eldest boy for his biggest examination to date.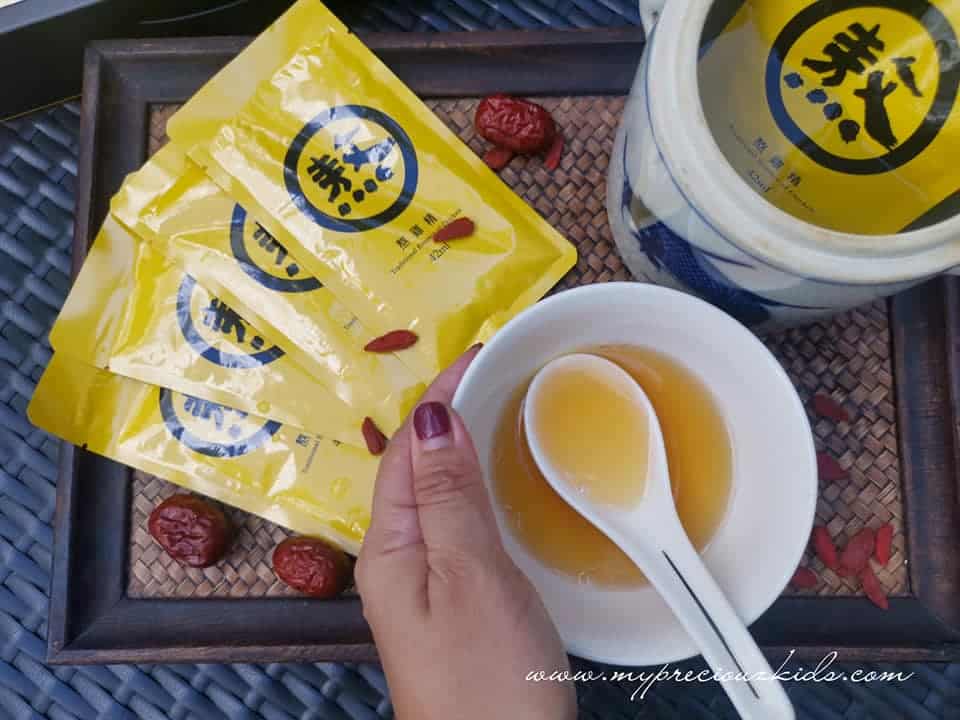 In traditional Chinese medicine (TCM), chicken broth is used to nourish the energy (qi) of the body, invigorate spleen and stomach, and strengthening the bones and joints. Typically, they used the traditional dripping method which time consuming and nutrients maybe lose during the process.
With over 90 years of experience , Lao Xie Zhen Premium Boiled Essence of Chicken exclusively distributed by Hao Yi Kang uses their 8 hours unique slow-boiling method which allows a more comprehensive extraction of nutrients, making very drop of essence truly precious. Lao Xie Zhen Premium Boiled Essence of Chicken has been voted the Best Chicken Essence for Nourishment for 4 years consecutively.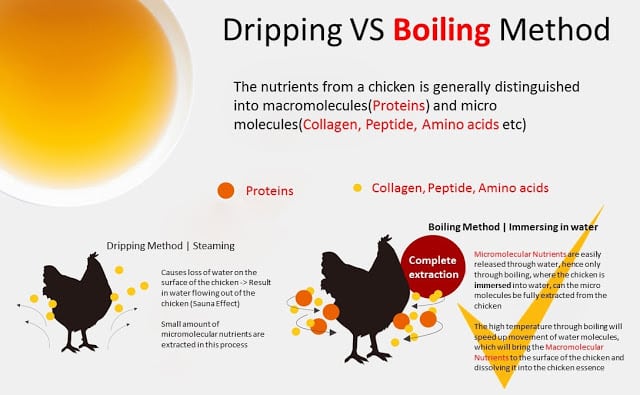 What make the taste of their Premium Chicken Essence truly superior is the used of only 2nd generation free range hens that are at least 12 months old which has the highest nutritional value, paired with small amount of premium pork ribs to create a different dimension of taste and enhance nutritional content of the chicken essence.
One of the main reasons why  I have not introduced any form of chicken essence as I do not like the taste personally and I don't think my kids can tolerate this taste either. However, this is not the case with Lao Xie Zhen Premium Boiled Essence of Chicken. This chicken essence tastes just like chicken soup. I had given this to all 4 of my kids (suitable for kids above 2) and all approved of the taste and asked for more!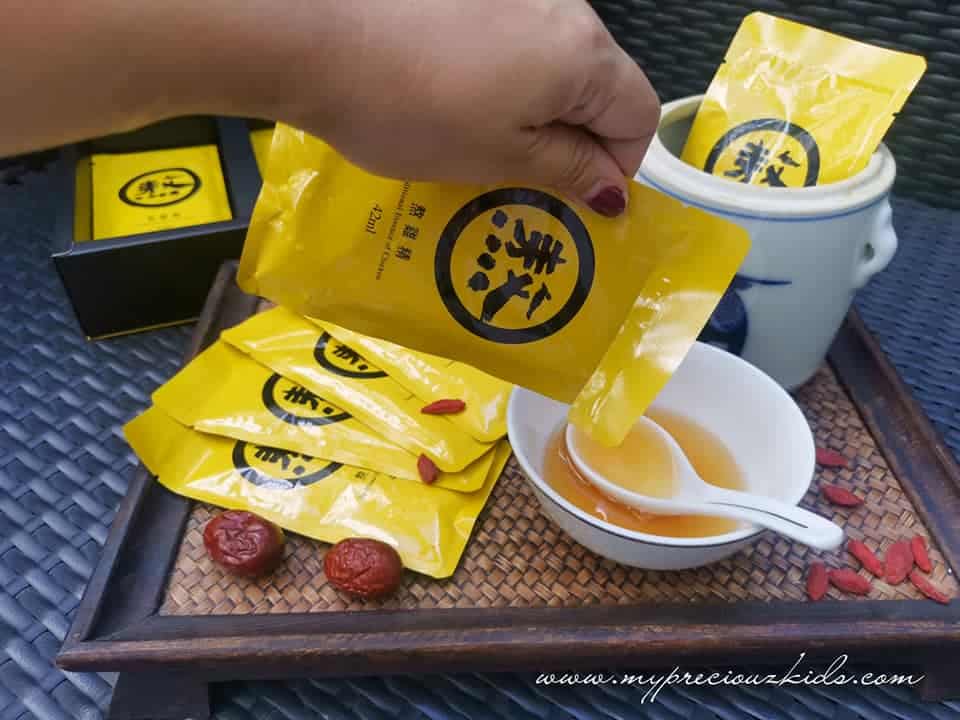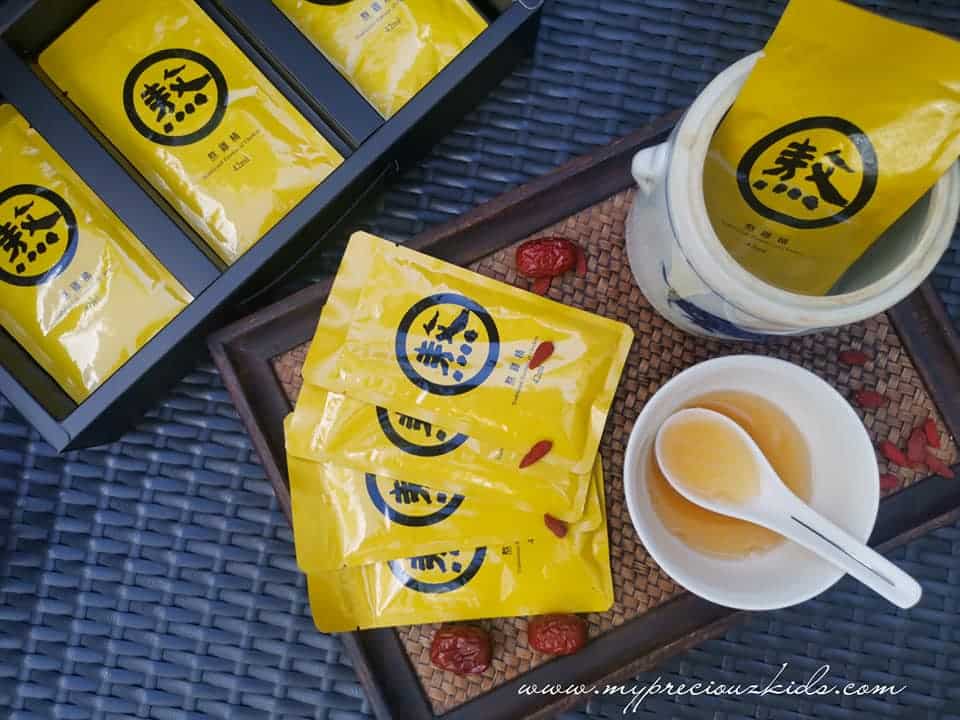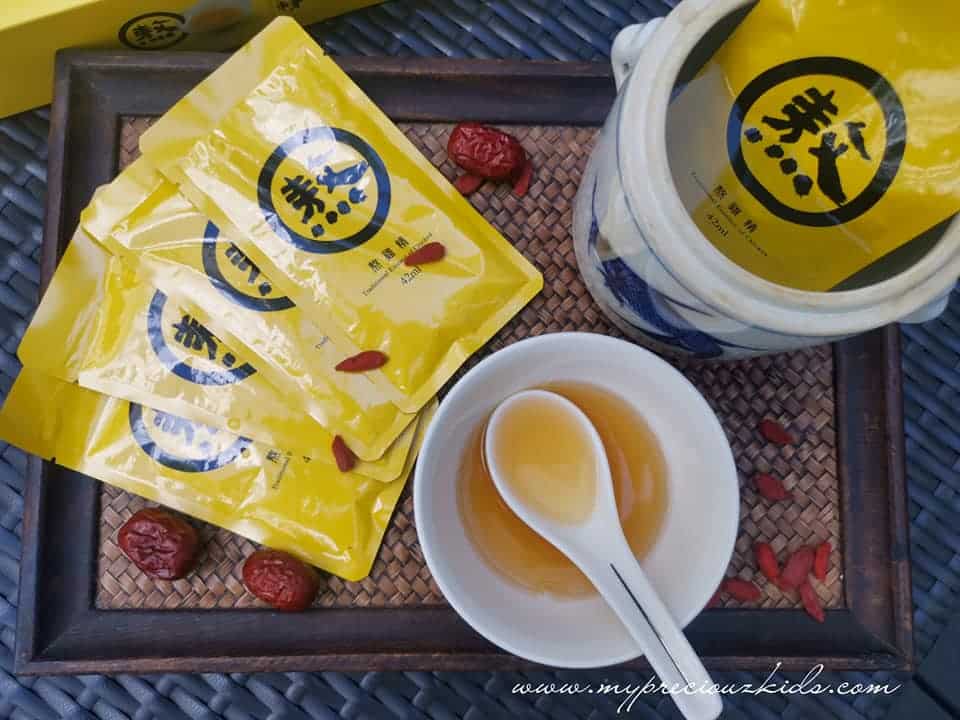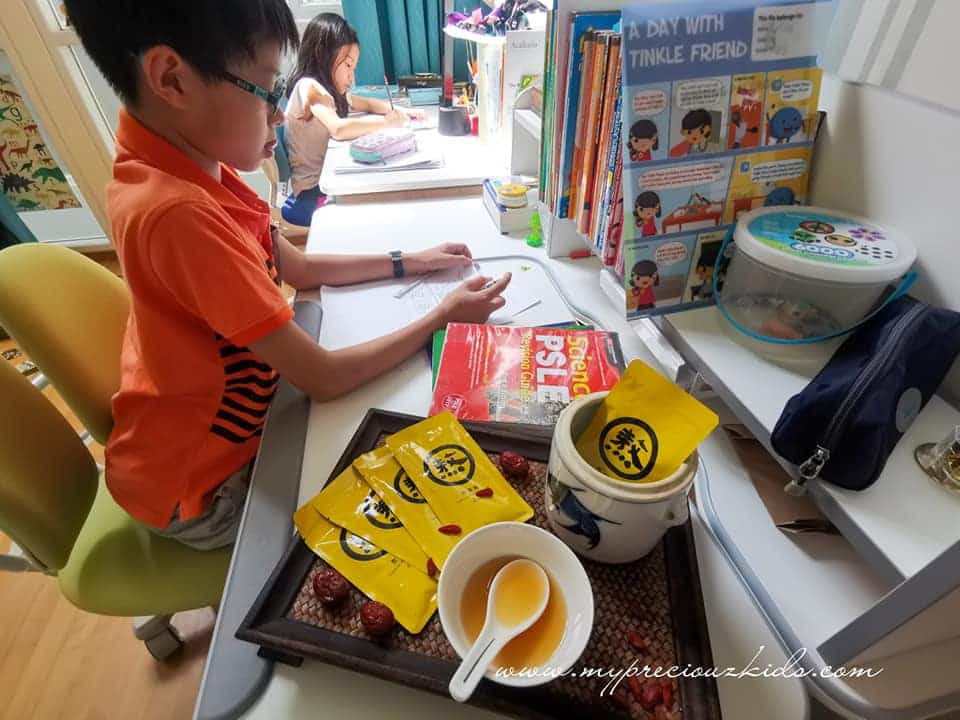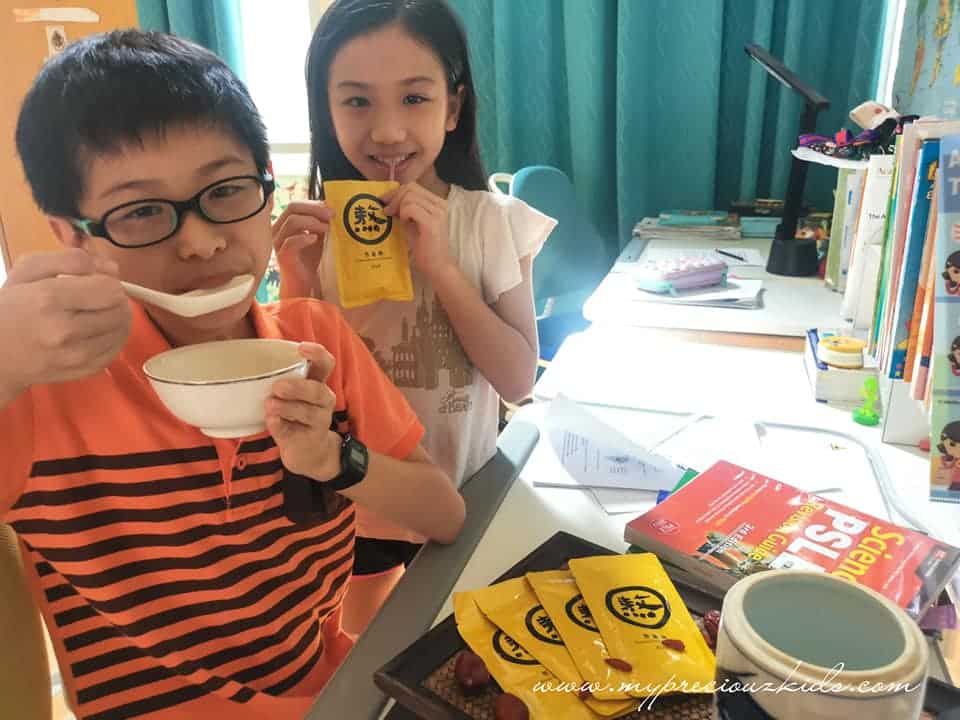 Preparation is super simple, just dipped in hot water and within 3 minutes, it is all warmed and ready to serve. As the essence comes in 42ml sachets, it is also more convenient to be brought out and also warm up way faster than glass bottles. I will have a pack ready before he head to school on exam days and for long revision days. Besides having this on its own, you can also include in dishes like steam chicken, braised fish, noodle soup etc.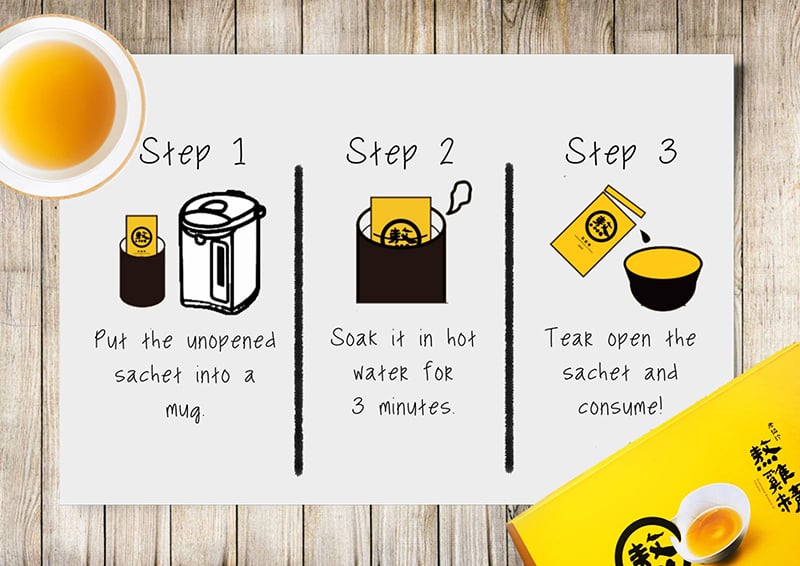 For students, working adults, athletes, chicken essence is a perfect supplement to combat fatigue, boost energy level, improve concentration, strengthen immune system and aid in recuperation for people recovering from sickness. 
It is also very beneficial for pre and post natal as it helps with baby's growth and development, promote post-natal milk secretion and enhance quality of breast milk, and also speed up wound recovery. 
It is recommended to consume 1 pack  daily before meal in the morning, do not have it at night as you don't want to stay awake the entire night.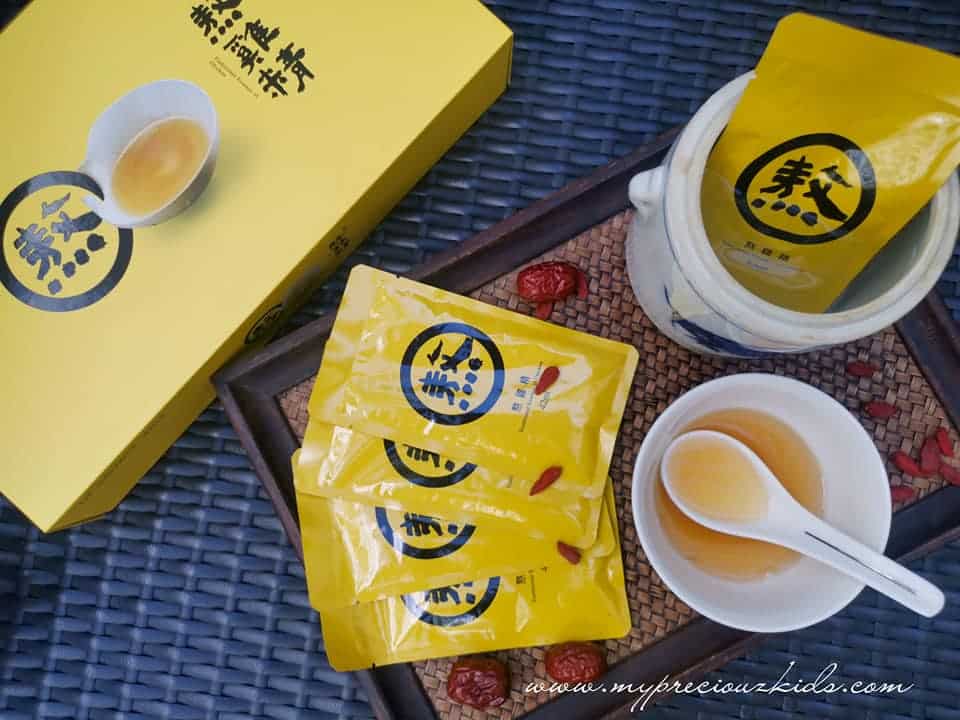 Lao Xie Zhen Premium Boiled Essence of Chicken is 100% natural and do not contain preservatives, additives, artificial flavouring, antibiotics and plasticizer residue. 
Hao Yi Kang is the sole distributor of Lao Xie Zhen Premium Boiled Essence of Chicken. Visit their website or social media to find out more. 
Disclaimer: This is a sponsored post.  No monetary compensation was received. All opinions are my own.
Share the article