If you have watched the English interpretation of The Three Billy Goats Gruff last year and loved it, this will be one for the calendar in 2016! The Little Company (TLC) kicks off this year's lineup with the Mandarin interpretation of hugely successful English production of The Three Billy Goats Gruff.
If you have read my previous post on TLC, to date, my personal favourite is Mandarin version of The Three Little Pigs in 2013 and it still is! And with TLC doing 1 or 2 Mandarin productions in a year and continued emphasis of bilingualism and the importance of Mandarin, if one has to pick and choose which shows to attend , this is a clear favourite.  The Three Billy Goats Gruff《三只山羊》is adapted in Chinese by Danny Yeo who also did The Three Little Pigs' adaptation in Chinese! Will it be my new favourite? Even I am totally looking forward to this!
Just a list of the TLC's productions this year (start planning your kids' theatre calendar this year!)
The Three Billy Goats Gruff (Mandarin)
18 Feb – 25 Mar 2016
Recommended ages: 5 – 12 year-olds
Hanuman
1 Apr – 30 Apr 2016
Recommended ages: 7 – 12 year-olds
The Three Little Pigs
11 Aug – 25 Sep 2016
Recommended ages: 2 – 6 year-olds
Charlotte's Web
28 Oct – 11 Dec 2016
Recommended ages:  5 years and above
The Three Billy Goats Gruff 《三只山羊》 (羊老大、羊小二,小咩咩) are a close-knit bunch who graze happily together with their caretaker, Little Bo Frilly. The goats were faced with a horrible drought and they started to run out of food. So they made a decision to cross the bridge to the other side of the valley in search for food. At the bridge, lies a frightening troll that loves to feast on goats (given my experience from the English productions, some younger kids are afraid of the troll, hence, you may want to abide by the recommended ages or not sit so close to the stage)
Not forgetting what TLC does best, are the many catching songs that accompany the production. I do hope that TLC volume 3 will come out soon to incorporate the songs from the 2015 and 2016 productions. I would love to have the songs played in my car to sing with my kids after watching the productions !
A well known fairy tale where most kids already know the story line, so for many young kids who are weak in Mandarin (my kids included), they will be able to follow the storyline even though it is told in Mandarin and  still enjoy themselves as well (instead of being "lost in translation")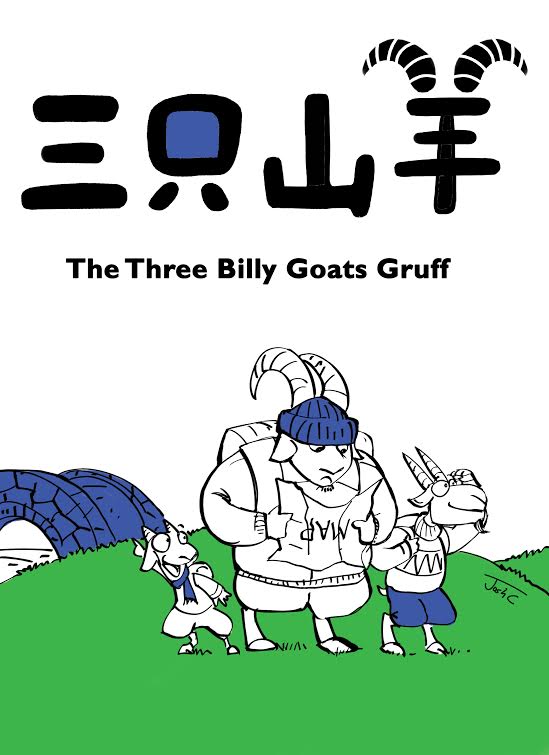 The Three Billy Goats Gruff《三只山羊》 will be staged from 18 February to 26 March 2016 at KC Arts Centre – Home of Singapore Repertory Theatre (SRT) (previously known as the DBS Arts Centre )
The Little Company's The Three Billy Goats Gruff《三只山羊》
Thursday 18 February to Saturday 26 March 2016
Mondays to Fridays: 10am
Sat: 11am and 2pm (note there are no shows on Sunday)
Venue: KC Arts Centre – Home of SRT
Recommended for children age 5 and up.
Tickets priced from SGD25 and up are available from SISTIC Agent (list of agents), through Sistic Hotline (Tel: 6348 5555) SISTIC Mobile App or SISTIC Website. For information on applicable discounts: visit this website.
Hence to kick start my blog as well for 2016, GIVEAWAY of a Family Package of 4 Category One Tickets (worth SGD129) to watch 'The Three Billy Goats Gruff《三只山羊》' on Sat, 20 February 2016, 2 pm.
1. Liked mypreciouzkids.com on Facebook
2. Liked Singapore Repertory Theatre  on Facebook
3. Liked, shared and tag 5 friends who are new to mypreciouzkids using this Facebook post. Pls comment "done" on the same post for my easy tracking. Do set your post to PUBLIC so that I can verify your entry. Entries that are not shared publicly will be disqualified.
I will be picking the lucky winner using random.org . The giveaway closes on 17 Jan 2016, 2359pm (SUN).
Share the article