Looking for picnic food, part food, breakfast food, tea break, snack box food, how about trying Otah Buns for a change. I tried Baowow Otah Buns for the first time and I think this is one great alternative to office, home, parties snacks that is super versatile, super convenient and super local! #supportlocal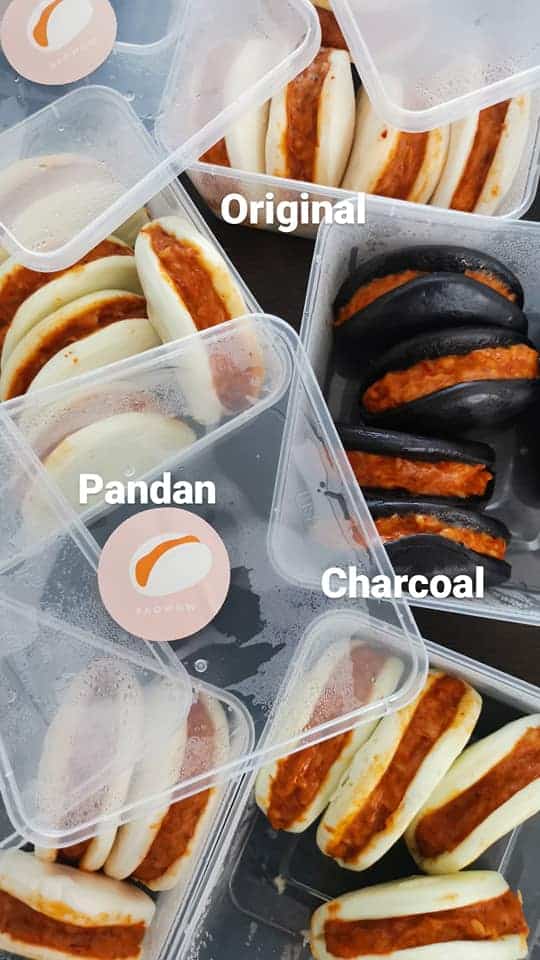 Since its inception in 1993, Baowow has been a leading supplier of fresh otah in Singapore, developing many business customers in the form of restaurants, eateries, and supermarkets. They are known for their unique spice and taste, made possible because of our use of freshly line caught Spanish Mackerel. In the same year, Baowow launched a retail division, selling via their retail channels. By July 2015, they had a total of 7 processing premises in Singapore. The Otah Bun is their latest R&D product, having sold more than 2,000 buns within the first week of operation.
What most otah sellers do not know is that when they purchase fresh Spanish Mackerel from the fishmongers, it is important to opt for only those caught with line. Yes, they are a lot more expensive because the speed of supply is incredibly low, but, it does affect the overall taste a lot. When the fish is caught by net, there is inevitable trauma to the fish. Bundled with stress, you get a different taste, one that is more blend. As a result, food producers have to use more artificial flavouring that just does not taste as good as the real deal.  At Baowow, they obtain the freshest wild catch of Spanish Mackerel daily, and hand make them into the best tasting Otah filling you would have ever tasted. They also do not keep their Otah overnight as food products that contain Mackerel typically spoil after 3 days, due to their fat content. The mackarel that they use are line caught. Net caught mackerels cause inevitable trauma to the fish, which affect its taste greatly! 
Using premium ingredients and spices only, Baowow blend all ingredients by hand until it becomes thick and fragrant. They then further fry this paste until it turns into a rich and orangey colour. The brand spent at least 10 years perfecting their blend in Muar, Johor, and they are still performing research on a daily basis to discover how they can improve. Baowow steam their handmade buns, filling them with otah before they are frozen for stock purchases, or delivered immediately fresh for your consumption. When buying from their official website, you can also choose to have them delivered piping hot or frozen.
My verdict 
Baowow offers three main products at the moment.
Original – piping hot ($10 for set of 5 and $20 for set of 10) , frozen ($7 for set of 5 and $13.50 for set of 10)
Pandan/Charcoal- piping hot ($10.50 for set of 5 and $20.50 for set of 10) , frozen ($7.50 for set of 5 and $14 for set of 10)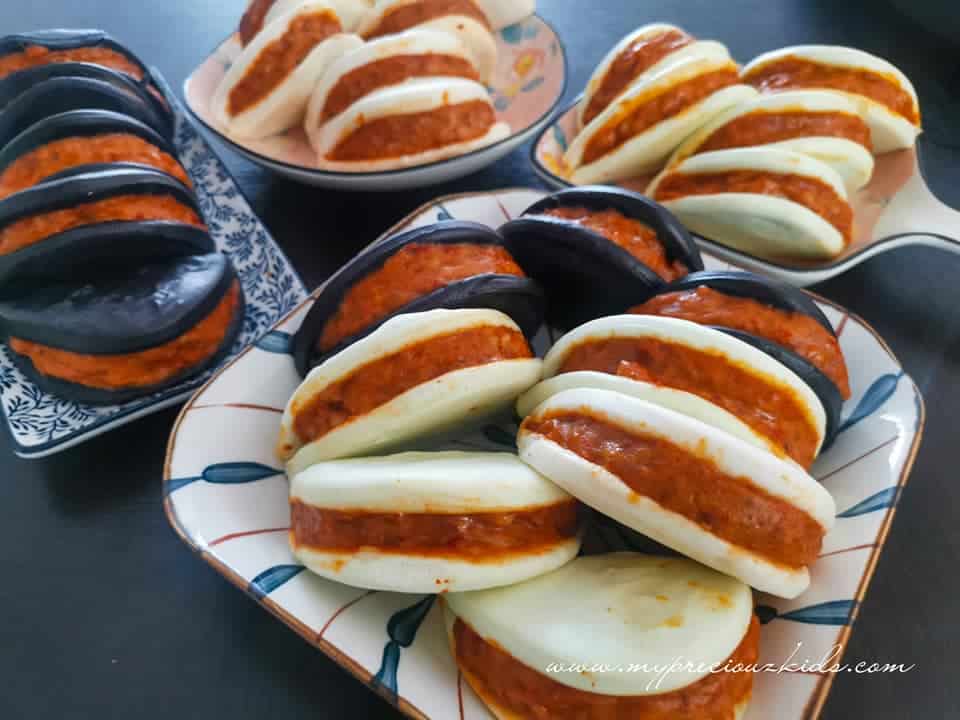 So I decided to order both piping hot Otah Buns in all 3 flavours for immediate consumption. It came super piping hot. You can see from the photo the steam and the water condensation as they arrived really piping hot! Having Otah Buns for the first time , I am totally blown away by the combination of otah fillings and soft steamed buns, and I couldn't stop at 1. You can taste the freshness, fragrant and super generous fillings and I don't find it spicy hence making this #childfriendly too. Frankly, I feel that between the 3 flavours, it does not differ much as it was the otah filling that I taste more than flavour of the bun ie pandan or charcoal. These will be a good addition to home parties or even kids birthday parties as easy to share, no mess and quite filing too!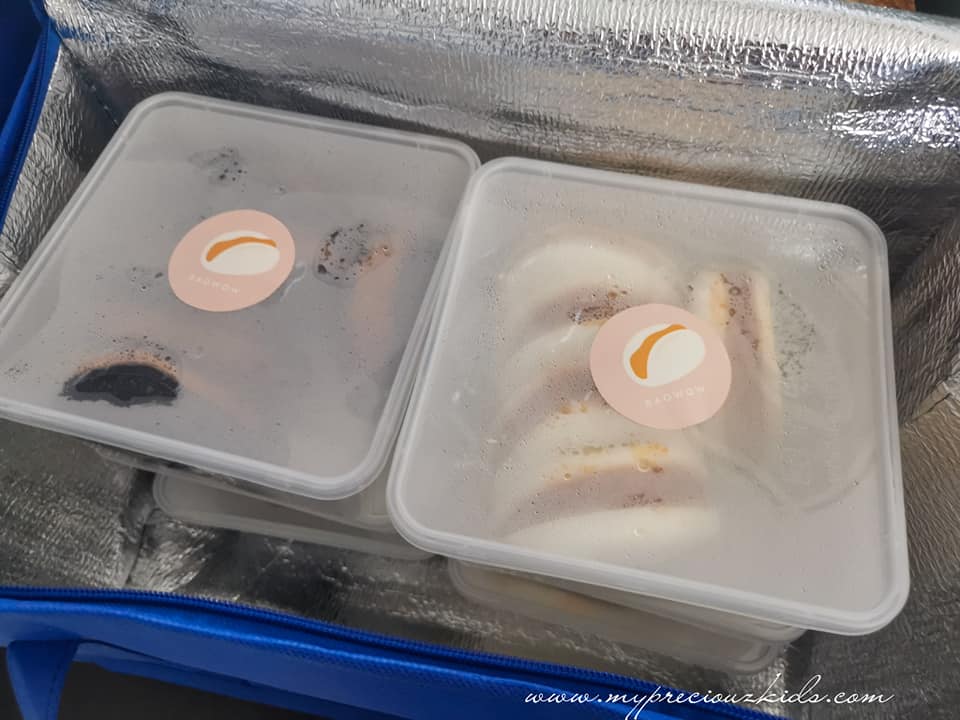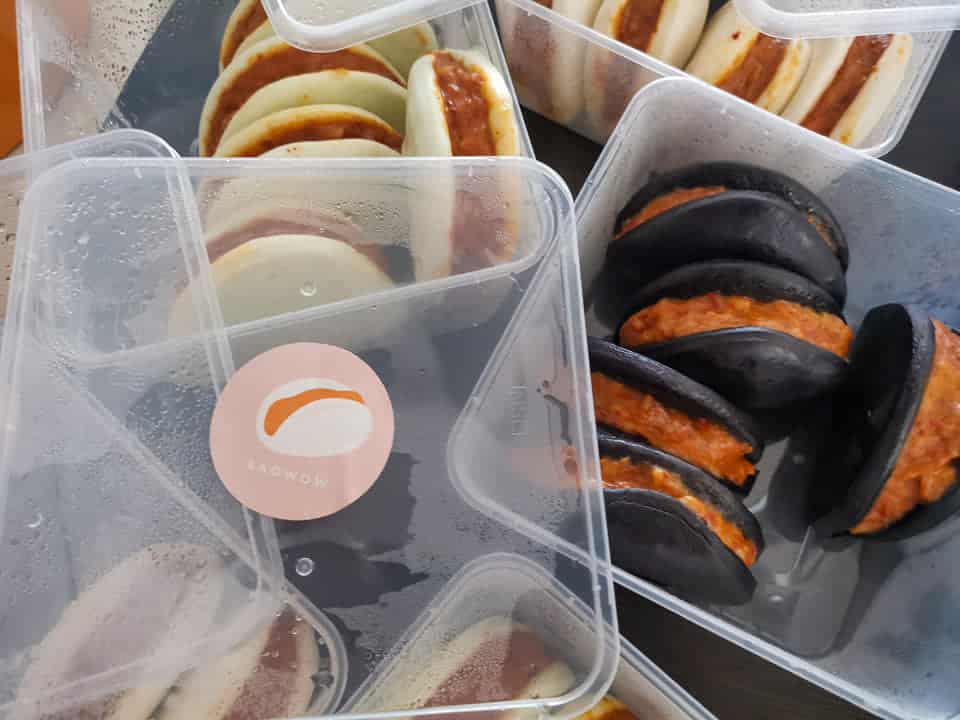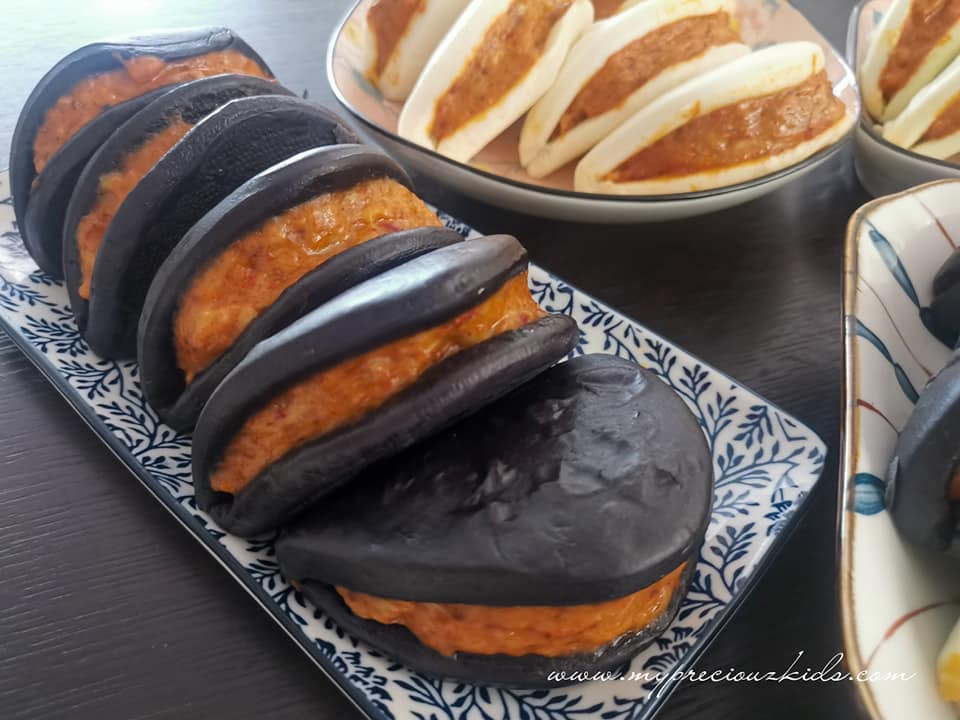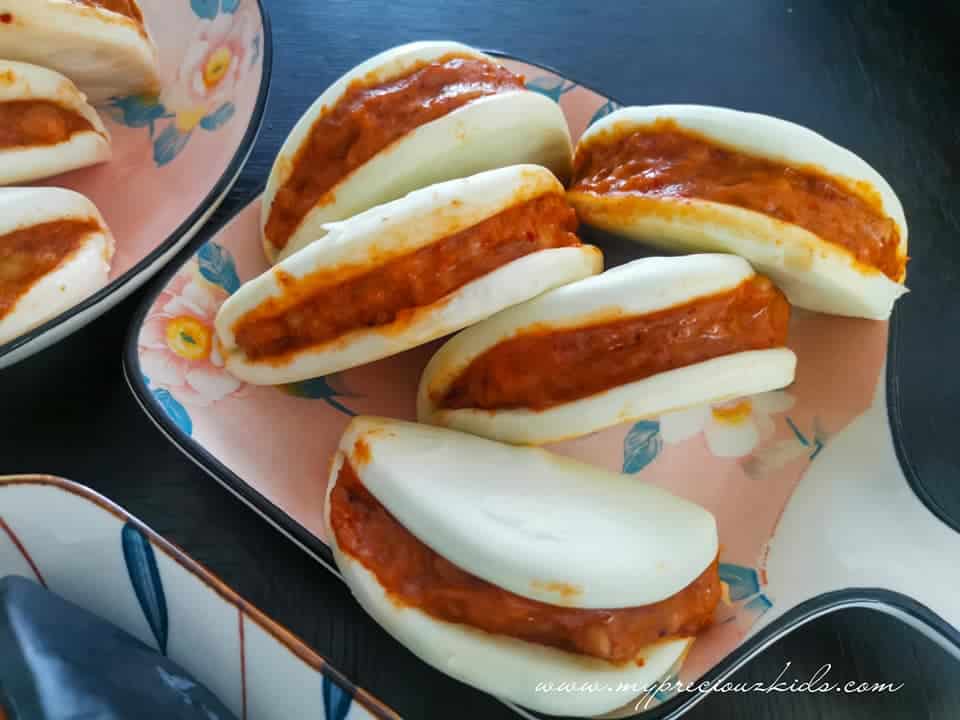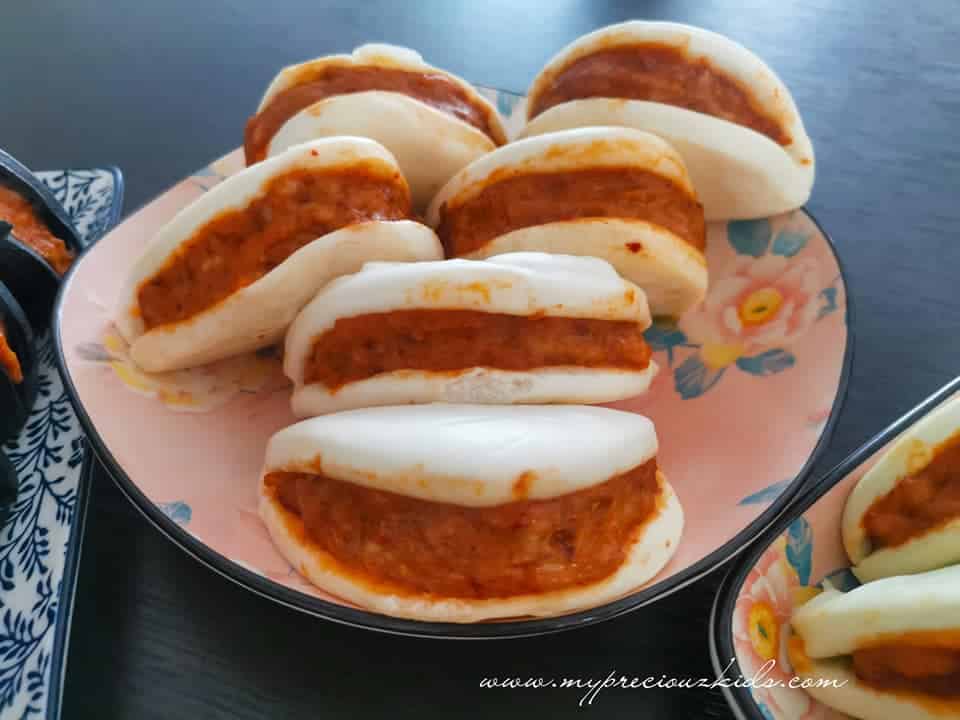 My husband who cooks well say that these buns very well-made, as it was not merely slotting the otah paste into the bun , the bun and the filing and the bun are infused together as 1 , so the filling wouldn't even drop off at all making every mouthful you have hacing both the bun and the otah paste. 
I also ordered the frozen Otah Buns as I wanted to keep it for kids' morning breakfasts before school or even to pack for their snack break or after school. Super convenient and easy as you just need to steam it beforehand and you don't really have to consume it piping hot. It tastes as good at room temperature too. Especially for us parents we had run out of ideas of what to prepare for their morning breakfast or snack break, Otah Buns from Baowow are definitely a good new addition. The frozen buns can be kept up to 2 months in the freezer.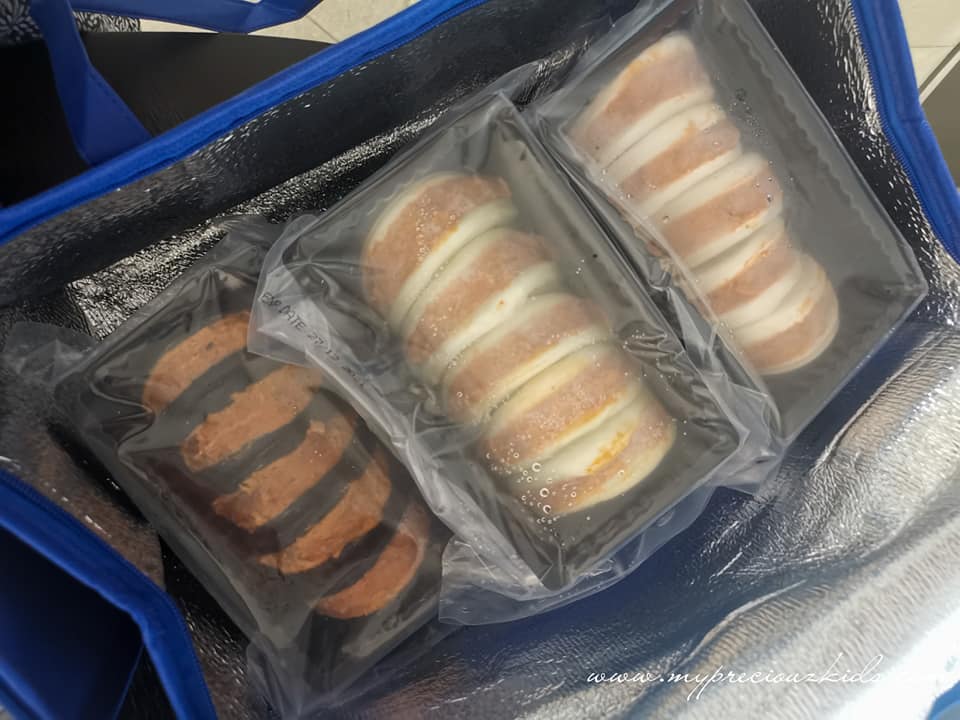 Free delivery is available in Singapore for a single order above S$100, with a delivery charge of S$6 for orders below S$100. 
Disclaimer: This is a sponsored post.  No monetary compensation was received. All opinions are my own.
Share the article