Media invite
Based on the all-time favourite book by Dr Seuss, The Cat in the Hat has been developed into a magically witty play by Britain's National Theatre. After a successful staging in 2012 and 2015, TLC  has faithfully reproduced the play in Mandarin – 戴高帽子的猫 for children aged 2 years and above.
I don't think the story need much introduction so I don't think I need to elaborate further.
When I see names like this Danny Yeo (杨君伟), Sugie Phua  and Ann Lek in the lineup and production, I know this adaptation of this well-loved story would not disappoint me – in fact I have tremendous expectation for it , like in many other SRT's theatre productions that my kids had watched.   We have watched the English adaptation a few years ago, and my kids enjoyed it tremendously – all the funny antics of The Cat in the Hat – it will be interesting to see how all the English words rhyming are being translated into Mandarin by the talented Danny Yeo.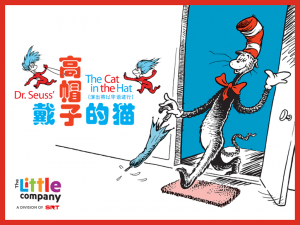 The Cat in the Hat in Mandarin (戴高帽子的猫)
DATES: 1 August to 7 September 2018
Weekdays 10am
Weekends and Public Holidays 11am and 2pm
PRICES: FROM $26 (excludes SISTIC fees)
VENUE: KC Arts Centre – Home of SRT ,20, Merbau Road, Singapore 239035
For booking , please click here
Ages 2 and above.
As part of a fun day at the theatre, there will be The Cat in the Hat Parent and Child Storytelling Workshops conducted in Mandarin. This drama workshop for parents and children (age 2 to 4) will be fun-filled with exciting games, creative activities and lots of drama skills to be learnt. The pre-show workshops are available 4, 11, 18 and 25 (9.30am) , do click here for registration.
Share the article