Media invite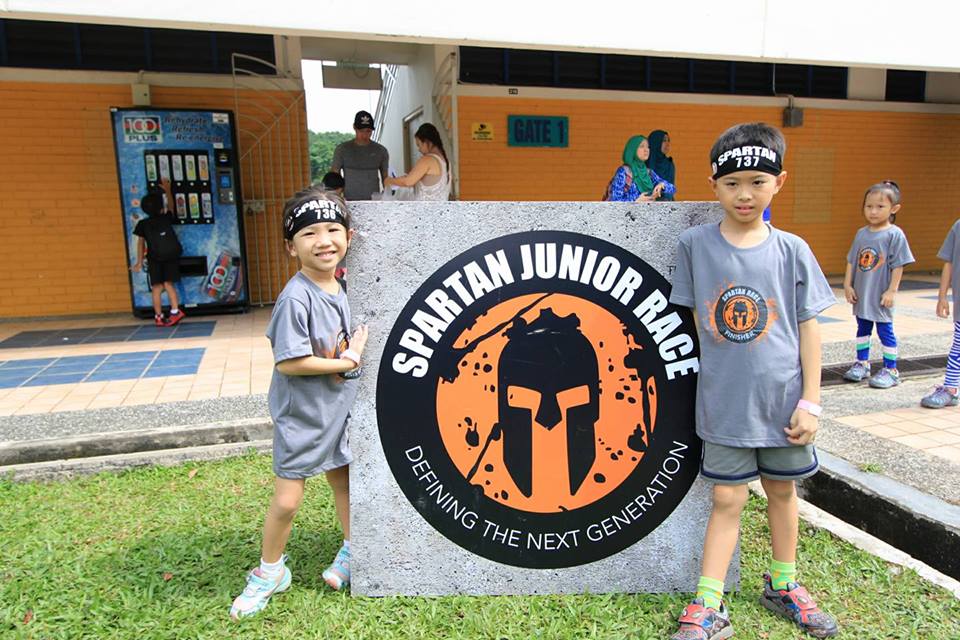 Since Spartan Race came to the shores of Singapore in Nov 2015, they have organised obstacles based race for adults and kids. My kids finally attended their first spartan junior race and it was 3rd kids edition since its inception.
You can read more about the background of the Spartan Race in my earlier blog post
For the 4 years old, it will be a 0.5km with challenges through the route. For the 5 to 10 years old, it is a 1km route with around 10 challenges. For kids between 11 to 13 years old, they have the 2km route with more challenges and are competitive in nature , hence the top 3 finishers will be awarded. I signed up my kids for the mixed categories 5-7 years 1km.
You might ask me how did I prepare my kids for the race. As the race distance is a mere 1km for their race categories, and my kids have been tested on 5km races before, I was sure the distance would not be an issue. However, I would ensure that my kids are prepare for height challenges. I have seen playground structure like spiderweb, if your kids can climb up and down without fear, there isn't much challenge that will faze them during the race.
What I did before race was to bring them for a rock climbing session to overcome any fear of heights especially for C as she has not done any rock climbing before or climb very high. This is not a necessity  but for me after the rock climbing session, I was assured that my girl will not fear height-based challenges if any.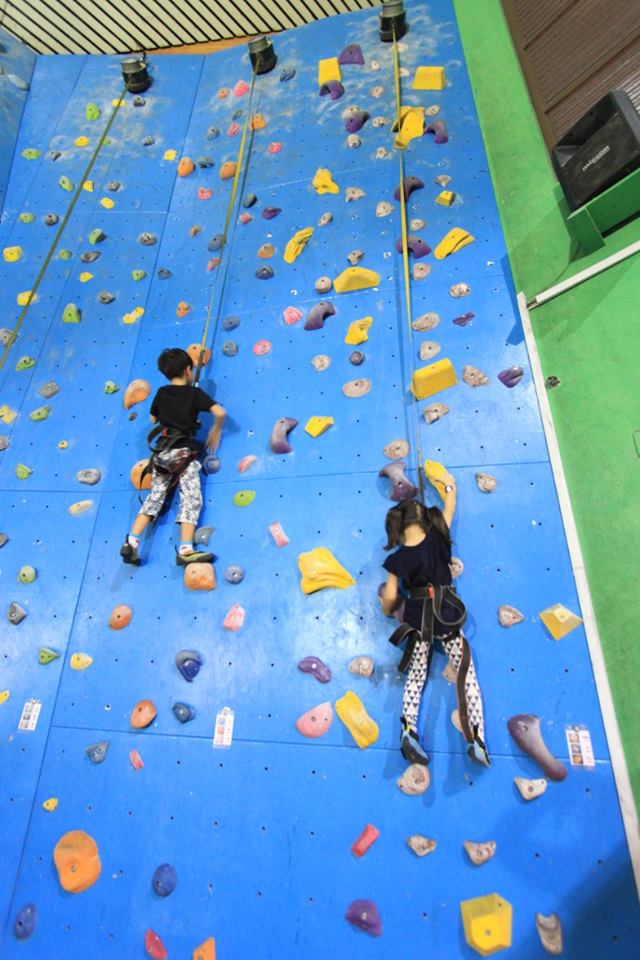 Back to race day, I opted for an afternoon session on day 1 which happened to be a public holiday. It rained in the morning and the race was delayed for the morning session due to the rain. The afternoon session were unaffected and at some point in time the sun was bright and sunny. The race pack collection was on the same day and it was very smooth especially if you have already filled up the indemnity form before the collection.
Thereafter , my kids were all raring to go dressed in their Spartan tee and the awesomely cool head band. As we were advised to arrive 1 hour before our race timing, we did have some waiting time as we arrived early to the Yio Chu Kang stadium which was the venue for this edition. There was no delay to the start time as my kids were anxious to race.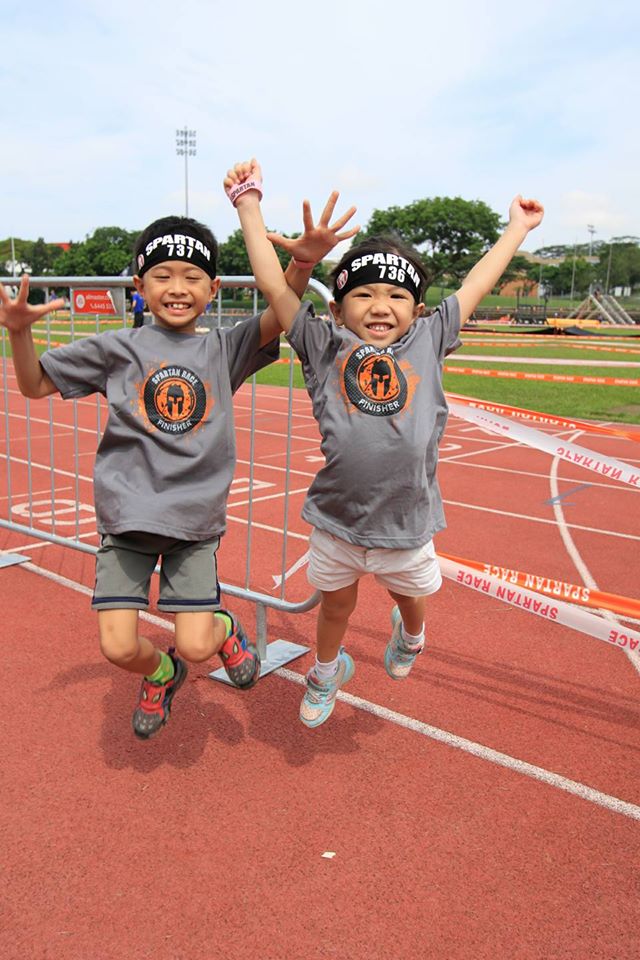 In order to ensure that there is ensure space to run and tackle the challenges, each race categories were flagged off in waves. I reckon based on my observation each wave has approximately 30 kids.
For our 1km route, there was only 1 challenge were the kids needed to line up and wait for their turn as it is the most difficult and time consuming challenge, hence a bottle neck of sort. Other than that, there is no need to wait to attempt the challenges. As you can see later in my pics, there isn't much photo of J as once we pass the half way mark of 0.5km,  he ran off to complete the other challenges on his own while I "ran along" side C to encourage and ensure she complete her challenges.
For difficult and height based challenges, there are many "coordinators" to assist the kids who are "struggling" and to ensure the safety of the kids. For parents who are worried that the kids may get injured while climbing etc, rest assured, the safety of the kids are of the utmost importance as the organiser has placed many "coordinators" especially for difficult challenges.
Parents are allowed to race along side for the younger warriors esp the 4 year old category and the 5 and 6 years old in the mixed categories.
I shall share the pictures of the race so y0u have an idea of the challenges throughout the 1km route. Of course different races will have different obstacles , but this will give you a fair idea.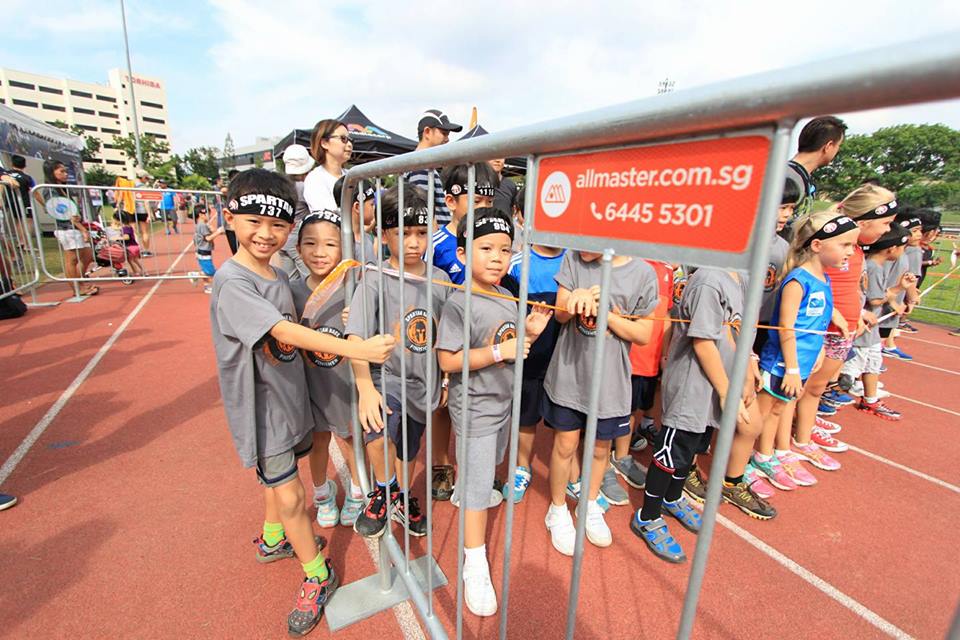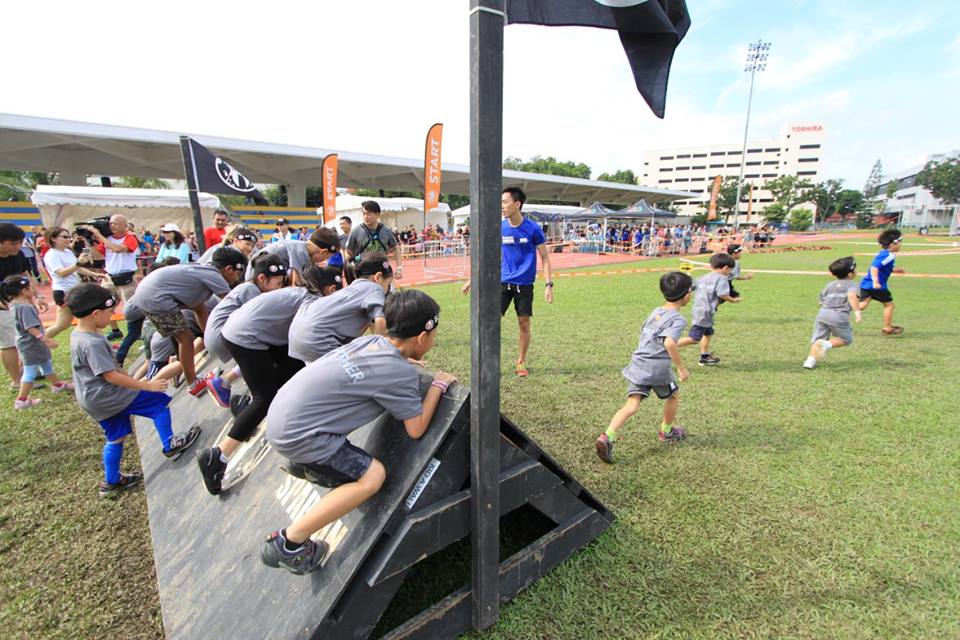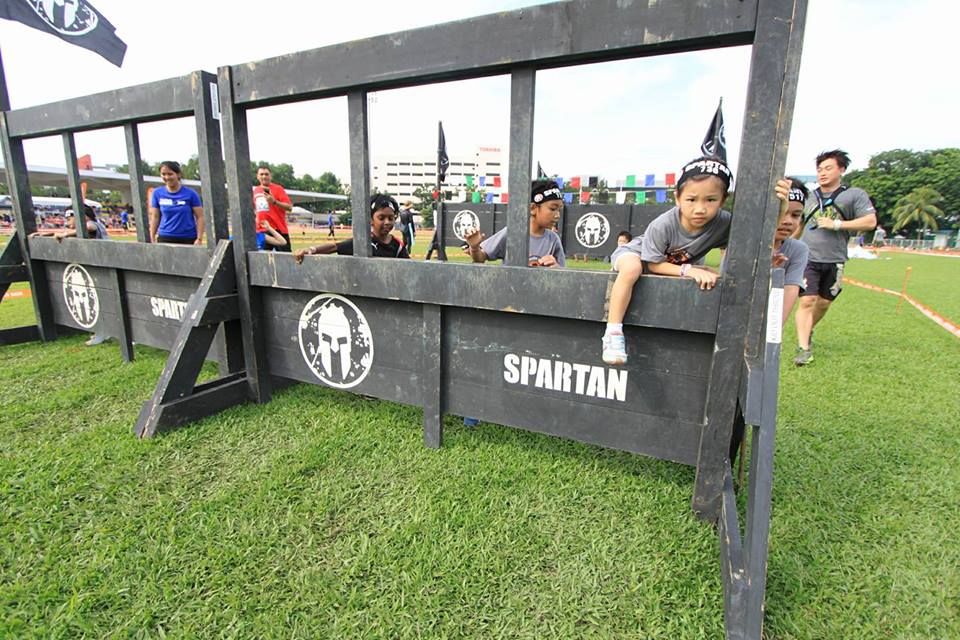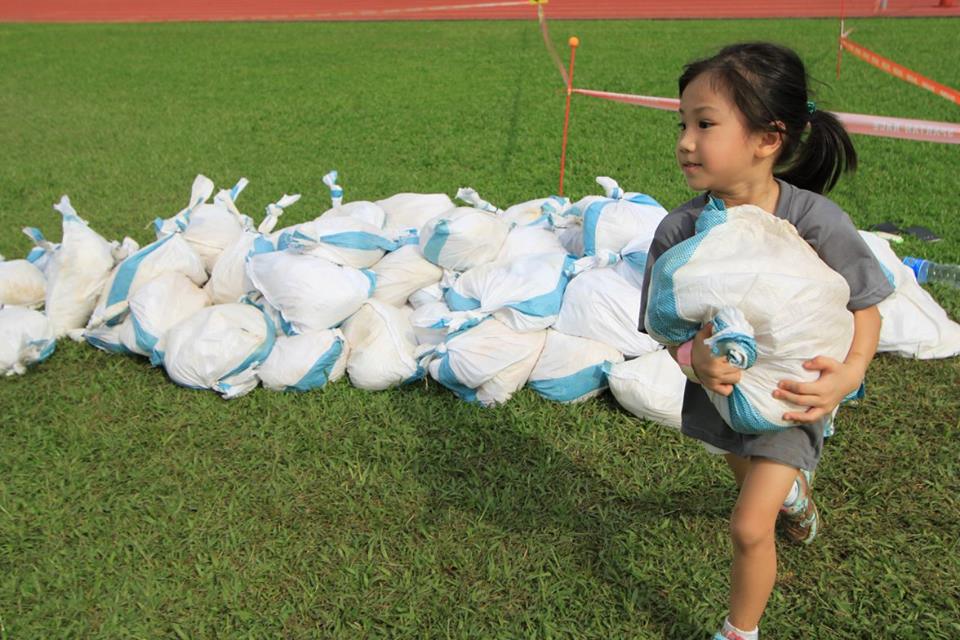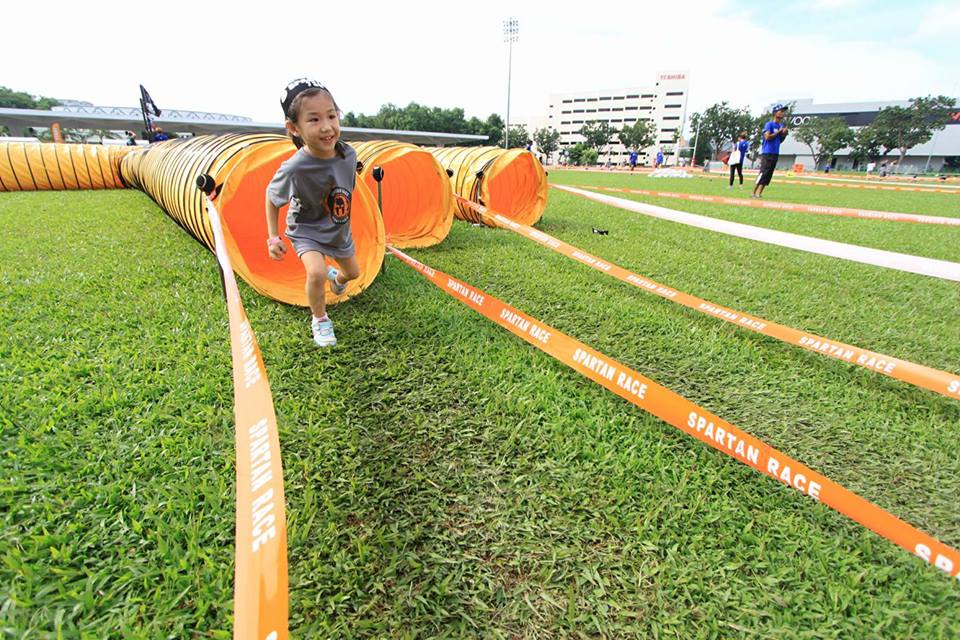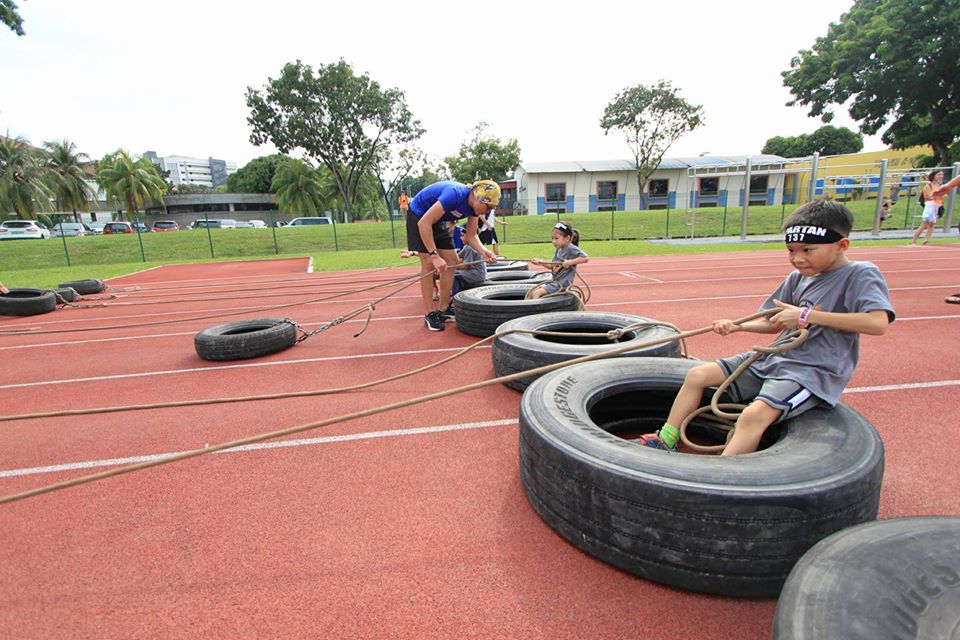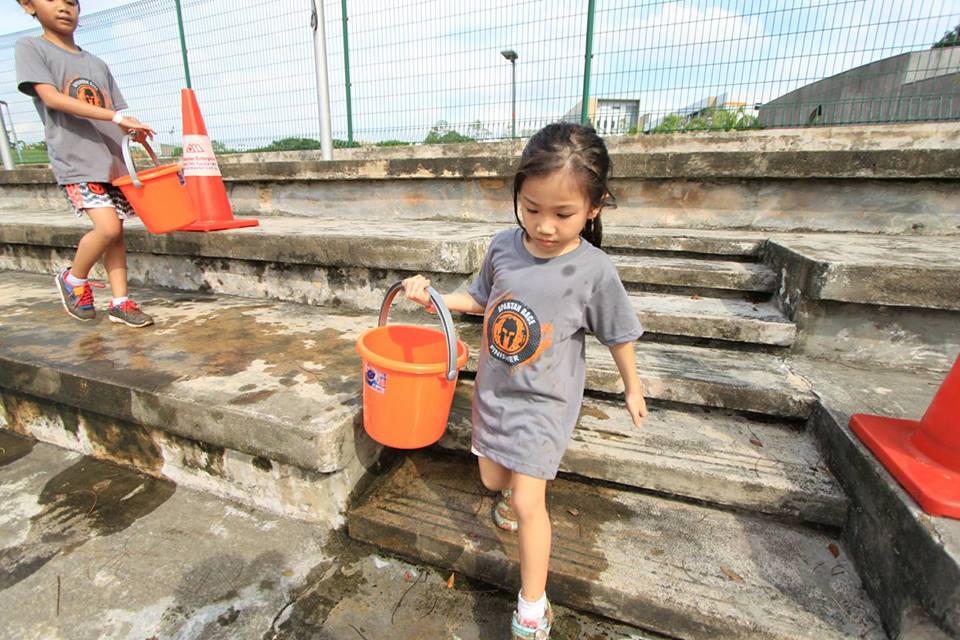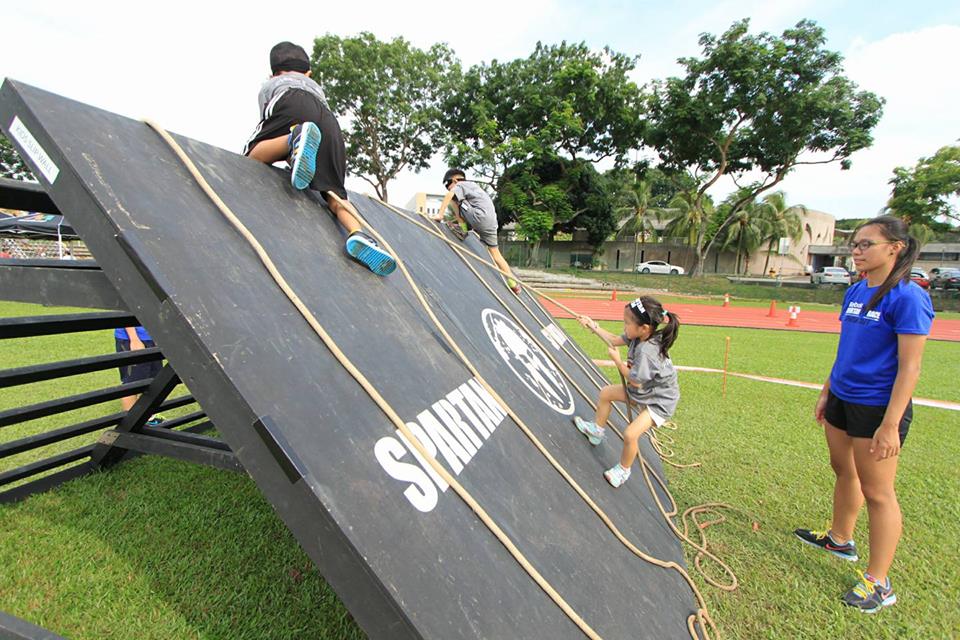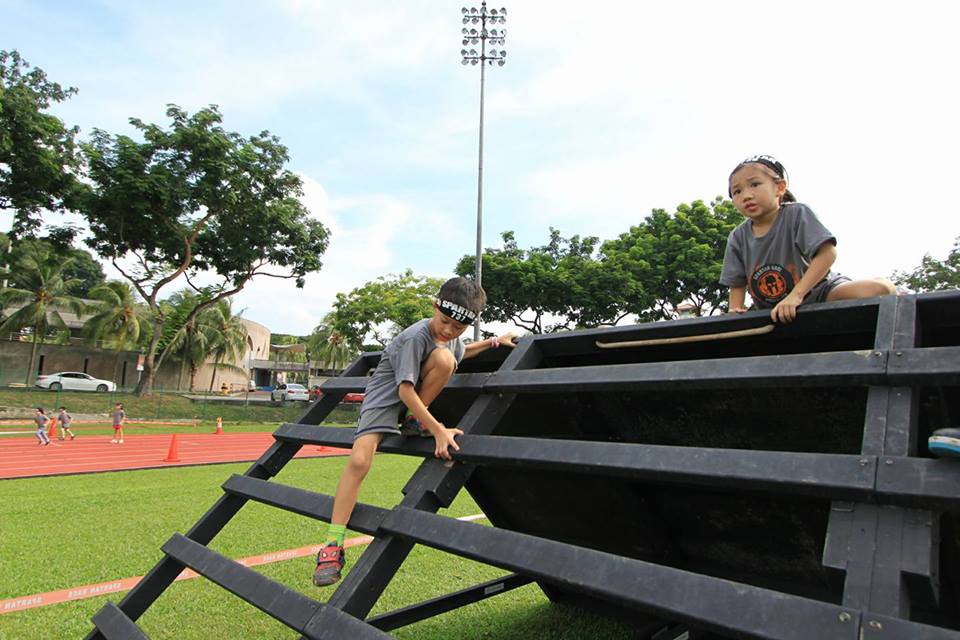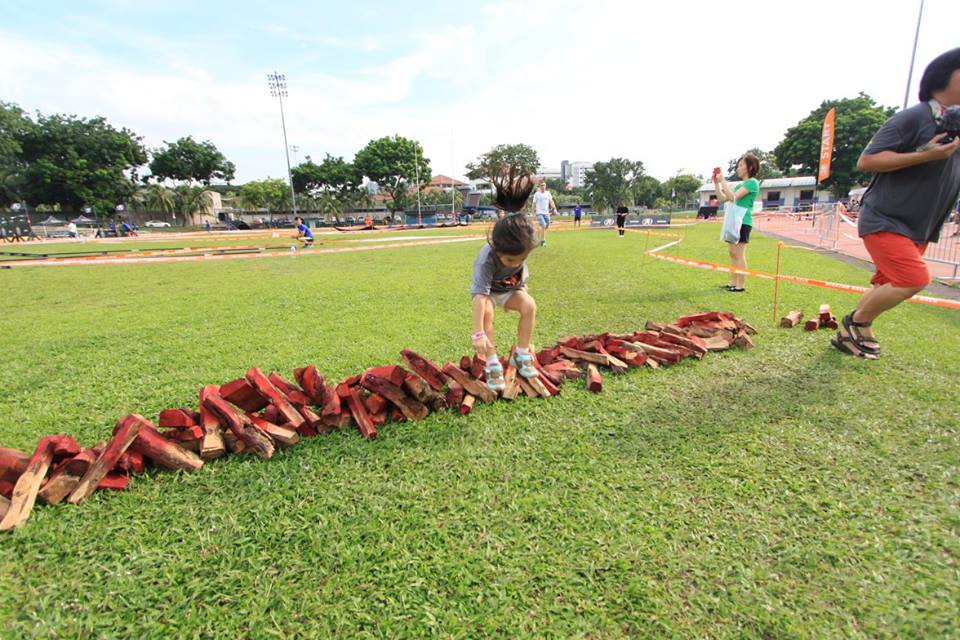 That's the finishing line of the Spartan Junior Race as the little warriors run, jump, cross over the "fire" logs !
My kids have attended many sporting events, from the ever popular Cold Storage Kids Run to 5km Marathon like the Tom & Jerry Run and the DC Justice League Run. When I heard it was a "mere" 1 km, I thought it will be another fun run for them , but boy was I wrong.  The race encourages kids to jump, run, get muddy, help each other, and have a good time while conquering obstacles. It is not about completing the race in the fastest timing but to attempt and complete all obstacles.
There were times when C gave up such as the gunny sack challenge and she was falling each time she hop or when she threw to rice sacks saying its too heavy to carry but I am glad she persevere and complete the challenges and race!
To compare with other kids run held in Singapore, the Spartan Junior Race is indeed one of its kind. It is about pushing your limit and when the tough gets going, you shouldn't just throw the towel!
As for J, I didn't witness the remaining of his race but he said that he overcame all the challenges easily and was extremely proud to complete  all in good time.
If there is one critic I had to made about the race, I wish there was more dirt and mud. Urban kids in general (C especially) are "fearful" of mud and dirt. If you see the US edition of the Spartan Kids race on youtube , you will notice there is much more dirt and mud as Spartan Race is also about embracing discomfort.
After watching my kids complete the race, I am so inspired to do it myself. For their age and size, it wasn't an easy race even though it was easy for me just running along side them and watch as they tackle the obstacles. If there is one lesson I learnt when I joined my kids recently for their rock climbing session, it is easy to watch and critic but once I experience it for myself, I realised what the kids had achieved is not an easy feat. I am sure that I will not be able to do it as well as the kids and may even give up on some obstacles.
As for myself, as I am gearing up my fitness for the GE Women's Run in mid Nov, I am stepping up on my fitness so that I can attempt for the adult edition in due course.I am all in for the next adult edition (probably not the Bintan race as it is too soon and it requires me to travel). I am hoping the organiser will do a Stadium edition (3km) for beginners and fitness newbie like me, I reckon a Sprint edition (5km) on adult course will be too daunting for me!
Taken out from their website:
Spartan is the world's best obstacle race. Period.
I can't agree more!
Share the article