As it is a very first time Shrek made famous in the movies is improvised into a musical and first time ever in Singapore, I really did not know what to expect. Of course, all will know that finally Princess Fiona will be with Shrek for the happily ever after but how will the production incorporated Shrek and his friends and foes into a stage musical production  is something that I am curious to find out with my kids.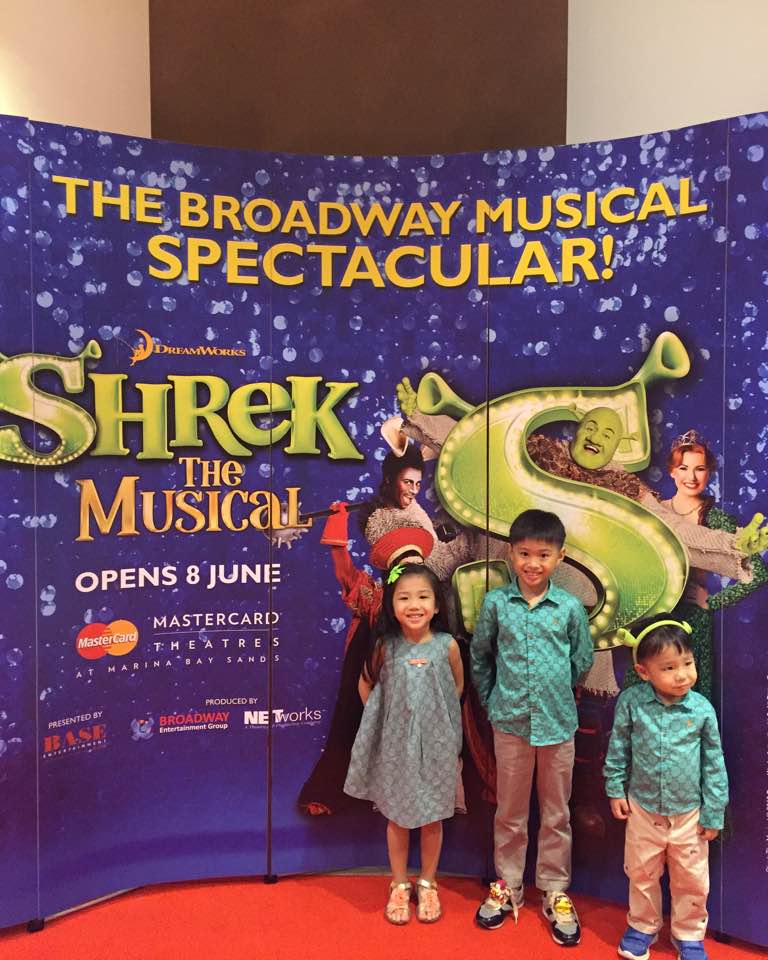 2 happy kids and 1 blur baby Shrek
As there are many fairy tale characters which my kids can relate to and being exposed the movie already, I went to the musical with J, C and small J. It was small J first time to a full length musical at Marina Bay Sands. He has come of age (1 more week to 3 years old! ) to join me for full length musicals at Marina Bay Sands Theatre. I remember J's first musical was Lion King when he was 2.5 years old. Being a first time mum and J's first musical, it was a 3 adults to 1 kid ratio worrying that he can't sit through the musical etc or an adult need to bring him out if he cries. 5 years later and 3 more kids added, I am indeed very experienced now so the ratio was reversed, 1 adult to 3 kids! And guess what, small J even though it is his maiden show, but he sat and watch and mesmerised for the entire length of the musical (there is a short intermission), all in all around 2 hours in total. So for those of you who are thinking what is the best age to bring your kids to the musical, well,  based on my experience, 3 will be a good age! But there is a disclaimer too, I wouldn't say small J has loads of TV time but he is very attentive to movies in cinema , anything of moving picture in nature, so it explains why he could sit and not fidget a single bit. He was scared when the theatre turned dark but being sitted next me he quickly forgotten his fear when the actors came on stage.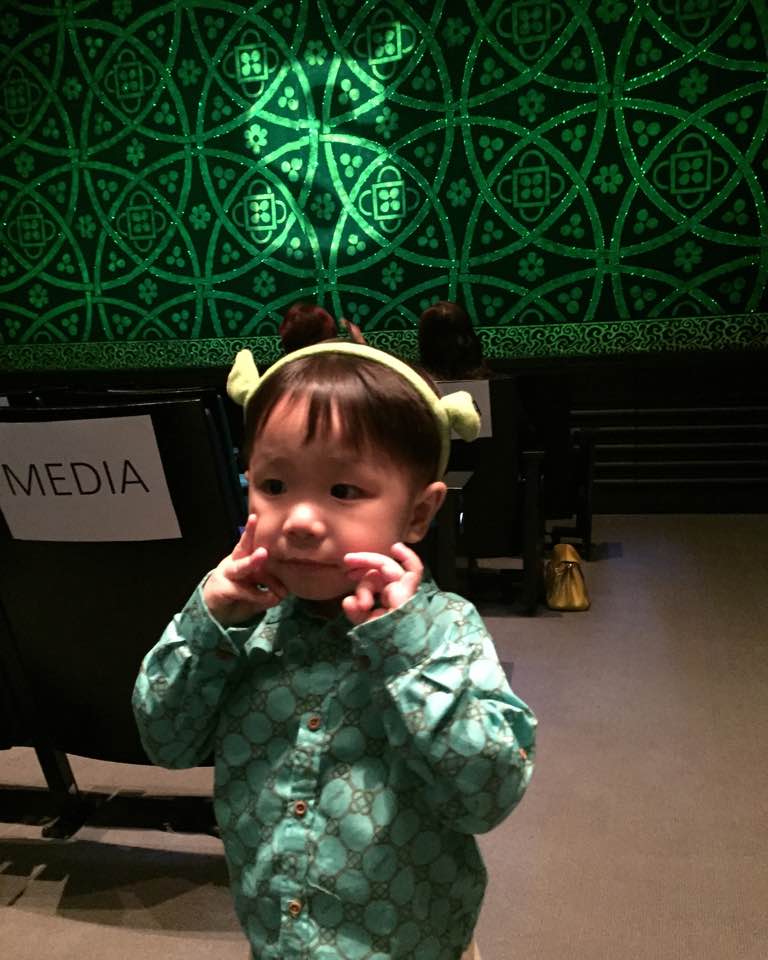 Back to the musical proper, I would say it follows the storyline of the original Shrek the movie. It started by showing young Shrek being sent away by his family and Princess Fiona banished in a tower at age 7. FYI young Shrek is acted by a group of  local cast who were selected from a local audition in Singapore held in March.
All the fairy tale characters (my kids had so much fun spotting and recognising the different fairy tale characters) were banished from Duloc (the land that Lord Farquaad rules) to the swamp where Shrek lives alone. Shrek was annoyed by the uninvited visitors and promised to meet Lord Farquard so that the fairy tale characters can return back to their rightful home and away from his swamp. Along the way, he met his soon to be BFF , Donkey. Donkey brought the house down with his funny antics and big voice.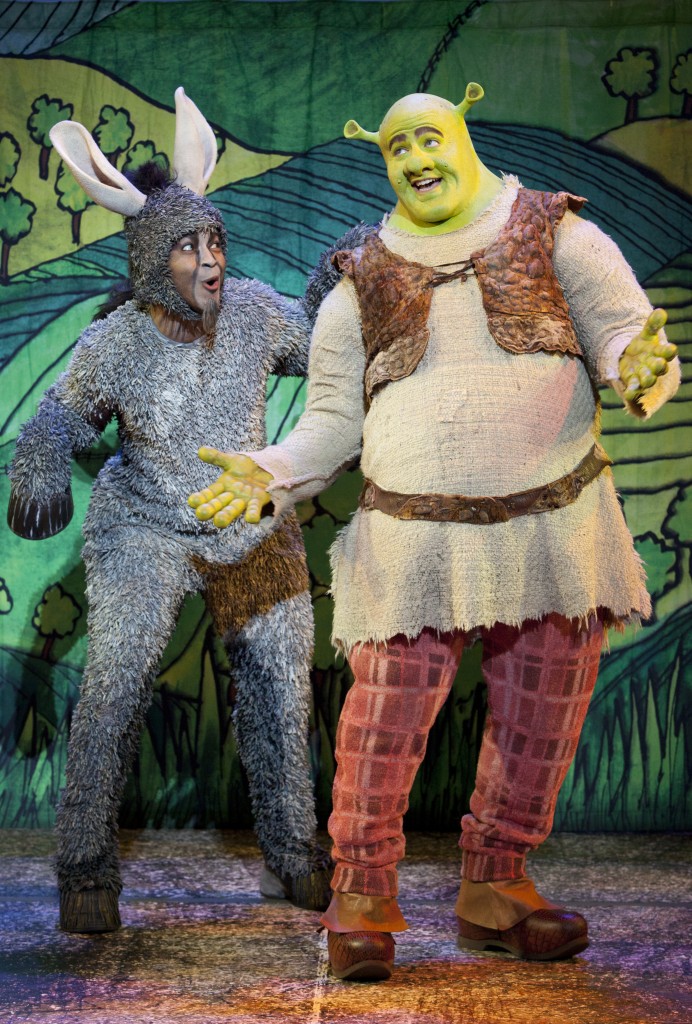 And finally we get to meet Lord Farquaad as you know he is really short in the movie and so too in the musical with special attire and the actor had to performed on his knees through the musical to play the role of pint sized Lord Farquaad. Despite having to dance, walk and performed on his knees, Lord Farquaad, to me stole the show. He is braggy, proud and funny too! He tortured the gingerbread man to make him divulge the location of Princess Fiona , as he needed to marry a princess to be a king. As Fiona is locked in a castle tower guarded by lava and a dragon. When Shrek came to Duloc and met Lord Farquaad, Lord Farquaad offered to give Shrek the deed to his swamp if he were to bring the princess to him.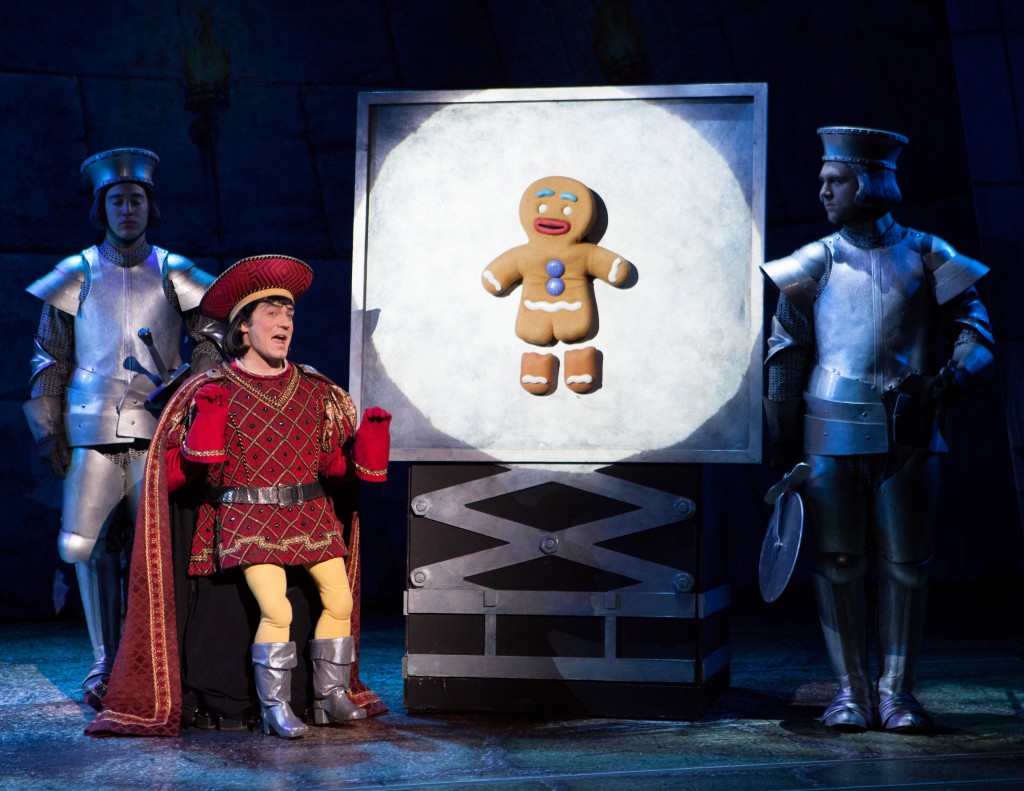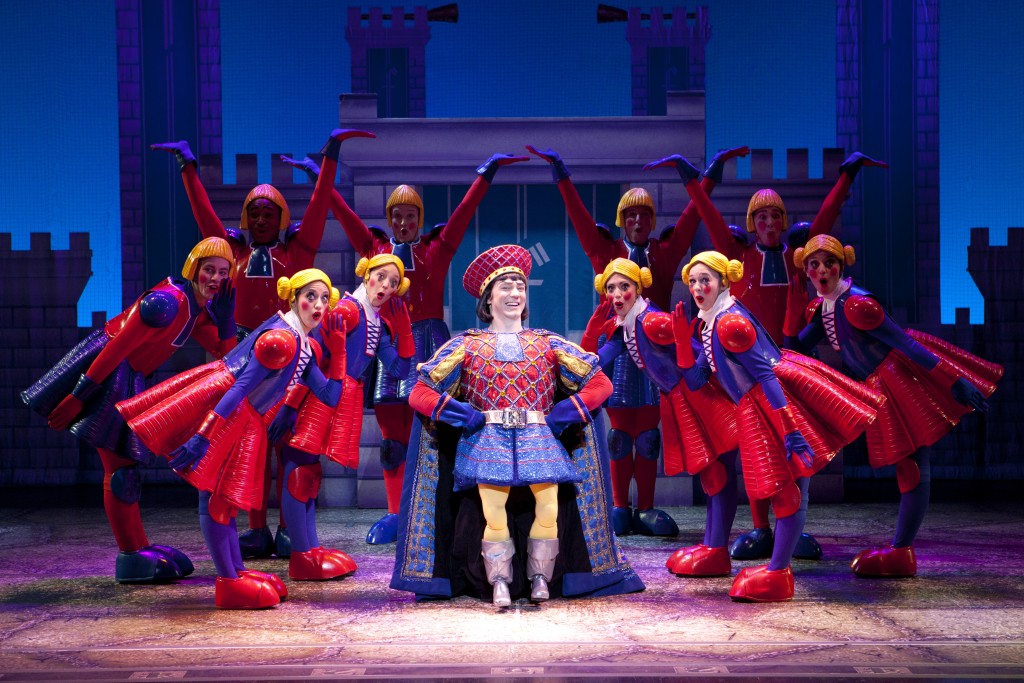 Shrek and Donkey traveled to the castle and split up to find Fiona. Donkey encountered the dragon , which is a super huge puppet carried by 4 actors  in charge for the different effect of the dragon, eyes, mouth, wings, body and tail. And I must say the dragon sang so well and so real and become J's favourite part of the show.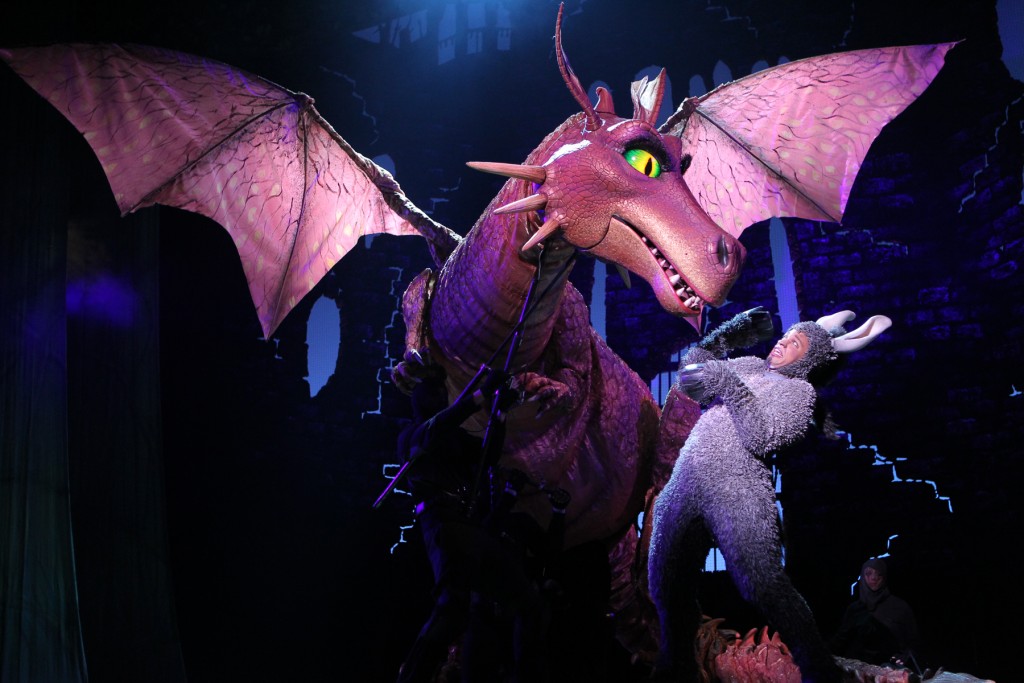 There was a heart warming scene whereby 3 Fionas of different ages sang together lamenting when the day will come when the prince charming will rescue her from the tower and that today shall be the day.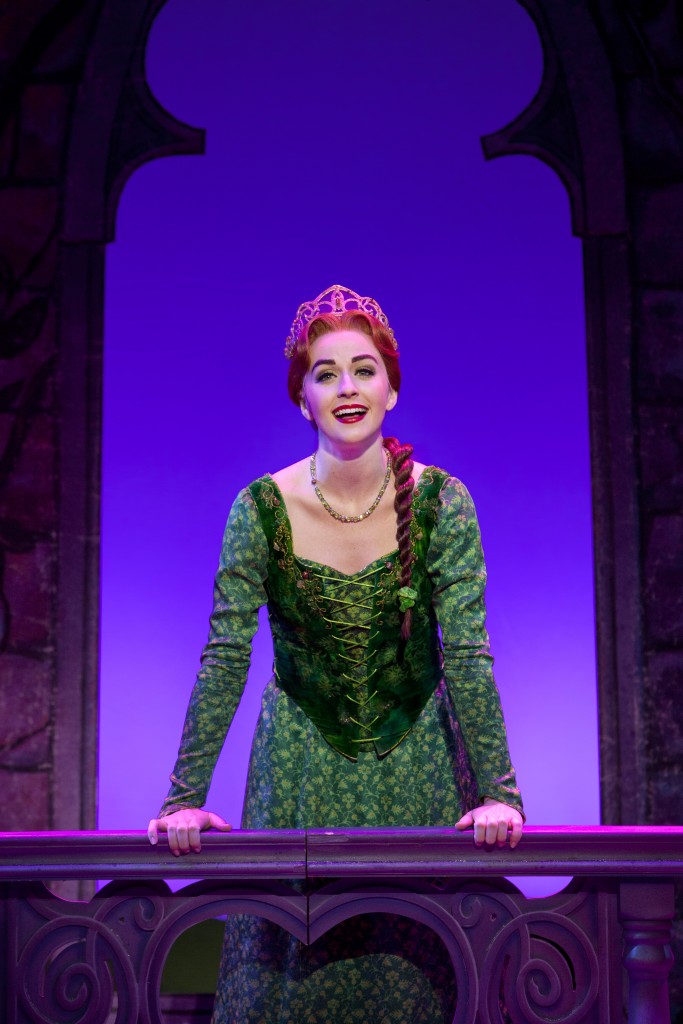 Finally, Shrek finds Fiona, in a manner so different from the way she has imagined for the past years, lack of romanticism. All 3 managed to escape the dragon and Fiona was thrilled to be rescued but is quickly disappointed when Shrek reveals he is an ogre. She found new hope of her prince charming when told that Shrek was set by Lord Farquaad to rescue her.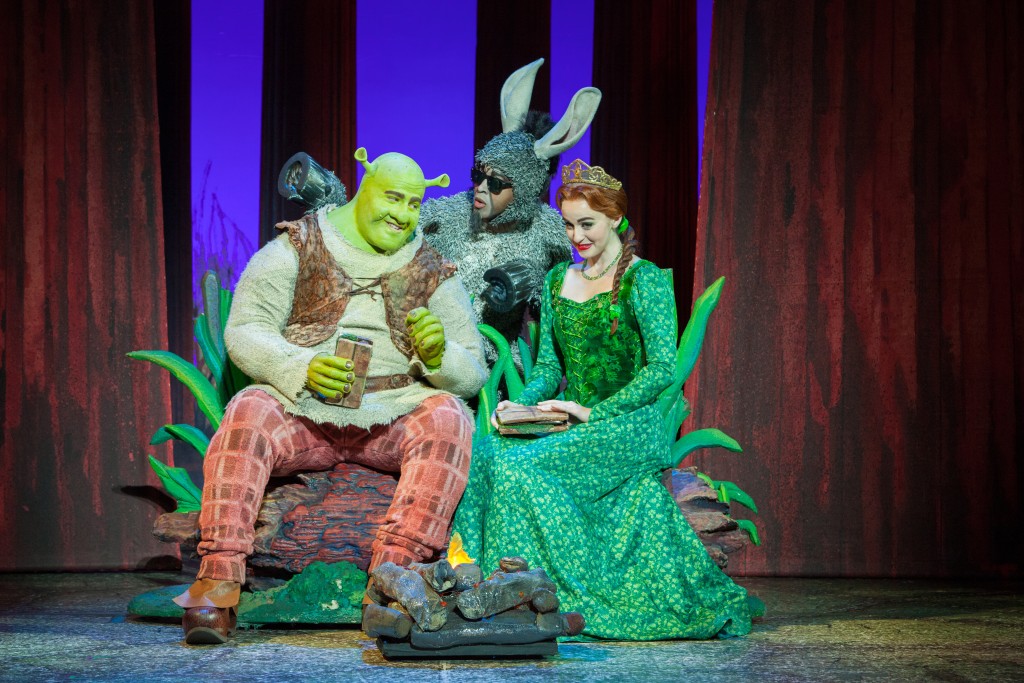 At this time, it was revealed that Fiona will transformed into an orge after sunset and only her true love's kiss will return her to her love's true form. Throughout their journey back to Duloc, Shrek and Fiona started to fall in love with each other. The night before reaching Duloc, Shrek wanted to confess his love for Fiona only to eavesdrop hearing that Fiona telling Donkey will never love a beast so ugly which was actually in reference to her being an ogre and not of Shrek.
The next morning, Shrek has brought Lord Farquaad to Fiona. The couple return to Duloc, while a hurt Shrek angrily leaves his friendship with Donkey and returns to his now-vacated swamp, remembering what Fiona "said" about him.
Donkey came back to the swamp to clear the misunderstanding and Shrek knew that he has to stop the wedding at Duloc. Shrek stopped the wedding before Farquaad can kiss Fiona before sunset. He told her that Farquaad is not her true love and only marrying her to become king. The sun sets, which turned Fiona into an ogre in front of everyone in the church. Outraged by Fiona's change in appearance, Farquaad ordered Shrek killed and Fiona detained. Shrek whistled for Dragon who bursts in along with Donkey and devoured Farquaad. Shrek and Fiona kissed and she discovered her true form is of the orge. The finale  is where all the fairy tale characters celebrated Shrek and Fiona's union to the tune of I'm a Believer and they lived happily ever after.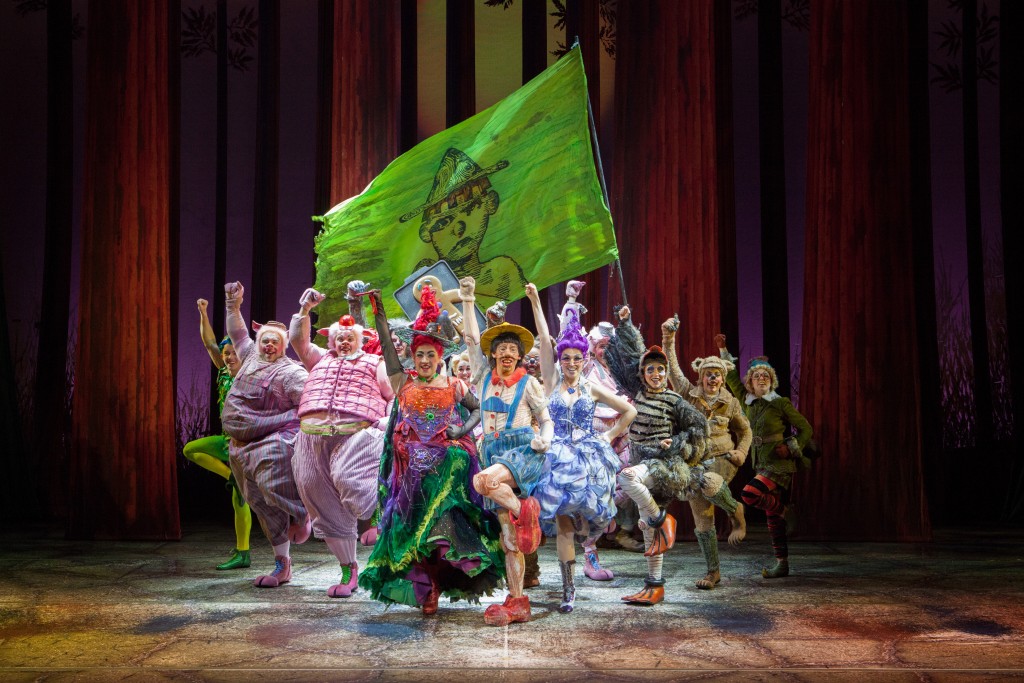 I must say the storyline in the musical does follow very closely the original first installment of the Shrek and the Shrek's Scottish accent was kept just like in the movies! Fiona was just the perfect, fiesty, unconventional princess. Donkey kept the whole musical so comical and upbeat and my personal favourite, Lord Farquaad , I thought it was even better than in the movie and his adult jokes here and there for the adult audiences. Is it suitable and entertaining for kids, based on my 3 kids aged 3 to 7 years of age, they are able to appreciate it although they liked different parts of the musical. My 3 year old wore his Shrek hairband to sleep, that is how much he loved the musical.
Well, there was just 1 complaint, the show didn't start on time and it dragged on way past 10pm which is a pretty late night for the younger kids. I suspect its due to the ticket goers who are late for the show, so typical of Singaporean.
There is just 1 week more of Shrek the Musical. For true fans of Shrek, please catch this musical as it has done the movie justice. And for the families who are looking for a feel good musical to watch with the kids, this is the one for the holidays!
Shrek The Musical
Date: 08 June (Wed) to 17 June (Sun)
Venue: MasterCard Theatres, Marina Bay Sands
Time:
Wed to Fri: 7.30pm
Sat: 2pm and 7.30pm
Sun: 1pm and 6pm
Ticket price: 
VIP Reserve : S$175
A Reserve : S$155
B Reserve : S$125
C Reserve : S$95
D Reserve : S$65
VIP Box (For 4 seats): S$700
Box Seats (For 4 seats): S$380 Tickets can be purchased from Marina Bay Sands or Sistic.
 Disclaimer: This is a sponsored post. All photos except the photo of my kids at the musical are credited to Base entertainment.
Share the article