Truth to be told, I personally had been on iFly Singapore on a rare date with hubby 2 years ago. Speaking from personal experience, it was so surreal to be able to fly even for short instances in the wind tunnel, a very highly recommended once in a lifetime experience!  Actually, one of my bucket list is to do skydiving! I guess this is as close to meeting my bucket list.
And thanks to my experience on my maiden flight with iFly Singapore, I came to know that the minimum age for iFly Singapore was 7 years of age (ie not the year they turn 7 but after their 7th birthday). So since 2 years back, I already set my mind to bring my eldest boy for his turn once he turned 7. When he turned 7 this year, I conveniently forgotten the little wish I had for my eldest , blame it all the Term2 school review etc. It was a busy April and May for me and I was just so looking forward towards the long 1 month school holidays where I do not need to worry about homework and reviews (for those who does not have kids in primary school, reviews just simply mean tests or exam just in a nicer way)
When it was time to plan for his 4 week long holidays ,as we are going for family trip for the second half of the holidays, yay!, so technically I only need to plan for 2 weeks. As I already signed him up for 1 week of Design Innovation camp with The Keys for the first week of the holidays, so I only have the second week of the holidays left to plan.
As we had a hectic first week, I decided to scale it down for week 2 as mummy needs a break too! Suddenly, I remembered by the little wish I had 2 years back now that he has turned 7, to bring my eldest for iFly Singapore and what better timing that the school holidays! Thanks to the kind folks at iFly Singapore, my 2 year old wish came true! J actually is well aware of iFly Singapore as he has seen my picture from my and his daddy's maiden flight. So when I told him that I will be bringing him for iFly Singapore he was so excited that he was practically counting down the days.
Finally, the most awaited day has come….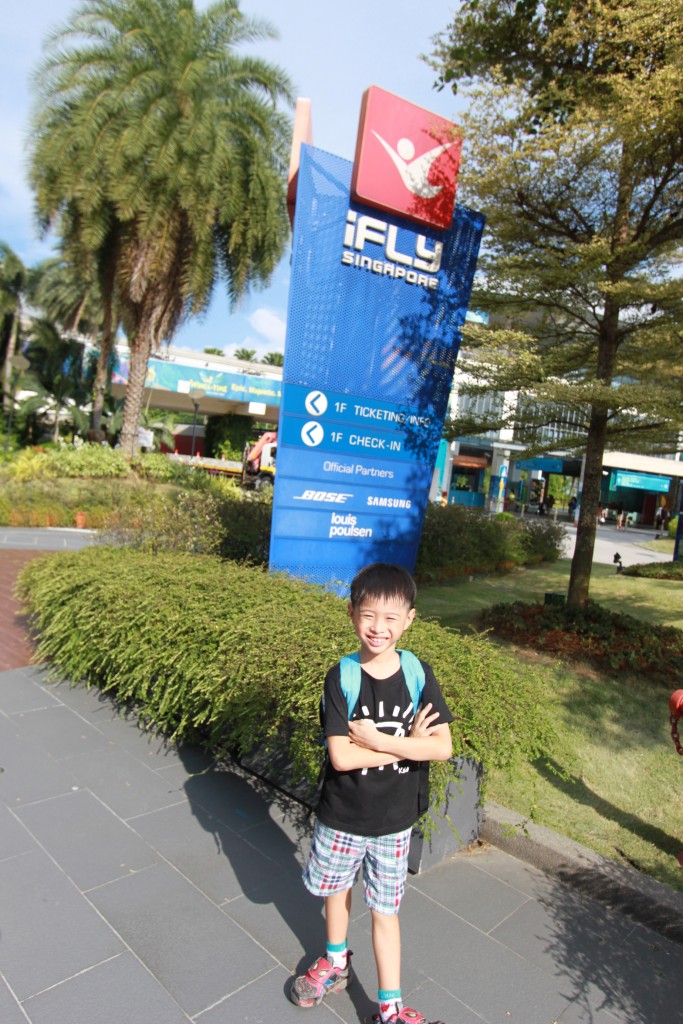 It was very very hot day, so entering iFly Singapore was a much welcome change from the outside. It was so so hot outside that J can bearly keep his eyes open and if the heat in Sentosa was too hot to bear, one of the best places to visit in Sentosa is iFly Singapore!
As J's session has been pre-booked by his dearest mummy, all I had to do was to sign an indemnity form on his behalf and for J to prove that he is 7 years of age (so MUST REMEMBER to bring your child's bus card/student card). Everyone is required to bring their identification card for verification purposes regardless of age.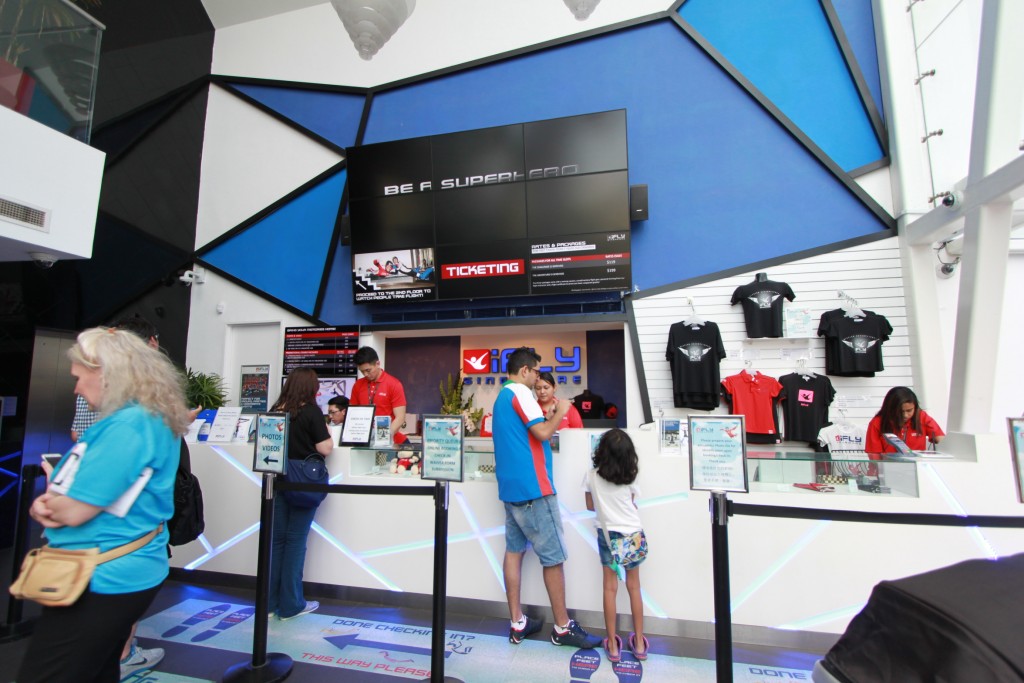 Booking online for your session with iFly Singapore is a pretty straightforward process as you can select the session and pay online here. Paying online allows you to check on the availability and its cheaper too if booked two days in advance. If you were to purchase onsite, there will be a risk that the sessions are already fully taken up as there is a limit of 16 flyers, I guess purchasing at venue is more for the tourists visiting Sentosa.
Just note that you have to be onsite 1 hour before the pre-booked session for the pre-flight video, training and safety regulations. So like for J's session which was the 5.30pm slot, we needed to arrive at 4.30pm.
Once it's your turn, there will be an announcement where you are ushered through the departure gate. The flyers will enter sophiscated-looking dark chamber to view the video introducing iFly Singapore and outlining the entire experience. Through the video, I also found out that iFly Singapore is Southeast Asia's largest wind tunnel.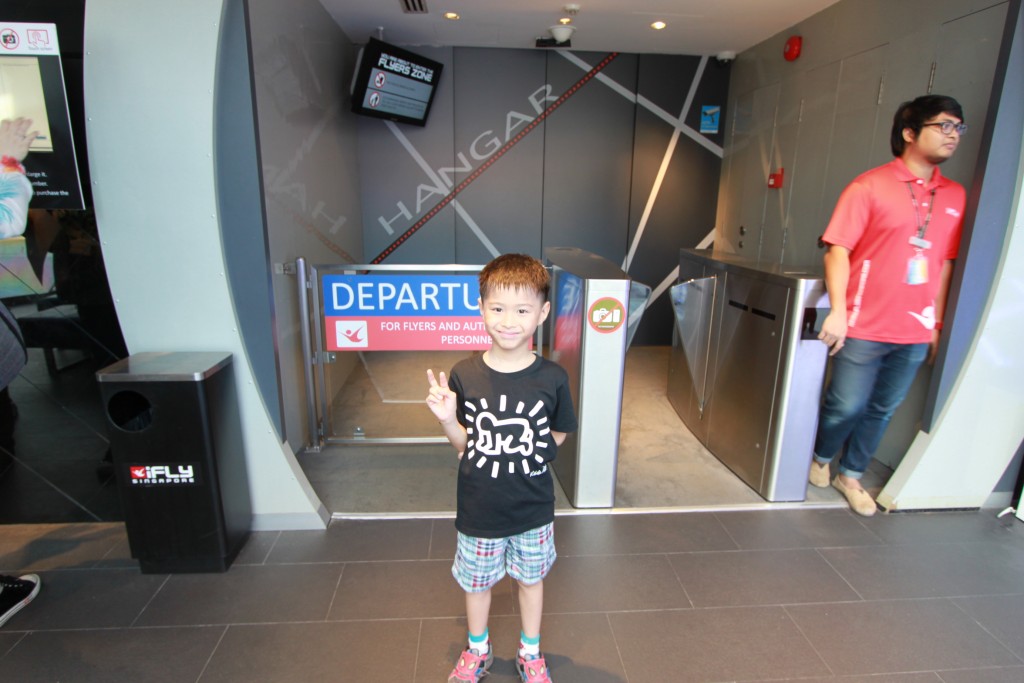 One of the introduction videos shown in that chamber can be seen below
Thereafter, the door will open where the flyers will be escorted to a small theatre to meet their instructor for their session. For J's session, he had instructor Jery. Jery will let every flyer try their flying posture on the bench and explain to them basic hand signal (the flyers are required to wear ear plugs during flight, provided by iFly Singapore).  J was lucky that the session had many children, and only 2 adults so that he don't feel so intimated. I must say many of the boys in J's session were very enthusistic in asking questions after questions . Then said I must pay Jery compliment for being about the control the constant barrage of questions from the very raring to go boys! He was also very observant that one of the flyers was a tourist from China and quickly helped her to do simple translation as all the videos and instructions given were all in English! All in all, I can tell that Jery was a very experienced instructor and I have confidence that J will be in very good hands for his first maiden flight. Finally, Jery did a quick check of their footwear to make sure it won't dropped off during flight. If you don't come in proper shoes, you can always rent it with them. And for ladies and girls, no dresses or skirts as it is difficult to wear the flight suit later. 
Finally, its time for the real thing. They are all escorted upstair to the flying chamber area. They can see the on-going flight as well, but now its time to get suited up. Next to the flying chamber, this is the area where they get the flight suits, goggles , earplugs and helmets.
I am amazed by the turnaround of all the flight sessions. True enough with all the on-going: – video, training, changing of attire, once its 5.30pm, the prior session would have finish their session and it's time for the current session. Everything running like a clockwork, ie no delays what-so-ever.  The most basic package, "The First Timer Challenge" package consists of 2 skydives. 
Finally, its master J's turn!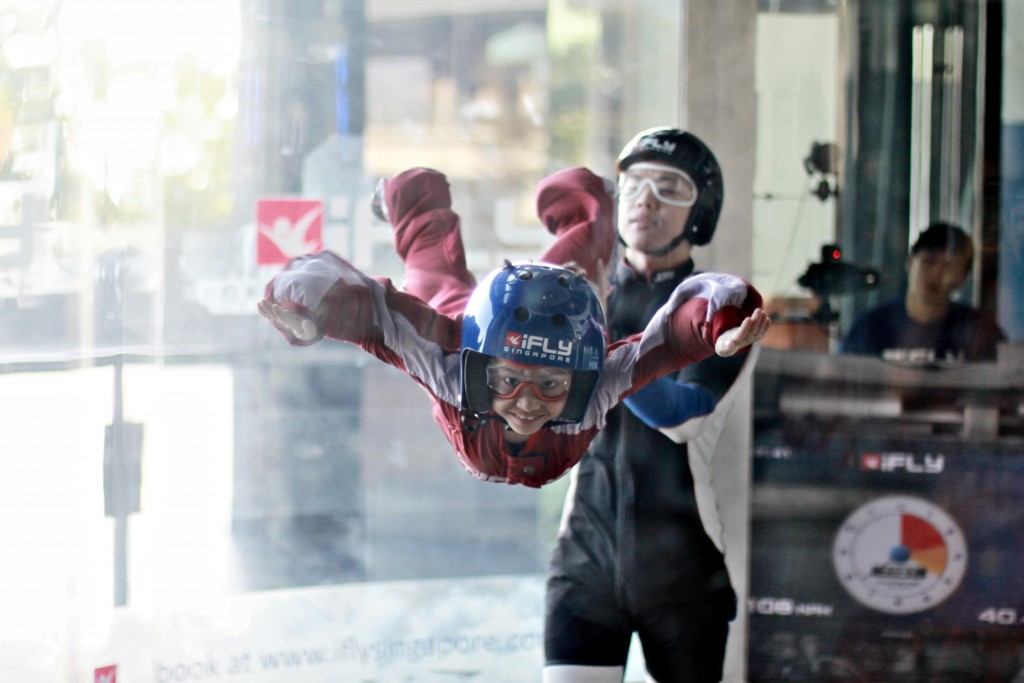 After each of the flyers has had their 2 flights, if there are more time, the instructor can offer additional flight for SGD 40 which is a steal as compared to the initial price. And the bonus part, the instructor will bring the flyer together as high up in the tunnel! J "begged" me to let him do the extra flight , I was abit hesitant as it would mean spending SGD 40  but with the benefit of hindsight, I am glad to have let him do the extra flight as he will enjoyed another level of experience where he will fly high above with the instructor.
This is not J , but just to show the height the first timers are "brought up" by the experienced instructor during the extra flight.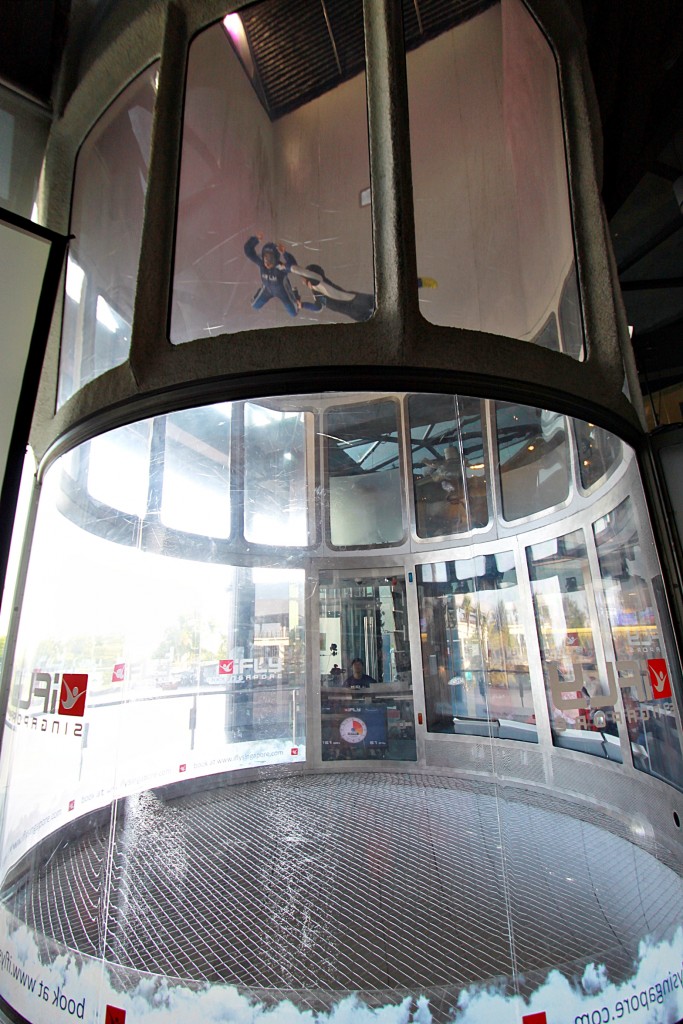 And this is J on his extra flight,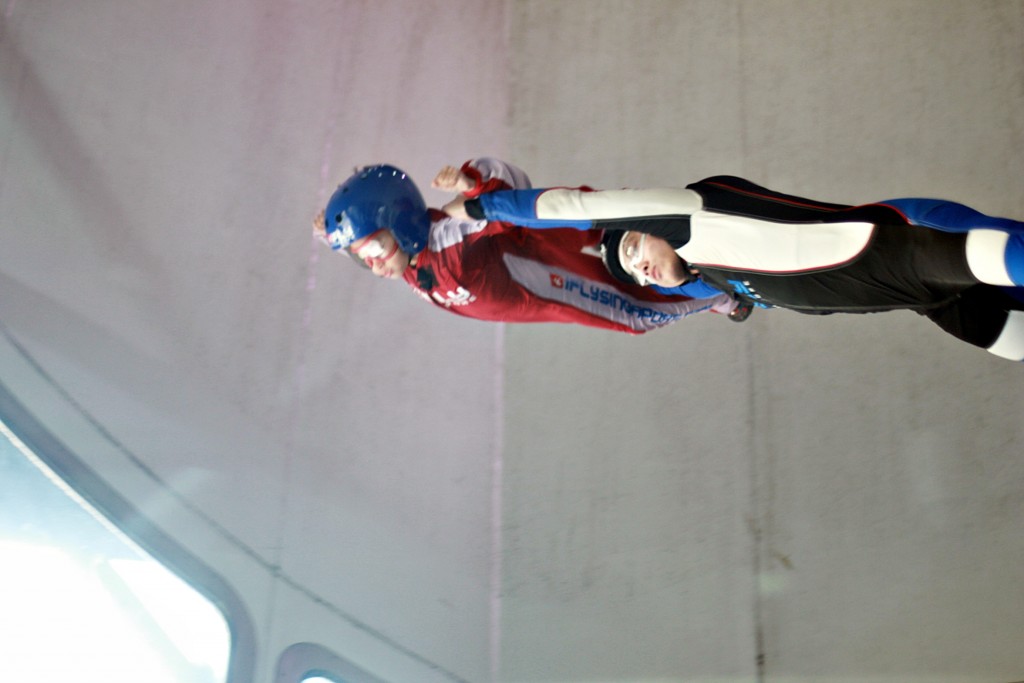 I shall not leave you with many photos but many videos as I personally think that only videos will the do the flight and experience justice!  Not words nor photos.
Each flyer is given their own flight certificate at the end of the session. Besides being commemorative in nature, the certificate can be used to skip the initial video and instructor session (pre-flight session) if you were to return for future flights with iFly Singapore. 
For parents whose kids are turning 7 in the second half of 2016, and if you are cracking your brains what to get as a birthday present for your child, think no further, book a flight with iFly Singapore. And if you as the parent has not tried it before yourself, experience it together for an unforgettable family bonding experience! I did not do the flight with J as I have done it before and I wanted to stay by the side to take photos of my son's first experience. Do note that non flyers only have restricted view of the flying chambers. Flyers can purchase video and photos at level 1 after their session (see first picture of J's mummy flying, that was purchased from iFly Singapore after my maiden session)
For others who are thinking how to fill the June holidays or end it with an unforgettable experience, I would strongly recommend an iFly Singapore experience for your child (so long they have past their 7th birthday). Now I have a small problem, all other experiences that he will encounter in future will be paled in comparison to this!
Address: iFly Singapore, 43 Siloso Beach Walk #01-01 Singapore 099010
We are beside the Beach Station, down at Siloso Beachfront in Sentosa, Singapore. The Beach Station is a focal point for all transports including Sentosa buses, trams, trains and taxis. Should you wish to drive, there are over 600 parking lots located at the basement of the station. 
Its just a short walk from the beach station to iFly Singapore. It is the first building after exiting Beach Station on the right. 
For skydiving rate, please see here.
Opening Hours
Mon, Tue, & Thu- Sun
Wed 

9:00am – 9:30pm




First Flight: 10:30am




Last Flight: 9:30pm

11:00am – 9:30pm




First Flight: 12:00pm




Last Flight: 9:30pm
Disclaimer: This is a sponsored review. No monetary compensation was received, and all opinions are my own. We paid for an extra flight which J begged me for it which I will be deducting from his savings (just joking). 
Share the article