The kind folks at Original Sprout send me a package right after I informed them the birth of baby C. The very next day , this was sent to me. (Its always nice to hear door bells bringing gifts for the newborn to break the monotony of staying confined at home 24/7.) Baby C is so blessed to be trying out this range of worry-free luxury.
Previously, I have used California Baby and Mustela for my newborns. I think being newborns they should only get the best in skin care (I dont really care about the price as the baby's consumption of skin care is low especially with the cases of Johnson & Johnson) Most importantly it must be gentle and chemical free for their delicate skin.
How does these range compared to those i have used before?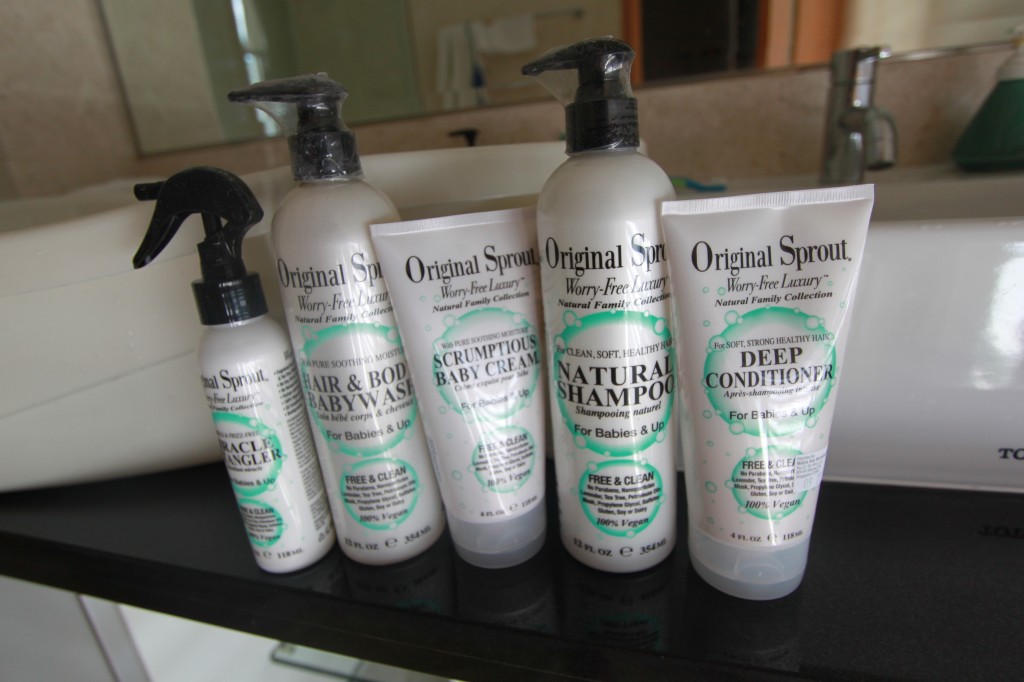 Baby C started using the Hair and Body Babywash since he returned from hospital.
Here's the baby C all ready for bath time…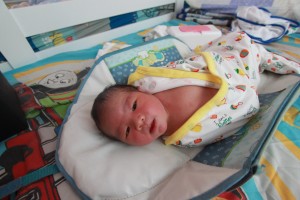 As my mum worked up a lather, i can smell a very sweet and heavenly smell. According to the label on the bottle, its a mix of Calendula, Cucumber, Rosemary and Arnica. It is easy to rinse off on hair and body leaving the body feel clean and soft and smelling so good! (newborns smell great to begin with). According to the label, this wash is also good for clearing cradle cap and dry scalp. My other kids had this and i had to buy special hair shampoo to help manage the cradle cap. Crossed fingers for now baby C doesn't seem to have it, but if it ever occur, i hope this wash will clear it too!
After bath, baby C tried the Scrumptious Baby Cream which leave the skin soft and moist. It doesn't leave an oily residue on the baby nor on my hands. And similar to the wash, it smell heavenly.
My 4 year old girl uses the Natural Shampoo, Deep Conditioner and the Miracle Detangler for her long locks.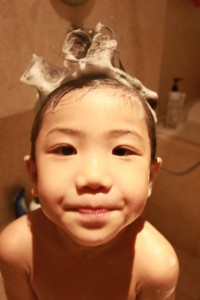 The shampoo is non-drying and with a small application of conditioner, her hair is soft and smooth. Frankly, there really isn't a need to use the Miracle Detangler as the shampoo and conditioner make the hair really easy to comb. I only use it in the morning (as she has a messy hair after waking up) before tying her hair for school so that its easy to comb n tie.
Original Sprout is currently available at Watsons, Kiddy Palace, Motherswork and 1010 Mother & Essentials.
Disclosure: We were given Original Sprout products to review. No monetary compensation was received and all opinions here are our own.
In celebration of baby C's full month, the good people at Original Sprout have kindly sponsored a hamper worth more than SGD 50 consisting of the products below:-
–          Hair & Body Babywash 12oz (worth $25)
–          Scrumptious Baby Cream 4oz (worth $16.90)
–          Miracle Detangler 4oz (worth $16.90)
–          Natural Shampoo 1.25oz
–          Deep Conditioner 1.25oz
And the hamper will be hand delivered to the lucky winner! (Singapore address only)
Share the article