Frankly, I hate doing housework and vacuum cleaners are things i wouldnt give my time of the day to analyse or review. However, the advertisement for this particular vacuum cleaner did catch my fancy. The advertisement was definitely targeted to the crowd like me who like things trendy, fashionable and IN!
Whenever I am hunting for electrical appliances for my new home, I do give a second look for this vacuum because it makes vacuuming look chic (ie not a household chore) So when i was given a chance to review this gadget, (and my first time doing something that i totally unfamiliar), i thought why not because i can finally use it instead of just ogling at it.
In the time of age when robotic vacuum seems to be THE vacuum cleaner of this decade, how does the Dyson DC62 fill the void for folks like me who has not jump on the bandwagon of owning a robotic vacuum cleaner.I will review this gadget not from a very technical angle (you can get that by googling for review of this model) but how this gadget has help me lighten my household chores.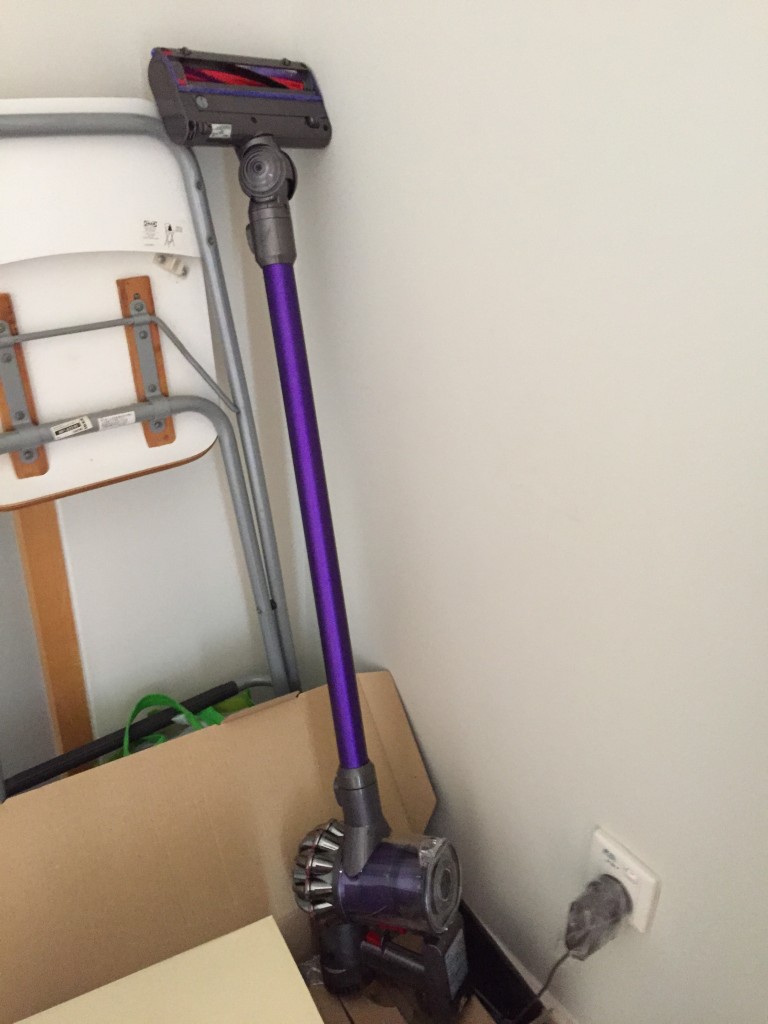 Mobility with power but short usage
Probably more so for me, mobility of the vacuum is critical. I brought a SGD 100++ vacuum cleaner for my part time helper who comes weekly.She has to bring the vacuum cleaner around my home  and  find electrical output before she does her vacuuming. There is no such need for Dyson DC62 as it is cordless. That said , its not a device my part time helper would like to use as per charge, you can get a maximum of 20 minutes of very powerful suction. My helper takes a hour plus to vacuum and it takes hours to have it fully charged. Clearly the Dyson DC62 is not able to last that long. That said, for the days in between the home cleaning visits, I adore the fact that i can just remove from the docking station to vacuum under my dining table after a meal (without the need to fumble with the cord )or after my kids created mess on the floor.
Lightweight and easy to use
For this advantage, i let these pictures speak for themselves.Here my 6 year giving me a helping hand!
Powerful
I must say that the suction power as compared to conventional corded vacuum cleaner is about similar hence truly impressed something that is cordless and mobile can have such suction capability. I guess this is their main selling point.
Reaching places high and low
The other selling point of this gadget was it is able to vacuum not just the floors, but walls and ceiling. I particularly like this mobility for a quick clean here and there.
Pricey
The last I check it is retailing more than SGD 500. Frankly i would not pay so much for a supplementary gadget. That said, the gadget was a welcome addition in my house as it is a quick pick me up and "shoot". Definitely will consider this if the price point was lower but I guess we pay for the design and its performance.
Now that i have tried the gadget of envy, I am eyeing on the new Dyson Pure Cool Purifier fan. It baffles me since when I started showing keen interest in household appliances but i guess it got to be because its a Dyson!
Disclaimer: We received this loan unit for purpose of this review. No monetary compensation was received, and all opinions are my own.
Share the article