After using the large bento box from Stuck on You for the past year since big C started primary school,  I realised that I do not use on days when big C would buy from the canteen for recess.  You can see my review here for the large bento box. For those who are not familiar with the local primary school system, since 2015 MOE  has been encouraging schools to provide two meal breaks – one longer, one shorter – ie recess and snack break.
I find the large bento box is a tad too big for snack break but perfect for recess break when the kid needs a larger meal. I couldn't be more delighted when Stuck on You finally launched their mini version of the large bento box! This is just perfect size for snack break. So now, I have a personalised bento box for large meals like recess and another smaller one for smaller meals like snack break and for the smaller tummies.
At first sight
As always ordering it online is a breeze. You can customise to your heart's content as the website will show the final. There are three categories of designs – fun, fresh and simple. The fun design has the most design to choose from but it is up to individual preference. I suppose for tweens and teens, they would prefer less kiddish design which can be found in simple category.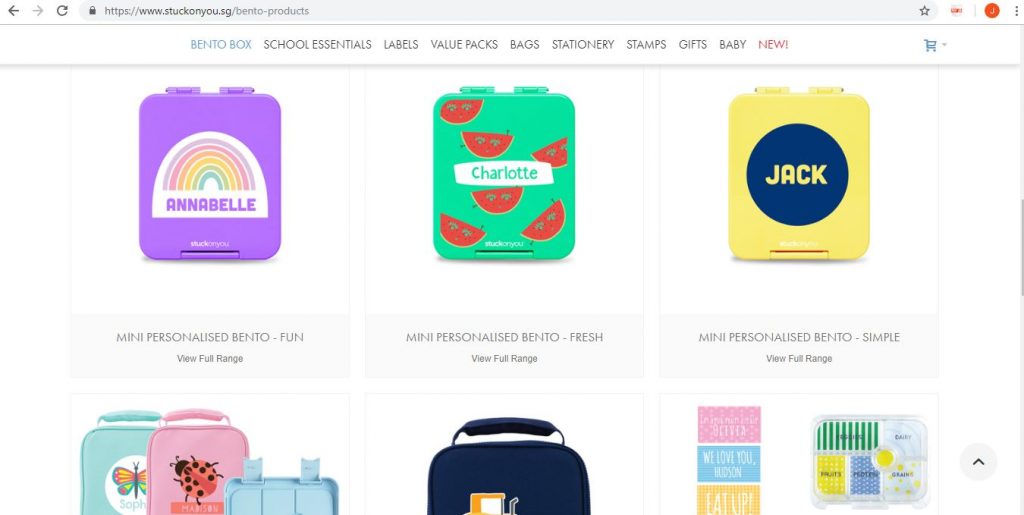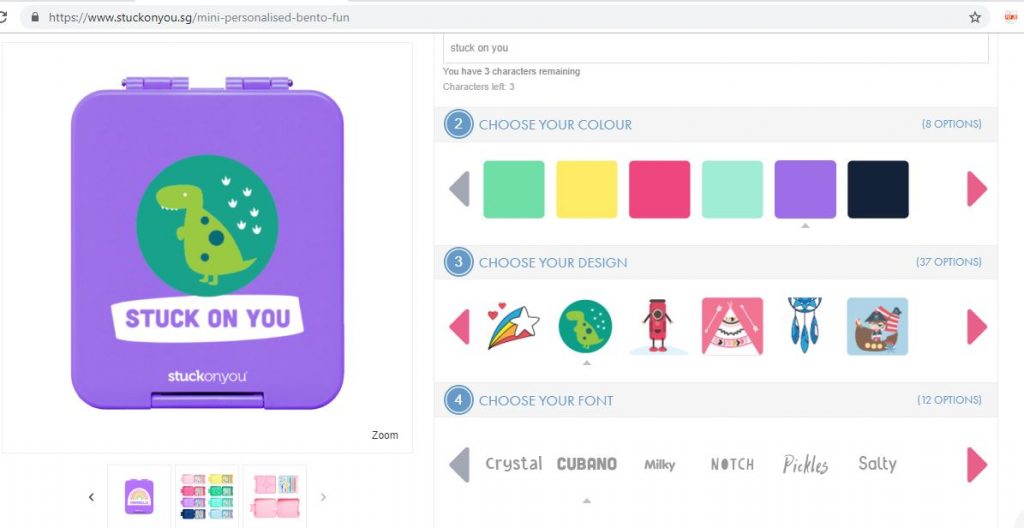 I actually love the unicorn design a lot so I had a hard design choosing the design as it is all so pretty. There are also lovely boy designs too and many bento box colours (8 colours to be precise) and many fonts to mix and match! The OCD me wanted to get the exact same design as big C's older bento box so that its matchy matchy but I think I should try a different design for a change! So being inspired by big C's coming birthday theme, I decided it shall be mermaid for a change!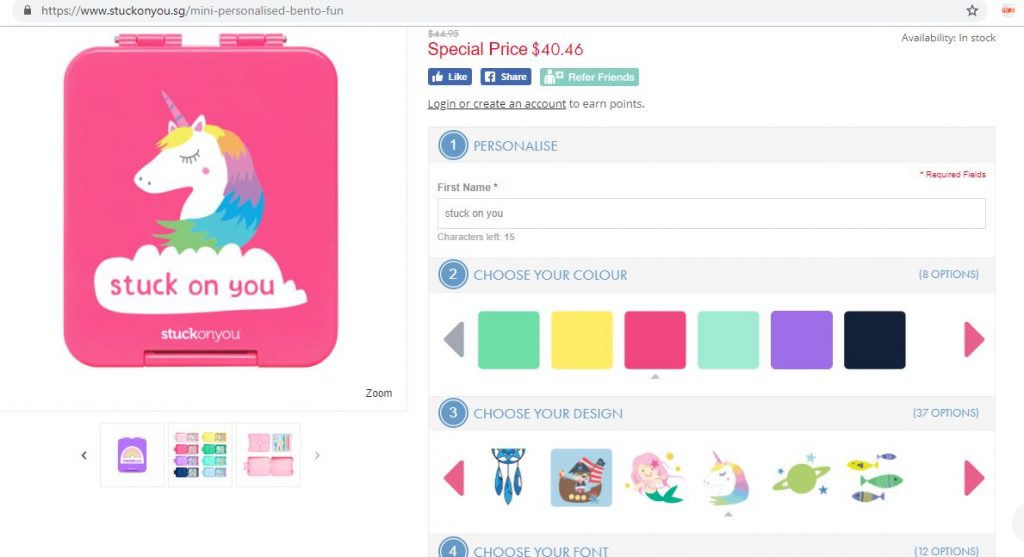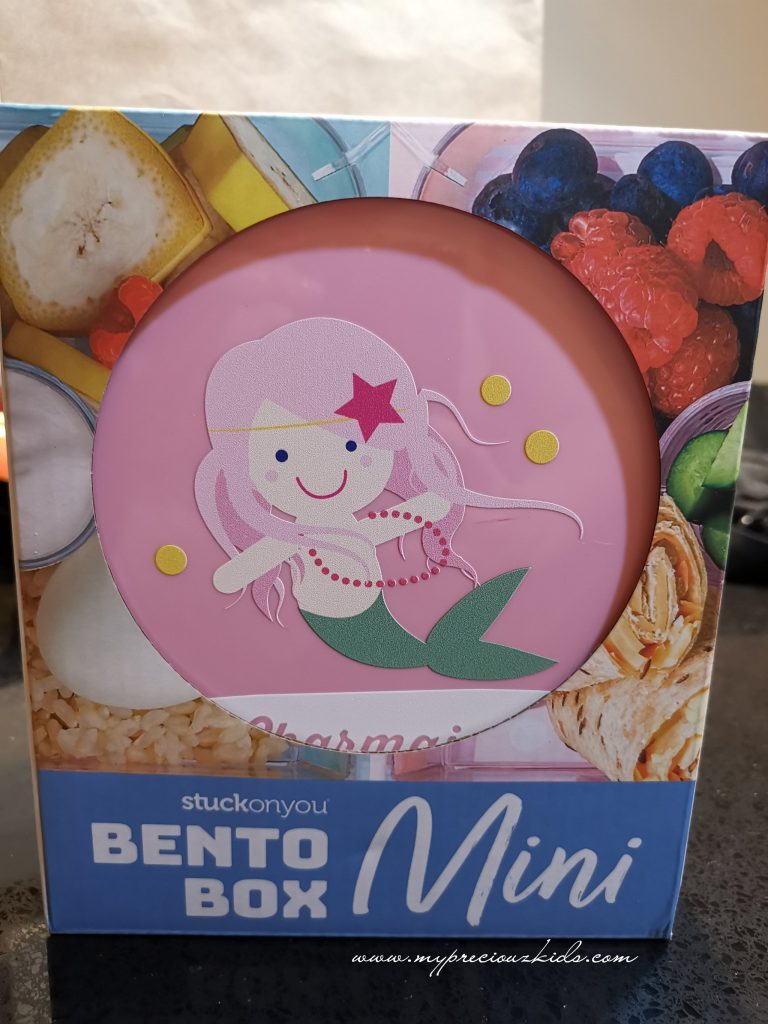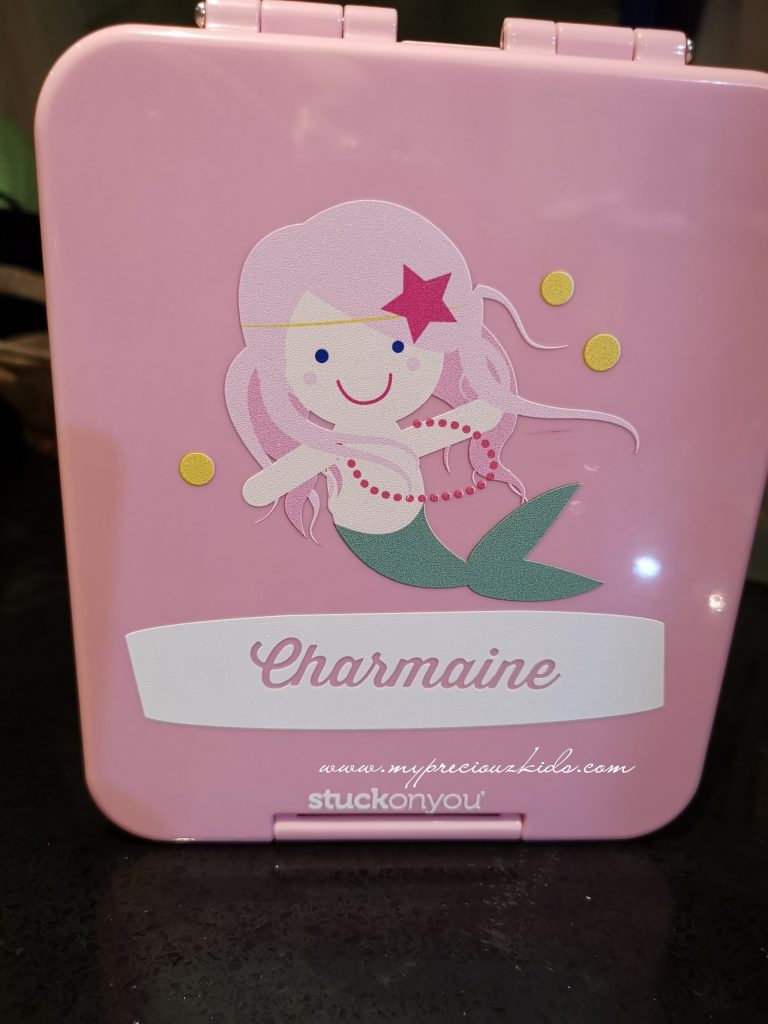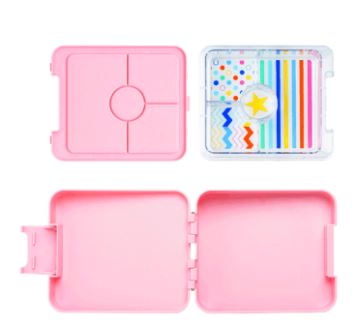 I am sure you are keen to see a side by side comparison to the earlier larger bento boxes from Stuck on you. I would say the mini version is half the size and with 4 compartments. Even though it is smaller, the biggest compartment of the mini bento box is still extremely roomy. You can see from the sample bento set below , it probably can fit more than 10 open face pineapple tarts.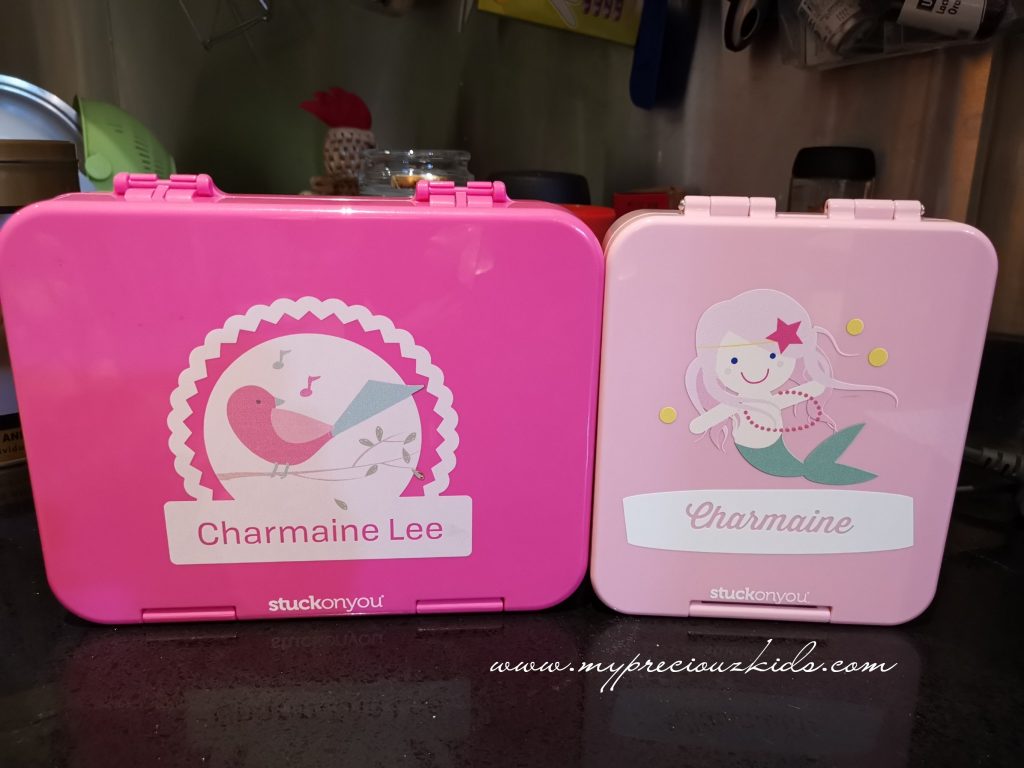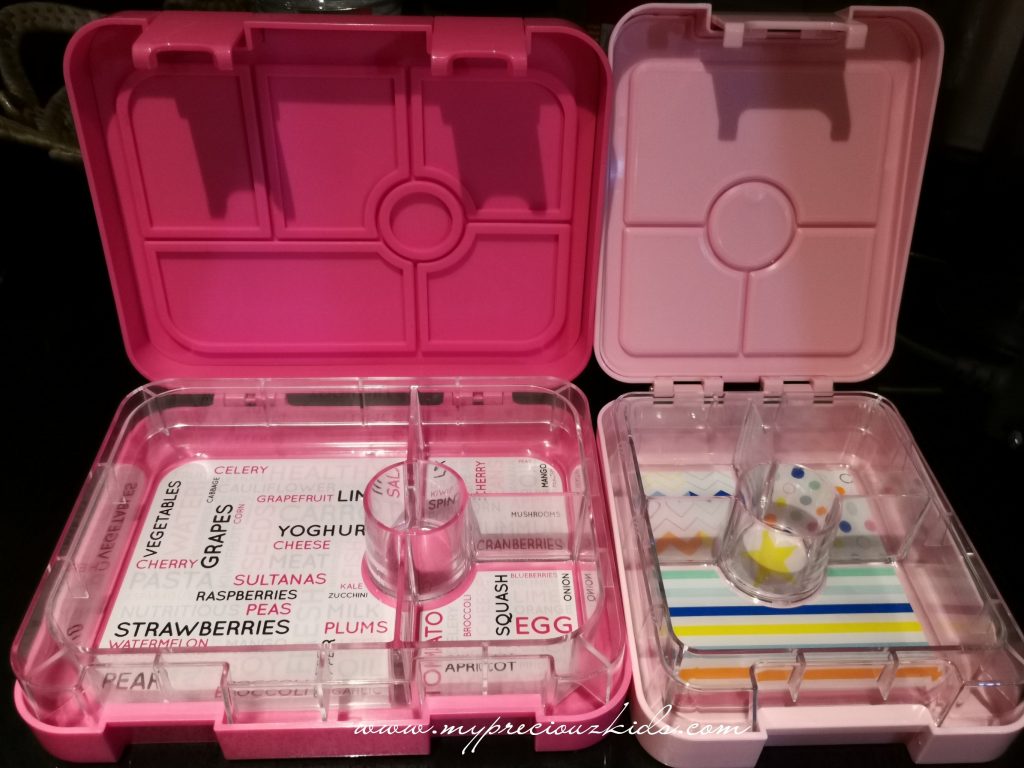 Using it
It is made of 100% food safe materials, free from BPA and phthalates. The lid is lined with leak proof silicone seal that covers each individual compartment to keep food fresh (no longer have soggy biscuits!) and encourage healthy eating. That said, it is not advisable to put water or other liquid. The only recommended are yogurt dip and sauces. All parts of the Bento Box Mini are dishwasher safe (top rack only) or use my method , wash by hand and the parts should be kept separated.
It is very versatile as it is suitable from babies  for their first weaning food to even kids and adults for their school or work lunches. Due to the smaller size, my younger two boys can easily use this (as the large bento box is tad too big for their food consumption).
Loving it
For bento box beginner, you may be feel intimated, but trust me (I am no domestic goddess) ,it wasn't hard as its all ready materials – fruits, snacks from CNY etc. From my previous experiences with the large bento box,  to make the presentation even prettier, get some pretty food picks (from Daiso) and from bread cutters and your bento boxes will look maybe 60 to 70% of the experienced bento makers 🙂
See below for some sample of the mini bento boxes made by me pre and post CNY  which explains for the mandarin oranges , CNY snacks and bbq meat. I am pleasantly surprised even though the mini bento box is half the size of the large bento box, the biggest compartment is actually roomy. Small C is a small eater but the biggest compartment can fit the amount of rice he can eat and even more.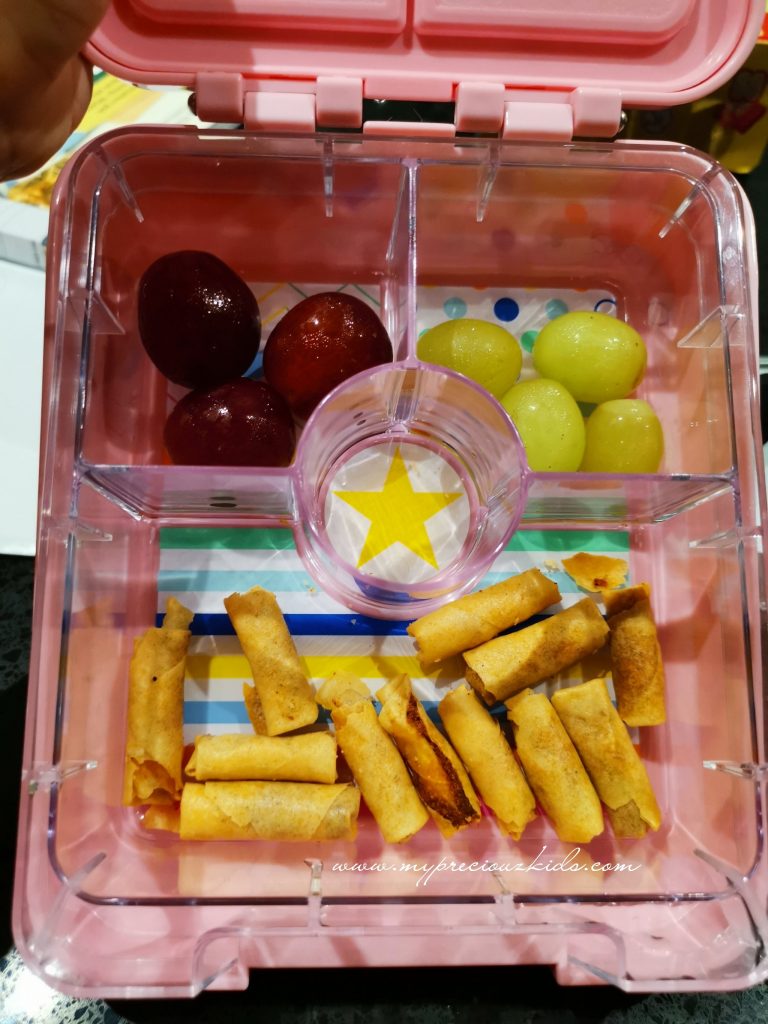 I foresee that I will be using more of the mini bento box over the larger one as big C prefers to buy from the canteen for recess for most days but she still need a snack box for her 10-minute snack break at noon. You can also download the free e-book for more ideas.
Stuck on You
Promo code of 10% on all except value pack:  SOYMPKZ 10% off (excluding value pack); Expire 31 May 2019
Disclaimer: This is a sponsored post.  No monetary compensation was received. All opinions are my own. 
Share the article