I can't contain my excitement that me and my 3 kids will be meeting Julia Donaldson herself  in person in when Kidsfest 2017 opens in January 2017.   I grew up reading Enid Blyton's book and the LM Montgomery's Anne of Green Gables series but my kids grew up reading Julia Donaldson's books. I do not have a slightest clue of Julia Donaldson or her books until I had kids. The first ever Julia's Donaldson book we owned was The Gruffalo. It is amazing how such an ugly looking creature is so well loved by my kids and also the kids all over the world. And the illustration by Axel Scheffler is amazing (one of the most awesome pairing in the current children's literary world).
J has gone on another range of Julia Donaldson's book -fiction series while C is starting with the early readers series. Julia Donaldson is so versatile, that she is not just doing picture books but the kids growing up with her picture books will go on reading more advance series.
We have been to shows at Kidsfest watching predominantly Julia Donaldson's stories – The Gruffalo, The Gruffalo's child, Room on the Broom and many more but Kidsfest 2017 will be extra special and memorable as we will be meeting the author herself.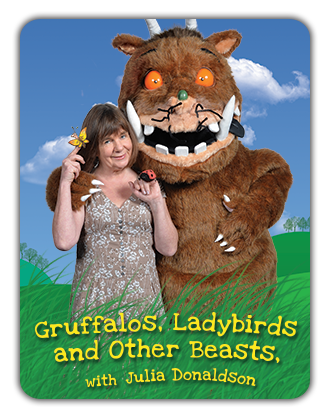 Having ignited the imagination of young children worldwide, Julia with a background in song-writing and performance graces the stage to perform at a brand-new show, Gruffalos, Ladybirds and Other Beasts. The show will feature some of the most iconic characters from five of her best-selling books – The Gruffalo; What the Ladybird Heard; Zog; A Squash and a Squeeze; Jack and the Flumflum Tree.
The five members strong cast which include Julia herself, her husband and her sister, they will sing-along and incorporate snippets from the 5 stories and there will also be plenty of audience participation. The kids will get to meet all the different characters from the 5 stories all in 1 show!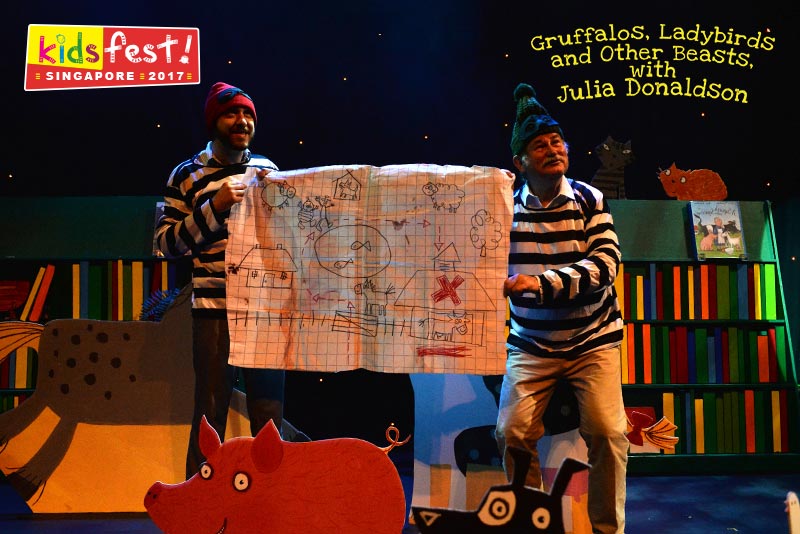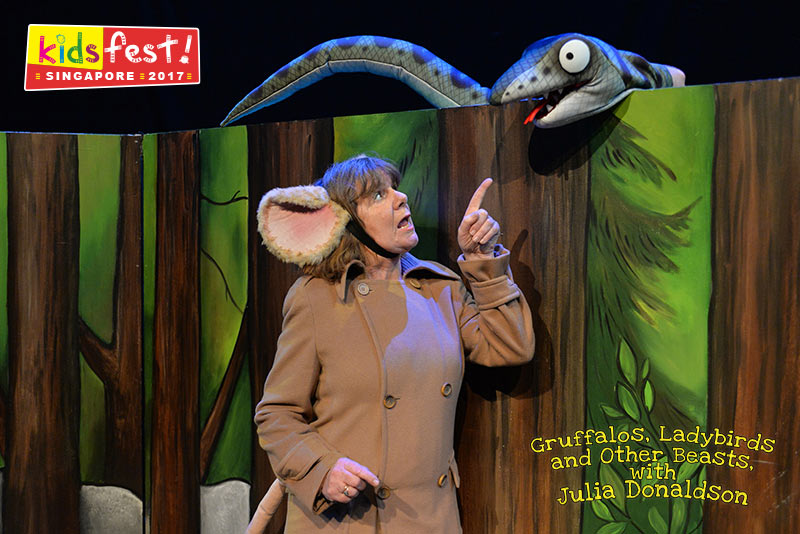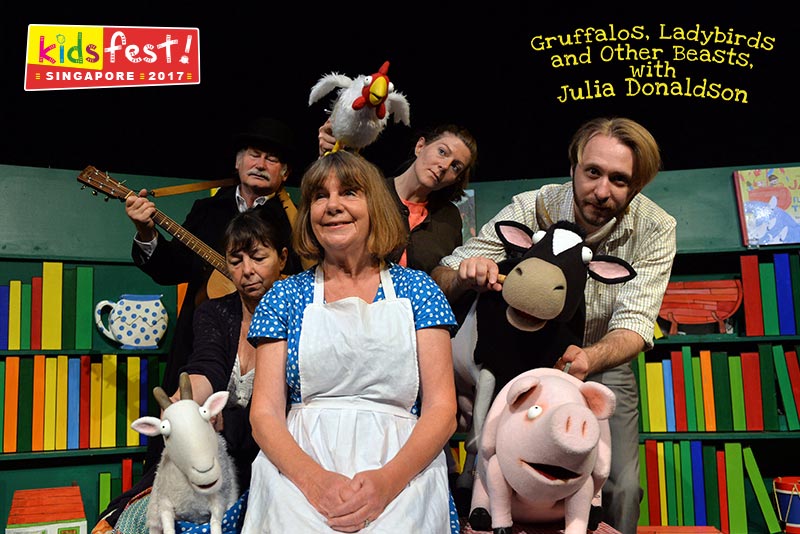 After the hour-long show , the audience can look forward to meeting Julia in person at the book-signing session.
I will have each kid bring a different Julia Donaldson's book for the book signing session. I am sure J will be inspired to meet the author herself having read many of her books. How often do we get to meet an award winning author!
In addition to the brand-new Gruffalos, Ladybirds and Other Beasts,  three other classics by Julia Donaldson – Gruffalos, The Snail and the Whale and The Stickman will also be part of the Kidsfest 2017's lineup.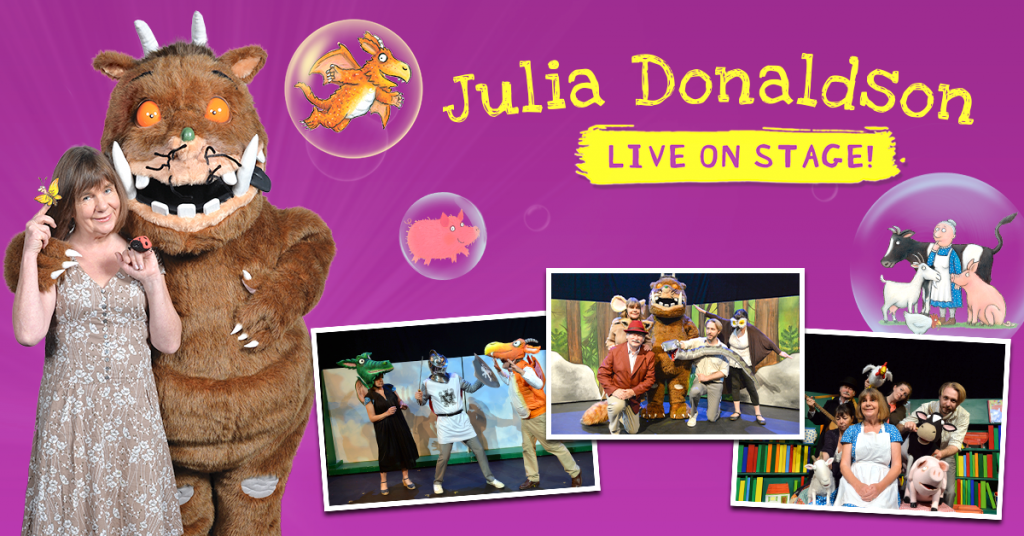 Victoria Theatre
Thu, 19 – Sun, 22 Jan 2017 (only 8 performances)
Thu: 3pm, 6pm
Fri: 3pm, 6pm
Sat: 11am, 4pm
Sun: 11am, 4pm
Tickets are now available at any SISTIC outlet, the official SISTIC website at, or at the hotline 6348 5555. Prices range from $42 to $62.
I did a search on youtube and I found one of her performances last year which featured Room on the Broom. If you have to pick just 1 show from the 9 world class productions for Kidsfest 2017, I highly recommend Gruffalos, Ladybirds and Other Beasts with Julia Donaldson. We do not get to meet author of books we grow up with everyday. I am sure my kids will remember meeting her till they have kids of their own.
For the rest of the lineup of Kidsfest 2017 , do click on this link for the complete schedule.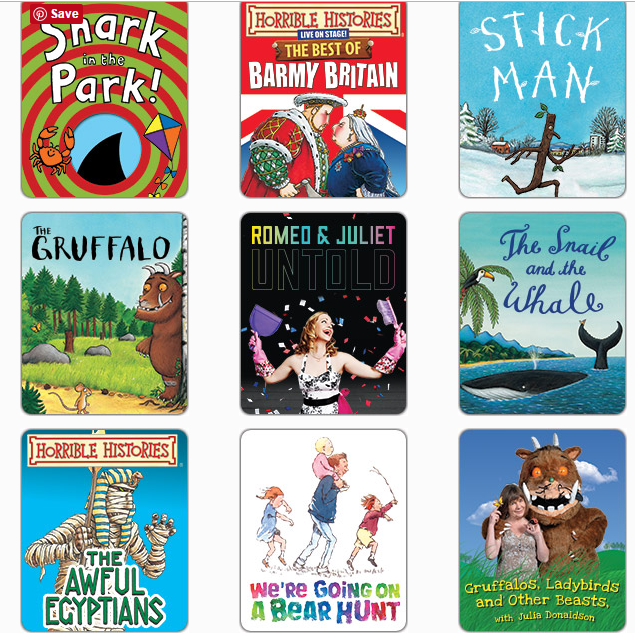 Disclaimer: This is a sponsored post. All photos except the photo of my kids and the story book are credited to ABA productions. 
Share the article