I was and still am a book worm (more e-books now as it is easier to borrow and read but not for the kids ), but of course motherly duties and K-drama has overtaken my love for books. Nothing makes me happier to see my kids buried in books. However, they are very picky with genre and titles that they read. If they read something they like they will be very engrossed ,vice versa. So one way is to bring them to the library and have them choose …though they may have chosen uninteresting titles too. They were most excited to receive the recent loot from Pansing Books which featured very interesting titles.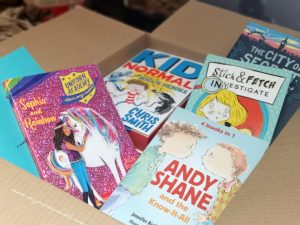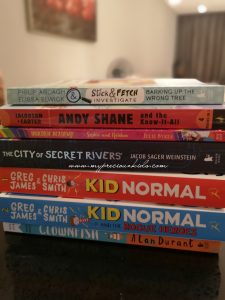 KID NORMAL
YOU DON'T NEED SUPERPOWERS TO BE A HERO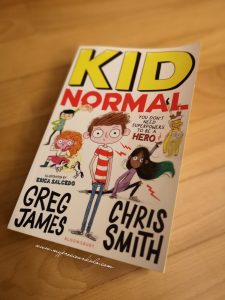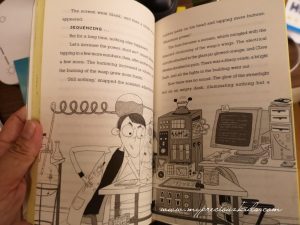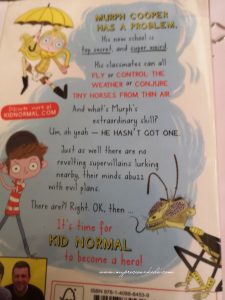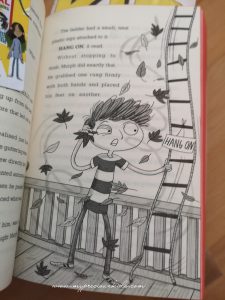 Big J's review of Kid Normal series 
The story is about Murph Cooper moving to a new house. When he moved to the new house, he was enrolled into a school of superheroes by mistake.  His friends can do very magical things like control the weather and conjure tiny horses from thin air, but Murph did not have any special ability. They had weird teachers like Mr Flash and Mr Souperman. Even with no superpower ie Kid Normal which is Murph, he makes the best of things and is even the leader of a super hero team. One day, a scientist experiment went wrong and created Nektar who is half man and half wasp. Murph and his friends finally defeated Nektar with the help of the school's caretaker and secretary of the principal.
I like this book because it is very interesting that a normal kid like Murph can be a super hero too.  I think the illustrations throughout the book makes the book even more exciting to read. I also loved the part they were battling the enemy which was a climax of the story.
KID NORMAL #2 AND THE ROGUE HEROES
In the second book – Rogue Heroes, Murph Cooper and his friends has completed their first year at the school. Murph, Hilda, Nellie, Mary and Billy continued on their adventures as Super Zeroes to battle even more evil bad guy. Following the same theme, all of them work together as a team in their missions from the very start and battled the most dangerous super-village (Rogue Hero) which was even more exciting that the first story. The villain actually ask for Kid Normal to be brought to him.
I love the second book more as the plot was even more interesting with a more evil villain with more missions to do and  more villains to fight! I hope there is also Kid Normal #3 for more Super Zeroes' adventures.
This series is suitable for age 8+.
The books featured are available at any good bookstores.
Do follow the social media accounts below to see new recommendation and giveaways.
Giveaway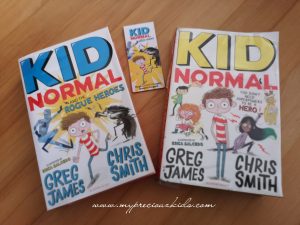 Pansing Books has kindly sponsored the same 2 books from the Kid Normal series and a magnetic bookmark to 1 reader.
1. Liked FB pages of mypreciouzkids.com and Definitely Books
2. Followed mypreciouzkids and Definitely Books on Instagram
3. Like and share this FB post and tag 3 book loving friends (or more).
I will be picking the 1 lucky winner using random.org. The giveaway closes on 23 Sept 2018 2359pm (Sun)
FB winner :Imelda Ong
Disclosure: This is a sponsored post.  No monetary compensation was received. All opinions are my own.
Share the article