Media invite
I didn't intend to write a blog of my dining experience at Ellenborough Market Cafe but I wanted to document my first time experience having a buffet dinner post Covid. Truth to be told, I have not had any buffet meals since the start of Covid as I always hold on to the notion that a proper buffet is one where you go to all the stations and pick and choose what you fancy, and that experience is not longer possible no thanks to Covid.
My perception has changed dramatically after having my first buffet festive dinner in 2 years just this week at Ellenborough Market Cafe! One thing for sure, the menu is still extensive (I didnt manage to try everything on the menu) but  instead of having to go to the various stations and sometimes needing to queue at the live cooking stations, all I had to do was to pick up a pencil and mark the food I wanted to try and the request portion -1 pax, 2 pax.
As it was just me and my husband dining, I ordered mostly 1 pax portion (as you can see in the photos below) as I wanted to try almost everything. No need to queue, no need to walk around , just sit at my table and wait to be served, I think I wouldn't mind this relaxing dining too especially those days when I had to help the kids take their own food. I imagine if my kids were in attendance, they will happy tick off what they want to eat and be served – definitely way more relaxing that the old ways of buffet.  With this pandemic, I tend to what to see the good in the change, and I am happy to reconcile the differences and looking forward to my first family buffet experience soon too! 
Back to the Festive Menu this year end offered by Ellenborough Market Cafe, if you are familiar with their menu like me, I am sure you know of their peranakan fare and also their famous durian pengat. Adding to their main stays are festive offering like honey baked ham and turkey too from now till 2 Jan 2022.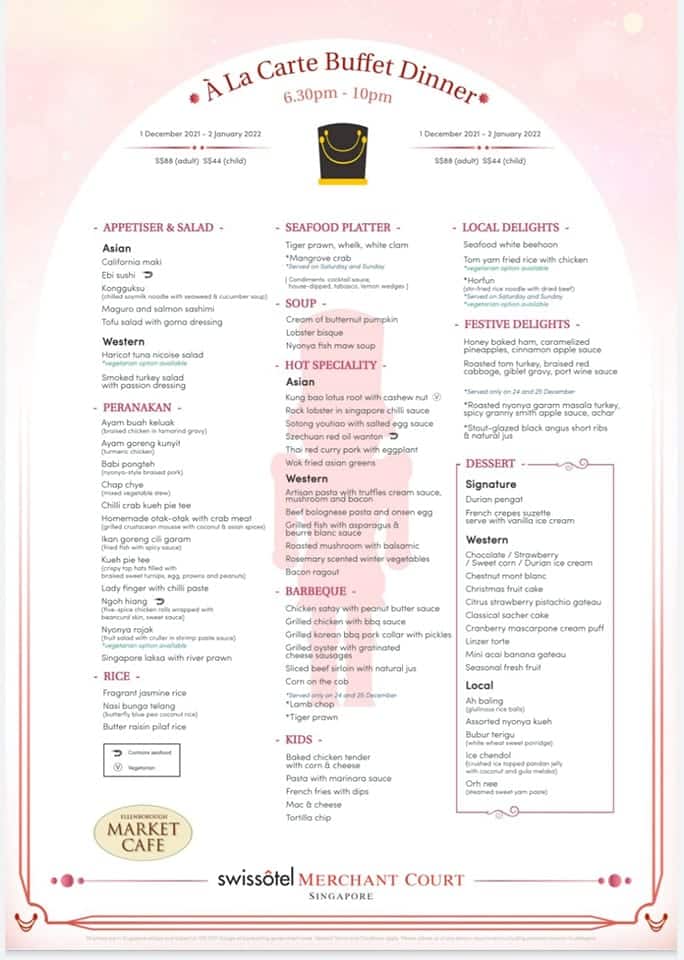 I started off ordering some cold and hot starters – rojak, satay, ngoh hiang , seafood platter, sashimi and special mention is the chilled soya broth noodle – so light and refreshing, perfect starter!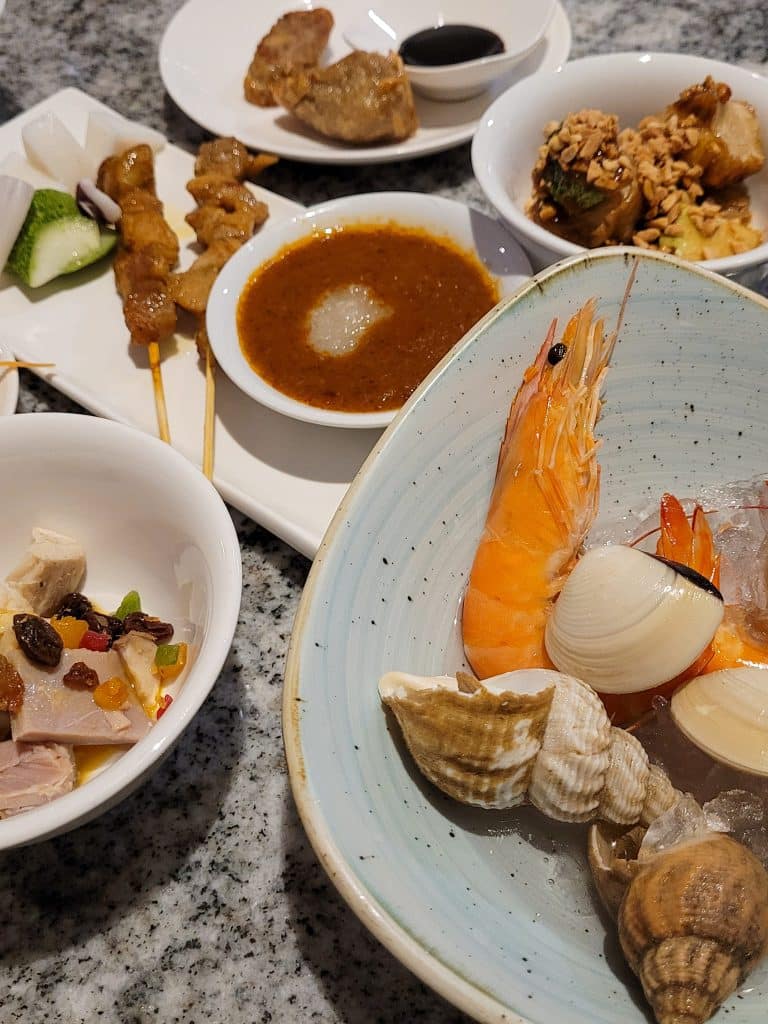 Then I had an array of peranakan favourite-  Ayam Buah Keluak, Blue Pea Rice, Otah Otah, Kueh Pie Tee and a mix of western offering such as grilled BBQ meat, pasta and special festive offerings such as Honey Baked Ham with caramelised pineapples and cinnamon apple sauce and Roasted Tom Turkey , braised red cabbage with port wine sauce.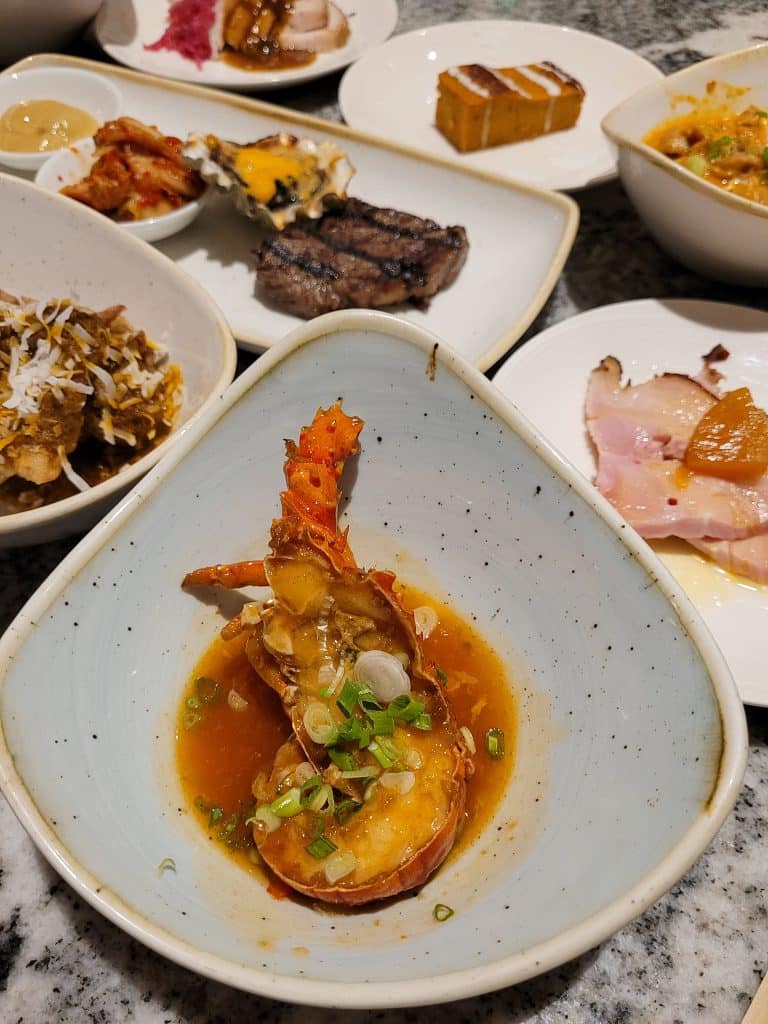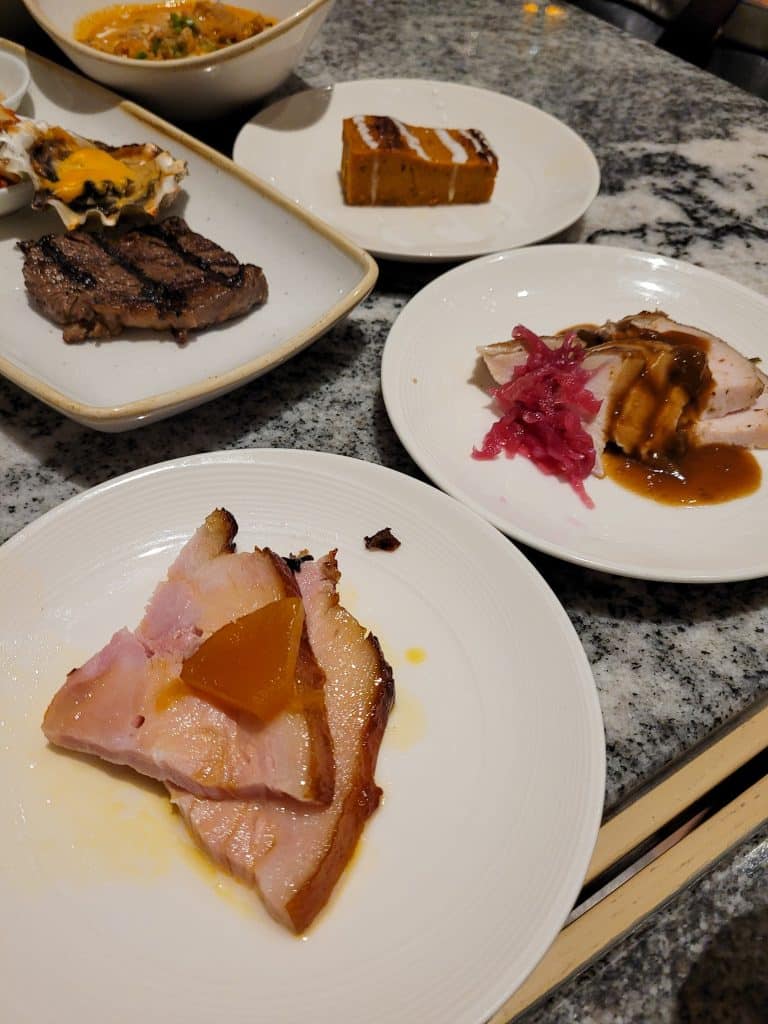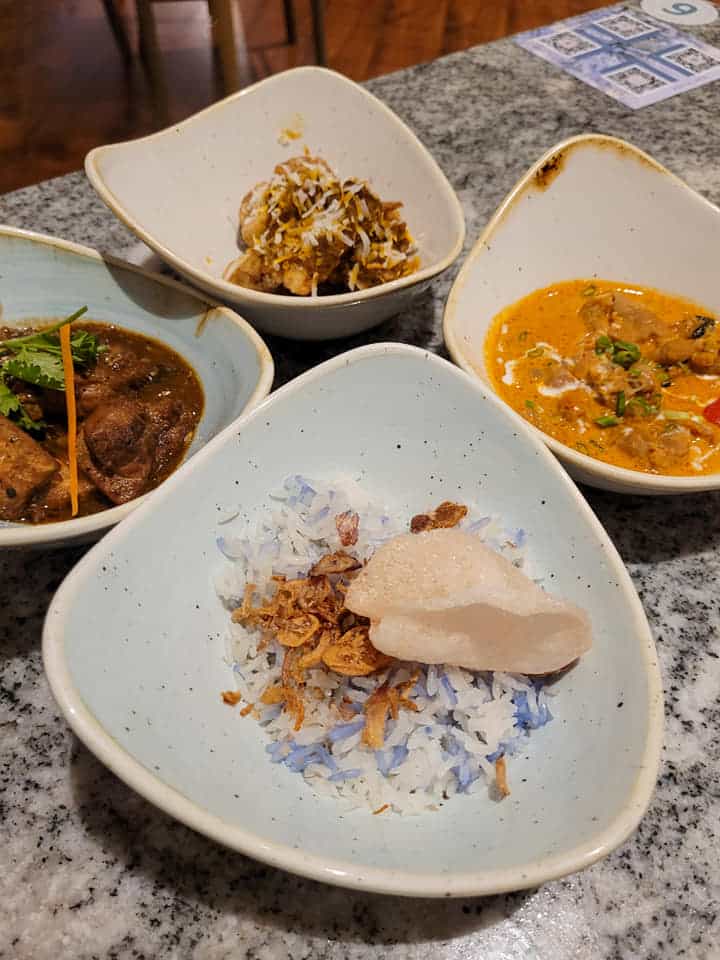 I must say that for some old folks are not so much into raw food or western food, this buffet is a good choice as they will definitely enjoy the Asian offering in particular peranakan food, rice and laksa and for kids, there are pasta and kids menu too. 
Of course, the one I waited for the entire dinner – durian pengat, this dessert to me is synonymous with Ellenborough, a must have for me every time I visit and my husband was super happy with his chendol and ah baling (glutionous rice ball). And for western desserts, special mention cranberry mascarpone cream puff and Christmas fruit cake.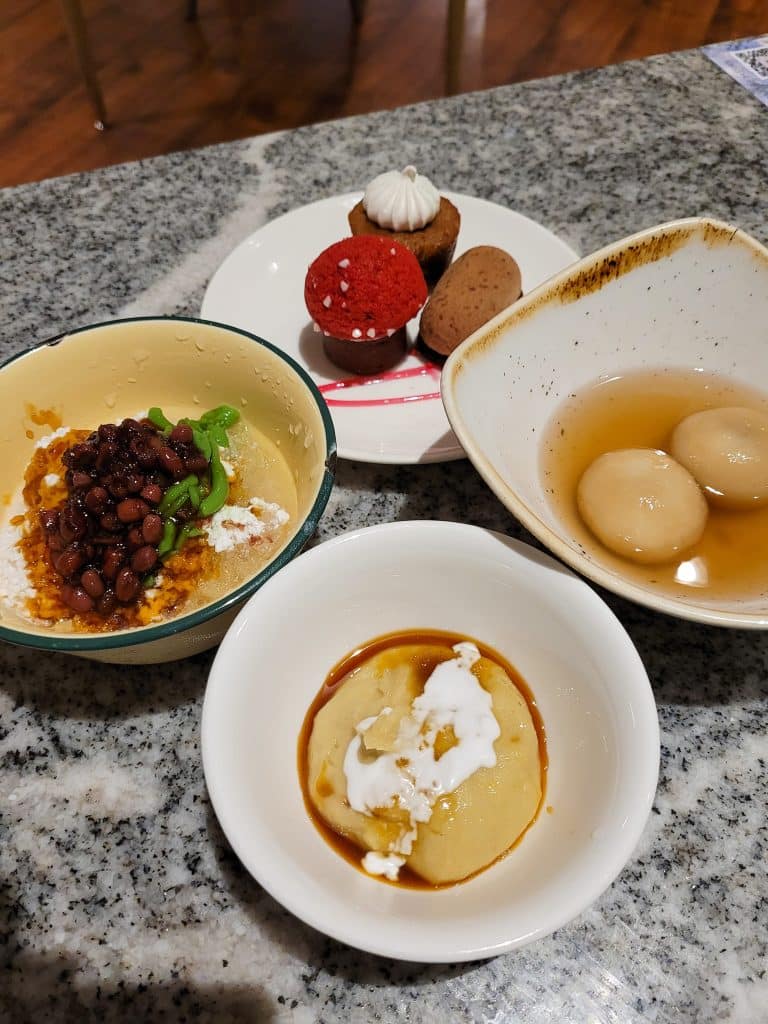 And these are probably just half of what is on the menu, but we didn't have stomach space for it unfortunately. We added a bottle of house white wine at $40 which is really a steal and we also had very attentive service given there are many different small orders – an overall pleasant first buffet dining experience post Covid. 
Undauntedly one of the best dinner buffets in Singapore with a good mix of East and West so that both young and old can enjoy too ! You can check out my IGS highlight "Ellenborough"
Do check out their festive delivery menu if you wish to host at home or mingle in a bigger group in the comfort of home. 
Adult $88 ++Child $44++
Reservation
Phone: +65 6239 1847/1848
Email: dining.merchantcourt@swissotel.com
Share the article