Warning ahead- overload of photos/videos throughout the post and the next, I won't blame you if you skipped all words and dived right into the photos as no words can describe our most memorable staycation to date!
Truth to be told, this was not our first stay at a Shangri-la property. Last year, we visited Shangri-la Rasa Ria in Kota Kinabalu and had the most amazing overseas stay – luxurious, comfortable and unforgettable , sometimes we don't really need to travel too far flung  and exotic to have one for the most amazing holidays – the key is in the hotel that we choose to stay in.
We decided to splurge a little (given that RM was weaker) so we went for THE BEST room in Shangri-la Rasa Ria –  I shall not elaborate too much on that stay as I know all are anxious to read about our Shangri-la Hotel Singapore experience but I will leave you with one picture and to say that the standards have been set high up there going into our staycation with Shangri-la Hotel Singapore.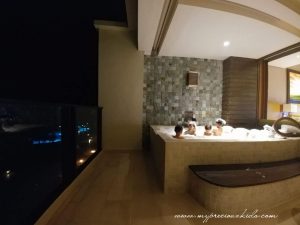 Shangri-la Hotel, Singapore has recently renovated some of their rooms and a huge space (covered in part 2 of my post) to be the premier staycation hotel for families!
Typically, even from my own circle of friends , they tend to choose Shangri-la Rasa Sayang at Sentosa over the one at Orchard (as before the renovation), the sister property in Sentosa is perceived to be more family friendly with a play gym and a beach and but with renovation, Shangri-la Hotel Singapore has upped the game to be the ultimate choose for family staycation in Singapore
Just a quick tour of our deluxe inter-connecting family rooms on the newly rejuvenated family floor located in Tower Wing. The ninth floor of the Tower wing is dedicated to family travellers with 19 deluxe family room and 5 themed family suites. Each of the deluxe family room is able to accomodate families with two adults and two children below 12 years old.
The most attention to details – especially for the little guests
2. Pantry and all things you need if you have a babies or a toddler!
Located on same floor as the deluxe family rooms and theme family suits,  this floor feature a very special rooms for families with young babies and toddler – a shared pantry with washing machine, dryer, iron, induction heater, microwave, and hot/cold filtered water dispenser provided.
And these is the list of amenities you can borrow at no additional cost from the family concierge service during your stay :-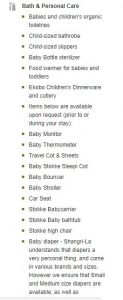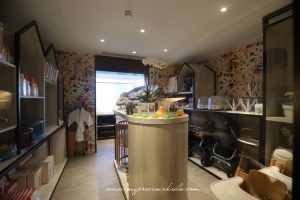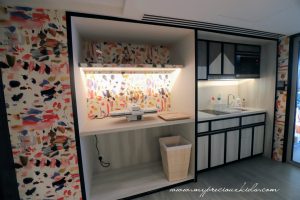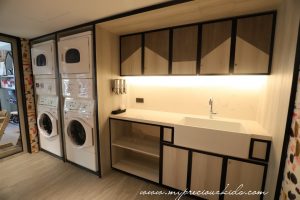 3. The best breakfast buffet spread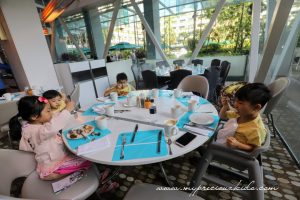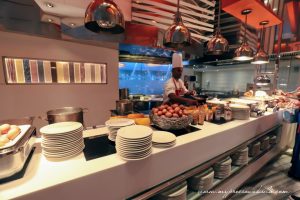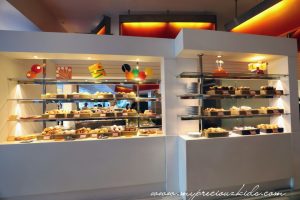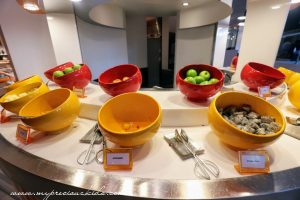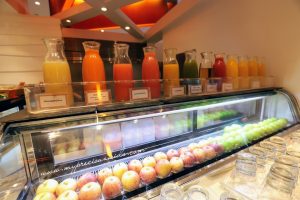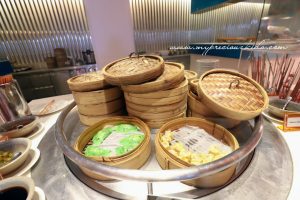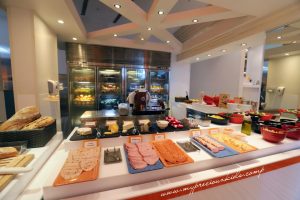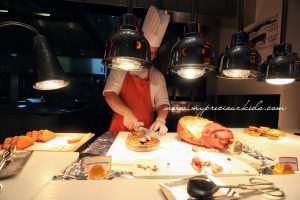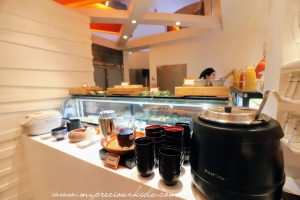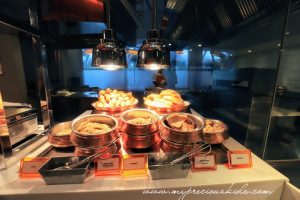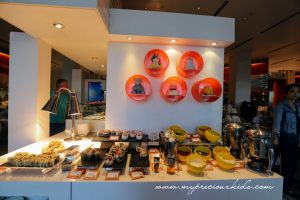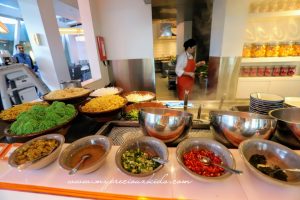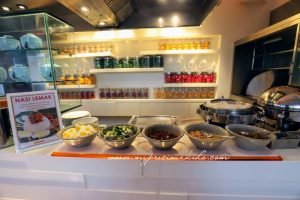 4. A beautiful pool in the middle of lush greenery (I didn'tfeel 1 second that we are in Orchard Road)
Orchard Road is never my choice for a family staycation. Being in Shangri-la Hotel Singapore for 24 hours, I never once felt that I was in Orchard, with an area of 40,500 sq meter of lush gardens and a very beautiful free-from swimming pool in the middle of it all!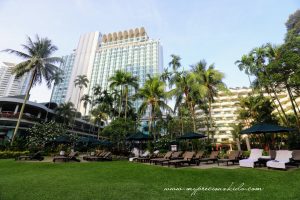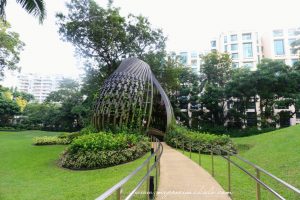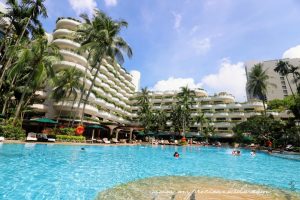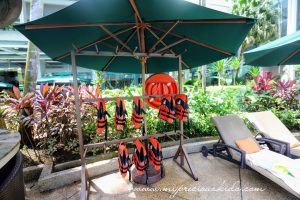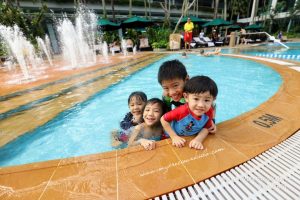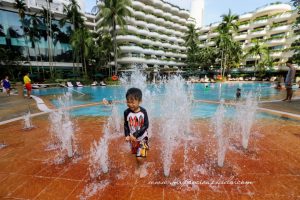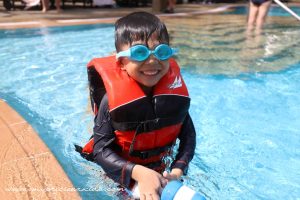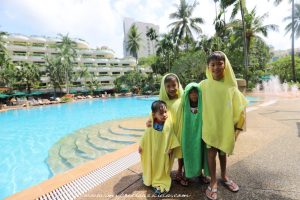 4. The service are 5-star
One of the biggest distinctions between a 5-star hotel vs the rest is the attentiveness and service level. The staff are always ready to give a helping hand and remember even the smallest details. There is a dedicated family concierge service for the guests on the family floor who will attend to all your needs and most importantly the little ones especially if you need anything from the pantry.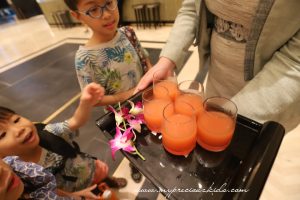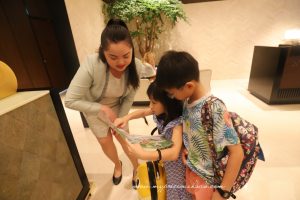 Well, actually, this should be the first reason why any family should choose Shangri-la Hotel Singapore and not the fifth reason, but I had this as the very last reason as I will have an entire blog dedicated to this out-of-the-world play area that you will never has seen in any hotel in the world. If I were to cover Buds by Shangri-la in this blog, it will go on and on, so I decided to do a part 2 of this review especially dedicated to an awesome play areas. W
Finally, saving the best for last , a look at the highly raved and popular themed family suites– on the same floor as the family deluxe rooms (Tower Wing) that we stayed in. There are only 5 of such suites, each for one theme.
For those who can afford to splurge a bit ( I don't really think it is a splurge as the themed family suites are the size of 2 deluxe inter-connecting family rooms) , for a once-in-a-lifetime experience and for very very special occasion, there is always the themed family suites. Just 5 of them – each a different theme -from Safari, Treetop, Castle, Underwater and Space. I had a privilege to peep into the Space themed family suites and it is a really really special room from the view of an adult…what more if it was from a kid…every kid will be jumping in joy to be able to sleep ( I don't think any kids will be sleep in this room) and play in such a room.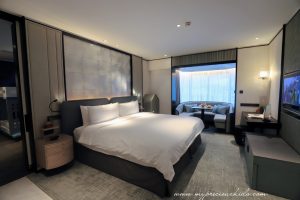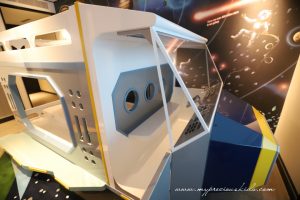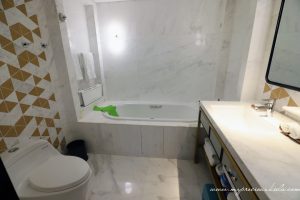 For now, I will leave you with a short tour around the space themed family suite while I work on part 2 of  our amazing staycation!
Disclaimer: This is a sponsored post.  No monetary compensation was received. All opinions are my own
Share the article