Truth to be told, my first born was never swaddled and was very poor in the sleep department. We even had a video of how he struggled and cried while being swaddled to convince his inexperienced parents that swaddling does not work for him. Boy, was I wrong?
Since my #2 child newborn days, I swaddled her using receiving blankets. Though it wasn't very tight and her arms will always be out after a while, it improved her sleep in comparison to her older brother. From then on,  I was convinced that all newborns MUST to be swaddled to get better sleep, whether the baby like it or not.
Then came no 3. I invested in a set of super soft and light aden & anais muslin swaddle cloths, which I still use for baby C now. But no matter how tightly I swaddled the baby, the swaddle will go into "bat wing" style (see pic).
Then came baby #4, baby C. I knew of specialised swaddling sacks like Woombie even during #3 time.  But I was very much put off by the price and the short usage period (probably need to swaddle till 4 months old) And I thought it was more gimmicky than functional. Then during my boring confinement days, I saw a video produced by Woombie, a cartoon video showing how to swaddle sacks make happy babies and happy parents, so for my sanity to get more sleep as I am handling 4 kids now, I decided to go against my rational mind and just purchase it out on a whim. Even with the discount of 20% on Lazada, I still find a pinch as it cost me over SGD 40 plus especially the size could only hold up to 6kg.  As i speak now, baby C has not even hit 2 months old, and he is already outgrowing his Woombie.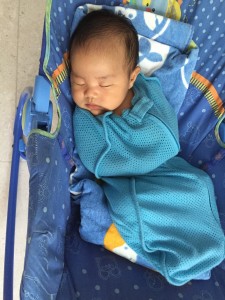 I do feel somewhat I get better sleep quality for him (and for me) after Woombie came into our lives. But with just 1 swaddling sack, it is not enough to go around as it need to be washed and couldn't dry in time.
So I decided to look into other possible brands and I bumped into an even more versatile product by Love to Dream, one which is convertible into a sleeping bag when baby passes the swaddling stage. Love to Dream does have its pure swaddle range for newborn (ie not convertible). One major difference between Woombie and Love to Dream is the position of the arms. For Love to Dream, they believed the arms should be swaddled UP while most are brands including Woombie swaddled closed to the body including the traditional method of using swaddling cloths/muslin. Between either method, I am quite indifferent in terms of the quality of sleep and I am actually quite surprised baby's arm can be swaddled in an upward position. With Love to Dream, the arms are free to move to a small extent without losing the feeling of security. Take a look at the video from Love to Dream.
The version that i have gotten is the LITE version and it has the prettiest multi-coloured stripes (0.3 TOG) which is perfect for Singapore weather. Baby C normally sleep in non air-conditioned room and on warmer night air-condition is set around 26-27 degree Celsius. This LITE version is just perfect! My baby doesn't perspire even if I just have the ceiling fan switched on for the night.
And the additional bonus for the 50/50 version it can be used beyond swaddling stage by removing the zippers on the arms to create arm holes for the sleeping blanket…double yay especially it cost between the range of SGD 50 to SGD 60 for an item which can be used for a few months. The versatility of it being a sleeping blanket can extend its usage for another few more months. I was given a size M which is from 6kg to 8.5kg. Even though baby C has not reached 6 kg yet, he fits really well on the upper part but it is just longer in length.
I really regretted not investing in specialised swaddle sacks for my other kids. Though it may have a short life span and it is quite pricey given its short life span, but for better quality of sleep for both baby and mummy, it is definitely worth every dollar its worth.
Love to Dream range of swaddles can be purchased online and at these retailers
Disclosure: I received a Love to Swaddle UP 50/50 by Love to Dream for the purposes of my review. No monetary compensation was received. All opinions are my own. 
Share the article