After days of eating home-cooked food, it is sometimes nice and lovely to order and have restaurant/zi char food delivered for a change. One thing for sure, my kids are SUPER EXCITED with food delivery (as we don't do it that often probably once or twice a year as we prefer to eat out in normal times). However, in strange times with another month of the circuit breaker and we have been doing food deliveries more often. My in-laws have been great in cooking our daily meals for my big family but I also hope to give them a break at times especially on weekends, so an invitation to try zi-char food delivered by 8 Crabs (they operate out from kitchens and don't have a physical restaurant) a splendid surprise and I coincided it to celebrate mother's day in advance (in case, you are like me, totally lost count of the days in the month, mother's day falls on 10th May, next Sun).
My word of advice, since everyday and every weekend is largely the same now being home bound, do try to avoid celebrating on the actual day itself as the load on the home deliveries will definitely increase and the risk of delayed deliveries will definitely be there.
So for me, since the first weekend of May is a loooonnng weekend, so I decided to have the celebration earlier and give my mother-in-law a break from cooking so I ordered for the night before May Day. 
When u skimmed through the menu the items on offer are largely the same as the rest – chilli crab, black pepper crab, cereal prawns, sweet and sour pork. In fact their menu is not extensive, a few selections for each category of food, which is good as too many choices makes it difficult to decide what to order! Hence they focus on what they are really good at! Crabs! 
So what makes 8 Crabs different is from the rest of the zi char restaurants is their signature Sri Lankan Wild Catch Crabs which are graded AAA (graded by the most experienced crab graders in the trade).  In fact,  8 Crabs is the only company in Singapore using AAA premium Sri Lankan sourced wild crab.
You might ask what is the difference between farmed crabs (which is cheaper and what most restaurants use) and wild catch crabs is the ammonia smell. So farmed crabs get stressed easily in captivity and lack of space, when stressed, produce ammonia which is a signed of decomposition. However, wild crabs do not face such issues hence they are meatier, tastier, bigger, and less watery.
To ensure freshness, these wild catch crabs are caught, flown, prepared and delivered to the customers within 12 hours from Sri Lanka (which they broke it down to 4.5 hours via flight to Singapore, 2.5 hours custom clearance, and 1 hour for cooking and delivery time). In order to do one hour crab delivery, they only specialize in  3 signature flavours  – chilli crab, black pepper and salted egg and 1 driver per order.  You can read all about their crab supply here which is quite an interesting new knowledge for me and give me greater appreciation of the food I consume. 
I LOVE (in CAPS and BOLD) eating crabs, and 2 of my 4 kids have also acquired the same food affinity as me! So even with only 3 ways of cooking offered in the menu, I almost wanted to order all 3 varieties (greedy me) for my big family but I finally decided to try two for my first order – chilli crab and salted egg to prevent food wastage. You can choose the size of the crab (from medium 400g to xx large – 1.3kg, SGD 60 to SGD110) , typically I prefer ard 800g crab type based on my previous experiences.
The sizes of crabs that came were as per my expectation, not overly too big , it is super meaty and fresh! They were so generous with the chilli crab gravy and we had so much leftover gravy. Even my mother-in-law commented that the crabs were so fresh – meat peeling in pieces (not so fresh crab meat will clump together )! The salted egg crab version also was very fragrant and offered a nice balance with eating with the chilli crab.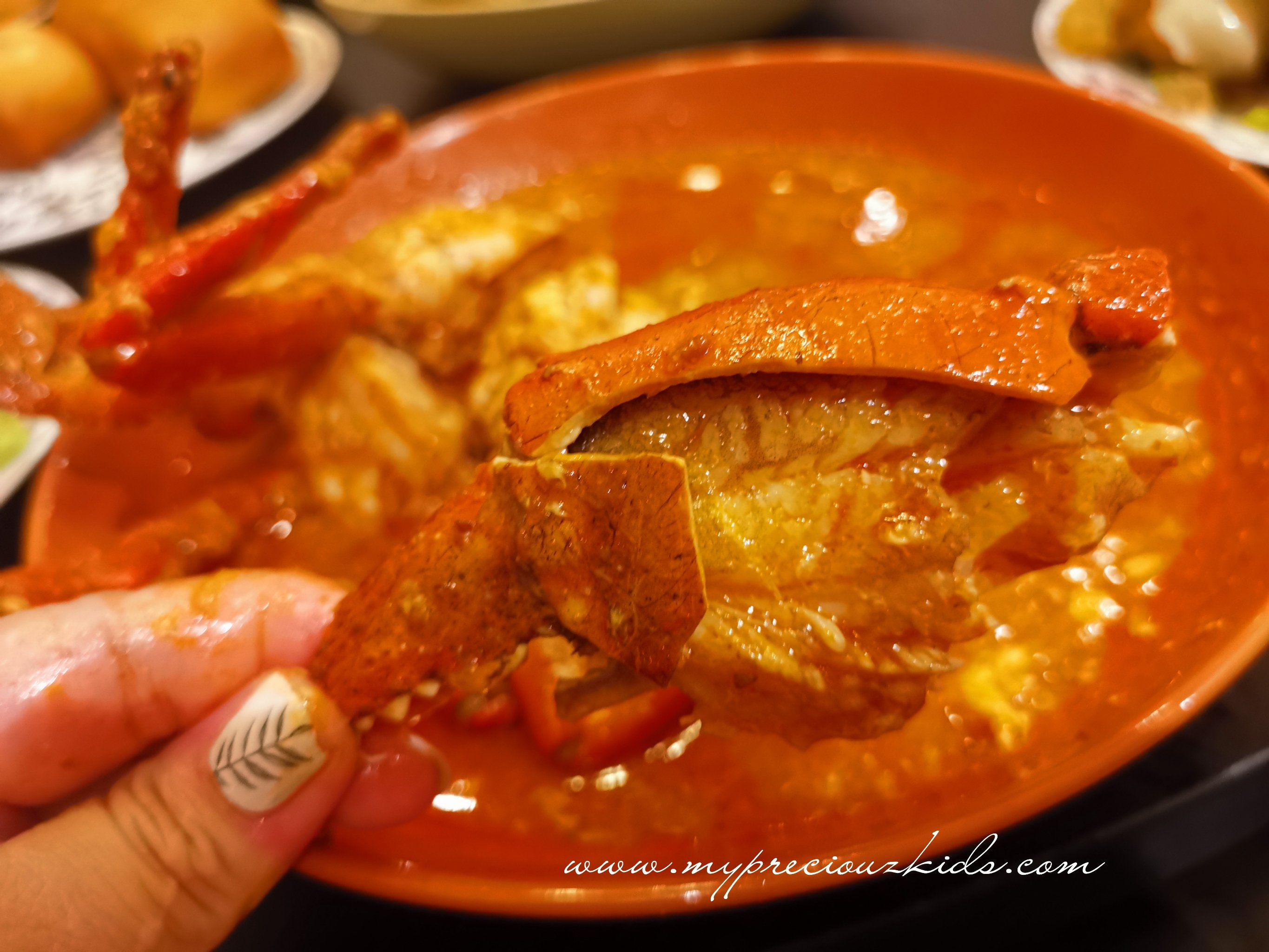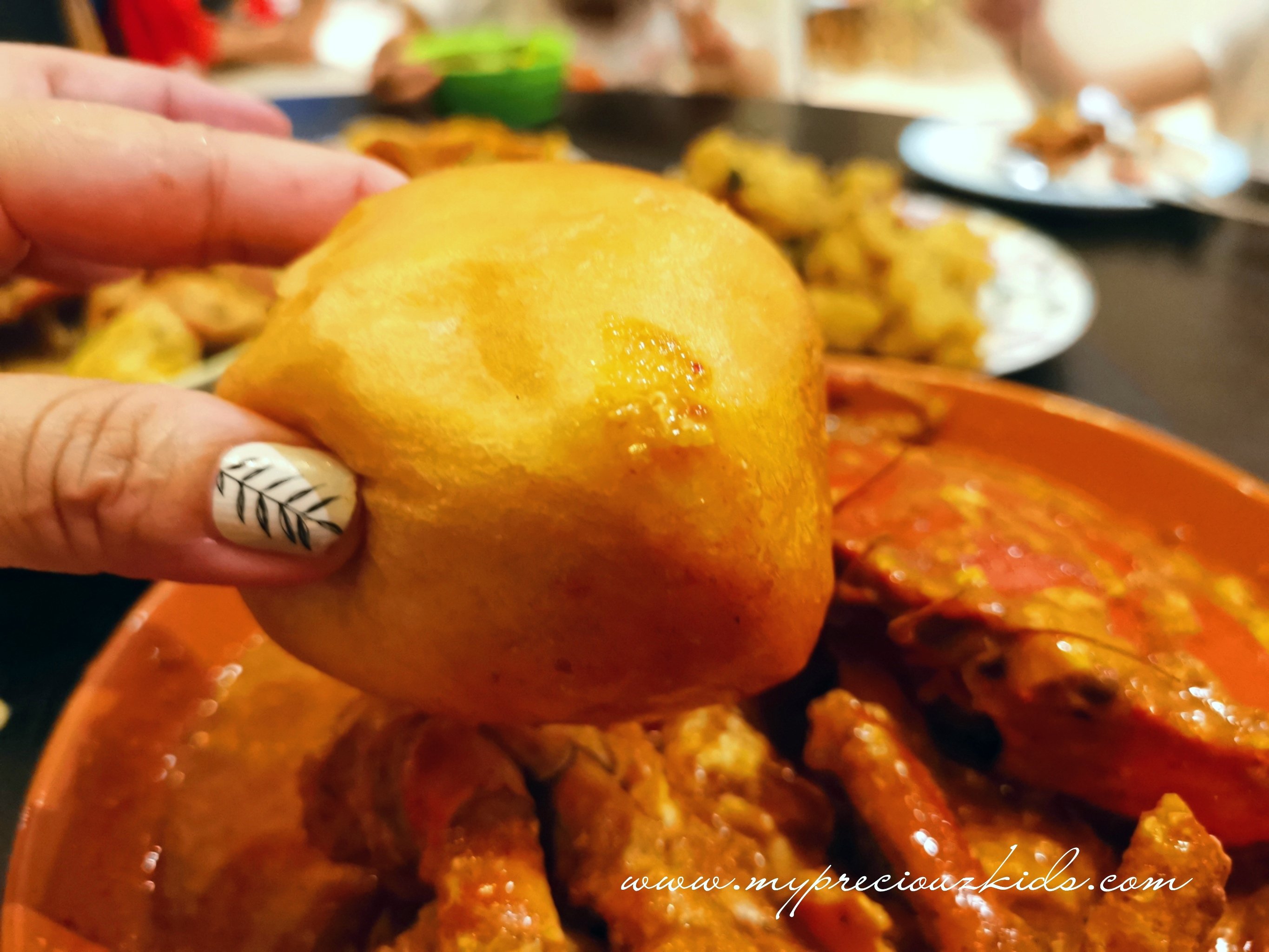 And to cater to my 2 kids (a bit sad they dont enjoy crab but means less to share too 🙂 ) who don't share my immense love for crabs like me, I ordered prawn paste chicken, sweet and sour pork and butter battered calamari (a favourite for every kid). The non crab dishes are not extra-ordinary, just like regular zi-char offerings so this is to cater for family members who are not big fan of crabs. 
The food traveled well in their usual zi char boxes, and I have it all plated nicely to mimic the feel of eating in a zi-char restaurant (but at the comfort of home).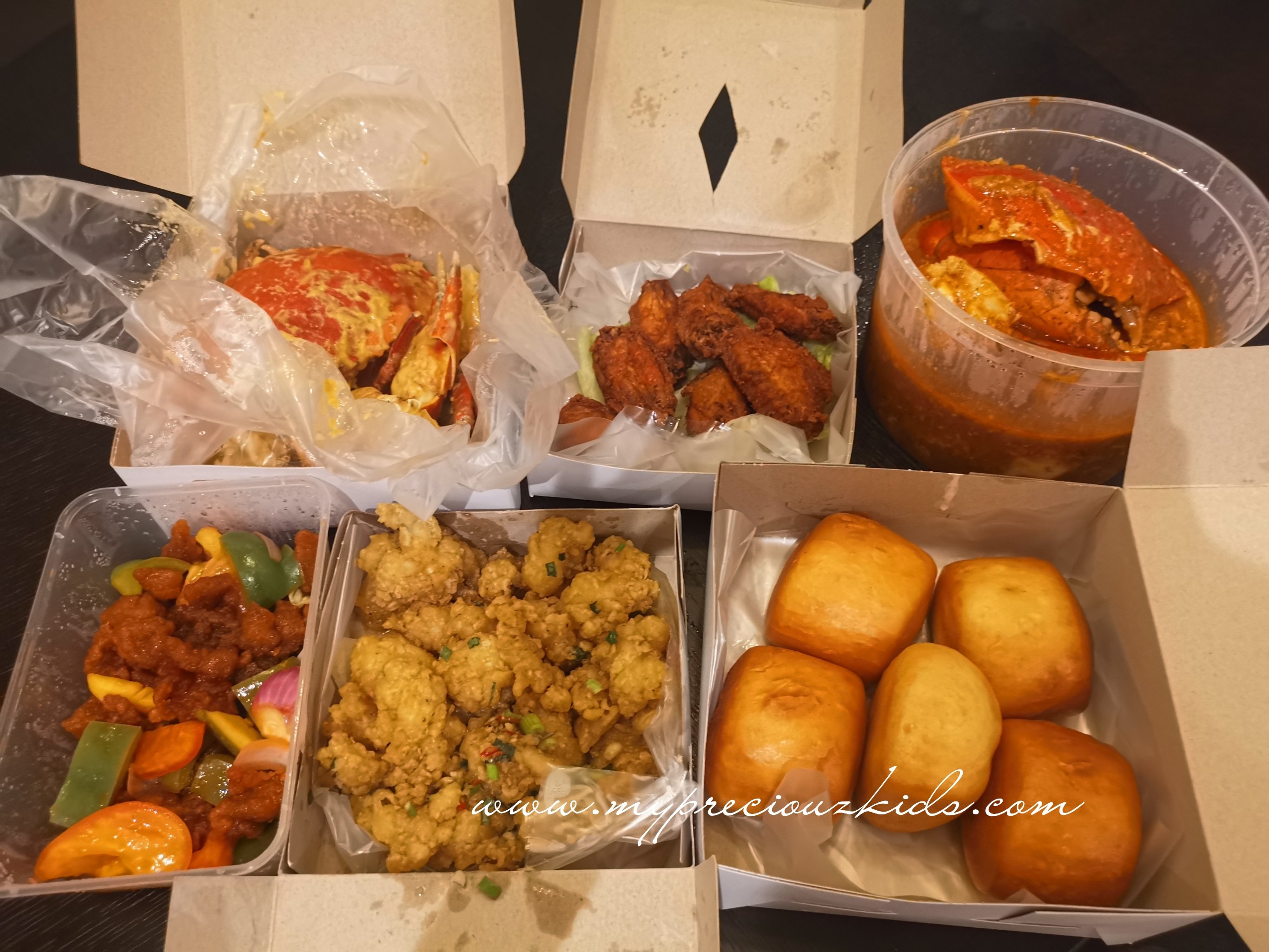 So from 1 crab lover to another , I have tried their highly raved signature grade AAA Sri Lankan Wild Catch Crabs and it is a must try! Hands up how many crab loving mummies don't get to eat crab when dining out with the baby (reminisce of my early days of motherhood) because hands get dirty and become so messy caring for the baby! Problem solved by having crab dishes delivered and consumed the comfort of home (just dump baby in play yard with lots of toys)! Of all the dishes tried today, the crab dishes travelled the best, in fact the chilli crab was still piping hot when I was plating it and . I am glad I get to try both way of cooking – chilli crab and the salted egg, I liked them both equally but if you like mantou dipping in chilli crab gravy, then you know which to choose. So if you are craving for crabs or want to treat dearest crab-loving mothers in May, do give 8 Crabs a try! You will not be disappointed! Click here to order.
Disclosure: This is a sponsored post. I have paid additional top-up beyond the sponsored amount. No monetary compensation was received. All opinions are my own. 
Share the article