Kuala Lumpur is typically not viewed as the one of the more favoured destinations for family holidays but I will prove you wrong with a list of not so well-known places for kids of all ages. I think it is pointless talking about those that are famous and the must go places, such as Kidzania KL, Sunway Lagoon and Petrosains so I think this will be a list of out for the ordinary for families who are looking for something different, probably for families who has done the usual and popular looking for a different perspective of the city in the eyes of their kids.
This is a gem in the middle of the hustle and bustle of the city especial for animal and nature lovers. It is a good size farm which boast a free-flight bird aviary, reptile cavern, a lake with a good population of ducks, a pet village of rabbits and guinea pig, longkang fishing , ostrich farm, turtle and tortoise farm, vegetable farm and an orchard with more than 60 tropical fruits and plant. Not forgetting the stars of the farm, the alpacas at the savannah. Kids can also indulge in feeding the animals at the pet village or fish feeding at the lake.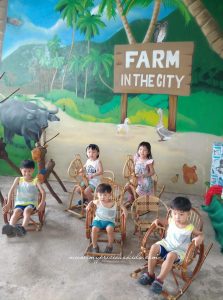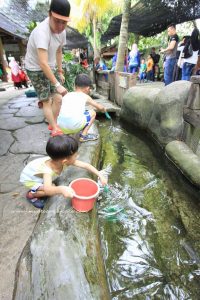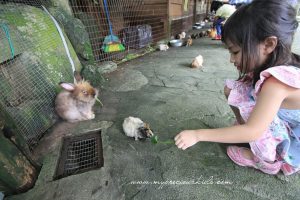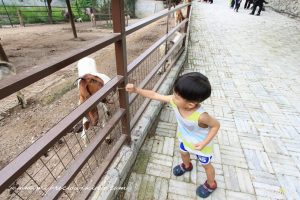 Lot 40187-40188, Jalan Prima Tropika Barat, Bandar Putra Permai, Seri Kembangan,
43300 Selangor.
WEEKDAYS: 10:00am-6:00pm
WEEKENDS: 09:30am-6:00pm
Closed on every Tuesday, excluding Public holiday & school holiday.
Located at the Gardens Mall in the middle of the city, we stumbled upon a unique playground and edutainment centre during our last visit to KL. For dinosaur lovers, Jurassica is the latest edutainment centre-themed around the dinosaurs and prehistoric era. Complete with pretend play concept, the kids are all suited up like explorers and were ushered into briefing room to inform them of the mission. Each kid was given their own torch light as the place was a bit dim to begin their neon light scavenger hunt. Besides doing the hunt, there is also an interactive climbing wall, zipline, excavation site and a good size ball pit and play gym at the end.
The place also run sessions where the kids get to meet their own in house reptiles. They can also get to touch and hold the reptiles esp for the daring ones.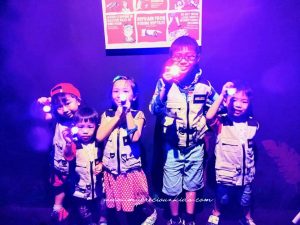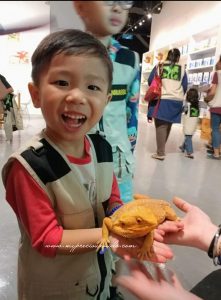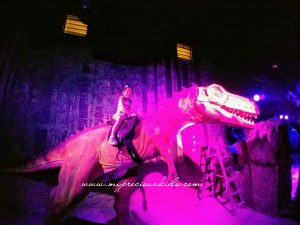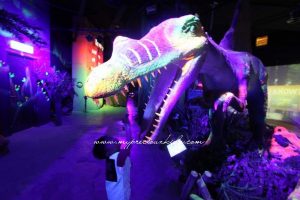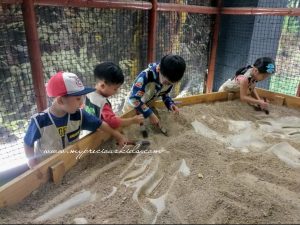 T216C, 3rd FloorLingkaran Syed Putra, Mid Valley City,
59200 Kuala Lumpur, Wilayah Persekutuan,Kuala Lumpur.
Mon – Thu: 11am – 7pm
Fri – Sun: 10am – 8pm
LAST ADMISSION
45 mins before closing time
This was one of the places that is on my to-do list but I have yet to explore with the kids partly due to height requirement. My oldest can do most of the challenges there however,I guess my youngest would not meet most of the requirement there. But this place is definitely the first on my to-do list on my next visit. It is located in IOI City Mall in Putrajaya , yes it is an indoor adventure style theme park for the dare devils and adventurous kids.
The place boasts white-knuckle rides, slides, trampolines and aerial obstacle courses all within the confines of a 70,000 sq ft space. The major attractions are trampoline, tubby rides, maze, free fall, roller glider , sky trails – all featuring different level of difficulties and height requirement. There is a also a carousel for the young ones like my youngest child.
AT6, Level 1, IOI City Mall
Putrajaya, Wilayah Persekutuan, Malaysia 62502
Operations Hours & Ticket Price
Active Ticket:
Weekdays (Mon-Fri) – 12pm to 8pm , RM64 per pax
Weekends, PH & School Holidays – 10am to 8pm , RM80 per pax
Non-Active Ticket : RM10 per pax
All active ticket holders are COMPULSORY to wear SPORTS SHOES.
Minimum height : 90cm
Minimum weight : 15kg
Located at One Utama shopping mall, kids can experience skydiving indoor. It is also KL's first indoor skydiving wind tunnel. The indoor skydiving centre which simulates the free-falling aspect of skydiving but without having to parachute off a plane. And what makes it a perfect family bonding activities is that even kids as young as 3 can try their hand at skydiving under the watchful supervision of skydiving experts.
While the mums go for the endless shopping trip at One Utama, the kids and daddies can indulge in new type of sports – skydiving, right in the middle of the shopping centre! That is my latest plan to ditch the kids and yet the kids get to enjoy a new experience right in the middle of the shopping mall!
S601, 1 Utama E, 1 Utama Shopping Centre,
1, Lebuh Bandar Utama, Bandar Utama,
47800 Petaling Jaya, Selangor Darul Ehsan,
Malaysia
Operation Hours:
Monday – Thursday 10:00AM – 10:00PM
Friday & Saturday 10:00AM – 10.30PM
Sunday 10:00AM – 10:00PM
This is District 21 but in the outdoors. I wont say it is entirely similar but it is also for the dare devils and adventurous kids. Located 3 km inside the 817 hectares forest of Taman Botani Negara Shah Alam, this park is only 40 minutes drive from the city center of Kuala Lumpur and is accessible via the many highways to Shah Alam.
Obstacles are divided into three courses according to difficulties, and the minimum height requirements are 1.1m (Little Adventure) and 1.4m (Big Thrill and Extreme Challenge). These zip line obstacle courses consist of extreme outdoor activities such as rope climbing and flying fox in the middle of the lush forest of Shah Alam Agricultural Park. Kids below 12 years of age require a parent or guardian to be present in order for them participate for safety reasons.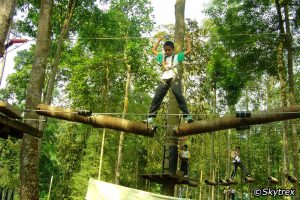 photo credit: Skytrex
Taman Pertanian Malaysia, Bukit Cahaya Seri Alam, Shah Alam, Selangor
Tuesdays to Fridays
First Departure: 0900h
Last Departure: 1400h
Saturdays, Sundays and Public Holidays*
First Departure: 0830h
Last Departure: 1500h
Singapore on the other spectrum seems to have endless fun for the family and kids. I will introduce places off the beaten tracks that will thrill any kids and see another side of Singapore.
In Singapore we also have the must do and must try on first visit -Universal Studio Singapore, Kidzania Singapore and of course the world famous Singapore Zoo, River Safari and Night Safari. We have more than this in Singapore.
A non-profit community located  on a low-carbon footprint community campus at a plot of land in Yishun. Named Kampung Kampus, GUI aimed to be role model for sustainable living and nurturing an eco-conscious community.
Do look out for their calendar of events , link here where they have various harvesting activities for kids and adults especially during the school holidays. They are also organised wood-working session where the kids can make toy car, wooden boat, toy house in addition for the regular harvesting session. In fact, they will be organising overnight 2d1n family camp this school holidays, more details here.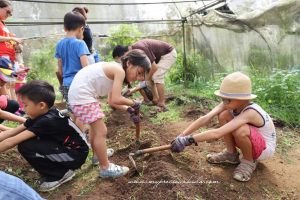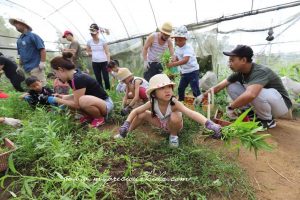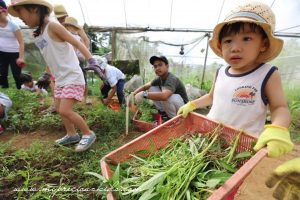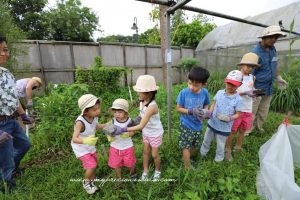 91 Lorong Chencharu (Yishun) Singapore 769201
My kids were first introduce to pottery and wheel throwing at Bali during our vacation. Once back from our holidays, I went in search for something similar for the kids in Singapore, and I found a gem in a remote part of western Singapore, Thow Kwang Pottery.
What makes this place extra special as it housed the oldest, surviving dragon kilns in Singapore owned by Tan family since 1965. They have been actively promoting pottering, the art of wood-firing in addition to the conducting educational tours and pottery workshop for school, public and of course for kids.
We had our taste at wheel throwing and clay making 2 years ago and we brought home our creations a momento to our memorable pottery session. You can sign up for their kids workshop here. To special mention, that the place is so rustic and natural, you feel like you are not in Singapore for the time you are there.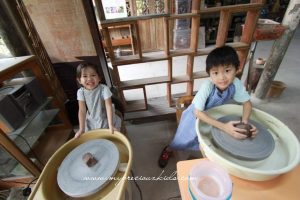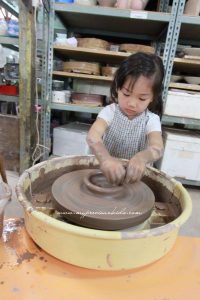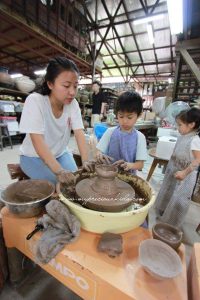 85 Lorong Tawas Singapore 639823
9am – 5pm daily
Open on ALL Public Holiday except for Chinese New Year
Just like the Skytrex in Shah Alam, we also have something similar , though not as big and rustic as the one in Shah Alam. Located at Bedok Resorvoir Park, this is one of my kids' favourite activities (my personal favourite too for the kids) as it is all outdoor, healthy and fun! We have been to Forest Adventure many times especially when kids are on their school holiday. Complete with various challenges and obstacle courses, once the kids complete a round, they get to do the zipline too!
Do note that there is height requirement. They have 3 different courses – Grand Course, Junior Course and the Kids Course to choose from , dependent on height and age as well. Minimumly you need to be 1.1m and 5 years old to try the Kids Course.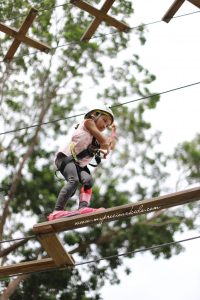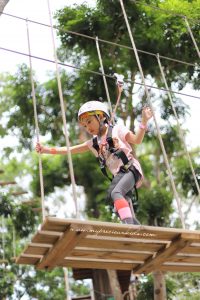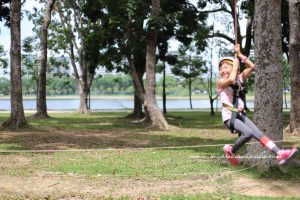 4.Ifly
Like the AirRider, we also have an equivalent in Singapore , located at Sentosa. However the age requirement is pretty strict, hence you have to cross your 7th birthday before having a go at indoor skydiving in Singapore.
As mentioned in Air Rider, the wind tunnel replicate the free-fall experience like in a real sky diving but in a safer and contained environment. I wouldn't dare to attempt sky diving but I have attempted Ifly myself. Trust it was a quite surreal experience personally so when my eldest turn 7, I of course let him have a go! As always you are in the good hands of expert sky divers during the sessions and they can bring you "fly" really high up there too!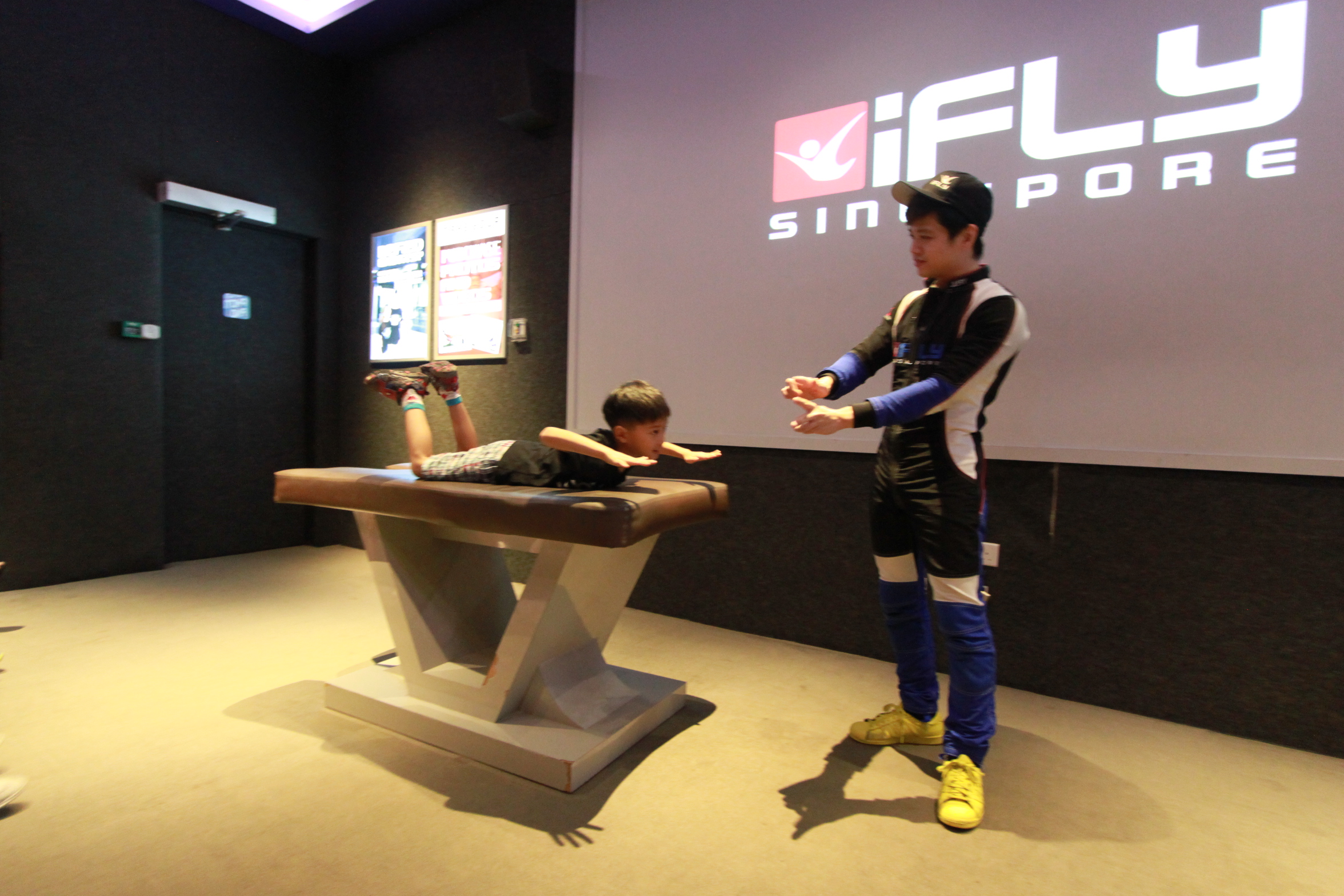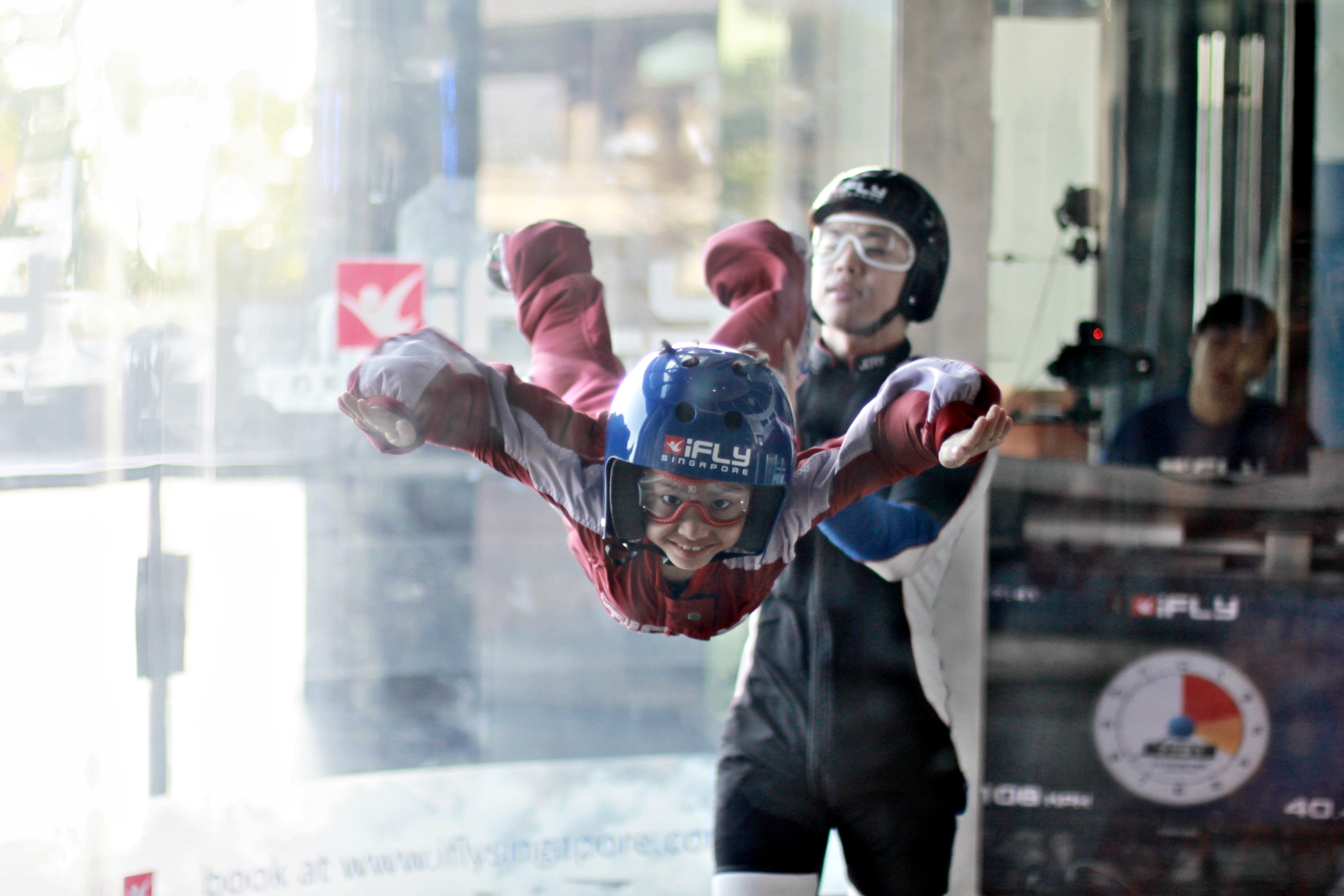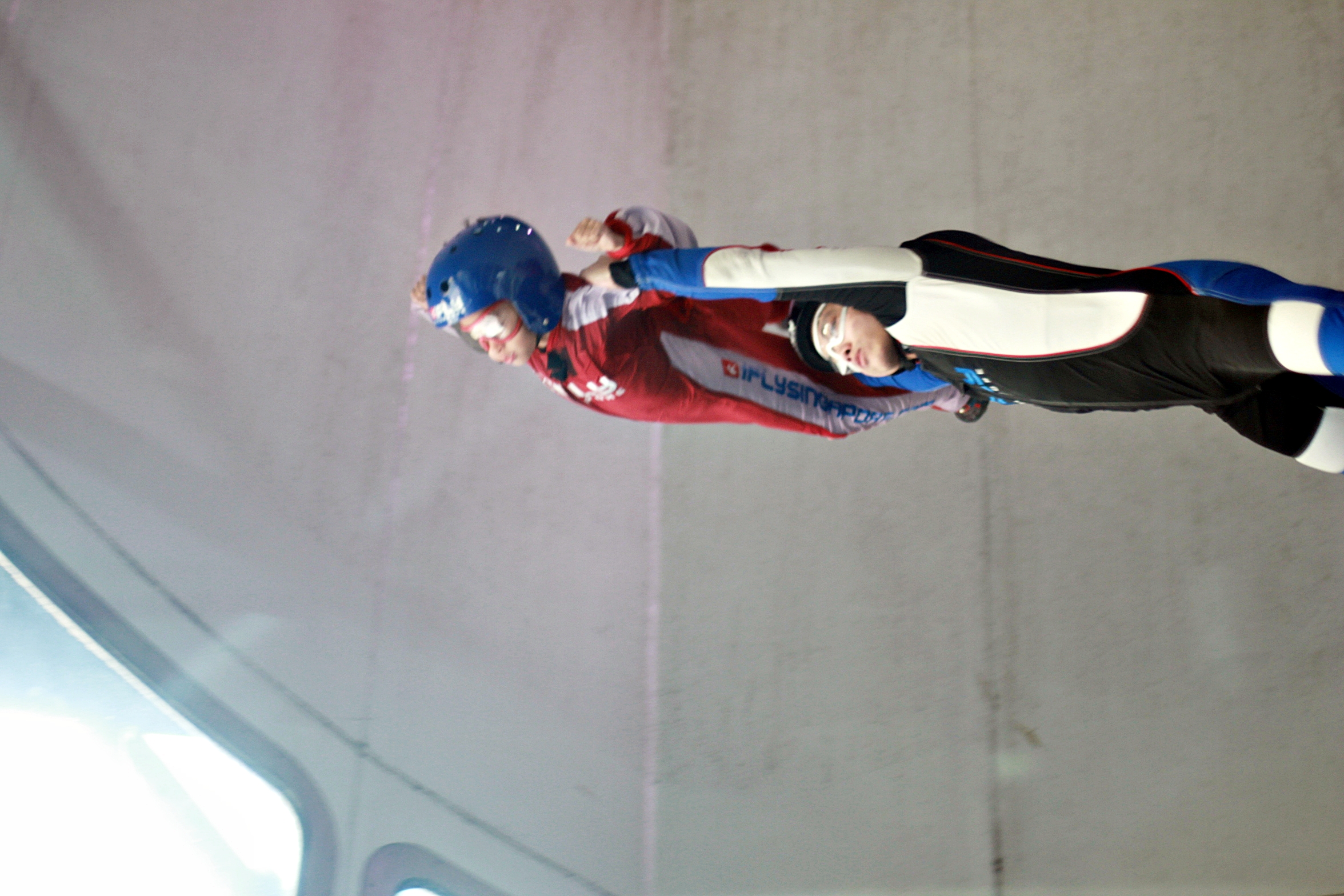 43 Siloso Beach Walk #01-01 Singapore 099010
Mon, Tue, Thu -Sun
9:00am – 9:30pm
First Flight: 10:00am
Last Flight: 9:30pm
Wed
11:00am – 9:30pm
First Flight: 12:00pm
Last Flight: 9:30pm
For sporty kids raring to try a new sport, you can try wakeboarding. Located at East Coast Park, it is Singapore's only cable-ski park built in a lagoon.  It is not only for experienced riders, but beginner including kids as young as six year old can have a try at wakeboarding. It boast one full size-cable system for experienced riders and two straight-line System 2.0 for beginners and intermediate riders. It is a perfect place for family bonding and team building events too!
We had a beginner lesson both myself and my girl and we had wet and wild time last year. What I particular loved about this beginner lesson was that this sports also teaching you never to give up despite falling many times upon failure to balance on the wake board.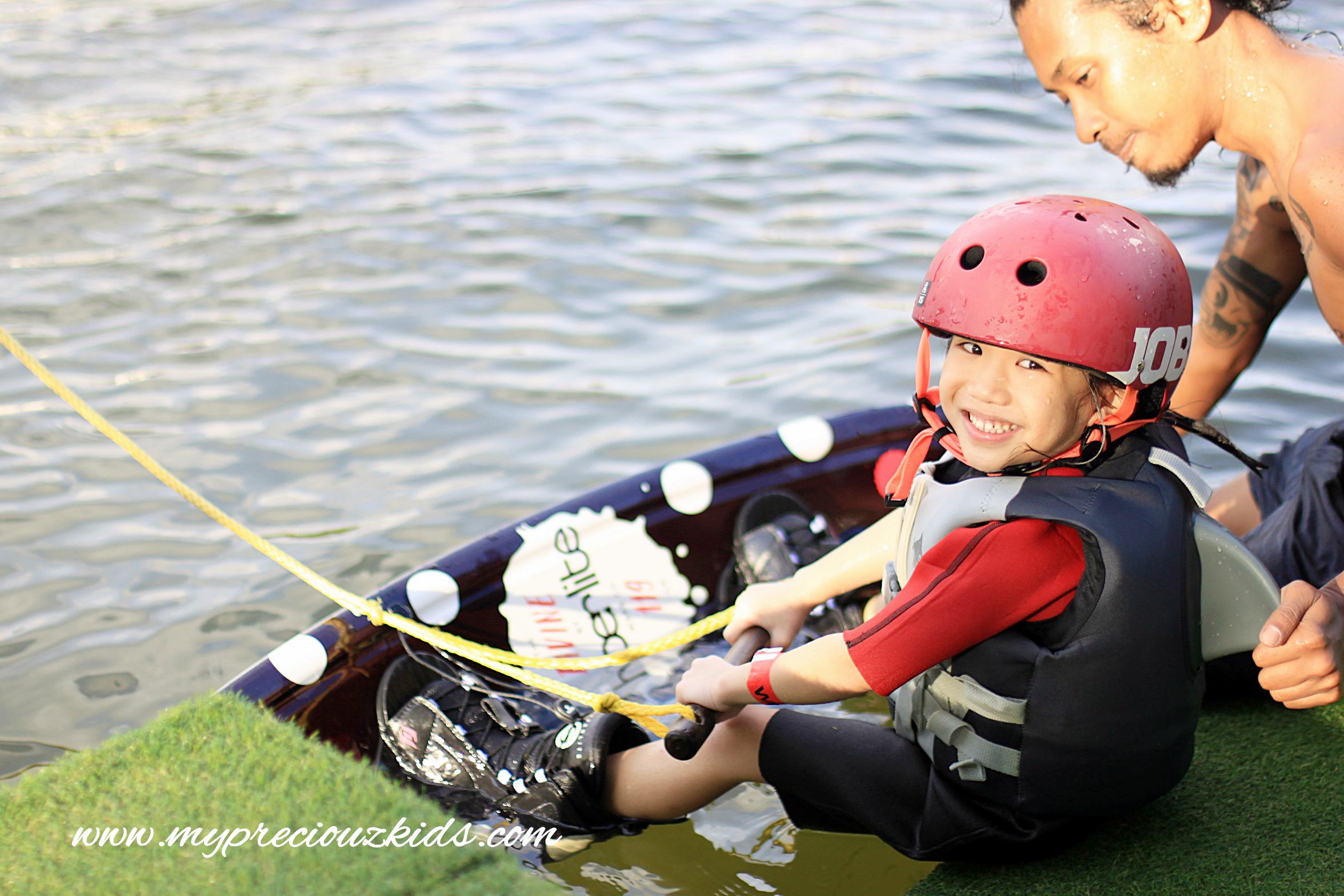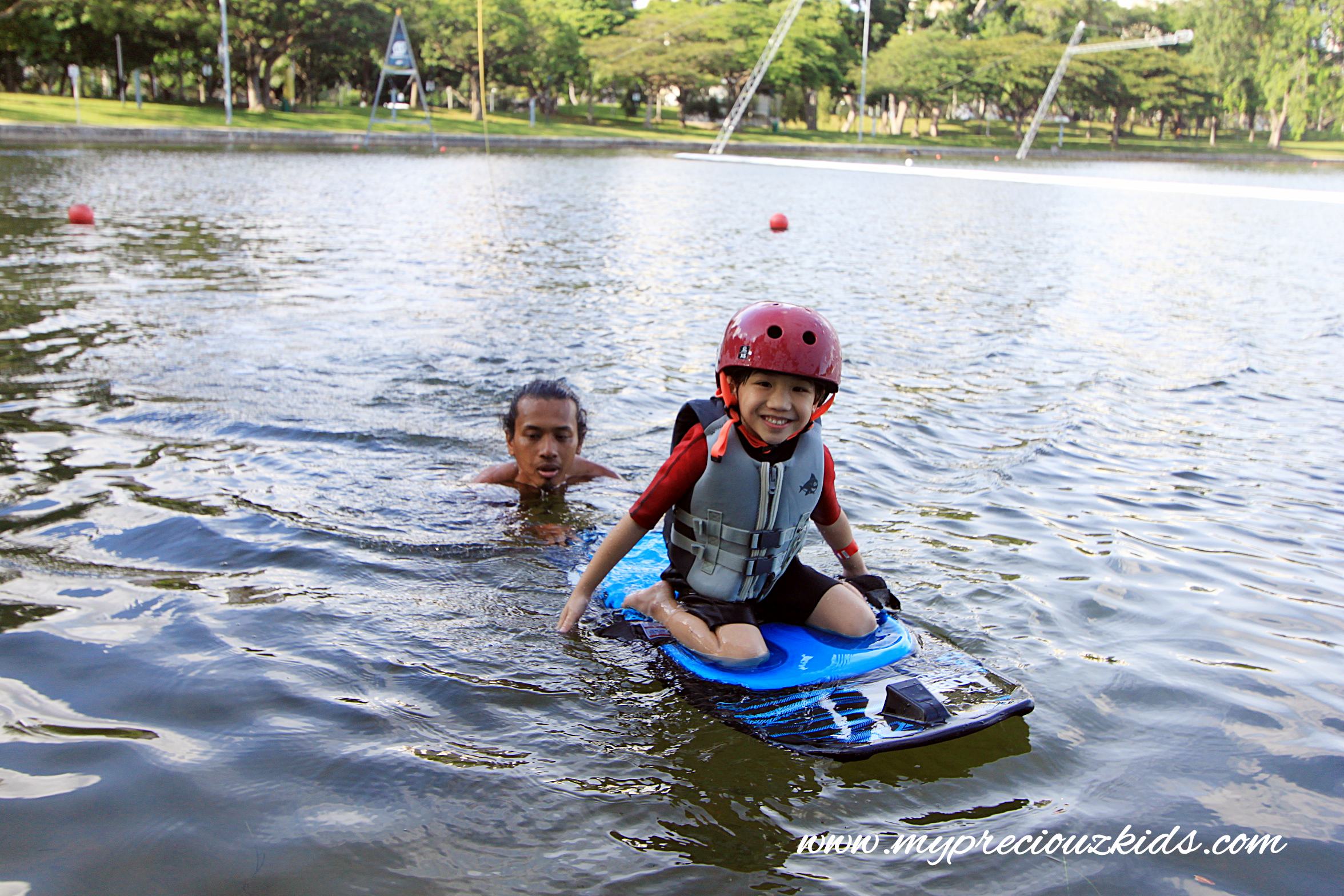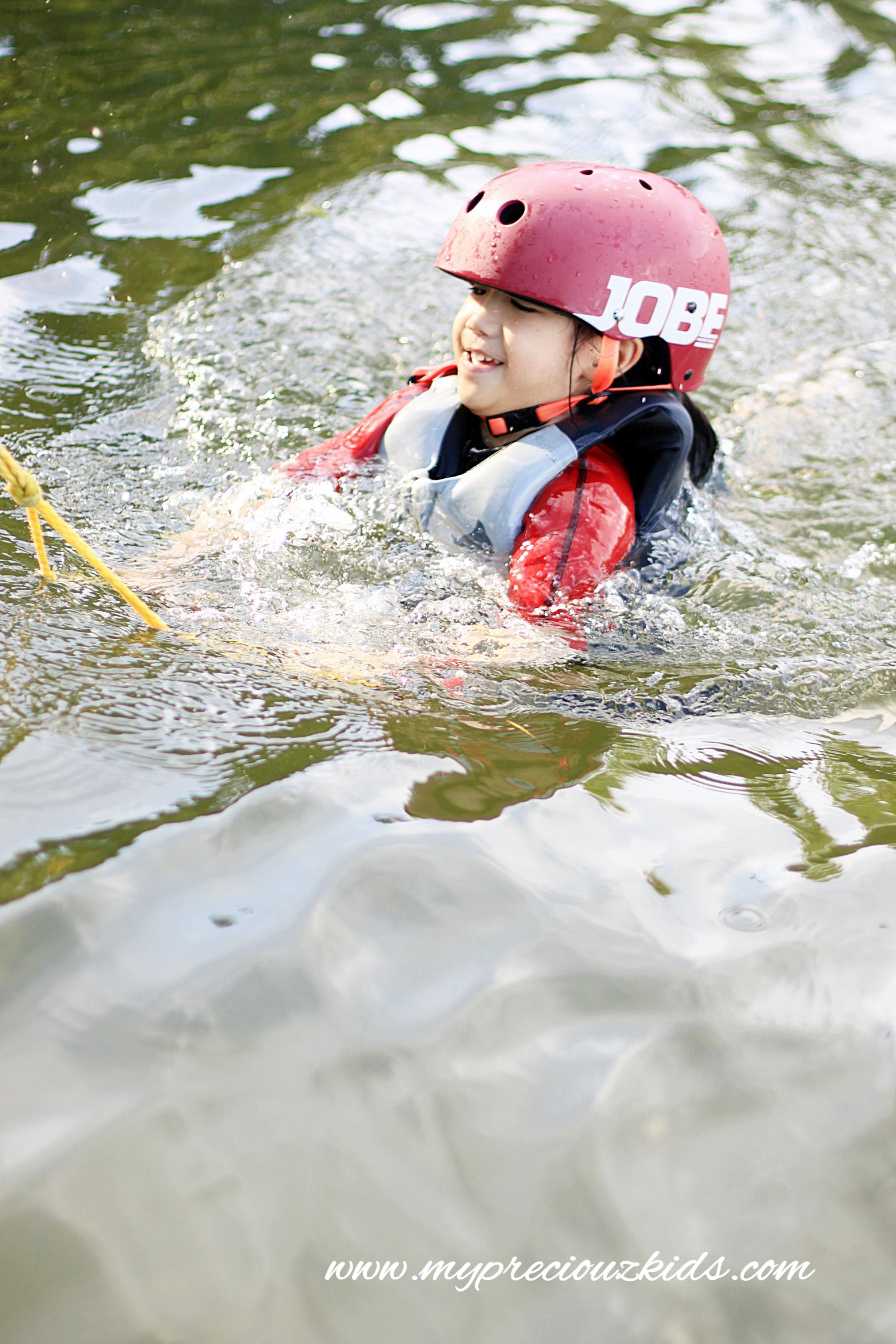 1206A East Coast Parkway,
Singapore 449891
Mondays to Fridays: 10am to 9pm;
Saturdays, Sundays and Public Holidays: 9am to 9pm
There you go, all my recommended kids friendly places in KL and Singapore (many tried and tested by my kids) just in time for the start of the school holidays, not the typical and popular ones but the fun you get trust me is no less than those! Especially if you are planning a trip to KL , I hope you can see KL has a family friendly destination with lots to offer. You can also book your cheap flight tickets for the Kuala Lumpur to Singapore flights competitively at Traveloka.  Compiling up this list really makes me want to make a trip to KL soon.
Share the article