Not only do my kids enjoy the songs and dances from the Australian multiple award-winning children's television edutainment series, Hi-5, I myself love to watch them sing and dance (sorry, I am not such a big fan of cartoon characters singing and dancing). The last time we caught them was probably a few years back and ever since then, we kept missing their shows as they clashed with our holiday trips. I can't wait to catch them live in Singapore in December with my kids for a newly themed show, Hi-5 SUPERS at Marina Bay Sands.
HI-5 SUPERS features 34 year-old Stevie Nicholson, 24 year-old Tanika Mei Anderson, 27 year-old Mitchell Kenneth Lagos, 25 year-old Jacqueline Bramwell and 22 year-old Daniella Mirels who are all familiar faces to my kids and are all so multi-skilled with talent to sing, dance and act.
This dynamic new stage show promises Hi-5's super brand of fun, packed with superheroes from every walk of life with plenty of Hi-5 hits and dancing along the way.
The story revolves around the beloved Chats, who grants Hi-5 their wish to be superheroes for a day in Hi-5 City. Stevie becomes Super Strong with a belt of power, Jacqueline is Super Vision with the ability to see the other side of the universe and beyond with her super vision goggles, while supersonic hearing transforms Mitchell to Super Sound with his Super Headphones. Super-fast Tanika, in the hopes of being able to fly one day, becomes Super Fly, and Daniella, who is great at camouflaging and has the ability to be invisible, is Super Sneaker.
The Hi-5 Supers get invited to the Superhero Awards Night but are kept busy during the day with a series of impossible hilarious missions and obstacles to overcome. When they do finally reach the Awards ceremony, there is more drama ensues. During the day's adventures, each superhero learns how to overcome their fears and achieve what they have most wished for. The superhero day ends with the realisation that everyone is super in their own way, every day.
Hi-5 SUPERS hopes to empower every child, showing them that being a hero means so much more than being able to fly or jump over buildings. The show hopes to reveal everyone's inner super hero. It is about expressing oneself and accepting others in their own 'super' way. I love such strong powerful messages from shows.
For the first time, Hi-5 is adding an new element to the show – a mosh pit so that they kids can sing and dance closed up just like what you see in the TV shows. Adults are welcome to the mosh pit but each child need to be accompanied by an adult.
Expect a fun-filled super hero adventure with the usual Hi-5 signature elements such as super bubbles, bouncy balls, dazzling lighting effects and interactive play. Not forgetting what Hi-5 is best known for, singing and dancing along to favourite songs such as L.O.V.E, Amazing and of course Action Hero!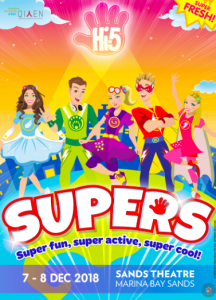 DATE: Fri, 7 Dec – Sat, 8 Dec 2018
TIME: Fri: 6.30pm, Sat : 10.30am, 2.30pm & 6.30pm
VENUE: Sands Theatre at Marina Bay Sands
DURATION: Approximately 110 minutes (including 20 mins interval)
One year old and above will require tickets for admission.
Share the article