Media Invite
I can't recall when was the last time I visited the SEA Aquarium or Universal Studio Singapore ("USS") but like every local, when we have a local attraction we hardly visit or only visits when relatives from abroad visit. I guess the last time we visited, we were in as a family of 5. So, this will mark as our very first time entering the park as a family of 6 , 2 adults vs 4 kids 0f different heights…lets see if we manage to enjoy all the rides and attractions especially the new ones for this month only!
This is also our very first time enjoying the lunar new year festivities with Resort World Sentosa and seeing how they have incorporated  the biggest festival of the year (IMHO – some may say its the Christmas celebrations) in their 2 of the most popular attractions – SEA Aquarium and USS. I think the biggest highlight would be the iconic dragon dance at the SEA aquarium.  I have always taken a fascination to dragon and lion  dance but an underwater dragon dance will truly be an unique performance not to be missed!
From 9 to 28 February, especially for locals and families who are not travelling abroad and have the whole long weekend in Singapore ( and the weather seems to be holding up and cooling too), this makes it the best time to pay a visit to either the SEA aquarium or USS or both. If you have young kids like me, perhaps taking one attraction on separate days will be more advisable to fully enjoy instead of rushing through it.
Both attractions have slot in new items as part of the Lunar New Year celebrations so that there is always something new to enjoy even if you are a regular park-goer.
Universal Studios Singapore (9 to 25 Feb)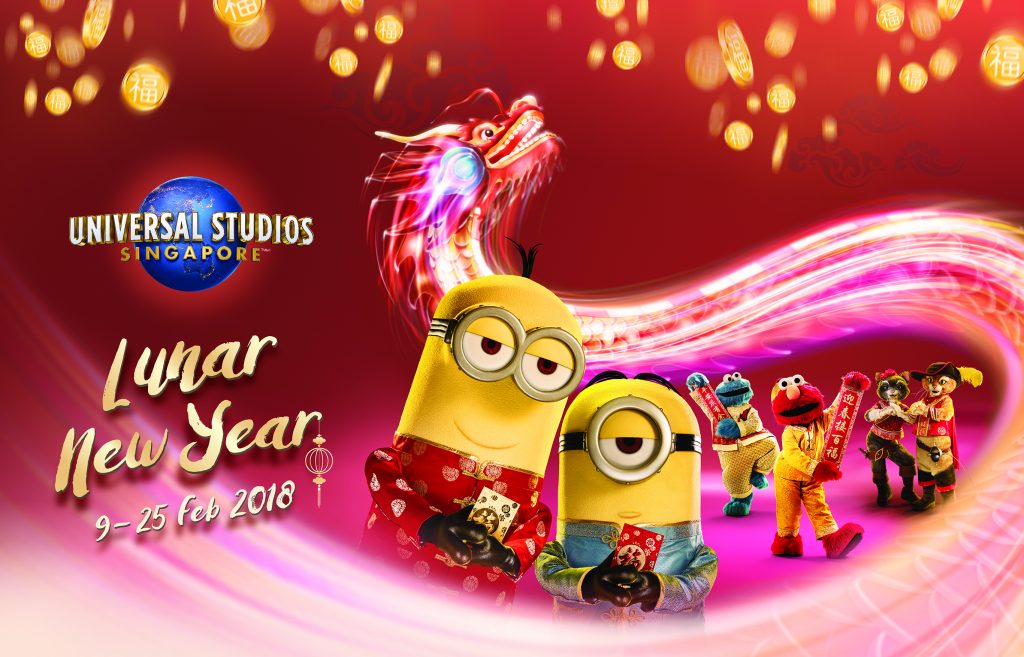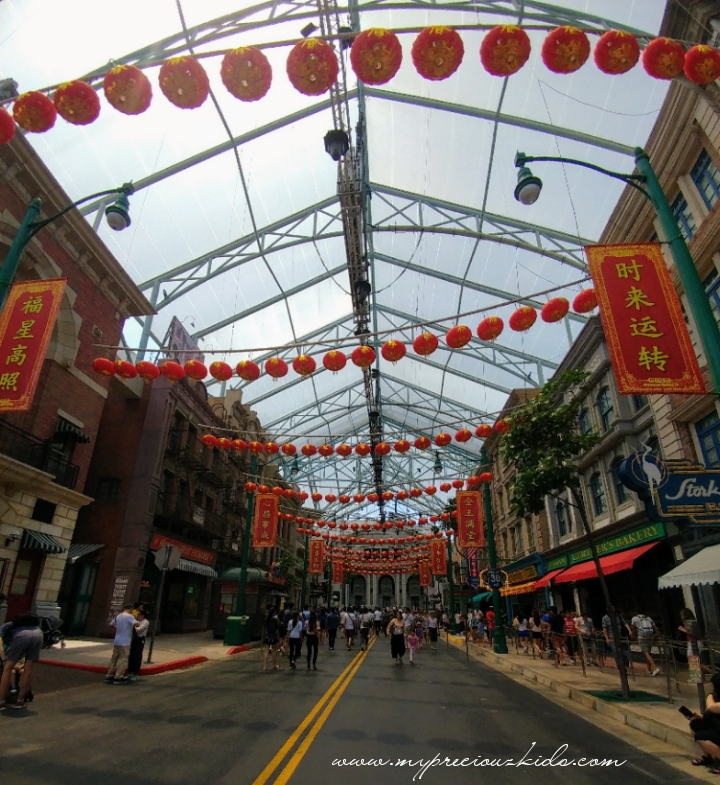 Majestic Dragon Trail – new!
No Lunar New Year is complete with dragon dance and traditional costumes! Incorporating the traditional dragon dance with all the favourite USS characters like Minions, Sesame Street friend and Puss in Boots (all decked in Chinese traditional costumes)
The 20 minute trail happens at 1pm and 5.30pm daily , from New York passing to all the zones ending at New York with different characters appearing at all the different zone. For eg, at New York will be the characters from Sesame Street and at Far Far Away will be Shrek and Fiona. So if you are up for it, you could follow up throughout the trail. There is also meet and greet after the dragon dance performance too!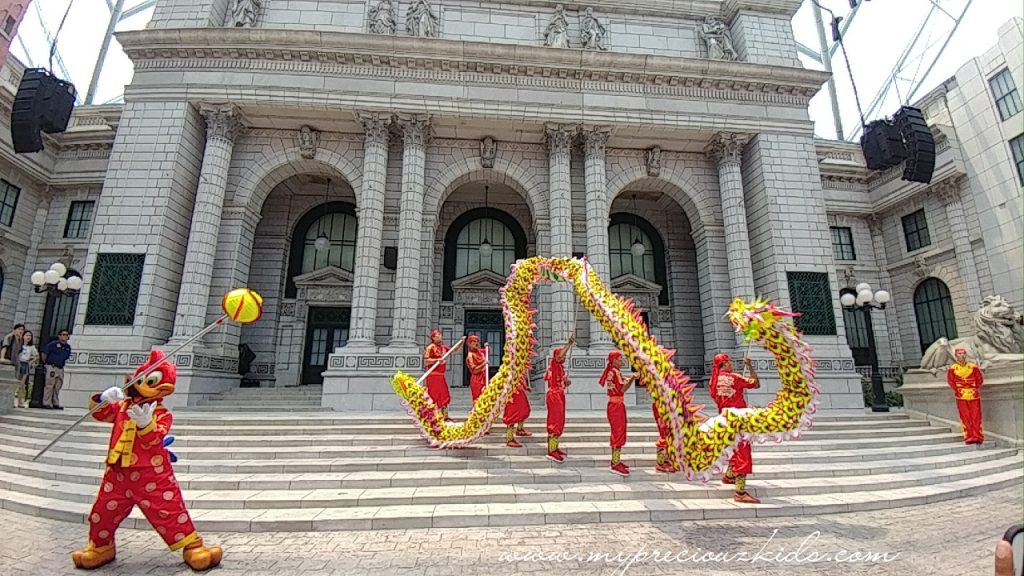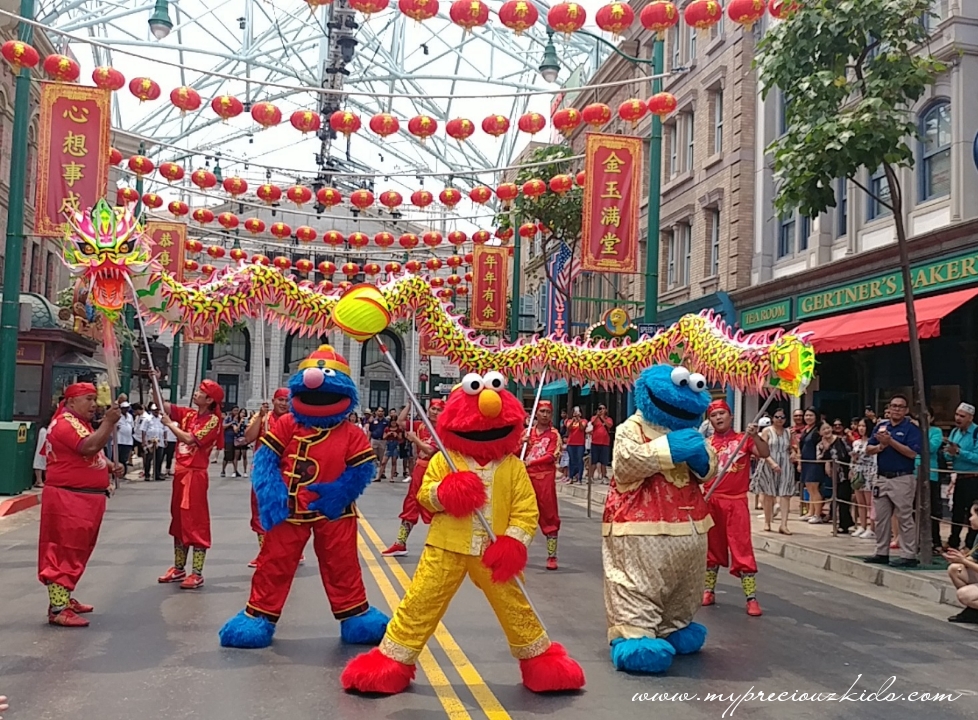 East- Meets-West Street Performance by the Rockafellas and Mel's Dim Sum Dinettes  – New! 
Incorporating eastern elements and tunes, the crowd's favourite Rockefellas will serve a brand new show – Fu Fighter at the New York Public Library while the Mel's Dim Sum Dinettes from Mel Diner's will entertain all theme park guest to lunar new year tunes in cheongsam! They were even belting out tunes in Chinese, all in conjunction with Lunar celebrations!
As the timing are varied to check at the park entrance for  timing.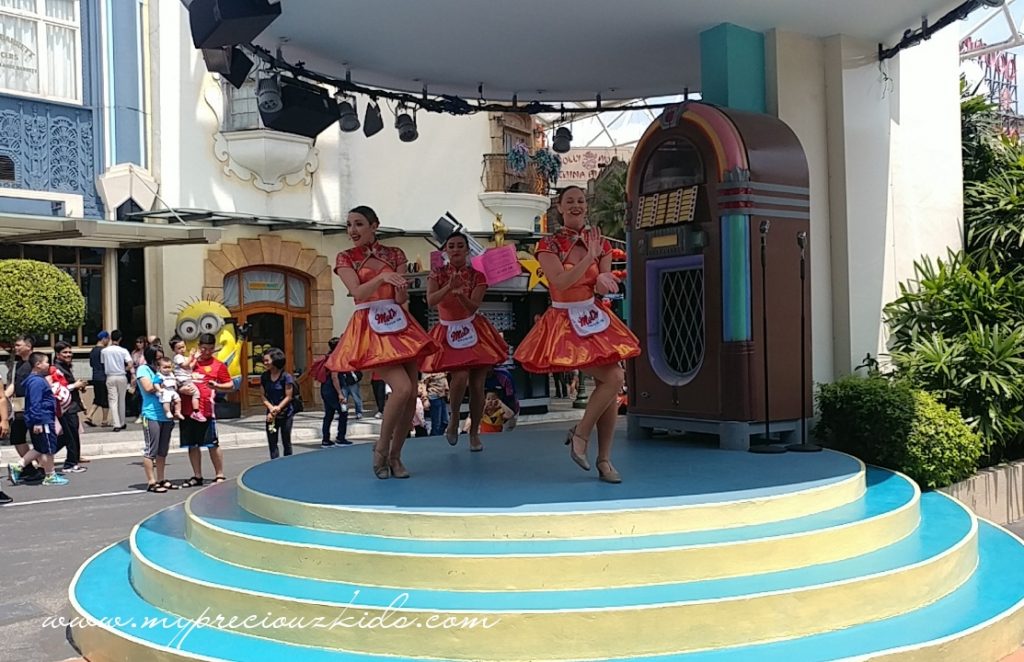 Hello Kitty Studio 
This was launched last year but this is definitely new to me. We had  plenty of photo ops as I am a big fan of Hello Kitty myself! I was so glad that I managed to enjoy this part of the park while the boys wait out for us girls to finish our little tour!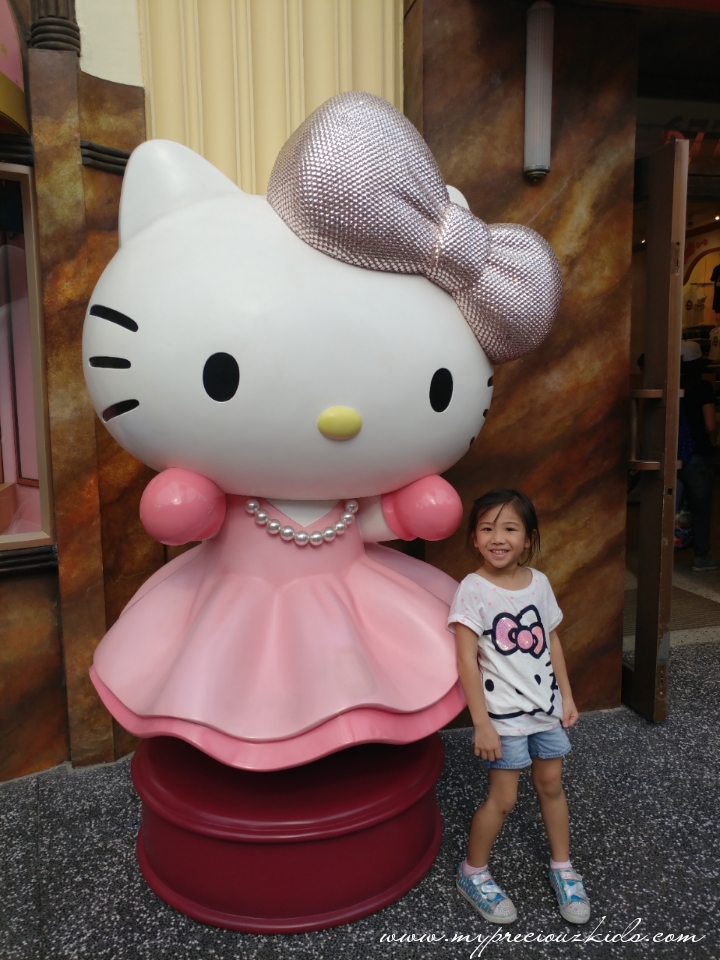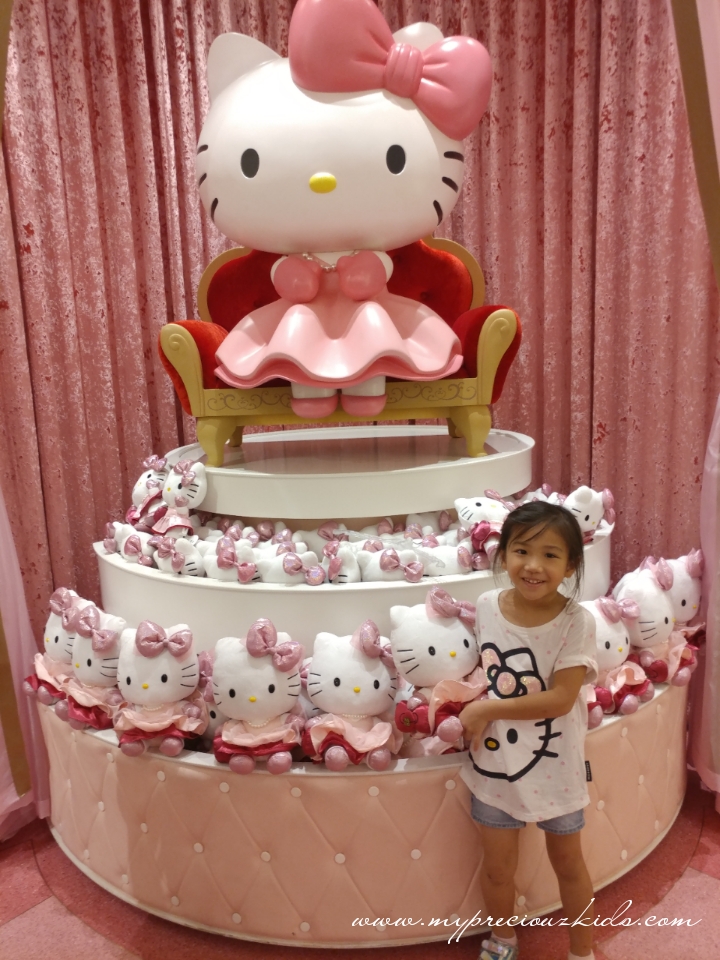 All this are included in the paid park admission and the parks are open till 8pm or 9pm on selected night. Singapore resident enjoy a special rate of S$72 along with a complimentary S$5 meal voucher.
At the end of the day,  we made it through many rides, (adults taking turns if one of the kids was unable to ride due to height requirements), even small C did his first Madagascar – A Crate Adventure, but he was too late for nap so he had to miss King Julien's Beach Party- Go- Round . Small J had his first even roller coaster ride at the Enchanted Airways and enjoyed himself thoroughly at Puss in Boots' Giant Journey – the most popular kids' ride!
We even caught the brand new Elmo TV's Time.
Over at the SEA aquarium, not to be outdone by USS, they are also hosting new exhibits and items just for the lunar new year celebration from 9 to 28 February.
S.E.A. Aquarium (9 to 28 Feb)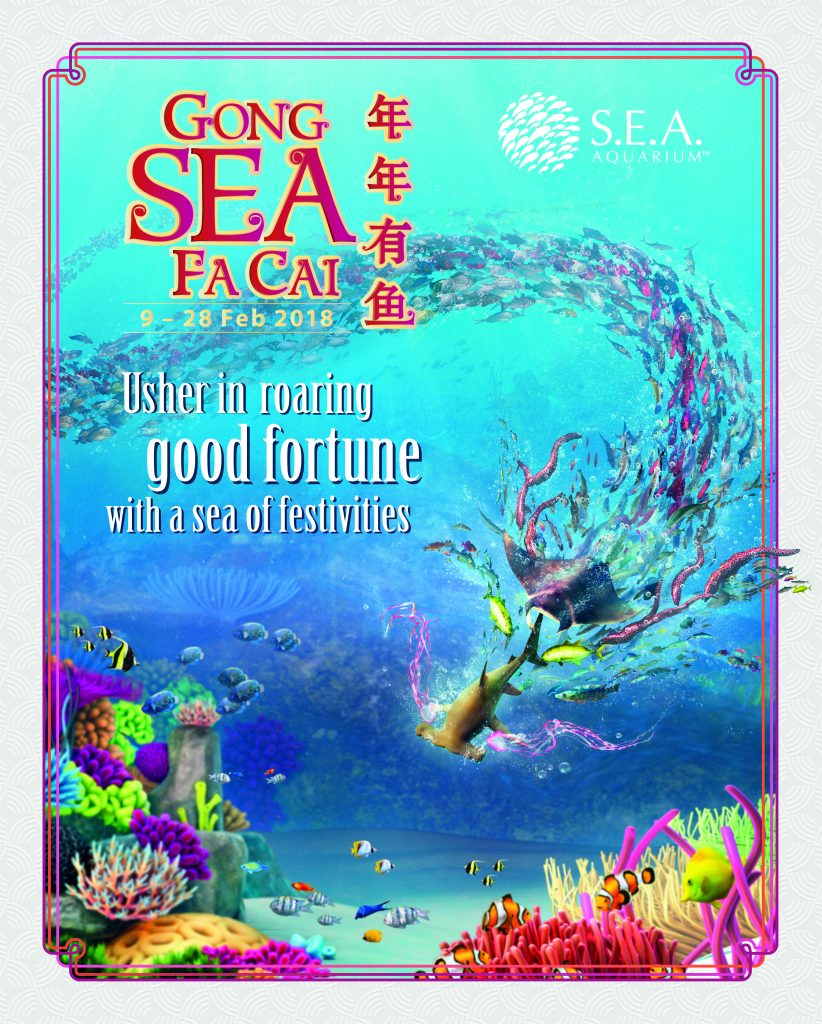 Singapore's only underwater dragon dance -New! 
A crowd's favourite from previous years, divers will all  be decked in festive costumes performing dragon dance with the backdrop of all the sea animals in the SEA aquariums – from manta rays to zebra sharks. This year, we also caught the Sea Goddess as an addition to the dragon dance ensemble.
This happens at 1.30pm and 3.30pm daily (11.30am on Sat, Sun and PH) at the open ocean habitat and shipwreck habitat. Thereafter , you can proceed to the Ocean Dome for a story telling session by the Sea Goddess at 12 and 2pm daily (4.30pm on Sat, Sun and PH). I was in awe with the effort that RWS even to details of the costume of the Sea Goddesses –  truly all attention to make sure all park-goers have a wonderful time and creating wonderful memories!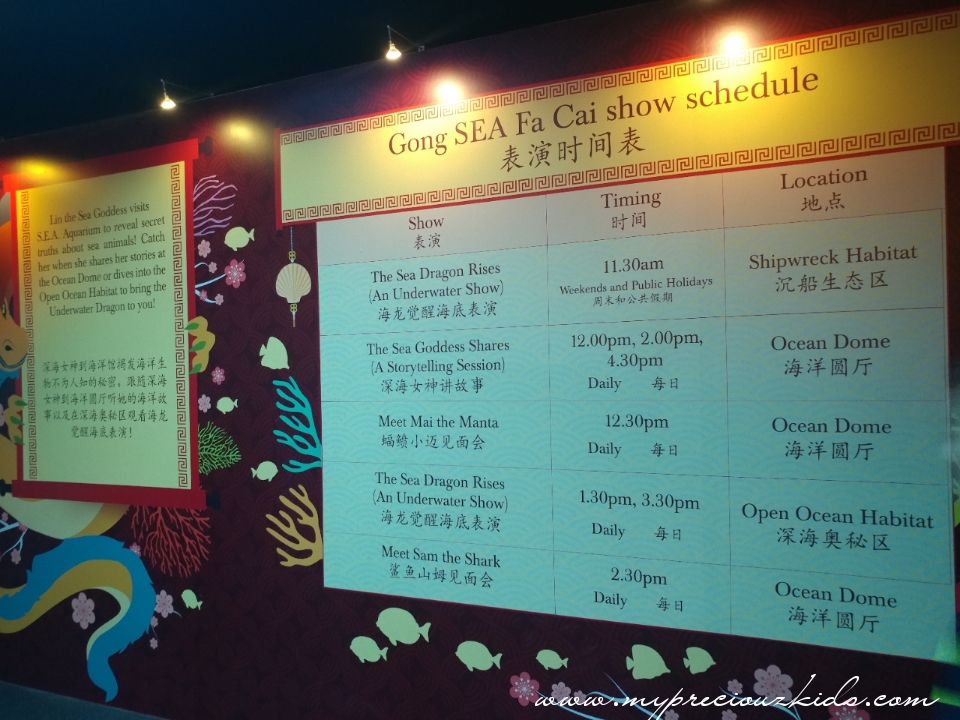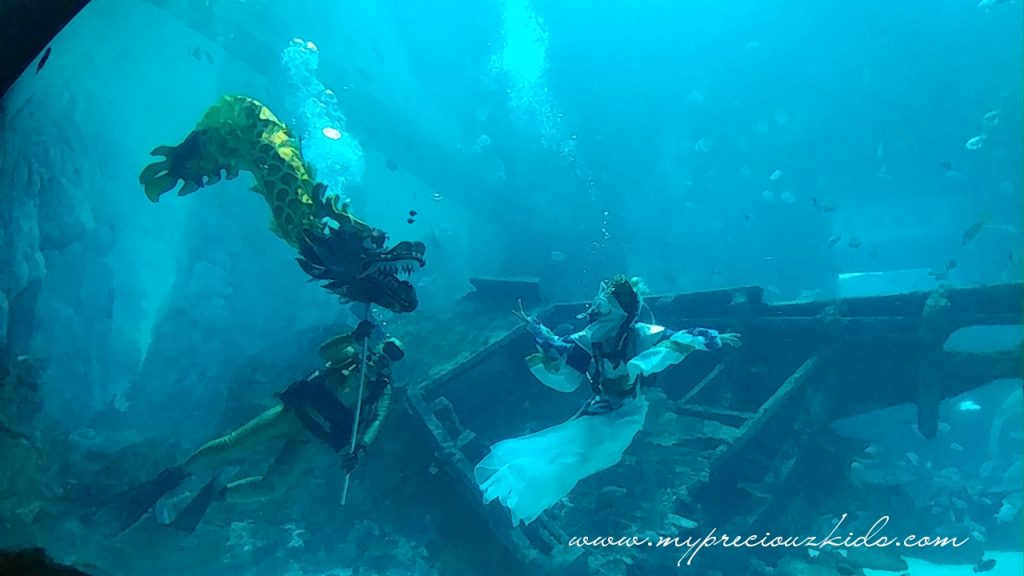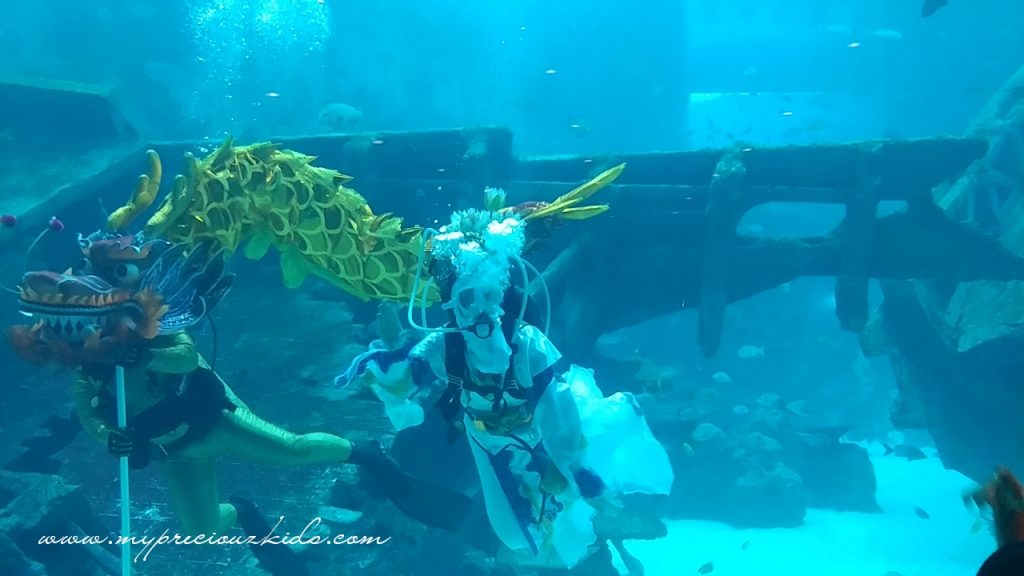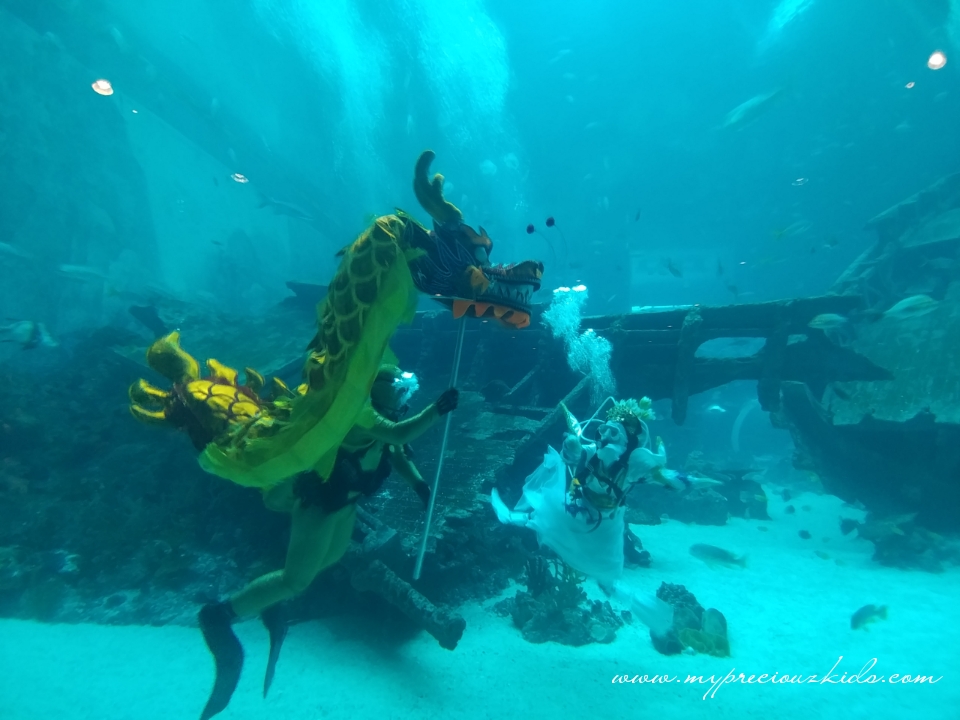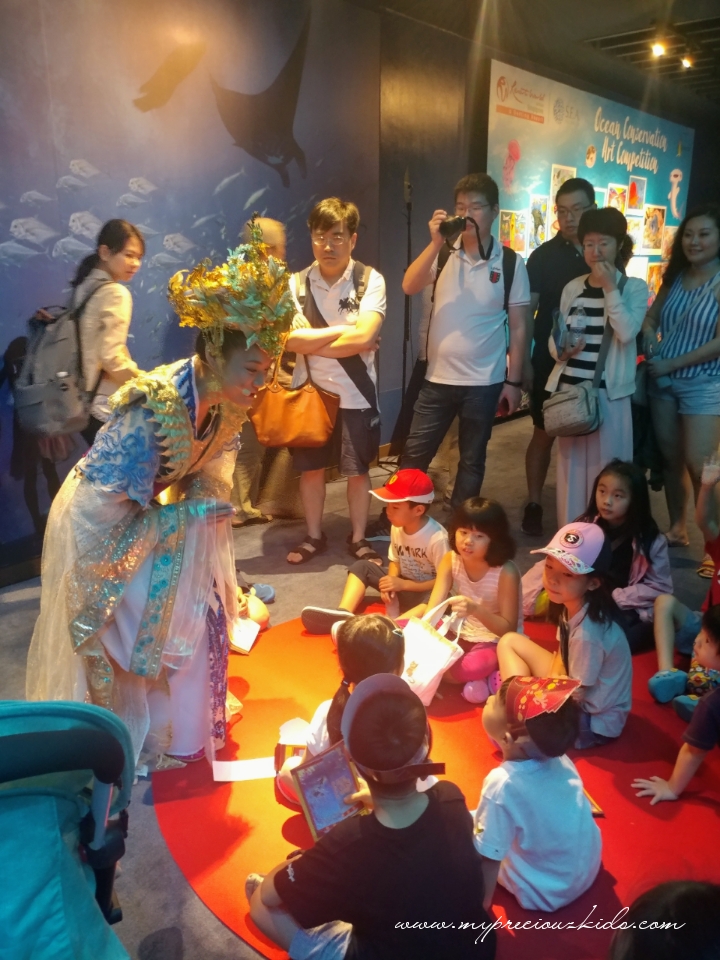 Highlighting auspicious sea creatures, SEA aquarium has create a new perspective to their guest to discover fun fact and also weaving conservation theme as part of the learning as part of the Lunar New Year programmes.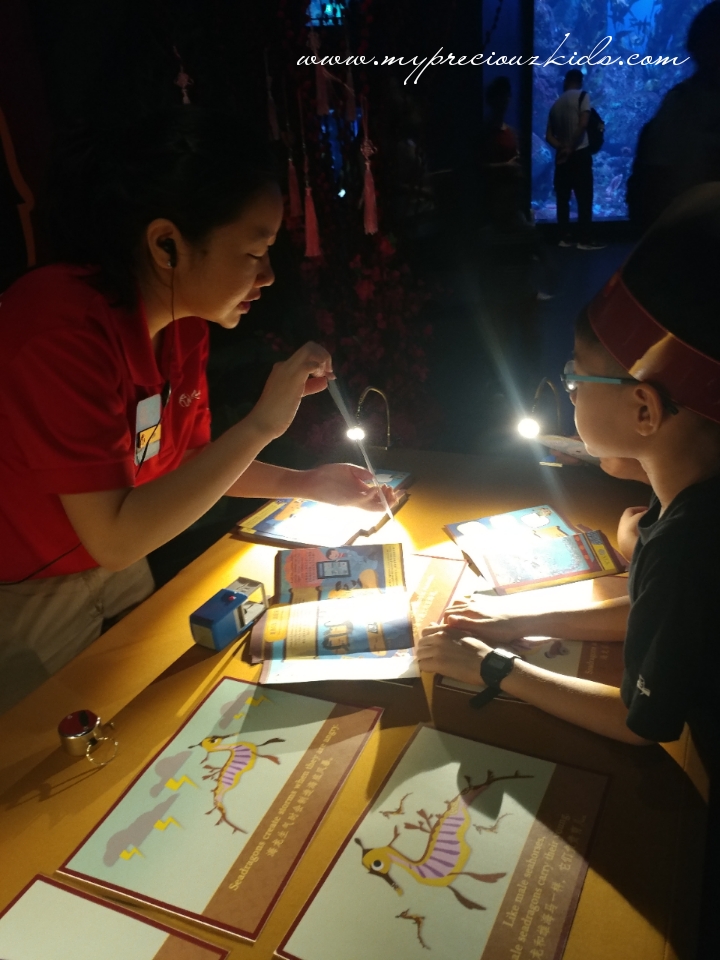 Singapore residents enjoy discounts on admission at S$34 and S$22 for a child.
I am so glad that we have managed to soak in some Lunar New Year festivities and celebrations before the real celebration begins later part of this week.
If you have some time from the visiting  and wish to soak into more lunar new year mood and festivities, both attractions offer their own unique interpretation of our biggest festival of the year! I wouldn't favour one over the other, but it depends very much if you want a more leisurely and comfortable day out or a more adventurous one!
Taking this opportunity to wish all my readers , family and friends a very paw-perous new year and enjoy this festivities with your family and friends!
Share the article