What do I know about servicing or cleaning of car? I only "use" the car to ferry the kids from point A to point B. I don't even keep track about whether there is enough petrol , air in tyres or enough value in cash card for ERP or parking but I am very concerned about the appearance of little cockroaches in the car.
We had the same problem for our first car which lasted us 10 good years. During the final years when the car ferried 3 young kids, the size of the cockroaches were huge, we only do occasional vacuuming and the problem has never resolved.
When we  bought our new car 2 years ago, we VOWED to take good care of it by reducing the instances of the kids eating in the car, however it is unavoidable sometimes when the baby wants his milk, he WANTS his milk. During our road trips to Malaysia, we cannot avoid feeding kids some food as it is not convenient to stop just to snack.  Now the car is into its 3rd year and little roaches have found its way and if we do not do something about it , the problem like what we had for our first car will appeared.
TIP NO # 1
Did you know that cockroaches will find its way into the car even if there is ZERO eating in the car. I was told by the representative by EA Detailer even if there no eating in the car, cockroaches are attracted by food smell if the passengers packed food home, or if the car is parked near garbage areas or basement car parks.
So a TIP for my readers, do have a tin of air freshener in the car, once you have taken the packed food out from the car,to remove the smell by a few spritzs of air freshener after removing the packed food from the car.
When I came to know the existence of anti pest fumigation for car, I am very intrigued. There are not many companies which deliver this service in Singapore , EA Detailer is one of the few. I have zero interest about polishing of car and servicing but I am deeply concerned about the cleanliness of the interior of the car as my kids are passengers of the car and how to improve and to put it bluntly, kill all the roaches!
So our family car went for a 6 hour "spa" treatment –  not just for the exterior polishing shine but anti pest, anti viral and anti mold deep clean of all possible nook and corner of the car.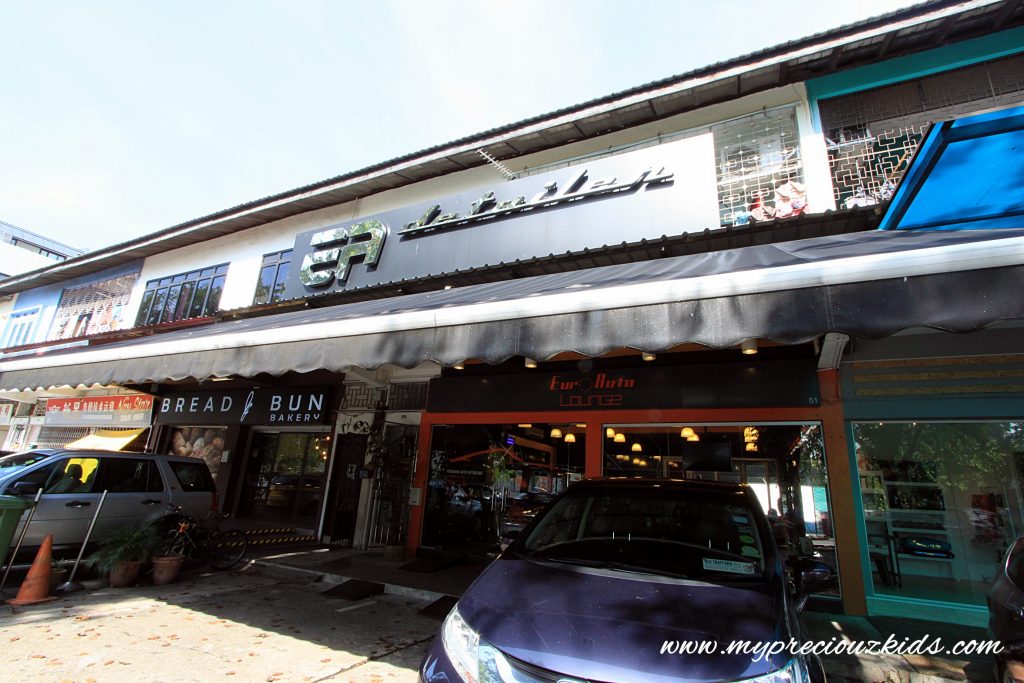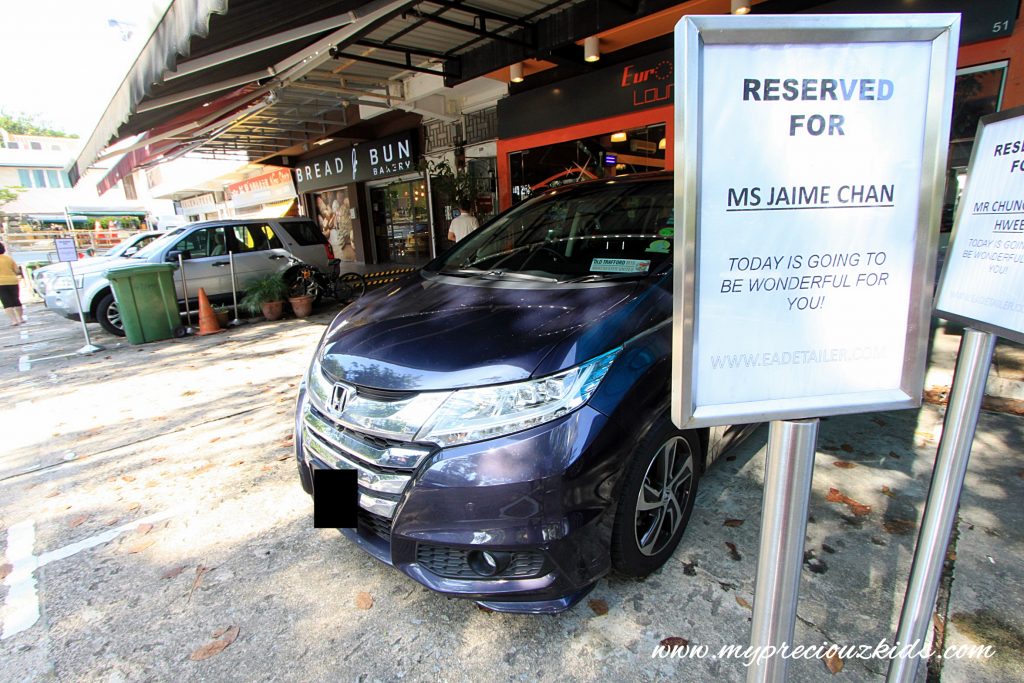 This was what greeted me when I reach the workshop – this is for first timer to ensure that we find the correct spot to park before a representative does an assessment of the car – take "before" photo of the car and to identify existing scratches and dents.
In the waiting area, there are NERF guns for those who came with kids and a comfortable plush sofa and an adult racing carseat for those who wish to kill time at the showroom. Else EA Detailer also provide ferry services to vicinity area for customers to drop off their car and to pick up the car thereafter.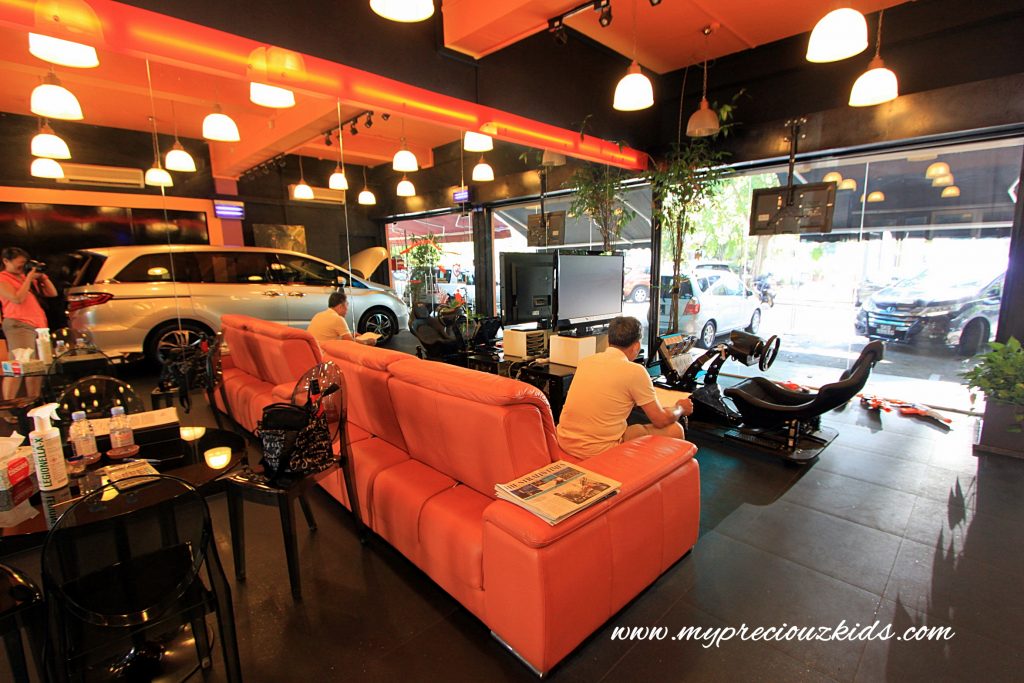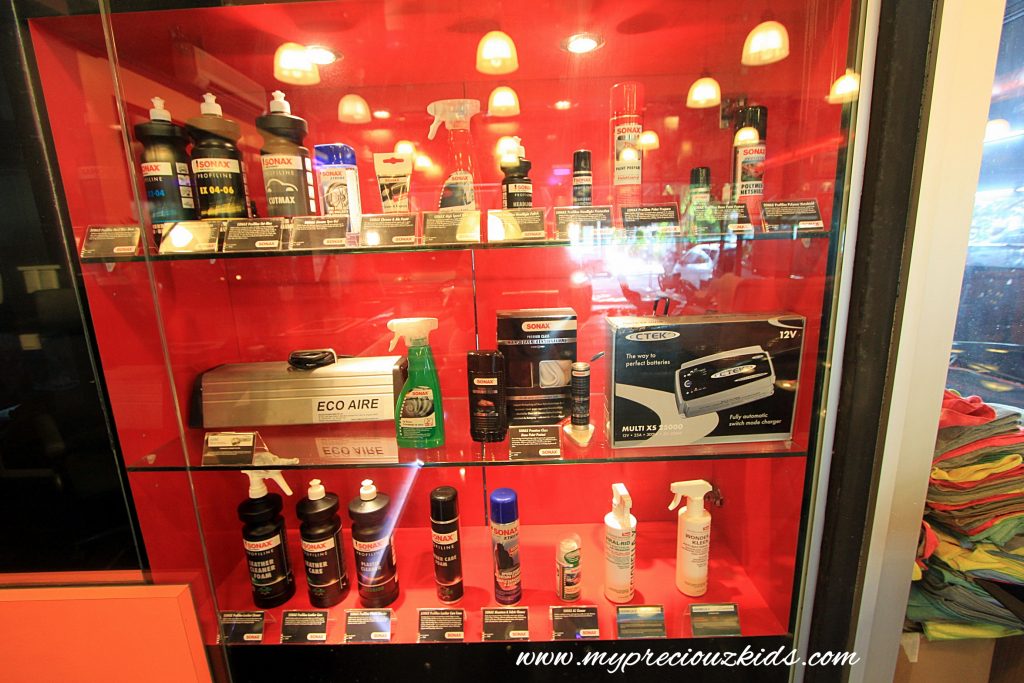 This is the state of my car before the session. He told me that it is unusual for my car to have many scratches on the bonnet of the car – I do not have a single clue what could have caused this.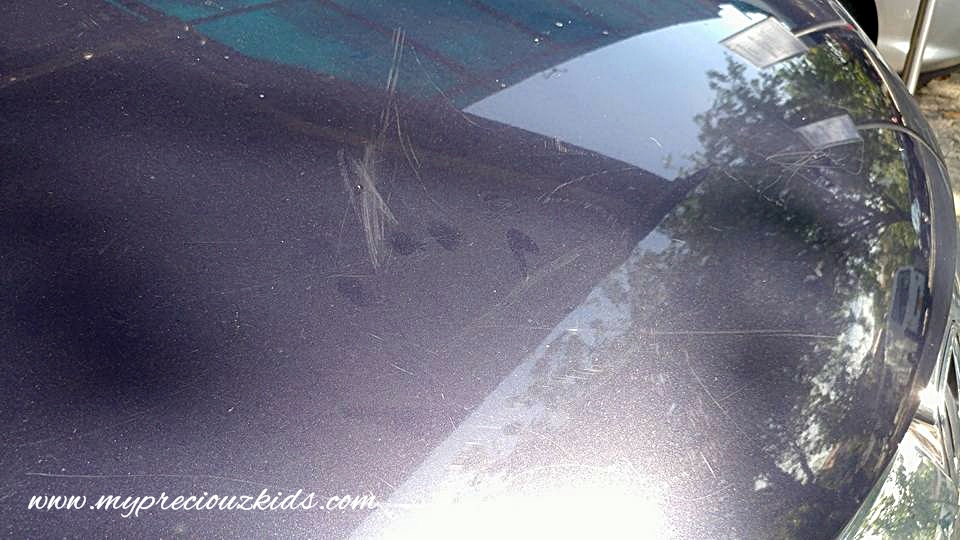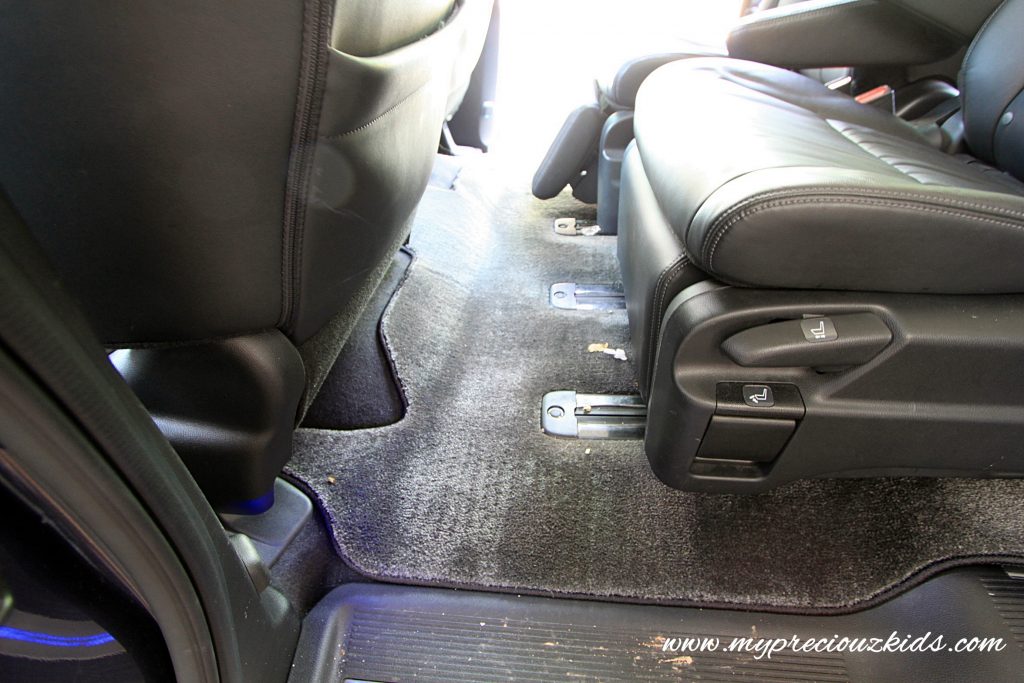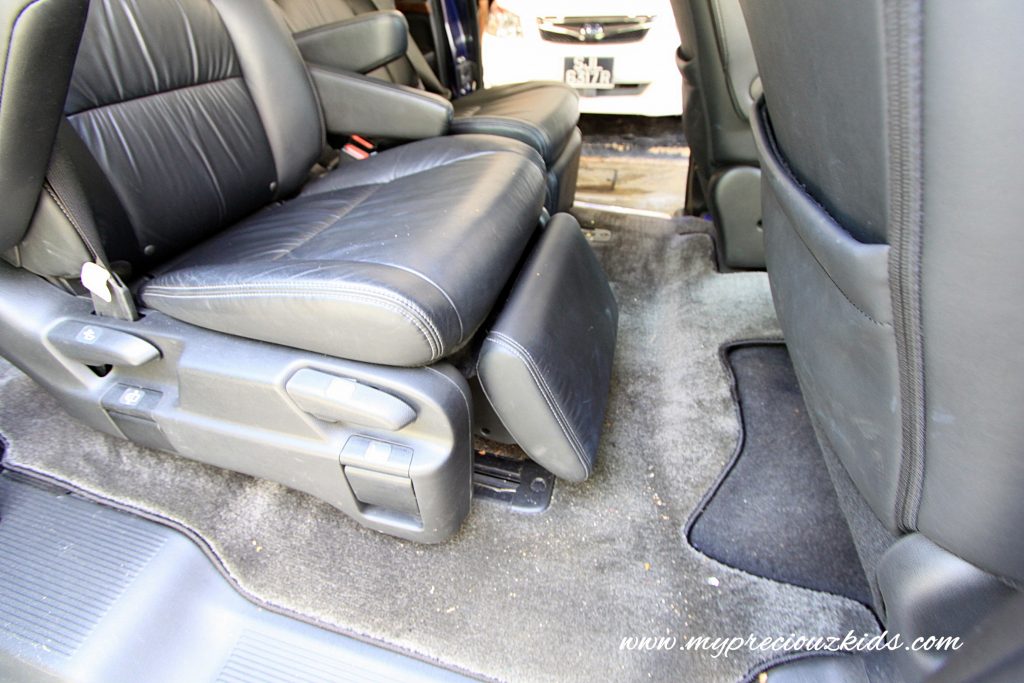 Even before the fumigation has started, we discovered  these!!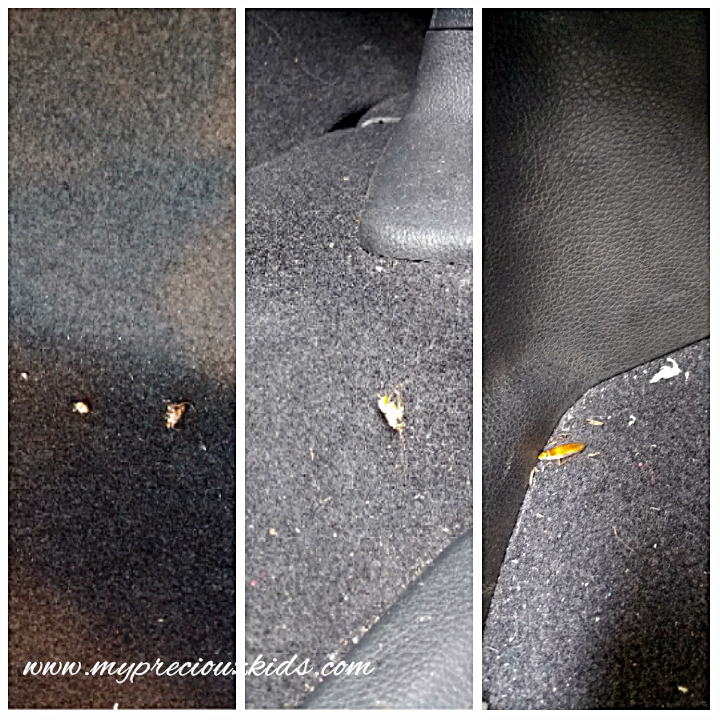 4 stage stage purification (SGD369)
Stage 1: Bio fumigation – use non toxic mist , the mist is released into the closed interior of the car and kept in for 30 minutes. This process will ensure that 80% of the cockroaches will be exterminated. To do a full 100% extermination, they advise to come for another round of fumigation 2 weeks later as the car owners will witness the leftover cockroaches within the next 1 to 2 days after fumigation. The representative assured me that the fumigation mist use is safe for children and pet and there will be an ozonic process later which will get rid of the smell and purify the air in the car.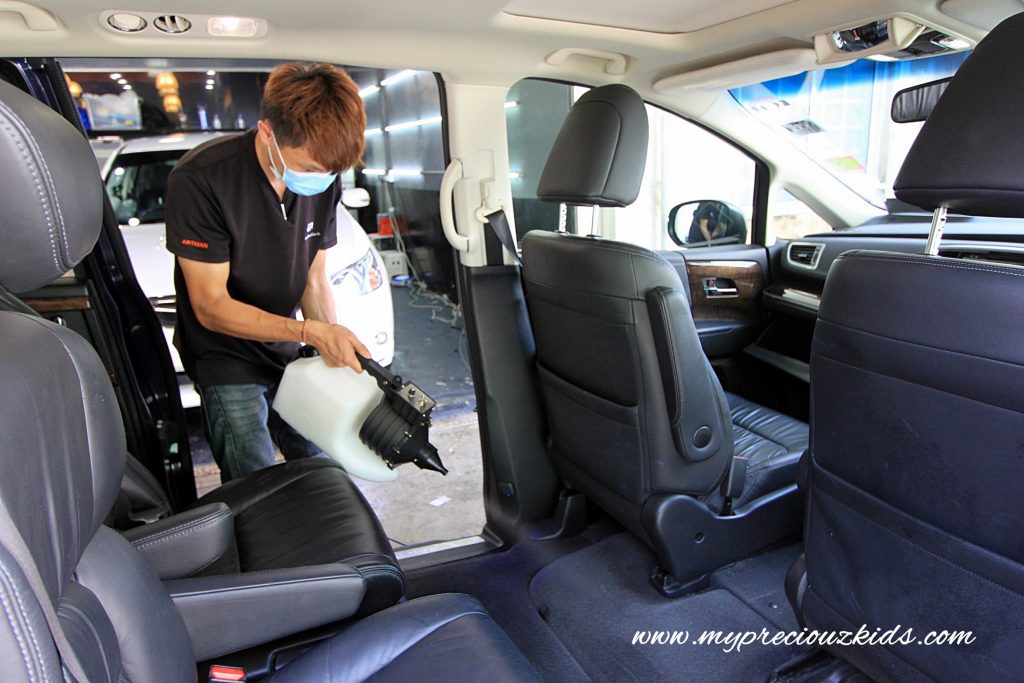 Stage 2: Hydro extraction vacuum , if you are familiar with Rainbow vacuum cleaner, instead of using the conventional dust bags vacuum clear. The Rainbow uses Mother Nature's most powerful element, WATER, to trap dirt and odours, returning only naturally clean, water-washed air to your car interior. This unique water filtration system captures 99.997% (by weight) of typical household dirt. Remaining microscopic particles are caught by HEPA Neutralizer Filtration System. This two-stage filtration combination removes nearly 100% of dirt and contaminants.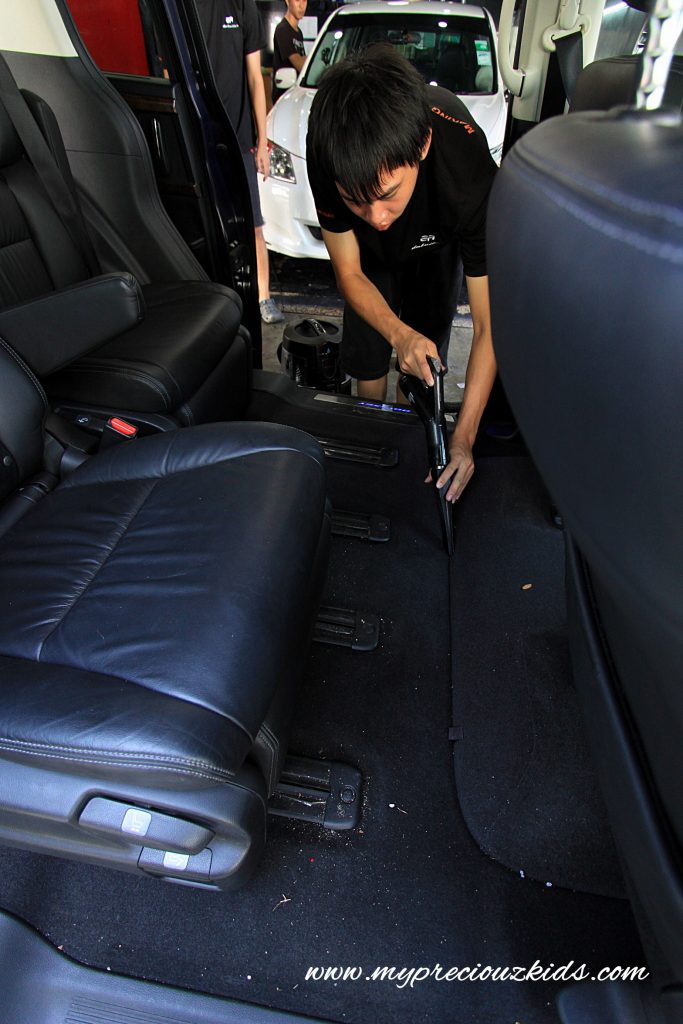 Stage 3: Sanitization, Using Hospital Grade Disinfectant-  Legionella- X  (a product from Canada) which has been certified by Singapore General Hospital, the disinfectant used is proved to be of 99% effective against viruses like HFMD .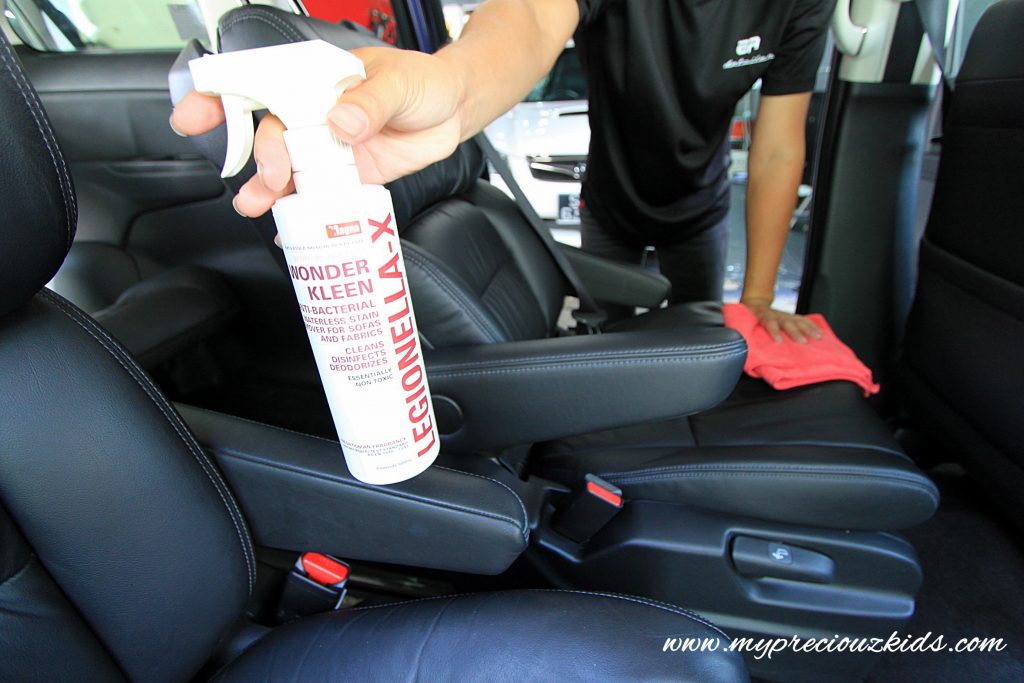 Stage 4: Steam vapourizing  – this stage using water at 65 to 70 degree Celsius to kill dust mites on fabric area of the car including the inner roof, floor board, car boot area and for car seats which are made of fabric.  The most important benefit of vapouring is that no chemical is used in the whole process; the effect is achieved with boiling water only.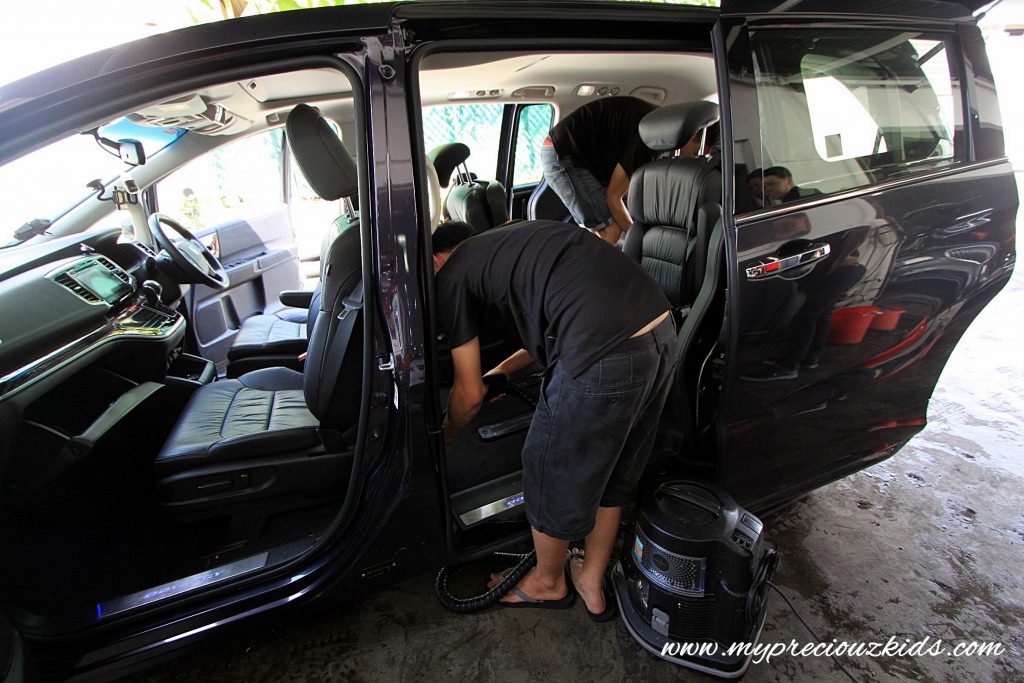 There will be a release of O3 ozonic treatment to purifying the air in the car especially important after fumigation and to purify the air that is coming out from the air-conditioning. So during this process, the air conditioning will be left switch on for 15 minutes during the ozonic treatment. Besides purifying the air, ozone kills germs, viruses including H1N1, H7N9,HFMD, E.Coli, Salmonella, MSRA, Staph, etc. This equipment is also used in hospitals, clinic, hotels and airplanes.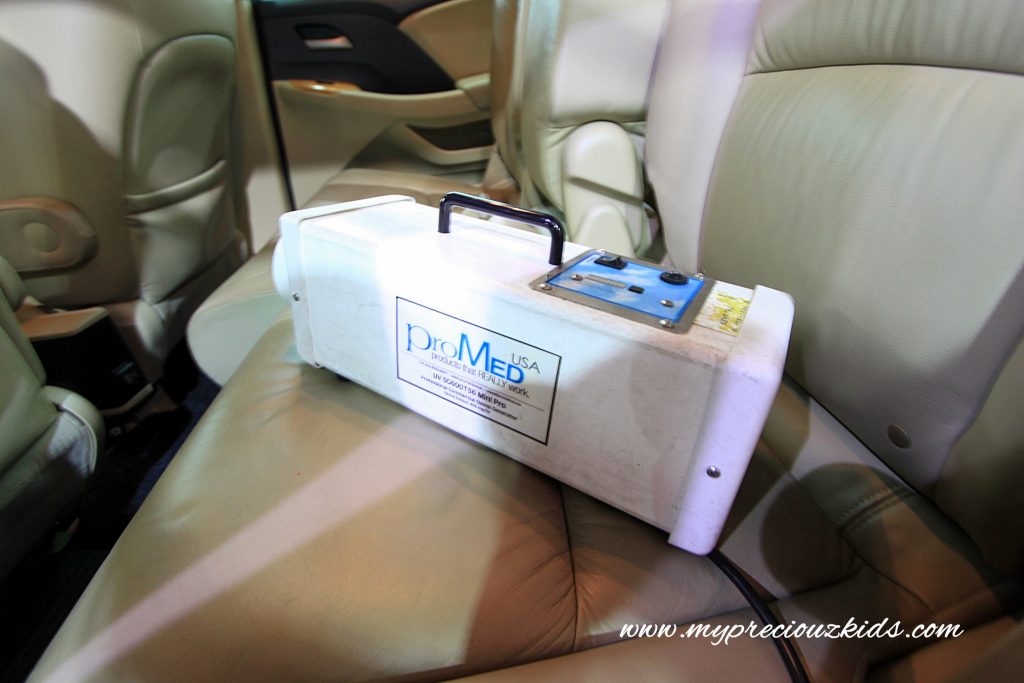 Besides that, all leather parts of the interior of the car will cleaned and polished using Sonax leather care foam.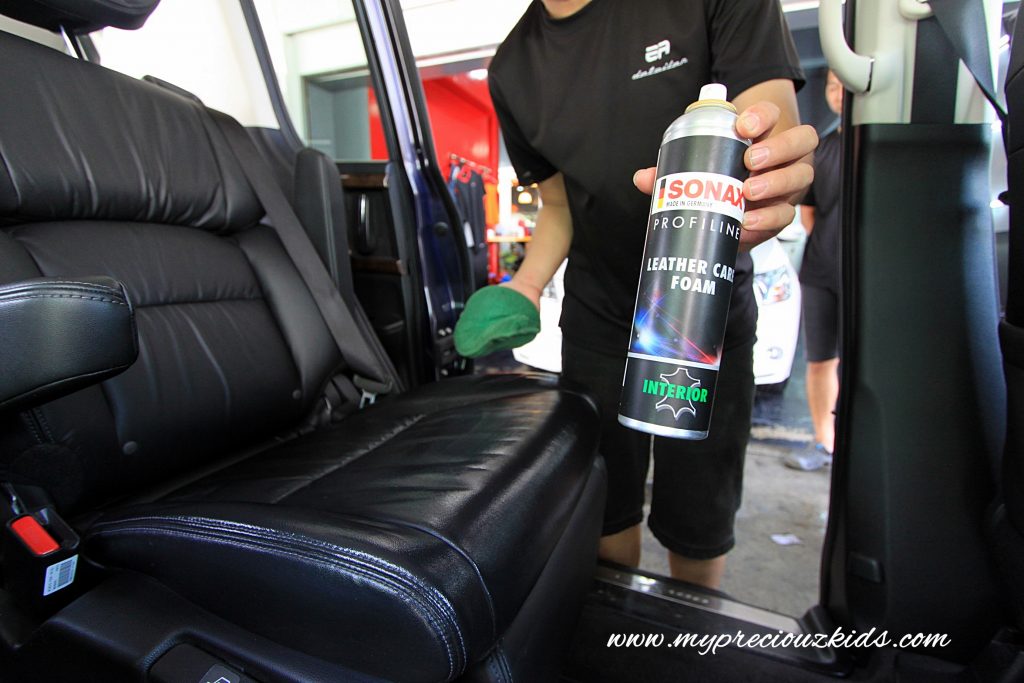 TIP NO #2
For readers who want to try out the anti pest fumigation service, you should clear the car of all your belongings EXCEPT baby/toddler car seats. EA Detailer will also assist to clean the car seat by steaming and sanitizing the car seats as well. There is no point by cleaning the interior of the car but leaving the car seats untouched as the dirt/dust and insects trapped in the baby/toddler car seats will attract new colony once they are placed back into the clean car.
3-stage Exterior Glow (SGD 219)
These exterior cleaning stages will be more familiar to many daddies out there.
Stage 1 : Foam washing  – the typical of what you see at run-of-the mill car washing workshop, this is done concurrently when the anti fumigation mist is sealed in the car for half hour
Stage 2: Claying – it's a special cloth to clean away impurities on the car (to me it's a bit like sandpaper but a more delicate kind, scrubbing if I want to put it in spa terms)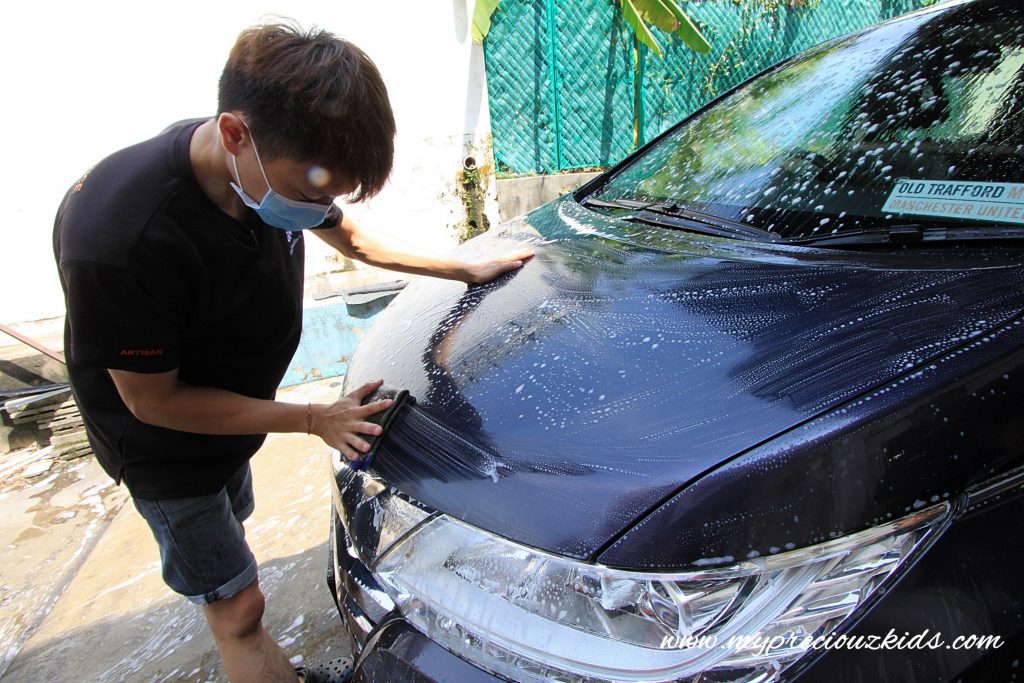 Stage 3: Compound polishing – there are 3 stages to this stage as well, starting with the heaviest cut using polishing buffer that you see at car polishing workshop, followed by the finest and finally a wax shine which is a coating of sealant. This coat of sealant is the one that give the sparkle and shine but it does more than looking nice. With the sealant, it will repels water beads and reducing water mark effects. However, this will only last 1 month or two. For car owners who wish to go for a longer term coating, they can look into glass coating which can protect the car from stratches and protect the car's original lacquer/paint which comes at an additional cost.
They will also give the engine bay a wipe without the use of car or water as it may damage the engine.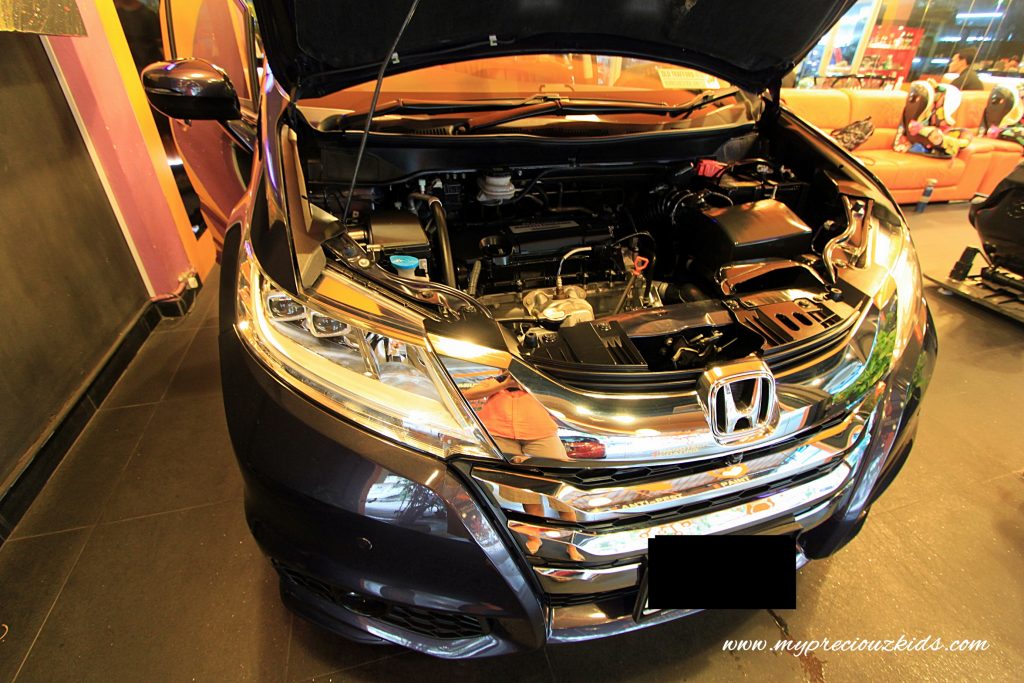 And finally the tyres and rim will also be given a shine! There is no nook or corner which they do not cover, hence I guess that is why the term "detailing" is used and as part of the their brand name as well. And if you remember about the scratches on the bonnet of unknown cause, as they were not deep scratches , the compound polishing did its magic to clear most of the scratches.
For the car seat, they stripped the fabric and clean all the inner part and steam and sanitize the fabric. I am guilty of not doing this on a more regular basis on my own as I always have huge difficulty stripping and putting back the fabric on the baby car seat. There is no additional cost attached especially for big family of mine, I had 4 car seats to be cleaned at the same time!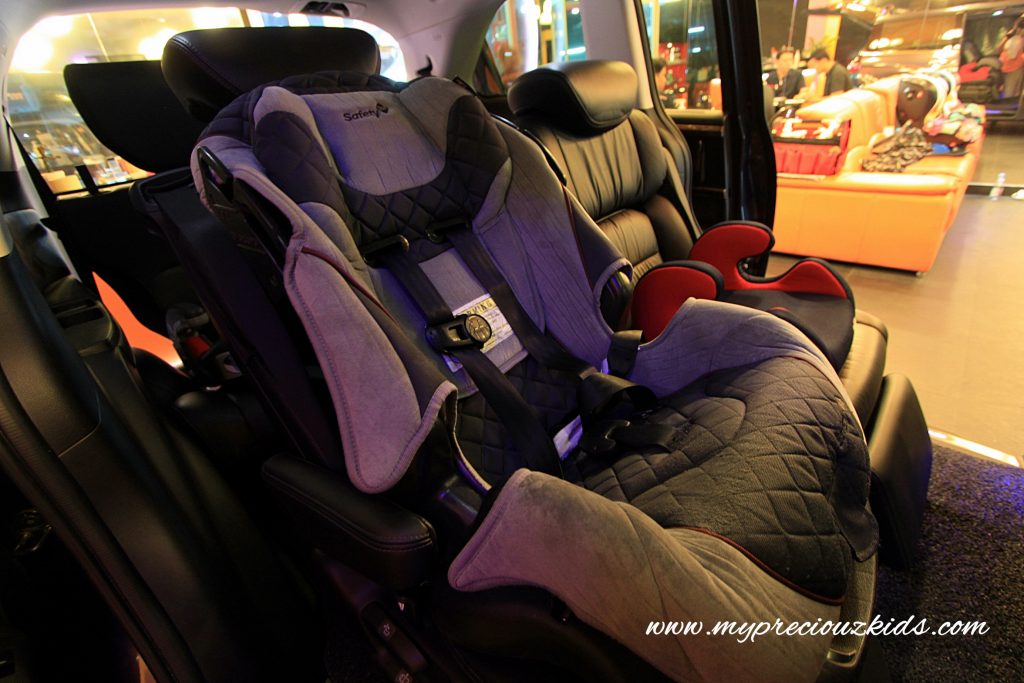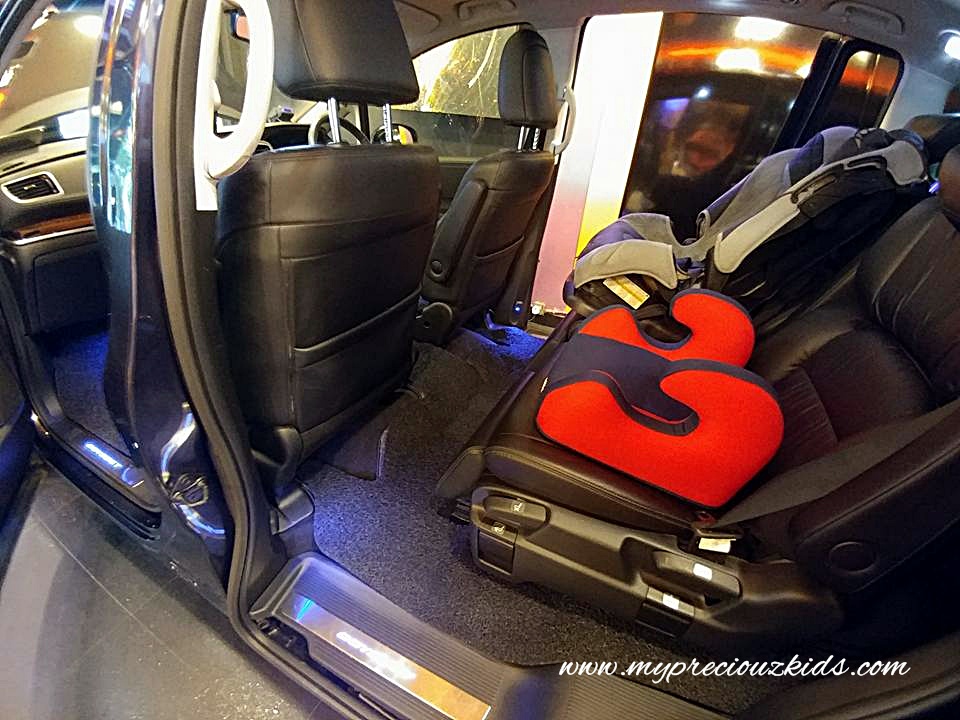 Finally before handing over the car back to the client, the car will be driven into the air-conditioned comfort of the workshop where the representative will go through what has been cleaned and if there is any small gap or corner that has been missed out. All I can say is that I am very impressed by the level of service and details they go. They clearly are doing this for the benefits of family who owned cars in Singapore to ensure that they have a peace of mind by exterminating the pest and killing virus and bacteria.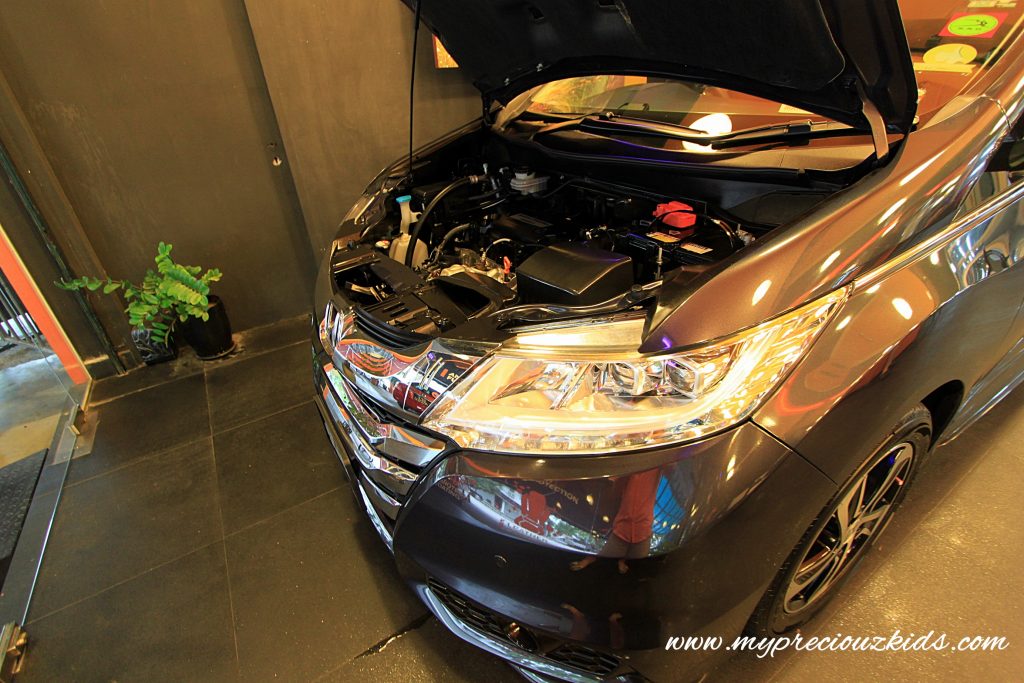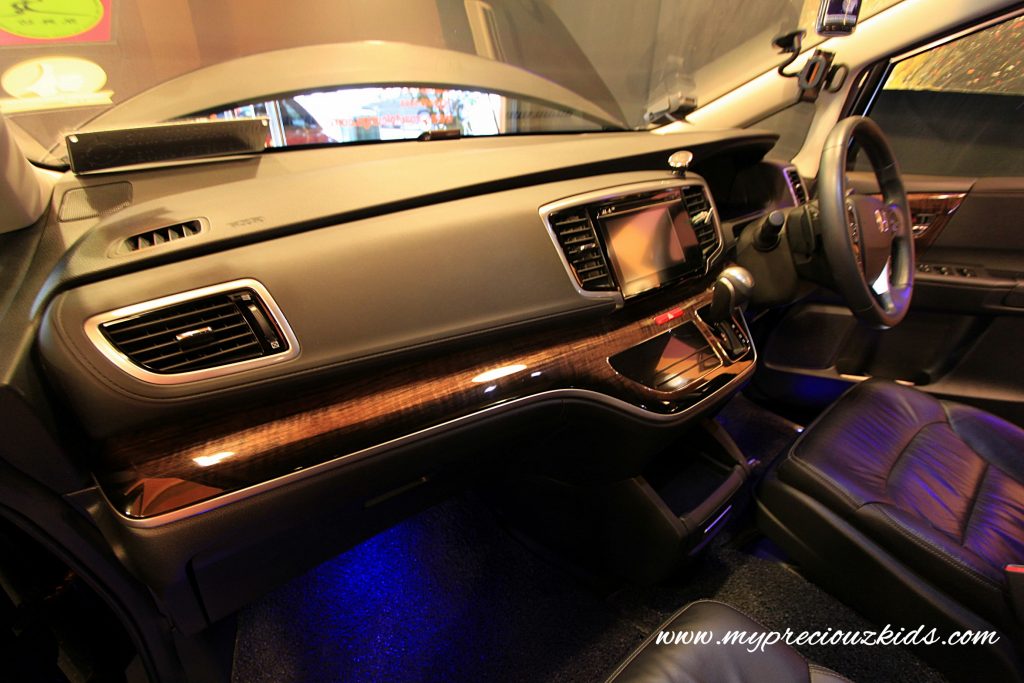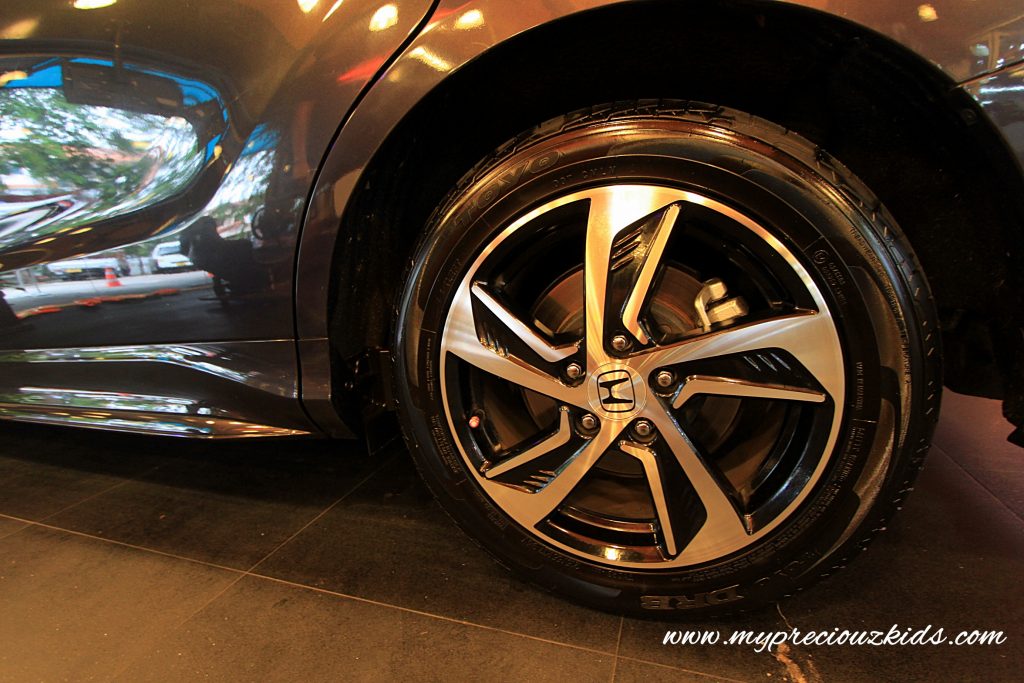 This is a very lengthy 4 to 6 hours process of cleaning the car from car roof to car tyres. Most importantly for parents or mummies who do not know much about car and engines, the interior of the car where normal vacuuming would not be able to achieve that level of cleanliness and anti pest and anti viral state , this is one process I would like to see it done on a regular basis. The representative from EA Detailer suggest the interior anti pest cleaning should be done 6 monthly to ensure not recurrence of cockroaches in the car.
This was the very first time I actually contributed to the maintenance of the family car. This is the very first time I brought the car to a workshop as I am often intimated  by all the jargons and engine parts. There is nothing complicated about the interior cleaning  – it is a very specific  and niche cleaning services to ensure that all pests in the car will be exterminated to create a clean and virus free environment. I am impressed by the many levels and many types of products used throughout the service. Even though I have explained it as a 4 stage interior and 3 stage exterior process, to me there are definitely more than 10 steps to achieve this!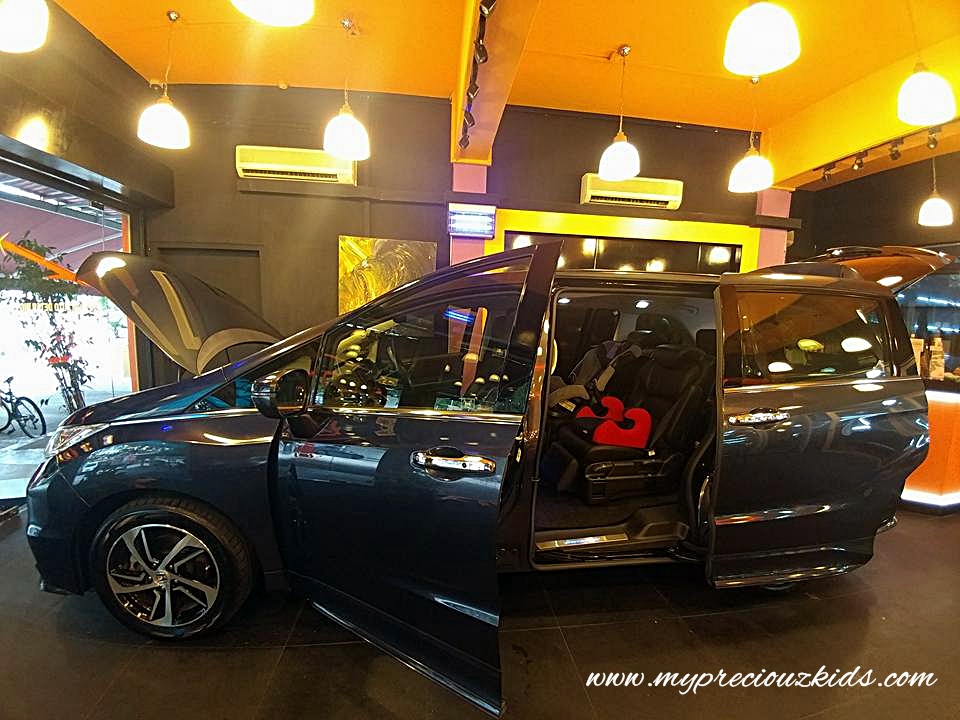 The level of detailing is unparalleled. For most vacuuming done at regular car washing workshop, they only remove the rubber mat to vacuum. EA Detailer has also stripped the fabric mat before doing the steaming and hydro vacuuming on the floorboard. And what I had hoped to achieve, extermination of the cockroaches in the car! The picture below has to be shown as part of my review and the final picture of my review  and the single sole reason for bringing the car to EA Detailer.
Thank you, EA Detailer for giving me the opportunity to contribute to cleanliness of the family car to ensure the health and well-being for the VIPs of my car – ie my 4 precious kids.
PROMOTION
For first timer, there is a promotion price of SGD 108 for the 3-Stage Interior Cabin Sanitization which includes all the steps listed above with the exception of the steam cleaning.
Top up $90 to include 3-Stage Exterior Glow (process steps is also available via http://eadetailer.com/car-exterior-detailing-treatment/)
For the steam cleaning, there is an additional charge of SGD 150 which also includes Baby Seat Sanitization. For bigger size cars like MPV/SUV/Flagship Luxury and Large Vehicles, there is an additional charge of SGD 50.
For a SGD150 top up you can upgrade from 3-Stage Interior Cabin Sanization to 4-Stage Interior Steam Purification (process steps also available via http://eadetailer.com/car-interior-detailing-treatment/)
The process steps of the Baby Seat Sanitization is available via http://eadetailer.com/enhancement-addon-detailing-services/
You can make your booking through this link
Giveaway
If you have been thinking of giving this service a try, wait no longer, EA Detailer will be giving a lucky reader's car a treat  -3-Stage Interior Cabin Sanitization worth SGD219.
1. Liked FB pages of mypreciouzkids.com and EA Detailer
2. Followed mypreciouzkids and EA Detailer on Instagram
3. Repost this visual on IG(tag 3 friends in my IG post, one name per comment) with hashtag #mypreciouzkidsgiveaway and liked and share this FB post (tag 3 friends).
Please keep your Instagram profile public and the Facebook shared post public (as indicated in step 3)  in order to qualify so that I can locate your entry.
I will be picking the 1 lucky winner using random.org. The giveaway closes on  7th May 2017, 2359pm (Sun).
Winner: Diana Wee
EA Detailer
Address: 51 Jalan Tua Kong Singapore 457250
Contact: 6635 7398
Email: enquiry@eadetailer.com
Facebook: http://www.facebook.com/eadetailer
There are 3 more outlets throughout the island for those who don't stay in the east. You can check it out on their website.
Disclaimer: This is a sponsored post.  No monetary compensation was received. All opinions are my own. 
Share the article